Mt Pleasant, Michigan (February 23, 2013) – A jam-packed race calendar saw the Christian Brothers Racing team spread across three states and just as many time zones as riders competed in National snocross in Michigan, cross-country in Minnesota and a 2,000-mile race in Alaska. The results were combination of triumph and heartbreak.
Christian Brothers Racing snocross riders competed in the Soaring Eagle's Snocross in Mt. Pleasant, Michigan. After two events that featured ultra-small bullring-style tracks, Mt. Pleasant got the riders back onto a longer, more spread-out track layout.
Logan Christian – DRIFT Racing/Troy Lee Designs/Arctic Cat rider Logan Christian was a model of consistency all weekend, finishing in the Top 4 in heats and taking two 5th place finishes on the weekend. It was enough to move him up a spot in Pro Open season points to 6th place.
Dave Joanis – Royal Distributing/Arctic Cat rider Dave Joanis mirrored his teammate Logan Christian's performance in Pro Open, placing Top 4 in heat racing and landing two 7th place finishes on the weekend.
Marica Renheim – Marica Renheim was again the model of perfection at Mt. Pleasant. The Polarbear Boots/Arctic Cat rider won both her heats on the way to taking the win in the Pro Am Womens class. The Swedish rider has a commanding points lead headed into the final two events.
Tyler Adams – Top Sport class rider Tyler Adams was having a stellar weekend with two second place heat finishes and one win before heading into the second final of the weekend. A crash in the opening laps left Adams with some internal bruising and he was unable to finish the race, but still holds a Top 3 spot in Sport class season points.
Evan Christian – Finley Motors/Arctic Cat rider Evan Christian narrowly missed two podium finishes at Mt. Pleasant, taking 4th in Jr. Novice 10-13 in the National class and the MXR Regional class. He never finished lower than second place in heat racing so its only a matter of time before he brings it to the final.
The Iron Dog route covers over 2,000-miles of rugged Alaskan wilderness and is perhaps the most grueling cross-country snowmobile race on the planet. It starts in Big Lake, Alaska, just outside of Wasilla, and heads to Nome where riders turn around and head back East to the finish line in Fairbanks. This year's event started February 16 and ended February 22.
Two-man teams compete in the Iron Dog and this year Brian Dick teamed up with Eric Quam to make another run at the event. After nearly winning the race last year, the pair fought an uphill battle the entire race after a crash on the first day dropped them in the race standings. The crash was a result of Brian avoiding a recreational rider who had wandered onto the course. The pair were able to net a 5th place finish overall.
Fresh off a silver medal in the long jump at the Winter X Games, Cory Davis was teamed with last year's I-500 winner and USXC points champion Ryan Simons. Davis was classified as a veteran having run the race before, but this was Simons' first Iron Dog. The pair set a blistering pace and had worked their way into second place as they left Nome. A blown track on Davis' sled, likely the result of 100-miles of low-snow running, dropped them back in the standings on the final push into Fairbanks. They finished 9th overall.
Zach Herfindahl was the sole CBR rider at the USXC cross-country race in Park Rapids, Minnesota. A two-day event, the second day would feature a 100-mile woods race that promised to be one of the most challenging of the season. After winning the 50-mile Pro Open race on Day 1, Herfindahl came off his sled in the closing miles of the 100-mile Pro Stock race and suffered a broken left thumb. He remounted the sled and finished the race in 4th place. On Sunday Zach got back on the sled again and finished second in the challenging woods race despite his injured thumb.
Q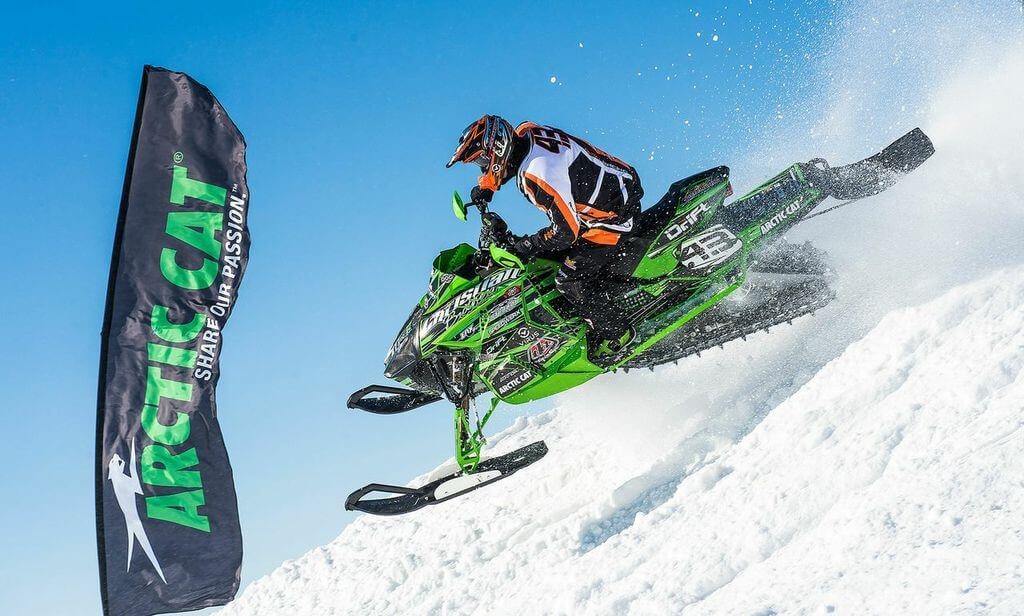 uotes:
Logan Christian – Our Arctic Cat snowmobiles were really working good in Michigan. Our crew has them dialed in and thats one of the reasons we did so well this weekend. A big thanks to our crew!
Dave Joanis – The bigger track in Michigan was really nice and made for much better racing. We had a great weekend and I'm looking forward to the last two events where we should get some top finishes again.
Marica Renheim – I was really happy to get another win and extend my points lead. I really have to thank Christian Brothers Racing – I couldn't do this without their support.
Tyler Adams – Michigan was going really good until the crash on Saturday. At this point the doctors aren't sure if I will be able to continue the season, so we are waiting to see what they say. If they say I can race I will be ready, if not I will start working toward next season.
Brian Dick – Crashing the first day was a real bummer, but Eric and I were able to come back and finish 5th. So many things have to go right for you at the Iron Dog to win – it takes time to get your program dialed in. I think we are close and I'm looking forward to next year.
Ryan Simons – Racing the Iron Dog was one of the biggest challenges I've faced in snowmobile racing. Cory and I were up to second place and catching the leaders before his track went. There were some tough conditions and the 100-mile push into Nome had hardly any snow. Hoping to do it again next year!
Zach Herfindahl – The first day of the Park Rapids race was going really good. I won Pro Open and was doing well in Pro Stock when I came off and got caught up in my own track somehow. I hurt my thumb, but I got back and finished the race. I came back and raced Sunday but it definitely affected my riding. It's broken, so we'll see if I can keep racing the rest of the season or not.
ISOC Soaring Eagle's Snocross
Pro Open
5. Logan Christian
7. Dave Joanis
5. Logan Christian
7. Dave Joanis
Pro Am Women
1. Marica Renheim
Sport
13. Tyler Adams
15. Tyler Adams
Jr. Novice 10-13
4. Evan Christian
Iron Dog
5. Brian Dick/Eric Quam
9. Cory Davis/Ryan Simons
USXC Park Rapids
Pro Stock
4. Zach Herfindahl
2. Zach Herfindahl
Pro Open
1. Zach Herfindahl
Points
ISOC
Pro Open
6. Logan Christian
7. Dave Joanis
Pro Am Women
1. Marica Renheim
Sport
3. Tyler Adams