Contact: Pat Schutte
PR Director, ISOC Racing
pat@highprofilepr.com
GLYNDON, Minn. (March 8, 2014) – The wide-open, high speed start straight at Buffalo River Race Park provided numerous highlights all weekend long for the U.S. Air Force Snocross, round seven of AMSOIL Championship Snocross, powered by Ram. But none the starts would be more intense than the final Pro Open class as Ross Martin (DuPont/Jack Links/Polaris) played it smart and survived a massive pileup that collected Friday's winner and overall class point leader Tucker Hibbert (Monster Energy/Arctic Cat), along with 2nd place overall point man Kody Kamm (Hentges Racing/Polaris).
Joining Martin on the winner's stand on Saturday at BRRP – and completing the weekend 1st/1st sweep in the Pro Lite class – was Corin Todd (Leighton Motorsports/Polaris).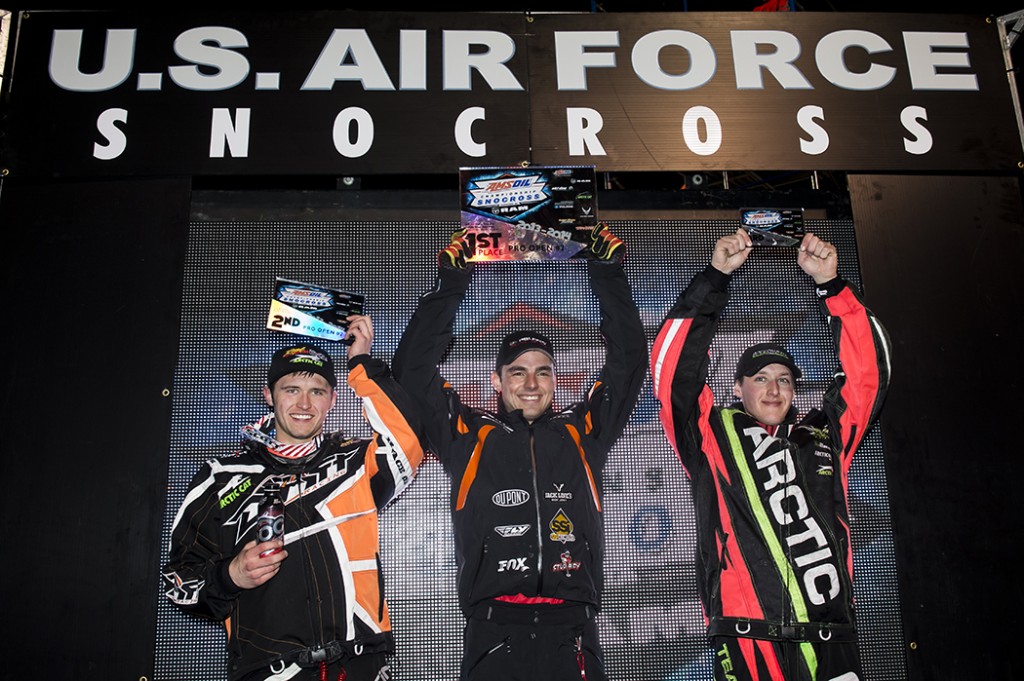 Pro Open
"The Boss is back!," bellowed longtime ISOC race announcer Mike Schroeder as Martin (aka "Ross the Boss") pumped his fist over the finish line jump, triggering the massive fire pots atop the finish structure and queuing the fireworks display for one of the larger crowds AMSOIL Championship Snocross has enjoyed this season.
Rewinding back to the all-important start of the Pro Open race, Martin, who placed 2nd in Friday's main event and qualified in 4th position today, chose to start more on the outside line to the Stud Boy Holeshot. The move paid off as, when it looked like Hibbert had the angle on being the first racer out of the opening corner, the defending champ was clipped in the rear of the sled by Kamm – at peak speed – which caused a chain reaction crash that also collected No. 2 qualifier Kyle Pallin (LaVallee Racing/Polaris) and Hentges Racing/Polaris' Justin Broberg.
"I could clearly see what was going to happen (at the start), so I just ducked under and made it through," said an elated Martin from the podium. "This is going to go down as one of my best wins of all-time."
Questionable as to if he was even going to boot up and race today (nagging shoulder injury), Martin gutted it out and rode strong, fast and mistake-free to the 7.5 second victory over 2nd place, local Logan Christian (Christian Brothers Racing/Arctic Cat). "These are the highs and lows of racing," added Martin. "I didn't even know if I was going to race today. My shoulder's killing me, but I just said to myself 'I've got to get this done.'"
Said Christian: "Fargo's awesome," which drew the night's biggest cheer from the crowd. "This is my first podium of the year. I wish it'd have come earlier, but this is great."
After the mess at the start, Hibbert was able to remount – in dead last place – and mount a bit of a charge. His effort would run into another issue when he and fellow Arctic Cat pilot Cody Thomsen got together (lap four), sending Hibbert off his sled for the second time. To his credit Hibbert was able to remount and rode a solid remainder of the race, inheriting a top five finish when Scheuring Speed Sports/Ski-Doo's Lincoln Lemieux (3rd place at the time) crashed while battle for the final podium spot with Christian Brothers Racing's David Joanis (Royal Distribution/Arctic Cat). Thomsen would round out the podium in 3rd with a great race and his second podium of the weekend, with Joanis in 4th and Hibbert in 5th.
Hibbert still maintains a pretty much insurmountable lead in the Pro Open points chase, 594-474 over Kamm.
Fargo Saturday Pro Open results
1 Ross Martin Judnick Motorsports 837 Polaris Burlington, WI
2 Logan Christian Christian Brothers Racing / Drift 43 Arctic Cat Fertile, MN
3 Cody Thomsen Arctic Cat 62 Arctic Cat Nisswa, MN
4 David Joanis ROYAL DISTRIBUTING 115 Arctic Cat Cochrane (Kok rane), Ontario
5 Tucker Hibbert Monster Energy/Arctic Cat 68 Arctic Cat Pelican Rapids, MN
6 Justin Broberg Hentges Racing 168 Polaris Mukwonago, WI
7 Lincoln Lemieux Amsoil/Air Force/Rockstar 13 Ski-Doo St. Johnsbury, VT
8 Brett Turcotte 16 Arctic Cat Kamploops, British Columbia
9 Jake Scott Team LaVallee 42 Polaris Port Jefferson Station, NY
10 Kyle Pallin Team LaVallee 324 Polaris Ironwood, MI
11 Mike Bauer Jess Racing 717 Arctic Cat medford, WI
12 Levi LaVallee Team LaVallee 108 Polaris Longville, MN
13 Kody Kamm Hentges Racing 53 Polaris Kenosha, WI
14 Petter Narsa Team Jimmy John's/Ski-doo/BossRacing 271 Ski-Doo Moskosel,
Pro Lite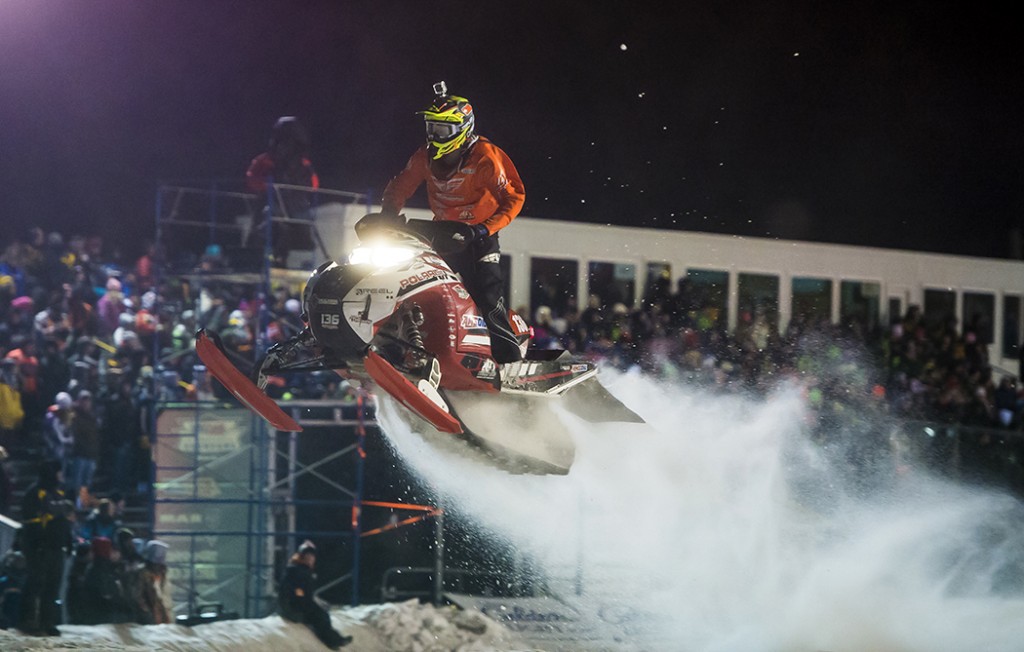 All systems were 'Go' for Andrew Carlson (Carlson Motorsports/Polaris) to open Saturday's Pro Lite final at Buffalo River Race Park. The Pro Lite overall point leader coming into Fargo pulled the holeshot and as leading when disaster struck and Carlson dropped from 1st to 9th.
Taking advantage of the situation was Friday's winner, Corin Todd, who got into Carlson in the third corner of the first lap.
"The point race was tight and I got together with Andrew (Carlson) and, unfortunately, he came off the sled," said Todd. "But I came in here this weekend having to take over the points lead and I did." Note: After Fargo Todd leads Carlson now by ten points, 517-507 with one weekend of racing remaining.
Following the Todd/Carson get together – which could very well have played a major role in deciding this year's Pro Lite championship – Todd would get a quick challenge from John Stenberg (Team Bauerly/Ski-Doo), who actually took the race lead from Todd on lap two – but crashed just moments after grabbing the lead.
Opening the third lap up front, Todd never looked back. With Stenberg down, moving into 2nd place was another Friday Pro Lite podium finisher at Fargo, James Johnstad (Judnick Motorsports/Polaris). Both Todd and Johnstad separated from the pack, with Travis Muller (Warnert Racing/Ski-Doo) diving into 3rd place.
Todd would check out midway through the race, while Carlson did the best he could to move up from 9th to 6th place with several laps still remaining.
Holding the 4th and 5th positions were a couple Michigan racers, Zak Mason (Leighton Motorsports/Polaris) and Ski-Doo mounted Kevin Wallenstein (Ingels Performance). And when the white flag flew Todd had seven seconds on Johnstad, who was in a furious battle with Muller for the 2nd position. Todd would cruise to victory, completing the weekend sweep and Johnstad held off Muller, with Mason and Wallenstein holding down the 4th and 5th positions, respectively, while early race leader Carlson managed to rally back to 6th.
Fargo Saturday Pro Lite results
1 Corin Todd Leighton Motorsports 136 Polaris Otego, NY
2 James Johnstad Judnick Motorsports 154 Polaris Beltrami, MN
3 Travis Muller Warnert Racing 436 Ski-Doo Windom, MN
4 Zak Mason LEIGHTON MOTORSPORTS 863 Polaris Gaylord, MI
5 Kevin Wallenstein Ingles Performance 122 Ski-Doo Cadillac, MI
6 Andrew Carlson CARLSON MOTORSPORTS 151 Polaris Big Lake, MN
7 John Stenberg Team Bauerly Racing 259 Ski-Doo Lofsdalen, Sweden
8 Andrew Lieders Team LaVallee 857 Polaris Colby, WI
9 Korbyn Anderson Team Anderson Racing 179 Ski-Doo Allenton, MI
10 Trevor Leighton Leighton Motorsports 931 Polaris Eagle, ID
11 Jordan Kraus Relentless Racing 105 Polaris Osage, MN
12 Dylan Hall Royal / Hall Racing 421 Ski-Doo Ayr, Ontario
13 Matt Pichner HAALA Racing 193 Arctic Cat Owatonna, MN
14 Corey Watkinson Watkinson Motorsports, Arctic Cat 173 Arctic Cat Port Carling, Ontario
15 Michael George MFG Racing 307 Arctic Cat Pine Plains, NY
AMSOIL Championship Snocross, powered by Ram, now moves to Lake Geneva (Wis.), March 14-16, at the Grand Geneva Resort & Spa for the Nielsen Enterprises Grand Finale, presented by Coors Light.
2013-'14 AMSOIL Championship Snocross, powered by Ram
Round/Date City/State
1 – Nov. 29-Dec. 1 Duluth, Minnesota
2 – Dec. 6-7 Bessemer, Michigan
3 – Jan. 3-5 Shakopee, Minnesota
4 – Jan. 31-Feb.1 Deadwood, South Dakota
5 – Feb. 7-8 Salamanca, New York
6 – Feb. 21-22 Mt. Pleasant, Mich.
7 – March 7-8 Fargo, N.D.
8 – March 14-16 Lake Geneva, Wisconsin
Beginning with AMSOIL Championship Snocross' season-opening round in Duluth, Minn. and running through the season finale in Lake Geneva, Wis. CBS Sports Network will air 16 half-hour programs of the ACS races.
Photos courtesy of Lissa Marsolek/ISOC
About ISOC Racing
The International Series of Champions (ISOC) is the premier snowmobile race sanctioning organization in North America and sanctions national AMSOIL Championship Snocross, in addition to affiliating with nine regional circuits. Visit snocross.com for more information, fan and racer memberships, schedule details and more.