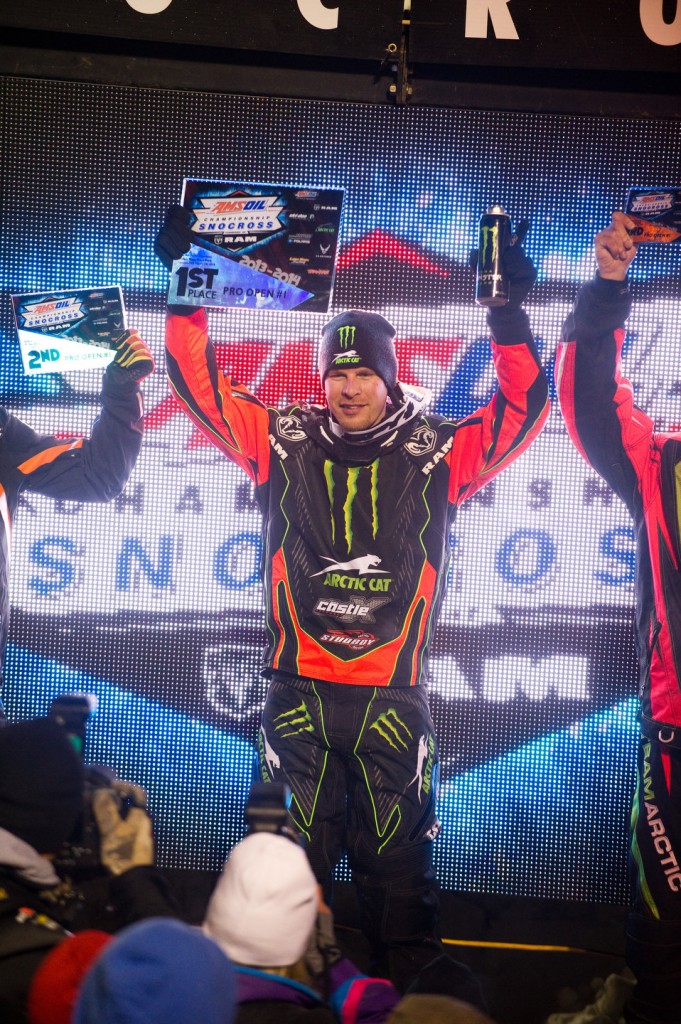 March 10, 2014 – Monster Energy/Arctic Cat's Tucker Hibbert had a solid weekend at his home race in Glyndon, Minn. and gained another 22 points over second place in the 2014 ISOC Pro Open Championship chase. The defending champion will enter the final event of the season with a comfortable 120-point lead. With three days of racing and 135 points on the line in Lake Geneva, Wisc., Hibbert has the opportunity to clinch the championship Friday night.
Hibbert was perfect in qualifying both Friday and Saturday on Buffalo River Race Park's horseshoe shaped, high-speed track. He ripped the holeshot in Friday's Pro Open final and commanded the 14-rider, 15-lap race to win by a jaw-dropping 25 seconds.
In Saturday's Pro Open final, Hibbert was strong off the start but a first turn incident ejected him from his sled. Uninjured, he reentered the 14-rider race in last place. He quickly moved through the pack and by lap three of 15, he slotted into eighth place. The following lap, he lost control of his sled after getting high-sided in a tight left-hand split-lane corner. By the time he remounted his sled, he was shuffled back to 12th. He put on a second impressive charge determined to get on the podium but ran out of time to finish in fifth place.
The ISOC National Snocross Grand Finale in Lake Geneva, Wisc. this weekend will feature three days of Pro Open racing. For the first time in ISOC history, the final race will be broadcast live on national television. Fans can stream Friday and Saturday's events online at ustream.tv/isoc from 6-10 pm CT and watch Sunday's event live on CBS Sports Network beginning at 1 pm CT.
Tucker Hibbert – #68 Monster Energy/Arctic Cat
"It's cool racing so close to home and having so many friends and family cheering me on. I was excited to see the stands packed Saturday night. Overall, it was a good weekend. I felt really good on the track. Saturday's final didn't go as planned after I had a little help in the first turn, but I'm glad I came out of it safe. I'm heading into the final race healthy and with a strong points lead and that's all the matters. This year has been incredible and it's hard to believe the season is almost done. I'm looking forward to wrapping up the championship in Lake Geneva and celebrating months of hard work with my team."
Fast Facts
• Hometown: Pelican Rapids, Minnesota
• 12-Time X Games Medalist
• Seven-Time National Snocross Champion – 92 National Pro Wins
• 2012 and 2010 FIM Snowcross World Champion
Noteworthy: Hibbert recently released his second race replica consumer snowmobile with Arctic Cat. The 2015 ZR 6000 Tucker Hibbert RR is available for pre order through Arctic Cat dealers. http://arcticcat.com/snow/sled/ZR6000RRTuckerHibbert
Resources: tucker-hibbert.com • monsterenergy.com • arcticcat.com • snocross.com