Contact: Pat Schutte
PR Director, ISOC Racing
pat@highprofilepr.com
LAKE GENEVA, Wis. (March 15, 2014) – With the Pro Open overall point championship decided on Friday night, tonight's marquee racing action featured the hotly-contested Pro Lite class at Grand Geneva Resort & Spa's Nielsen Enterprises Grand Finale, presented by Coors Light, round eight of AMSOIL Championship Snocross, powered by Ram. And taking the win in the wild Pro Lite main event was Andrew Lieders (Team LaVallee/Polaris), with Tucker Hibbert (Monster Energy/Arctic Cat) capturing his second-straight win at Lake Geneva in the Pro Open class.
Pro Lite
High drama at Lake Geneva in the Pro Lites on Saturday as both the point leader, Corin Todd (Leighton Motorsports/Polaris) and 2nd place overall Andrew Carlson (Carlson Motorsports/Polaris) had opportunities to advance their position vs. each other in the points, but quite literally threw away those chances with two spectacular crashes.
But able to survive the rough track conditions at Lake Geneva – and further his point lead for 3rd in the Pro Lite season standings – was Lieders. Pulling a great start and running behind Todd on the opening lap, Lieders took over the lead when Todd sketched in the front straight rhythm section and wadded up, his sled sailing off the track.
Lieders would run unchallenged to the checkers. "Today was a pretty emotional day," said Lieders from the podium. "I crashed hard in practice, we were having some problems with the sled and I was a little down. But Team LaVallee pulled together and we were able to win it."
Another to benefit off a great start was Arctic Cat's Corey Watkinson. The Canadian was running in 3rd place and moved up to 2nd when Todd went down, held that position through the end – one step ahead of 3rd place James Johnstad (Judnick Motorsports/Polaris).
"It was a tough track, hard to pass," said Watkinson. "But luckily we got a good start and were able to put in some strong laps."
Sitting in 4th place with one turn to go, Carlson was set to make up seven points on Todd, who was sitting in 10th place. But Carlson would disappear off the track just before the finish, rejoining the fray in 11th place – one spot behind Todd!
ISOC announcer Robbie Malinoski put it best when he said "Seems like it's one of those championships that nobody wants to win." Heading into Sunday's final race Todd has an 11-point lead over Carlson, and it would have been two points had Carlson held on to his 4th place position through the checkers.
Zak Mason (Leighton Motorsports/Polaris) would place 4th in tonight's Pro Lite final with Kevin Wallenstein (Ingles Performance/Ski-Doo) coming in 5th.
Lake Geneva Saturday Pro Lite results
1 Andrew Lieders Team LaVallee 857 Polaris Colby, WI
2 Corey Watkinson Watkinson Motorsports, Arctic Cat 173, Ontario
3 James Johnstad Judnick Motorsports 154 Polaris Beltrami, MN
4 Zak Mason LEIGHTON MOTORSPORTS 863 Polaris Gaylord, MI
5 Kevin Wallenstein Ingles Performance 122 Ski-Doo Cadillac, MI
6 Maxime Taillefer Taillefer Motorsports 144 Ski-Doo Laval West,
7 Casey Boylan Team Boylan 630 Ski-Doo Anchorage, AK
8 Dylan Hall Royal / Hall Racing 421 Ski-Doo, Ontario
9 Corin Todd Leighton Motorsports 136 Polaris Otego, NY
10 Trevor Leighton Leighton Motorsports 931 Polaris Eagle, ID
11 Andrew Carlson CARLSON MOTORSPORTS 151 Polaris Big Lake, MN
12 Spencer Cowing Cowing Brothers Racing 181 Ski-Doo Wyoming, MN
13 Korbyn Anderson Team Anderson Racing 179 Ski-Doo Allenton, MI
14 Nick Pattyn Stud Boy Racing 198 Ski-Doo Ravenna, MI
15 Michael George MFG Racing 307 Arctic Cat Pine Plains, NY
Pro Open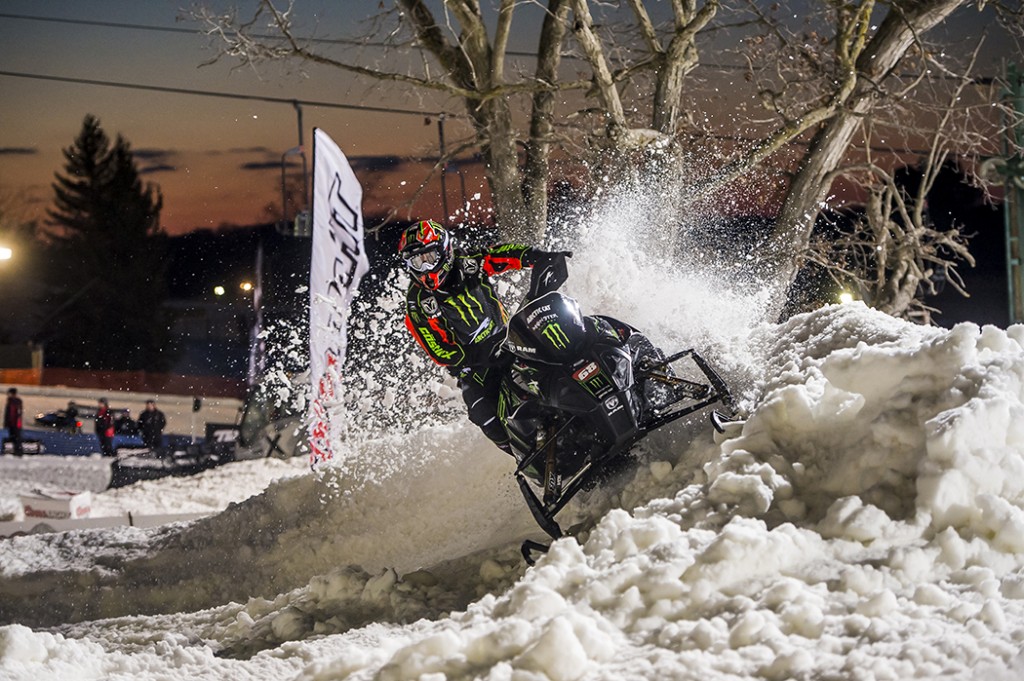 Hometown snocross hero from nearby Burlington, Ross Martin (DuPont/Jack Links/Polaris) grabbed the Stud Boy Holeshot, followed closely by Kyle Pallin (LaVallee Racing/Polaris). Hibbert was close in on the hunt up front, though not enjoying quite a good of a start. Still, Hibbert managed to make up two spots from 4th place – passing Justin Broberg (Hentges Racing/Polaris) for 3rd at the start of the second lap, then getting past Pallin on the first uphill section on the second lap.
This set the stage for one of the year's better duels in Pro Open racing, Hibbert vs. Martin on the demanding Lake Geneva track.
"It's just about giving your all all the time," said Hibbert. "Ross rode really strong and somebody else was on my tail. I had to work hard for that win. The track changed every lap. It was challenging to find a smooth lap and make it stick – but that's part of racing."
Martin, who didn't have much of a lead on Hibbert to begin with, made a valiant effort to hold off the newly crowned Pro Open champion through the first four (of nine) laps. But midway through lap four Hibbert would catch Martin in the same downhill section where he (Hibbert) passed Kody Kamm (Hentges Racing/Polaris) for the lead on Friday night – doubling down the steep downhill section running towards the packed grandstands and diving to the inside of Martin, then squaring off the turn and pulling Martin up the next hill.
"Tucker rode well tonight," said Martin from the podium, his fans going nuts with applause. "I love this place! It was a good race. My sled's rippin' fast and I got off to a great start. I'd like to move up at least another spot on the podium tomorrow, really looking forward to Sunday's race."
Making a spirited charge for 3rd place was Kamm, who nearly caught Martin towards the end of the contest. The podium tonight was Kamm's second so far this weekend, with one race remaining on Sunday. And rounding out the top five were Arctic Cat's Cody Thomsen in 4th and Broberg in 5th.
Lake Geneva Saturday Pro Open results
1 Tucker Hibbert Monster Energy/Arctic Cat 68 Arctic Cat Pelican Rapids, MN
2 Ross Martin Judnick Motorsports 837 Polaris Burlington, WI
3 Kody Kamm Hentges Racing 53 Polaris Kenosha, WI
4 Cody Thomsen Arctic Cat 62 Arctic Cat Nisswa, MN
5 Justin Broberg Hentges Racing 168 Polaris Mukwonago, WI
6 Logan Christian Christian Brothers Racing / Drift 43 Arctic Cat Fertile, MN
7 Kyle Pallin Team LaVallee 324 Polaris Ironwood, MI
8 Petter Narsa Team Jimmy John's/Ski-doo/BossRacing 271 Ski-Doo Sweden
9 David Joanis ROYAL DISTRIBUTING 115 Arctic Cat Cochrane (Kok rane), Ontario
10 Lincoln Lemieux Amsoil/Air Force/Rockstar 13 Ski-Doo St. Johnsbury, VT
11 Jake Scott Team LaVallee 42 Polaris Port Jefferson Station, NY
12 Zach Pattyn Stud Boy Racing 99 Ski-Doo Ravenna, MI
13 Levi LaVallee Team LaVallee 108 Polaris Longville, MN
14 Mike Bauer Jess Racing 717 Arctic Cat Medford, WI
Note: AMSOIL Championship Snocross, powered by Ram, continues on Saturday and Sunday – which will be shown 'Live' on CBS Sports, 3 p.m. EST – at Lake Geneva, Wisconsin's Grand Geneva Resort & Spa for the Nielsen Enterprises Grand Finale, presented by Coors Light.
2013-'14 AMSOIL Championship Snocross, powered by Ram
Round/Date City/State
1 – Nov. 29-Dec. 1 Duluth, Minnesota
2 – Dec. 6-7 Bessemer, Michigan
3 – Jan. 3-5 Shakopee, Minnesota
4 – Jan. 31-Feb.1 Deadwood, South Dakota
5 – Feb. 7-8 Salamanca, New York
6 – Feb. 21-22 Mt. Pleasant, Mich.
7 – March 7-8 Fargo, N.D.
8 – March 14-16 Lake Geneva, Wisconsin
Beginning with AMSOIL Championship Snocross' season-opening round in Duluth, Minn. and running through the season finale in Lake Geneva, Wis. CBS Sports Network will air 16 half-hour programs of the ACS races.
Photos courtesy of Lissa Marsolek/ISOC
About ISOC Racing
The International Series of Champions (ISOC) is the premier snowmobile race sanctioning organization in North America and sanctions national AMSOIL Championship Snocross, in addition to affiliating with nine regional circuits. Visit snocross.com for more information, fan and racer memberships, schedule details and more.