In an effort to pay back the amazing fans for their dedication, Bully Dog holds its Dog Days of Summer event every year and this year, it was once again a massive success.
We wanted to focus on a very special category of competitors; we'll call them the Grand Bracket. Yes, we're talking about the trucks that earned over 1000 horsepower in the Dyno event.  To earn your way into this bracket, you can't just show up and win on the fly. It takes hours under the hood, competing and refining and equipping top quality parts that can withstand every test.
The first winner was the Custom Auto driver, who ran an amazing 1331 running fuel only took first place and then dominated everyone with an 1810 nitrous injected run.  Dmitri Millard, who always puts on an impressive display, took his truck to the limit and scored a fuel only1089 which put him firmly in second place.  Scott Archibald, with an awesome 1020.9 took the last podium finish and proved that you don't necessarily need to rely on anyone but yourself to build a winning engine. That's right; Scott built his truck entirely in his own shop!
The last man in was Verlon Southwick with a 1003.5, earned with smaller injectors than he normally uses.  We'll take a minute here to pay homage to the ultimate professional.  Verlon not only competes in every Drag Race and Dyno event he can show up to, he does it without a trailer!  For years Verlon has remained the most consistent challenger to Nick Adamson, and we want to thank Verlon for showing up to Dog Days of Summer and once more putting on a strong show.
The pulls were once again a dynamic spectacle of horsepower, and we thank all the competitors that showed what they can do.  To master pulling takes more than a powerful truck.  It needs precise mastery of the throttle, shift points and a sixth sense for how the engine is handling the load. Also, we have to say, the track crew did a fantastic job of keeping the track prepped throughout the day.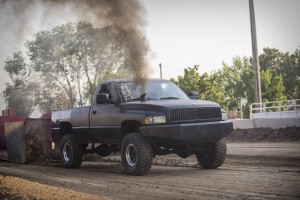 Below are the first place finishers.
Work Stock Diesel
Joe Harrell: 306.04 feet
2.6 Diesel
Weylin Richards: 381 feet
3.0 Diesel
Bob Millican: 353.07 feet
Pro Mod 4×4
Katie Neibaur: 266.04 feet
Smoker Tractor
Josh Scott: 272.07
3.2 Diesel
Ryan Thain: 340.04
Pro Mod Diesel
Ken Jones: 325.02 feet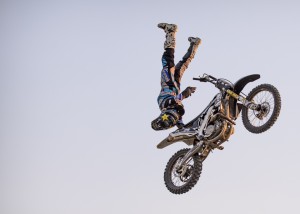 The Motocross shows interspersed throughout the evening were a highlight every time the riders hit the ramps. The Keith Sayers team (Billy Kohut originally from Didsbury, Canada and Nick Dunne from California), are in the prime of their abilities in riding dirt bikes and easily showed off a huge array of tricks.  As the team finished off the show they left the arena amidst a huge ovation.
To finish off the evening, the Dirt Drags proved to be some of the best entertainment of the whole day. First off, the matches were all very close. Everything culminated into a great showdown between Verlon Southwick and Dmitri Millard and as the evening wrapped up, the crowd was reluctant to leave the arena. Here are the first and second place finishers.
Work Stock
1st Place: Justin Tyler
2nd Place: Kalen Johnson
Single
1st Place: Lucas Steicklein
2nd Place: Lyle Richmond
Twin
1st Place: Dan Madden
2nd Place: Dmitri Millard
Open
1st Place: Dmitri Millard
2nd Place: Verlon Southwick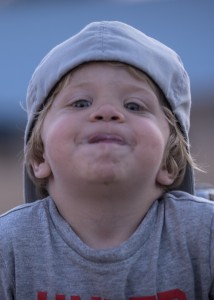 Once again we want to thank everyone who attended and all the sponsors that made this event not only possible but successful.  For all our fans, thank you for your support and we hope to see everyone again next year!