Hibbert soars to victory in Fargo's U.S. Air Force Snocross National, round three of AMSOIL Championship Snocross
Hibbert remains perfect on the season, 3-for-3 in Pro Open main events; local James Johnstad wins Pro Lite, third different Pro Lite winner in three races!
Contact: Pat Schutte
PR Director, ISOC Racing
patschutte@aysling.com
GLYNDON, Minn. (Dec. 12, 2014) – With balmy temperatures (by northern Minnesota/North Dakota standards) and a serious lack of snow, the usual one minute-plus AMSOIL Championship Snocross, powered by Ram, lap times at the massive Buffalo River Race Park track were whittled down to a bull ring oval and sub-30 second lap times with plenty of bar banging action for the packed house on Friday.
Two local racers – Pelican Rapids' Tucker Hibbert (Monster/Arctic Cat/Ram) and James Johnstad (Judnick Motorsports/Polaris) – would survive the thick roost to win the Pro Open and Pro Lite main events, respectively, at the U.S. Air Force Snocross National, round three of 2014-'15 AMSOIL Championship Snocross.
Pro Open
Qualifying in the No. 1 position, Hibbert was pretty much unstoppable on Friday at BRRP. After dominating both of his heat races (1st/1st), Hibbert improved upon a 4th place start position off the holeshot, grabbing the main event's race lead on lap eight and winning by 11-plus seconds over former Pro Open class champ ('12) Tim Tremblay (AMSOIL/Scheuring/Ski-Doo).
"Tonight's race track was really short, and it was tough," said Hibbert. "So you just had to hammer it all the way around. There was so much roost it was like going through a car wash the whole way around the track."
Grabbing the Stud Boy Holeshot was David Joanis (Royal Distributing/Arctic Cat), followed by Leighton Motorsports/Polaris' Corin Todd in 2nd and Logan Christian (Christian Bros/Arctic Cat) in 3rd.
With the frontrunners battling early to stay ahead of Hibbert, Kody Kamm (Hentges Racing/Polaris), who had an excellent second heat race, would wind up on the snow – righting his sled and entering back on the lead lap (albeit in 15th place). Todd would get past Joanis on the opening turn of lap three, and began clicking off fast laps. Hibbert, now up to 3rd place, would give chase, cranking out one of the night's fastest laps (26.8) in his pursuit of Todd.
Doing his best to hold off Hibbert, the Pro Open class rookie (Todd) held the lead through lap eight of the 23-lap main before Hibbert would finally catch and pass him. Five solid laps for Todd out front.
Down the front straight fans were treated to Pro Open racers clearing three separate landing areas off the AMSOIL finish line jump ("Quadding" as its referred to by racers) in a 130-plus foot leap of faith pretty much on each and every lap. During the mid-portion of the contest Tremblay would charge through the pack, getting past Joanis and Todd and into 2nd place behind Hibbert. But Hibbert's lead would be too much for the former champ to overcome, settling on a well-deserved 2nd place on the night.
"I'm happy with 2nd," said Tremblay. "It was a great night for me, from my qualifiers to the main."
Hibbert would win by 11-plus seconds, with Tremblay in 2nd and Joanis rounding out the Pro Open podium in 3rd. The rest of the top five included Lincoln Lemieux (AMSOIL/Scheuring/Ski-Doo) in 5th and Todd holding on to a hard-fought 4th.
Fargo Friday Pro Open Results
1 – Hibbert Tucker, Pelican Rapids, MN, Arctic Cat
2 – Tim Tremblay, Ste Jeanne D'Arc, Quebec, Ski-Doo
3 – David Joanis, Cochrane, Ontario, Arctic Cat
4 – Logan Christian, Fertile, MN, Arctic Cat
5 – Lincoln Lemieux, St. Johnsbury, VT, Ski-Doo
6 – Corin Todd, Otego, NY, Polaris
7 – Cody Thomsen, Nisswa, MN, Arctic Cat
8 – John Stenberg, Sweden, Ski-Doo
9 – Kody Kamm, Kenosha, WI, Polaris
10 – Jake Scott, Port Jefferson Station, NJ, Polaris
Overall Pro Open Points (3 of 17 rounds)
1 – Tucker Hibbert, 135
2 – Kyle Pallin, 111
3 – Tim Tremblay, 111
4 – Logan Christian, 105
5 – David Joanis, 99
Pro Lite
Three races in the books for the AMSOIL Championship Snocross Pro Lite class and there's been three different winners. Tonight at the U.S. Air Force Snocross National at Buffalo River Race Park it was James Johnstad that was able to utilize some creative line selection to pass Trevor Leighton (Leighton Motorsports/Polaris) late in the contest and hold on for his first win of the season.
"I was behind Trevor and Travis (Muller) for quite a bit of the race, but kept seeing lines and kept pushing until I finally broke through," said Johnstad. "Snow packed into my goggles so many times I couldn't see. Just glad I was able to stay on my sled and win here in front of the hometown fans."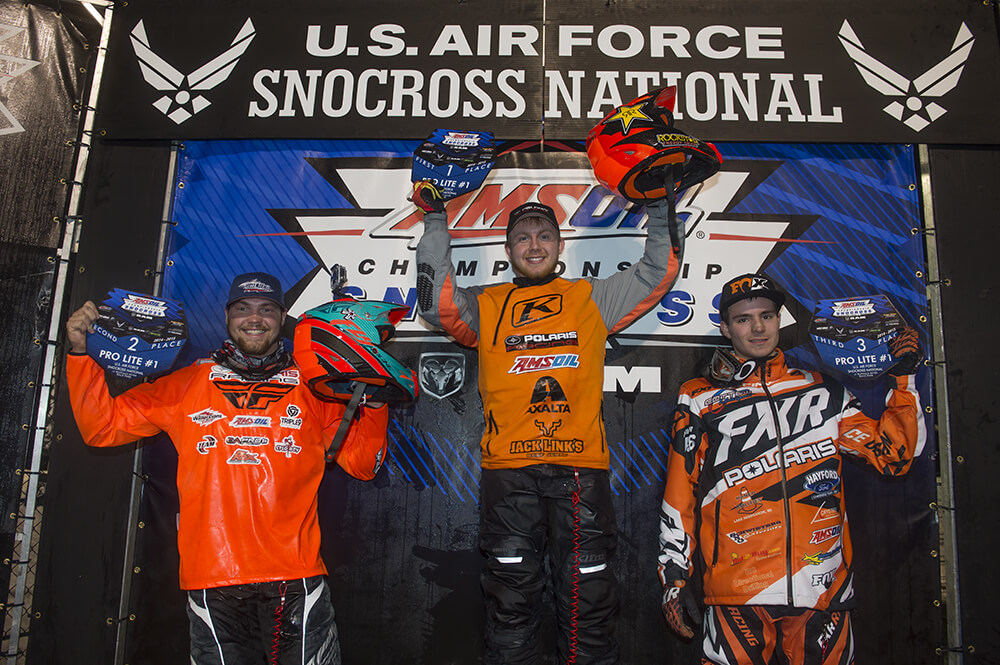 Pulling the holeshot in the big rush off the start for the lead was Muller (Cottew Motorsports/Polaris), followed by Leighton in 2nd and Johnstad in 3rd. The three would separate from the rest of the pack, with Leighton moving up onto Muller quickly (by lap three). On the same lap Duluth Saturday winner, 16-year-old Elias Ishoel (Warnert Racing/Ski-Doo), would get bucked off his sled while rushing to catch the leaders and was not a factor in the remainder of the contest.
Using the entire track, Leighton dove to the inside of turn one to open lap five – with Muller running outside – and claimed the lead. Leighton held the lead for through the halfway point of the 15-lap Pro Lite main when Johnstad fired around the outside line in turn one to pass Muller, then set his site on Leighton – eventually passing him with three laps remaining.
Johnstad would quickly open up a 1.5 second lead and run it through – unchallenged at that point – the checkers for the win. Leighton would hold on for 2nd and Muller took 3rd. Rounding out the Pro Lite top five were Corey Watkinson (Watkinson Racing/Arctic Cat) in 4th and Zak Mason (Leighton Motorsports/Polaris) in 5th.
Fargo Friday Pro Lite Results
1 – James Johnstad, Beltrami, MN, Polaris
2 – Trevor Leighton, Eagle, ID, Polaris
3 – Travis Muller, Windom, MN, Polaris
4 – Corey Watkinson, Port Carling, ONT, Arctic Cat
5 – Zak Mason, Gaylord, MI, Polaris
6 – Kevin Wallenstein, Cadillac, MI, Ski-Doo
7 – Brett Nastala, Milton, WI, Ski-Doo
8 – Elias Ishoel, Norway, Ski-Doo
9 – Ryan Springer, St. Francis, MN, Polaris
10 – Chase Rosemeyer, Chippewa Falls, WI, Ski-Doo
Overall Pro Lite Points (3 of 17 rounds)
1 – Trevor Leighton, 109
2 – Zak Mason, 101
3 – Andrew Carlson, 101
4 – Elias Ishoel, 100
5 – Corey Watkinson, 95
AMSOIL Championship Snocross, powered by Ram, action continues on Sat., Dec. 13 at Buffalo River Race Park just outside Fargo, N.D.
Beginning with AMSOIL Championship Snocross' season-opening round in Duluth, Minn. and running through the season finale in Lake Geneva, Wis., CBS Sports Network will air 17 one-hour programs of the ACS races.
2014-15 AMSOIL Championship Snocross, powered by Ram, season schedule:
Duluth, Minn.: Nov. 28-30
Fargo, N.D.: Dec. 12-13
Shakopee, Minn.: Jan. 9-10
Deadwood, S.D.: Jan. 30-31
Salamanca, N.Y.: Feb. 6-7
Chicago, Ill.: Feb. 20-21
Mount Pleasant, Mich.: Feb. 27-28
Lake Geneva, Wis.: March 13-15
Photos courtesy of Lissa Marsolek/ISOC
About ISOC Racing
The International Series of Champions (ISOC) is the premier snowmobile race sanctioning organization in North America and sanctions national AMSOIL Championship Snocross, in addition to affiliating with nine regional circuits. Visit www.isocracing.com for more information, fan and racer memberships, schedule details and more.