"The Boss is back!" Ross Martin captures the opening night @ Canterbury Racetrack's PIRTEK Snocross National .
AMSOIL Championship Snocross, powered by Ram, Pro Open main event goes to Polaris' Ross Martin in a thrilling final; Corey Watkinson wins the Pro Lite.
Contact: Pat Schutte
PR Director, ISOC Racing
patschutte@aysling.com
MINNEAPOLIS (Jan. 9, 2015) – The extreme cold temps did nothing to freeze the confidence of Ross Martin (Judnick/DuPont/Jack Links/Polaris), who took charge of Friday's AMSOIL Championship Snocross, powered by Ram PIRTEK Snocross National, presented by Jimmy John's, in the early laps and ran 'er through strong at checkers for the win.
And capturing 1st place in the Pro Lite main event at Canterbury was Canadian Corey Watkinson (RJ Motorsports/Arctic Cat), scoring his first-ever professional class victory on the AMSOIL Championship Snocross tour.
Pro Open
All eyes were on Monster Energy/Arctic Cat/Ram's Tucker Hibbert at the start of the Pro Open main. The No. 1 qualifier was undefeated this season and sitting on 99 career wins. But Hibbert would get pinched at the start, forced to the outside (8th place off the line), while former Pro Open champ Tim Tremblay (AMSOIL/Scheuring/Ski-Doo) pulled the Stud Boy Holeshot, followed closely by Martin.
Tremblay and Martin would briefly swap the lead a couple times in the first few corners before Martin set Tremblay up by tripling out of the finish line jump and railing to the lead around the first turn. From there Martin was absolutely masterful, with famed AMSOIL Championship Snocross announcer Mike Schroeder calling out "The Boss is back!" to the Canterbury faithful that braved the cold temps to watch what amounted to the best main event of the year thus far.
"Unbelievable," said Martin atop the podium. "This is where I belong. My confidence is back and I'm going for it … so look out!"
With Martin up front attention turned to the battle for 2nd and 3rd between Tremblay and Kody Kamm (Hentges Racing/Polaris). Tremblay would ride a wide sled and hold off Kamm, the two bumping but keeping the momentum going. This would allow Martin to extend his lead, while Hibbert was charging up through the pack.
Great racing continued through the mid-race laps as Hibbert moved past Kamm and into 3rd, then got past Tremblay on lap seven – setting his site on frontrunner Martin, who had a five-second lead. With six laps to go Hibbert cut Martin's lead to four seconds, but came down awkward off the triple behind the finish line (where he previously passed Tremblay) and had to throw it away so he wouldn't overshoot the first corner. Hibbert was able to remount, but by then Martin, Tremblay and Kamm were gone – as was the hopes for his 100th win tonight.
As Martin continued to rail up front, his lead grew to 7.5 seconds over Tremblay. Riding consistently and hitting all his marks, Martin scored his first win of the year, upsetting both Hibbert's four-race undefeated streak and his quest for 100 wins.
"Canterbury's always been good to me," added Martin. "The team worked so hard over the break getting my sled set up to where I want it and it all came together tonight. We just had to get this done."
Tremblay would run pretty much uncontested into 2nd place, with Kamm following in 3rd.
Said Tremblay: "I had a pretty good race. Had the lead, but Ross got around me. He was faster tonight, but I'm happy with 2nd place."
Rounding out the top five were Logan Christian (Christian Brothers Racing/Arctic Cat) in 4th and Hibbert in 5th.
Canterbury Friday Pro Open Results
1 – Ross Martin, Burlington, WI, Polaris
2 – Tim Tremblay, Ste Jeanne D'Arc, Quebec, Ski-Doo
3 – Kody Kamm, Kenosha, WI, Polaris
4 – Tucker Hibbert, Pelican Rapids, MN, Arctic Cat
5 – Logan Christian, Fertile, MN, Arctic Cat
6 – Kyle Pallin, Ironwood, MI, Polaris
7 – Jake Scott, Port Jefferson Station, NJ, Polaris
8 – David Joanis, Cochrane, Ontario, Arctic Cat
9 – Corin Todd, Otego, NY, Polaris
10 – Cody Thomsen, Nisswa, MN, Arctic Cat
Overall Pro Open Points (5 of 16 rounds)
1 – Tucker Hibbert, 211
2 – Tim Tremblay, 173
3 – Kyle Pallin, 169
4 – Logan Christian, 156
5 – Kody Kamm, 152
Pro Lite
A big pile up on the first turn in Friday's Pro Lite final at Canterbury's PIRTEK National saw 2nd place overall Zak Mason (Leighton Motorsports/Polaris) pull the Stud Boy Holeshot – then crash and collect teammate Trevor Leighton (3rd overall in points). The accident rendered both the No. 1 (Leighton) and No. 2 (Mason) qualifying sleds out of the running for tonight's Pro Lite podium.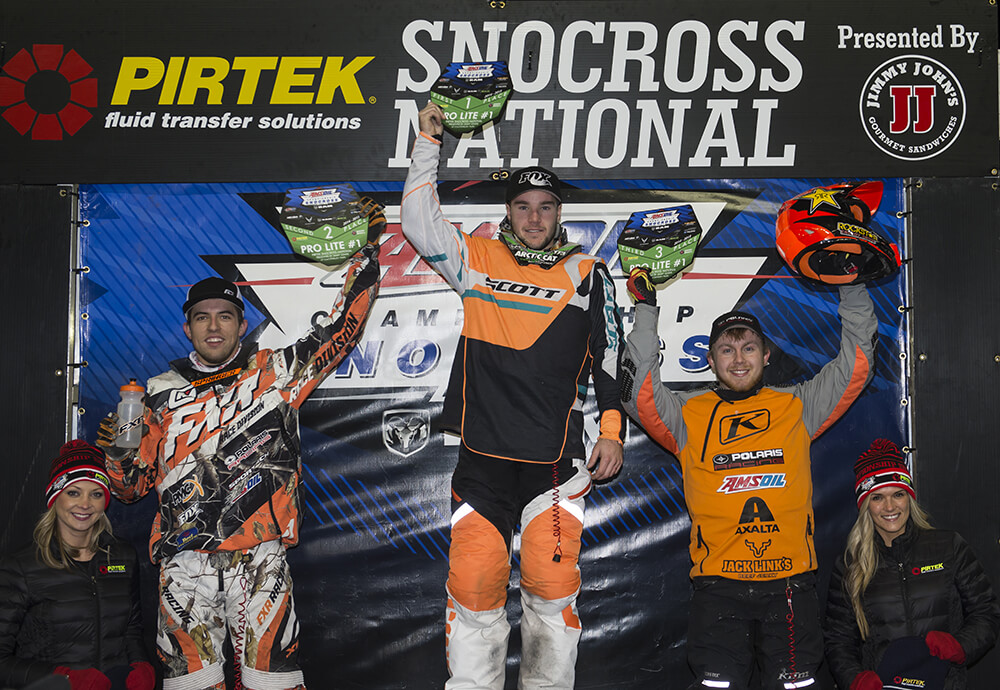 Benefitting from the carnage (which Mason and Leighton were both able to get up from and keep racing) was RJ Motorsports/Arctic Cat's Corey Watkinson. Watkinson inherited the lead and rode a clean 11-lap Pro Lite main – uncontested – through to the checkers.
"The big key was getting that start. I was lucky enough to get away from the carnage there in corner two. Just rode consistent and in control and got the win," said Watkinson. "The guys got the sled working awesome, ran smooth and rode it the way I wanted.
"Finally got my first win in Pro Lites. Got the monkey off my back and hope to keep it going."
Pursuing Watkinson, but never getting closer than 11 seconds back, were James Johnstad (Judnick Motorsports/Polaris) and Ryan Springer (Carlson Motorsports/Polaris). Springer actually had 2nd place up through the last lap before being caught and passed by Johnstad on the final straight away before the checkers.
"I knew coming out of the LCQ it wasn't going to be easy. Just ran it to the outside there and was able to make it up to the podium," said Johnstad, who was the only top five overall points racer coming into Canterbury to make the podium.
As it would be both Johnstad and Springer had to come through the LCQ to make tonight's Pro Lite main, both starting from the back row and working though the field to make the podium.
Rounding out the top five in Friday's PIRTEK Snocross National Pro Lite class at Canterbury were Cottew Motorsports/Polaris' Travis Muller in 4th and Carlson Motorsports/Polaris' Andrew Carlson in 5th.
Canterbury Friday Pro Lite Results
1 – Corey Watkinson, Port Carling, ONT, Arctic Cat
2 – Ryan Springer, St. Francis, MN, Polaris
3 – James Johnstad, Beltrami, MN, Polaris
4 – Travis Muller, Windom, MN, Polaris
5 – Andre Carlson, Big Lake, MN, Polaris
6 – Kevin Wallenstein, Cadillac, MI, Ski-Doo
7 – Elias Ishoel, Norway, Ski-Doo
8 – Michael George, Pine Plains, NY, Arctic Cat
9 – Trevor Leighton, Eagle, ID, Polaris
10 – Marcus Johansson, Norway, Ski-Doo
Overall Pro Lite Points (5 of 16 rounds)
1 – Elias Ishoel, 172
2 – Trevor Leighton, 171
3 – Zak Mason, 161
4 – James Johnstad, 158
5 – Andrew Carlson, 151
AMSOIL Championship Snocross, powered by Ram, continues on Saturday night at Canterbury Park in Shakopee, Minn., Jan. 10, for the Pirtek Snocross National, presented by Jimmy John's.
Beginning with AMSOIL Championship Snocross' season-opening round in Duluth, Minn. and running through the season finale in Lake Geneva, Wis., CBS Sports Network will air 17 one-hour programs of the ACS races.
2014-15 AMSOIL Championship Snocross, powered by Ram, season schedule:
Duluth, Minn.: Nov. 28-30
Fargo, N.D.: Dec. 12-13
Shakopee, Minn.: Jan. 9-10
Deadwood, S.D.: Jan. 30-31
Salamanca, N.Y.: Feb. 6-7
Chicago, Ill.: Feb. 20-21
Mount Pleasant, Mich.: Feb. 27-28
Lake Geneva, Wis.: March 13-15
Photos courtesy of Lissa Marsolek/ISOC
About ISOC Racing
The International Series of Champions (ISOC) is the premier snowmobile race sanctioning organization in North America and sanctions national AMSOIL Championship Snocross, in addition to affiliating with nine regional circuits. Visit www.isocracing.com for more information, fan and racer memberships, schedule details and more.