Tucker Hibbert's historic @ Deadwood! Goes from last to 1st in winning his 100th pro snocross race!
Just an absolute legendary effort on the AMSOIL Championship Snocross circuit by the world's top pro snocross racer; Ryan Springer dominates Pro Lite class.
Contact: Pat Schutte
PR Director, ISOC Racing
patschutte@aysling.com
DEADWOOD, S.D. (Jan. 31, 2015) – After crashing on the first corner of the opening lap and righting his Arctic Cat sled in dead last place, defending AMSOIL Championship Snocross, powered by Ram Pro Open class champion Tucker Hibbert (Monster Energy/Ram) put on one of the most impressive racing displays in pro snocross racing history by winning the Deadwood Snocross Shootout, presented by Four Seasons Motorsports & Marine – and in the process logging his 100th career victory.
"This was the greatest race I think I've ever seen," said ISOC's John Daniels, presenting Hibbert with a momentous 100th win plaque.
Warming up the packed crowds at Deadwood's Days of '76 Rodeo Grounds was Ryan Springer (Carlson Motorsports/Polaris) with a wire-to-wire win in the Pro Lite class.
Pro Open
Starting in practice at Deadwood on Saturday, Hibbert had the attention of the race experts throughout the pro pits – everybody echoing each other's sentiment of "Did you see Tucker run in practice?" Hibbert was on it, qualifying in the top spot with a 1st/1st heat race effort and more or less tying Kyle Pallin (Mystic/Loctite/Polaris) for the Stud Boy Holeshot to open tonight's main event.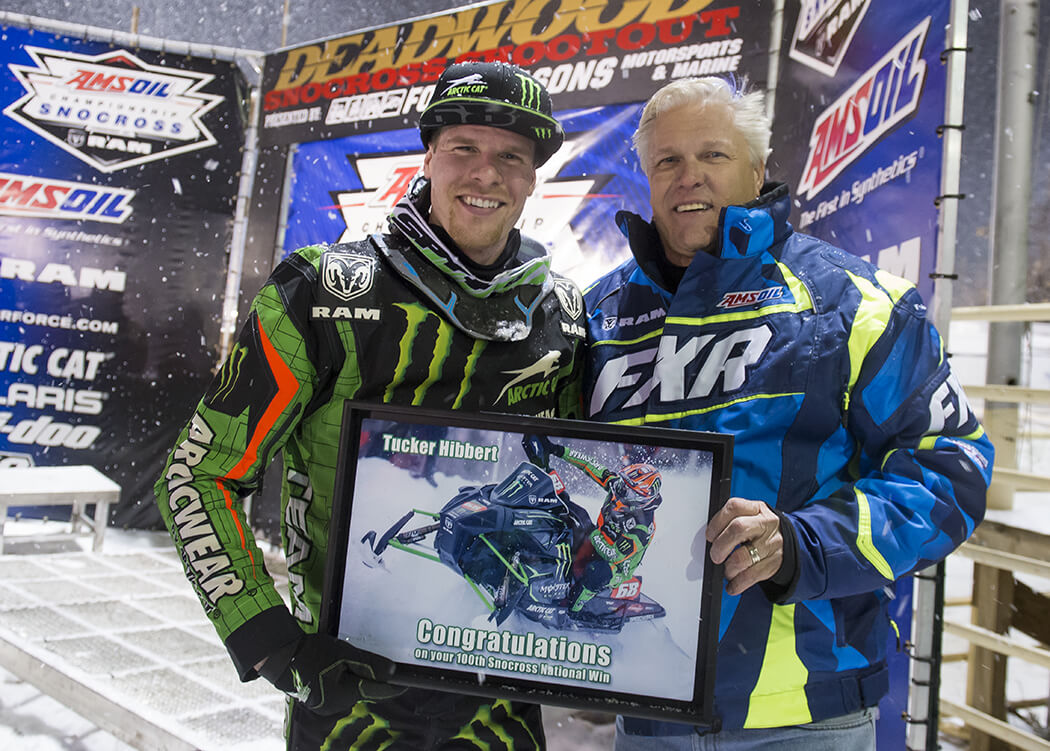 But as quickly as Hibbert was up front, his storied night came crashing back to earth with an unforced error in the first turn that ended with his sled on its side and former Pro Open champ Tim Tremblay (Scheuring Speed Sports/Ski-Doo) tangled up with him.
Rising from the carnage in absolute dead last place, Hibbert would remount, put his head down and make history with a late race pass for 1st place over longtime rival Ross Martin (Judnick Motorsports/Polaris).
"This feels amazing," said an elated Hibbert of his last-to-1st effort to secure his 100th pro snocross victory. "One hundred wins – that's a lot of races. I'm thankful for the wins, thankful for the losses."
Hibbert was on a rail around the bull ring Deadwood course, oblivious to lapped traffic, hitting his marks on the lines he was comfortable with and thinking outside the box in areas of the track where he desperately needed to make up time.
"I had no idea where I was, never looked at my pit board the entire race," said Hibbert, flying on a wing and a prayer through the thick roost and fresh snow falling from the sky. "Then I hit the finish line and saw the flames go off."
Running up front of much of the 22-lap contest were Pallin and Martin. The two exchanged some visor-to-visor looks in the corners before Martin was able to fly past Pallin on lap 17, out-jumping Pallin for the lead just as Hibbert got past Logan Christian (Christian Brothers Racing/Arctic Cat) for 3rd.
With three laps to go Hibbert ripped past Pallin and set his site on Martin – the exact two racers that upset Hibbert's 100 win attempt at the series' last stop in Shakopee, Minn. With one lap remaining, and as if there was any doubt, Hibbert roared past Martin and into the AMSOIL Championship Snocross record books forever with his 100th victory.
Deadwood Saturday Pro Open Results
1 – Tucker Hibbert, Pelican Rapids, MN, Arctic Cat
2 – Ross Martin, Burlington, WI, Polaris
3 – Kyle Pallin, Iron Mountain, MI, Polaris
4 – Logan Christian, Fertile, MN, Arctic Cat
5 – Justin Broberg, Mukwonago, WI, Polaris
6 – Tim Tremblay, Ste Jeanne D'Arc, Quebec, Ski-Doo
7 – Jake Scott, Port Jefferson, NY, Polaris
8 – Andrew Lieders, Colby, WI, Polaris
9 – David Joanis, Canada, Arctic Cat
10 – Corin Todd, Otego, NY, Polaris
Overall Pro Open Points (8 of 16 rounds)
1 – Tucker Hibbert, 338
2 – Kyle Pallin, 274
3 – Tim Tremblay, 273
4 – Kody Kamm, 253
5 – Ross Martin, 252
Pro Lite
Ryan Springer and his Carlson Motorsports/Polaris teammate Andrew Carlson took command of Saturday's Deadwood Pro Lite final, Carlson grabbing the Stud Boy Holeshot and Springer diving in right behind him in 2nd. Friday Deadwood Pro Lite podium placer Tyler Adams (Christian Brothers/Arctic Cat) would come ripping into the picture, splitting Springer and Adams while snaring the 2nd place position (ahead of Carlson).
Springer, who finished 5th on Friday, was on it Saturday at Deadwood. Leaving no doubt as he ran uncontested up from for the entire 16 lap contest, Springer was pumped with his performance – especially considering he was under the weather, physically, heading into tonight's contest.
"Yesterday was an alright day, got 5th. But after the race I had some sort of allergic reaction to something and my eyes were all swelled up and I itched all over," explained Springer. "So I was literally sleeping between each heat, laying down and resting, drinking lots of fluids. And in the end it all turned out alright."
The best battle of the night in the Pro Lite class would transpire in the early laps and carry on throughout the race until about lap 11. Coming in one point back of Elias Ishoel (Warnert Racing/Ski-Doo) in the overall Pro Lite point chase on Saturday, Trevor Leighton (Leighton Motorsports/Polaris) locked up with Carlson and the two grabbed the attention of the packed Days of '76 Rodeo Grounds for a number of thrilling laps before Carlson pulled ahead. Leighton's solid 4th place effort would allow him to wrestle the point lead back from Ishoel at the midway point (8 of 16 rounds) of AMSOIL Championship Snocross Pro Lite class racing.
Back up front Springer continued to click off fast lap after fast lap, seemingly unaffected by the lapped traffic on the tight Deadwood oval. With Friday's winner Ishoel a non-factor on Saturday, Carlson would lose Leighton and set his site on Adams – the two battling bar-to-bar through the checkers in an exciting battle won by Adams (2nd).
Rounding out the top five in Saturday's Pro Lite class at Deadwood were Leighton in 4th and Corey Watkinson (Watkinson Motorsports/Arctic Cat) in 5th.
Deadwood Saturday Pro Lite Results
1 – Ryan Springer, St. Francis, MN, Polaris
2 – Tyler Adams, Elk River, MN, Arctic Cat
3 – Andrew Carlson, Big Lake, MN, Polaris
4 – Trevor Leighton, Eagle, ID, Polaris
5 – Corey Watkinson, Canada, Arctic Cat
6 – James Johnstad, Beltrami, MN, Polaris
7 – Elias Ishoel, Norway, Ski-Doo
8 – Max Taillefer, Quebec, Ski-Doo
9 – Travis Muller, Windom, MN, Polaris
10 – Kevin Wallenstein, Cadillac, MI, Ski-Doo
Overall Pro Lite Points (8 of 16 rounds)
1 -Trevor Leighton, 283
2 – Elias Ishoel, 275
3 – Andrew Carlson, 264
4 – Ryan Springer, 258
5 – Travis Muller, 248
The AMSOIL Championship Snocross, powered by Ram, tour moves to Salamanca, N.Y., for the annual running of the Seneca Allegany United States Air Force National at Seneca Allegany Resort & Casino, Feb. 6-7.
Beginning with AMSOIL Championship Snocross' season-opening round in Duluth, Minn. and running through the season finale in Lake Geneva, Wis., CBS Sports Network will air 17 one-hour programs of the ACS races.
2014-15 AMSOIL Championship Snocross, powered by Ram, season schedule:
Duluth, Minn.: Nov. 28-30
Fargo, N.D.: Dec. 12-13
Shakopee, Minn.: Jan. 9-10
Deadwood, S.D.: Jan. 30-31
Salamanca, N.Y.: Feb. 6-7
Chicago, Ill.: Feb. 20-21
Mount Pleasant, Mich.: Feb. 27-28
Lake Geneva, Wis.: March 13-15
Photos courtesy of Lissa Marsolek/ISOC
About ISOC Racing
The International Series of Champions (ISOC) is the premier snowmobile race sanctioning organization in North America and sanctions national AMSOIL Championship Snocross, in addition to affiliating with nine regional circuits. Visit www.isocracing.com for more information, fan and racer memberships, schedule details and more.