Feb. 2, 2015 – Monster Energy / Arctic Cat / Ram Truck's Tucker Hibbert captured his 100th Pro National Snocross victory in a heroic come-from-behind win in Deadwood, SD Saturday night. With an electric crowd packed into the Days of '76 Rodeo Grounds, Hibbert rallied through the field with blazing speed and determination to record this historic career milestone.
Taking his 99th victory in December, Hibbert fell short of number 100 three straight rounds. He finished 4-2 at Canterbury Park in Shakopee, Minn. and came within a sled length of winning Friday night at Deadwood after an aggressive ride.
Hibbert entered Saturday with a fresh focus and drive. He turned the fastest lap in practice, won both qualifying rounds and grabbed the Stud Boy holeshot in the 15-rider, 22-lap main event. Out front early, it momentarily looked as though Hibbert could run away with his 100th win. In turn two, he hit a wall of snow left by a groomer and was rolled on his side – collecting Tim Tremblay in the process. After struggling to get his sled unlocked from Tremblay's sled, Hibbert reentered the race nearly a lap down and 20 seconds behind the leader.
What happened next, was a downright impressive display of determination and talent. Hibbert charged forward as if no one else was on the short, bullring-style track with him. Lap after lap, he made clean passes – crushing the gap between him and the race leader. Without a clear idea where he was in the running order, he kept pushing and didn't give-up until he saw the checkers and flames go off on the finish-line jump.
Hibbert now holds a 64-point lead in the ISOC Pro Open Championship. Next up is the Eastern National in Salamanca, NY Feb. 6-7. Visit tucker-hibbert.com to follow him as he continues to chase his ninth national championship.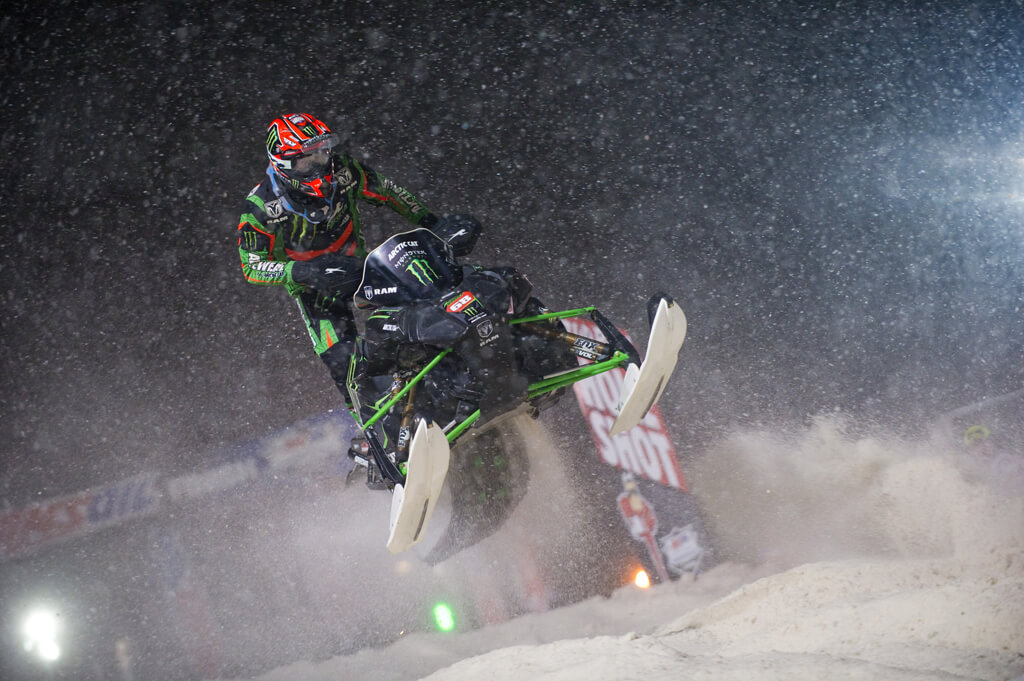 Tucker Hibbert – #68 Monster Energy / Arctic Cat / Ram Truck
"I didn't have a game plan after I crashed (in the opening lap Saturday night) and once I got up, I didn't consciously think 'I'm going to win this race.' I just put my head down and charged as hard as I could until I got the checkers. I didn't even take time to look at the pit board so I didn't know where I was the entire race."
"I know the crowd was going crazy but I couldn't hear them because I zoned everything out while I was racing. I was totally focused on hitting my lines and on what was right in front of me. It was a different feeling than Friday night's final. I was riding my own race and going where I wanted to go. You don't feel that good every time you're on the track so it was nice to have that kind of race."
"The season started awesome by winning the first four then I lost three in a row. The pressure and anticipation for 100 was really building up. Looking back, I'm glad 100 happened the way it did. I'm glad it wasn't a runaway victory. It definitely was frustrating losing those races but I know this is the way it was supposed to happen."
"It's really awesome to have that many wins – to be able to look back…so many memories, stories. For me, it's never about getting a certain amount of wins or a record. It's about being the best I can be. Getting 100 wasn't the motivation to win. The motivation was to not lose."
"Every single race, I've learned something – from each first, second and DNF. I'm thankful for the wins and the times I didn't win. It's what brought me to where I am now."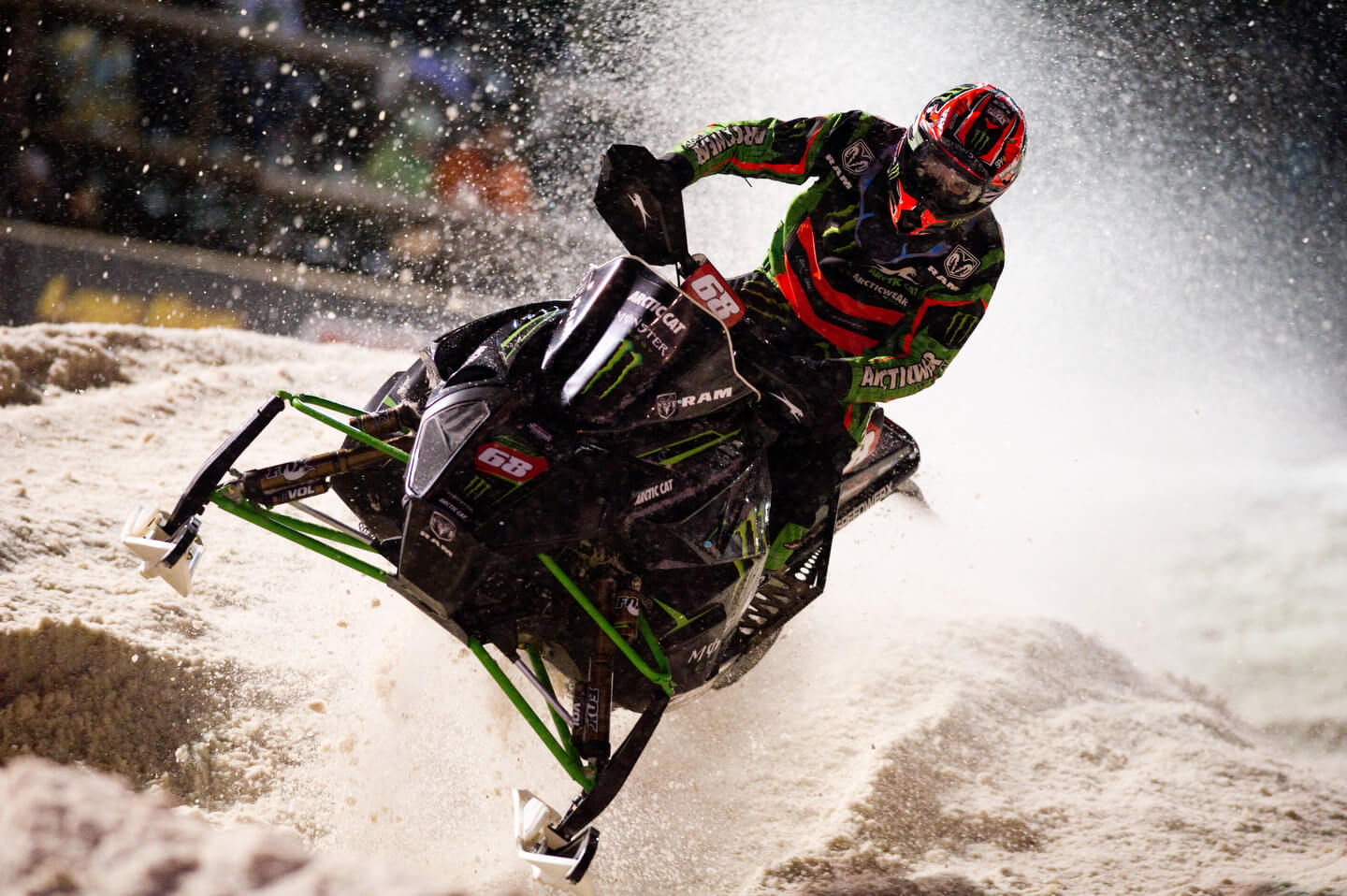 Tucker Hibbert – Snocross Pro National History
1st Pro National Win: Duluth, MN – November 2000, 16 years old
50th Pro National Win: Milwaukee, WI – December 2009, 25 years old
100th Pro National start • 75 top-three finishes • 88 top-10 finishes
100th Pro National Win: Deadwood, SD – January 2015, 30 years old
175th Pro National start • 133 top-three finishes • 159 top-10 finishes
Note: These statistics do not include X Games, the FIM World Championship or other one-off snocross events.
Fast Facts
Hometown: Pelican Rapids, Minnesota
13-Time X Games Medalist
Eight-Time National Snocross Champion
2012 and 2010 FIM Snowcross World Champion
Resources: tucker-hibbert.com • monsterenergy.com • arcticcat.com • ramtrucks.com
Photo Credit: John Hanson