Tucker Hibbert clinches the 2014-'15 AMSOIL Championship Snocross Pro Open title with Friday win @ Lake Geneva!
Pro snocross racing's all-time winningest racer goes 1st/1st in his heat races and dominates the main event to win his ninth Pro Open title
Contact: Pat Schutte
PR Director, ISOC Racing
patschutte@aysling.com
LAKE GENEVA, Wis. (March 13, 2015) – With a convincing victory tonight in the Nielsen Enterprises Grand Finale, presented by Dayco Grand Finale at Grand Geneva Resort & Spa, pro snocross racing's all-time winningest racer, Tucker Hibbert (Monster/Ram/Arctic Cat), has clinched the 2014-'15 AMSOIL Championship Snocross, powered by Ram, premier Pro Open class championship.
I'm so happy right now … this is just awesome," said Hibbert in clinching his 9th Pro Open class title. "I know this is Ross (Martin) and Kody (Kamm) Land, but I appreciate the cheers."
Leading by 89 points over 2nd place Tim Tremblay (AMSOIL/Scheuring/Ski-Doo) heading into Friday's action at Lake Geneva, Hibbert locked down 1st/1st place finishes in his two qualifiers to add to his lead. With a mathematical chance to still catch Hibbert (albeit slim), Tremblay would crash in the main event and was unable to finish, allowing Hibbert to wrap the inevitable title up early.
Pro Open
Out of the start gate like a rocket was Kenosha's (Wis.) Kody Kamm (Hentges Racing/Polaris), pulling one of the bigger holeshots of the year down the long straight leading up the Mountain Top ski area. Kamm, who missed a number of races with lower body injury, would lead the first couple laps – much to the enjoyment of the pro-Kamm crowd on hand.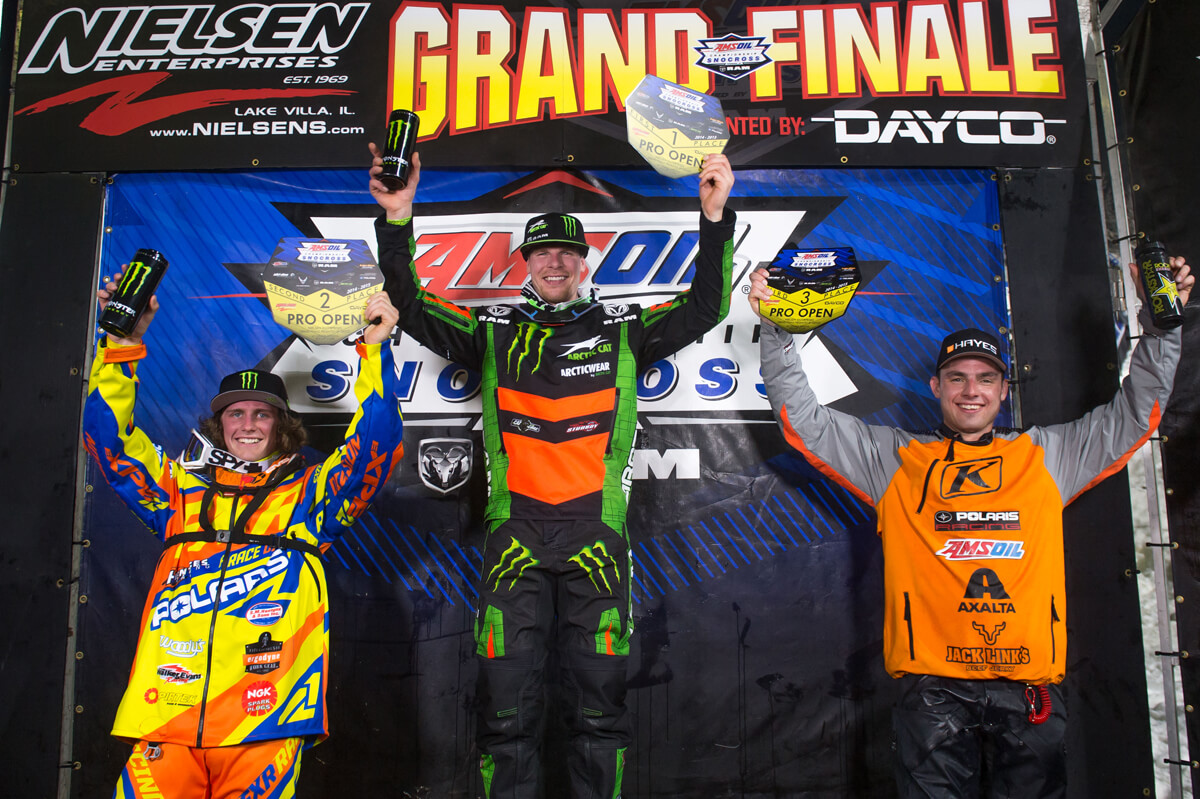 "I had a sweet holeshot and led for a couple laps," said Kamm. "This was just a great race to come back to."
Just before the start of lap three Hibbert made one of his bolder passes of the season, stretching out over a giant double heading into the final turn, diving low and catching Kamm by surprise before passing him for the lead heading into the AMSOIL Finish Line Jump.
"Kody left the door open and Tucker took advantage of it," said ISOC announcer Levi LaVallee.
With Hibbert quickly up by four seconds on Kamm, the battle for the final podium spot began to transpire. Ross Martin (Judnick Motorsports/Polaris) from nearby Burlington, Wis., always runs well on the Lake Geneva track – and Friday's contest would be no different. Martin started in 6th position and quickly moved up to 4th past Kyle Pallin (Mystic/Loctite/Polaris).
Running in 3rd place through the first five (of nine) laps was Arctic Cat pilot Cody Thomsen. With one of his better starts of the season, Thomsen would be searching for his first podium of the year. But Martin had different plans and on lap six shot past Thomsen and took charge of the third and final podium spot.
Thomsen would hold on for 4th place with another Wisconsinite, Mukwonago's Justin Broberg (Hentges Racing/Polaris), rounding out the top five.
Lake Geneva Friday Pro Open Results
1 – Tucker Hibbert, Pelican Rapids, MN, Arctic Cat
2 – Kody Kamm, Kenosha, WI, Polaris
3 – Ross Martin, Burlington, WI, Polaris
4 – Cody Thomsen, Nisswa, MN, Arctic Cat
5 – Justin Broberg, Mukwonago, WI, Polaris
6 – Kyle Pallin, Ironwood, MI, Polaris
7 – John Stenberg, Sweden, Ski-Doo
8 – Corin Todd, Otego, NY, Polaris
9 – Adam Renheim, Sweden, Ski-Doo
10 – David Joanis, Canada, Arctic Cat
Overall Pro Open Points (15 of 17 rounds)
1 – Tucker Hibbert, 638*
2 – Tim Tremblay, 524
3 – Kyle Pallin, 506
4 – Logan Christian, 469
5 – Ross Martin, 464
*Clinches the 2014-'15 Pro Open title
Pro Lite
Returning to action on Saturday and Sunday at Lake Geneva, the Pro Lite class couldn't get more interesting as no less than 78 points separates the top six racers. Ryan Springer (Carlson Motorsports/Polaris) pulled away from the rest of the field in the last several races, winning six of his past seven starts and now holds a stable – but not unattainable – 34-point lead over Trevor Leighton (Leighton Motorsports/Polaris), 504-470.
And just a few points back of Springer and Leighton are Springer's teammate, Andrew Carlson (466 points), and Travis Muller (Cottew Motorsports/Polaris) with 465 points. Add to that Polaris mix the lone Ski-Doo sled of Norway's Elias Ishoel (Warnert Racing) in 5th place (452 points) and James Johnstad (Judnick Motorsports/Polaris) at 426 points and you've got the makings for a heck of a final run at the Pro Lite title and top five overall.
Overall Pro Lite Points (14 of 16 rounds)
1 – Ryan Springer, 504
2 – Trevor Leighton, 470
3 – Andrew Carlson, 466
4 – Travis Muller, 465
5 – Elias Ishoel, 452
Also … Just a reminder that Sunday's (March 15th) running of pro snowmobile racing's premier competition racing series, AMSOIL Championship Snocross, powered by Ram, from Grand Geneva Resort & Spa is scheduled to air "LIVE" on CBS Sports, beginning at 3 p.m. EST.
Who: 150 of the world's top snowmobile racers
What: Rounds 15, 16 and 17 of 2012-'13 AMSOIL Championship Snocross
When: March 13-15
Where: Grand Geneva Resort & Spa, 7036 Grand Geneva Way, Lake Geneva, WI 53147
Times: Opening ceremonies are at 6 p.m. on Friday and Saturday, Noon on Sunday.
Host hotel: Grand Geneva Resort & Spa
Tickets: Advance general admission tickets are $25 per day or $40 for the entire three-day weekend ($45 weekend/$30 Day of Show). Children 5 and under are free. Parking is $5. Tickets are available at the gate and online at www.isocracing.com
More information: www.grandgeneva.com
Beginning with AMSOIL Championship Snocross' season-opening round in Duluth, Minn. and running through the season finale in Lake Geneva, Wis., CBS Sports Network will air 17 one-hour programs of the ACS races.
2014-15 AMSOIL Championship Snocross, powered by Ram, season schedule:
Duluth, Minn.: Nov. 28-30
Fargo, N.D.: Dec. 12-13
Shakopee, Minn.: Jan. 9-10
Deadwood, S.D.: Jan. 30-31
Salamanca, N.Y.: Feb. 6-7
Chicago, Ill.: Feb. 20-21
Mount Pleasant, Mich.: Feb. 27-28
Lake Geneva, Wis.: March 13-15
Photos courtesy of Lissa Marsolek/ISOC
About Grand Geneva Resort & Spa
Grand Geneva Resort & Spa is an award-winning all-seasons resort set on 1,300 acres in the legendary southeastern Wisconsin community of Lake Geneva, just 90 minutes from Chicago and 50 minutes from Milwaukee. The property features 355 guest rooms; WELL Spa + Salon; two championship 18-hole golf courses; The Mountain Top, a three-chair/18-run ski and snowboard facility; 62,000 square feet of meeting and convention space and three restaurants. For more information, please visit www.grandgeneva.com and follow us on Facebook and Twitter.
About ISOC Racing
The International Series of Champions (ISOC) is the premier snowmobile race sanctioning organization in North America and sanctions national AMSOIL Championship Snocross, in addition to affiliating with nine regional circuits. Visit www.isocracing.com for more information, fan and racer memberships, schedule details and more.
About Marcus Hotels & Resorts
Marcus Hotels & Resorts is a division of The Marcus Corporation (NYSE: MCS). With the addition of The Hotel Zamora, the company owns and/or manages 20 hotels, resorts and other properties in 11 states. A force in the hospitality industry, Marcus Hotels & Resorts provides expertise in management, development and historic renovations. The company's portfolio includes a wide variety of properties including city-center meeting hotels, upscale resorts and branded first-class hotels. For more information on the latest news and updates, please visit: http://media.marcushotels.com and follow the company on Facebook and Twitter (@MarcusHotels).