'15 Pro Open champ Hibbert stays on the gas & wins Saturday's AMSOIL Championship Snocross Lake Geneva main event.
Hibbert wins a wild Pro Open class main event on the season's toughest track; 16-year-old Elias Ishoel dominates the Pro Lite main.
Contact: Pat Schutte
PR Director, ISOC Racing
patschutte@aysling.com
LAKE GENEVA, Wis. (March 14, 2015) – With the AMSOIL Championship Snocross, powered by Ram, Pro Open title in hand, Tucker Hibbert (Monster/Ram/Arctic Cat) kept it on the main jet Saturday night at the Nielsen Enterprises Grand Finale, presented by Dayco Grand Finale at Grand Geneva Resort & Spa, winning by 14 seconds to take his sixth victory of the weekend thus far (heats & mains).
And in the Pro Lite class Norway's Elias Ishoel flat out hammered the super technical Lake Geneva track, putting on a spectacular show in passing the 2nd and 1st place racers in a matter of seconds for the lead and eventual win.
Pro Open
Not having had the best starts all season long, Hibbert finally managed to figure out how to launch his Arctic Cat off the line at Lake Geneva. And in tonight's main he pulled Hentges Racing/Polaris teammates Kody Kamm and Justin Broberg up Mountain Top ski hill in spectacular fashion with the Stud Boy Holeshot, then led 2nd place Kamm and 3rd place Tim Tremblay (AMSOIL/Scheuring/Ski-Doo) down the hill before starting to check out early – much like he did in Friday night's win as well.
"I got a great start, ripped out of the hole and that was key for sure tonight," said Hibbert, who wrapped up his 9th Pro Open title on Friday. "The track was gnarly. I was scared on the site lap."
Wanting to steer clear of the fire hose roost coming off the back of everyone's sleds (the result of warm temps and highly wet/soft snow conditions), Hibbert clocked the night's fastest lap – a 1:14.6 – on lap two, which was an incredible three whole seconds faster than the second-fastest lap time.
With Kamm back from a midseason injury and running real well (2nd on Friday night), the battle for 3rd between Tremblay and Broberg began to heat up. Ross Martin (Judnick Motorsports/Polaris) would soon join the fray as well and both he and Broberg got past Tremblay in the downhill section coming towards the ski lodge, which sent the grandstands into a frenzy with three hometown Wisconsinites (Kamm, Broberg & Martin) now vying for podium spots.
On lap six of the nine-lap contest Martin launched out past Broberg for 3rd on top of the ski hill, only to land crossed up in a deep pocket and get pitched off his sled – at the absolute worst spot on the track. As Martin gathered himself and grabbed his tether, his Polaris began a slow descent – by itself – down the fast of Mountain Top's steepest ski run, forcing Martin to sprint a couple hundred feet down the hill to fetch his sled.
Broberg would quickly re-pass Martin for the third and final podium spot, with Adam Renheim (Boss Racing/Ski-Doo) and Logan Christian (Christian Brothers Racing/Arctic Cat) also getting by to round out the top five in 4th and 5th, respectively.
Lake Geneva Saturday Pro Open Results
1 – Tucker Hibbert, Pelican Rapids, MN, Arctic Cat
2 – Kody Kamm, Kenosha, WI, Polaris
3 – Justin Broberg, Mukwonago, WI, Polaris
4 – Adam Renheim, Sweden, Ski-Doo
5 – Logan Christian, Fertile, MN, Arctic Cat
6 – Ross Martin, Burlington, WI, Polaris
7 – David Joanis, Canada, Arctic Cat
8 – Tim Tremblay, Canada, Ski-Doo
9 – Corin Todd, Otego, NY, Polaris
10 – Kyle Pallin, Ironwood, MI, Polaris
Overall Pro Open Points (16 of 17 rounds)
1 – Tucker Hibbert, 638*
2 – Tim Tremblay, 556
3 – Kyle Pallin, 529
4 – Logan Christian, 502
5 – Ross Martin, 496
*Clinches the 2014-'15 Pro Open title
Pro Lite
Sixteen-year-old Norwegian Elias Ishoel put on one of the more impressive Pro Lite main event performances of the year after sweeping his qualifiers (1st/1st) and coming from back in the pack to dominate the main event for his fourth victory of the AMSOIL Championship Snocross season.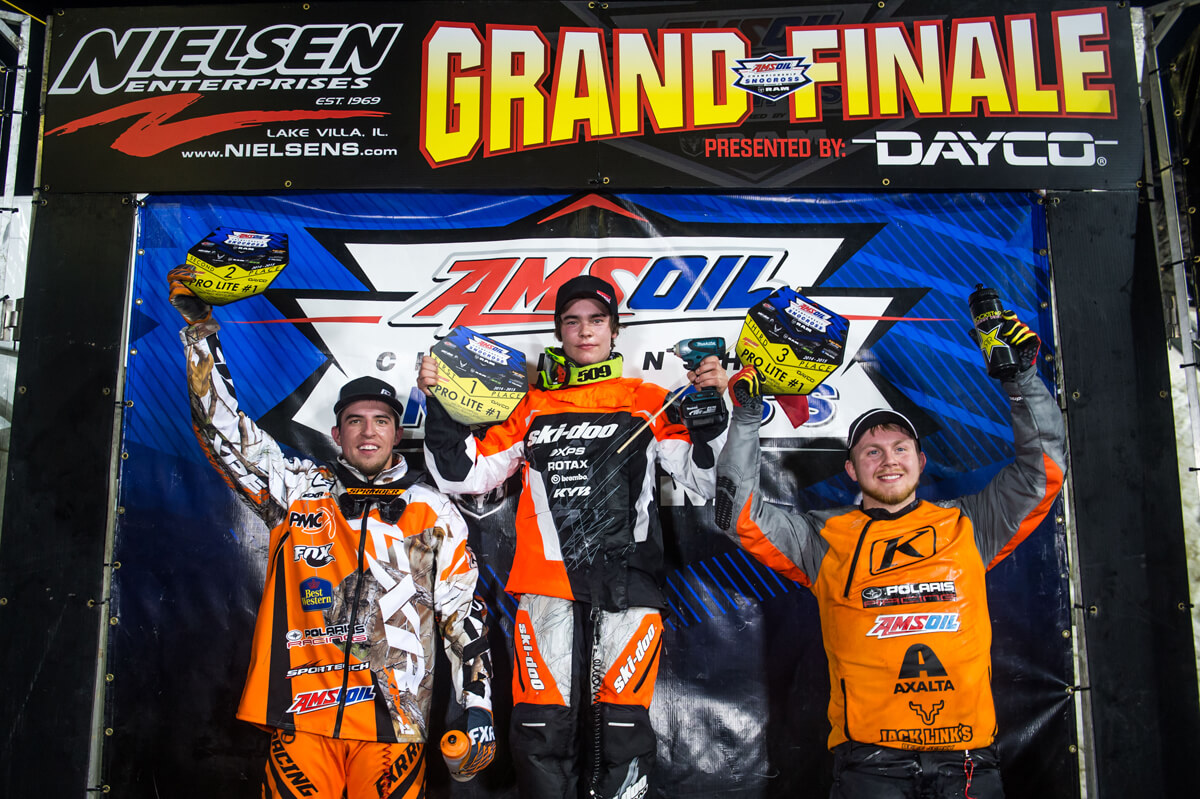 In tune with the tricky elevation changes on the Lake Geneva track almost immediately, Ishoel – in his first race at
Lake Geneva – had all the fast lines dialed all day, en-route to the win. "It feels much more like home, more hills and the track is longer," said Ishoel. "So it's cool."
Pulling a convincing Stud Boy Holeshot was Pro Lite point leader Ryan Springer (Carlson Motorsports/Polaris), closely towing James Johnstad (Judnick Motorsports/Polaris) and teammate Andrew Carlson up the Mountain Top ski area's intermediate hill.
On lap two Ishoel made himself known, moving up to 4th place and onto the roost flap of Carlson. Then, with an absolute banzai move, Ishoel blitzed the downhill section and held the throttle on into the base bowl turn, going low on Carlson and forcing the 3rd place rider high before stealing 3rd.
Two laps later into the seven-lap contest Ishoel was up onto 2nd place Johnstad. The two would battle for about a lap before Ishoel aired it out past Johnstad and into 2nd place. And before you could say "race leader Ryan Springer," Ishoel was past him as well on the ensuing uphill section.
For Springer, succeeding the lead without much of a fight was all part of the game plan as the point leader settled back into 2nd, ahead of Johnstad and, more importantly, out front of 2nd place overall (in Pro Lite points) Trevor Leighton (Leighton Motorsports/Polaris).
"I just went out and rode comfortable. I wasn't going to push anything, get out of control and throw away the points lead. Just tried to ride smart and that's what I did," said Springer, who is now two points away from clinching the Pro Lite title in just his second year of pro snocross racing.
Back on the track there wasn't going to be anyone catching Ishoel. During his passfest on lap four, Ishoel clocked a blistering 1:18.9 – the fastest lap of the evening in Pro Lites. The rest of the field would stay put in their positons with Springer in 2nd, Johnstad in 3rd, Carlson in 4th and Leighton in 5th.
Lake Geneva Saturday Pro Lite Results
1 – Elias Ishoel, Norway, Ski-Doo
2 – Ryan Springer, St. Francis, MN, Polaris
3 – James Johnstad, Beltrami, MN, Polaris
4 – Andrew Carlson, Big Lake, MN, Polaris
5 – Trevor Leighton, Eagle, ID, Polaris
6 – Maxime Taillefer, Canada, Ski-Doo
7 – Travis Muller, Windom, MN, Polaris
8 – Travis Kern, Palisade, MN, Arctic Cat
9 – Jake Angove, Oconomowoc, WI, Polaris
10 – Nick Pattyn, Ravenna, MI, Arctic Cat
Overall Pro Lite Points (15 of 16 rounds)
1 – Ryan Springer, 546
2 – Trevor Leighton, 504
3 – Andrew Carlson, 503
4 – Elias Ishoel, 497
5 – Travis Muller, 496
Also … Just a reminder that Sunday's (March 15th) running of pro snowmobile racing's premier competition racing series, AMSOIL Championship Snocross, powered by Ram, from Grand Geneva Resort & Spa is scheduled to air "LIVE" on CBS Sports, beginning at 3 p.m. EST.
Who: 150 of the world's top snowmobile racers
What: Rounds 15, 16 and 17 of 2012-'13 AMSOIL Championship Snocross
When: March 13-15
Where: Grand Geneva Resort & Spa, 7036 Grand Geneva Way, Lake Geneva, WI 53147
Times: Opening ceremonies are at 6 p.m. on Friday and Saturday, Noon on Sunday.
Host hotel: Grand Geneva Resort & Spa
Tickets: Advance general admission tickets are $25 per day or $40 for the entire three-day weekend ($45 weekend/$30 Day of Show). Children 5 and under are free. Parking is $5. Tickets are available at the gate and online at www.isocracing.com
More information: www.grandgeneva.com
Beginning with AMSOIL Championship Snocross' season-opening round in Duluth, Minn. and running through the season finale in Lake Geneva, Wis., CBS Sports Network will air 17 one-hour programs of the ACS races.
2014-15 AMSOIL Championship Snocross, powered by Ram, season schedule:
Duluth, Minn.: Nov. 28-30
Fargo, N.D.: Dec. 12-13
Shakopee, Minn.: Jan. 9-10
Deadwood, S.D.: Jan. 30-31
Salamanca, N.Y.: Feb. 6-7
Chicago, Ill.: Feb. 20-21
Mount Pleasant, Mich.: Feb. 27-28
Lake Geneva, Wis.: March 13-15
Photos courtesy of Lissa Marsolek/ISOC
About Grand Geneva Resort & Spa
Grand Geneva Resort & Spa is an award-winning all-seasons resort set on 1,300 acres in the legendary southeastern Wisconsin community of Lake Geneva, just 90 minutes from Chicago and 50 minutes from Milwaukee. The property features 355 guest rooms; WELL Spa + Salon; two championship 18-hole golf courses; The Mountain Top, a three-chair/18-run ski and snowboard facility; 62,000 square feet of meeting and convention space and three restaurants. For more information, please visit www.grandgeneva.com and follow us on Facebook and Twitter.
About ISOC Racing
The International Series of Champions (ISOC) is the premier snowmobile race sanctioning organization in North America and sanctions national AMSOIL Championship Snocross, in addition to affiliating with nine regional circuits. Visit www.isocracing.com for more information, fan and racer memberships, schedule details and more.
About Marcus Hotels & Resorts
Marcus Hotels & Resorts is a division of The Marcus Corporation (NYSE: MCS). With the addition of The Hotel Zamora, the company owns and/or manages 20 hotels, resorts and other properties in 11 states. A force in the hospitality industry, Marcus Hotels & Resorts provides expertise in management, development and historic renovations. The company's portfolio includes a wide variety of properties including city-center meeting hotels, upscale resorts and branded first-class hotels. For more information on the latest news and updates, please visit: http://media.marcushotels.com and follow the company on Facebook and Twitter (@MarcusHotels).