For more than 40 years, AMSOIL has enjoyed exclusive access to the world's leading racers and events.
And now we're inviting you along for the ride. Watch this video to learn more: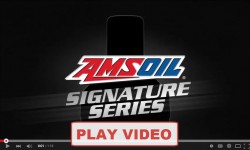 Introducing AMSOIL Racing Signature Series
AMSOIL Racing Signature Series is a monthly video series that captures the drama of motorsports. Through behind-the-scenes access and premium videography, we'll take you around the dirt track, down mayhem-filled mountain courses, over high-flying jumps and more. Hear firsthand from racers and competitors in all forms of motorsports what drives them to lay it all on the line week after week. Experience the exhilarating highs as they climb the podium and the frustrating lows as they taste defeat.
Every episode fuels your passion for motorsports.
And all you need to do is register.
We'll send you an exclusive video each month before it's distributed to the public.
• Exclusive behind-the-scenes access
• Feel every bone-jarring crash and high-flying jump
• Interviews with leading racers & competitors
• Premium content each month
• See it first