September 3, 2015
For Immediate Release
C&A Pro Skis is excited to release its latest performance product to the snowmobile industry, the XCS aka Xtreme Crossover Ski. With machines getting faster, lighter and stronger there has been a need for a performance snowmobile ski that can dominate both on and off trail. C&A delivers with the XCS. We tested a wide range of locations and proved the XCS is everything that today's crossover rider is looking for.
Leader in its Class
The XCS's optimal width of 6.75" provides ample off trail floatation, and firm footing on the trail. The outboard keels help alleviate trail darting and deliver extra floatation in deep snow. The traction scoops on both sides of the center keel keeps the XCS planted on the snow and gripping the corners where other skis would lift.
C&A left nothing out for the rider whose machine is used in low elevation and occasional trips to the mountains. Our integrated boot traction ridges are on both sides of the saddle for when the going gets deep and the rider needs a sturdy place to stand. Additionally, riders can reverse with ease and back out of situations with XCS's tall tail section.
The brand new XCS by C&A Pro Skis, truly allows all riders to Ride Like a Pro!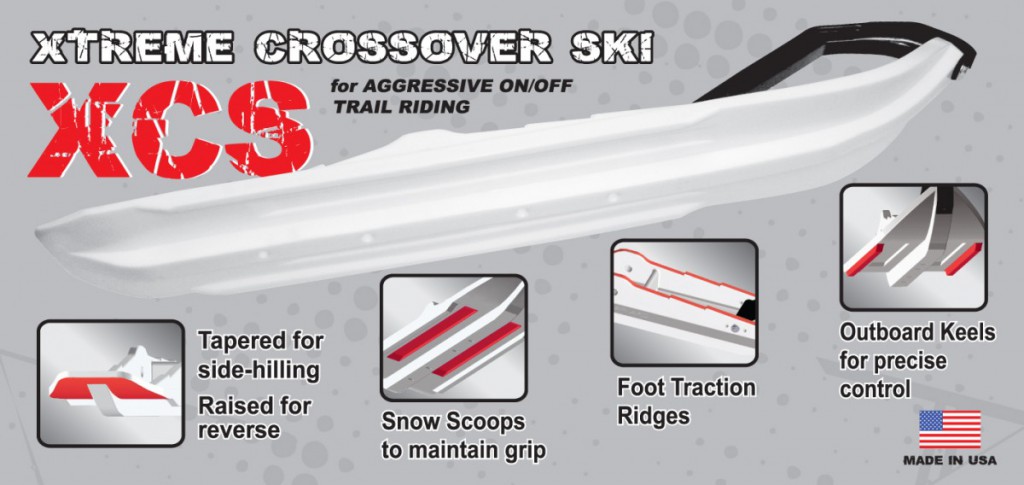 About C&A Pro Skis
C&A Pro Skis provide the most flexible and indestructible snowmobile skis on the market because they are made of durable ultra-high molecular weight polyethylene material (UHMW-PE) combined with compression molded technology. The inherent strength and performance of these premium skis makes them the choice of professional athletes worldwide. C&A provides a full range of snowmobile skis to accommodate the various riding preferences of racing, mountain, crossover and trail.
C&A Skis are available through power sports dealers or online at www.caproskis.com . Learn more by visiting the web or contacting us via phone 888-321-6789 or email sales@caproskis.com. C&A Pro Skis has its headquarters and manufacturing in Hutchinson Minnesota and is a division of Pride Solutions LLC.