WESTMINSTER, Mass. (Oct. 26, 2015) – One of New England's most well-respected snowmobile race teams is gearing up for a brand new season, and they've added two new high-profile veterans to an already successful mix.
Massachusetts-based Jess Racing competes on the ISOC AMSOIL Championship Snocross Series (ACS), led by veteran rider Montana Jess. The team is proud to officially welcome Pro rider Jake Scott and former racer Mike Bauer as Scott's mechanic for the 2015-16 season. Scott will compete in the Pro Open class, while Jess will advance from Sport to Pro Lite.
"We're very excited about having Jake on board for this season," team owner Carl Jess said. "He's a fast rider with tons of talent and excellent training skills. He'll make a great teammate for Montana, who is excited about moving up to Pro Lite this season. I know Ziggy will continue to keep Montana's sled dialed in; and I think Mike's experience with Cat will be of great benefit to Jake. We all know the sleds are greatly improved for 2016; now we have to deliver the results. It's going to be fun."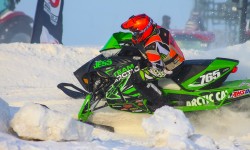 Montana Jess was on a roll last winter before a ruptured spleen took him out of action during the ISOC National in Salamanca, New York. Prior to his injury, 18-year-old Montana was leading the points in a highly-competitive national Sport class and had five final round wins to his credit. Jess has been racing snowmobiles since he was six years old.
"That injury last season while leading the points was really tough to accept," the younger Jess said. "Yet despite missing three races, I was able to recover in time to sweep the Finale and secure fifth in final points. It wasn't our goal, but I know I was lucky just to race at all after the injury. I'm feeling stronger than ever now, and am excited about having Jake on board this season. As long as we stay healthy, I'm confident we both can have a great season in ISOC on our new Arctic Cats."
Scott, 21, of Port Jefferson, NY, spent the last four winters riding for Levi LaVallee's team on the ISOC national circuit. After winning the Pro Lite championship in 2012-13, he advanced to the ultra-competitive Pro Open class to compete against the world's top snocross athletes. In a respectable rookie season, he finished 11th in points. Last winter, Jake finished 14th in points after competing in all 17 ISOC Pro open finals.
"I'm super excited about joining Jess Racing for the new season," Scott said. "I raced with Montana for years and get along very well with him. I was impressed with the 2016 Arctic Cat in a test last spring, and I know a racer like Mike Bauer will be a huge help to me as I get up to speed. I'm about to head west and continue my training for Duluth. This opportunity has me very anxious to go racing."
Jess Racing would like to thank its fine group of marketing partners for their continued support, including Arctic Cat, Central Mass Powersports, Woody's, FXR World Class Outerwear, Rox Speed FX and Malibu Boats. We simply could not compete at this level without your assistance.
The 2015-16 ISOC season kicks off on November 27-29 with the 24th annual AMSOIL Duluth National at Spirit Mountain. Jess Racing will be based out of Princeton, MN, during the ISOC season, while the riders will stay sharp by training at ERX Motor Park in Elk River, Minnesota.
To follow the team all season, go to www.facebook.com/Jess-Racing-339184942858218/