St. Cloud, MN December 1, 2015 – Warnert Racing's Elias Ishoel grabbed the first Pro-Lite win of the season in round one of the ISOC Championship Snocross Series in Duluth, Minnesota. Pro rider Jon Stenberg rode fast and steady to an eighth place finish in his second round on Sunday to give the team a good start for the season in both professional classes.
The Warnert Racing team had great momentum heading into the first race, but Ishoel looked like a man on a mission all weekend. He consistently rode on the ragged edge and established some of the fastest lap times for either pro class in Saturday night's Pro-Lite final. Sunday he was pushing hard again but tangled with another rider while battling for the lead midway through the final. The resulting crash moved him to the back of the pack where he finished in 14th. Stenberg struggled early to find his rhythm but by Sunday was back on his and starting the final race from the back row, worked his way to a solid finish.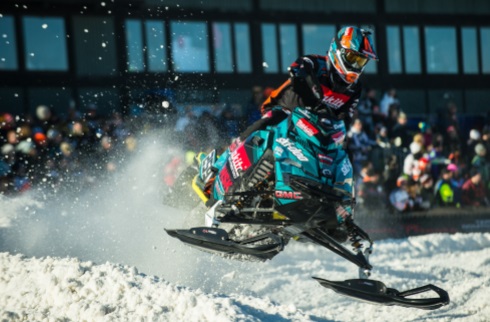 "As competitors, we want to win them all," said Ryan Duncan, Warnert Racing Technical Director. "But Duluth is always a tough race with so little time on the snow in advance to test and prepare, that we have to be satisfied with the results – until the next round."
The team heads to Fargo, North Dakota for round two of the ISOC series December 11th – 12th at Buffalo River Race Park.
For more information call 320-251-9100 or go to www.warnertracing.com
Follow Warnert Racing on Facebook: facebook.com/Warnert-Racing Instagram: warnert_racing
About Warnert Racing  
Warnert Racing is part of Warnert Enterprises a company specializing in marketing services including race marketing, mobile marketing, social media, shows and events and transportation.