Fertile, MN (January 25, 2016) – Once the wildest of wild west towns, Deadwood, South Dakota, got wild again this past weekend, January 22-23, when it hosted the U.S. Air Force Deadwood Snocross. Held on the Days of '76 Rodeo Grounds, Deadwood marked the fourth stop on the national tour schedule and the mid-point of the season. Warm temperatures resulted in a rough track and wet snow roost that coated the goggles of riders caught in the pack. Christian Brothers Racing riders Logan Christian, Dave Joanis and Tyler Adams were looking to put in strong performances and score maximum points and were successful on both count.
Christian (DOC 360/Arcticwear/Arctic Cat) cruised into the finals both Friday and Saturday, winning two of four heats and never finishing lower than 4th. Despite some rough going in both finals, Christian had strong finishes both days, scoring 6th and 7th place slots and moving himself up to 7th in the Pro Open points chase.
"We did great in heat racing but with the inverted starts it made carrying that success into the finals a challenge," said Christian. "Friday I was moving up in the order but ended up having some sled issues, then Saturday some guys decided not to turn at the first corner and I got carried with them off the track. I made a few passes but I felt I had a great sled this weekend and I had more in me than my results showed. Now we just need to regroup and get ready for the X Games."
After narrowly missing a podium spot with a 4th place finish on Friday, Joanis (Royal Distributing/Arctic Cat) sent team hearts aflutter on Saturday when he took advantage of a prime starting spot to claim the lead off the line in the final. As riders jockeyed through the chaos of a rough track on the opening laps, Joanis slipped to third, then eventually to 7th, but, like Christian, he moved up in Pro Open points to claim the 8th spot.
"Friday was great, qualifying went awesome and I came out with a 4th in the final," said Joanis. "Saturday I had a great start but slipped back to 7th.  I'm looking forward to getting dialed in for X Games.."
In just his second event after returning from injury, Adams (Arctic Cat) was back on form in the Pro Lite class, winning two heats and easily transferring to the final both days. Steady performances in a deeply-talented field of riders earned him 10th and 12th place finishes.
"I definitely feel like I'm back up to speed after missing time on the sled," said Adam. "I just need to minimize my mistakes and prepare for the next event."
Deadwood was also the scene of the fourth of eight Arctic Cat ZR 120 snowmobile giveaways sponsored by Christian Brothers Racing and Arctic Cat. Five-year-old Camden Anderson came all the way from Nebraska to win the sled and kickstart his snowmobile experience. The next giveaway will take place February 5-6 at the U.S. Air Force Snocross National in Salamanca, New York. Fans can get more information and sign up at the Christian Brothers Racing merchandise trailer.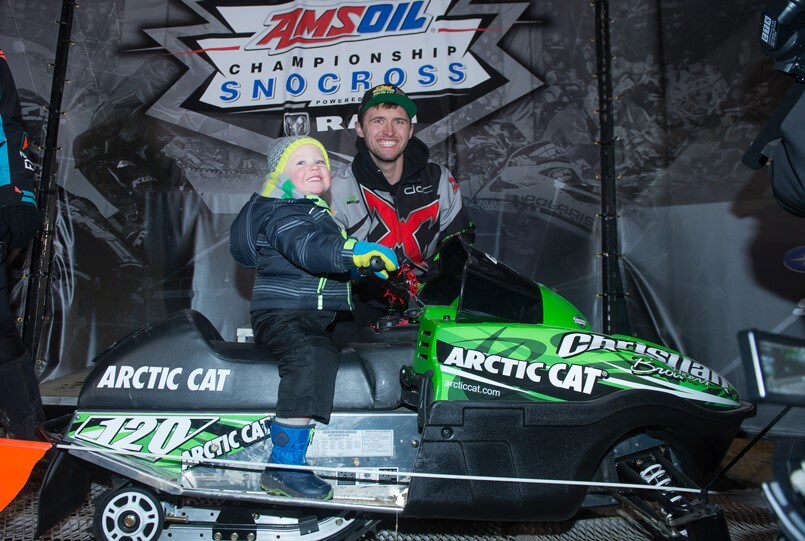 Next up for Christian Brothers Racing snocross riders is the Winter X Games January 28th in Aspen, Colorado.
X Games Aspen 2016 Snowmobile Snocross
THURSDAY, January 28, 2016
Round 1 Qualifying + FINAL
6:00-7:30pm ET / 5:00-6:30pm CT / 4:00-5:30pm MT / 3:00-4:30pm PT
LIVE on ESPN3 / WatchESPN.com / XGames.com / Watch ESPN App
– You need your cable or satellite username and password to log-in online to watch
CBS Sports Television Coverage
Episode #7 : US Air Force Snocross National January 30, 2016 at 10:00AM
Episode #8 : US Air Force Snocross National February 14, 2016 at 10:00AM
Past Episodes
https://snocross.com/on-demand/
Follow the team this season on Facebook, Twitter, YouTube and Instagram. For more information on Christian Brothers Racing visit www.christianbrosracing.com.
Media contact
Lissa Marsolek: lissa@christianbrosracing.com
Photos Lissa Marsolek