SENECA ALLEGANY RESORT & CASINO – SALAMANCA, NY. (February 5, 2016), The U.S. Air Force Snocross National in western New York has become a favorite on the schedule for many of the riders and has produced some great racing in past years. Like many areas in the country, normal weather patterns have been anything but normal, in a region that is commonly layered with white in the winter months, the snow is non-existent. However, the ISOC Track Crew was hard at work to get the snow made for a great show in front of the fired up east coast fans who braved the cold temps for some red hot AMSOIL Championship Snocross racing in Round 9.
Coming directly off a record setting 9th Gold Medal at the X-Games in Aspen, Co. last week, Tucker Hibbert(68) is going to be looking to build his points lead in Pro Open while Elias Ishoel(200) is hoping to close the gap as he gaining ground on points leader Montana Jess(765) in the Pro Lite ranks.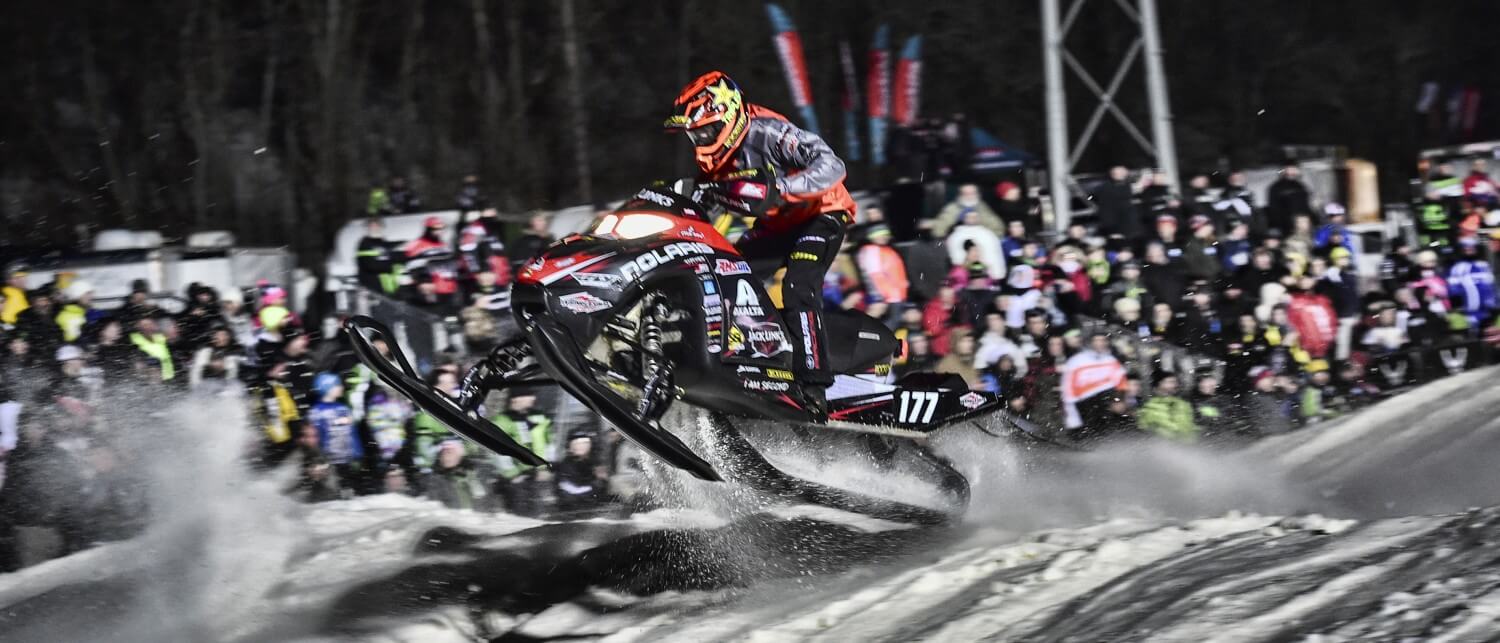 PRO LITE
HEATS AND LCQ –
Tight bar-to-bar racing in the heats where top points riders battled for qualifying on this fast track. Elias Ishoel(200) looking really strong and smooth with a 2nd and 1st, points leader Montana Jess(765) with two 4th place finishes and Jake Angove(177) looking very strong as the top qualifier with two 1st place finishes. Cole Cottew(21) came up through the LCQ followed by Kyle Rau(25), Korbyn Anderson(17), Michael George(307) and Jacob Blanshan(132).
FINAL –
In front of great Friday night crowd, the young guns line up for the final run of the night. Montana Jess(765) who is starting in the 6th qualifying spot is feeling some pressure to hold onto the points lead with Elias Ishoel(200) moving his way up the points ladder and hoping to be in striking distance after this weekend.  Out of the gate with the Stud Boy Hole Shot is Montana Jess(765) and off to an early lead followed by Jake Angove(177) and Christian Brothers Racing, Tyler Adams(705).
Big battle up front as Angove challenges Jess through the FXR Turn, Angove goes to the inside to try for the pass but cannot make it stick. Off to a bad start was Elias Ishoel(200) who came off the sled through the U.S. Air Force front stretch sits in last with a lot of ground to make up. As Ishoel digs deep to work through the field the race up front continues with Angove and Jess where on lap six, Angove made the pass to take the top spot.
Picking off riders and moving up to fifth by lap eight, Ishoel is on the fast track to the podium. Ishoel was able to find the patience in Deadwood that he needed to pencil in a flawless weekend, but tonight there is no patience in sight as he charges hard to find a spot on the podium.  But charging hard can also lead to getting tired quicker and often leads to mistakes, as Ishoel comes towards the front stretch on lap nine, he gets catapulted Super Man style from his sled in the front stretch rhythm section, while Maxime Taillefer(144) who was in third also is off his sled.
As the laps wind down, Jake Angove(177) continues to lead the race to the checkers followed by Montana Jess(765) and Daniel Benham(221) finishing up the podium. After some great racing with action from start to finish, the Salamanca crowd was on their feet cheering on the young guns. Angove was on-point and grabbed the big win, "After all the work you put in, it feels amazing." explained Angove.
PRO LITE FINAL RESULTS –
1. Jake Angove (177) –  Judnick Motorsports
2. Montana Jess (765) –  Jess Racing
3. Daniel Benham (221) –  Factory Arctic Cat
4. Tyler Adams (705) – Christian Brothers Racing
5. Cole Cottew (21) – Cottew Motorsports
6. Maxime Taillefer (144) – Amsoil/Air Force/Ford
7. Kevin Wallenstein (122) – KW RACING
8. Michael George (307) – Woodies Racing
9. Travis Muller (436) – Cottew Motorsports
10. Nick Pattyn (98) – Stud Boy Racing
11. Elias Ishoel (200) – Warnert Racing
12. Korbyn Anderson (17) – Anderson Racing
13. Jacob Blanshan (132) – Blanshan Racing
14. Kyle Rau (25) – Rau Racing
15. James Johnstad (14) – Cottew Motorsports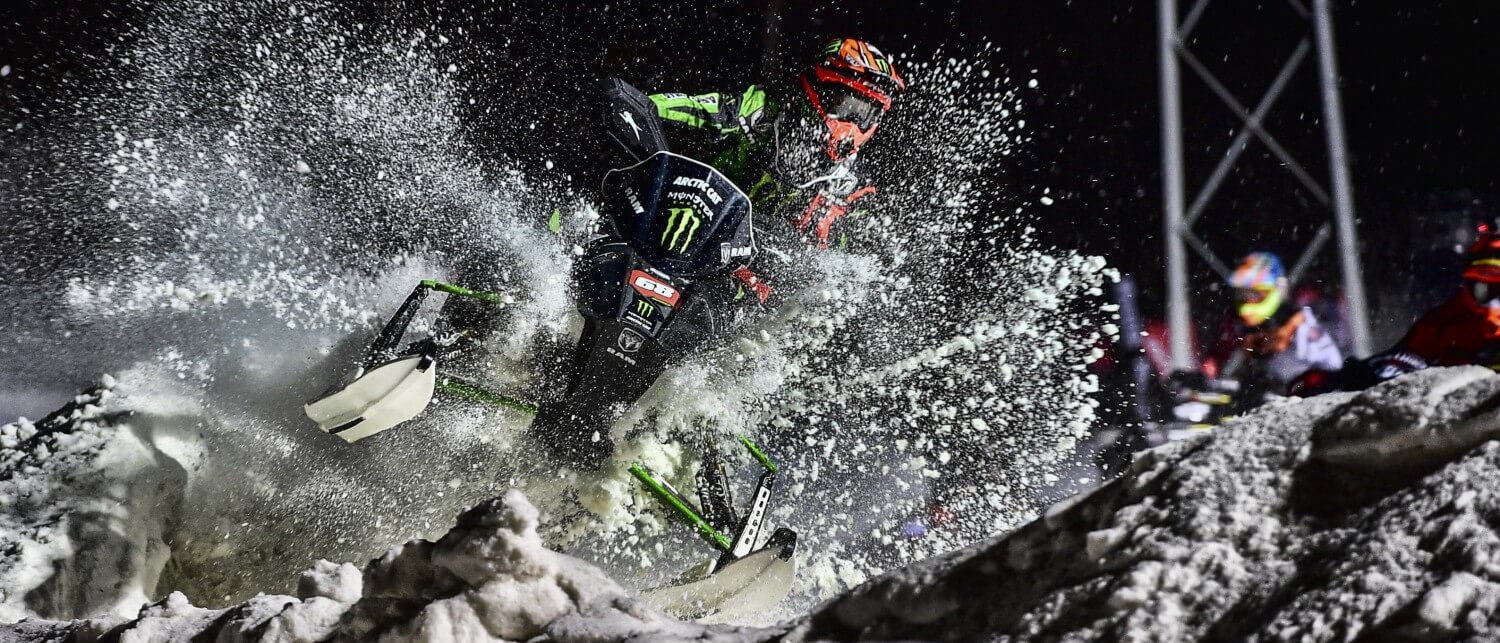 PRO OPEN
HEATS AND LCQ –
Grabbing the top qualifying spot was Tucker Hibbert(68) who walked away with two  first place finishes. Kyle Pallin(324) also strong in qualifying with a 1st and 2nd place finish.  Corey Watkinson(173) took a big ride in the air off the start landing him the in LCQ, where he did not transfer to the Final.
FINAL-
Pushing the limits with each round in the AMSOIL Championship Snocross Series is Tucker Hibbert(68) who has had a great season as we get to the mid-point now has a 76 point lead over the field with Tim Tremblay(11) in second and Adam Renheim(311) in third.
On the line and out of the chute it is Jake Scott(42) who grabs the Stud Boy Hole Shot on the outside line, followed by Tucker Hibbert(68) and Tim Tremblay(11). After a first-ever podium finish in Deadwood, Scott tries to hold of Hibbert, but is unable to after Hibberts makes a clean pass through the FXR Turn on lap two.
While Hibbert checks out from the field, the big race is mid-pack with Ross Martin(837), Kyle Pallin(324) and Tim Tremblay(11) all battling bar-to-bar, Pallin makes the pass on Martin on the inside line through the FXR Turn and settles into fourth. Tremblay and Pallin now setting their sights on Jake Scott(42) who has held onto second coming into lap eleven. Pallin makes a big charge on Scott to make the pass followed by Tremblay.
With the laps winding down coming from mid-pack, Logan Christian(43) has found a fast line and has quickly moved in to challenge Tim Tremblay(11), making a hard charge on the final lap, Christian made the big pass down the back stretch and thru the Arctic Cat Turn and onto the checkers for third. Another big win for Tucker Hibbert(68) and a huge finish in second for Kyle Pallin(324).
Every single win for any rider is a hard fought battle from start to finish, from the hours spent preparing the sled to the checkers in the air. "Every time I go out there on the track I am thankful for the opportunity, I give it all I got.", explained Tucker.
Bring the big smile to the box, Pallin ran an incredible race and worked hard through the field, "It is such a relief, I am so grateful to be up here. The last couple of years I have had a decent amount of success, this year it has been kind of hidden from me, It feels so good to be back up here." explained Pallin.
The hard charger of the night was Logan Christian(43) who came through the field from back in the pack and found what it took to bring the Christian Brothers Arctic Cat to a podium finish. "It was a fun race, put my head down and made some passes.  There is a big crew behind us and it takes a lot of work to get up here, can't thank everyone enough." said Logan.
PRO OPEN FINAL RESULTS –
1. Tucker Hibbert (68) – Monster Energy / Arctic Cat / Ram Trucks
2. Kyle Pallin (324) – Mystik, Loctite, Polaris, Red Bull
3. Logan Christian (43) – DOC 360 /Arctic Wear / Arctic Cat
4. Tim Tremblay (11) – Amsoil/Air Force/Ford
5. Adam Renheim (311) – Boss Racing
6. Jake Scott (42) – Jess Racing
7. Ross Martin (837) – Judnick Motorsports
8. Corin Todd (36) – Leighton Motorsports
9. David Joanis (115) – ROYAL DISTRIBUTING/Arctic Cat/Arctic Wear
10. Lincoln Lemieux (13) – Amsoil/Air Force/Rockstar
11. Mathieu Morin (27) – Ingles Performance
12. Ryan Springer (541) – Carlson Motorsports
13. Mikko Osmo (463) – Team Southside Polaris Mystik Lubricants FXR Racing
14. Pieti Puhakka (168) –  Team Southside Polaris Mystik Lubricants FXR Racing
15. John Stenberg (259) – Warnert Racing