SENECA ALLEGANY RESORT & CASINO – SALAMANCA, NY. (February 6, 2016),  How does the AMSOIL Championship Snocross Series end the swing to the east coast for Rounds 9 & 10, in front of a record sell-out crowd, that's how. On the front stretch, back stretch, pit side and reserved indoor heated seating, they were all packed with snocross fans from across the region. Some were here to witness greatness, some were here to watch family or friends and some were here just to watch 450lb sleds rip it up, no matter the case, they were all pumped and excited to watch some great racing action.
Epic battles and first time podium finishes were only part of the action from Round 9 of the U.S. Air Force Nationals in the rolling hills of New York state. Hard charging Elias Ishoel(200) in the Pro Lite division never gave up despite coming off his sled twice in the Final, back on the sled and back on the gas, he gave it his all trying to get a top three finish. Jake Angove(177) rode flawlessly to over come Montana Jess(765) for the win and gained some needed points in the quest for a Championship. Tucker Hibbert(68) went quickly to the front to ink another W in the box while the always smiling Kyle Pallin(324) nailed a podium finish and Logan Christian(43) landed on the box after a hard fought battle from back in the field.
With the stage set for another incredible night of races, the fans lined up, parked in the overflow parking lots and braved the cold temps to watch as the rock stars once again had them cheering and on their feet for more, and they were not disappointed. Flying high, it will be the best of the best, the top tier athletes that aim high and those with the guts, finish with the glory, it is the U.S. Air Force Nationals, AMSOIL Snocross Champions Series powered by RAM for Round 10 on night number two at SENECA ALLEGANY RESORT & CASINO.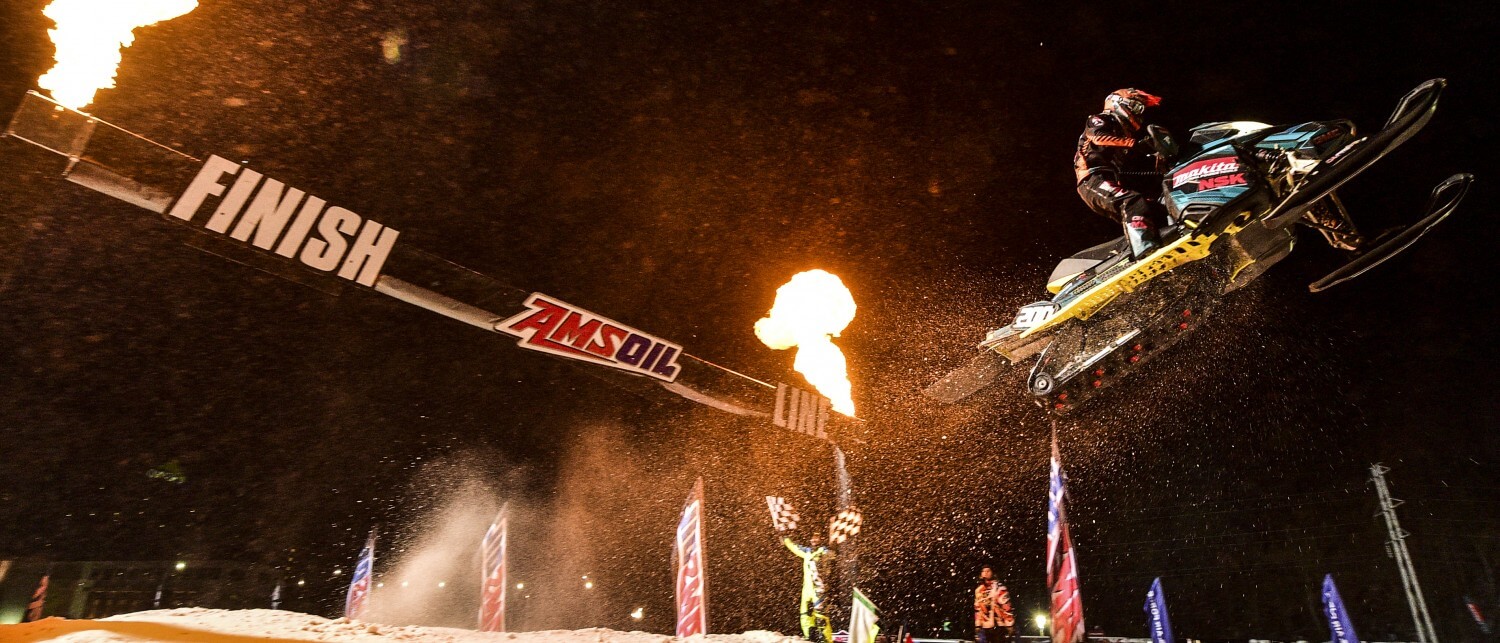 PRO LITE
HEATS AND LCQ –
Jake Angove(177) puts on another solid run in qualifying grabbing two wins getting him the number one qualifier. Elias Ishoel(200) was able to find the rythym today after a tough day in Round 9, Ishoel secured a spot on the front line in the Final as the number three qualifier and points leader Montana Jess(765) also having a good day grabbing a 2nd and 1st in qualifying puts him on the line as the number two qualifier.
Green, green, green and they are off the line towards the U.S. Air Force front stretch, it is Jake Angove(177) with the Stud Boy Holeshot, around the FXR Turn and over the AMSOIL Finish Line Jump, Montana Jess(765) moves into 1st followed by Angove and Daniel Benham(221). After a tough start, Ishoel sits back in 7th, but is starting to make his move early on and gained three spots on one lap with a 36 second lap, only one second off the pace of Tucker Hibbert(68) in the Pro Open Final.
After a bobble on lap four by Angove, Ishoel was able to capitlaize and push hard through the Ski-Doo Corner to move into 2nd. Down the back stretch they go and Angove makes the move back into 2nd through the Arctic Cat Corner, but answering the challenge, Ishoel overtakes Angove again down the U.S. Air Force front stretch.
Up front Montana Jess(765) begins to get into lapped traffic and gets bound up through the FXR Turn, like a bullet out of a gun, Ishoel is there railing around on the outside line and fires past Jess for the lead.
Laps winding down and Daniel Benham(221) moves into challenge Angove for a podium sport, but Jake is able to hold off his efforts and put the Judnick Motorsports Polaris on the box two nights in a row with a 3rd place finish. Points leader Montana Jess(765) also able to bring home a podium finish in 2nd and the red hot rocket, Elias Ishoel(200) pulls the whole race together and stands on top of the box in 1st place.
"I would just like to thank everyone on my team, and everyone who came out to support me, it's good to have a good night tonight, I crashed in the start last night and crashed when I tried to pass those guys when I was in fourth." explained Ishoel.
PRO LITE FINAL RESULTS –
1. Elias Ishoel (200) – Warnert Racing
2.  Montana Jess (765) – Jess Racing
3.  Jake Angove (177) – Judnick Motorsports
4. Daniel Benham (221) – Factory Arctic Cat
5. Cole Cottew (21) – Cottew Motorsports
6. Kevin Wallenstein (122) – KW RACING
7. Korbyn Anderson (17) – Anderson Racing
8. Travis Muller (436) – Cottew Motorsports
9. Michael George (307) – Woodies Racing
10. Tyler Adams (705) – Christian Brothers Racing
11. Jacob Blanshan (132) – Blanshan Racing
12. Nick Pattyn (98) – Stud Boy Racing
13. James Johnstad (14) – Cottew Motorsports
14. Maxime Taillefer (144) – Amsoil/Air Force/Ford
15. Stephen Turchanik (228) – US 27 MOTORSPORTS
TOP FIFTEEN MID SEASON POINTS STANDINGS –
1. Montana Jess – 356
2. Jake Angove – 333
3. Daniel Benham – 316
4. Kevin Wallenstein – 307
5. Maxime Taillefer – 288
6. Elias Ishoel – 283
7. James Johnstad – 257
8. Cole Cottew – 228
9. Michael George – 214
10. Tyler Adams – 207
11. Travis Muller – 202
12. Travis Kern – 180
13. Korbyn Anderson – 179
14. Zak Mason – 160
15. Nick Pattyn – 150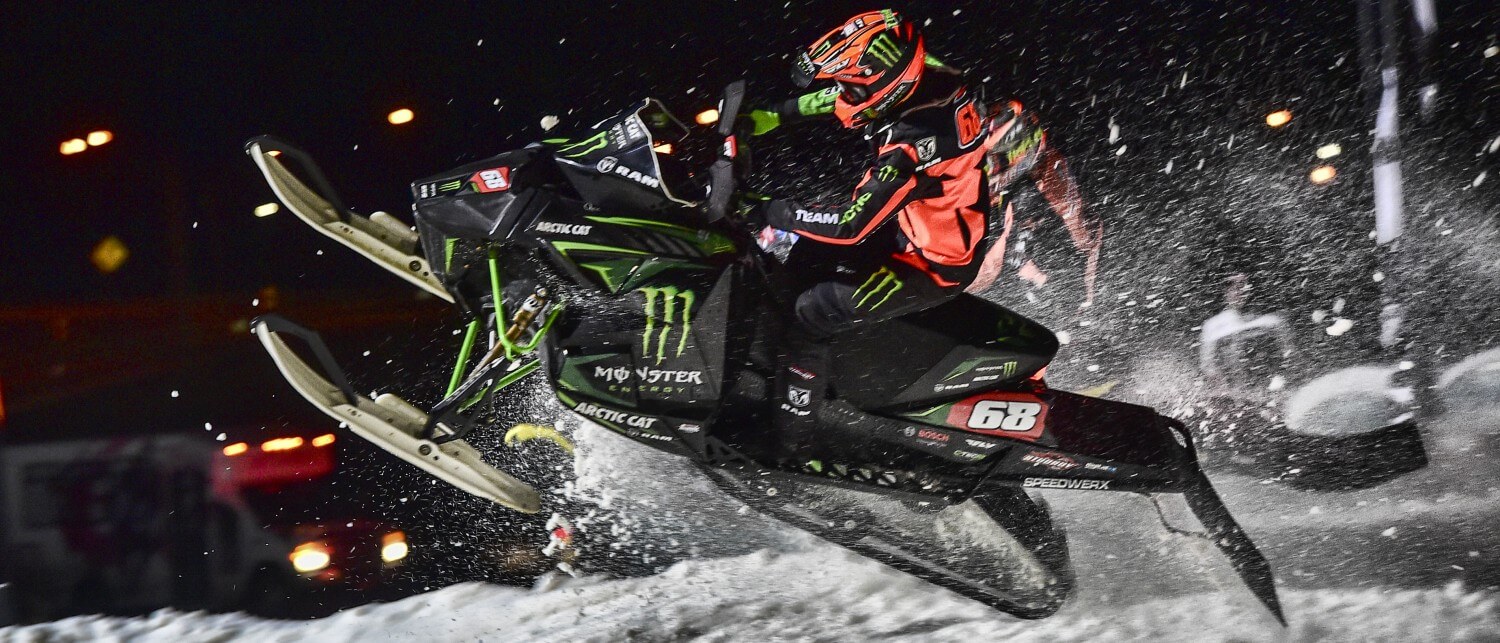 PRO OPEN
HEATS AND LCQ –
Some big names out with injuries for the qualifying rounds, or riding injured and the overall field is getting thinned out. Hibbert was dialed in once again and dominated with two first places finishes for the top qualifier. Corin Todd(36) riding with a sore back, ran into some unfortunate luck as he got tangled up with David Joanis(115) and went off the sled putting him in the LCQ but would transfer to the Final.  Lincoln Lemieux(13) aboard the U.S. Air Force/AMSOIL Polaris was on a rail and landed the second qualifer position and Tim Tremblay(11) pulling in the third qualifying spot.
Stacked and ready to fire, the field is set and waiting for the ISOC Starter to set them loose, Lincoln Lemieux(13) nails the Stud Boy Holeshot with Hibbert on his heels who would take the lead on the first lap going through the FXR Turn. After coming through the LCQ, Corin Todd(36) makes quick ground and gets into the number three position and challenges Lincoln Lemieux(13) for second.
As Hibbert continues to extend his lead on the field, Corin Todd(36) now falling back two laps down by lap six putting Kyle Pallin(324) up in third with Lincoln Lemieux(13) staying in second.  Logan Christian(43) who just came off a podium finish in Round 9 moves up into third after Pallin was black flagged for passing under a yellow flag and had to move back two spots.
Pallin would regain the two spots and begin to challenge Christian for the final podium spot and make the pass on the final lap after Logan got caught up in lap traffic. Bar-to-Bar, Pallin and Christian drag race down the back stretch, high over the AMSOIL Finish Line Jump Pallin moves into third, up front Hibbert takes the checkers once again, followed by Lemieux in second.
Adding another clean sweep to the resume, Hibbert comes away with back-to-back wins in Salamanca, "I just found some really good lines out there, the snow conditions today were really rough, it made it tricky, you didn't know what the sled was going to do, but we got the sled dialed in, everything was working good." explained Hibbert.
After looking great all weekend, Lincoln Lemieux(13) landed the Air Force/AMSOIL/Rockstar sled in the runner up spot, "Yesterday I had a little trouble, but we got a good start today, stayed in second. I tried to catch up to Tucker, but got into lapped traffic early that took me awhile to get through." said Lemieux.
Bringing home another podium finish for the LaVallee Team, Pallin fought hard to regain composure after being penalized two spots, "That race was crazy, I rolled like Levi LaVallee – fast but squirley! I was off the track here, and off over there, I was just happy I stayed on and happy to be on the podium." expressed Pallin.
PRO OPEN RESULTS –
1. Tucker Hibbert (68) – Monster Energy / Arctic Cat / Ram Trucks
2. Lincoln Lemieux (13) – Amsoil/Air Force/Rockstar
3. Kyle Pallin (324) – Mystik, Loctite, Polaris, Red Bull
4. Logan Christian (43) – DOC 360 /Arctic Wear / Arctic Cat
5. Adam Renheim (311) – Boss Racing
6. John Stenberg (259) – Warnert Racing
7. Tim Tremblay (11) – Amsoil/Air Force/Ford
8. Corey Watkinson (173) – Watkinson Motorsports, Arctic Cat
9. Andrew Carlson (151) -CARLSON MOTORSPORTS
10. Jake Scott (42) – Jess Racing
11. Ryan Springer (541) – Carlson Motorsports
12. Zach Pattyn (99) – Stud Boy Racing
13. Corin Todd  (36) -Leighton Motorsports
TOP FIFTEEN MID SEASON POINTS STANDINGS –
1. Tucker Hibbert – 463
2. Tim Tremblay – 373
3. Adam Renheim – 355
4. Kyle Pallin – 336
5. Lincoln Lemieux – 336
6. Logan Christian – 319
7. Corin Todd – 304
8. David Joanis – 281
9. John Stenberg – 279
10. Kody Kamm – 235
11. Jake Scott – 234
12. Ryan Springer – 234
13. Petter Narsa – 225
14. Corey Watkinson – 220
15. Andrew Carlson – 198