HOLLYWOOD CASINO SNOCROSS NATIONAL PRESENTED BY HAYES BRAKE CHICAGO, IL. (March 5, 2016) –  Cool temps and grey skies did not stop the Chicago area Snocross fans from coming out to Route 66 Raceway for Round 14 of the AMSOIL Championship Snocross Series. Last nights Pro rounds were packed full of action where Ross Martin found his way to a first place podium finish and Elias Ishoel battled back after being penalized two places for a stellar performance to mark another win in the books. Tucker Hibbert(68) came up short for a podium finish, but was able to finish in the top five.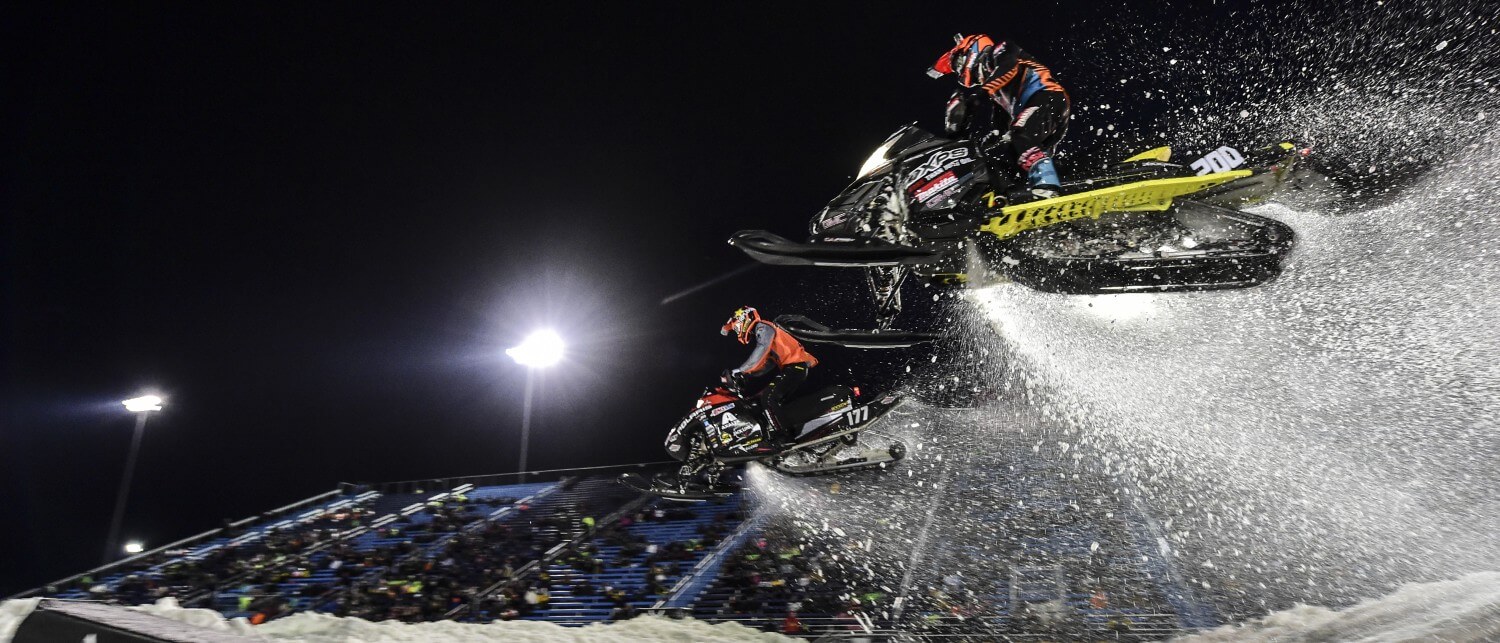 PRO LITE
Nothing short of incredible sums up the racing each and every round with the Pro Lite division. If you want to claim a season championship in racing, consistency is the name of the game, Montana Jess(765) again grabs the top qualifying spot after great qualifying rounds. Elias Ishoel(200) had a nasty over the bars in the first qualifying round, but was able to come back in round 2 with a win. On to the Final it is and it is Travis Muller(436) who pulls the Stud Boy Holeshot and leads for the first lap, but Jake Angove(177) is able to make a great pass in the FXR Corner for first. Hotshot Elias with a mid pack start is working hard to reel in Angove and Jess. With five laps in the books, Ishoel is able to move past Jess into second and on a quick pace to overtake first.
Angove runs a solid race keep his lines clean and holding off Ishoel, as the two riders move through lapped traffic, Ishoel continues to work hard to pass Angove and is able to stick the pass on the inside with only three laps left when Angove goes wide in the FXR turn. With the race up front for first, Cole Cottew(21) ran a solid race and was able to pass the points leader 765 for third. As the laps wind down to the final lap, Ishoel is able to grab another big win followed by Angove and Cole Cottew gets the final podium spot on the night while points leader Jess falls back to sixth.
PRO LITE RESULT –
1. Elias Ishoel (200) – Warnert Racing
2. Jake Angove (177) – Judnick Motorsports
3. Cole Cottew (21) – Cottew Motorsports
4. Michael George (307) – Woodies Racing
5. Travis Muller (436) – Cottew Motorsports
6. Montana Jess (765) – Jess Racing
7. Daniel Benham (221) – Factory Arctic Cat
8. Kevin Wallenstein (122) – KW RACING
9. Brett Nastala (248) – N2 Racing
10. Jacob Blanshan (132) – Blanshan Racing
11. Grant Glashagel (227) – Redbird Racing
12. Stephen Turchanik (228) – US 27 MOTORSPORTS
13. Maxime Taillefer (144) – Amsoil/Air Force/Ford
14. Ian Buchman (668) – E-Boy Racing Ltd.
15. Korbyn Anderson (17) – Anderson Racing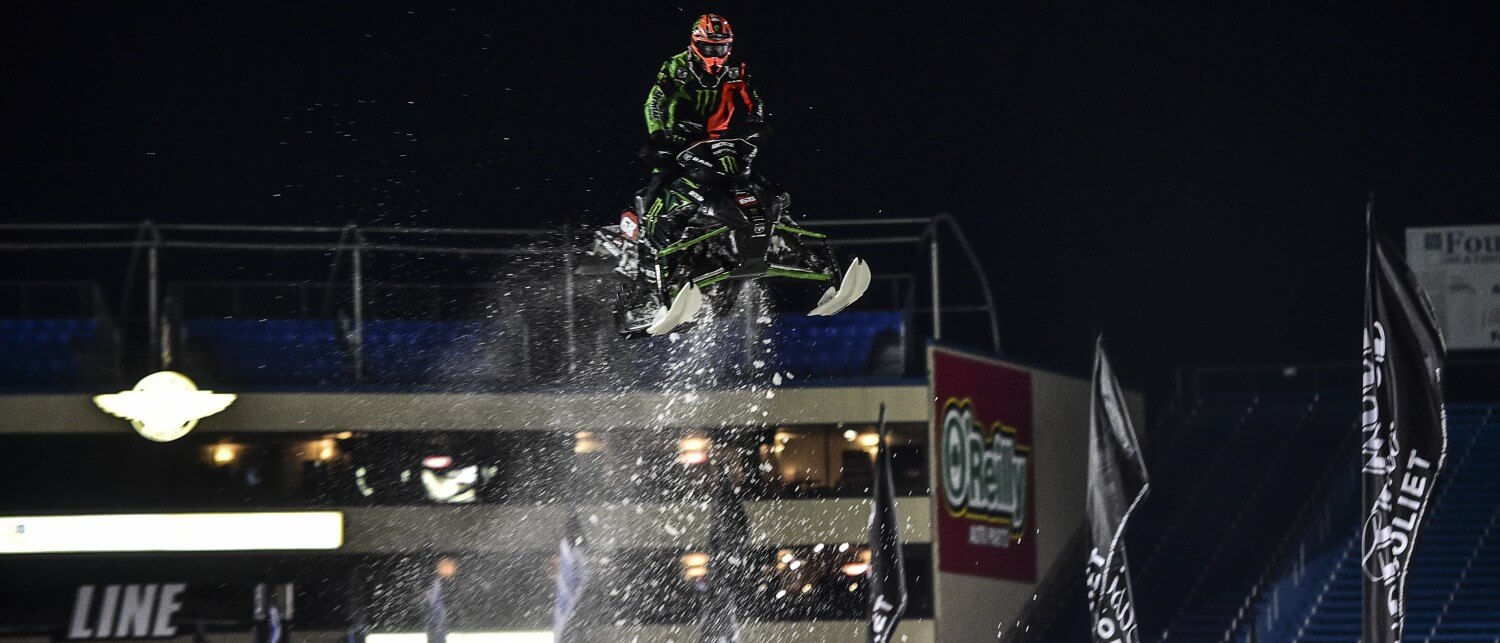 PRO OPEN
Some great qualifying action found Tim Tremblay(11) with a win in both rounds for the top qualifying spot and team mate Lincoln Lemieux(13) put down a second place qualifying.  A big launch off the line in the final puts Corin Todd(36) across the line first for the Stud Boy Holeshot, but Hibbert makes quick work on the back stretch to move into first and checks out from the field.  Martin running a solid race in second, but the big race is between Petter Narsa(54) and Corin Todd(36) for third.
With Hibbert off on his own race, Todd goes down on lap eight giving up the spot putting Tim Tremblay(11) into third. Laps winding down, Tremblay begins to challenge Martin for second but is unable to gain enough ground to make the pass. Pallin and Adam Renheim(311) battle for fourth however Pallin would eventually fall back to sixth. Martin stays clean and smooth lap-after-lap holding off Tremblay. With the checkers in the air it is Hibbert with an eleven second lead over the field followed by another podium finish in second for Martin and Tremblay in third.
1. Tucker Hibbert (68) – Monster Energy / Arctic Cat / Ram Trucks
2. Ross Martin (837) – Judnick Motorsports
3. Tim Tremblay (11) – Amsoil/Air Force/Ford
4. Adam Renheim (311) – Boss Racing
5. Lincoln Lemieux (13) – Amsoil/Air Force/Rockstar
6. Kyle Pallin (324) – Mystik, Loctite, Polaris, Red Bull
7. Petter Narsa (54) – Hentges Racing
8. Jake Scott (42 DOC /Arctic Wear / Arctic Cat
9. John Stenberg (259) – Warnert Racing
10. Corey Watkinson (173 Watkinson Motorsports, Arctic Cat
11. Zach Pattyn (99) – Stud Boy Racing
12. Andrew Lieders (857) – Lieders Racing
13. Ryan Springer (541) – Carlson Motorsports
14. Andrew Carlson Andrew Carlson(151) – CARLSON MOTORSPORTS
15. Corin Todd (36) – Leighton Motorsports