HOLLYWOOD CASINO SNOCROSS NATIONAL PRESENTED BY HAYES BRAKE CHICAGO, IL. (March 4, 2016). As the season begins to wind down to the final race, what better way to travel that road than by way of Route 66 for a stop  at Route 66 Raceway. While the fast paced city life of Chicago is far in the distance, the racing will be on fire as Tucker Hibbert(68) sets his sights on continuing his win streak in the Pro Open rounds and Elias Ishoel(200) hopes to continue his recent winning streak in the Pro Lite. With one of the most challenging courses on the circuit this season, there is sure to be some bar-to-bar high flying action in front of the windy city crowd.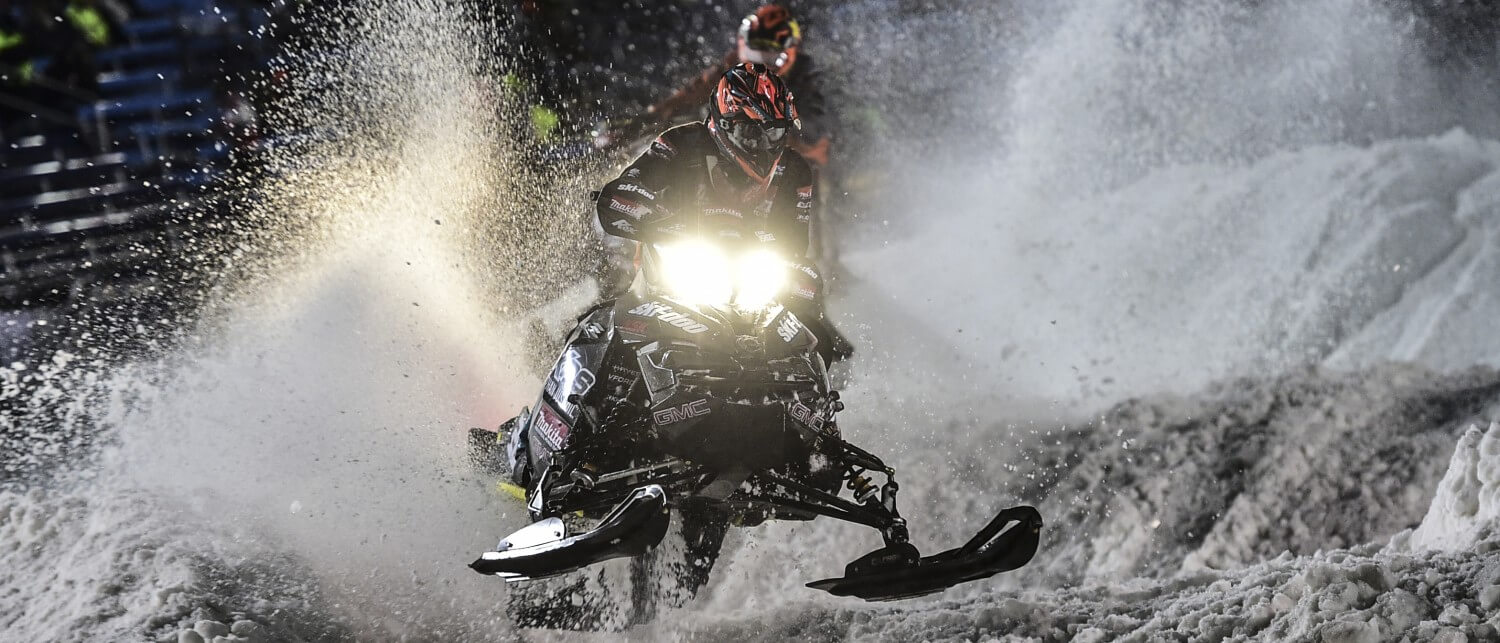 PRO LITE
There has been no shortage of action in the Pro Lite division throughout the season, epic battles and losses have kept the fans on their feet and hungry for more. Will it be points leader Montana Jess(765) who has been consistent all season on the top of the box, or will Jake Angove(177) inch his way closer to the points lead, but do not forget the rocket Elias Ishoel(200) who has raised the bar to the extreme on every level, rather it be success or failure, Ishoel is 110% on the gas.
With the drop of the green flag it is Elias Ishoel(200) who takes the Stud Boy Holeshot and on to the early lead but Montana Jess(765) moves in for a great pass to take over the lead in the Polaris Corner. While Jess is off and running away, Maxime Taillefer(144) gets into the back of Elias Ishoel(200) and forces both riders across the track into oncoming traffic, Ishoel is able to break away and continue in fourth while Maxime Taillefer(144) is not as fortunate.
Out to a big 2.5 second lead is Montana Jess(765) , but Ishoel is able to quickly trim down the lead and challenge for the lead. As the two riders come to a yellow flag, Ishoel passes Jess and is black flagged and is penalized two spots by race officials, Ishoel drops back one spot as back on the gas. Another lap down, onto the AMSOIL Finish Line jump and Ishoel is again notified by race officials, he must drop back two spots for passing on yellow.
Ishoel slows down letting Angove and Benham pass him, and again, 110% on the gas and the rocket is off again, with the hot button pushed, Elias is off to catch Jess. Bar-to-bar, Jess and Ishoel are racing hard, and through the Air Force fly away section, Ishoel charges hard for the pass and is onto the checkers for the win. Montana Jess(765) is able to hold onto second followed by Jake Angove(177) in third.
1. Elias Ishoel (200) – Warnert Racing
2. Montana Jess (765) – Jess Racing
3. Jake Angove (177) – Judnick Motorsports
4. Daniel Benham (221) – Factory Arctic Cat
5. Shane Sewell (219) -Team Bauerly Racing
6. Kevin Wallenstein (122) KW RACING
7. Cole Cottew (21) – Cottew Motorsports
8. Travis Muller (436) – Cottew Motorsports
9. Jacob Blanshan (132) – Blanshan Racing
10. Brett Nastala (248) – N2 Racing
11. Stephen Turchanik (228) – US 27 MOTORSPORTS
12. Grant Glashagel (227) – Redbird Racing
13. Korbyn Anderson (17) –  Anderson Racing
14. Michael George (307) – Woodies Racing
15. Maxime Taillefer (144) – Amsoil/Air Force/Ford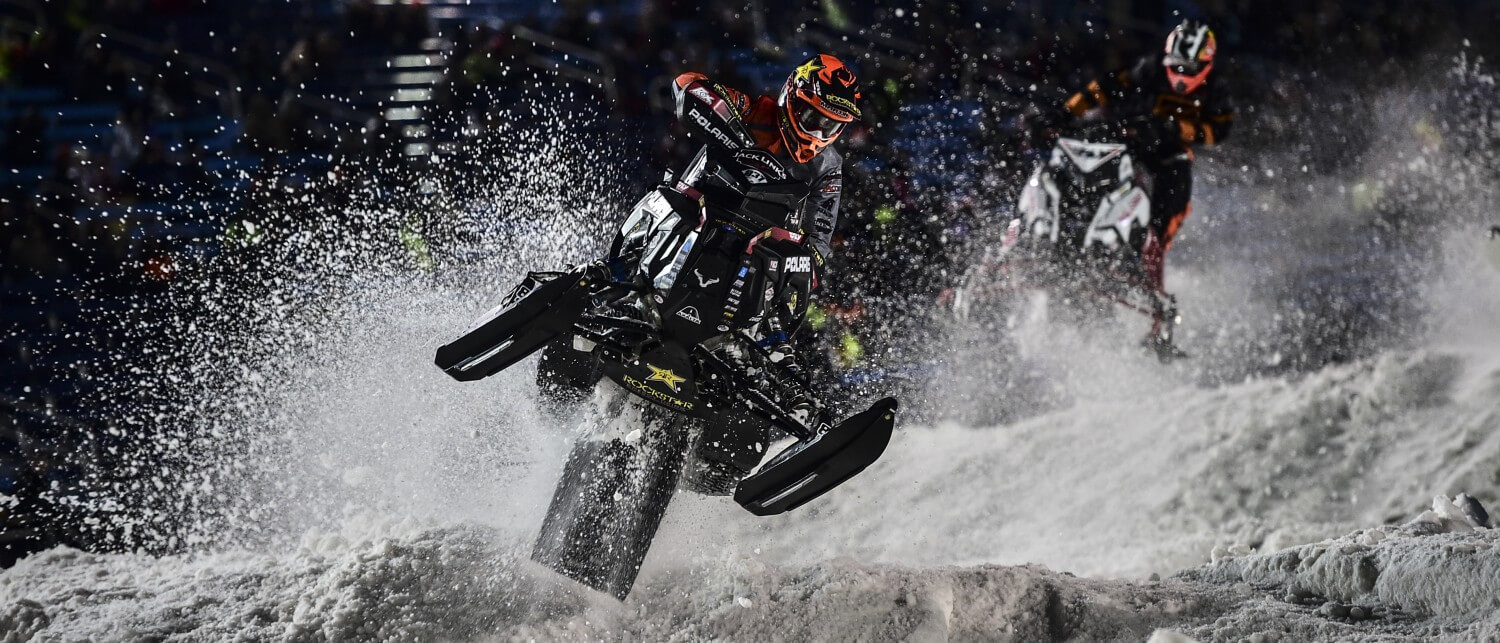 PRO OPEN
The Route 66 Raceway is track is technical and requires on point rhythm with every lap, missing your mark could quickly cost you one, or several positions.  This track will push the Pro Open riders harder than any other track this season. Through the qualifying rounds, Petter Narsa(54) put on a show for the win and Ross Martin(837) also threw down a solid run taking a win, but it is Tucker Hibbert(68) with the top qualifying spot.
It is a ski-to-ski start for all fifteen riders, but it is Kyle Pallin(324) who takes the Stud Boy Holeshot. On the gas fast is Ross Martin(837) who quickly moves by Pallin for first, with Tucker Hibbert(68) back in seventh. Team mates Lincoln Lemieux(13) and Tim Tremblay(11) both made a run through the field but Lemieux falls back mid pack. On lap nine, Hibbert has moved up to third and is able to take the high line and move past Todd for second and now in pursuit of Martin.
While the battles continue through the field, Martin rides lap-after-lap smooth and solid. Hibbert continues to try and close the gap and make the pass, as he looks to make a move on the outside, with no where to go, Hibbert is off the sled and quickly drops back several positions putting Corin Todd(36) in second and Tremblay now in third. Lincoln Lemieux(13) was also able to capitalize and move past Hibbert into fourth place with only two laps remaining.
White flag in the air, Ross Martin(837) is on his way to his first victory of the season, around the final turn and over the AMSOIL Finish Line, Ross "The Boss" takes the top spot on the box followed by Corin Todd(36) and Tim Tremblay(11) finishing up the top three.
1. Ross Martin (837) – Judnick Motorsports
2. Corin Todd (36)  – Leighton Motorsports
3. Tim Tremblay (11) – Amsoil/Air Force/Ford
4. Lincoln Lemieux (13) – Amsoil/Air Force/Rockstar
5. Tucker Hibbert (68) – Monster Energy / Arctic Cat / Ram Trucks
6. Kyle Pallin (324) – Mystik, Loctite, Polaris, Red Bull
7. Adam Renheim (311) – Boss Racing
8. Corey Watkinson (173) – Watkinson Motorsports, Arctic Cat
9. Andrew Carlson (151) – CARLSON MOTORSPORTS
10. John Stenberg (259) – Warnert Racing
11. Petter Narsa (54) – Hentges Racing
12. Ryan Springer (541) – Carlson Motorsports
13. Jake Scott (42) – DOC /Arctic Wear / Arctic Cat
14. Zach Pattyn (99) -Stud Boy Racing
15. Andrew Lieders (857) – Lieders Racing