Albertville, Minnesota: For Immediate Release
The newly formed Snocross Mobile Medical Team is excited to announce its title sponsor with FXR Racing Inc. This three year sponsorship brings together a company full of passionate enthusiasts who have been supporting and investing in our sport for years and a brand new medical team for our athletes.

Snocross Mobile Medical Team:
Formed in the fall of 2016 and initially brought to the attention of the industry at Haydays, the Snocross Mobile Medical Team (SMMT) was created with the purpose of providing world-class on track medical care (emergency, trauma, 1st responder) for the snocross athletes at every round of the AMSOIL Championship Snocross Tour.

Former AMSOIL Championship Snocross assistant race director, Jake Vanada, was prompted to start this organization after seeing first-hand how the Alpinestar Mobile Medical (formerly known as Asterisk Mobile Medical) works within the professional Supercross and Motocross industry. In his new role as the MX and SX Chaplain, Vanada consulted the Alpinestars Mobile Medical director, Tom Carson, and it became clear the sport of snocross could greatly benefit from a similar program.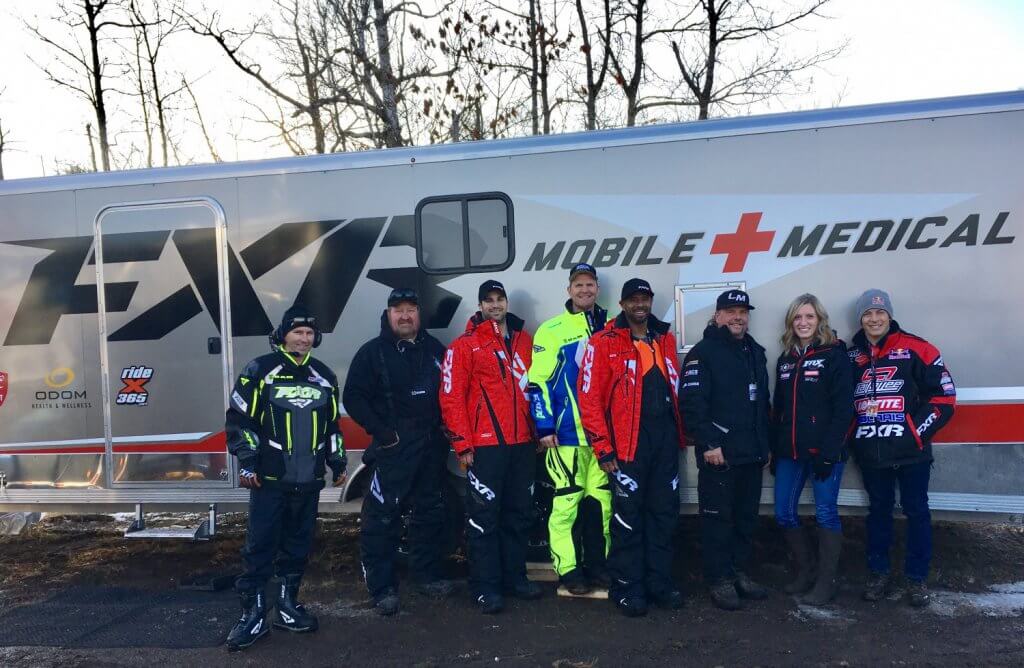 To make this program a reality for snocross, Vanada formed a board of like-minded industry leaders to launch a 501c3 non-profit. Sara Schultz (trained as medical nurse, Wife of "Monster" Mike Schultz) , Trace Leighton (team owner of Leighton Motorsports), Levi Lavallee (X GamesGold Medalist, distance jump world record holder, team owner), and Jesse Strege (20 year veteran snocross racer, assistant race director with ISOC) have all stepped up to serve alongside Vanada to help launch this medical team for the industry. On why he said yes to being involved, Levi stated, "Because it is great for the sport of Snocross! We all love this sport and the riders that are on the track so being able to bring a service like the SMMT, elevates Snocross and aids in the riders safety. It is a honor to be a part of such a great cause and hats off to Jake for bringing it to life! "

SMMT is a non-profit organization which exists thanks to the generosity of teams, team owners, families, and businesses in our sport. All donations are fully tax-deductible.

FXR Racing Inc. has agreed to an inaugural three-year sponsorship of our medical team. The SMMT will be naming the new medical team FXR Mobile Medical. FXR Racing Inc. is just the kind of company the SMMT had in mind to be a sponsor. Doug Rust (FXR Snocross Marketing Director and Brand Manager), Milt Reimer (Founder and President of FXR Racing Inc.) and their whole team over at FXR Racing are amazing people with a passion for not only our industry, but for the health, safety, and wellness of our athletes. FXR is passionate about the sport, all of the riders, and the safety and development of the riders and the sport, which is what makes this sponsorship very unique and very special.

Triton Trailers has come alongside FXR Mobile Medical to provide a brand new custom trailer which will be the "mobile medical rig" used at each round. Jeff Goodwin (Triton Trailers Director of Sales) and the team at Triton Trailers are some amazing and passionate people in the industry and their heart for the care of our athletes has been front and center through this whole process. Inside this premium all aluminum sled hauling trailer, the FXR Mobile Medical team will be building out a state of the art medical trauma center which will sit track-side at all 17 rounds of the snocross series for our athletes.

Polaris Industries has sponsored the team with a brand new Polaris Ranger XP with tracks to serve as the medical rapid response rig at the races. The team at Polaris, lead by Polaris Race Team Manager Tom (Junior) Rager., came on board immediately, offering their full support. Tom Jr. has expressed his strong support and excitement about bringing this much
needed part of our racing series into a reality.

In addition, Action Graphics and RedPlateMedia of Baxter, MN has agreed to sponsor the team with the complete FXR Mobile Medical graphics kit. "Gary Walton and his team were on board from the start," says Vanada. "He approached me right away at Haydays offering his full support."

Finally, the FXR Moblie Medical rig will be harnessed to a brand new RAM 2500 through a new sponsorship with Cornerstone Auto Group of Elk River, MN. The Cornerstone Auto Group is just the kind of passionate, enthusiastic company and staff that SMMT is proud to partner with. The SMMT is incredibly grateful for Cornerstone's owner Scott Powell, Rob Powell (Vice
President), and Cornerstone Auto's Ram manager Roy Quade.

The Doctor
Dr. Odom from Odom Health and Wellness will be FXR Mobile Medical's lead Doctor and Medical Director. FXR Mobile Medical will have an ER Doctor, Athletic Trainer and a medical coordinator (volunteer) at each race. Dr. Odom is a board-certified medical doctor who specializes in sports medicine, and continues to practice emergency medicine in Minnesota. When he is not providing care in the ER Trauma rooms, he is treating athletes of all levels and all disciplines in an effort help them get back to peak performance. He has years of experience providing medical coverage at the USA Olympic Training Center, US Ski and Snowboard Team, Dew Tour, USA Triathlon, Chicago Marathon, and multiple high school andcollege level sports teams.