SENECA ALLEGANY RESORT & CASINO – SALAMANCA, NY- (FEBRUARY 3, 2017), Midway through the season, AMSOIL Championship Snocross Series returns to the east coast for the US Air Force Snocross National. Another favorite stop on the circuit for both riders and fans, the 5th annual event at Seneca Allegany Resort & Casino brings fans from all over the region for some high flying action.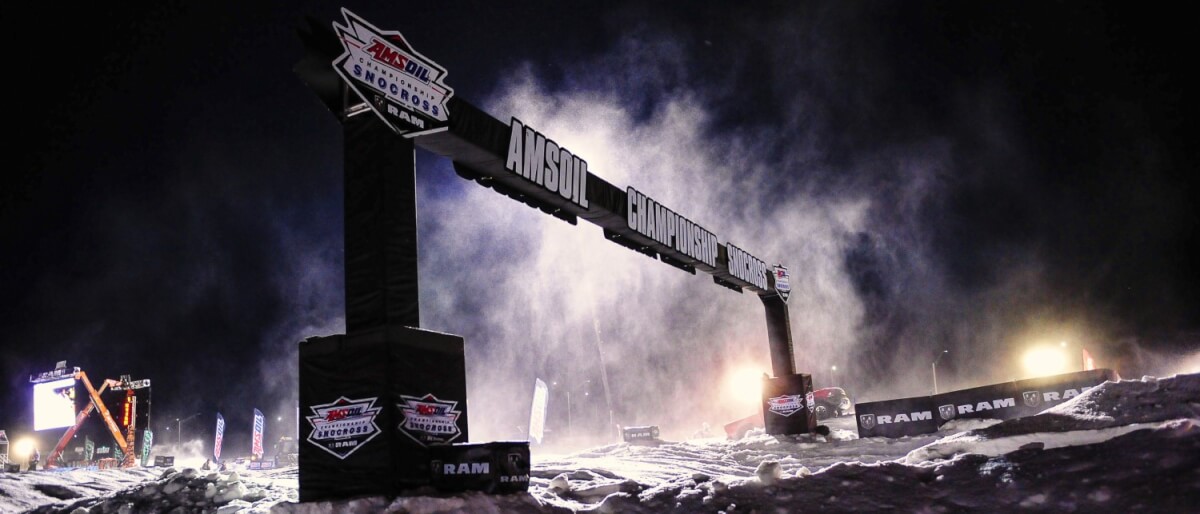 Many of the Pro Open riders had no break between Deadwood and New York with several of them competing in X-Games last week in Aspen, Co. Coming into the weekend Tim Tremblay(11) is still on top with the points lead and Aki Pihlaja holding onto the red plate in Pro Lite.
PRO LITE
Round 9 of heats were stacked with action where Jake Angove(177) locked in two first place finishes along with Nickolas Lorenz also two first place finishes. Points leader Aki Pihlaja a second and third. Travis Kern(201) riding well in the first heat, found some trouble in the rhythm section going off the sled, finished in sixth, but was to able to lock in a spot in the final with a second place finish in the second heat. Rider Zak Mason(63) has been running strong the last few races, but had to run the LCQ for a transfer into the main.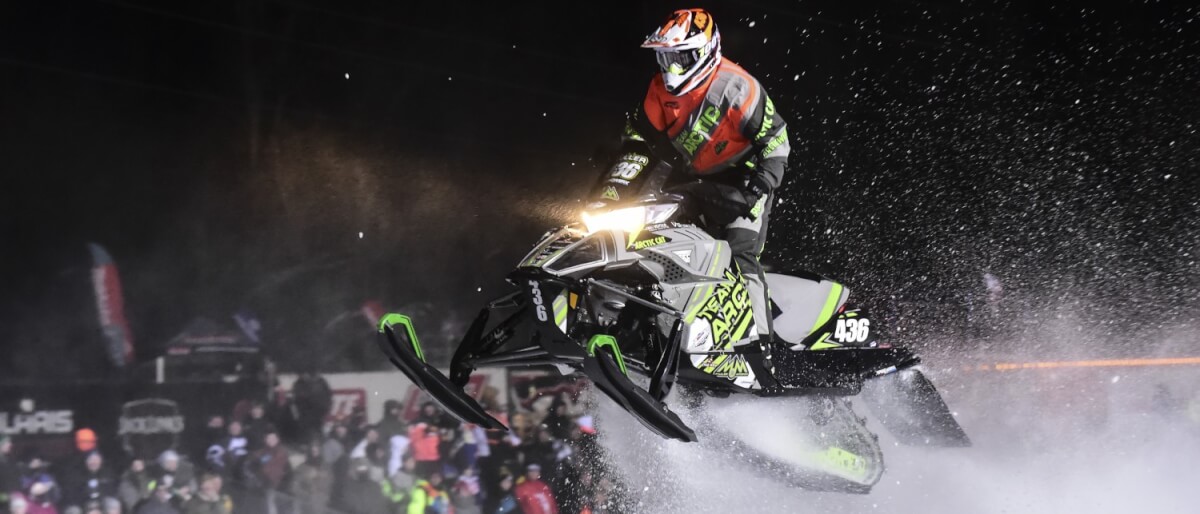 Pro Lite Final on deck, Jake Angove(177) hopes to lock in another win after his solid runs in the heats and get his first win of the season, while rookie rider Lorenz who was the number one qualifier, is sure to be in the running's for a podium finish.
Soft and sugary track conditions with plenty of snow dust will be a factor in the final race of the night, off the line into the first turn, it is Montana Jess(765) with the Stud Boy hole shot. Three laps in the books Travis Muller(436) challenges Jess for the lead and makes the pass over the AMSOIL finish line jump, Montana quickly catches Muller, as they come into the FXR Corner, the two riders make contact almost knocking Jess of the sled. Muller is able to maintain the lead while Jess settles into second, but Jake Angove(177) is also able to make his move on Jess and make the pass.
Aki Philaja off to a tough start is back in sixth, but riding hard to make up ground on the leaders moves into fourth, also passing Jess for third along with Cole Cottew(21) who takes over fourth. Cottew makes a huge pass on Philaja, runs hard through the Air Force rhythm section, launches himself off the track and out of contention for a podium spot.
Up front, Muller continues to stretch out his lead with a flawless run, followed by Angove and Philaja. With the laps winding down, Philaja is off his sled on lap eleven, able to quickly get back on the sled, gets passed and moved back into fourth putting Lorenz into that final spot on the box. Final lap, Muller getting his first win and podium finish crosses the AMSOIL finish line for the checkers with a five second lead over Angove in second while Philaja gets a break after Lorenz is off the track on the final lap giving Aki the final podium spot.
1. Travis Muller
2. Jake Angove
3. Aki Pihlaja
4. Kevin Wallenstein
5. Montana Jess
6. Daniel Benham
7. Travis Kern
8. Danny Poirier
9. Tyler Adams
10. James Johnstad
11. Nickolas Lorenz
12. Zak Mason
13. Cole Cottew
14. Evan Daudt
15. Andrew Lindholm
PRO OPEN
Points leader Tim Tremblay(11) locked in a second and third place finish in the heats along with team mate Lincoln Lemieux(13) with a second and first giving the AMSOIL/ Air Force/Ford team a solid run in the heats. Tucker Hibbert(68) with third and first along with Ross Martin(837) with a fourth and second, both with a transfer spot to the final. Rookie Elias Ishoel(200) unable to transfer through the heats is forced to run the LCQ, but transfers with a first place finish.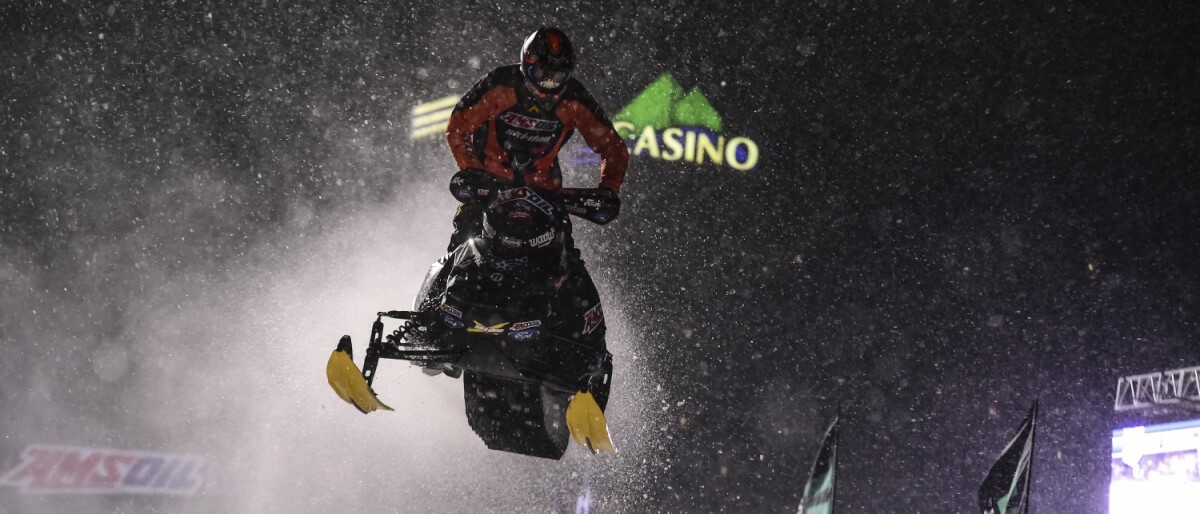 It has been an up and down season for the 2015-2016 champion Tucker Hibbert(68), he currently sits third in points, Hibbert who has never lost at Salamanca is hoping to continue the streak and get another first place podium finish and his 125th win. Team mates Lemieux and Tremblay are hoping to get a one-two punch and take the first two spots on the podium.
Out of the gate for the twenty two lap final, it is Lincoln Lemieux(13) with the Stud Boy hole shot followed by Kody Kamm(53) and Tim Tremblay(11) in third. Bar-to-bar racing for second place between Kamm and Tremblay while Hibbert moves pass Petter Narsa(54) to challenge Kody Kamm(53) for third. Up front Lemieux extends his lead to five seconds over team mate Tim Tremblay(11) in second place.
Lap-after-lap, Hibbert and Kamm battle back and fourth, Hibbert with a pass on lap thirteen overtakes Kamm, but Kamm quickly makes the pass to regain third. One lap later, Hibbert passes Kamm again for third and quickly checks out. Laps coming to down to the end, Tremblay has closed the gap between he and Lemieux, with four laps to go, Lemieux running smooth, comes into the Air Force rhythm section, dives into the face of a jump and goes over the bars ending his race for the night. Moving up to first, Tremblay would go onto to take the checkers, followed by Hibbert in second and Kamm taking the third spot on the box.
1. Tim Tremblay
2. Tucker Hibbert
3. Kody Kamm
4. Adam Renheim
5. Elias Ishoel
6. Petter Narsa
7. Ross Martin
8. Andrew Carlson
9. Kyle Pallin
10. Ryan Springer
11. Corin Todd
12. Lincoln Lemieux
13. Cody Paolella
14. Kristoffer Holm