For Immediate Release
Duluth, MN (January 22, 2018) – The literal bullring snocross track at the Days of '76 sports complex in Deadwood, South Dakota is a challenge on even the best of days. With a short start straight leading into one of the roughest 25 second laps on the tour, getting out front early is imperative.
Rookie Jake Angove was consistently among the top 5 riders in Pro timed practice on both days but some unlucky gate picks in the heat races put him in the dreaded outside starting spot on multiple occasions and good starts were not in the cards. Angove was able to score a second place finish in Friday qualifying but a tangle at the start of the main event relegated him to last place. Jake put on one of his best charges of the season and raced back up to ninth at the finish.
Despite the challenging weekend, Angove climbed into the top 10 in points in the premier division.
Carson Alread also had his share of struggles on Friday, failing to make the main event. Alread bounced back on Saturday, winning a heat race and turning in a top five performance in the Sport class final.
The AMSOIL Championship Snocross tour is now off until February 16 when action resumes in Salamanca, New York. However, Jake Angove will be taking part in the ERX Eliminator in Elk River, Minnesota on February 2. That event can be see online at SpeedShiftTV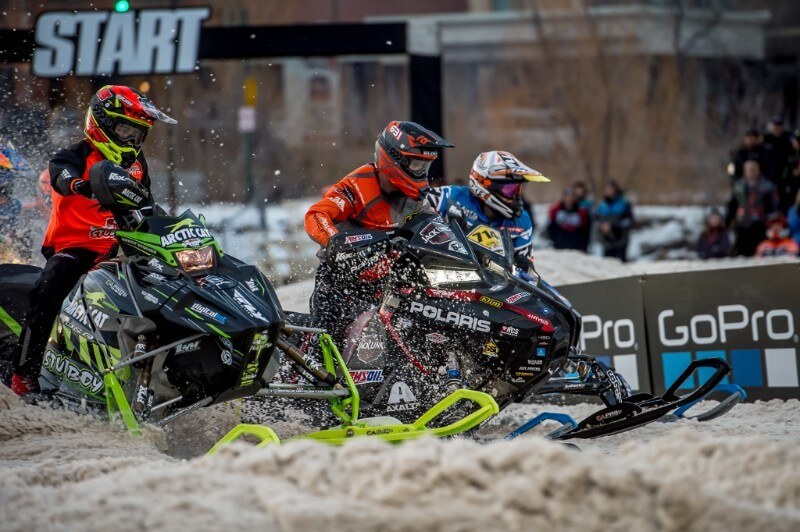 Carson Alread gets a nose out on the competition as the Sport class races into the first turn.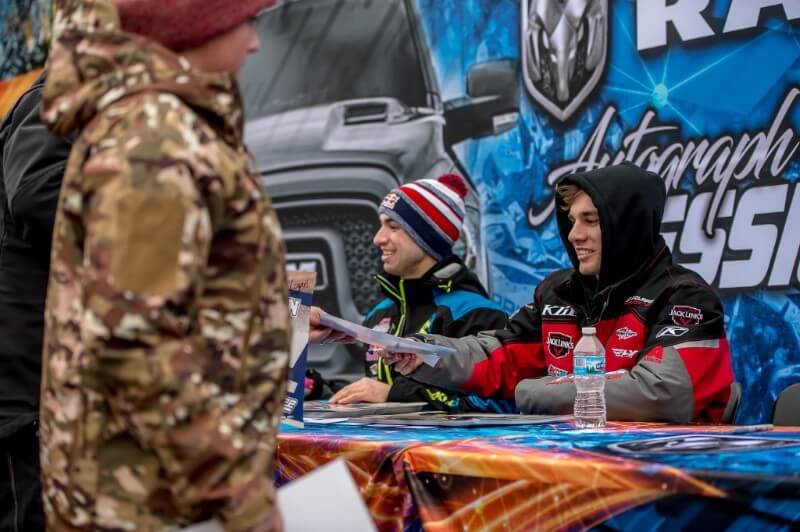 With mild temps, the Pro autograph session was moved outside within easy access of the fans.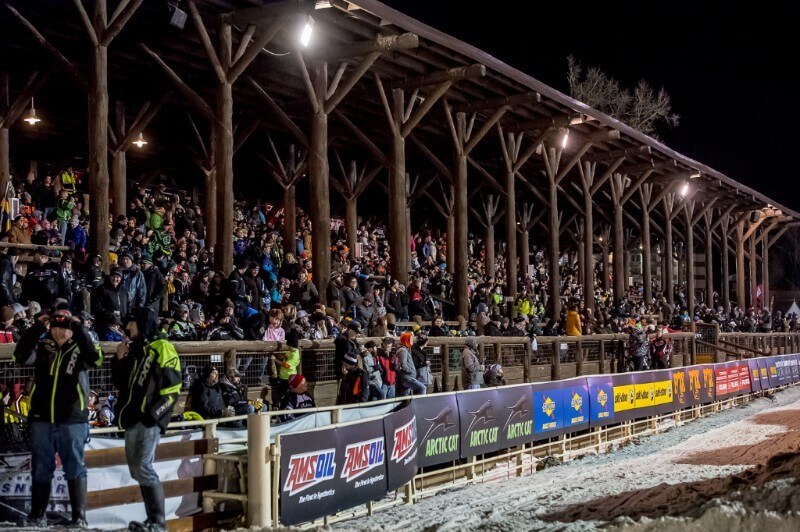 Deadwood is one of the most exciting venues on the tour and a full house of spectators get an up close and personal look at the action.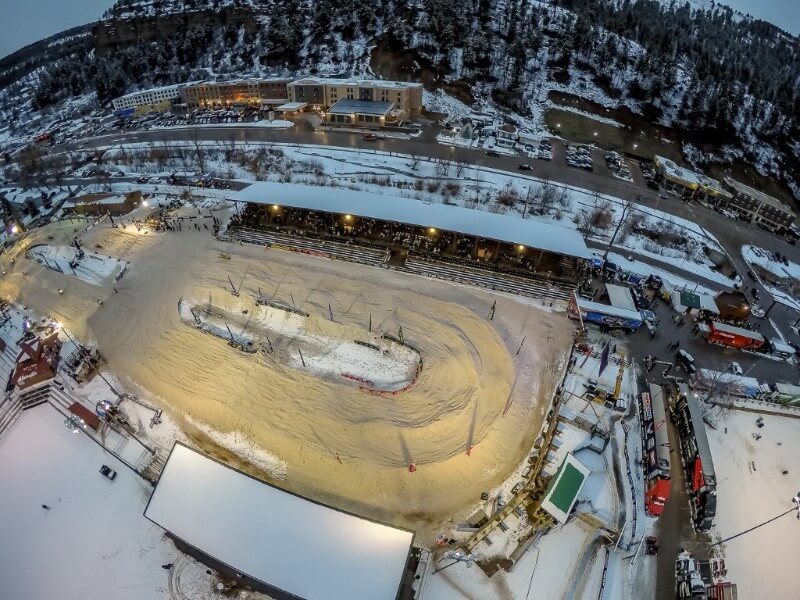 Located in the heart of the Deadwood gulch, the race course is within walking distance of many hotels and restaurants.
RACE RESULTS – Round 7
Pro Heat 1 Heat 2 Final
Jake Angove 8 2 9
Sport Heat 1 Heat 2 Final
Carson Alread 5 4 DNQ
RACE RESULTS – Round 8
Pro Heat 1 Heat 2 Final YTD
Jake Angove 8 7 15 10
Sport Heat 1 Heat 2 Final
Carson Alread 3 1 5 7
CBS Sports Television Coverage

Round #7 U.S. Air Force Nat'l Jan. 28, 2018 @ 11:00AM

Round #8 U.S. Air Force Nat'l February 4, 2018 @ 11:00AM

Live Streaming
https://snocross.com/livestream/
# # #
Team Sponsors:
Polaris Racing, Jack Link's Meat Snacks, AMSOIL Synthetic Lubricants, Axalta, Fly Racing, SSi Decals, Walker Evans Racing, Klim, Midwest Industrial Coatings, Inc., Stud Boy Traction Products, Renton Coil Springs, C&A Pro Skis, Jeff Foster Trucking, Hayes Brakes, Kutzler Express, Camso, MBL, Factory Pipe, Link Ford, V FORCE, Mo-Flow, Tekvest, ROX Speed F/X, HMK
# # #