FOR IMMEDIATE RELEASE
February 26, 2018 – Tucker Hibbert took a win Saturday night at the ISOC National Snocross tour's Michigan National and with strong performances throughout the weekend, maintained his grip on the 2018 points championship.
With two days of heavy rainfall and warm temperatures in the Mt. Pleasant area prior to the event, the piles of snow made for the track were wet and heavy, resulting in a rough and challenging racecourse.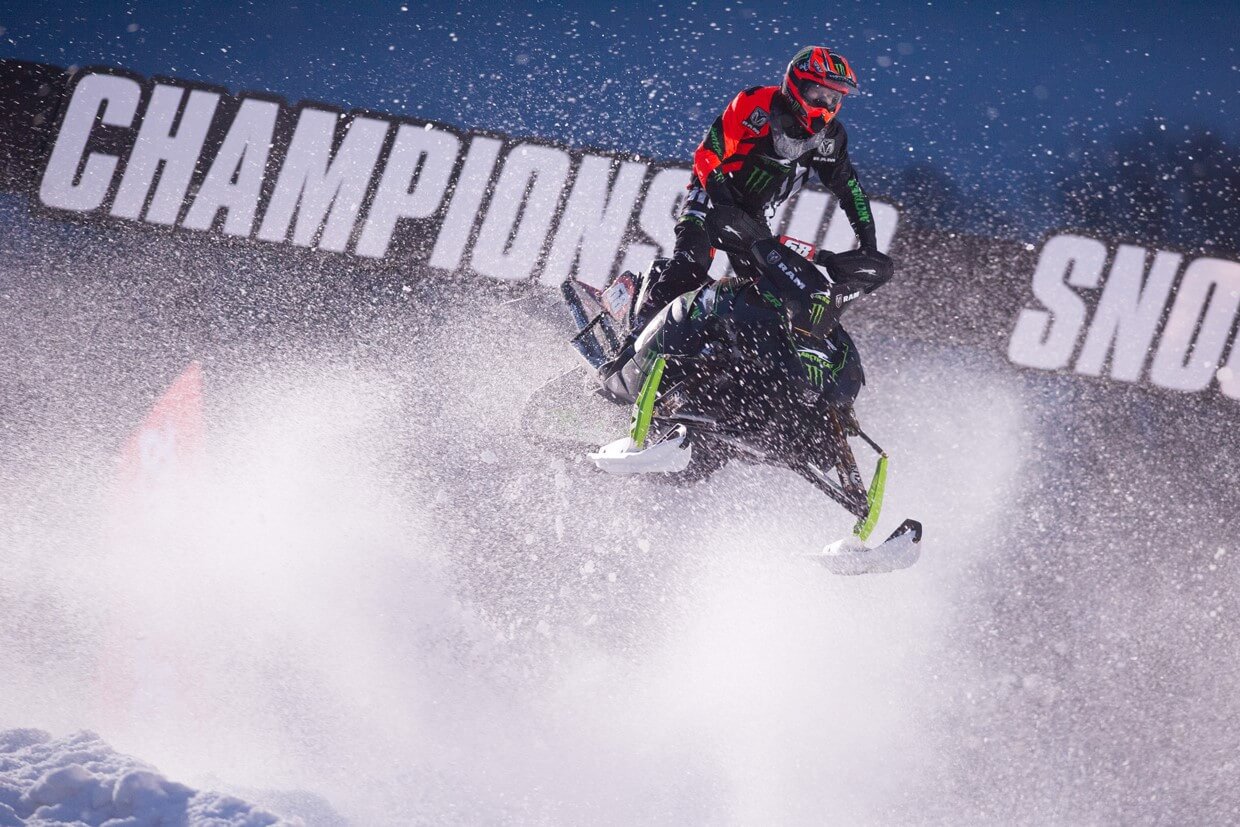 Hibbert went 2-1 in qualifying Friday night and after a mid-pack start in the 15-rider, 20-lap final, was in good position to move forward. Near the end of lap one, another rider got his ski into the back of Hibbert, leaving the two rider's sleds stuck together. Hibbert broke free of the tangle seconds before the pack was coming around the track to lap him, keeping him on the lead lap. He charged hard through the field the rest of the race to secure a sixth place finish.
Saturday night, Hibbert went 4-1 in his qualifying rounds. With another mid-pack start in the 15-rider, 18-lap final, he focused on getting through the opening laps clean and into a position to fight for the win. Tapping into his skill to find lines on a deteriorating track, he moved through the field fast. On lap seven, he made the pass for second and had early race leader, Kody Kamm, in sight. He spent the following laps setting him up and with five to go, block passed Kamm in the corner before the finish line and went on to take his 135th career win.
The national series takes a one-weekend break before heading into the final two stops of the 2017/2018 tour in Iowa and Wisconsin. For more information on Hibbert and his racing, visit tucker-hibbert.com.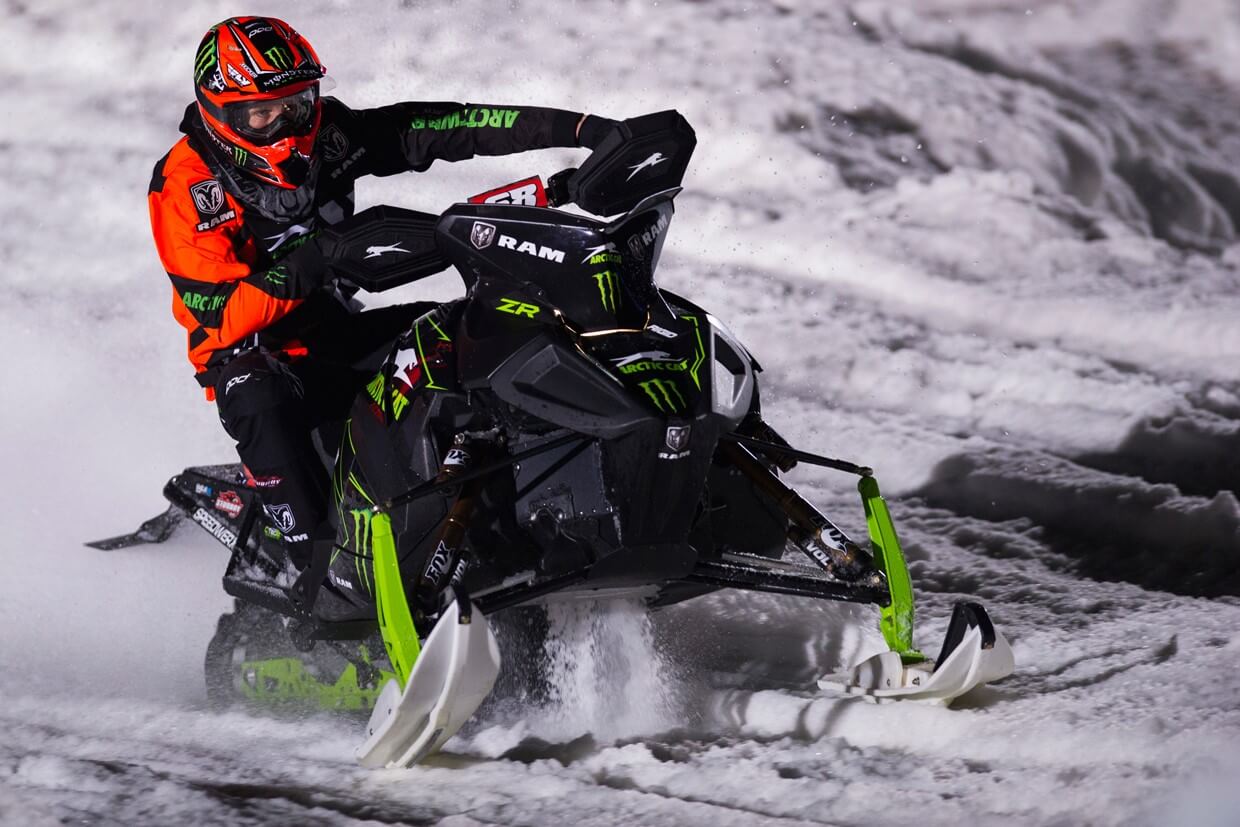 Tucker Hibbert – #68 Monster Energy / Arctic Cat / Ram Truck
Friday night recap:
"I was settling in the first lap, trying to make some passes, then another rider ran into the back of me and his ski got sucked up into my track. It instantly stopped me. Luckily, we were able to get the sleds apart right before the leaders came by so I didn't get lapped. I was bummed I lost so much time but just had to put my head down and pass as many riders as I could."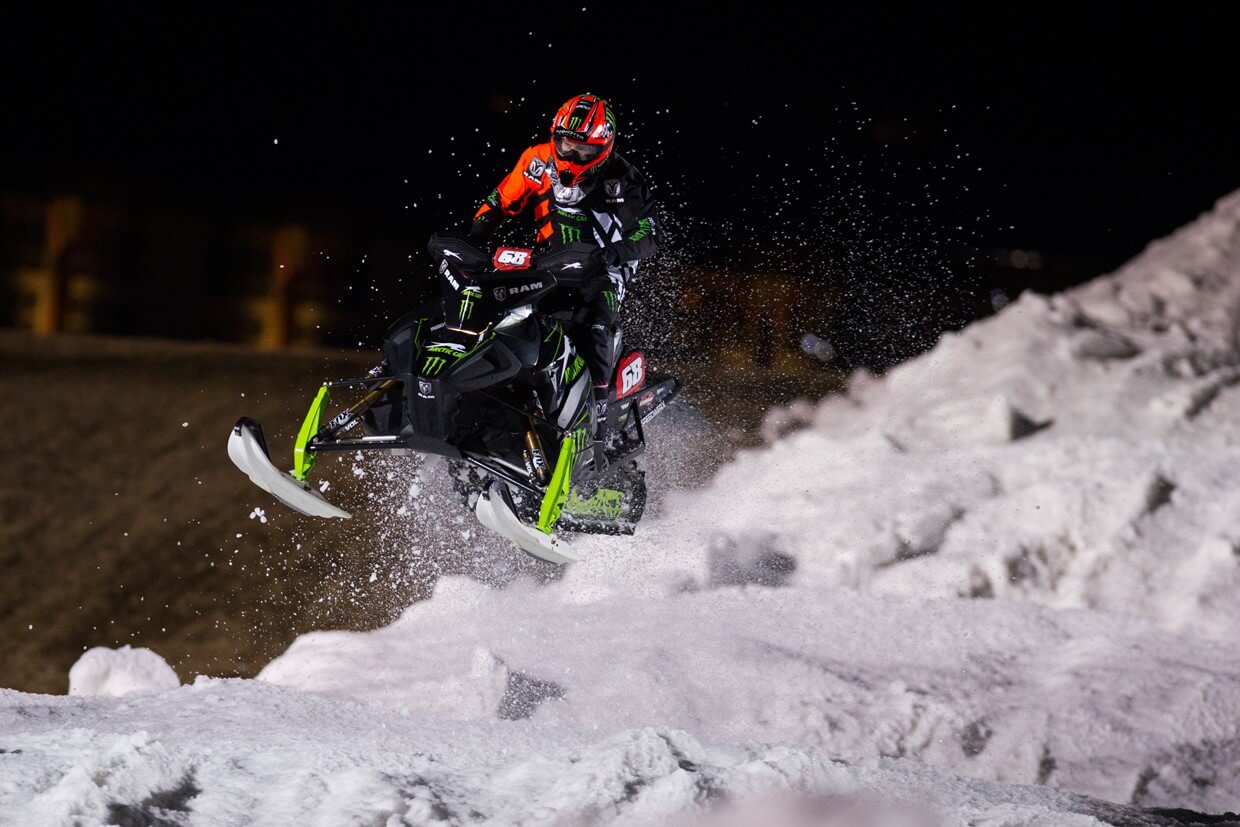 Photos by John Hanson
Saturday night recap:
"I didn't get a very good jump off the start and got shuffled to mid-pack right away. I was focused getting through the opening laps clean. Fortunately, I was able to do that and settled into fourth place pretty quick. I could see Kamm up front and he was pulling away. I knew I had to make more passes quick to be able to catch him. Once I got into second, I tried to ride smooth and consistent but at the same time, I had to find new lines because the track was deteriorating so much and we were getting into lappers. I caught up to him pretty quick, rode behind him a few laps and figured out where I wanted to make the pass. I set him up in the turn before the finish line by carrying momentum through the backstretch, went wide into the corner and then cut inside to block pass him. It felt good to finish the weekend with a win."
Approach to final two events of the season:
"My approach to the last two events is the same as it's been all year – winning qualifying races and the main events. I feel good about the points lead but I am focused on keeping the hammer down and getting some more wins."
Tucker Hibbert – Michigan National Results
Friday, February 23 – Pro Round 11
Round 1 Qualifying: 2nd
Round 2 Qualifying: 1st
FINAL: 6th
Saturday, February 24 – Pro Round 12
Round 1 Qualifying: 4th
Round 2 Qualifying: 1st
FINAL: 1st
CBS Sports Network Broadcast
Michigan Snocross National Day 1: Sunday, March 11 – 10:00 am ET
Michigan Snocross National Day 2: Sunday, March 18 – 11:00 am ET
Remaining 2017/2018 ISOC National Snocross Events
Dubuque, IA // March 9-10, 2018
Lake Geneva, WI // March 16-17, 2018
About Tucker Hibbert
Tucker Hibbert, 33, entered his first race at the age of eight and today stands as the most decorated snowmobile snocross racer in history. He's a two-time FIM World Snowcross champion, 14-time X Games medalist and 10-time national snocross champion. Now in his 18thprofessional season, he holds 135 Pro National victories. For more information on Hibbert, visit tucker-hibbert.com.