FOR IMMEDIATE RELEASE
March 12, 2018 – Tucker Hibbert put a stronghold on the 2018 ISOC National Snocross points championship with back-to-back dominant performances in Dubuque, Iowa. Winning both finals and three of the four qualifiers, Hibbert gained 39 points over second place throughout the weekend to extend his points lead to a whopping 100.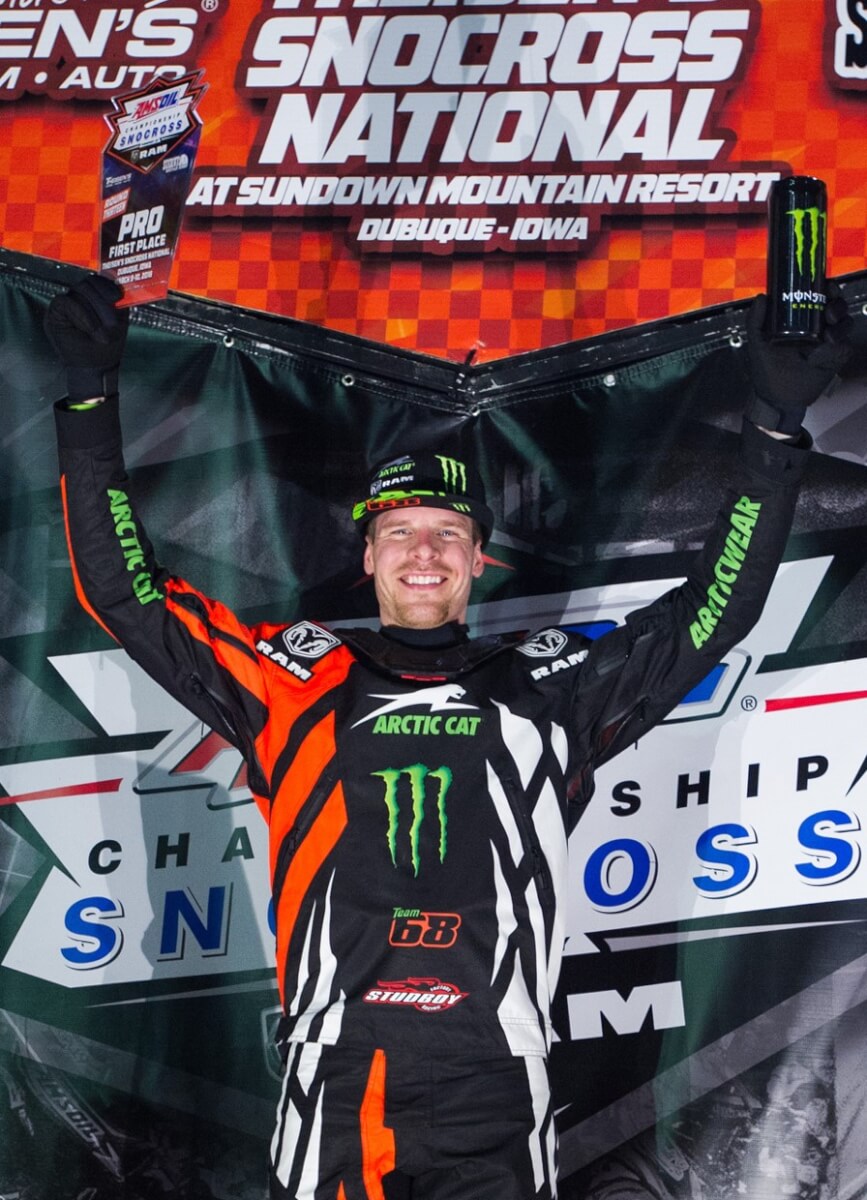 In its second year hosting the Iowa National, Sundown Mountain Resort featured a completely different style track than last year with a technical course stretched across the top of the ski hill. The 35-second track utilized sections of two downhill runs, giving the course elevation changes with big jumps, sweeping turns and off-camber corners.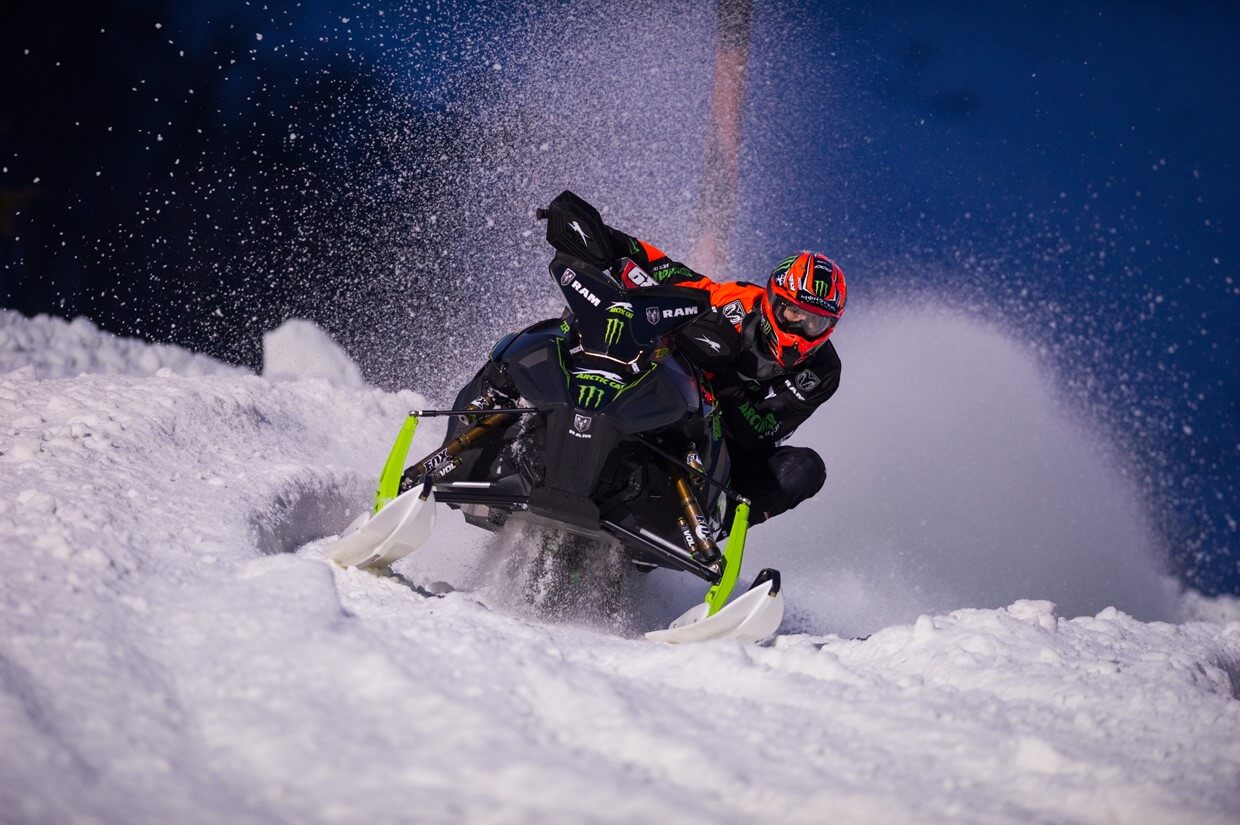 Friday and Saturday night played out similar for Hibbert. Capitalizing on solid starts in the 18-lap, 15-rider finals, he took the early lead both nights. Masterful with his line choices, he moved all over the course looking for the fastest and smoothest lines. His strategy worked as he rode unchallenged to finish 11 seconds over second place both nights.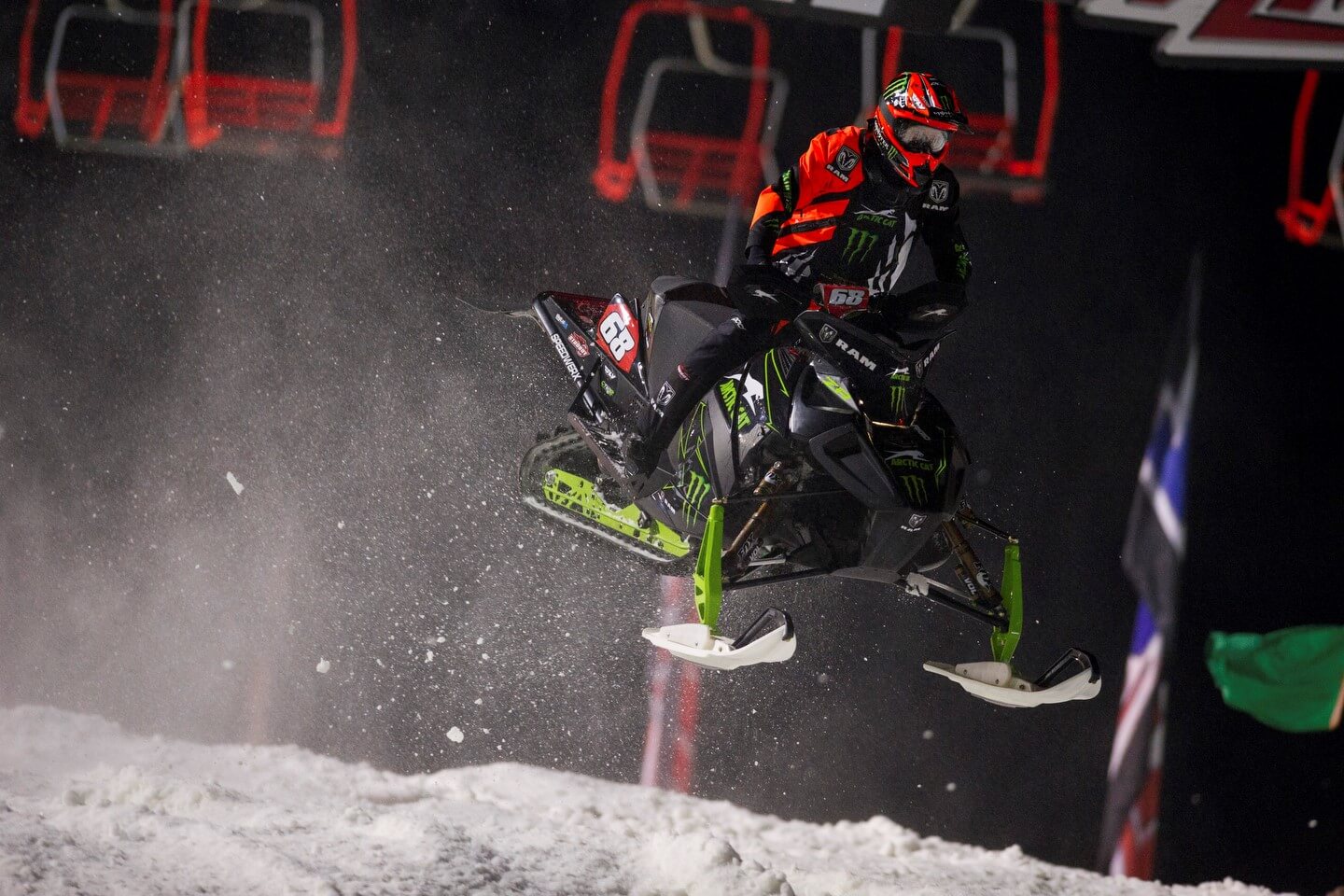 With 177 points on the line at the three-day season finale in Lake Geneva, Wisc. this weekend, Hibbert has the opportunity to clinch his 11th Pro National title Friday night.
For more information on Hibbert and his racing, visit tucker-hibbert.com.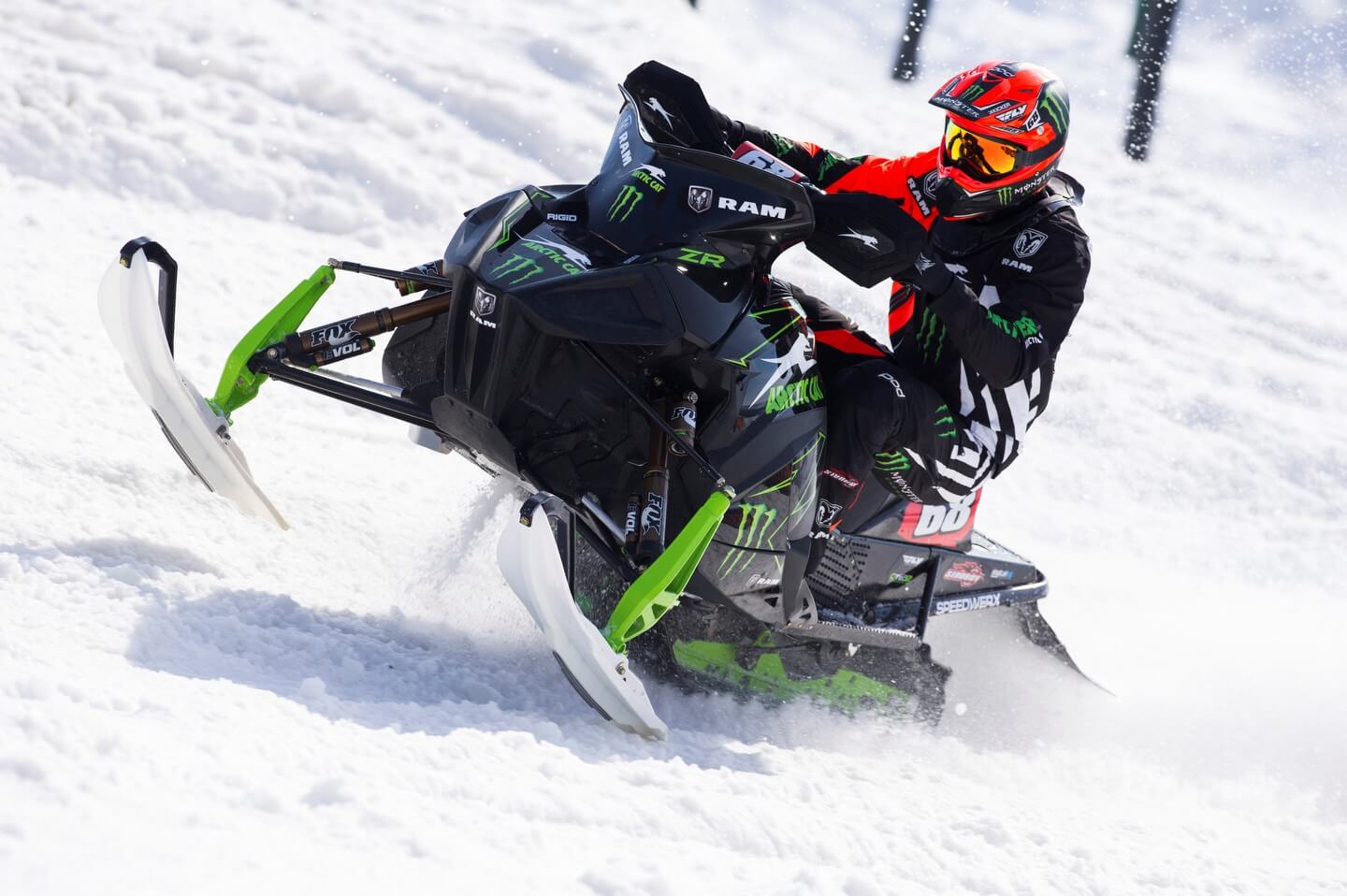 All Photos by John Hanson
Tucker Hibbert – #68 Monster Energy / Arctic Cat / Ram Truck
Friday night recap:
"Friday night was a great race for me. I won both my qualifying races so I was number one qualifier heading into the final. My pick put me way on the outside of the startline which was a good place to be as long as you got a good launch. It lined you up really nice for the first turn and up the hill. I got a really good jump off the line, my sled pulled hard and put me out front of the guys next to me and into second position. I charged hard on the first lap and was able to capitalize on a small mistake by Montana Jess and make the pass for the lead in the last turn on the first lap. I put the hammer down, focused on riding fast laps right away and ran my own race."
Saturday night recap:
"In the final on Saturday, I was able to take an inside starting position that was left open by the other riders. I was really happy about that. It was a different place to be but it was good. I got a good jump off the line and went into the first turn side-by-side with Logan Christian. I was able to carry a little more momentum than Logan over the first couple jumps and took the lead just before the first downhill section. Saturday's track was a lot rougher than Friday and more challenging, which was good for racing. I was glad to be out front early and find the lines I wanted to slowly pull away a build up a good lead. The track was really technical. I had to be careful not to make mistakes. It was fun to pick my lines and charge around the track."
Thoughts going into final event of the season:
"I'm really excited about my weekend in Iowa to win both races and extend my points lead by a good amount. Getting ready for Lake Geneva, I'm motivated to finish the season strong. We're in a really good position with the points championship. I'm confident in my riding and my sled. The goal is keep winning races and clinch the championship."
Tucker Hibbert – Iowa National Results
Friday, March 9 – Pro Round 13
Round 1 Qualifying: 1st
Round 2 Qualifying: 1st
FINAL: 1st
Saturday, March 10 – Pro Round 14
Round 1 Qualifying: 1st
Round 2 Qualifying: 2nd
FINAL: 1st
CBS Sports Network Broadcast
Iowa Snocross National Day 1: Sunday, March 25 – 11:00 am ET
Iowa Snocross National Day 2: Sunday, April 1 – 11:00 am ET
About Tucker Hibbert
Tucker Hibbert, 33, entered his first race at the age of eight and today stands as the most decorated snowmobile snocross racer in history. He's a two-time FIM World Snowcross champion, 14-time X Games medalist and 10-time national snocross champion. Now in his 18th professional season, he holds 137 Pro National victories. For more information on Hibbert, visit tucker-hibbert.com.