Welcome to the brand that is relentless in their pursuit of greatness. Greatness is not given, it is earned. It is earned through tireless work, overcoming adversity, standing out from the crowd, creating your own trail, and always holding yourself to a standard that others are not willing to do…. That's why I wear FXR. – Levi LaVallee
Winnipeg, MB – FXR Factory Racing Inc. is proud to release the 2019 Snow collection.

For over twenty years, FXR has created high-performance outerwear for both world-class athletes, and the everyday rider. The 2019 Snow collection is no different.
Developed with ultimate performance and versatility in mind, the 2019 collection represents the blood, sweat, and tears of a massive global effort of designers, technical product specialists, manufacturers, test riders, racers, and ambassadors that are all passionate and dedicated to making sure that every rider has the best possible user experience on snow.

The 2019 Snow collection stays true to the bold styles that have made us who we are, with a wide selection to choose from that allows riders to create not only their own unique, personalized look, but to utilize FXR's proprietary technology to stay warm, dry, and protected in any of winter's unforgiving elements.

We do this because, like you, we ride.
And like you, we never settle.
Welcome to 2019 FXR.
FXR's exclusive Dri-Link™ technology allows a 2pc suit to be connected at the waist with a 360° zipper system, giving it similar protective properties to a monosuit, while increasing mobility and allowing the rider to move their legs freely.
The Dri-Link™ is available in both Women's and Men's Elevation Dri-Link and Men's Boost Dri-Link.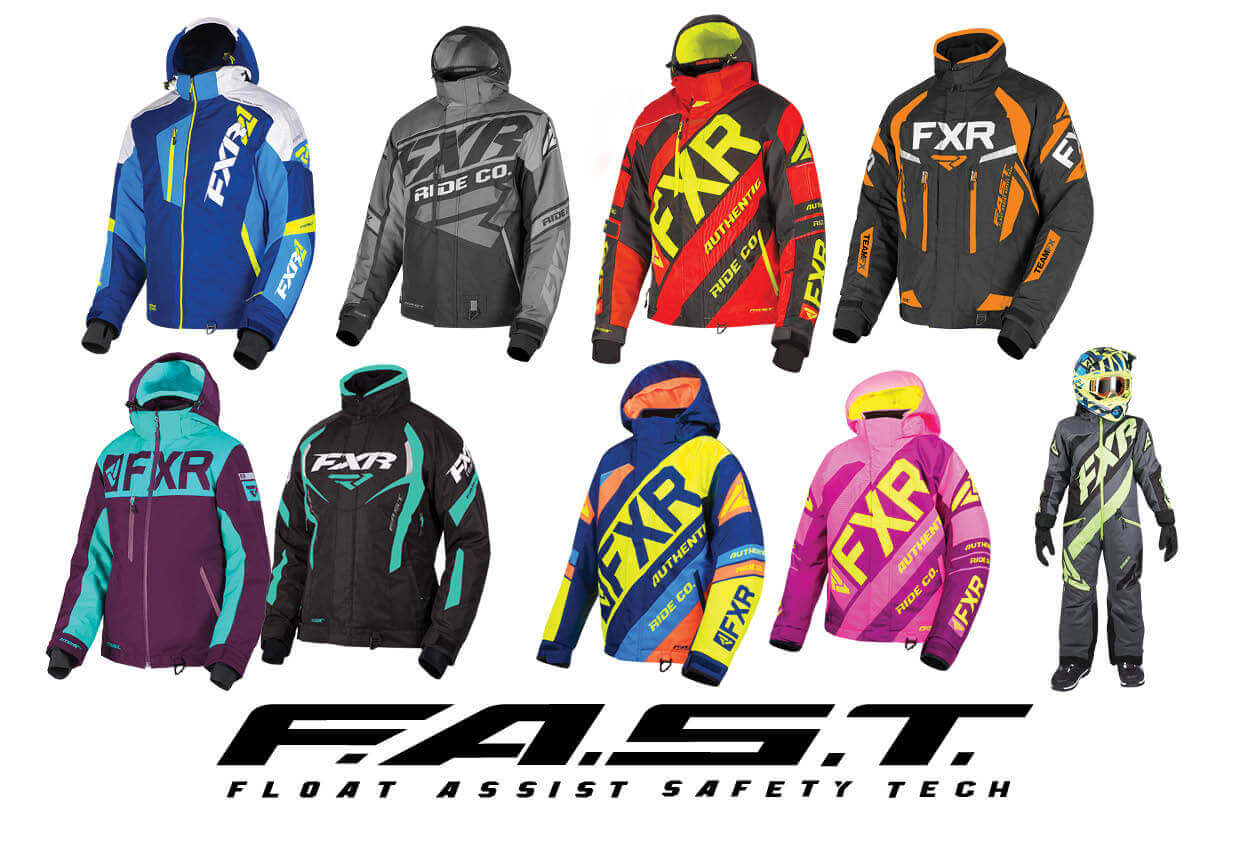 Are you and your family protected if things go wrong? FXR's exclusive F.A.S.T. buoyancy assistance technology gives riders the best possible chance to get out of the water, and back onto the ice, assisting in self-levelling and keeping the rider at the surface, while rapid drain inserts remove the water to assist in climbing back onto the surface. Even when wet, F.A.S.T. insulation retains its thermal properties to keep body temperatures from dropping, allowing time to seek shelter.
F.A.S.T. offers protection without any compromise in comfort or performance, and is available in ALL Child/Youth outerwear, as well as a wide range of men's and women's jackets, pants, and monosuits.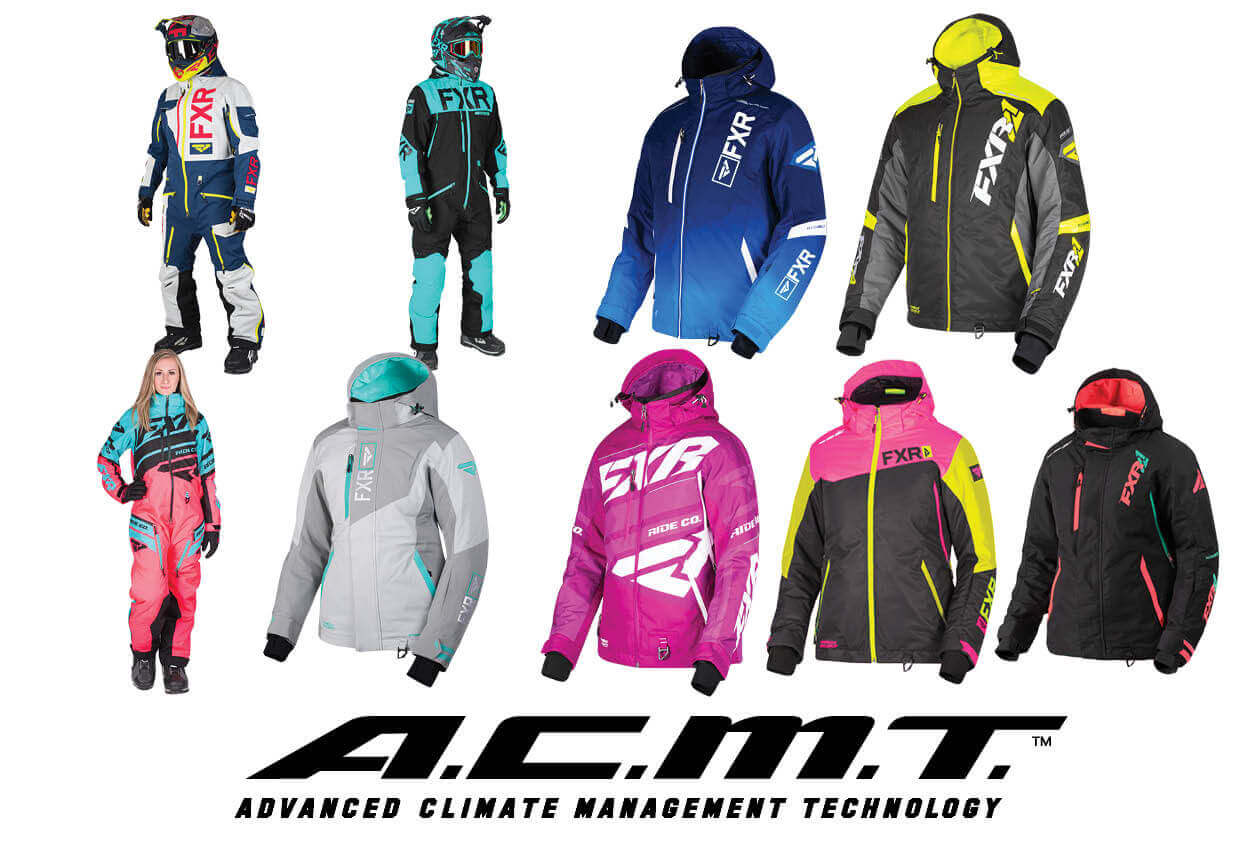 ACMT™ is FXR's proprietary collection of dry mesh venting, dual-layered HydrX Pro™ laminates and seam-sealed linings. This elite combination dramatically improves an outerwear garment's ability to maintain waterproofness, breathability, and most importantly, reduce condensation inside the garment in a similar way to a dual-lens goggle. FXR's ACMT™ HydrX Pro™ combination is guaranteed to keep you dry, warm and comfortable during high intensity rides.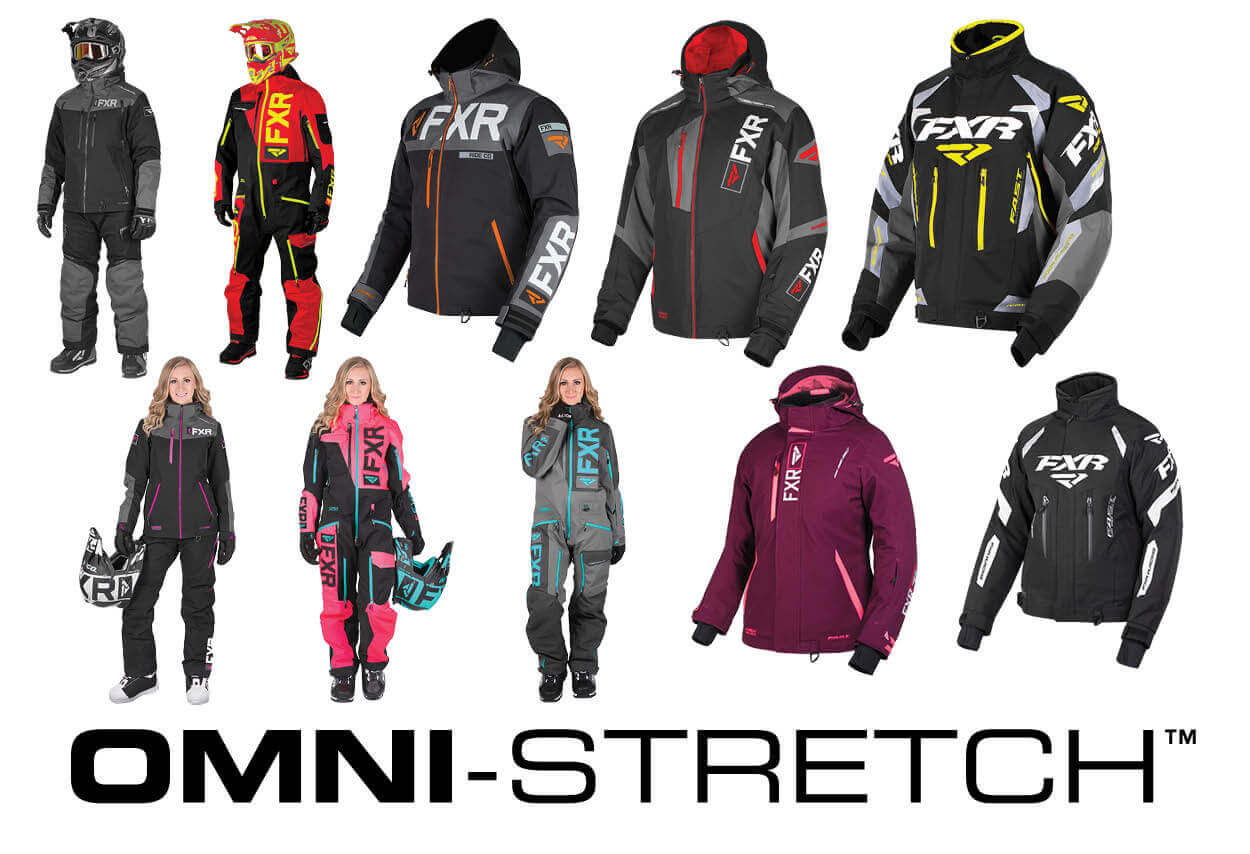 Omni Stretch™ shell material provides maximum stretch and mobility, while allowing the shell material to take impacts from trees and rocks, with minimal chance of snagging or tearing. Omni Stretch™ is extremely durable and provides the greatest amount of stretch in a rugged shell material in the industry. Available in select premium FXR Jackets, Pants and Monosuits.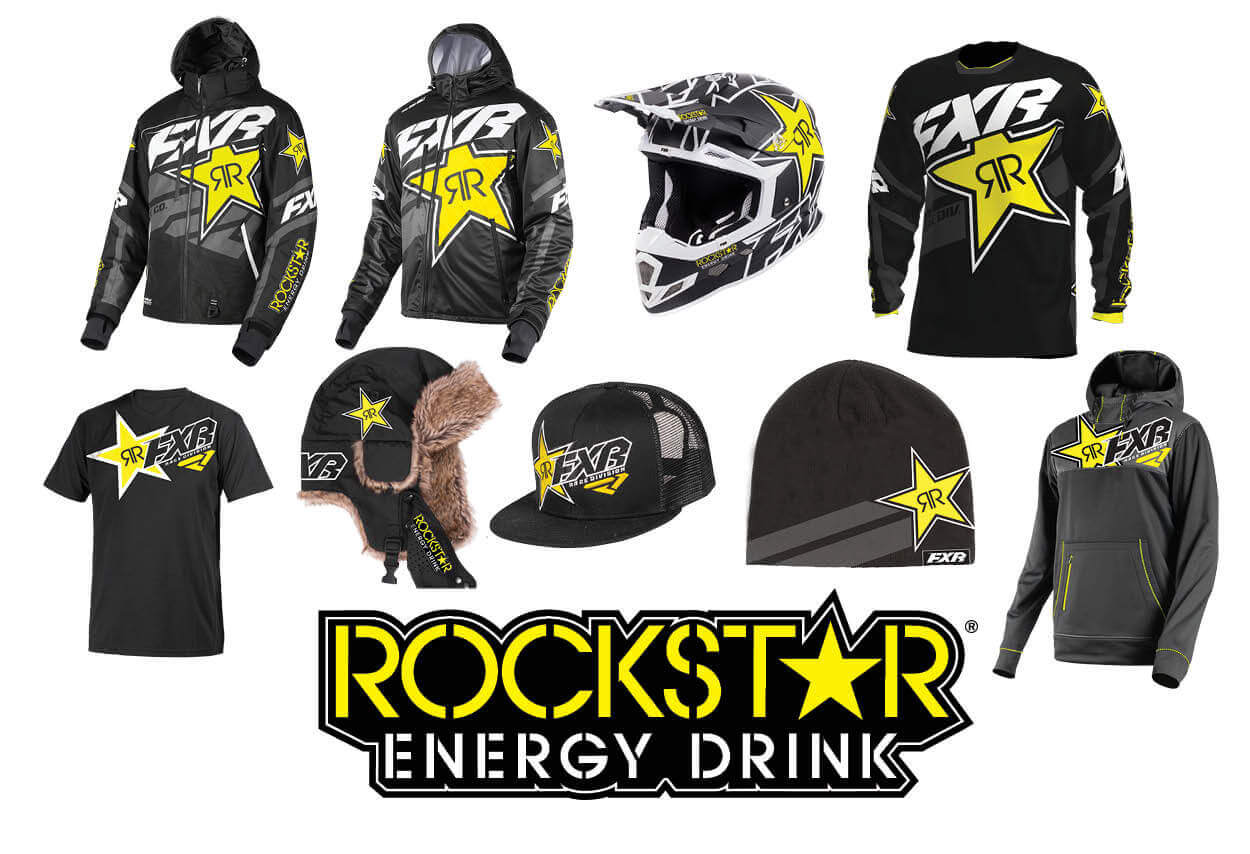 For those that live and ride the Rockstar lifestyle.
FXR is proud to collaborate with Rockstar Energy for 2019 to bring you a collection of riding gear and lifestyle apparel that is designed for those that push their limits, and never give up. Rockstar branded apparel is featured in the Boost X Jacket, RRX Jacket, Hoyer Signature Series Boost Helmet, as well as select layerwear and lifestyle items.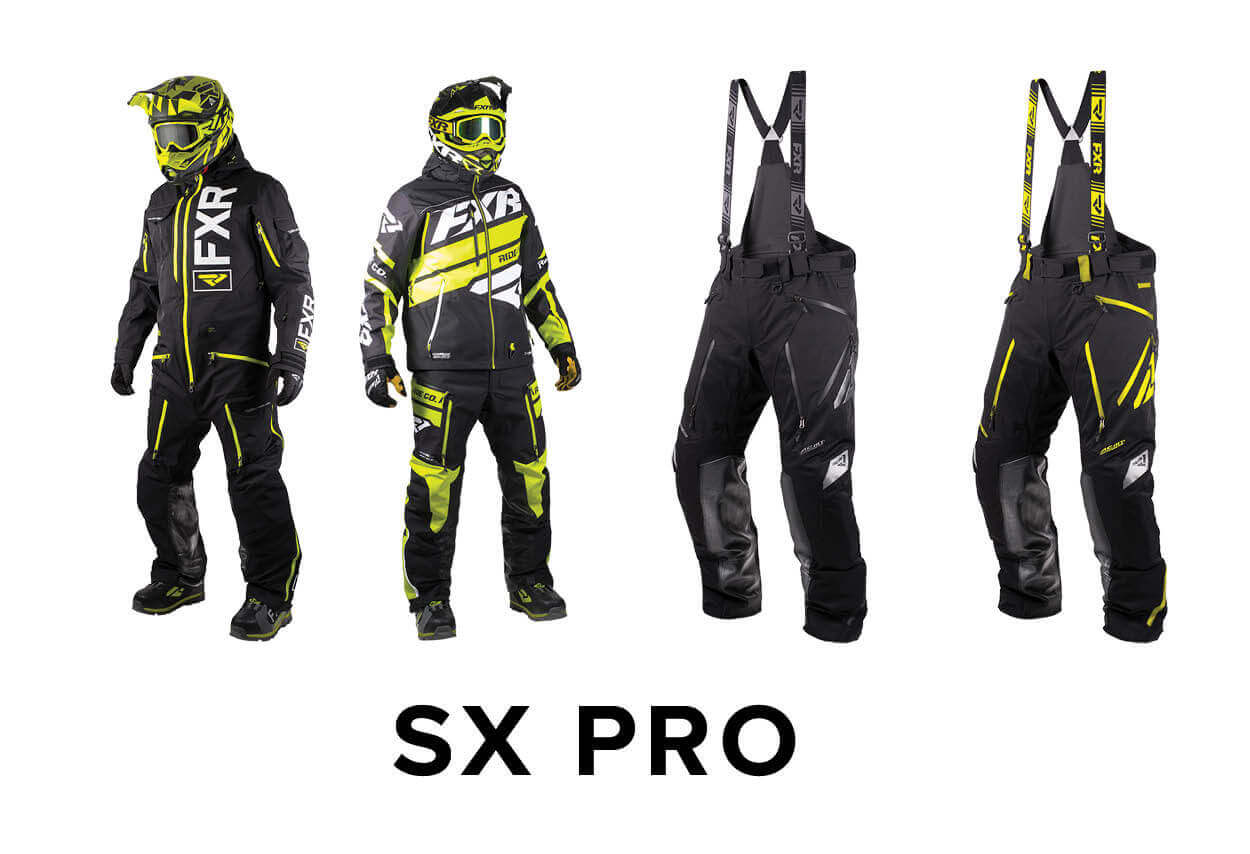 Snow Bike Compatible
Snow-biking opens up a whole new world of lines you never thought possible, climbs and side hills that seem to defy gravity, but Snow-Bikes also place a higher demand on riding gear for better waterproofing and durability.
FXR's collection of SX Pro items feature additional waterproofing in the butt to combat heat and steam coming off the bike, as well as large, heavy-duty leather instep panels to protect from heat and abrasion on the side of the bike. SX Pro editions are available in the Ranger SX Pro Monosuit, Boost SX Pro Dri-Link, as well as Renegade SX Pro Pants.