Shakopee, MN (December 11, 2018) – The snow sports mecca of Jackson, Wyoming, played host to the second weekend on the 2018-2019 Hentges Racing schedule, with races going down this past Friday and Saturday, December 7-8. Race organizers built a massive track at Jackson Hole's Snow King resort complete with huge air and highly technical uphill and downhill sections. With the resort situated at over 6,000-feet, it all made for a challenging weekend for the Hentges Racing riders and crew.
Kody Kamm is no stranger to the podium at Snow King where he scored 2nd and 3rd place finishes a year ago. A repeat weekend was quickly squashed Friday night when Kamm got pinched off the start and came off his sled, ending his race. He came back Saturday and had much better luck, posting a 4th place finish.
"We had some good races and the track was a lot of fun," Kamm said. "But overall the race was a bit of a struggle for us. We have a little work to do but we'll be ready for Canterbury."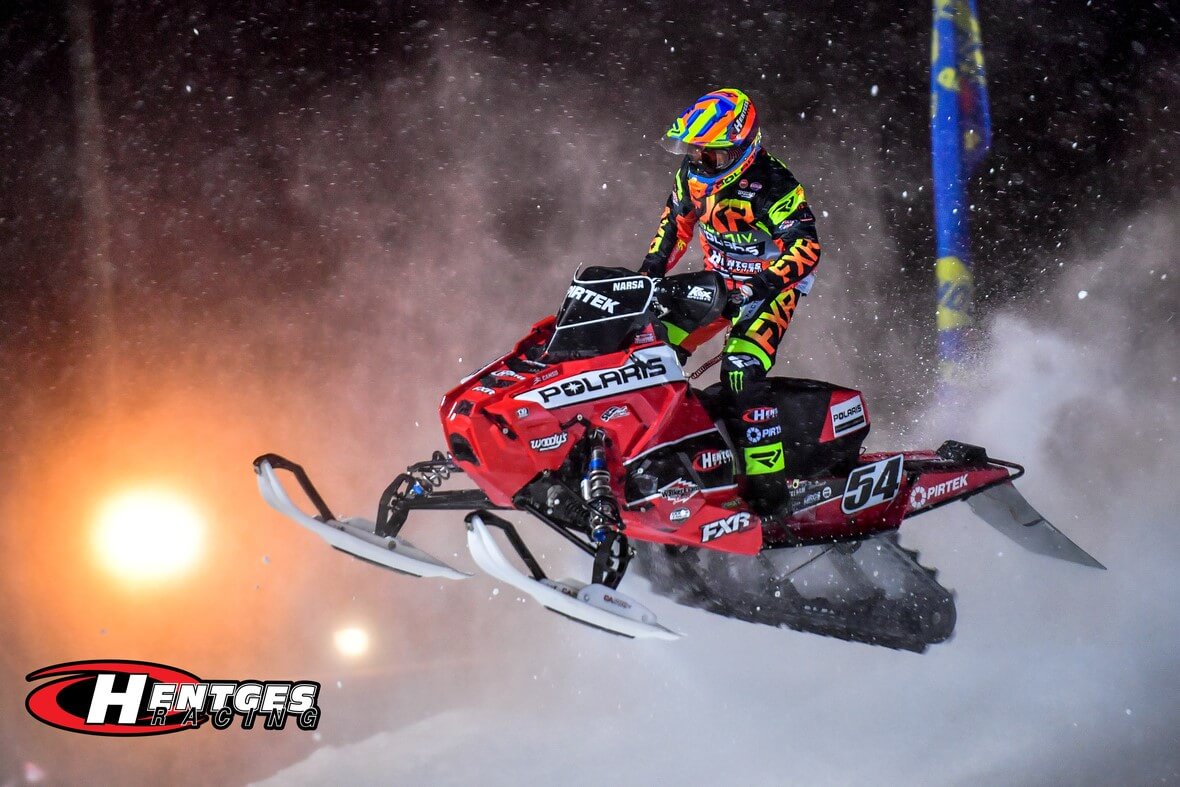 Photo by Crystal Wallem Photography
Petter Narsa entered the weekend coming off an opening weekend where he got dealt some bad hands. He was looking for better luck at Snow King, but once again the snocross gods were not on his side. Narsa managed an 11th place finish Friday and took the 13th spot Saturday.
"I really wanted to put the last race behind me and I rode a little too tight on Friday," Narsa said. "I built on that and had some good heats Saturday. I got a good start and the race was going well but the track was tough, and I ended up crashing. It's a long season and we're coming back strong at Canterbury."
The next event on the Hentges Racing schedule is the Pirtek Snocross National January 4-5, 2019, at Canterbury Park in Shakopee, Minnesota. For more information on Hentges Racing visit www.hentgesracing.com. Follow Hentges Racing on Facebook, Twitter, Instagram and YouTube.
Team Partners: Polaris,Pirtek, FXR, Monster Energy,Polaris Engineered Lubricants, Woody's Traction Control, Walker Evans Shocks, Apple Ford Shakopee, Forterra Pipe & Precast, S.M. Hentges & Sons, Ergodyne, C&A Pro Skis, 139 Designs, Camso, NGK Spark Plugs, EVS,SLP
©2018 Hentges Racing | 15746 Jocko Ct, Shakopee MN 55379