Shakopee, Minn. ~Adam Renheim is one of the world's most accomplished snocross racers. He is a four-time FIM Snowcross World Champion, a 3-time Swedish National Champion, has two Winter-X Games silver medals, and won the AMSOIL Dominator race to start this season in Duluth. Surprisingly the only thing missing from the 29-year-olds resume was a pro national win on the AMSOIL Championship Snocross tour. That notation to the Swedish riders' resume was erased after an impressive win under the lights of Canterbury Park on Saturday night.
Renheim showed good speed all day, laying down fast times in his practice sessions. In his heats, he was in the mix, finishing fourth and second, for fifth overall qualifier. But both qualifying heats had event favorite Kody Kamm as the winner, and when the final rolled around, it was Kamm who got the early jump on the rest of the field.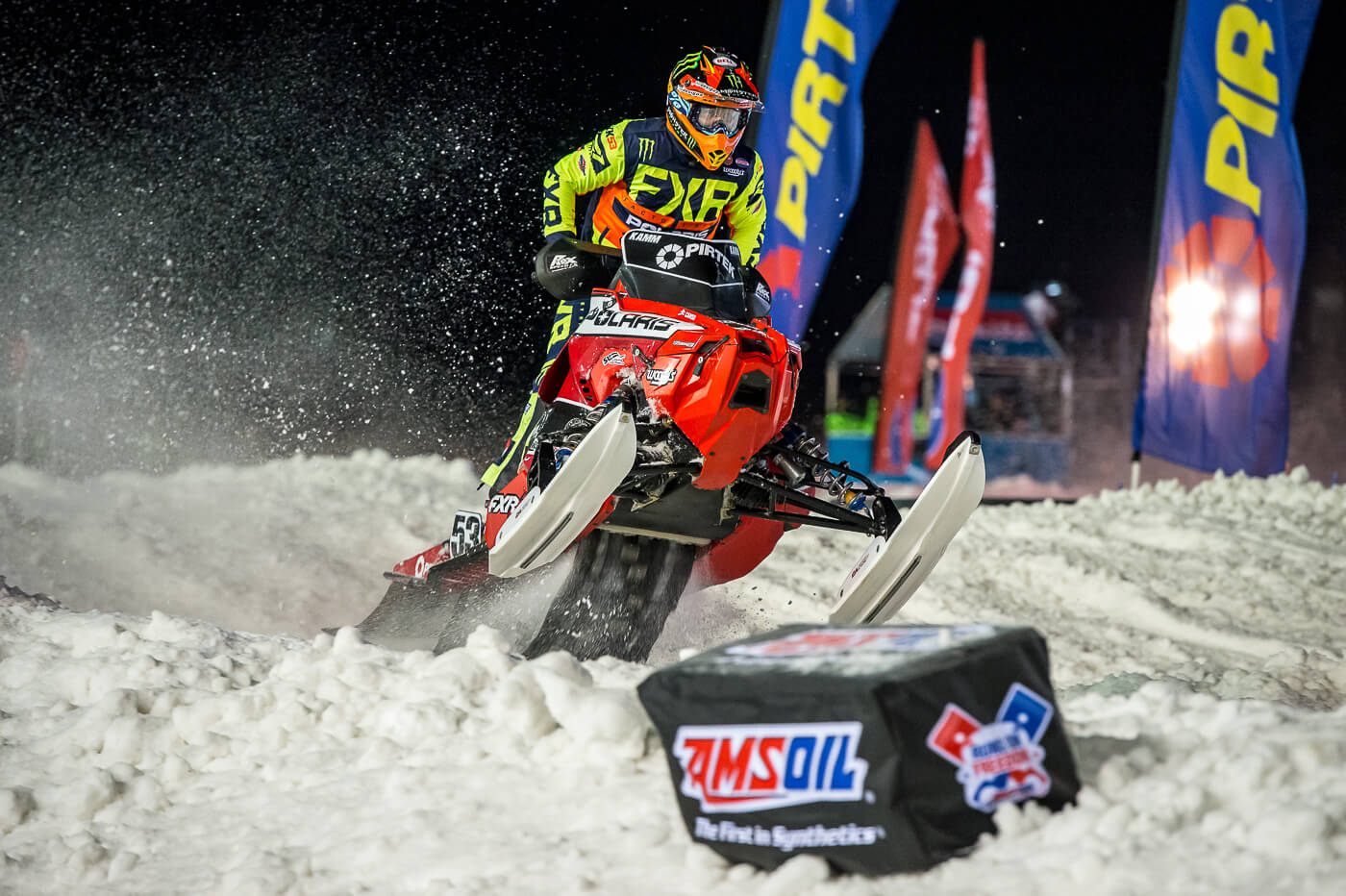 Kamm has a history of success at Canterbury, and given a lead, the former champion is tough to catch. For the first three-quarters of Saturday's race, that seemed to be the main storyline for round six. But after his teammate Petter Narsa pulled off while running in second, it was an opening for Renheim to move up from third.
As the race started towards its final laps, Kamm seemed to be fighting the track a bit, and Renheim continued to gather up momentum. On lap 13, Renheim put enough pressure on the leader to take over the top spot, and from there, cruised to his first career win.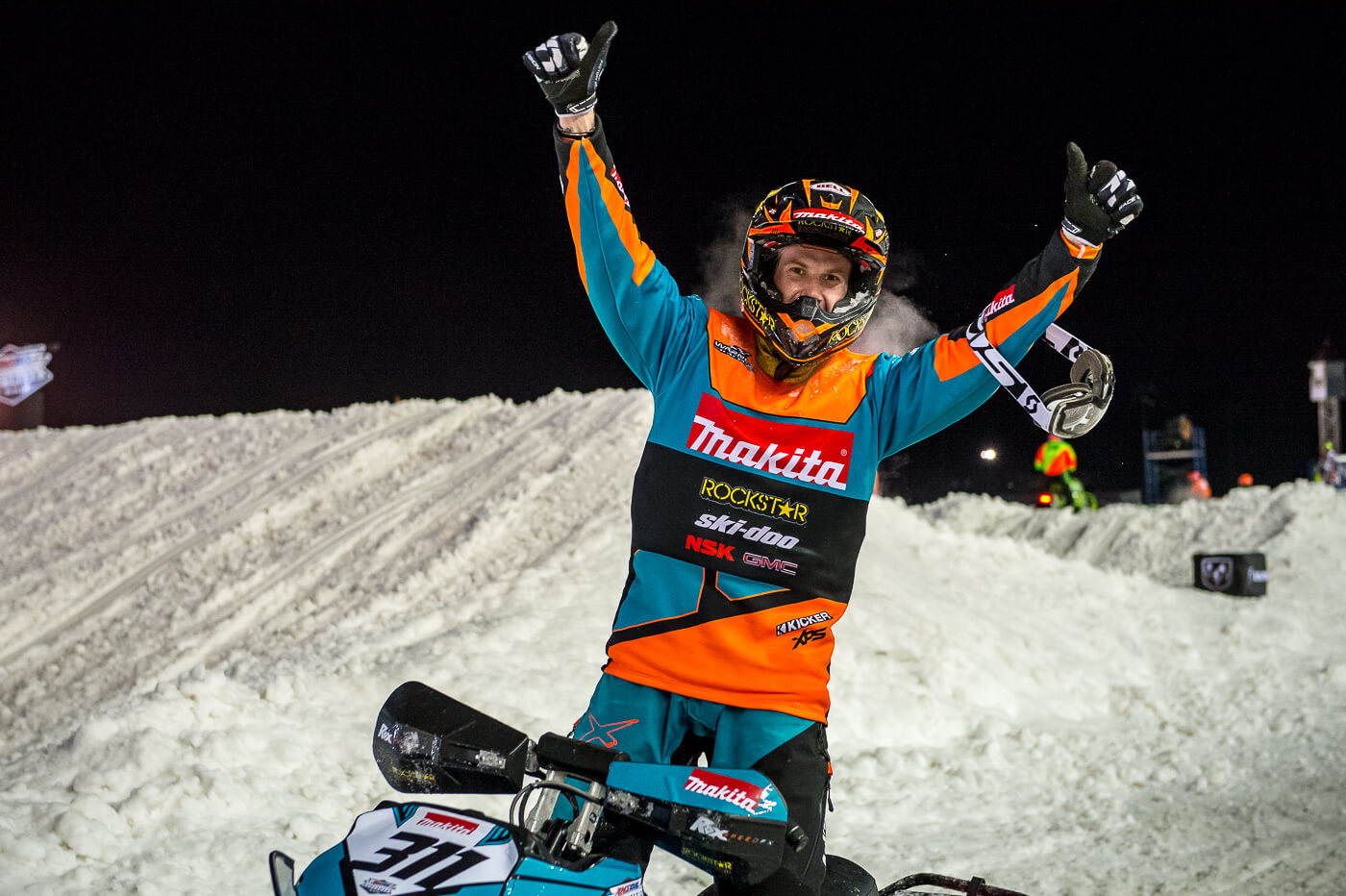 "I was in third and I thought I was losing ground," said Renheim after the win. "I found some momentum, but I wasn't really sure if the move on Kody was going to work, but it did this time."
As for his first career win, Renheim spoke about how long it took him, and how he had wondered if it was ever going to happen:
"It means a lot. I have been here a few years now and I have been waiting and waiting. And 'when is this going to come?' I see other guys and they just pop up from nowhere and win, but today was my day."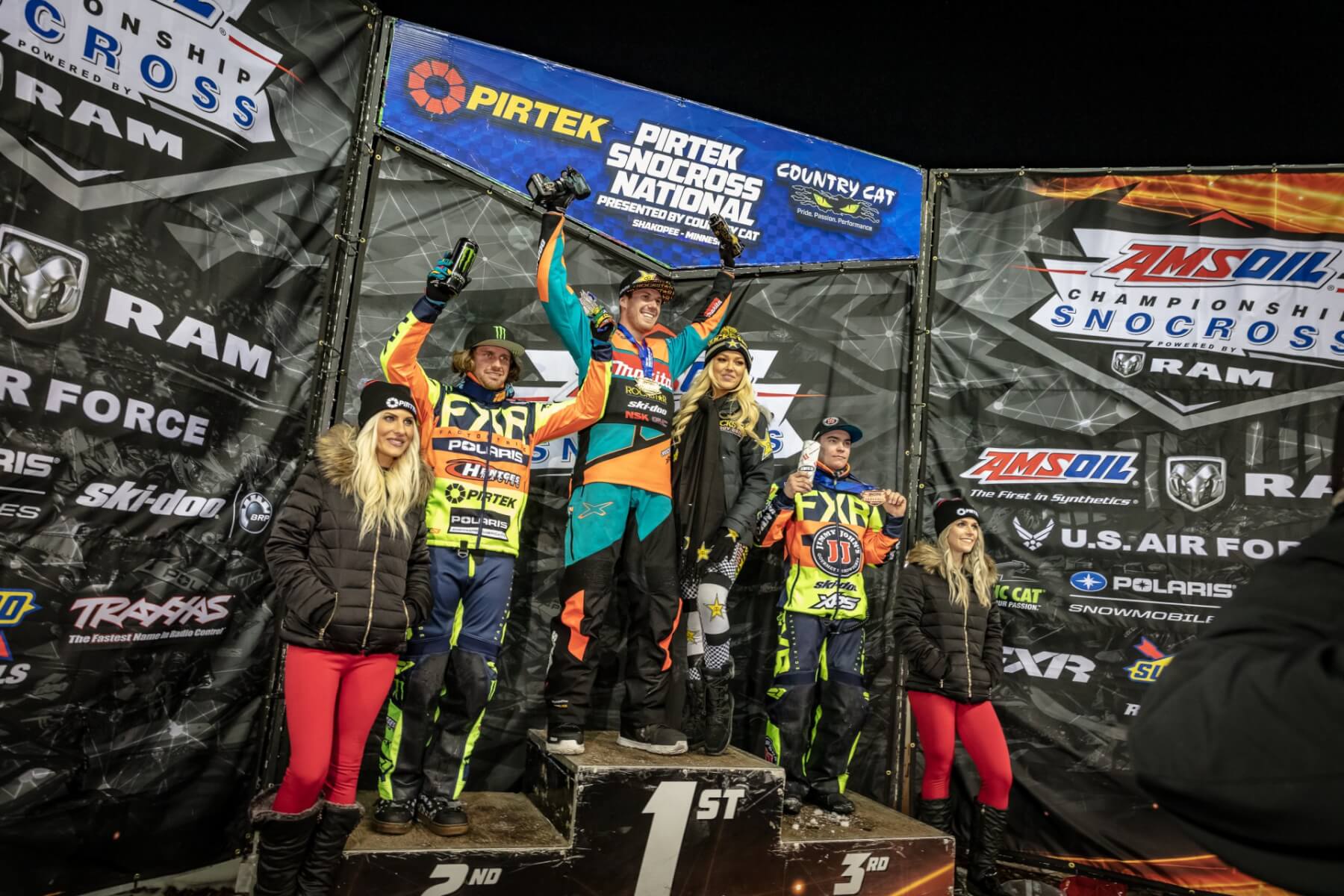 Kamm held strong for the last three laps to finish second and points leader Elias Ishoel came across in third for the second straight night.
With another strong finish, Ishoel will head to Deadwood with the points lead, but the field will be mixed up behind him. Friday nights winner Lincoln Lemieux had to start in the back row after it was determined he jumped the first of what turned into three official starts to the Pro final. Danial Benham continues to push Aki Pihlaja in the Rookie of the Year race as the Arctic Cat driver was the number two qualifier, one spot ahead of Pihlaja. Benham finished fifth in the final, and Pihlaja sixth. Polaris rider and fan favorite Kyle Pallin put on a passing clinic in Shakopee. The Upper Michigan native started 15th and worked his way up to seventh in the final.
Wittwer Wins Again
Trying to pick a winner in the Pro Lite class is like a baby trying to solve a Rubix Cube. If you want to increase your odds, at least pick a rookie. After Trent Wittwer picked up his second win of the season on Saturday night, a first-year pro has now won four of the first six rounds.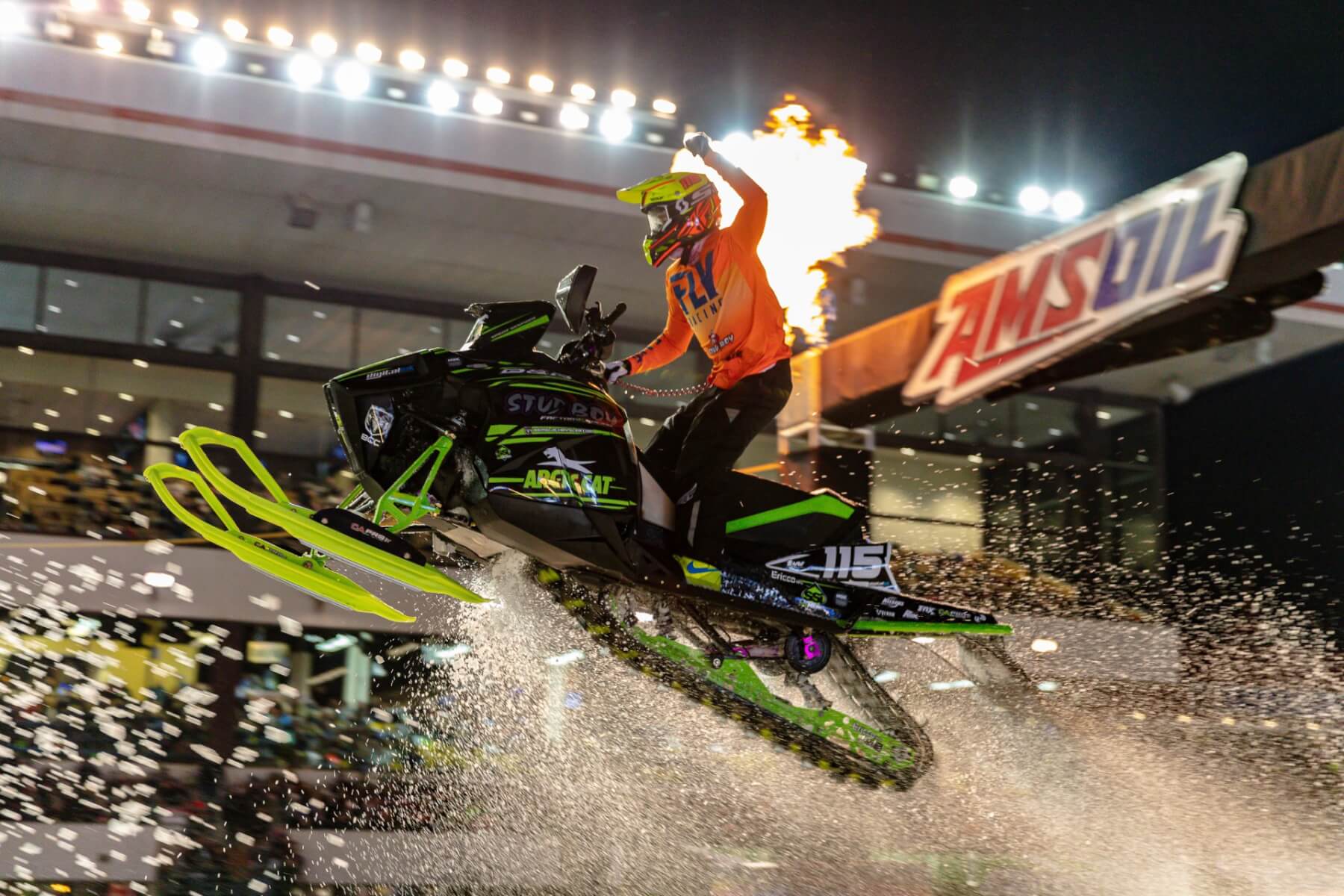 Wittwer has been a steadying force in Pro Lite the past three rounds. After picking up his first pro victory in Jackson Hole, the Arctic Cat driver finished second on Friday night at Canterbury and put it all together on Saturday for his third straight podium. Strong qualifying (1-2) and grabbing the Stud Boy Holes hot in the final gave the factory racer a handle on the win.
"It feels good, three podiums in a row," said Wittwer in front of a packed house at Canterbury. "Two wins and a second, and I really couldn't feel better. I have a lot of confidence going into Deadwood, and I can't wait for it."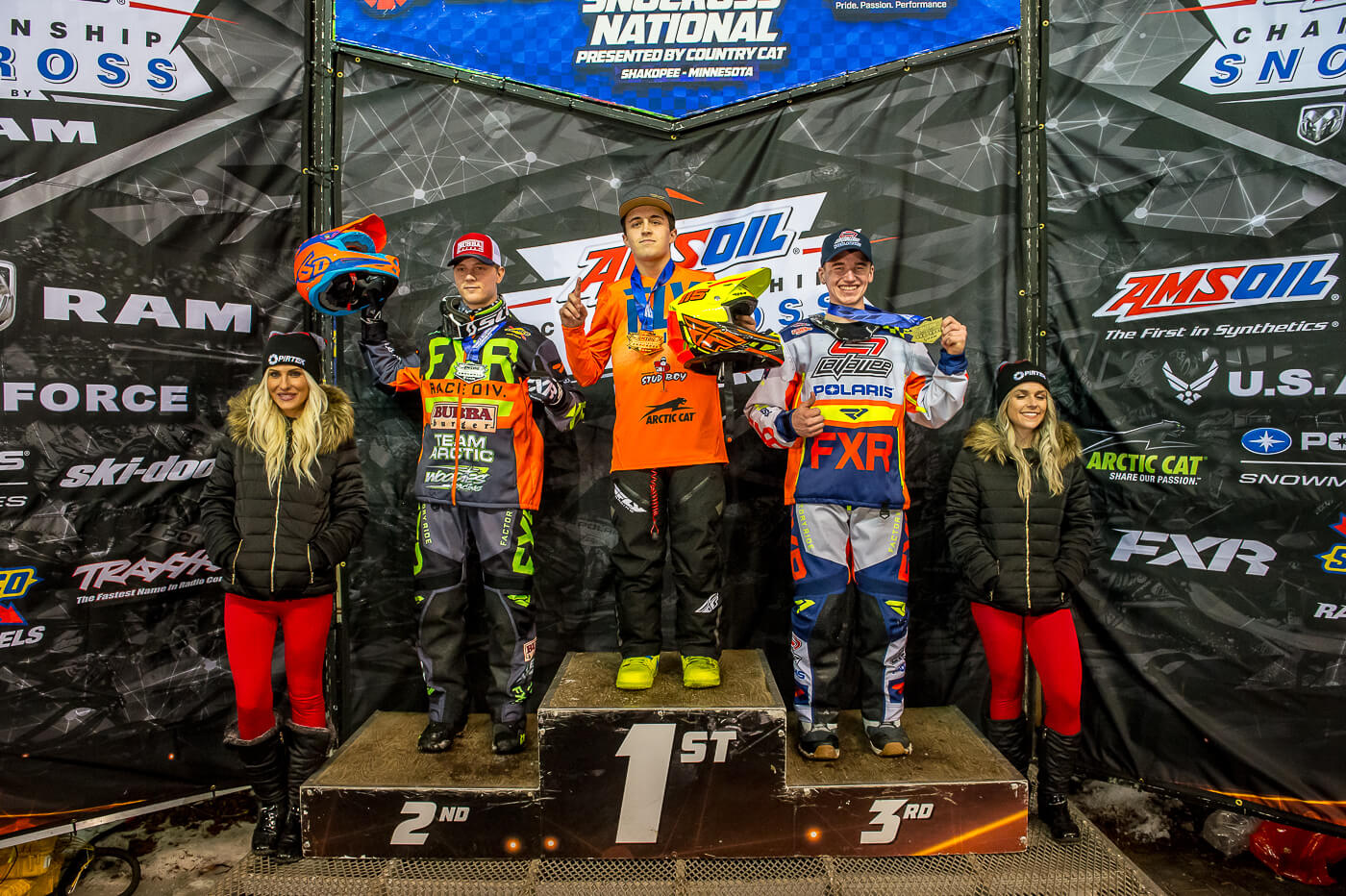 Woodies Racing/Artic Cat's Nisse Kjellstrom finished strong in second, holding off Friday night's surprise winner Adam Peterson. Peterson, another rookie winner this year, surpassed the field with his win, after entering the weekend sitting 16th in points.
The Duo Delivers
Even when things look like they are under control in the Pro Women's class, don't leave your seat, because just about anything can, and will happen.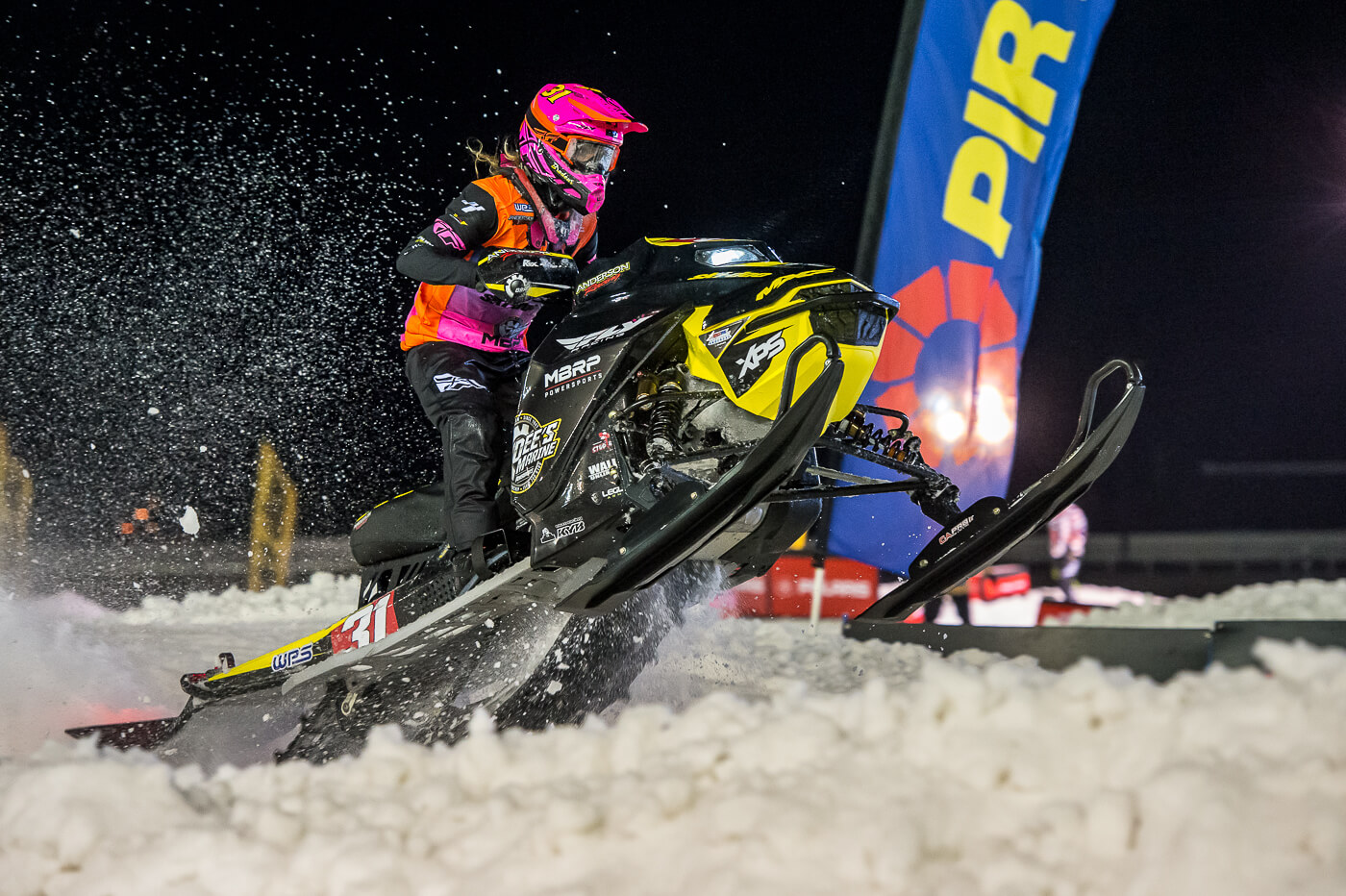 Megan Brodeur and Taven Woodie are making close racing an art form this season, and they didn't disappoint in round six. Brodeur seemed in control of the final from the get-go, and when she grabs the hole shot, it normally ends with a checkered flag in her honor. But there was a moment of pause on lap five when Brodeur put her Ski Doo on the deck, and by the time she remounted, Woodie had taken advantage and the lead. Brodeur didn't let the Arctic Cat get too far ahead, and reeled Woodie in just two laps later.
Woodie had picked up the past two wins in Pro Women, but Brodeur was in striking distance in both races. The reigning champ said she isn't ready to give up her title.
"I don't belong on the second or third spot. I wanted that win back like I did in Duluth and I did in Jackson Hole, and I really fought hard for it tonight."
Melane Anderson run of third place finishes came to an end after she pulled off the track after the first lap. Inanna Hauger finished third.
Saturday Night Notes:
Round six of AMSOIL Championship Snocross, POWERED by RAM saw more than 100 races atop the horse track at Canterbury Park. Here's a look at how some of those races ended up: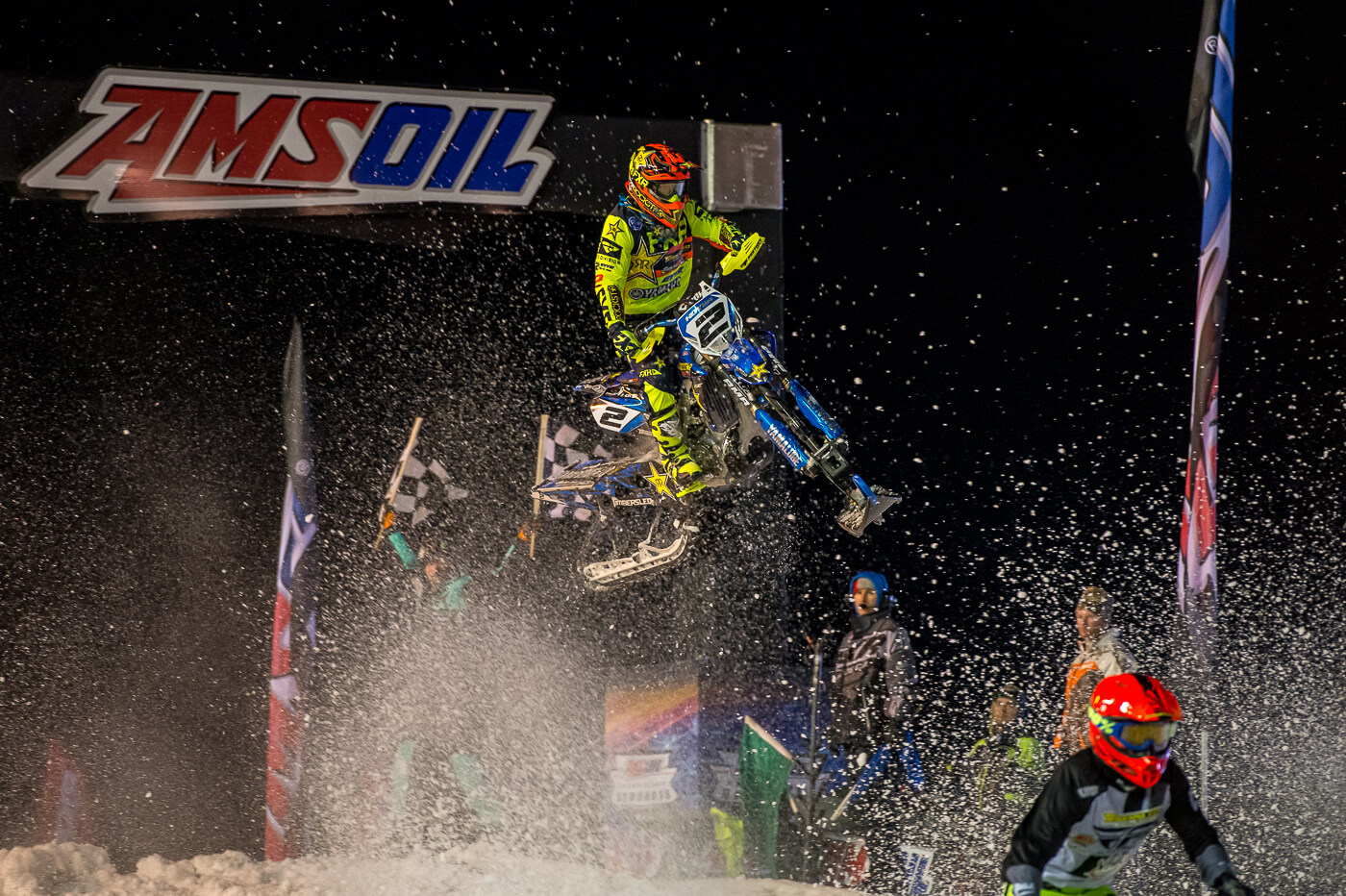 Brock Hoyer took care of business in Snow Bike, the last tune-up before ESPN's Winter-X Games. Hoyer ran a strong race and climbed out of a sixth-place start for the win. Points leader Jesse Kirchmeyer was leading the race before a crash on lap five put pushed him to 10th at the finish. Keaton Ward and Friday nights winner Harris Huizinga rounded out the podium.
Andy Lieders posed for his podium picture with his family as he took a convincing win in Pro Am Plus 30. The long-time Polaris rider led from start-to-finish, crossing the AMSOIL finish line ahead of Wes Selby and Matt Pichner.
Jordan Lebel continues to deliver wins in multiple classes this year. Lebel, who announced on Friday that he had signed a development deal with Boss Racing/Ski Doo for the remainder of the season, kept his spot atop the points in both Jr. 16-17 and Jr. 14-15 by winning both classes on Saturday.
Jordan Lebel's brother Dylan kept up the family tradition by winning the Transition 8-10 class on Saturday. He held of Peyton Poker and Logan Frattalone for the win.
Frattalone had a double podium day in Shakopee after finishing third in Sport Lite. Points leader Andy Pake won for the second time this weekend, and Tyler Archambault made a last-lap pass on Frattalone for second.
Pake backed up his round five performance with a second straight win in the FXR Sport Class. Beau Tibbetts and Mitchell Thelen rounded out the podium.
Brady Freeland made up some ground on points leader Aiden Pierson with a victory in 120 Champ. Pierson and Colin Taggart battled back-and-forth during the five-lap final, with Pierson getting the edge by less than four-tenths of a second.
AMSOIL Championship Snocross, POWERED by RAM heads to historic Deadwood, S.D. January 25-26. Coverage of the series can be found on CBS Sports Network.