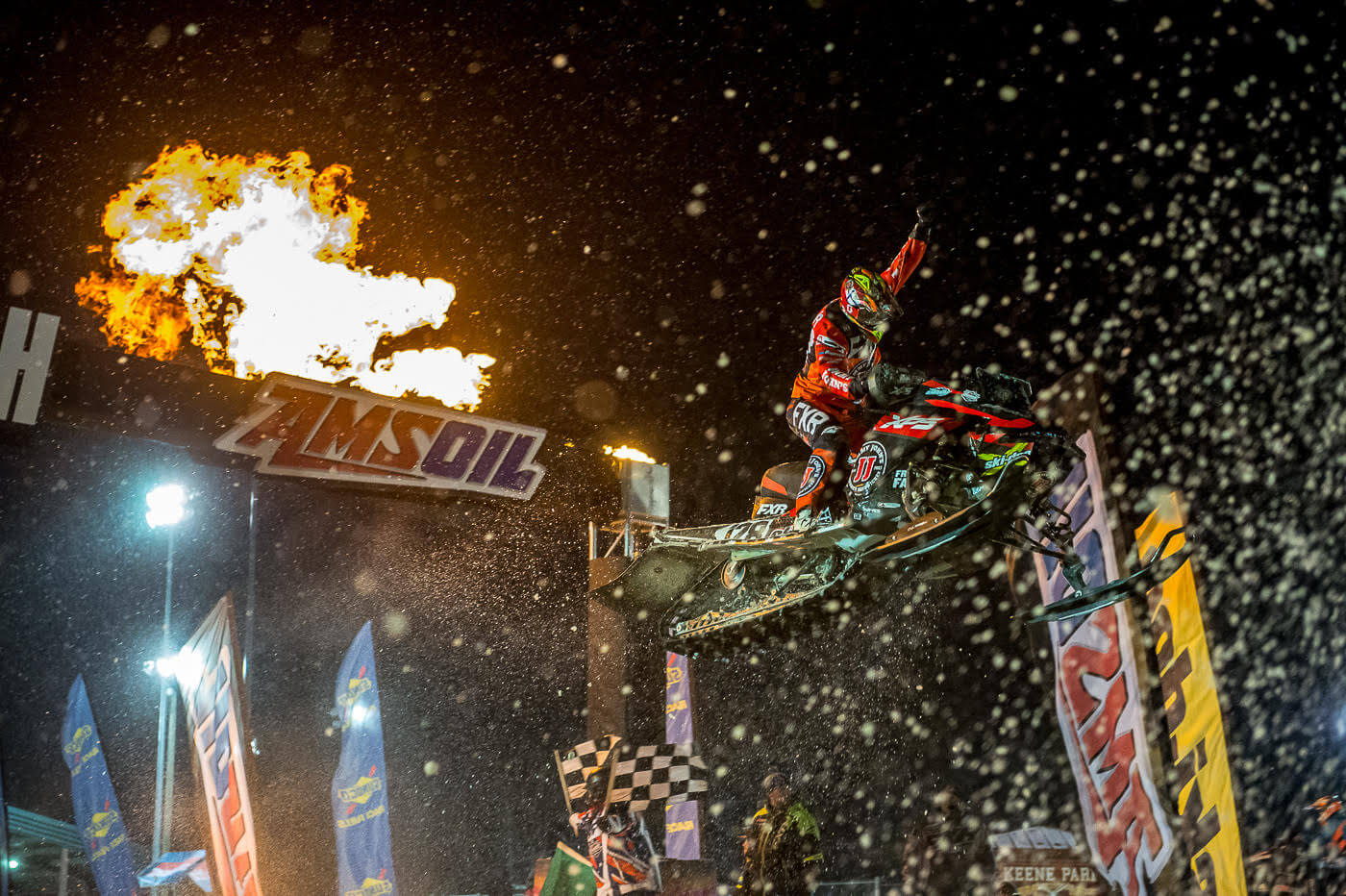 Pro's on the AMSOIL Championship Snocross, Powered by RAM tour know how important the Deadwood rounds of racing are to the big picture of a successful season. A rider with true championship aspirations needs to leave the South Dakota stop in good health, and historically speaking, in the top five overall for a chance at the championship.
Ski Doo's Aki Pihlaja entered the weekend just outside of the top five and was looking for consistency across his heat races and finals. It looked like the Boss Racing rider had put it all together on Friday, with a heat win and a fast start in the final. But his bad crash with three laps left brought out a red-flag restart and ended his podium chances. Despite the hard fall on Friday, Pihlaja rebounded in remarkable fashion on Saturday night. A second-round heat win gave the rookie momentum for the main event, and he capitalized on another fast start, grabbing the Stud Boy Hole Shot and led all 24 laps on his way to his first career win.
"I feel pretty awesome," said Pihlaja after the race. "Everything is working really good. It's a new class. The competition is good, and I'm really happy to have won tonight."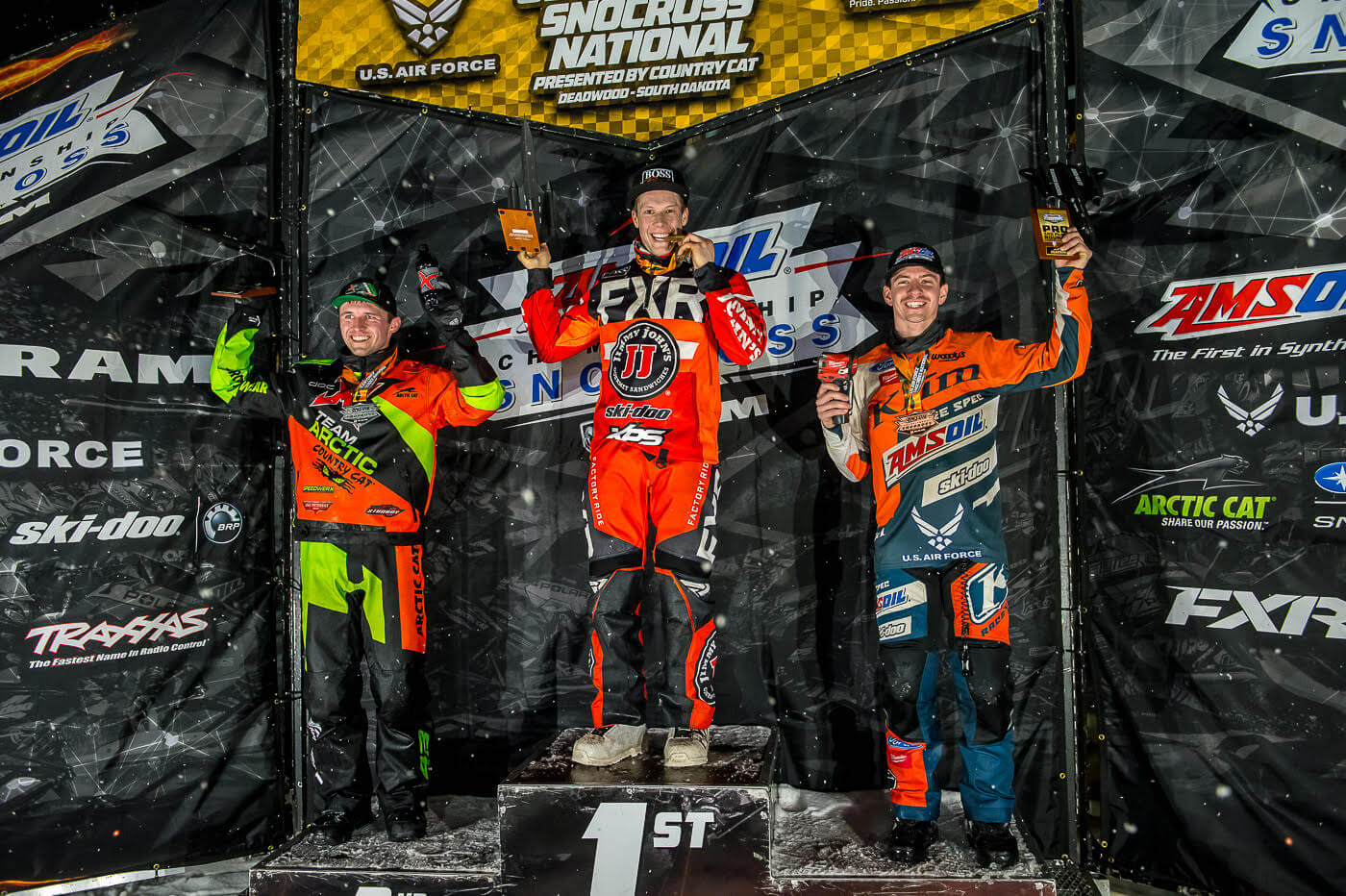 Pihlaja was also able to close the gap a bit and even though he still sits in sixth, he is now just 20 points behind Tim Tremblay. As for the rest of the top five, the major shake-up came after a strong weekend performance by Ski Doo's Lincoln Lemieux. The Scheuring Speed Sports driver came to Deadwood with three wins but sat fifth overall. Another win on Friday, and a third on Saturday paired well with strong heat race results and the Vermont rider was able to jump into second overall, tied with Adam Renheim. Lemieux was 53 points behind Elias Ishoel, but after Deadwood, he is just 25 points behind. Polaris racer Kody Kamm sits fourth overall.
Arctic Cat's Logan Christian had his best night of the season in Deadwood and was the main challenger to Pihlaja in the final. He started third in the final and took over the second spot on lap ten after getting around Arctic Cat's Daniel Benham.
Career First for Hunter Patenaude
Ski Doo's Hunter Patenaude was a mid-season fill-in on the Scheuring Speed Sports team last year in the absence of top rider Tim Tremblay. With Tremblay now racing for the Warnert's Racing program, a spot opened up for Patenaude on one of the most high-profile teams in the sport. With the great opportunity came great expectations, and as the season switches into its second half, it looks as if Patenaude is ready to meet them.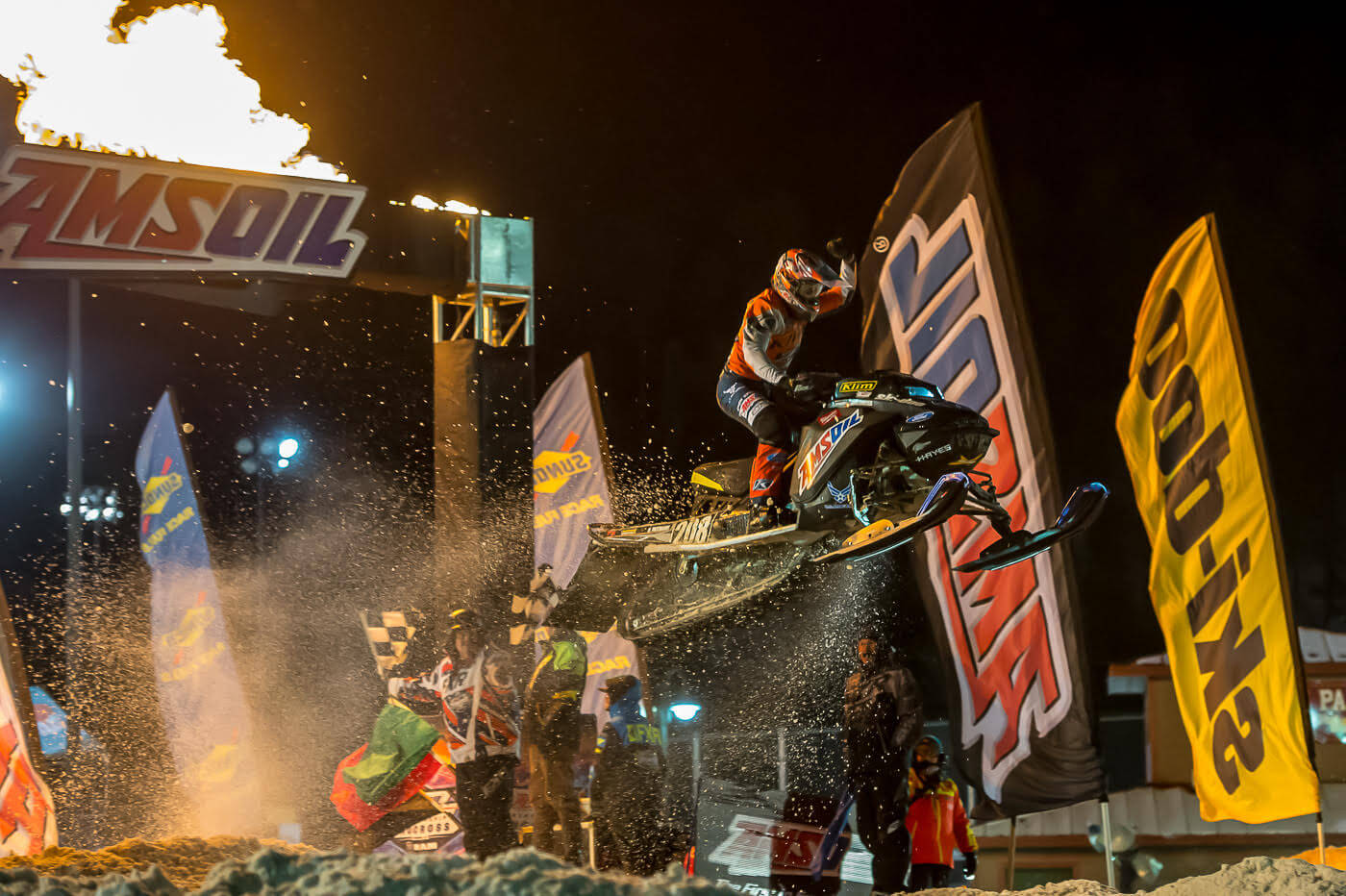 The Vermont-native has been consistent all season long, and he entered Deadwood second in points behind Francis Pelletier. He was a top qualifier on Friday night, but crashed out while battling for a podium spot. Much like pro winner Pihlaja, Patenaude rebounded nicely on Saturday. Patenaude, Pelletier and two-time pro lite winner Trent Wittwer came through the first turn on the tight Deadwood track neck-and-neck, but by lap three, Patenaude had taken the lead, with Wittwer and Pelletier in tow. That running order would hold true for the remainder of the race, and Patenaude joined his brother Leo as a first-time winner on the national tour.
"The whole teams been working really hard, clutching, suspension, everything," said Patenaude after the win. "We knew that I had it in me, and everyone pushed me to my absolute limits, and never let me get down on myself. It's huge to have that kind of support with you."
Two third place finishes by Pelletier in Deadwood allowed the Ski Doo rider to increase his championship lead on Patenaude, who still sits second overall. Marcus Ogemar moved into third with a good weekend, and Nisse Kjellstrom benefited from a win on Friday night and now sits in the top five.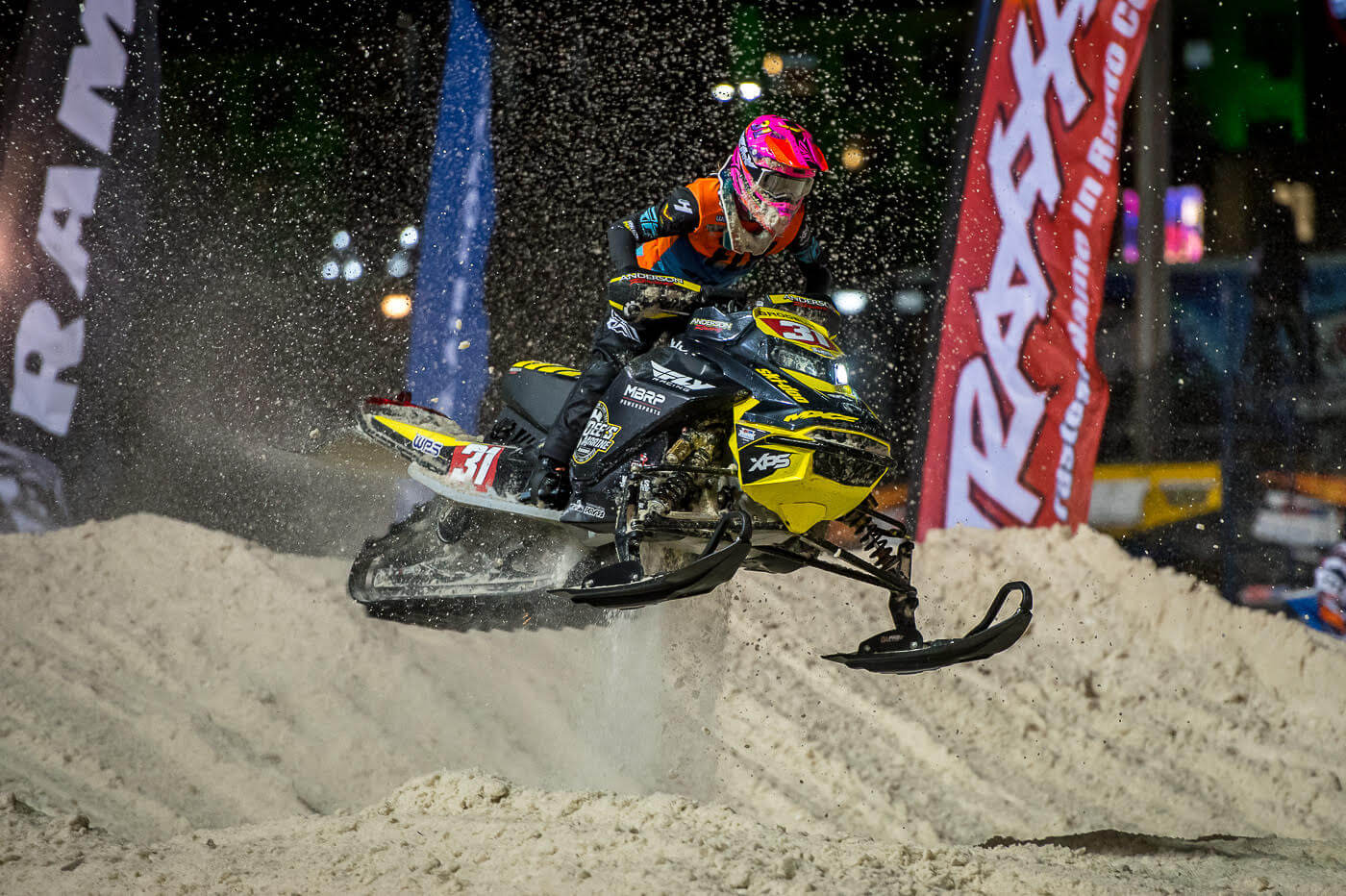 Saturday Night Notes:
Meghan Brodeur picked up her fifth win of the season in Pro AM Women. Friday nights winner Melane Andersen finished second and Inanna Hauger grabbed her third podium of the season.
Taylor Cole grabbed his first win of the year in Sport. Andy Pake kept him honest in second.
Brady Freeland won again in the 120 Champ final.
Jordan Lebel continued his hot streak in Sport Lite, finishing ahead of Jake Belair.
Matt Pichner came across the line first in Pro Plus 30.
Rylan Nelson won the Stock 200 final.