After ten rounds of racing on the 2018-2019 AMSOIL Championship Snocross, POWERED by RAM tour, there have been five different winners in the stout Pro class. None of the five winners was Polaris' Kody Kamm. That was until the 2017 Pro champion dominated Friday night's final at the Seneca Allegany Snocross National in upstate New York.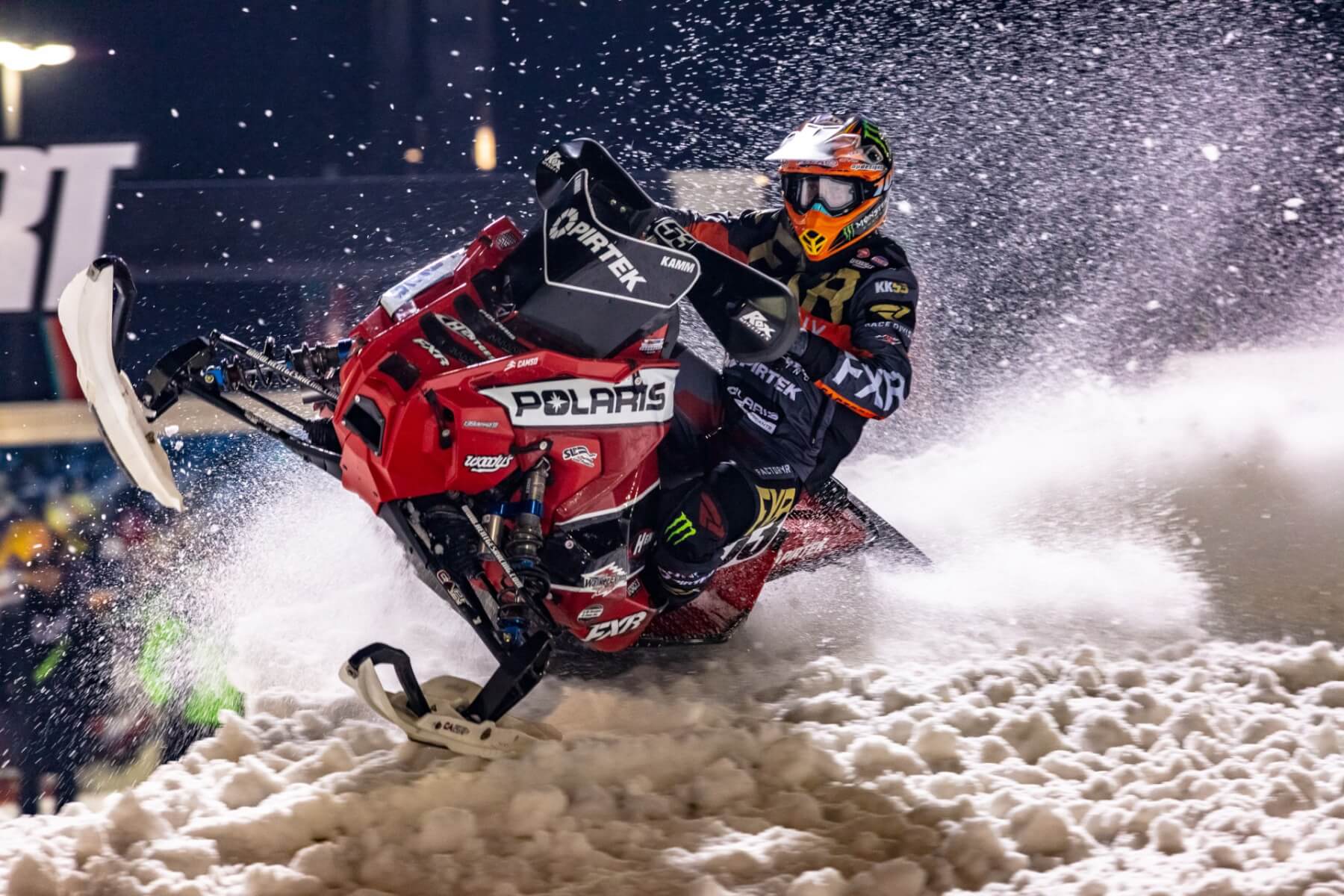 To date, Kamm has put together a strong season, entering round 11 second overall behind Ski Doo's Elias Ishoel. Kamm has been particularly strong in qualifying this year, winning ten heat races. But the good runs in the daylight haven't transferred over to the night show, and with just six rounds remaining this year, Kamm decided it was time to flip the script.
Ski Doo's Tim Tremblay was the dominant rider coming out of the heats with two wins, with Ishoel also Aki Pihlaja also bringing in extra points with victories of their own. Kamm wasn't his dominant self, finishing second and third, but the veteran rider set himself up for a good gate pick in the final.
Once the lights turned on, so did Kamm. He was first off of the line and the first to push through the big triples, split-lanes and rough track that was laid-out for the biggest race of the night. No other rider had Kamm's early speed, which clocked in just a tick above 25-seconds per lap early in the race and didn't jump over 26-seconds until lap nine. No other ride in the field dropped below 26-seconds the entire race.
For Kamm, his firsts win of the season was a dominant, ten-second triumph. But it was also a chance for him to find joy in the moment.
"The first few laps were crazy with those huge triples and crazy jumps out there," said Kamm. "I was just glad to get myself an awesome lead and have fun, do my own race and nail my lines smooth. It just all about having fun, and I had a lot of fun in that race."
A pair of Arctic Cat riders joined the Polaris winner on the podium. Rookie Daniel Benham backed up his round 10 win with a second-place finish in New York. Benham and Logan Christian battled back-and-forth for much of the final, and Christian has overcome a sluggish start to the season for his second straight podium. Tremblay was the highest finishing Ski Doo in fourth and it marked the first time this season a Ski Doo has failed to make a pro podium. Ishoel finished fifth and continues to hold a 31-point lead over Kamm in the championship standings.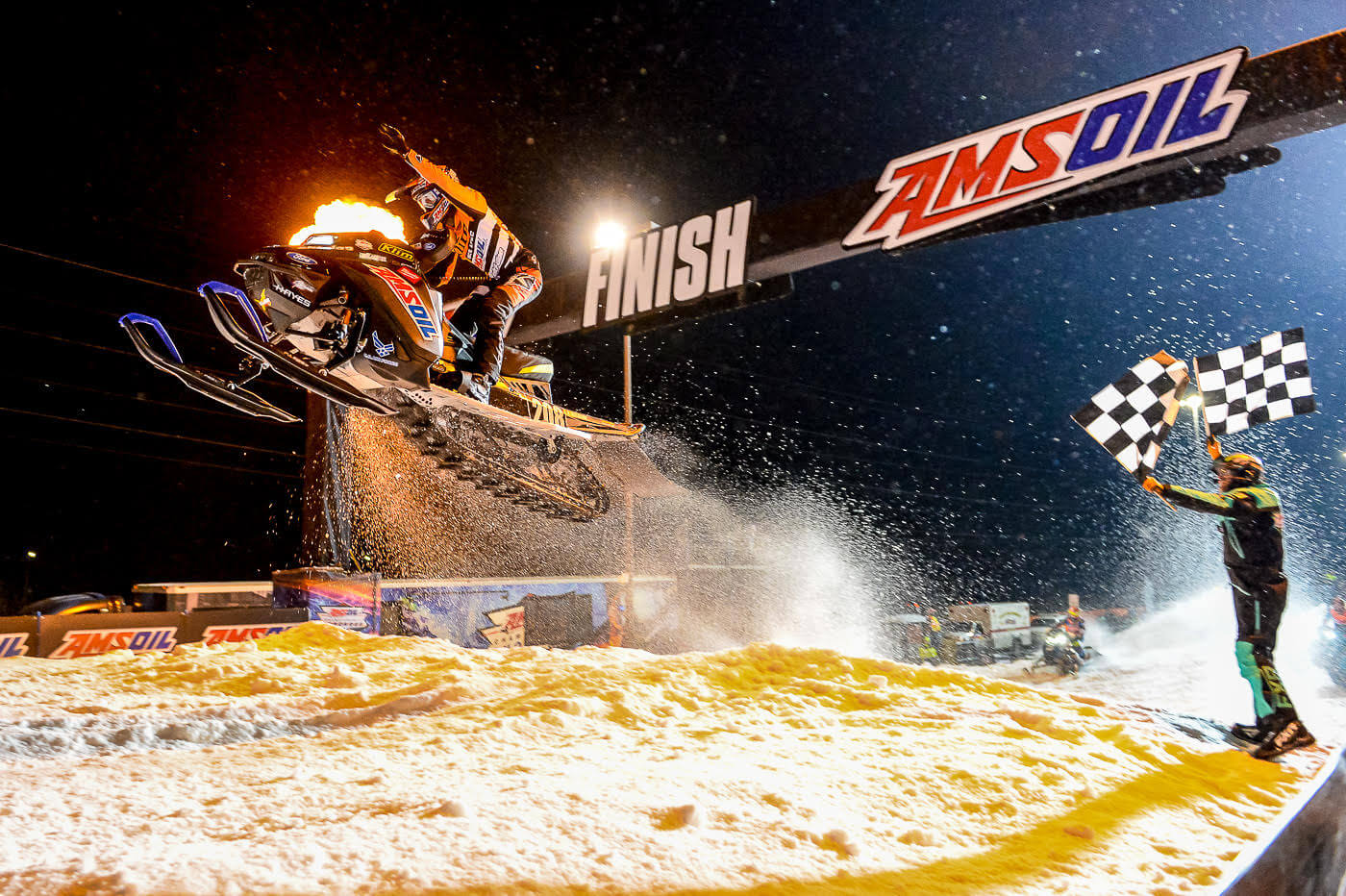 Patenaude Peaking at Right Time
In mid-January, Scheuring Speed Sports owner Steve Scheuring was looking to get his up-and-coming Pro Lite rider Hunter Patenaude a shot of confidence. The long-time team owner packed up the AMSOIL hauler and headed to the Eagle River World Championship Snowmobile Derby. Patenaude won the snocross portion of the historic ice oval event and has been on a tear on the national circuit ever since.
In a class that has witnessed seven different winners this season, Patenaude entered New York with momentum. Since his trip to Eagle River, the Ski Doo rider has picked up two wins and a second, as well as six heat race wins. With family and friends from his home state of Vermont watching, Patenaude was on-point all day long. A first and second in his heat races was followed up by a near flawless final. He came out of the gates in second and moved into the lead on lap two and began clicking off the final 15 trips around the big circuit.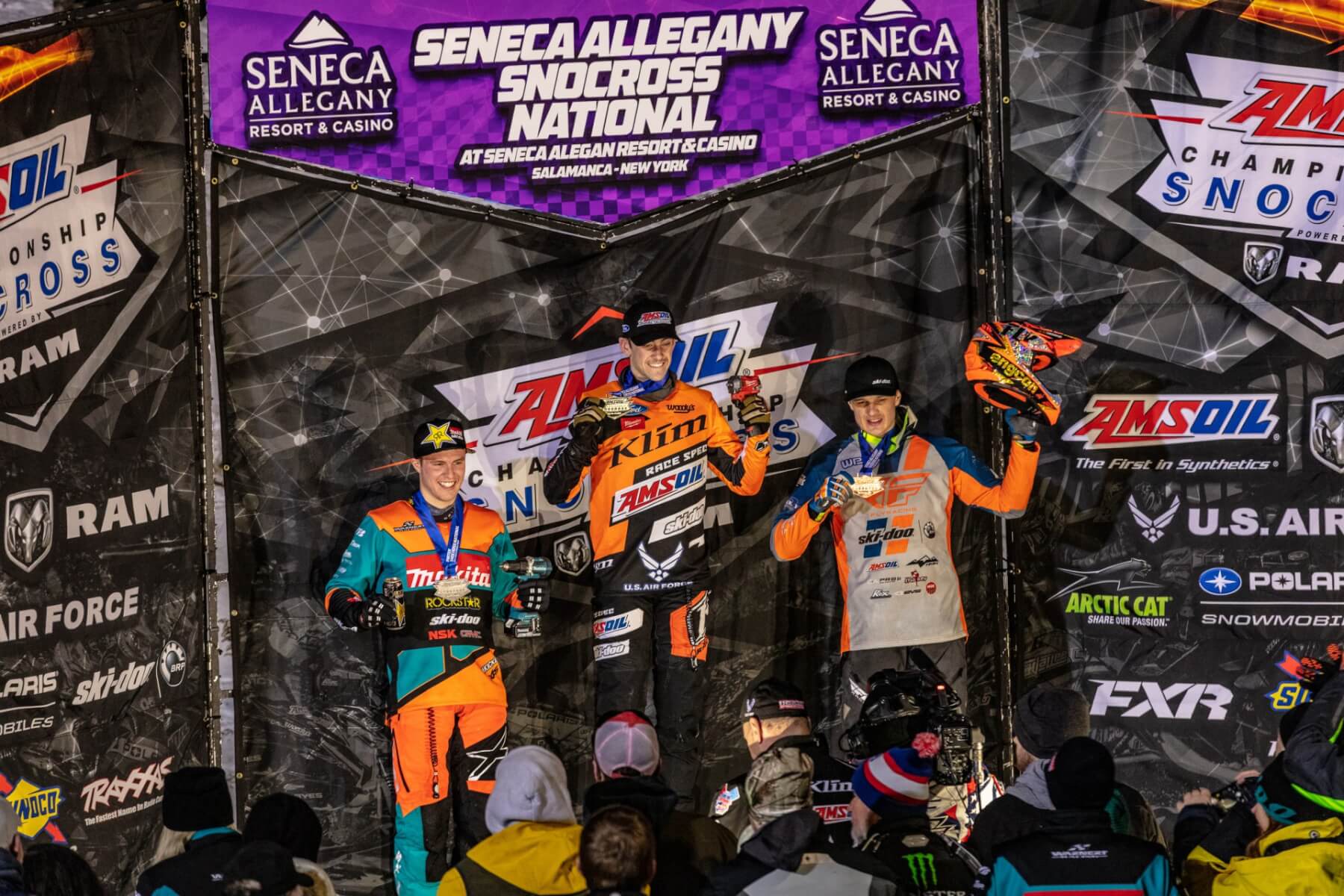 "When I was sitting on the starting-line I knew I could win this thing," said Patenaude. "That was all I really need right there. I got a good start and just kept pushing from there and never looked back."
Ski Doo's Francis Pelletier came into the weekend with a four-point lead, and finished second on Friday night, less than two seconds behind Patenaude. The Ski Doo riders now sit tied atop the Pro Lite standings. Marcus Ogemar continues his strong late-season surge with his second straight podium. Polaris' RJ Roy and Ski Doo's Max Taillefer rounded out the top five.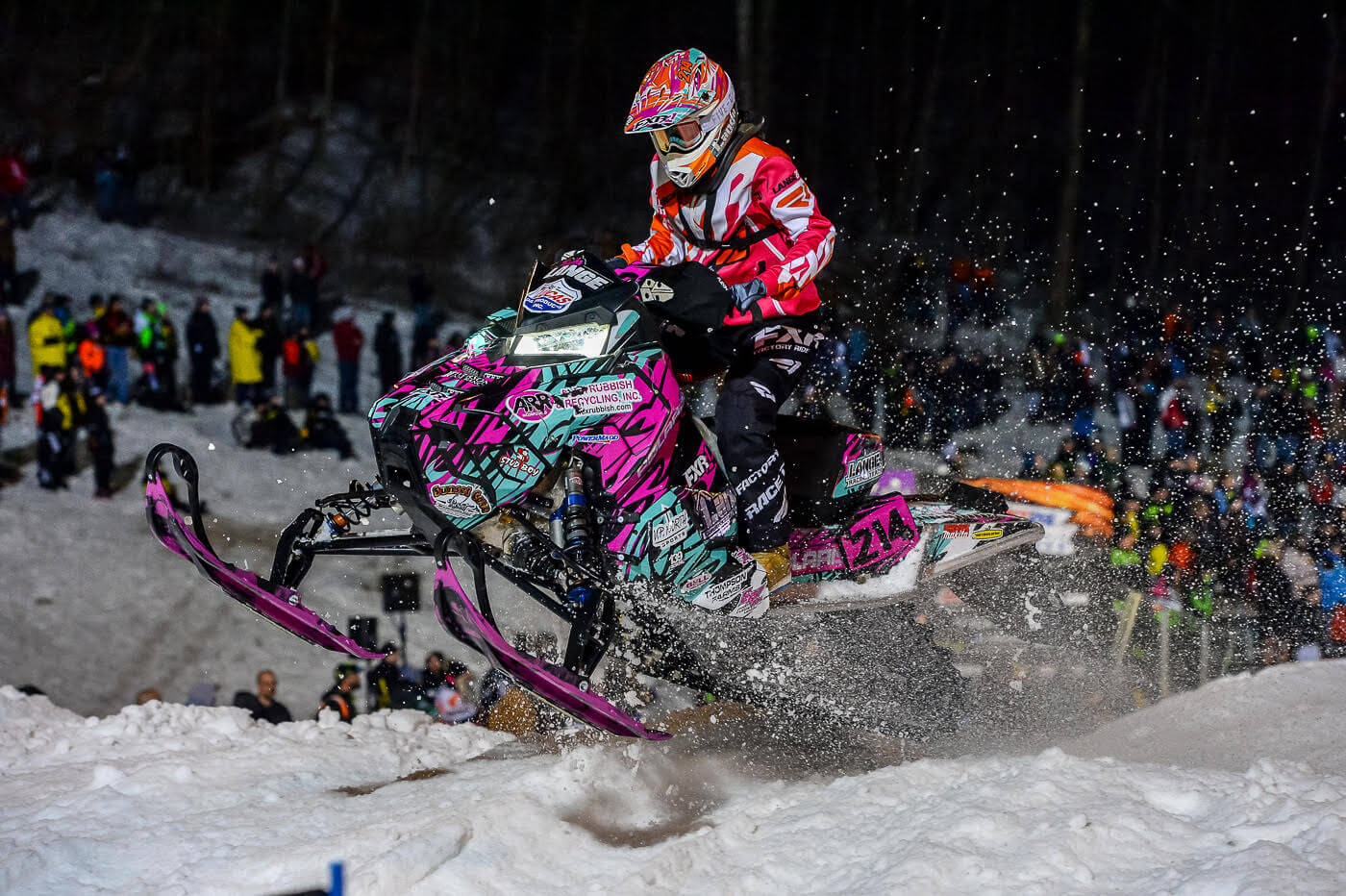 Lange Joins the Fray in Pro Women
It has been almost all firsts for Megan Brodeur this season and the trend continued in New York as the defending champion cruised to her seventh Pro AM Women's win on Friday night.
The true story came from what happened behind the points leader. Yes, Taven Woodie picked up another podium with a strong run, but it was a newcomer to the finishing order that deserves the attention.
Tausha Lange has been competing in the class for four years, and her third-place finish on Friday was her first career Pro podium.
"I've been racing since I've been four, and I moved up to the pro women's class four years ago, and I have been waiting for this forever," said Lange. "I've been consistent all year, running in fourth, fifth or sixth. But I haven't made that last little jump into third place until tonight."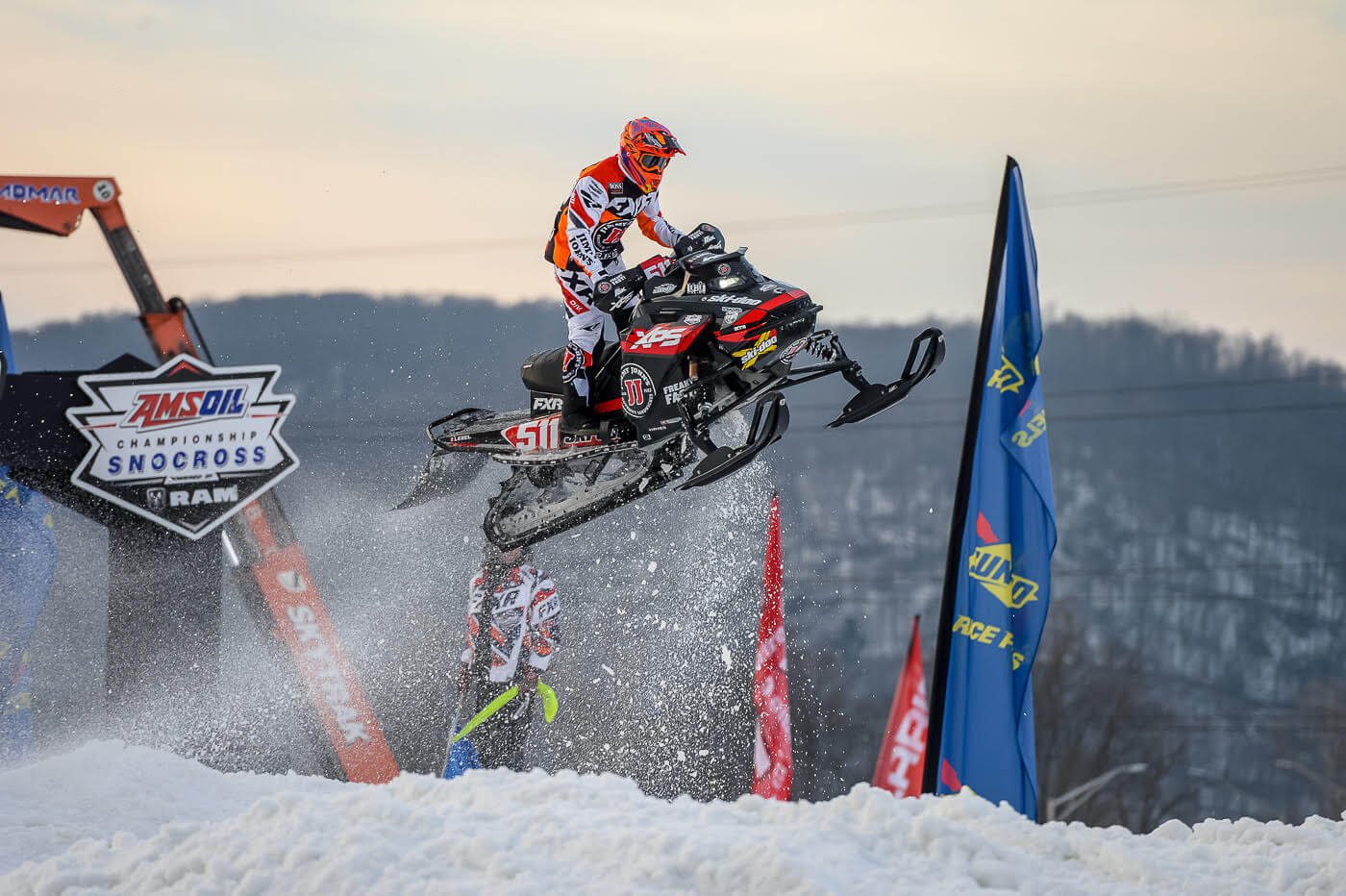 Friday Night Lights
Ski Doo's Jordan Lebel had a day to remember. The development rider for Boss Racing picked up wins in Junior 14-15, Junior 16-17 and Sport Lite. Lebel delivered a 19.5 second win in Sport Lite.
Brady Freeland had to work for his sixth win of the year in the 120 Champ class. Shane Beasley held down the top spot for the first five laps before dropping back to third. Freeland took advantage for the win, with Avery Hemmer finishing second.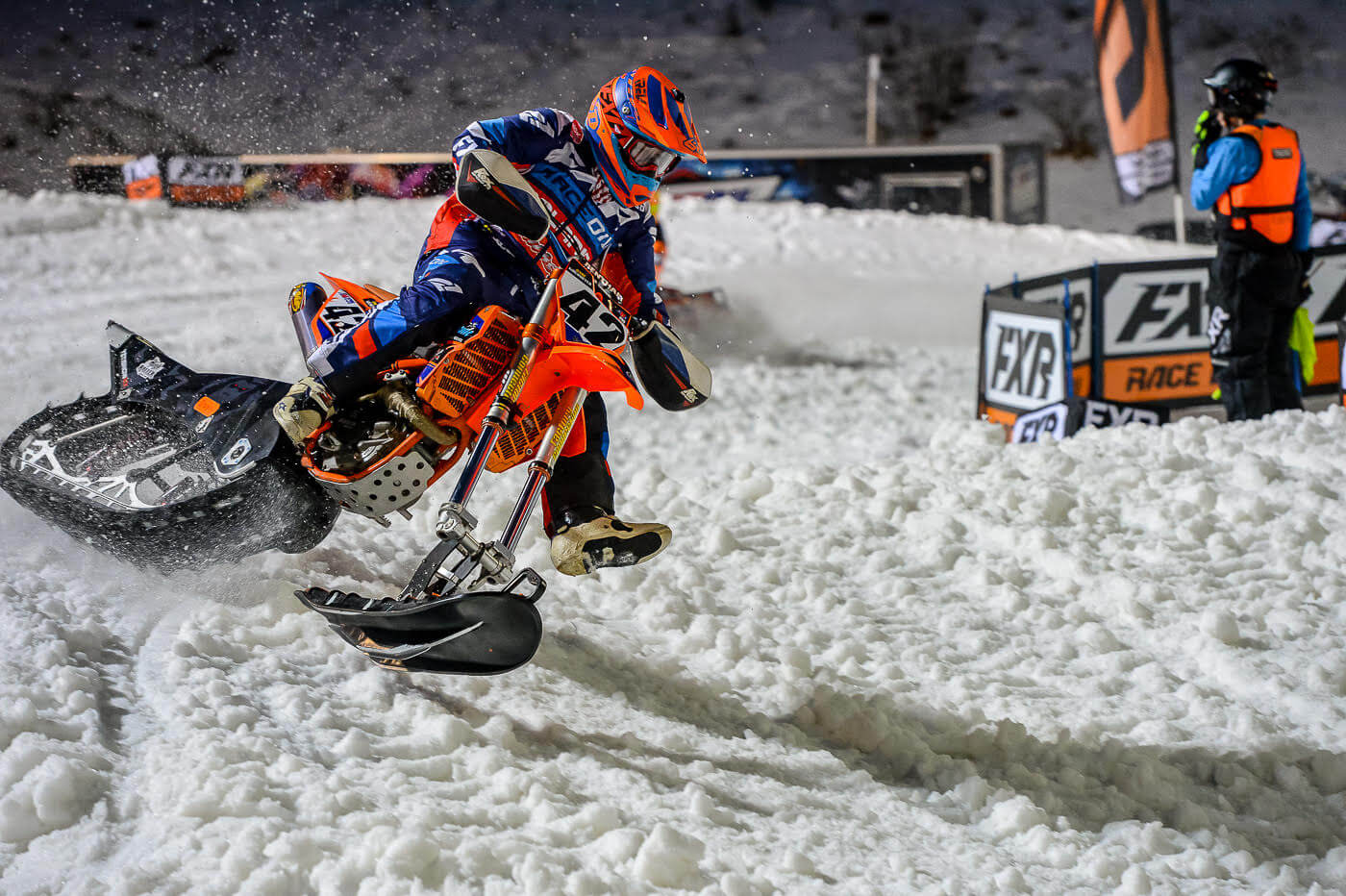 Jesse Kirchmeyer picked up his first win in Snow Bike, bringing his overall podium total to six. Mark Wilson and Keaton Ward rounded out the podium.
Tanner Johnson nabbed his first win of the season in Transition 8-10. Johnson took over the lead on the third lap and crossed the finish line about one second ahead of points leader Dylan Lebel.
Landon Giese will keep hold of his points lead with a win in Stock 200. Lane Giese finished second and Owen Matthies was third.
Mitchell Thelen led wire-to-wire for his first win of the year in the FXR Sport class. The race was one of the closest of the night as Thelen crossed the AMSOIL finish line just a half-second ahead of Andy Pake.