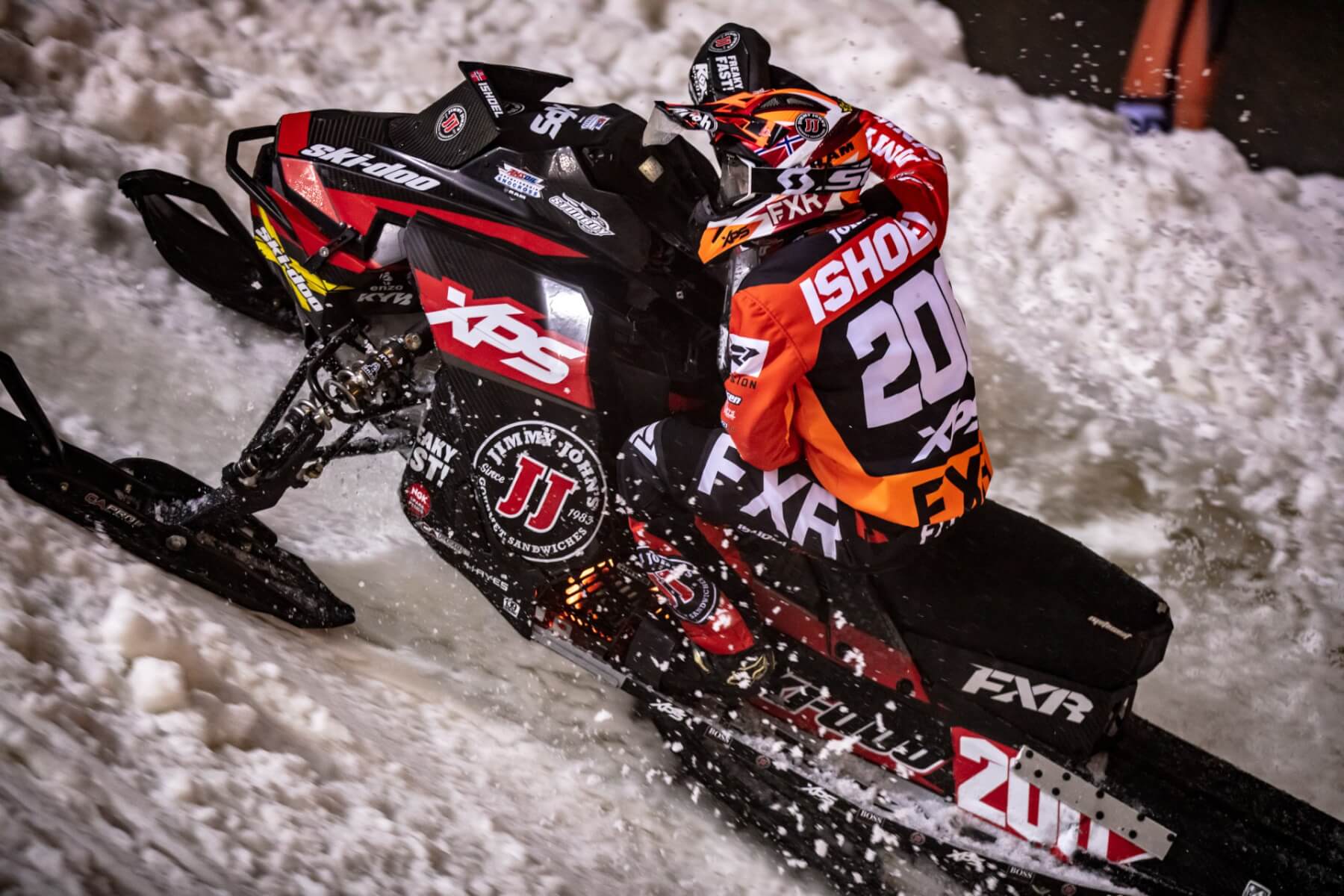 From day one of the 2018-2019 AMSOIL Championship Snocross, POWERED by RAM season, it has been Elias Ishoel standing atop the points. Fourteen rounds later, Ishoel hasn't conceded his perch as King of the Mountain. Now, after a dominant weekend in Iowa, he looks poised to stay there.
The rap on Ishoel when he came to the United States was the Norwegian was blistering fast, but had to harness the speed on the bigger, tougher tracks. That reputation was thrown out the window on Saturday night in Iowa where Ishoel, fresh off a Friday night win over teammate Aki Pihlaja, was in control despite immense pressure breathing down his neck all night.
Weather was a major factor in all of the races at Sundown Mountain Resort. Rain, sleet and fog dampened the region, making visibility tough and track conditions deteriorated quickly. Ishoel was ready from the get-go on Saturday. He won a heat race and said just before the start that he 'was going to get the hole shot." Arctic Cat's Daniel Benham got the jump on the Stud Boy Hole Shot, but Ishoel was right next to him, and as the cluster of sleds cleared, Ishoel jumped into the lead with Pihlaja once again in tow.
Out front, Ishoel pulled away from his teammate Pihlaja and began checking out. Pihlaja quickly had his hands full with two-time winner Adam Renheim, who was aggressive on the tricky downhill sections. On lap four, Renheim moved into second and set his sights on the race leader. Despite a five second gap, Renheim caught up to Ishoel and applied heavy pressure. But Ishoel showed his mettle when it looked like Renheim had him covered. Ishoel was strategic, constantly switching lines on each lap and made Renheim adjust the strategy that had moved him into second. Renheim would bobble a bit on lap 11, and despite another charge at the leader, Ishoel had enough space to nab his second straight win.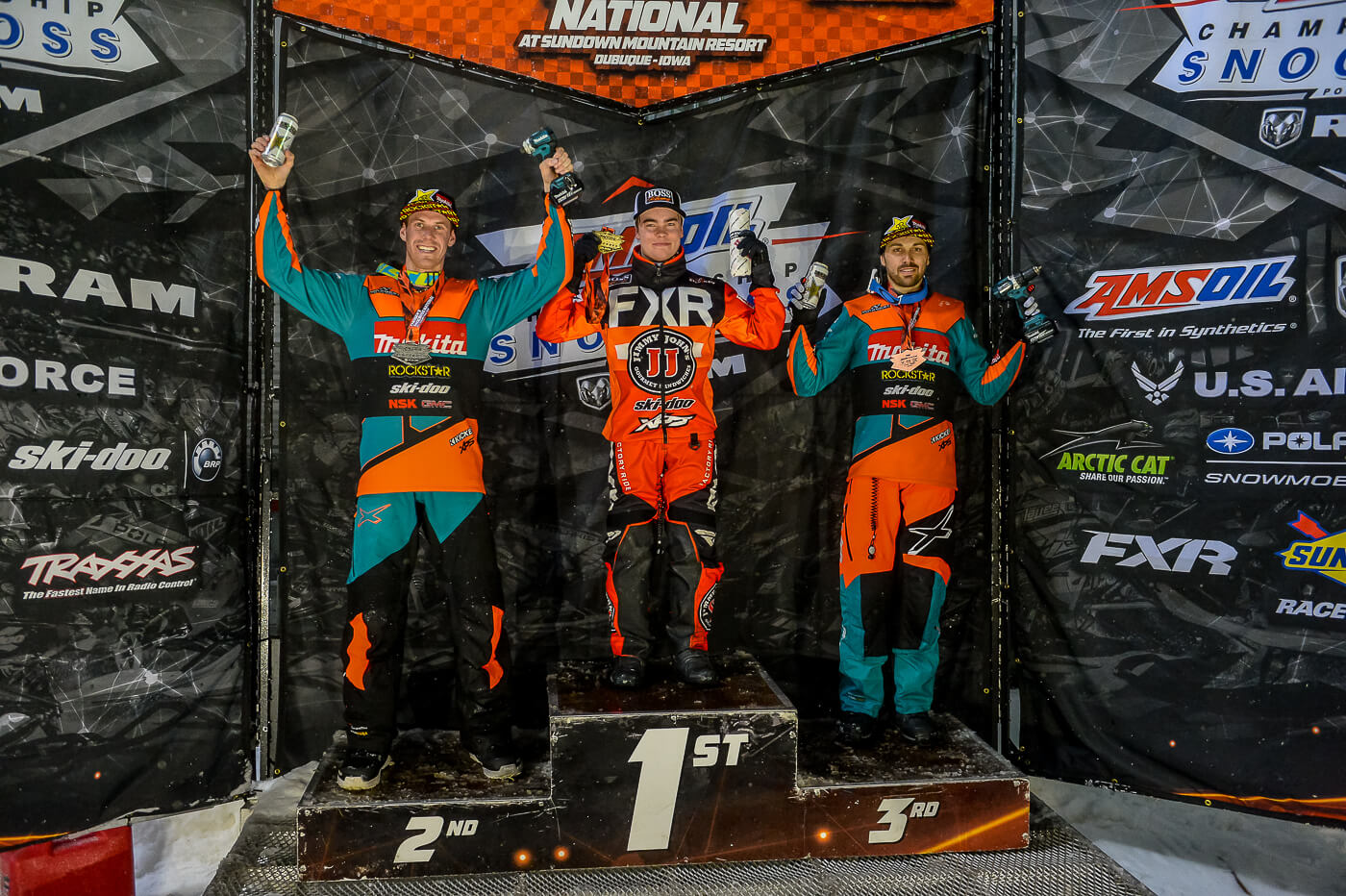 "This season, I've been in front and I've had the red plat from the first day," said Ishoel. "I'm just trying to do my own thing and just have fun every time, don't think and just go out there and race."
Ishoel's fourth win of the season was a boost to his championship hopes as well. Kody Kamm again won both of his heats but started dead last in the final before pushing his way up to ninth. Unofficially, Ishoel went from a 30-point lead over Kamm entering the Iowa rounds to a 33-point lead. Renheim's second place finish was his fifth podium of the year. Tim Tremblay made it another all-Ski-Doo winners circle as the Canadian overcame a mid-pack start to finish third.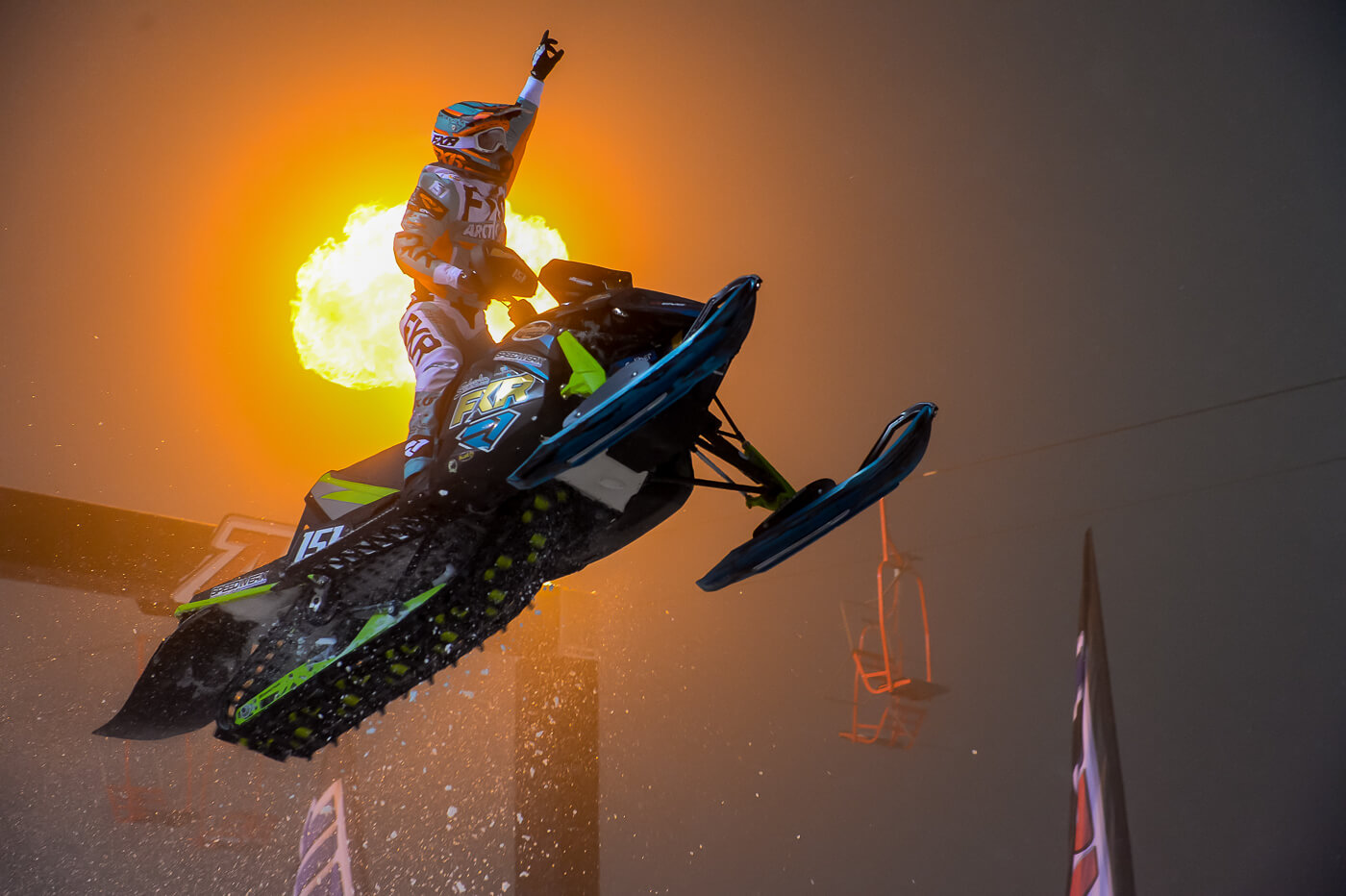 Bester Back on Top
Arctic Cat's Ryley Bester started the run of first-year riders winning in the Pro Lite class with his opening round win in Duluth. It has been a roller-coaster type of year for the rookie since then, but a flawless race on Saturday night was a much-needed boost.
Bester raced a smooth, smart race in Iowa, and he did it with a pair of championship contenders sitting in his roost. Ski Doo's Hunter Patenaude grabbed the hole shot, but Bester won the drag race to the first turn. From there, Patenaude's presence was surely felt by the rookie and he handled it like a seasoned pro. While Patenaude was trying to get around Bester, Francis Pelletier was thrashing his way towards the leaders. A back-row start didn't discourage Pelletier, and he knew he had to get to the front to keep pace with Patenaude in the season points chase.
But the story out front for the entire nine lap final was Bester, who held his own in extreme circumstances.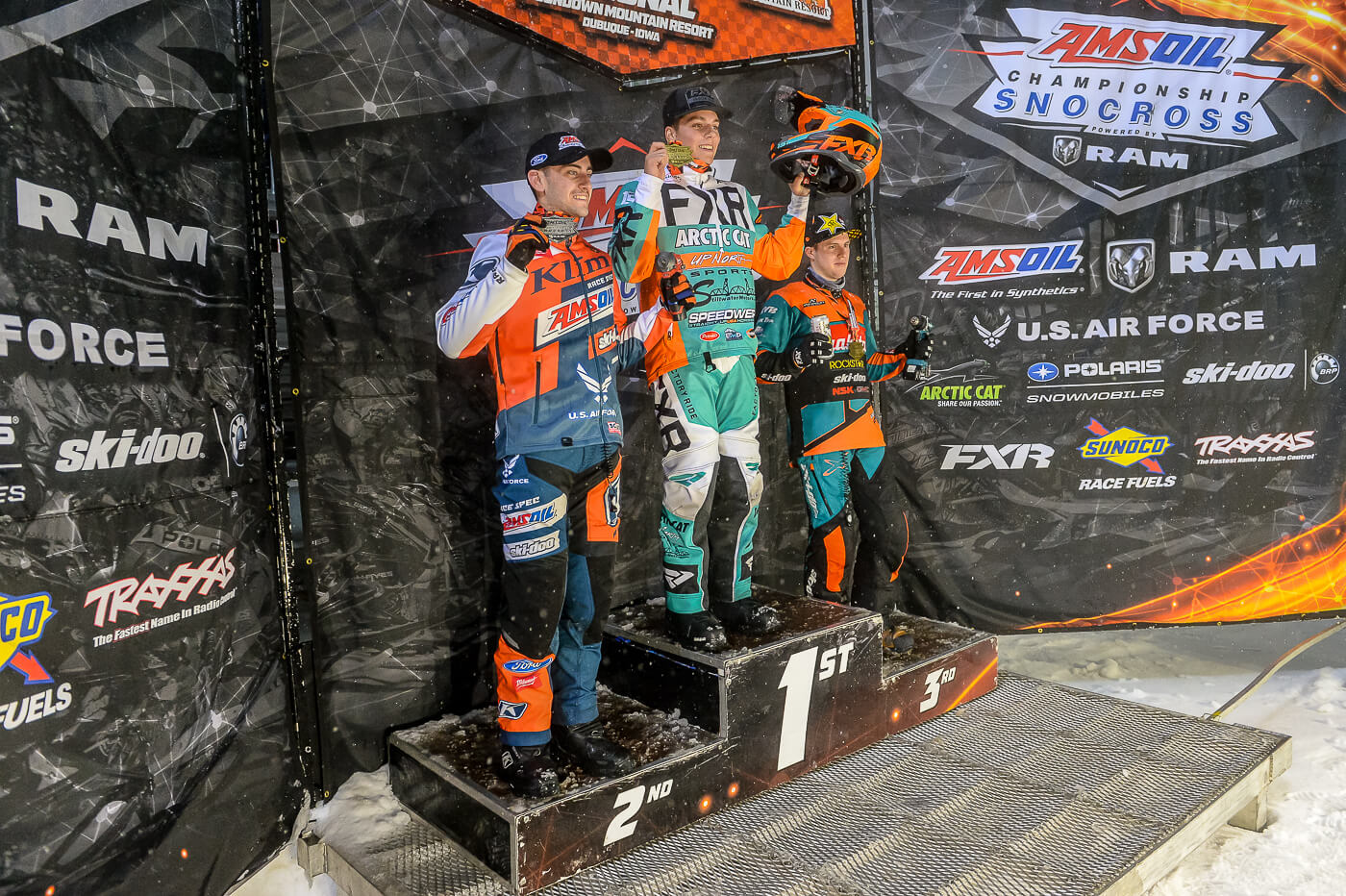 "We started the day with rain, then snow, and now we are back to a misty-rain," said Bester atop the podium. "And the fog was horrible. Up at the start you could barely see the finish line. Yeah, conditions weren't the best, but we made the best of it today."
Despite just a four-point lead coming into Iowa, Patenaude had a strong weekend and was able to stretch his lead to 19 over Pelletier. With two rounds of racing left in Lake Geneva, Wis., both riders have a strong chance to win their first pro championship.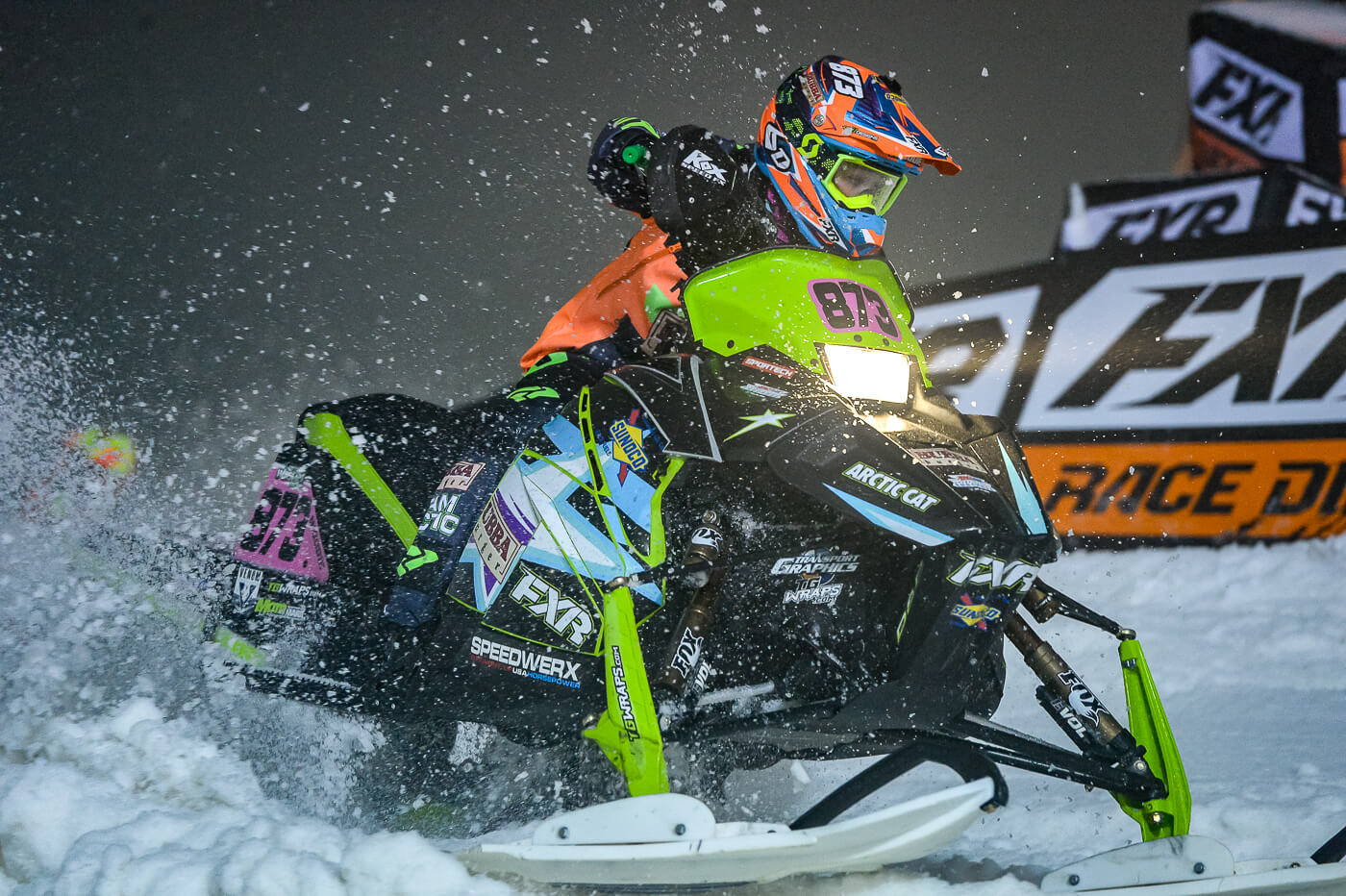 Saturday Night at Sundown
Arctic Cat's Taven Woodie picked up her third win of the year in Pro AM Women. Megan Brodeur overcame a ninth place start to finish second. Tausha Lange finished third.
Ski Doo's Jordan Lebel has a stranglehold on not one, but three amateur titles this year. Lebel, who signed mid-season with Boss Racing team (home of Elias Ishoel and Aki Pihlaja), continued his dominance by winning the Sport Lite, Junior 16-17 and Junior 14-15 finals in Iowa.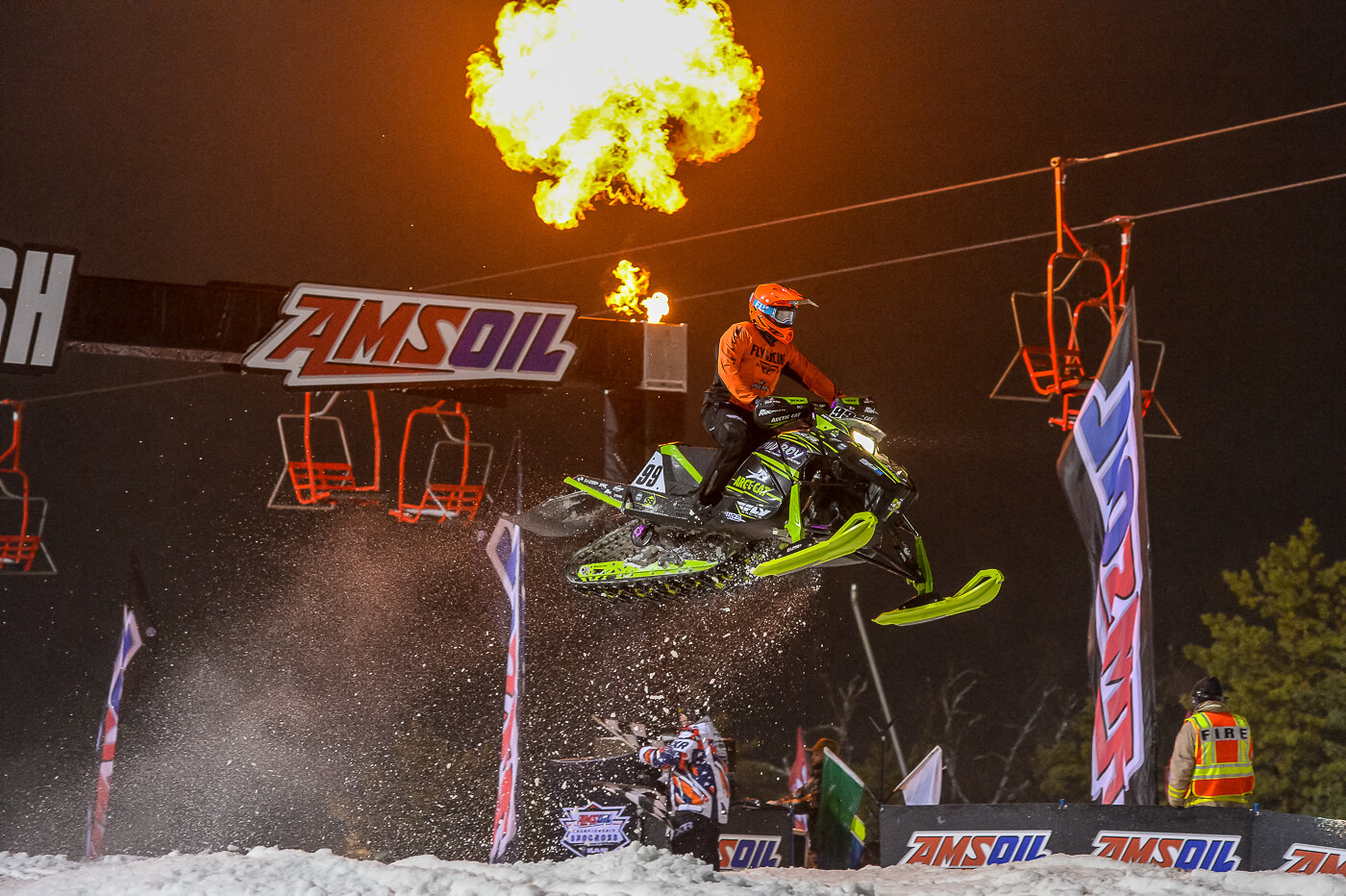 Zach Pattyn will keep the points lead in Pro AM Plus 30 after making an inspired comeback. Pattyn started sixth but got around the Matt Pichner on lap six for the lead. Pichner, who was five points behind Pattyn, finished second with Kurt Bauerly in third.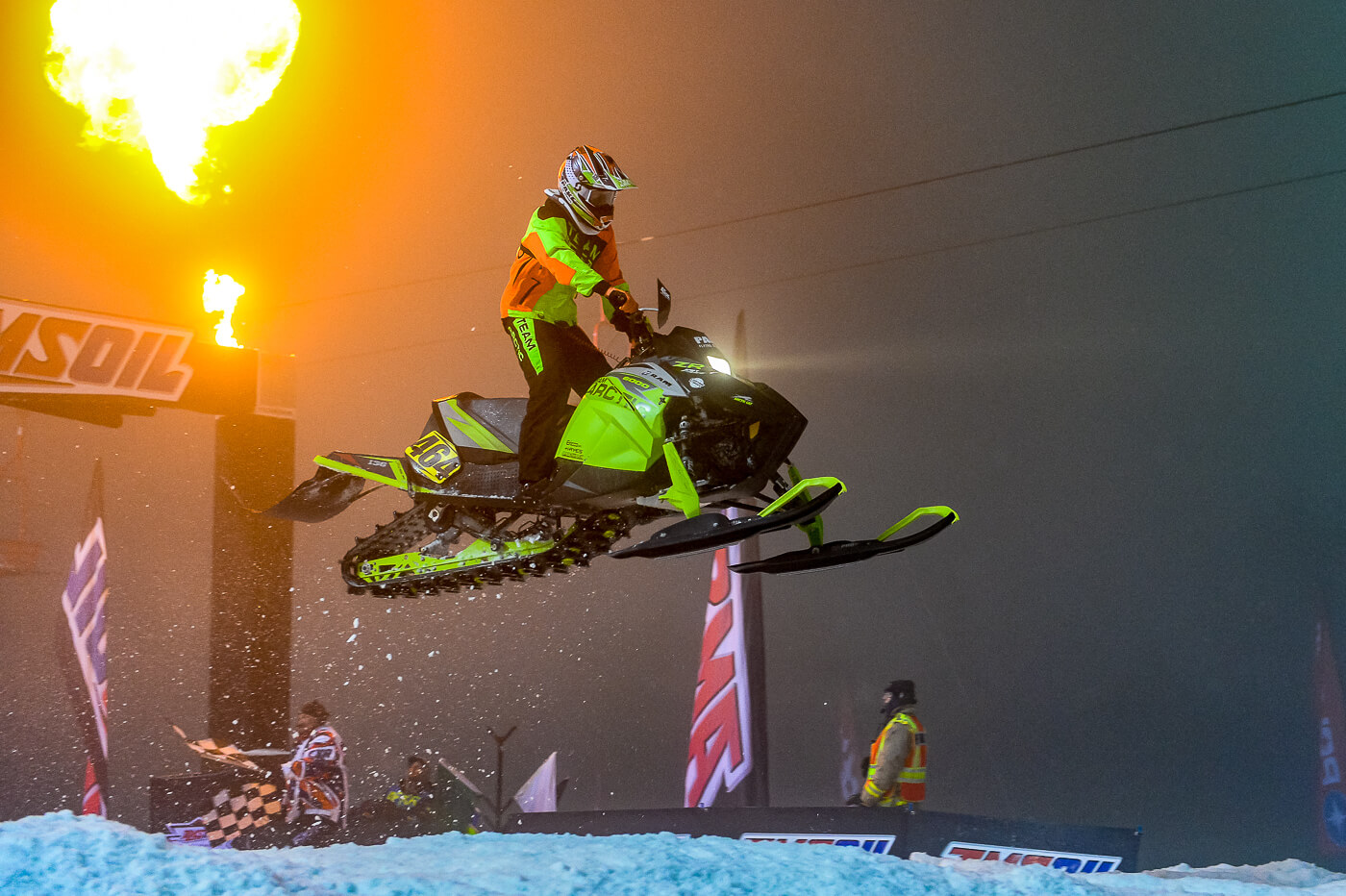 Arctic Cat's Andy Pake made it two-in-a-row in the FXR Sport class. Taylor Cole and Anson Scheele rounded out the podium.
Jessie Kirchmeyer now has four straight wins in Snow Bike. Kirchmeyer was ninth after the first lap but moved to the front on the second circuit. Wilson Ward finishes second.
Aiden Leonard took home the win in Transition 9-13.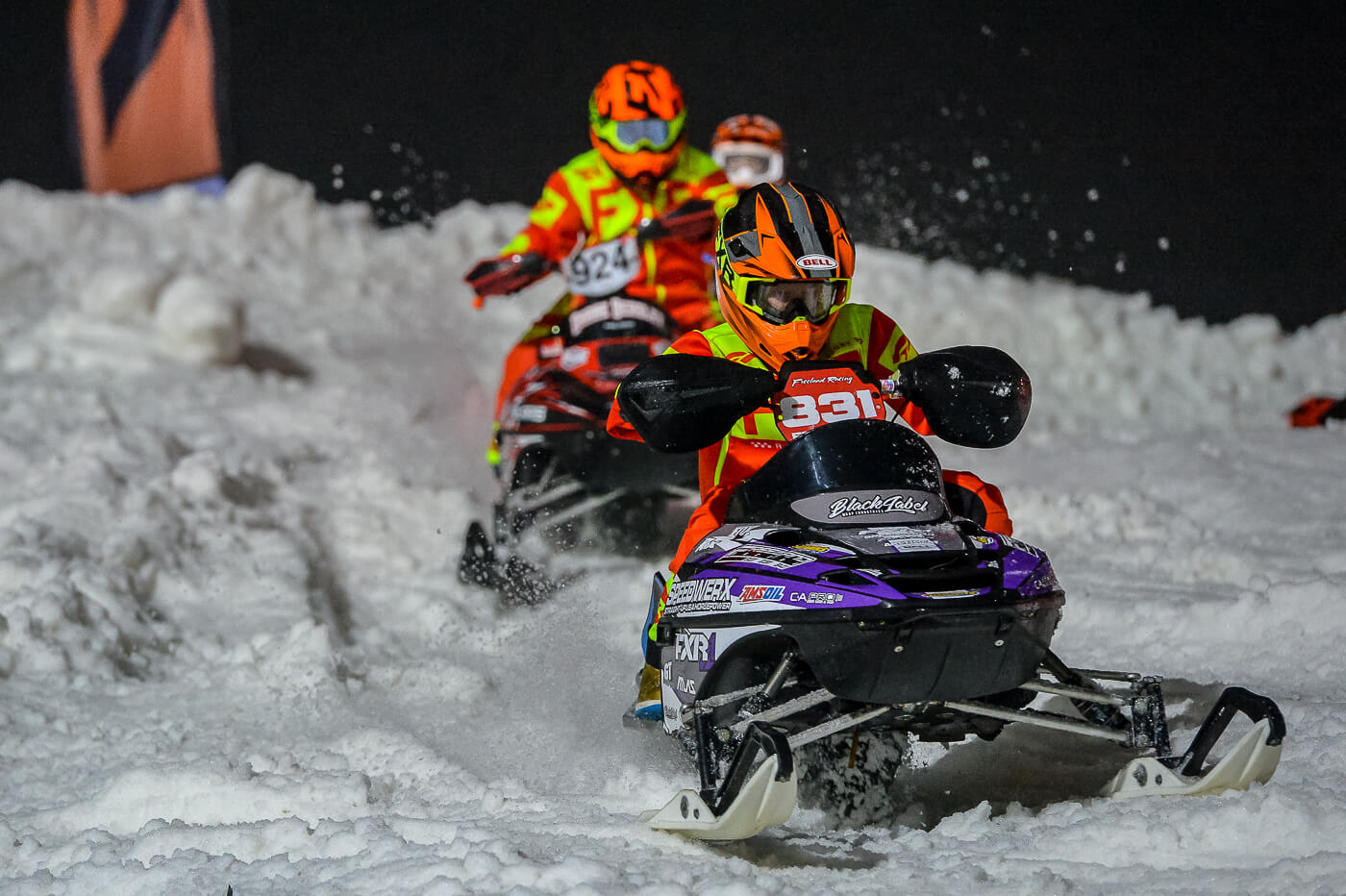 Landon Giese won Stock 200 over Tristian Hinton and Owen Matthies.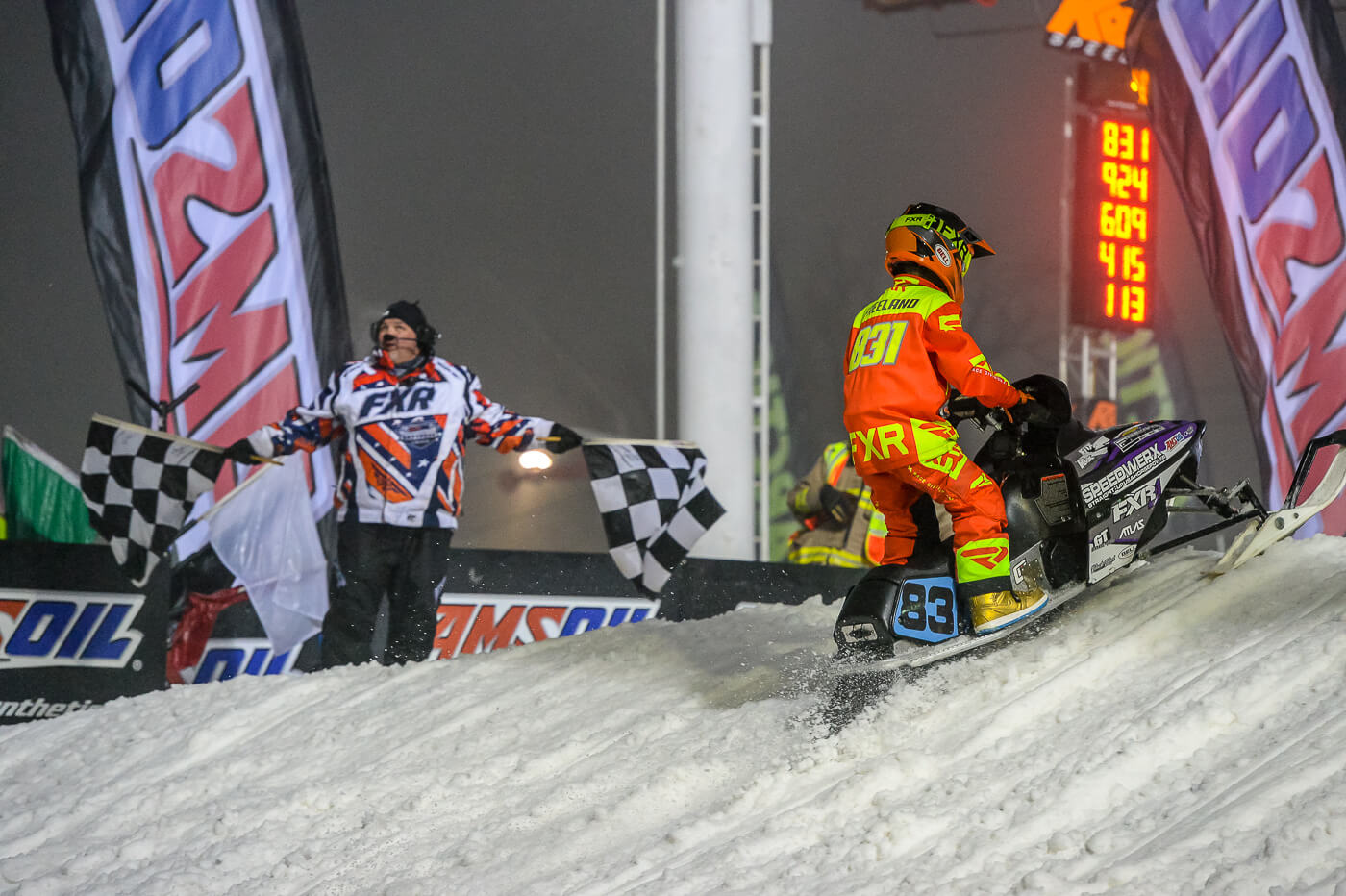 Brady Freeland led the 120 Champ charge over Shane Beasly.