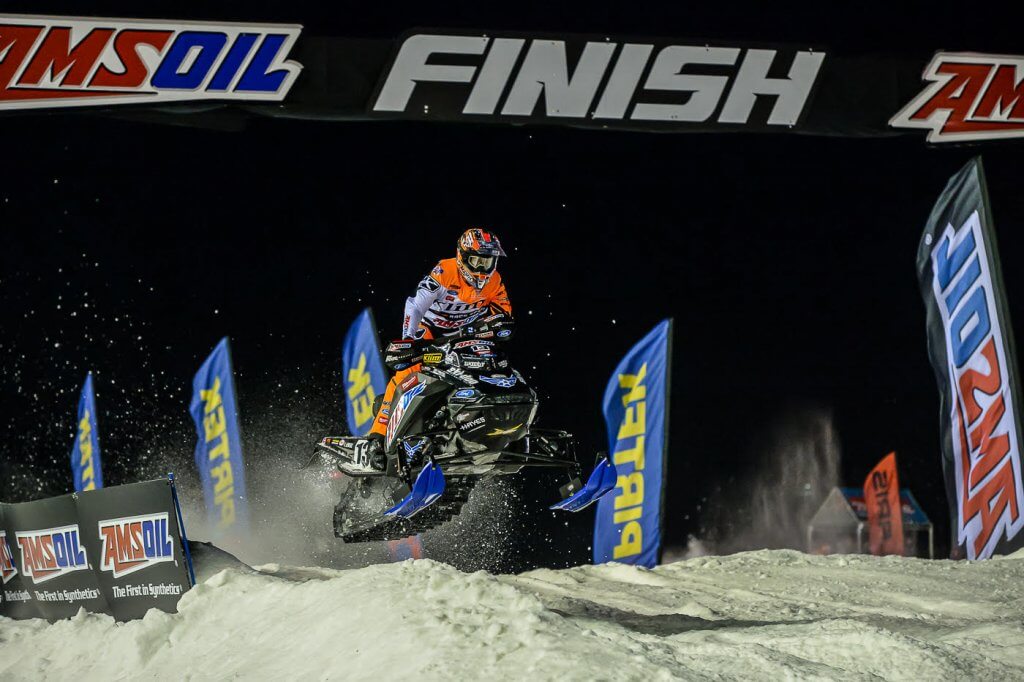 Shakopee, Minn. ~ When AMSOIL Championship Snocross, POWERED by RAM makes its annual stop at Canterbury Park in Shakopee, Minn., it usually marks the official transition into championship mode. The season sits just under the one-third mark, meaning teams are starting to figure things out.
On Saturday, one pro team finally put all of the pieces together this season as the long-standing Scheuring Speed Sports swept both Pro classes.
Lemieux Launches for First Win
Last season, Lincoln Lemieux was the most consistent rider through the first several rounds. He and Elias Ishoel were heading towards a heavyweight fight in the seasons second half. Through eight rounds, Lemieux had four wins and six total podiums. Ishoel had two wins and five podiums, but also the points lead. Unfortunately, the showdown never occurred as Lemieux's season came to an early end due to a shoulder injury.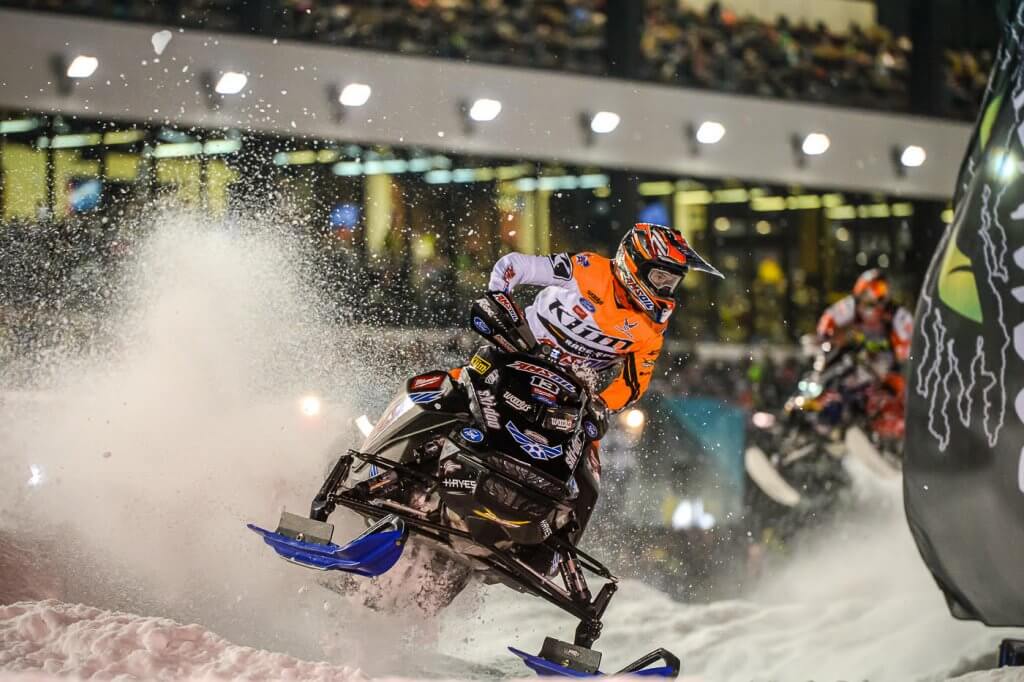 This season, Ishoel has been on fire through the first four rounds. Three wins have placed the defending champion back into the points lead. In second lurks Lemieux, who has yet to find a podium this year, but he has been stellar in heat racing. On Saturday, Lemieux put it all together and may have started the momentum needed to renew the championship shootout the sports been waiting for.
Lemieux entered Saturday's final as the number two qualifier behind Ishoel's Boss Racing teammate Aki Pihlaja. Both Lemieux and Pihlaja were forced to start on the outside for the final, a spot that Lemieux had said he had reservations about trying to make work for a good start. But when the light flicked to green, both Lemieux and Pihlaja had no trouble getting around the big left-hander as the pair went one-two over the finish line jump.
After a few turns, and some early pressure, Lemieux found his rhythm out front, never relinquishing the lead during the 16-lap final. It was redemption for the Vermont-native, after a trying off-season of rehabbing his surgically repaired shoulder.
"I got off to a great start, and we knew that's what we needed," said Lemieux. "I didn't know if I could necessarily do it from the outside, but I got it done. All that hard work, training after the surgery, it's all paid-off. It seemed like I wasn't going to get this win for a long time. I'm usually on the box a lot, but it finally came to me and it feels awesome."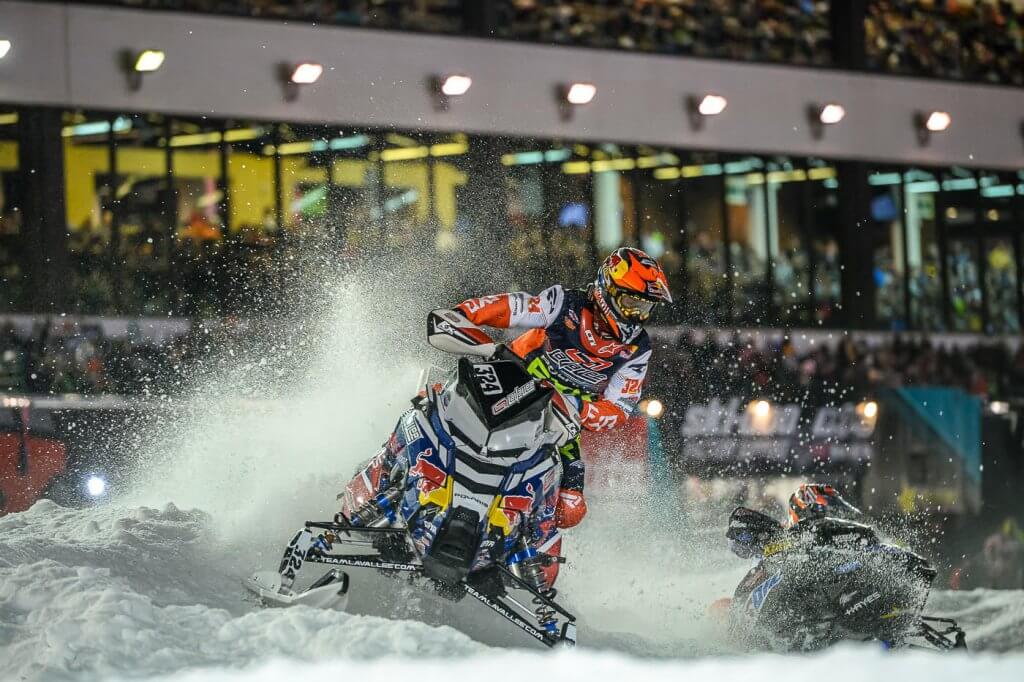 Lemieux's story of redemption wasn't the only one being told on Saturday's podium. Polaris' Kyle Pallin finished last year with two late season podiums, below the norm for the veteran rider. But the long-time fan favorite put in a great ride at Canterbury for his first podium in this year's campaign. He started fourth behind Arctic Cat's Logan Christian, but was able to get into third on lap five, just behind Pihlaja. You could have thrown a blanket over the trio for the next several laps before Pallin took control of second. A late surge at Lemieux as the pair headed through lapped traffic wasn't enough, but a victory nonetheless for Pallin.
"It felt so good to just get out there and be calm and put down some really good laps," said Pallin. "It's always more motivating when you get by somebody, and another one, and another one. It just helps that confidence and keeps you on that charge."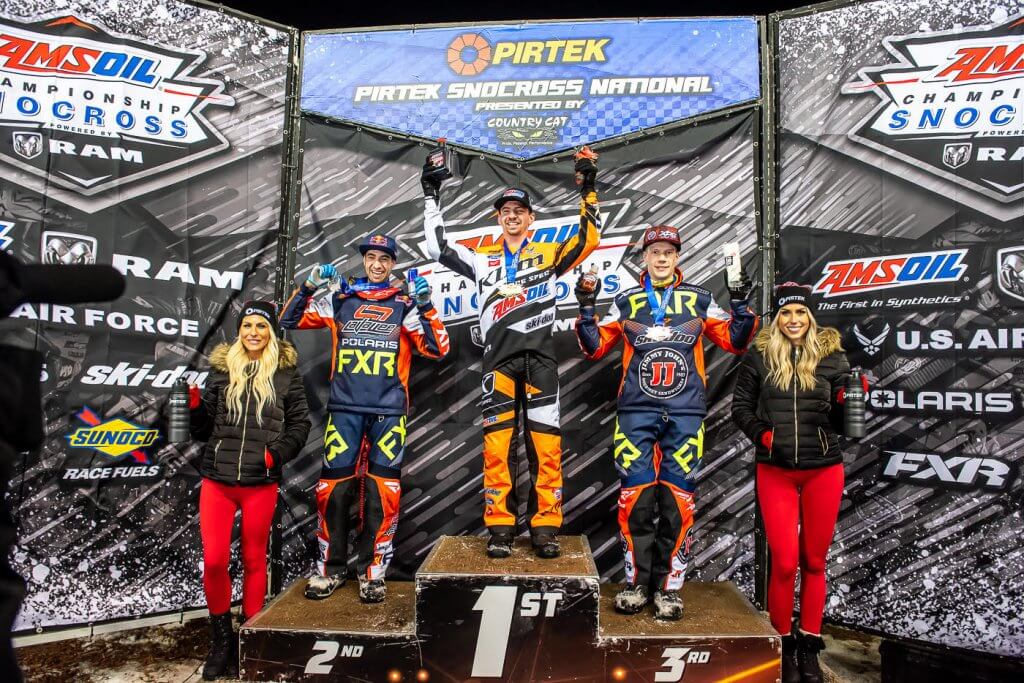 Pihlaja, who before tonight owned the other Pro win besides Ishoel this year, had a great ride filled with a handful of challenges. He battled for the lead with Lemieux early, diced with Arctic Cat's Logan Christian and Pallin for the majority of the final, and as he settled into the final podium spot, his teammate Ishoel made a late charge from his mid-pack start. In all, the Finnish rider was up to the test.
"It was really rough," said Pihlaja after the race. "The track was rough, but I like that, so it was challenging."
Coupled with Ishoel's fourth, Lemieux's win allowed him to cut seven points out of the lead.
Pro Lite Perseverance
The best thing about getting the hole shot is the abundance of clean air. A rider has the ability to set the pace and see the entire track, free of obstruction. That scene has been commonplace for Scheuring Speed Sports Hunter Patenaude this season, and for most of the night on Saturday it was business as usual for the defending champion.
Patenaude and fellow Ski Doo rider Francis Pelletier have quickly established themselves as the frontrunners in Pro Lite. On Saturday, the two spent most of the night racing one another around the big, technical Canterbury layout. But as they clicked off laps at high rates of speed, the second half of the race became a study in manuevering through traffic.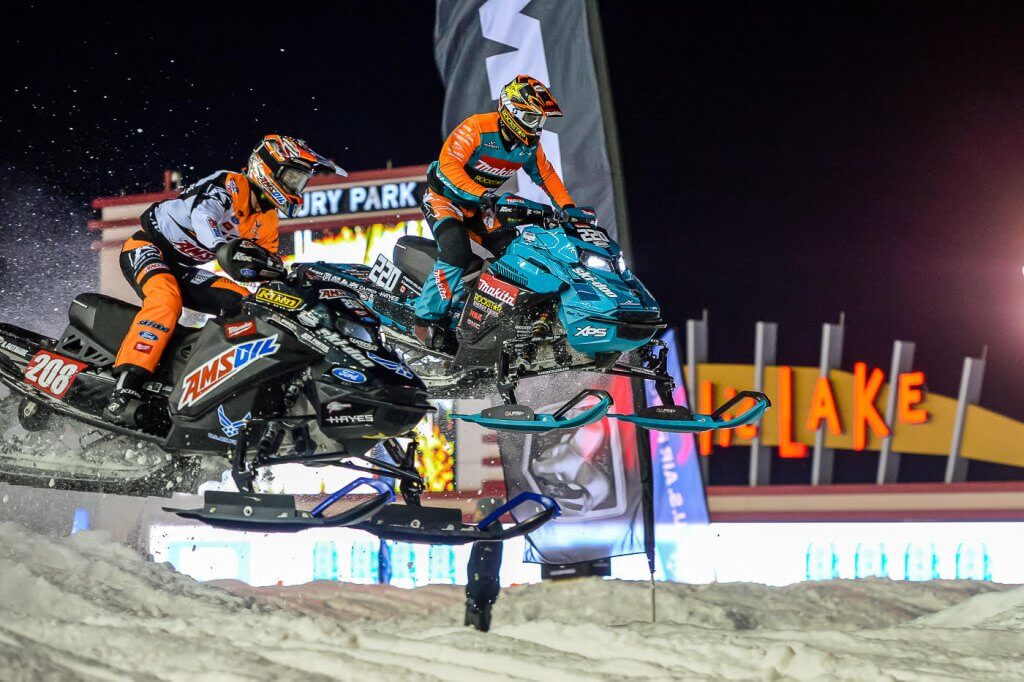 At the end of lap seven, Patenaude caught up to the back of the pack, and with Pelletier applying steady pressure, it was paramount that the Vermont-native have multiple lines, and patience, to get through the swarm. On lap eight, Patenaude, (and Pelletier), encountered and skillfully passed a minimum of eight lapped riders in less than a half-a-lap. Once clear of the obstructions, Patenaude settled back into his early race flow, leading Pelletier to the finish line for his fourth win of the season.
"The track kind of changed a little bit, the snow was a lot different, but the sled was just working a lot better," said Patenaude atop the podium. "I got a great start, and Francis was just pushing me the whole time, even though the traffic. It's been fun battling with him this whole year, and I'm looking forward for what's to come."
The second-place finish marked the fourth podium of the year for Pelletier as the Warnert Racing rider sits second overall. For the Quebec native, he tried to get into the lead several times, but couldn't find the right spot.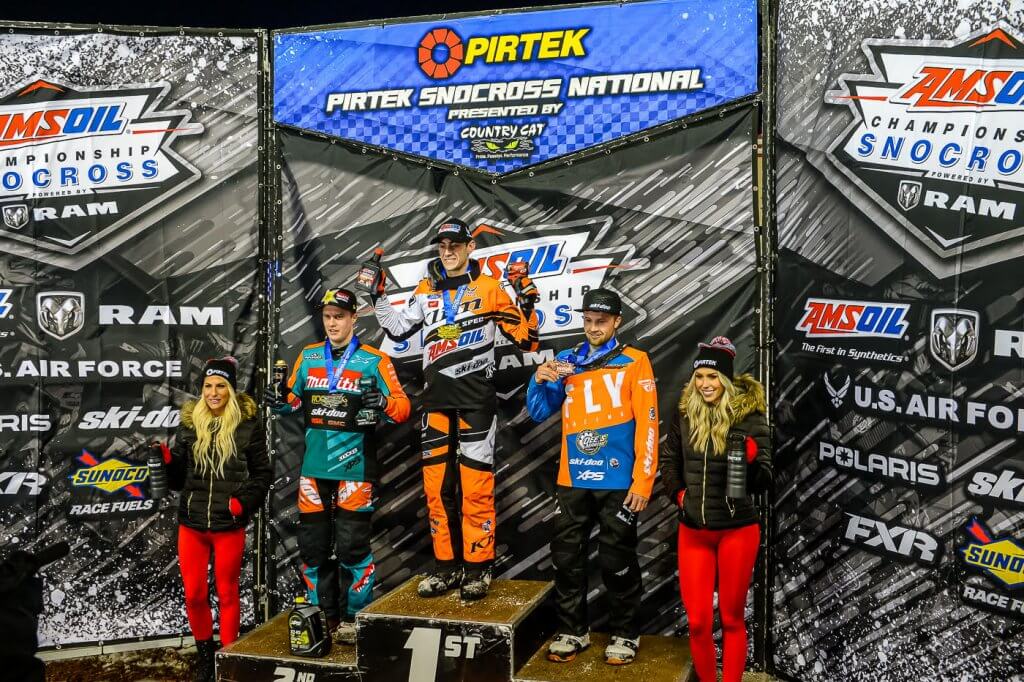 "Yeah, I was (behind Patenaude) the whole race," said Pelletier. "I was getting pressure the whole race, but the snow was so soft. It was hard to do a move. You have to know where to go and everything, but that race was fun, and we had a good race."
Ski Doo's Korbyn Anderson put together a great day of racing, finishing as the number three qualifier and fighting off a handful of challengers for the final podium spot. His third place finish ahead of Polaris' Nick Lorenz marked his second of the year.
"The track right now is super-sugary," said Anderson after the race. "It's getting blown out every lap, so you just have to keep charging and keep your speed up."
Samuel Blouin finished fourth, with Korbyn Anderson's brother Camryn rounding out the top five.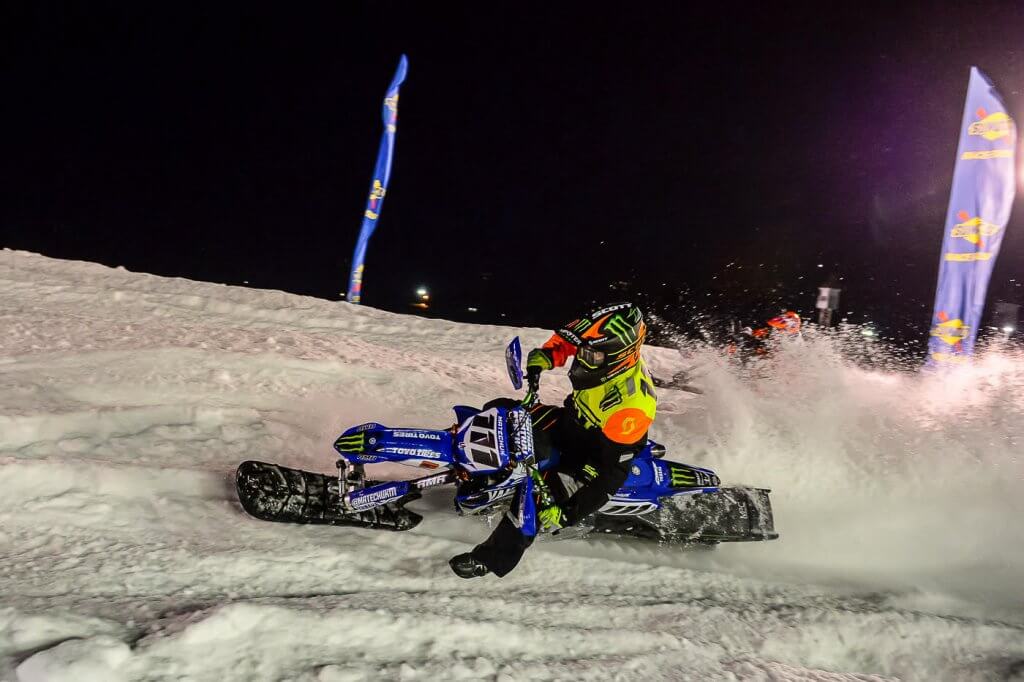 Saturday Night Notes
When it comes to big air on a snowbike, Cody Mattechuk is quickly become the master. Several times throughout the weekend the Yamaha backed rider would find triples and doubles that weren't there the previous lap.
Mattechuk bounced back after a crash took him out of the overall on Friday night by sweeping both Moto's in the advancing Pro Snowbike class. The 1-1 on Saturday gave Matechuk the points lead over defending champion Jesse Kirchmeyer. Kirchmeyer was able to grab the holeshot on Saturday, but was overtaken by Matechuk and second place finisher Brock Hoyer early in the race.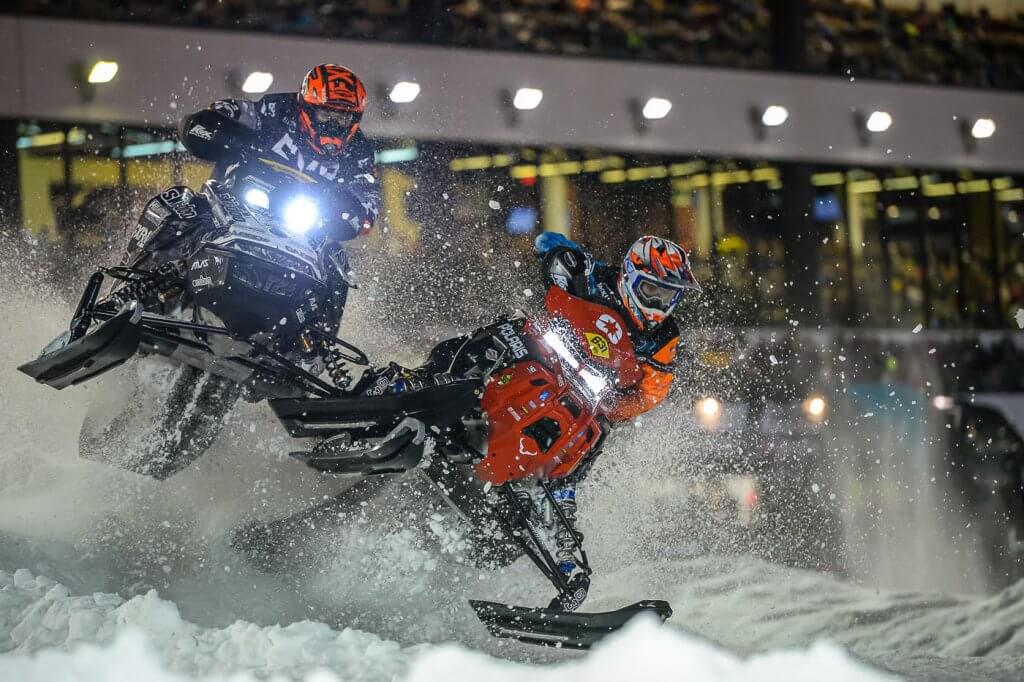 Drew Freeland grabbed the hole shot but Ski Doo's Jordan Lebel extended his winning streak to four after winning the FXR Sport final. Polaris' Carson Alread made a spectacular last lap pass on Freeland to finish second. Freeland finished third.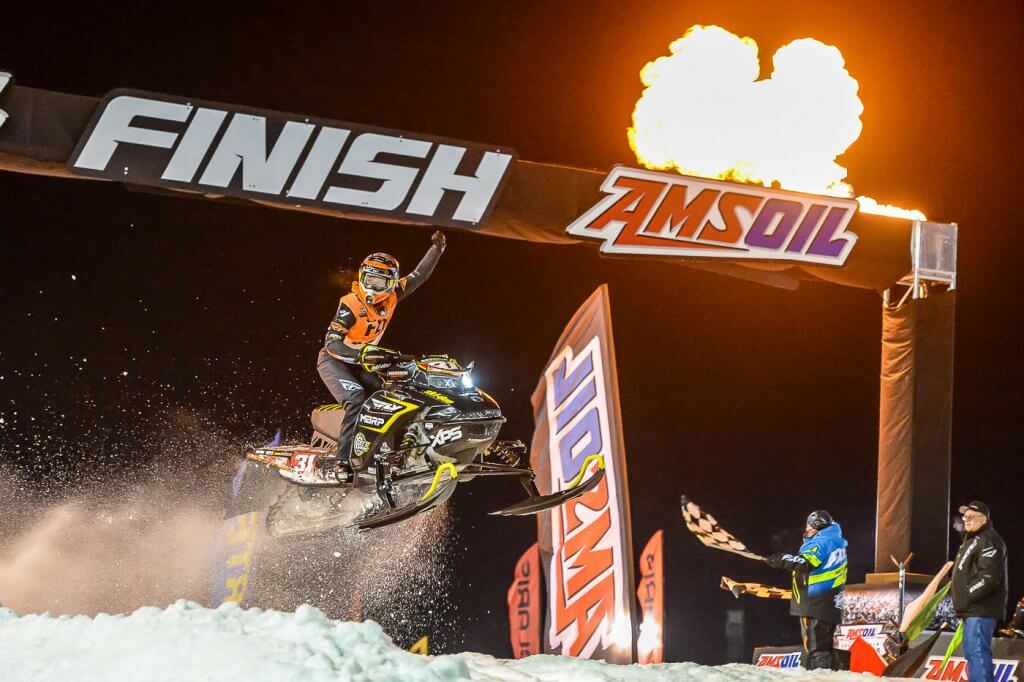 Ski Doo's Megan Brodeur continues to dominate the in the Pro Women's class. Saturday nights win marked the fifth final win this season. Arctic Cat's Taven Woodie and Tausha Lange rounded out the podium.
Ski Doo's Kurt Bauerly grabbed the hole shot in the ProAM Plus 30 final, but it was Polaris' Andy Lieders who took the lead on the second lap on his way to his first second win of the season. Alexander Dahl had his best finish of the season in third.
Tanner Johnson had a successful day at Canterbury by picking up a pair of extremely close wins. Johnson held off Cameron Cole by just .002-seconds in Jr. 10-13 and again in by 1.9 seconds in Transition 10-13.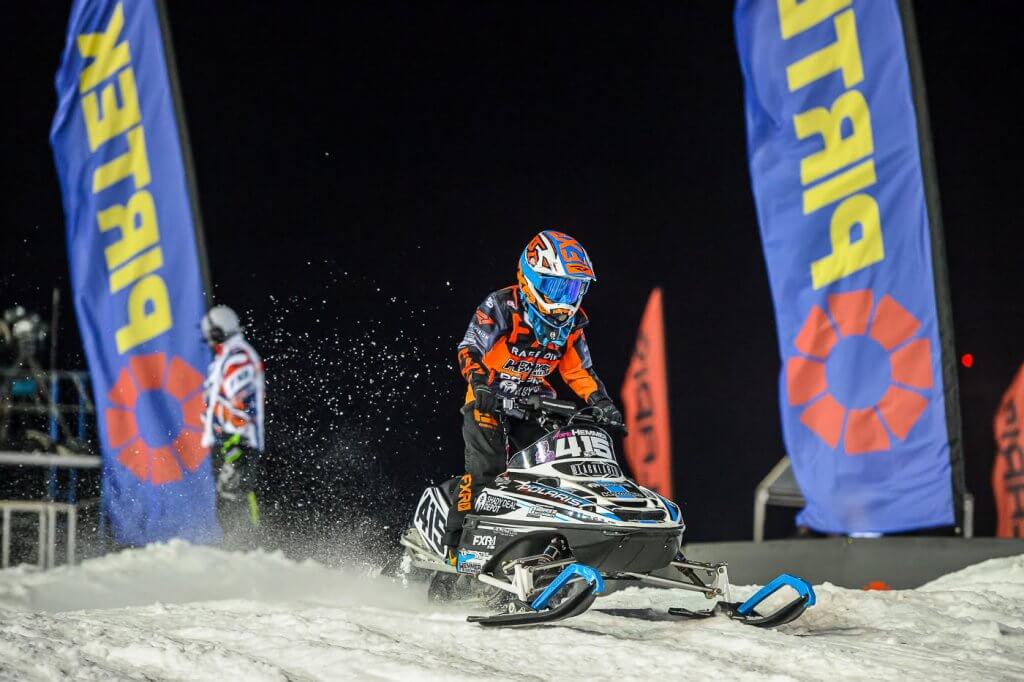 Another double winner on Saturday was Ski Doo's Emeric Legendre Perron who had a pair of dominant wins in Jr. 14-15 and Jr. 16-17. Perron leads the points in both classes.
Raycer Frank won for the second night in a row at Canterbury. Frank extended his season points lead with a win over Matt LaMourea and Drew Freeland.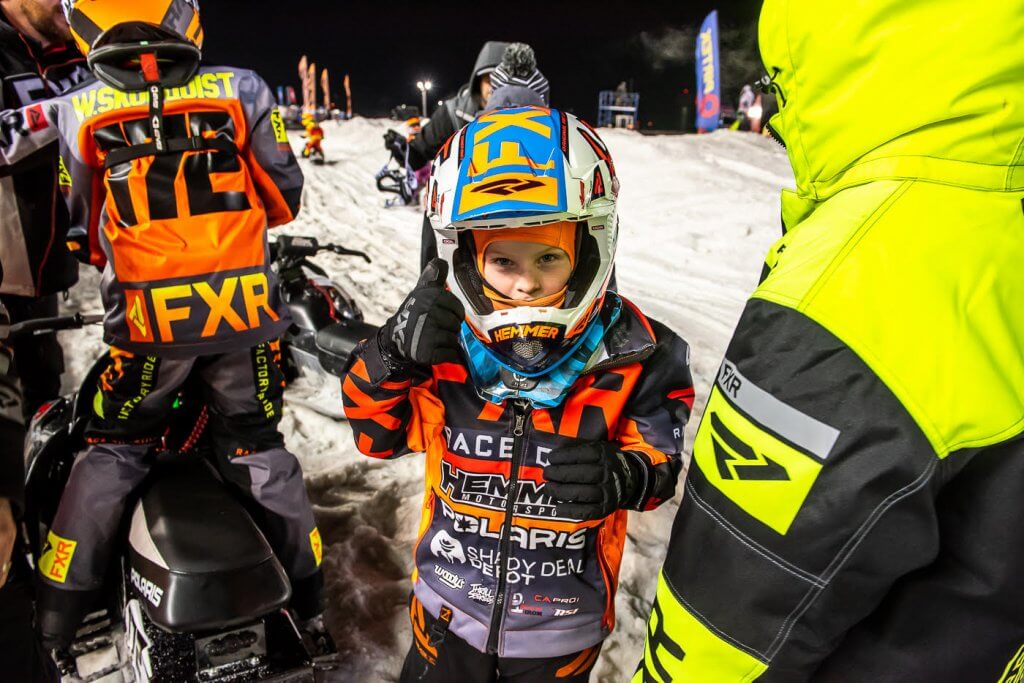 Other winners on Saturday include: Jimmy Stanisich (Transition 8-10), NAA<Li Lebel (Jr. Girls 9-13), Ryan Shimanski (Stock 200) and Avery Hemmer in the Champ 120 class.
Racing continues Sunday, as AMSOIL Championship Snocross, Powered by RAM makes up Round 2 from Duluth, which was cancelled due to extreme weather.