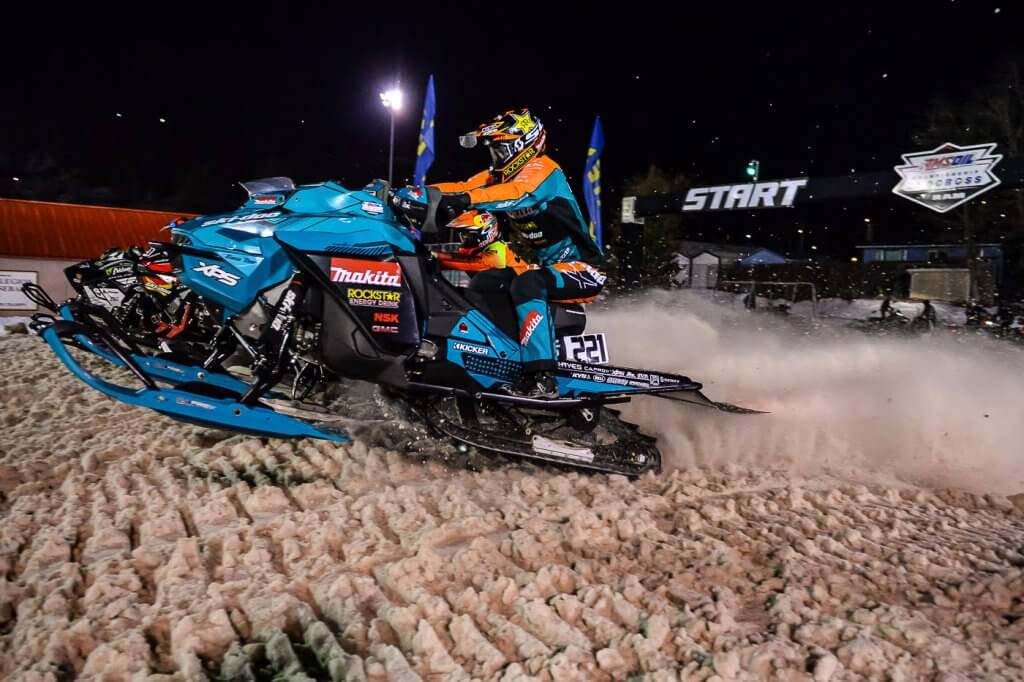 Deadwood, S.D. ~ Two of Ski Doo's best young riders were on display as the AMSOIL Championship Snocross, POWERED by RAM wrapped-up it's two day stay in Deadwood, S.D.
Danial Benham broke out in his rookie season by winning his first career Pro race in Michigan. Since then, Benham has continued his quest for a second win in the premier class, and while he has been on the podium several times, he has not been able to get back to the top spot. That changed after a dominant run around the Bull Ring on Saturday night.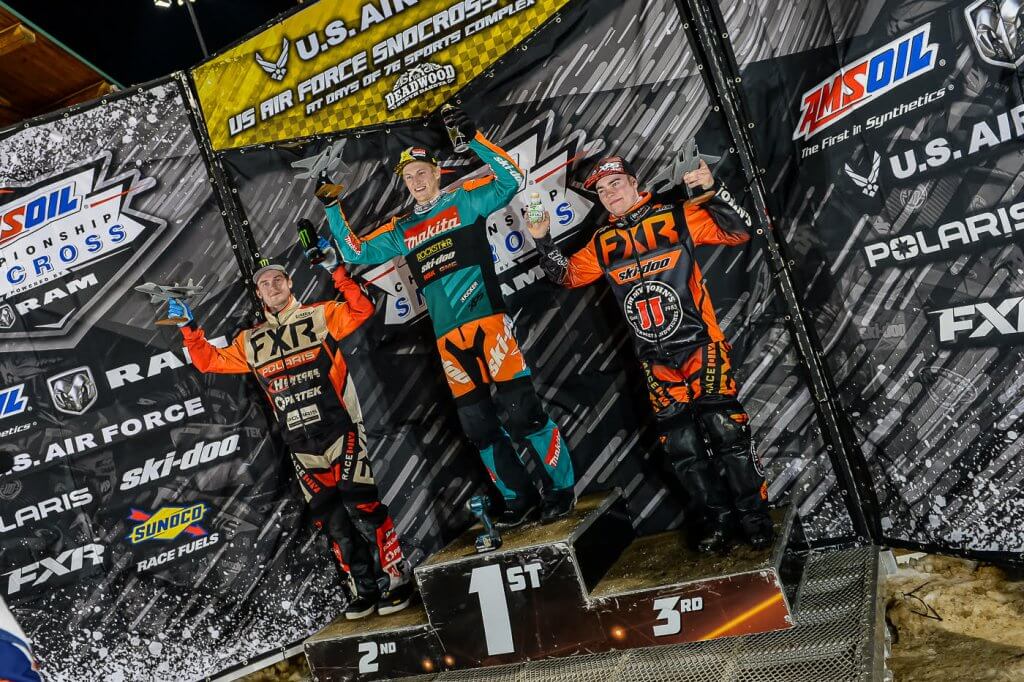 After busting out of an early log jam that featured Oskar Norum, Logan Christian and Elias Ishoel, Benham was able to find some breathing room as the pack backed up behind him.
"The hole shot makes everything easier," said Benham. "I had clear vision for maybe half of the race. I picked up lines and stayed smooth."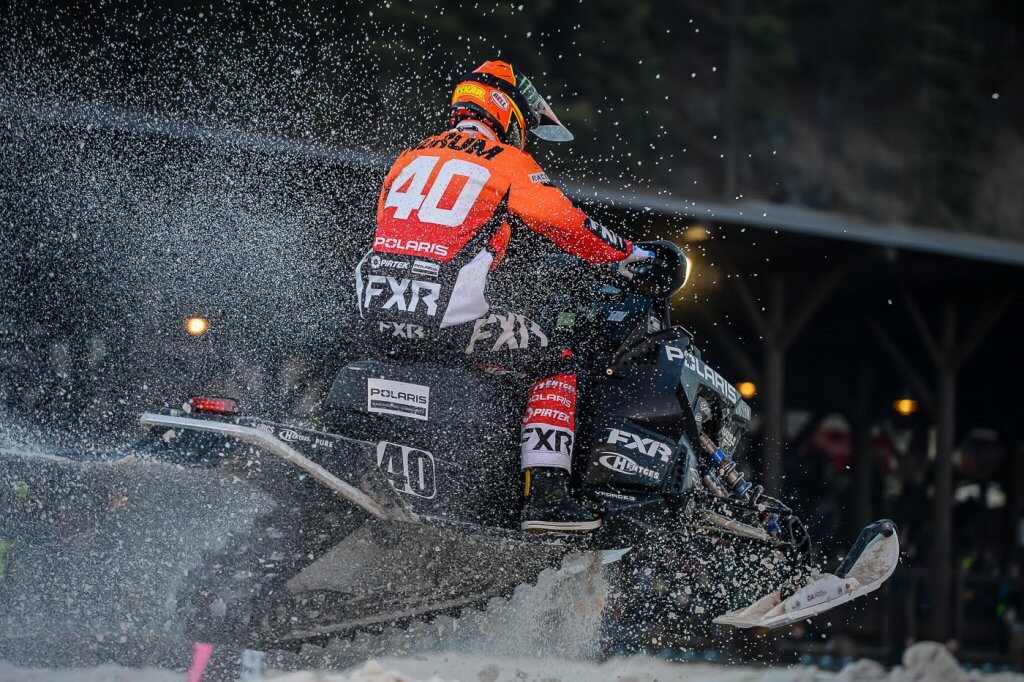 For much or the 26-lap final, the four riders behind him continued to battle one another. Polaris' Norum was the only real challenger to Benham, finishing second thanks to late pressure on the leader. The fight for third came down to Friday nights winner Ishoel and Christian, who had another really good run in round seven. At the end of Saturday, a self-acclaimed struggling Ishoel was able to hold off Christian for the final podium spot.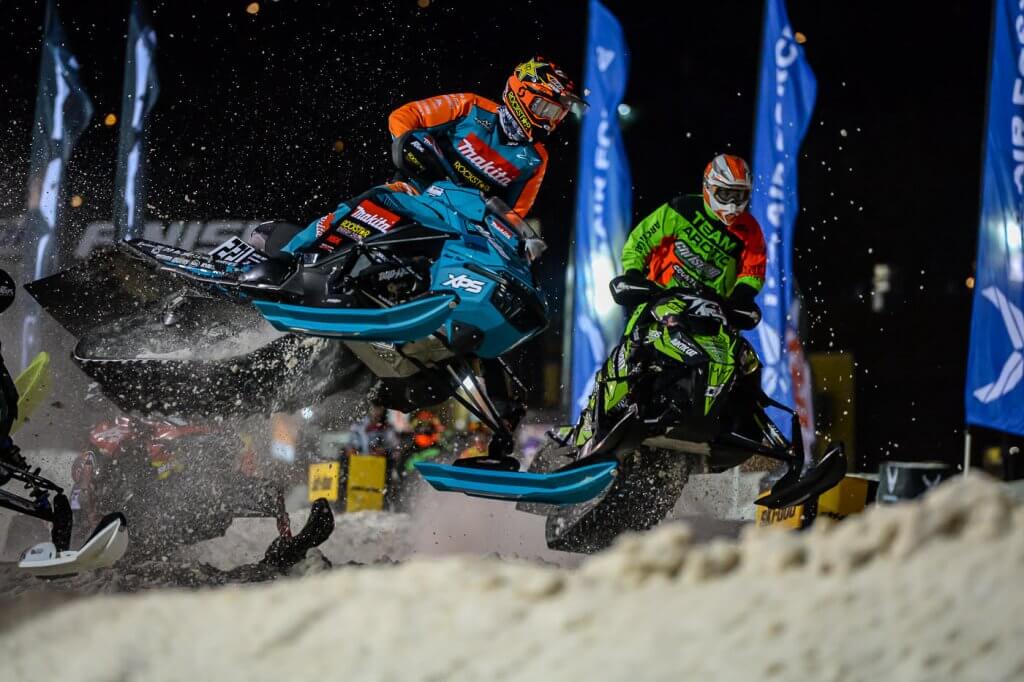 "I've been struggling the whole day," said Ishoel. "I'm really happy to get up here. It was really rough out there today and hard to see. I tried to find lines, but I just struggled.
Christian came across the line in fourth with Aki Pihlaja finished fifth.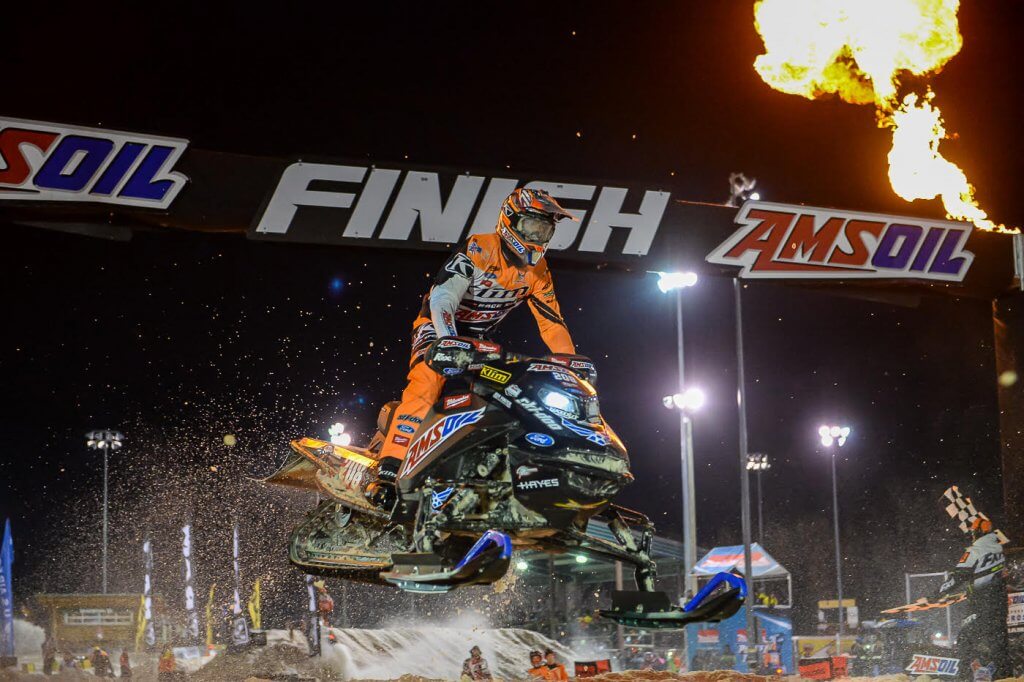 Patenaude Reclaims Top Spot
When the flames flew on Friday night, it had appeared that Ski Doo's Hunter Patenaude had won his sixth Pro Lite race of the year. But officials stripped away the victory after it was determined the defending class champion had jumped on a yellow, subsequently docked three spots to fourth.
On Saturday, Patenaude returned to the top spot, this time with out question or incident. The Vermont native once again found a way to get through the first few turns clean, finding small openings unknowingly left ajar by his fellow competitors.
"I know one of the Anderson Brothers got the jump on me," said Patenaude. "And Francis (Pelletier) and I were close. I just tried to hug the inside and I really couldn't lift. Luckily Anderson blew the berm a little bit and I came out side-by-side with him."
Pelletier, who was the benefactor of Patenaude's penalty on Friday night, worked his way up from a fifth place start to finish second on Saturday. He battled with third place finish Theo Poirier for much of Saturday's final.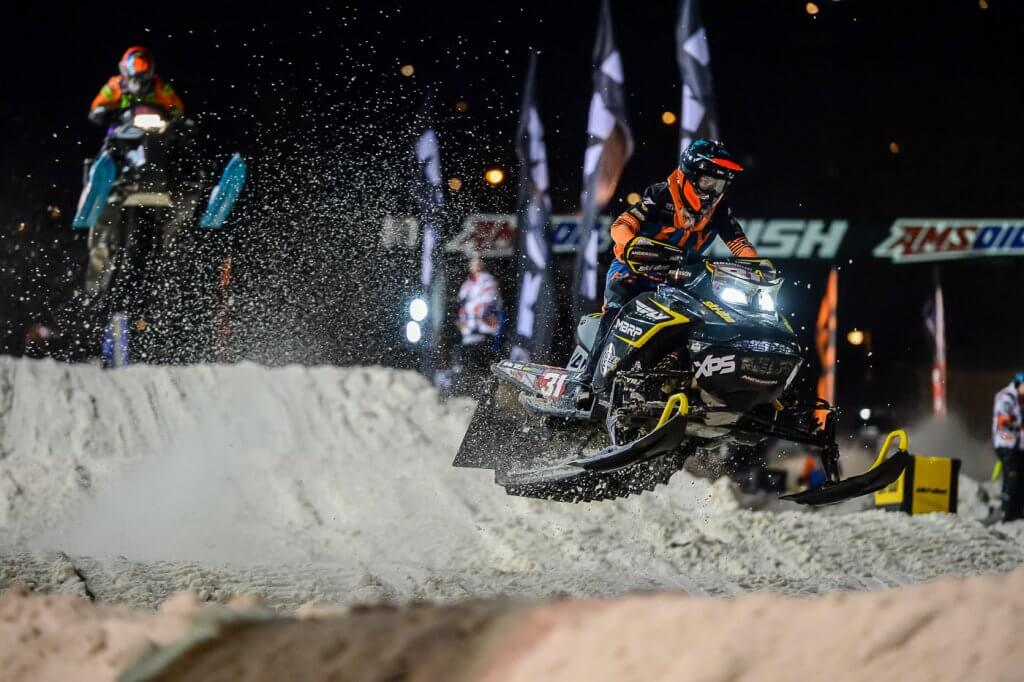 Saturday Night Notes:
Meghan Brodeur came back to pass Taven Woodie and keep her season-long unbeaten streak alive in Pro Women. Woodie finished second and Tausha Lange came across the line in third.
Ski Doo's Emeric Legendre Perron won three finals on Saturday. The Quebec native won finals in Sport Lite, Jr. 14-15 and Jr. 16-17.
Eric Downs held off Matt LaMourea to win the FXR Sport final. Evan Christian rounded out the podium.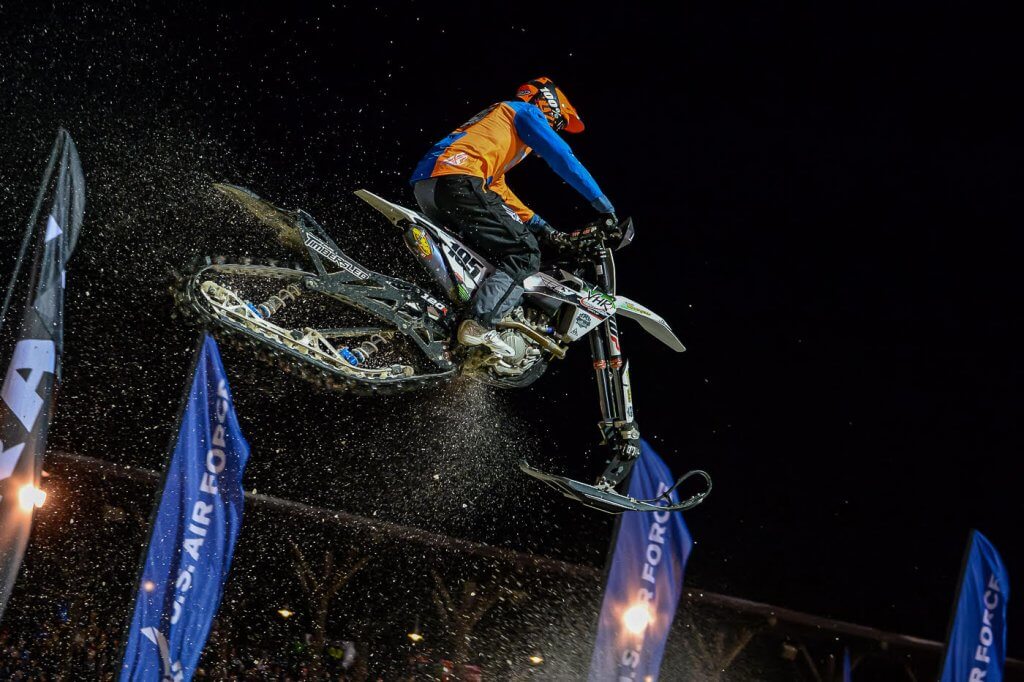 Keaton Ward won both Moto's to take the overall in Snowbike. William Van Hook III finished second.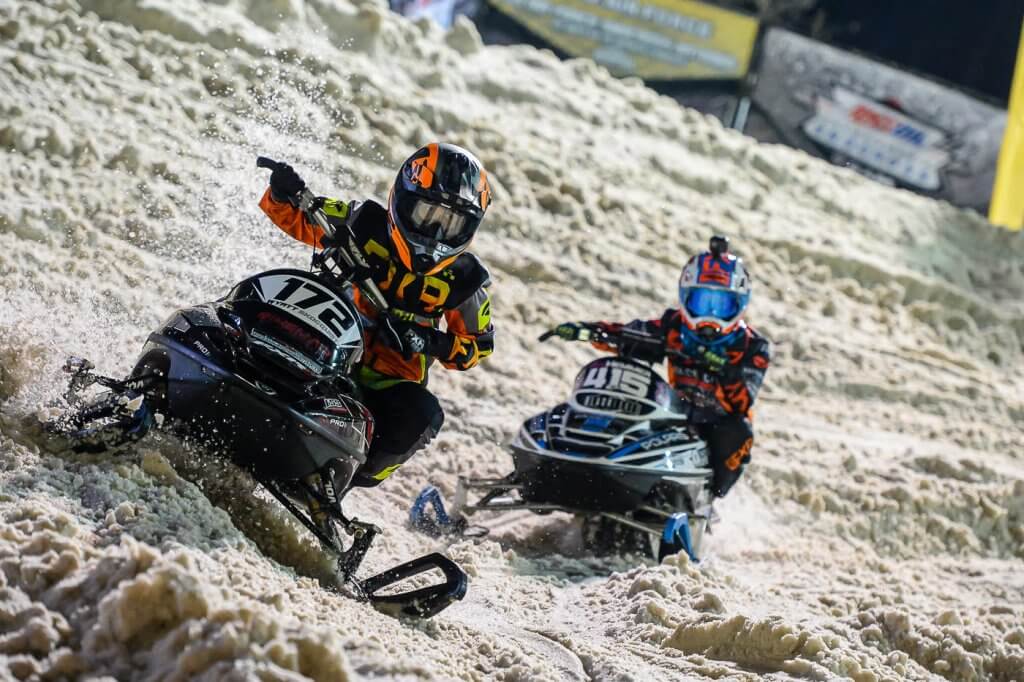 Other winners in Deadwood on Saturday night include: Dylan Lebel (Trans. 9-13), Zach Pattyn (Pro AM Plus 30), Wyatt Skogquist (Champ 120), Brody Srsen (Trans. 8-10), Aiden Beckmann (Stock 200) and AAN-Li Lebel (Jr. Girls 9-13).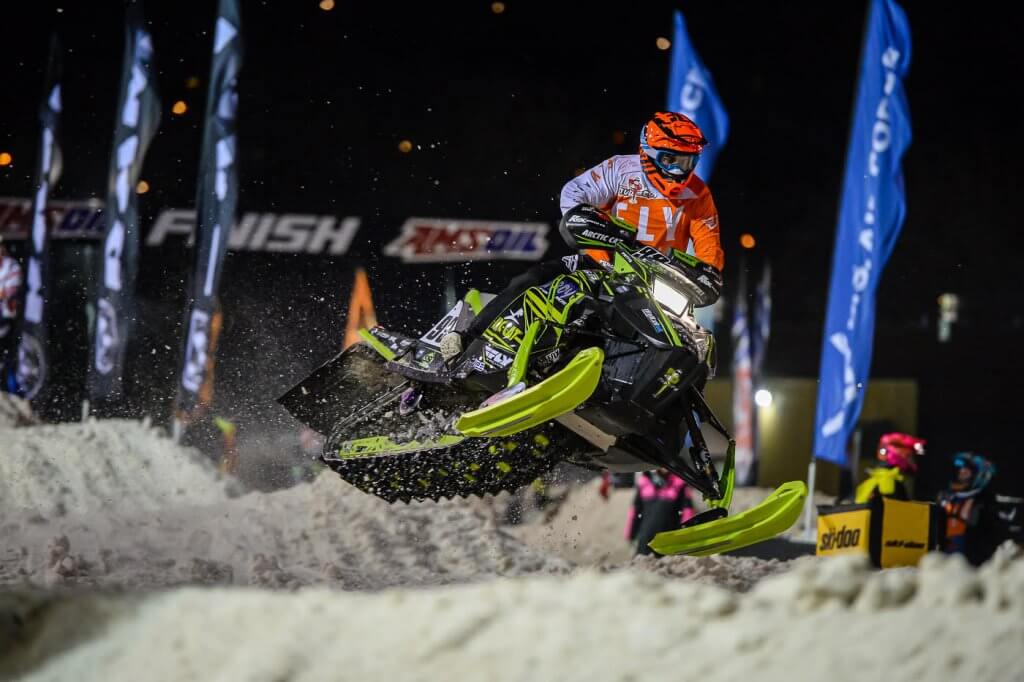 AMSOIL Championship Snocross, POWERED by RAM returns to action next weekend in Dubuque, Iowa.