With winter in full swing and AMSOIL Championship Snocross Powered by RAM reaching its halfway point of the 2019-2020 season, the next stop to feature the greatest Snocross racers on the planet is Dubuque, IA. Located in a snowmobile hotspot, the race will be hosted at none-other than the Dubuque County Fairgrounds. These historic fairgrounds have been in preparation for months to hold this world-renowned event on January 31st & February 1st.
The entire Quad Cities metropolitan area carries a population of nearly 400,000 people, making it a great destination to draw Snocross fans to the greatest show on the snow. This season, the Theisen's Snocross National presented by Kwik Star will hold Rounds 9 & 10. ISOC President, Carl Schubitzke, expressed, "There's already a great tradition of motorsports in Iowa, along with the great infrastructure at the fairgrounds. The benefits of on-site parking for the racers and fans, along with great track visibility, several warming areas, and after parties, this event will be fantastic for all."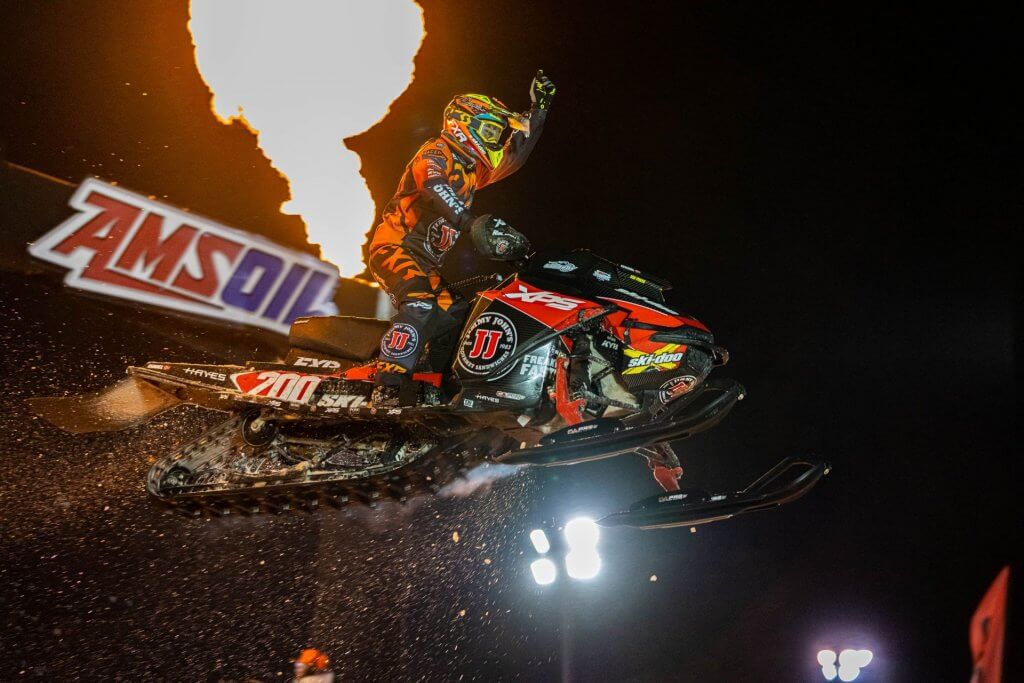 Theisen's has been partnering with ISOC since the inaugural event in Dubuque which was held in 2017. Theisen's is not only a great partner to Snocross, but also to residents of the Quad Cities area, as they offer discounted race tickets at their stores for this event.
"We are very proud and excited to be the title sponsor for the Theisen's Snocross National in Dubuque. Our family have been snowmobiling enthusiasts for decades and having the chance to partner with ISOC and the Dubuque County Fairgrounds to bring the best Snocross racers in the world to our community is a dream come true for us. We look forward to sharing this premier event with thousands of fans from all over the Midwest!" Peter Theisen, Digital Marketing Manager of Theisen's.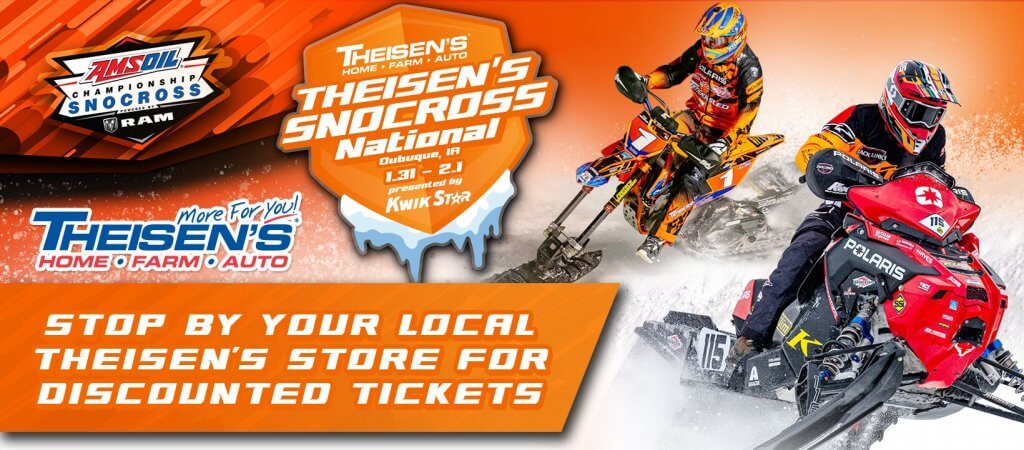 Aside from the new location of the Theisen's Snocross National Presented by Kwik Star, spectators will be able to enjoy many opportunities including: live music after the completion of the races, fireworks show, a 120 track where young Snocross fans can join in on the racing action, vendors, and fantastic food options will also be featured during the event for fans to take in and enjoy.
For tickets to the Theisen's Snocross National Presented by Kwik Star, please visit www.snocross.com/theisens-snocross-national and click Buy Tickets, or head to your local Theisen's store for additional discounts. Kids 12 & under are free with paid adult for this years event.
About ISOC: AMSOIL Championship Snocross Powered by RAM, is owned and operated by the International Series of Champions (ISOC) out of Albertville, Minn. For more information on its events and schedules go to www.snocross.com Press inquiries can contact Matt Skubic at Matt@Snocross.com