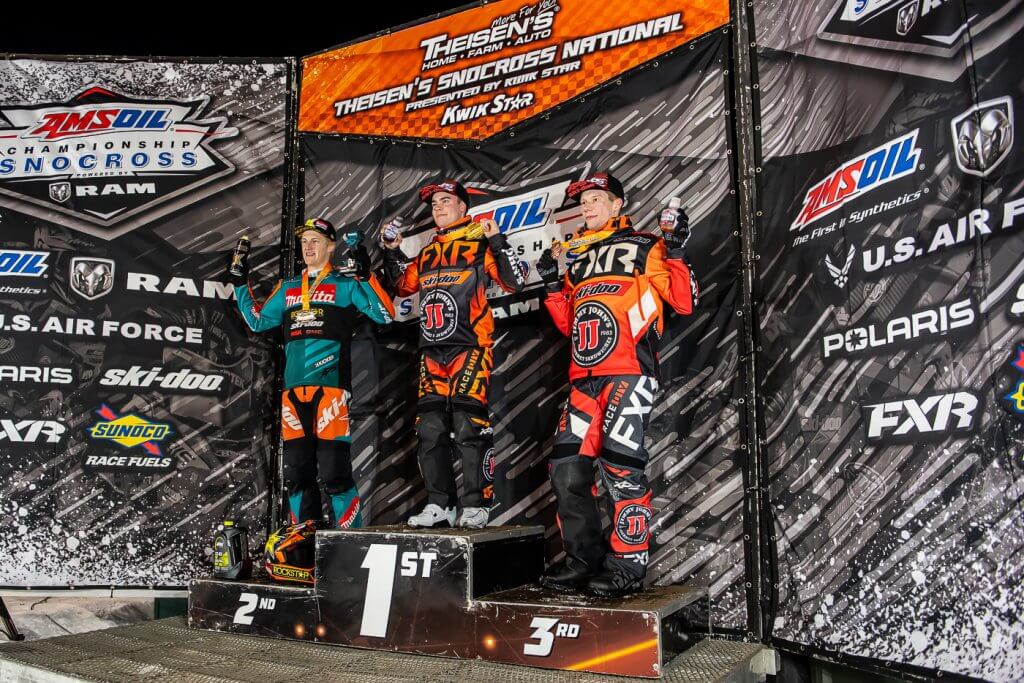 Dubuque, Iowa ~ AMSOIL Championship Snocross, POWERED by RAM officials have found a winner in the newest national venue, the Dubuque County Fairgrounds. The big, winding track made for great racing for the past two days, as well as playing a major role in the overall championship chase.
Ishoel Back on Top as Benham Surges
Elias Ishoel's defense of his points championship has been nearly flawless. Entering Iowa, he had won five finals, missed the podium only twice and won eight heat races. All told, he held a 51-point lead over Lincoln Lemieux before the Theisen National kicked off on Friday. He is, as they say, in the driver's seat.
Behind, however, things are getting a bit turned-upside-down. Daniel Benham has been gained an incredible amount of momentum and climbed to within one point of Lemieux after his third place finish on Friday. Even Ishoel's teammate, Aki Philaja is back in the mix, jumping into fourth after winning the opening round in Iowa. Suddenly, Saturday nights race became pivotal in the overall championship chase for everyone involved.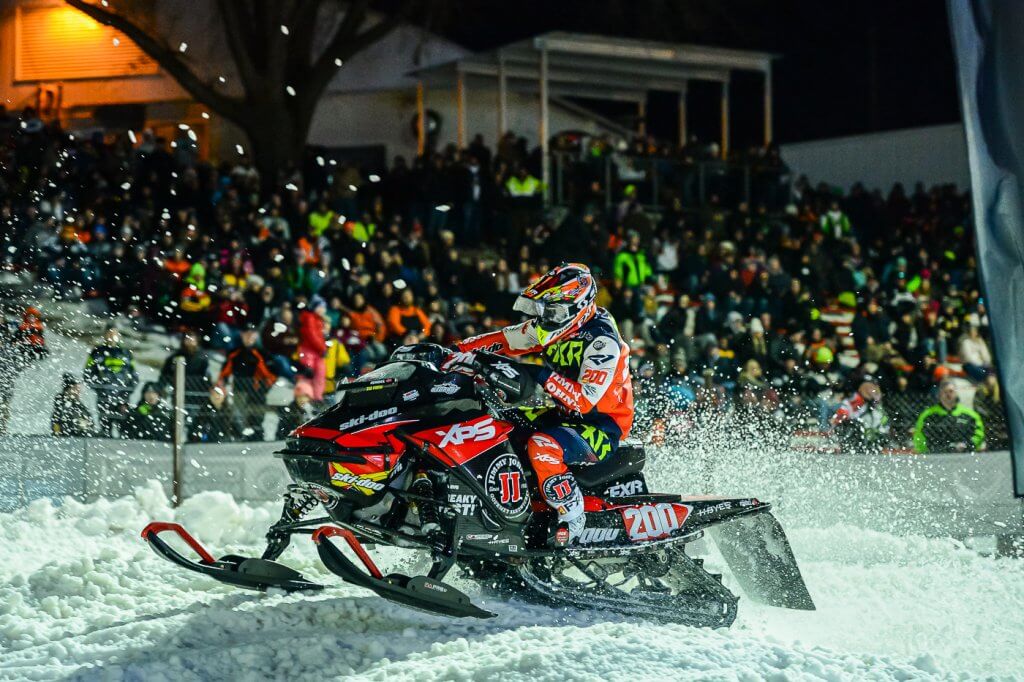 Ishoel wasn't his strongest in qualifying in Dubuque. The Boss Racing driver was didn't win a heat race over the two days. But the finals are where Ishoel has set his mark, including another dominant performance in round 10.
Lemieux grabbed the holeshot, but after a few turns it was Ishoel in the lead. He tackled the big track with ease, thanks to an internal conversation he had just prior to the final.
"I struggled the whole day and I just said to myself before the final, 'just go slow'," said Ishoel. "Just take it easy and go smoother. Just every lap I said just go slower, and then I went faster."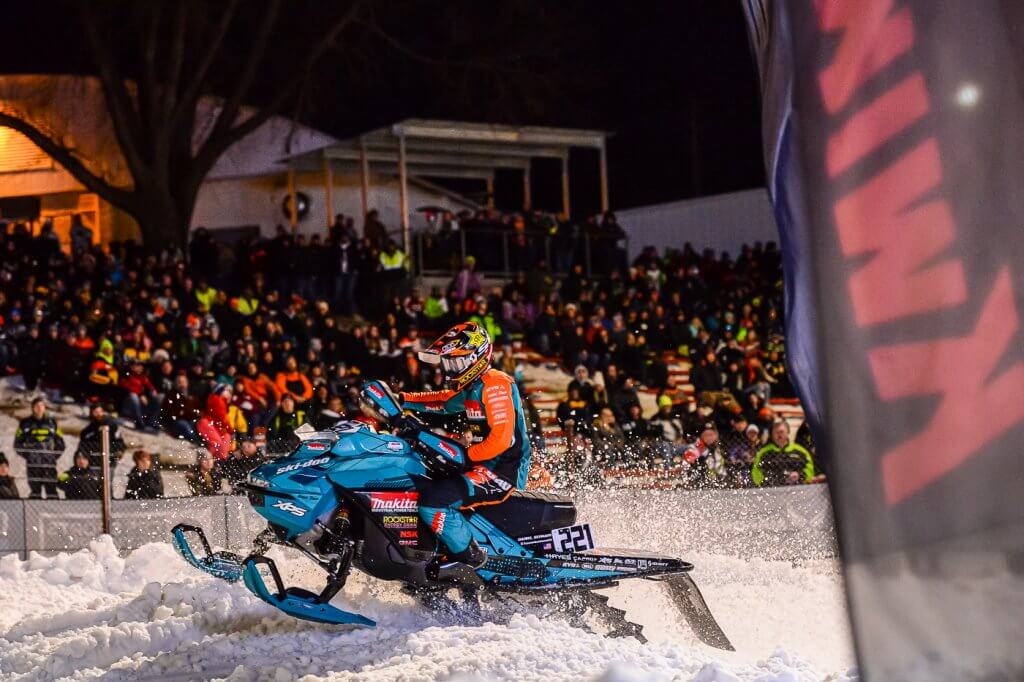 Early in the race, there was a lot of action happening behind the race winner. After Ishoel passed Lemieux for the lead, Benham found himself even with Lemieux heading into the tricky rhythm section. As the two hit a double, Benham was ahead by a nose when Lemieux' ski caught the back Benham's sled, kicking Lemieux hard to the ground. While Benham would get clear of the incident and finish second, the move also pushed Benham into sole possession of second place overall.
Today, the track was rough and gnarly," said Benham after the race. "There were whoops you could take two different options. I hope Lincoln's doing alright after we got together there, but I am just feeling comfortable on the sled and I'm looking forward to the rest of the season."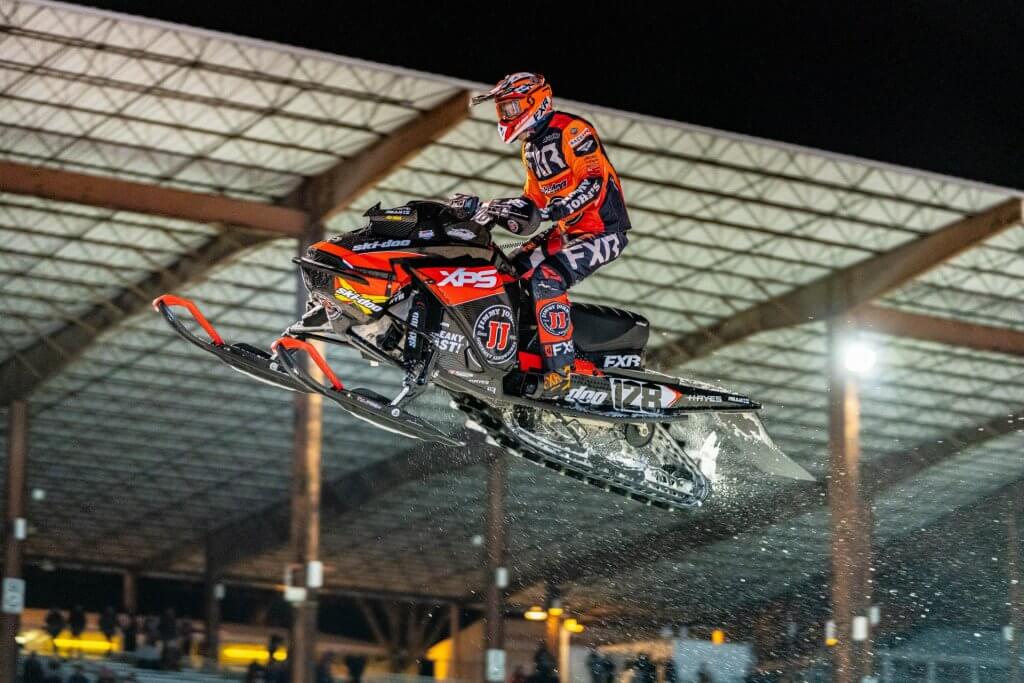 After winning on Friday, Philaja won both of his heats to grab the top qualifier spot for the final. He was able to maneuver quickly out of the fray and into third on his way to picking up his fifth podium of the year.
"I don't know why I do well in Iowa," said Philaja. "But I was sick yesterday, and I was struggling in the heat races today. In the final, I just tried to get into third, and here we are."
Philaja did have constant pressure from Oskar Norum, who finished fourth. Entering the day, he sat just two points behind Philaja in fifth. Norum's teammate, Emil Harr finished fifth.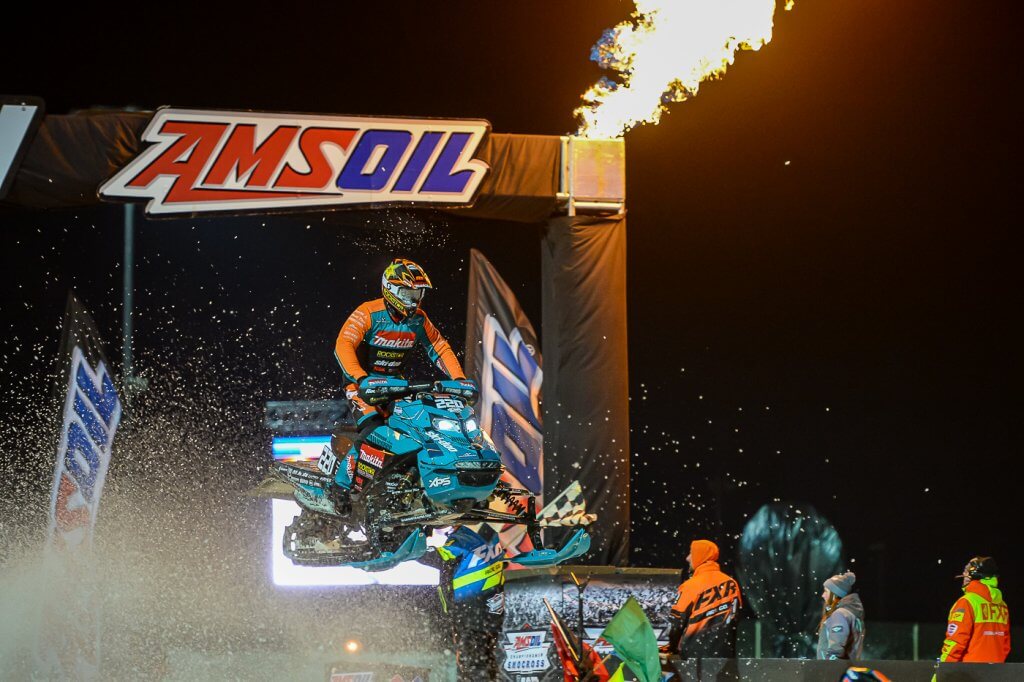 Pro Lite's New Points Leader
One week ago, it was the Hunter Patenaude show in Pro Lite. By all accounts the Ski Doo rider was easily on his way to a second-straight championship. The trip to Iowa was not kind to the points leader as after two nights, what once was a 26-point lead is now a four point deficit.
It was a mix of good and bad for Patenaude in Dubuque. He won his first heat, besting his main rival Francis Pelletier. But a crash in the second heat meant he had to go into the Last Chance Qualifier for the second straight night. That left to championship door wide open for Pelletier.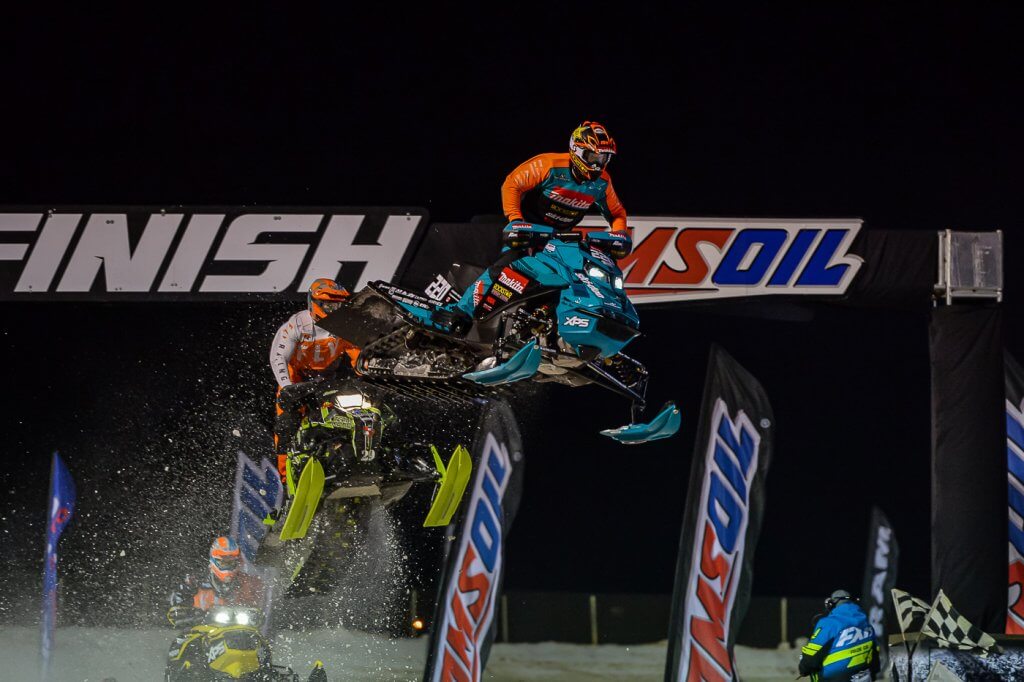 With Patenaude starting in the back, Pelletier shot off the line and led the field around the first turn. With Patenaude was stuck in the chaos in tenth, and a freshly groomed track in front, Pelletier was on point throughout, cruising to his third win of the season. The win, means Pelletier leaves Iowa with the red plate, whether he wants it or not.
"The red plate doesn't matter to me this year," said Pelletier. "We are here to have fun. I just want to thank my team. we are working so hard. We finally have some good recipes. We are ready for the rest of the season."
Some of the best racing in Dubuque game from those fighting for the final podium spots behind the leader. Behind Pelletier, things were a bit more predictable. Arctic Cats Balder Naas was the number 4 qualifier, and grabbed his first Pro Lite podium this season with a smooth run around the rough track.
"I just got a good start and I just tried to ride my race and not look back so much," said Naas.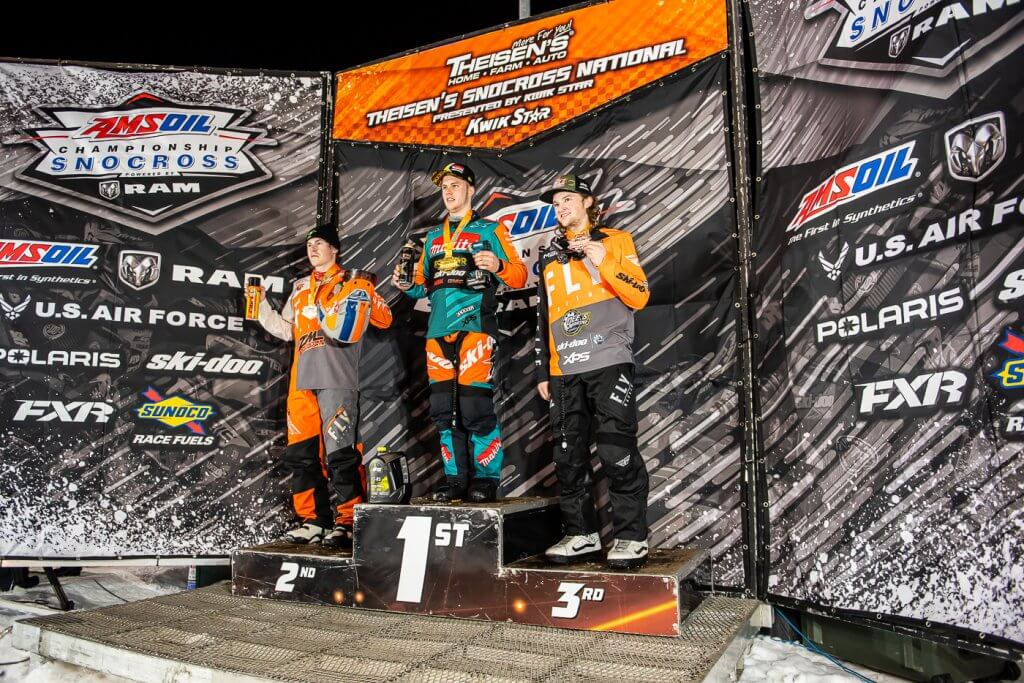 For the second straight night, Ski Doo's Camryn Anderson made the podium by finishing third. After a slow start, the Michigan native is riding as well as anyone in the field.
"Everything's starting to come together really good," said Anderson. "Halfway through the season, I feel like we are finally starting to find our speed, getting good starts, riding good and hitting my marks each lap."
Polaris' Nick Lorenz started fifth and finished fourth. One night after picking up his first career podium, Travis Kern took home a fifth place finish.
Saturday Night Notes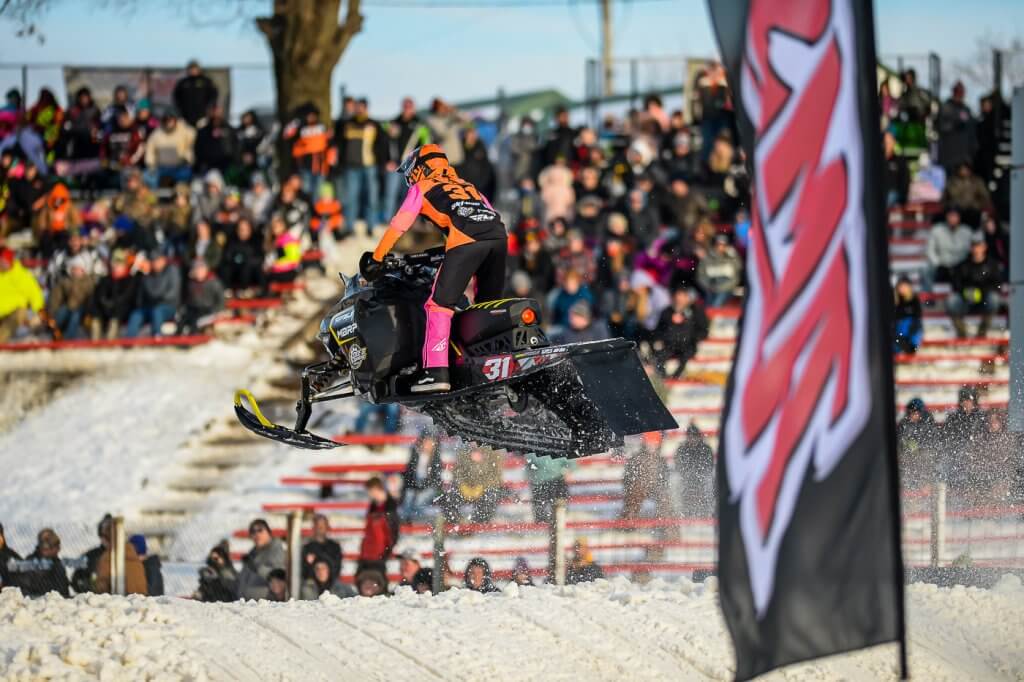 Megan Brodeur was looking for her tenth win of the season in Pro Women, but it didn't come easy for the defending champ. Brodeur was swallowed up off the start of the six-lap final, coming out of turn one in fourth. The points leader didn't panic and made her way to leader Taven Woodie on lap three. She made a strong move on the tight righthander, and held on for the win. Woodie finished second and Malene Anderson rounded out the podium.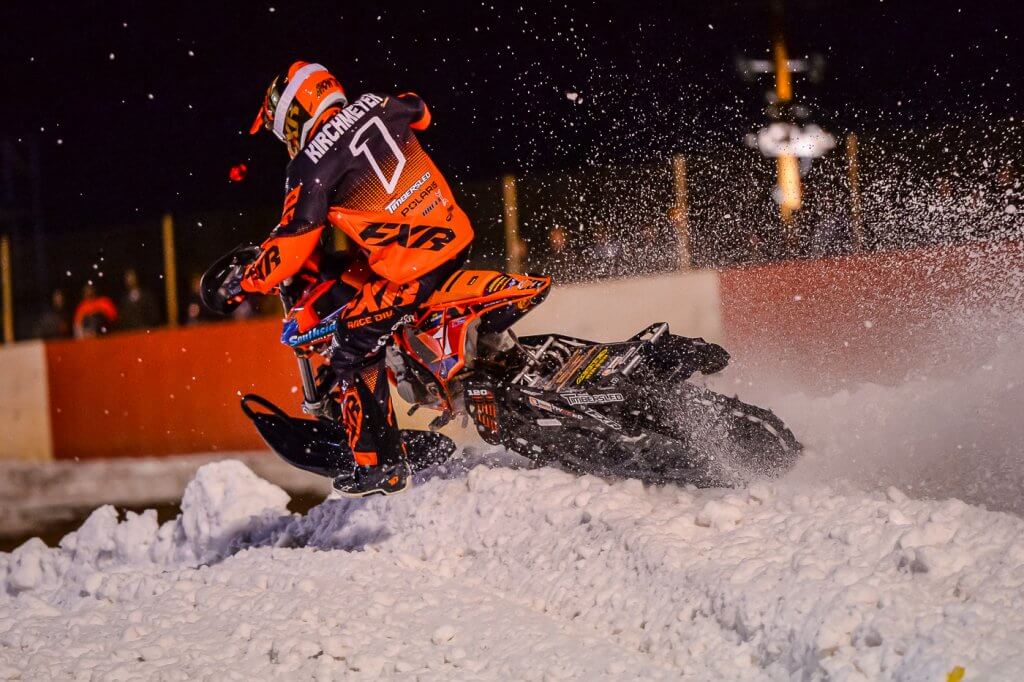 Jesse Kirchmeyer took over points lead in Snow Bike on Friday night after winning both moto's in the Iowa opener. He continued his assault on the standings winning both moto's on Saturday. Harris Huizinga took second overall with third place going to Yanick Boucher.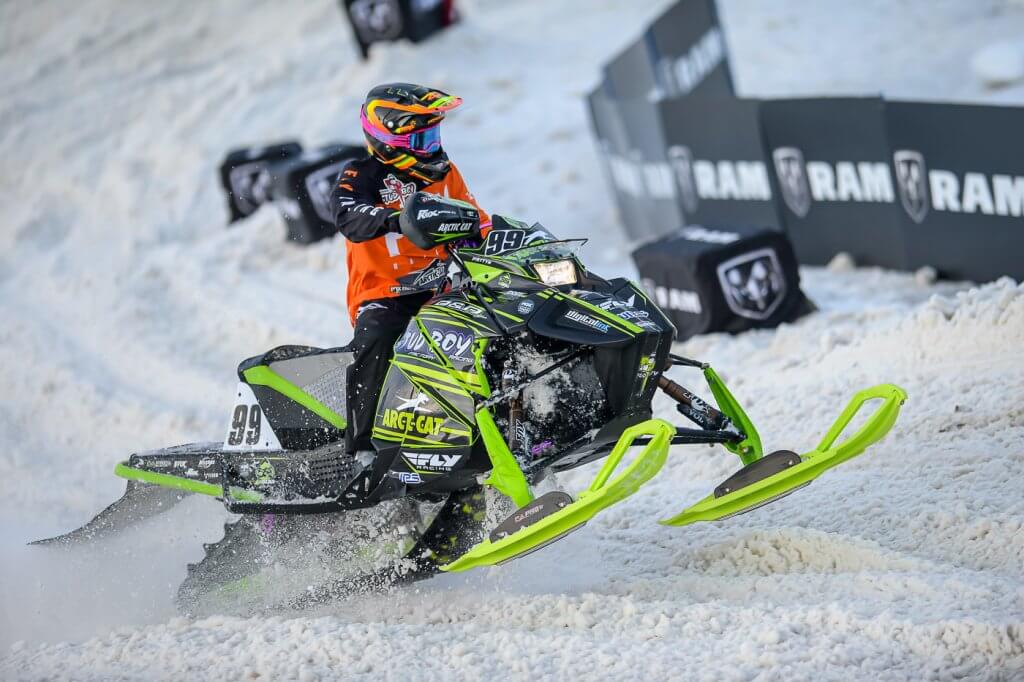 Ski Doo's Steve Martin was on his way to his first Pro Am Plus 30 win of the year before Arctic Cat's Zach Pattyn found his rhythm and made a last lap pass for the win. It was Pattyn's fourth win of the year as the points leader extended his overall championship lead. Japan's Tomosuke Sano was the number one qualifier and finished third.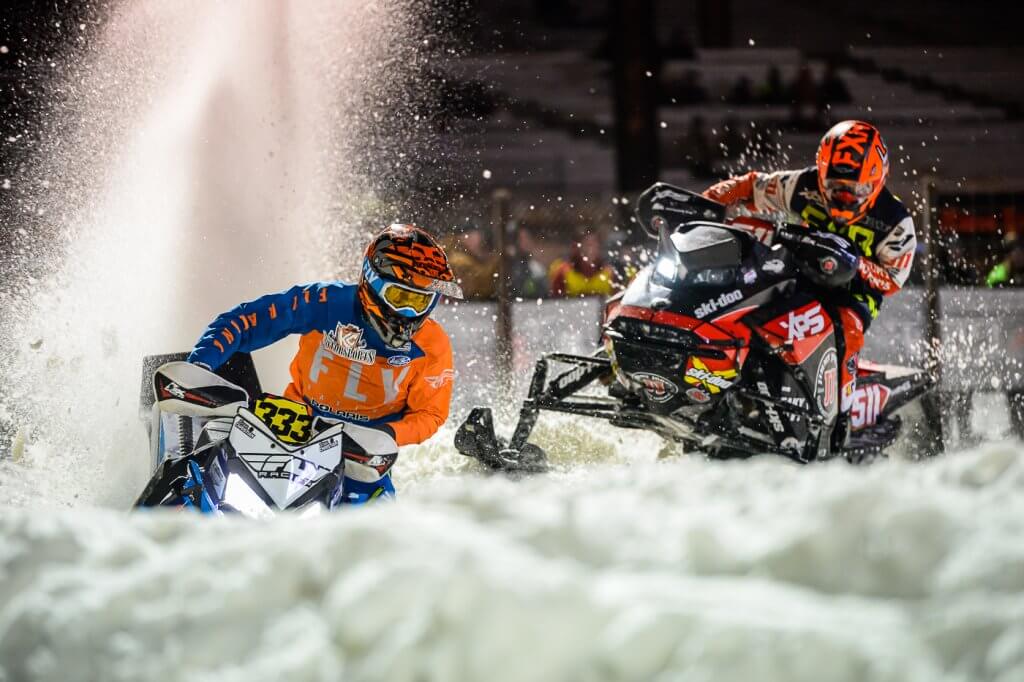 Ski Doo's Jordan Lebel kept steady pressure on Polaris' Evan Christian throughout the six-lap FXR Sport final, and with a last lap pass was able to deny Christian his first win of the season. Lebel's win was his sixth of the year. Top qualifier Carson Alread finished third
Drew Freeland led every lap on his way to his first Sport Lite win of the season. Freeland grabbed the early lead and was able to hold off Emeric Legendre Perron and Matt LaMourea.
Emeric Legendre Perron was a double winner in Dubuque. Perron went wire-to-wire to best Hayden Meyer in the six-lap Jr. 16-17 final. He also held off Jake Bartwell and Meyer in the Jr. 14-15 class.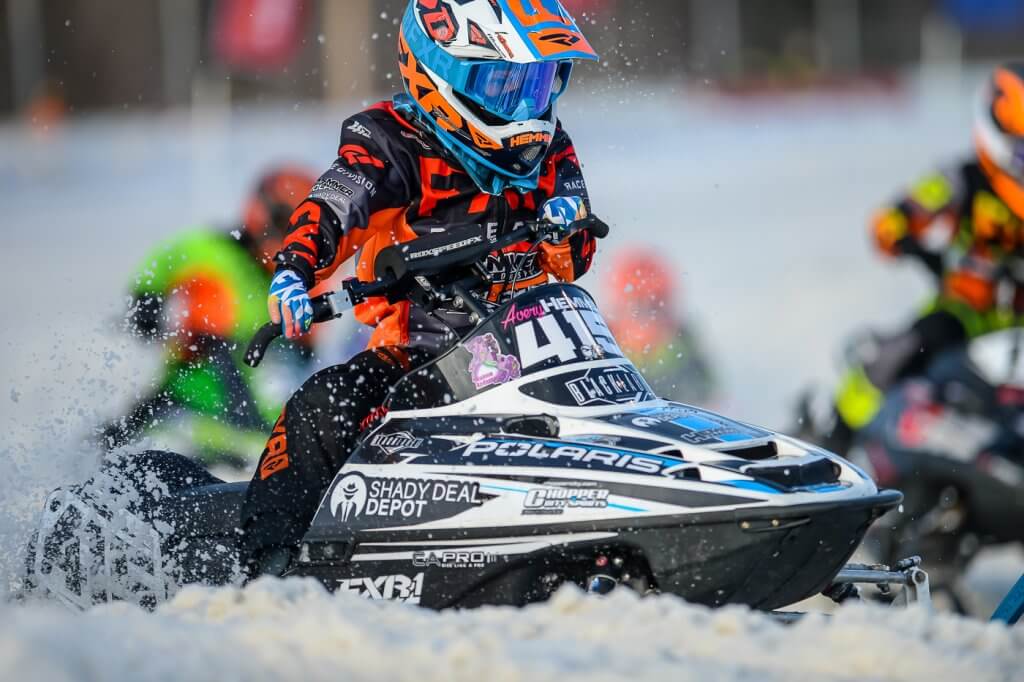 Other winners on Saturday included Tanner Johnson (Jr. 10-13), NAA<LI Lebel (Jr. Girls 9-13), Dylan Lebel (Transition 9-13) and Avery Hemmer (Champ 12).
Round 11 of AMSOIL Championship Snocross, POWERED by RAM takes a three week break before returning to action at the Seneca Allegany Snocross National in Salamanca, N.Y. February 21-22.