Dubuque, Iowa ~ The 2021 AMSOIL Championship, powered by Ram Trucks might have started later than its historical November start, but the racing is coming fast and furious. Just eight days after round one kicked off in Elk River, Minn., the second weekend of racing is underway in Iowa.
The Theisen's Snocross National, presented by Kwik Star returned to the Dubuque County Fairgrounds on Friday for two full days of racing action. Warm weather, high humidity and a heavy mid-afternoon snow fall made for an extraordinary day of racing. One week after a massive race circuit, ISOC track builders utilized every flake of snow to build a racy, big-air showcase that was a great equalizer for competitors.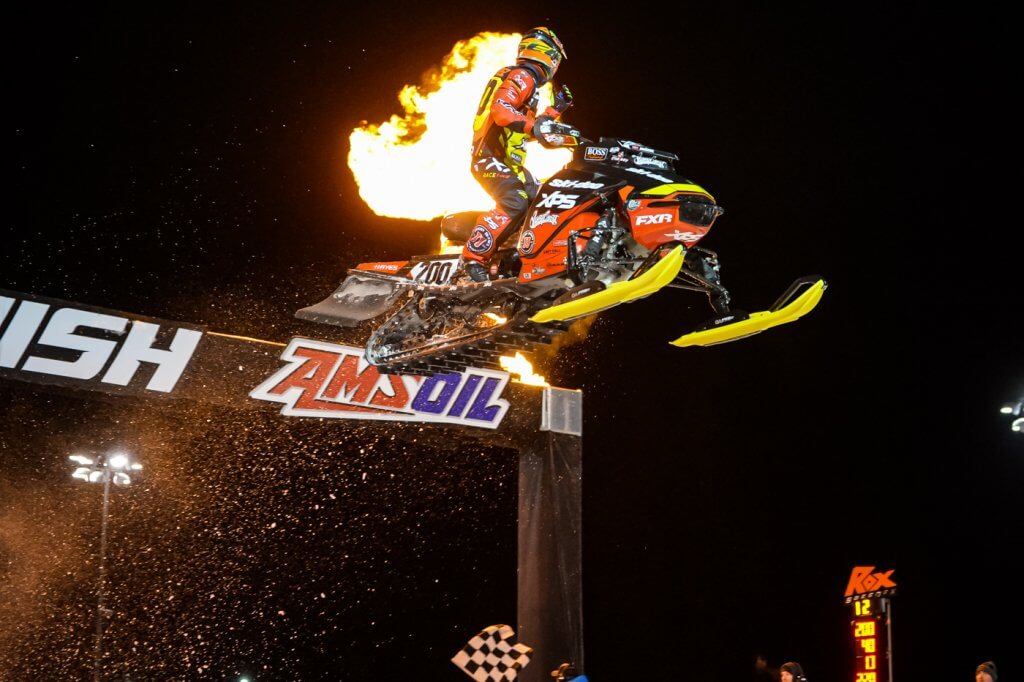 AMSOIL Pro: Ishoel Impresses in Final
It's all or nothing for Elias Ishoel this year. The two-time defending AMSOIL Pro champion is proving once again he is the fastest man on the planet and has a willingness to try even the trickiest of lines as he powers past a very deep field.
The Norwegian has had to dig deep into his bag of tricks this season. While Ishoel has been just off the pace on a majority of his starts through three rounds, he has the confidence to push the limits of his Ski-Doo in order to get to the front.
On Friday, Ishoel had a rough go in his heat races, finishing last in the first qualifier. That led to a back row start for the champ in the final, making it almost difficult to get out front right away.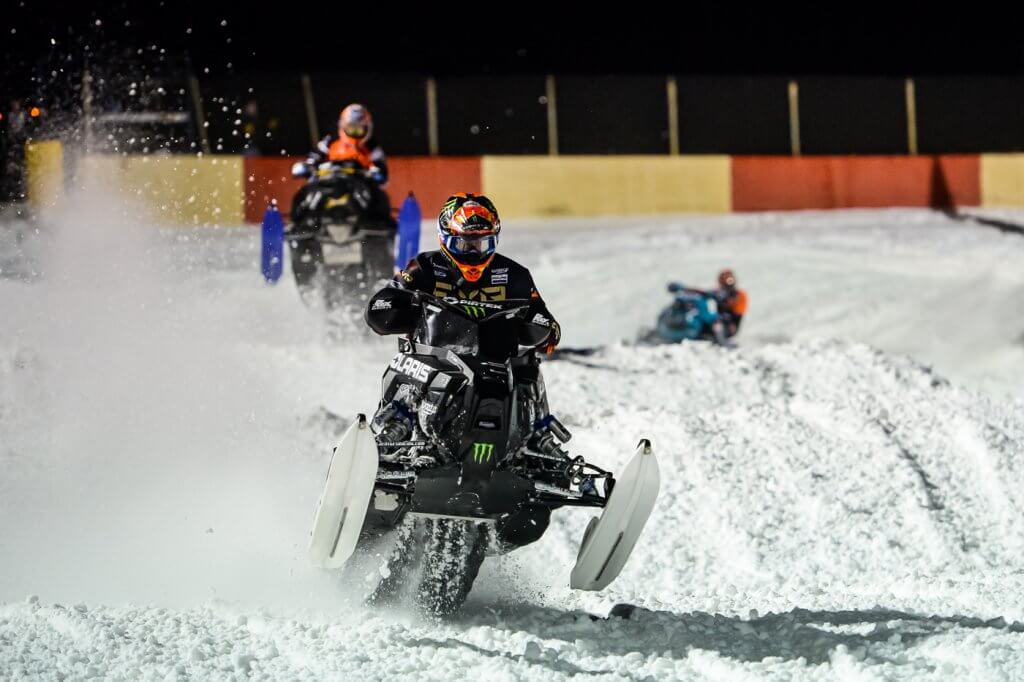 Instead, it was Lincoln Lemieux (Ski-Doo) and Oskar Norum (Polaris) finding clean air, with number one qualifier Logan Christian (Arctic Cat) in the mix. Lemieux and Norum were side-by-side through the first rhythm section, but Norum was able to get the edge and the early lead.
Norum is still looking for his first career win in America, after finishing last season with six impressive podiums. On Friday, the Swedish rider was in the lead, with Lemieux challenging just a few sled lengths behind. For the first seven-and-a-half minutes, he was on-point, keeping Lemieux at bay.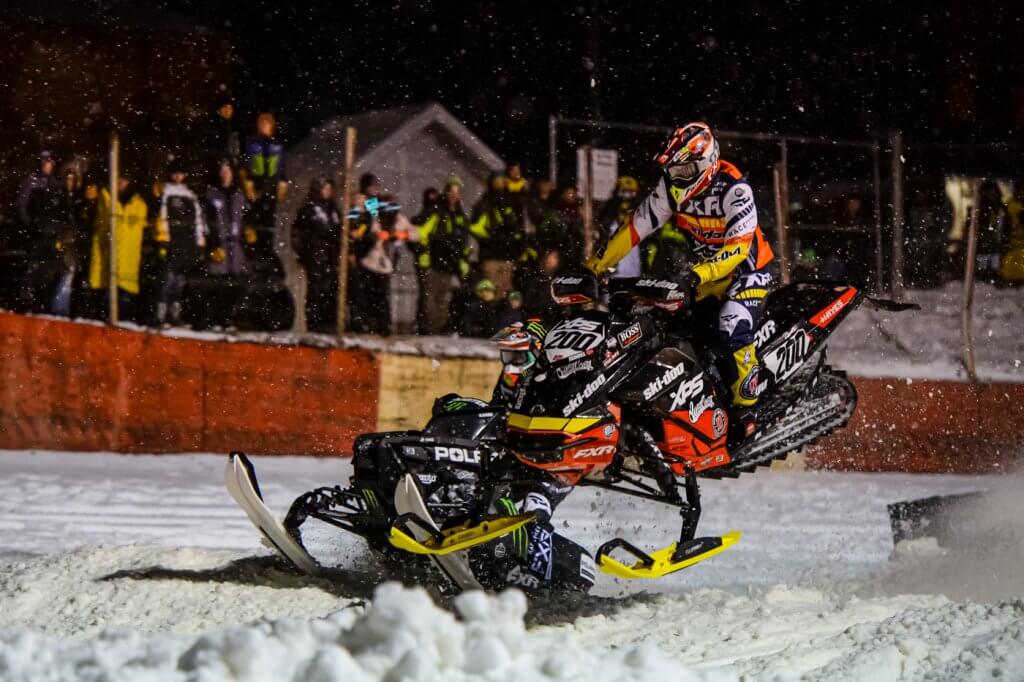 But behind the leaders was an intense Ishoel hammering through the field. Despite starting in the back row, Ishoel came through turn one relatively clean, but in tenth. He would need three laps to separate from a mid-pack scrum and into fifth. He set his sights on the two sleds battling in front of him, Francis Pelletier (Ski-Doo) and Kody Kamm (Polaris). A Kamm bobble gave Ishoel fourth, and was able to get past Pelletier a lap later.
With the ten minute moto format, (plus two laps), Ishoel found an inside line that he was able to skip across and scrub time. With 3:35 left in the ten minute session, Ishoel went past his fellow Ski-Doo rider and just one minute later he was right besides Norum. The two crossed the AMSOIL Finish line bar-to-bar, but Ishoel had position. When they landed, he found another gear and ran out the clock and the final two laps for his second straight win.
"I made two mistakes in both of my heat races," said Ishoel, "so I had to work my way up, start in the back row, and I had nothing to lose. It was fun to find a couple of good lines and just go."
For Norum, he improved on his third place finish in round two, coming across the line in second. The Polaris rider continues to inch closer to getting that first ACS win, but was pleased with the progressed made in round three.
"We had good starts today, so that was key," said Harr on the podium. "To be out front, I wanted to win, but are getting close."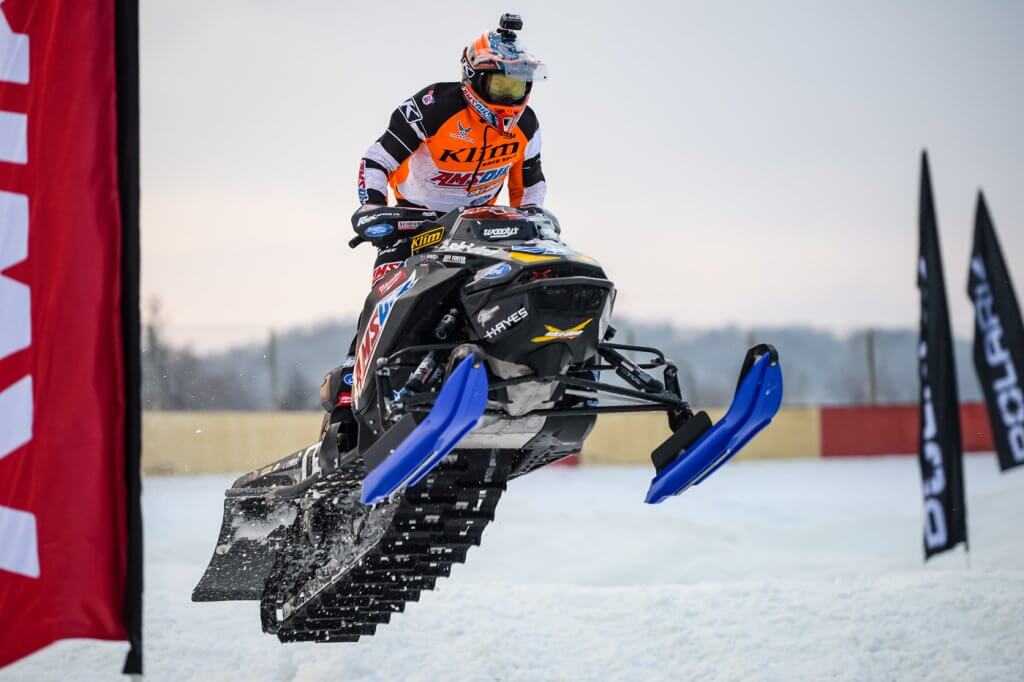 For Lemieux, he came into the final as the number two qualifier, thanks to his first round win. His ability to get good starts his helping him run out front, and despite a wet, challenging track, the round one winner feels they came away from Friday night with a lot of positive takeaways.
"We were just constantly adjusting shocks all day to get the sled the most comfortable it can be and be able to push hard through this wet packed snow," said Lemieux. "We don't want to settle for third, but on a day like today, it's good."
Pelletier's rookie season continued its ascent in finishing positions. His second round fifth at ERX was bested by his fourth place finish on Friday. He had his hands full with a resurgent Kamm in the final, who finished fifth. The points leader heading into the final, Hunter Patenaude, finished tenth.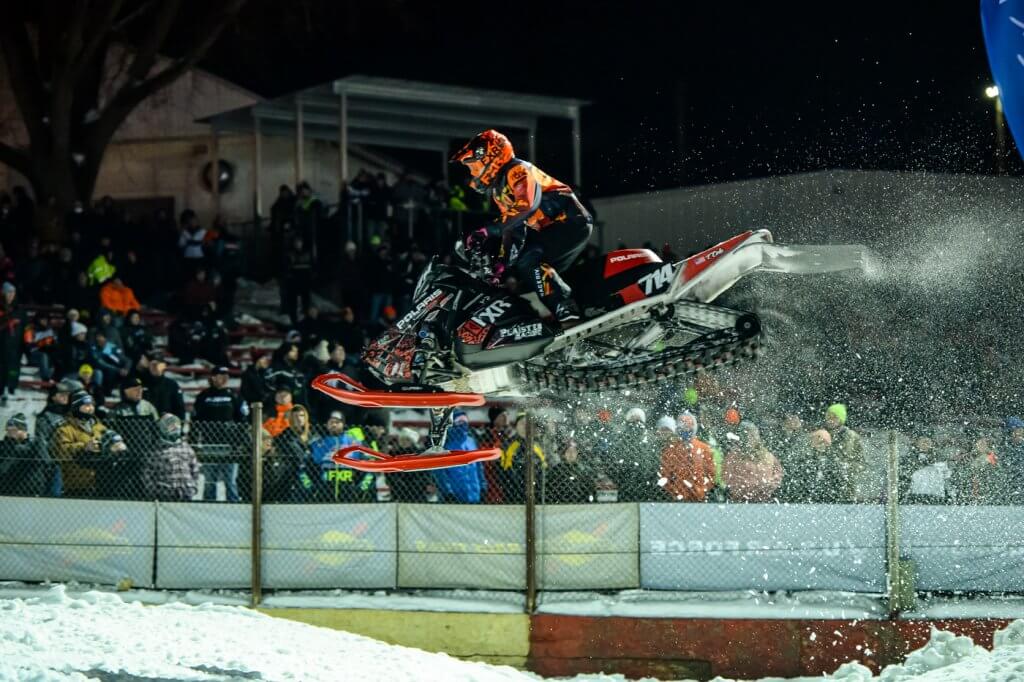 Pro Lite: Cole Comes Through the Pack for First Pro Lite Win
In his rookie season of Pro Lite last year, Taylor Cole found some success, especially in his heat races and ended the year with a third place finish. But the young Polaris rider also missed four finals.
With the extended off-season due to the seasons late start, the Medina, Minnesota native went to work, spending countless hours turning laps at ERX Motor Park. After three rounds in 2021, the commitment to a strong sophomore campaign is evident after an opening round podium and now his first career Pro-Lite win.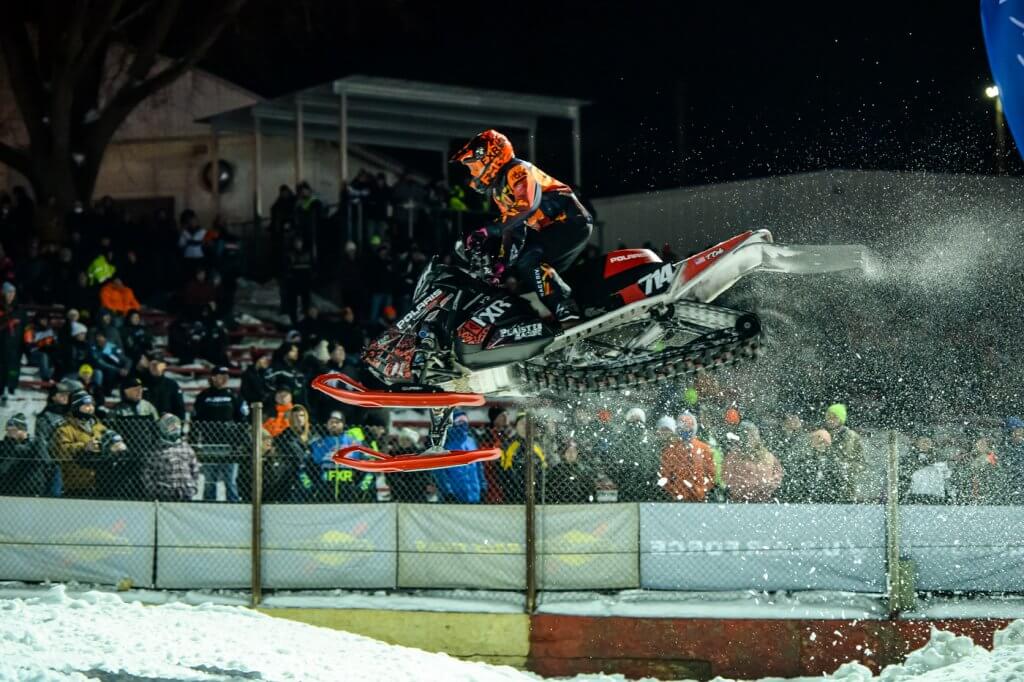 Cole came into the final as the number two qualifier behind Adam Peterson (Polaris), even though both riders had gone 1-1 in their heat races. In the final, Cole worked his way into third off the start, just behind Korbyn Anderson (Ski-Doo) and leader Anson Scheele (Arctic Cat).
Scheele was in full control of the race for the first 13 laps. He continuously hit his marks and despite early pressure from Anderson, the young rider was able to stretch out to a nearly three-second lead.
As Scheele led the way, Anderson was relentless in his ability to keep Cole in third. But on lap ten, Cole kept punishing the inside line, and made the pass into second. It didn't take as long for the Polaris rider to get into position for the lead. Three laps later, Cole and Scheele went bar-to-bar over the finish line jump with Cole getting the lead. Four laps later, Cole was pumping his fist as he took the checkered flags for his first career Pro Lite win.
"I made a move on Anderson, and then I focused on Scheele," said Cole after the race. "He was running a great race. I ended up just waiting and being patient. I knew it was going to be a long race, and I was able to capitalize on (the spots) where I was faster."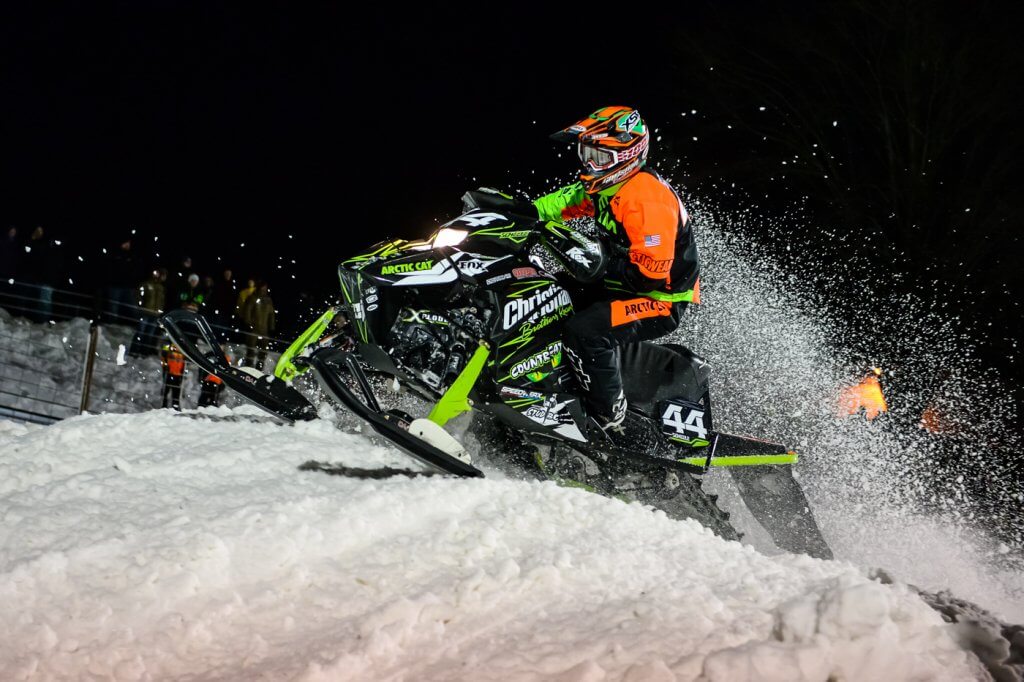 Scheele's runner-up spot showcased the second year riders potential. After missing the final in round one, he came back the next night in fourth. His second in Iowa marks his highest Pro Lite finish.
"I had a good day," said Scheele. "It's too bad (Cole) got by me, but it's my first time on the podium, so I really can't complain."
Anderson started the 2019-2020 season with a pair of podiums. His third place finish on Friday is his best finish this season, including a fourth place finish at ERX. Nick Lorenz (Polaris) and Andy Pake (Ski-Doo) also had an exceptional battle for fourth, with the two swapping positions throughout most of the race. Lorenz had the best time in the final and got past Pake with four laps remaining.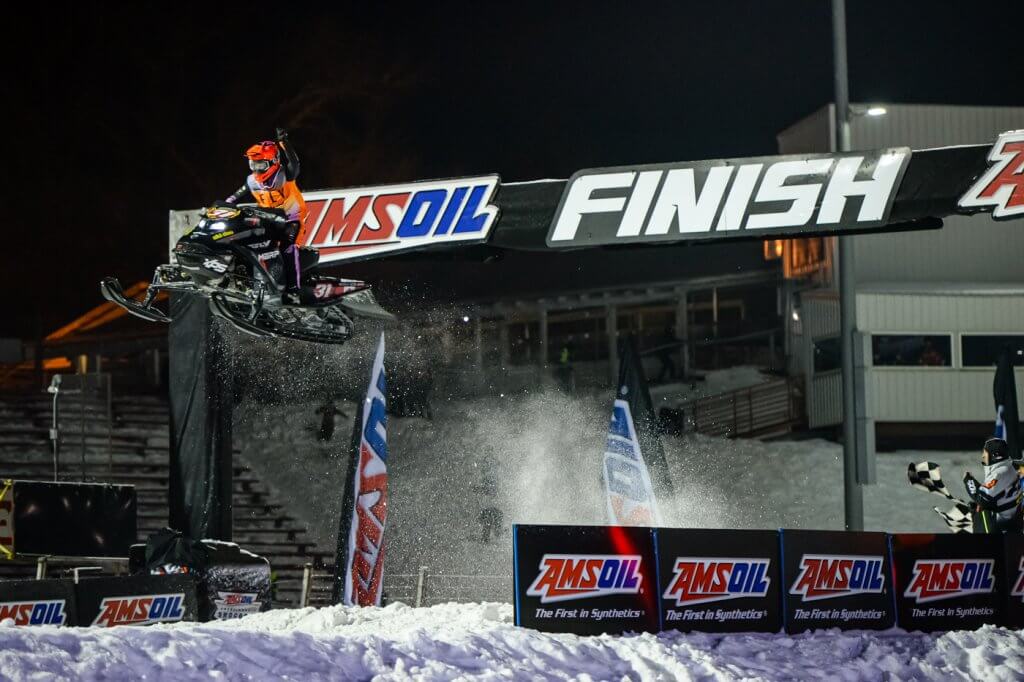 Pro AM Women: Taven Woodie (Arctic Cat) won another Pro AM Women qualifier and started the final on a rail for an early lead. But round two winner Malene Anderson found her way into the lead before the first lap was concluded. Woodie would have an off shortly after, given Anderson some breathing room out front. That quickly evaporated as points leader Megan Brodeur (Ski-Doo) closed the gap after a fourth place start. The defending champion Brodeur took the lead on lap five and powered to her second win of the season. Anderson was unchallenged for second and Polaris' Ianna Hauger finished third.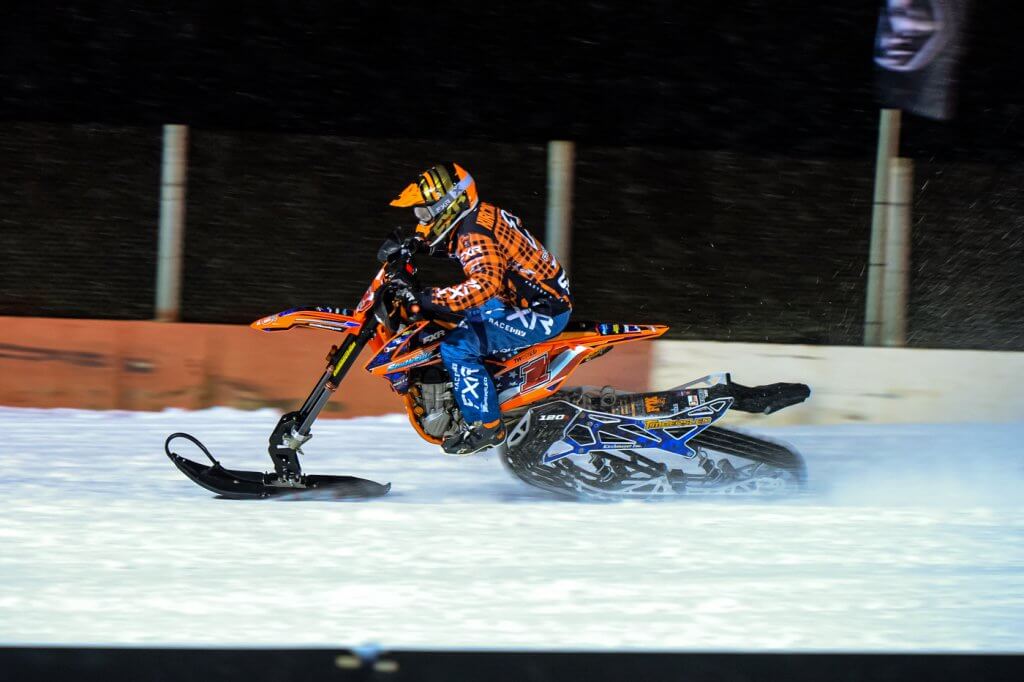 Pro Snow Bike: Jesse Kirchmeyer kept his perfect season intact with another dominant win in Pro Snow Bike. The Cowboy rode his KTM to two moto wins on Friday night, make it six straight moto wins in 2021. 
"Today was pretty challenging," said Kirchmeyer after the second moto. "These snow conditions, with the warmer temperatures, it was hard to steer a bike out there. Definitely getting an arm work out."
Keaton Ward put in a pair of strong moto's in Dubuque, going 2-2 for second overall. Troy Horbaty also had a solid night in Iowa, finish 3-3 for third overall.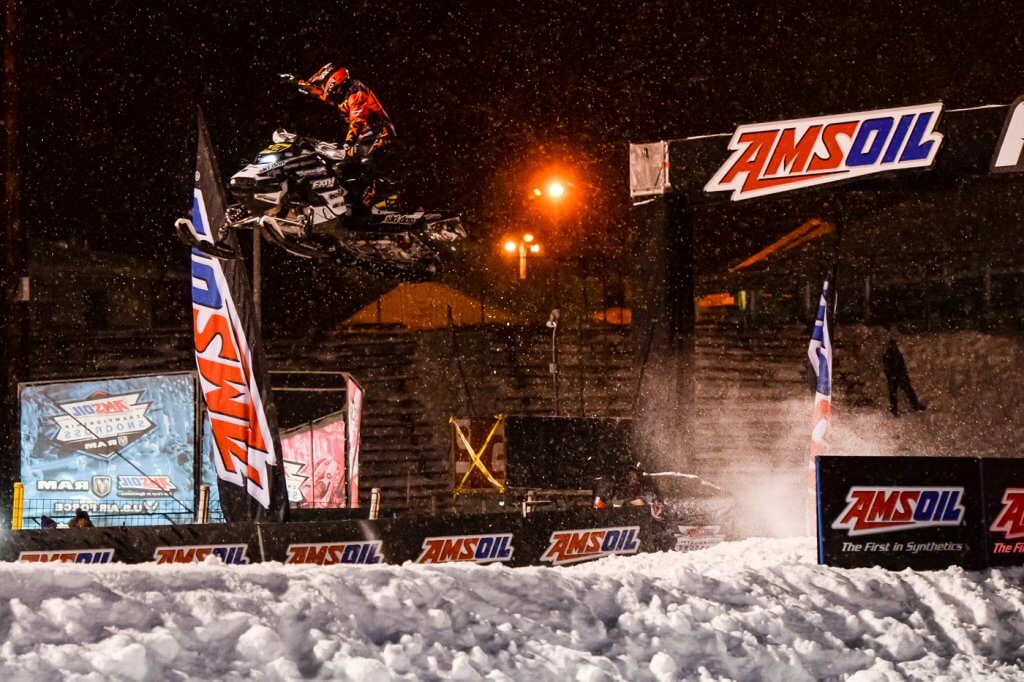 FXR Sport Final: Drew Freeland's second full season in the FXR Sport class started a bit slow at ERX, but the Ski-Doo rider bounced back in Dubuque with a solid ride on Friday night. Ski-Doo's Emeric Legendre-Perron had a great run to pick-up the second spot on the podium.  ERX round two winner Kyle Kunstman (Ski-Doo) put in another solid effort for the final spot, his third straight podium to start the season and extend his points lead.  Kunstman had his hands full with Polaris rider Evan Christian down the stretch finishing just 0.899 of a second ahead of Christian at the line.
Sport Lite: The final, the fastest in-race time by more than two-seconds to pick up his second straight win. Arctic Cats' Kolton Krajicek, who came to Iowa as the points leader, was the top qualifier and finished second. Josh Connolly (Ski-Doo) rebounded from a tough outing at the second ERX round to finish third.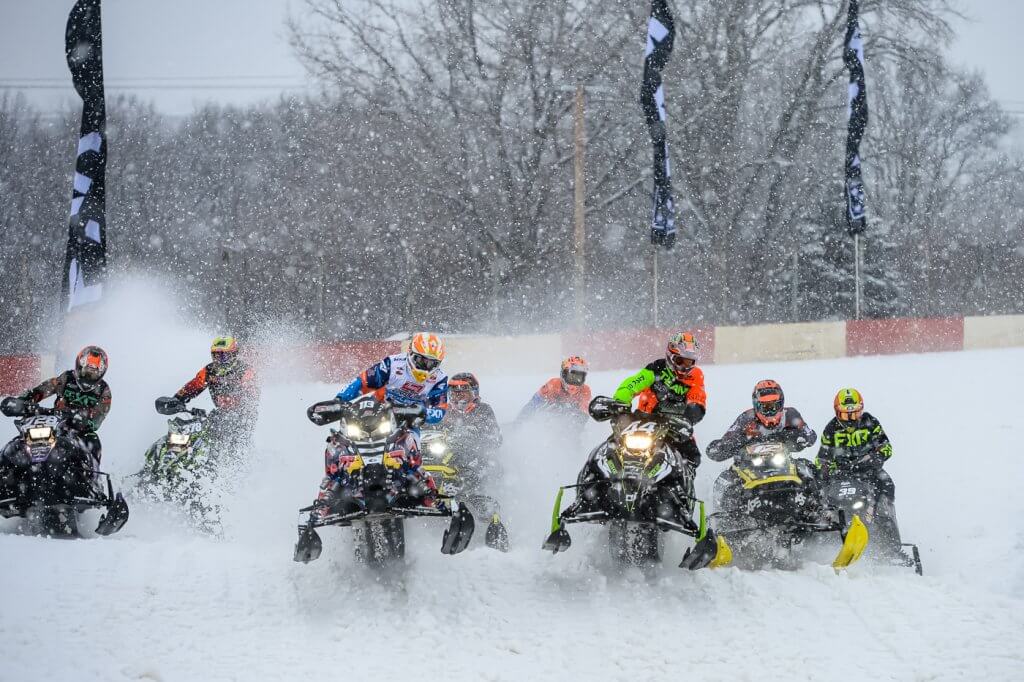 AMSOIL Championship Snocross, powered by Ram Trucks will return to Dubuque on Saturday with a full day of racing. Opening ceremonies begin at 6 PM Central Time.
The 2021 AMSOIL Championship Snocross series will be comprised of 16 national rounds, starting at ERX and ending in late March in Grand Rapids, Mich. All events will air on the series live-stream channels, as well as the CBS Sports Network airing in the weeks following the race.
About ISOC: Championship Off-Road andAMSOIL Championship Snocross, powered by Ram Trucks, are owned and operated by the International Series of Champions (ISOC) out of Albertville, Minn. For more information on its events and schedules, go to www.snocross.com.