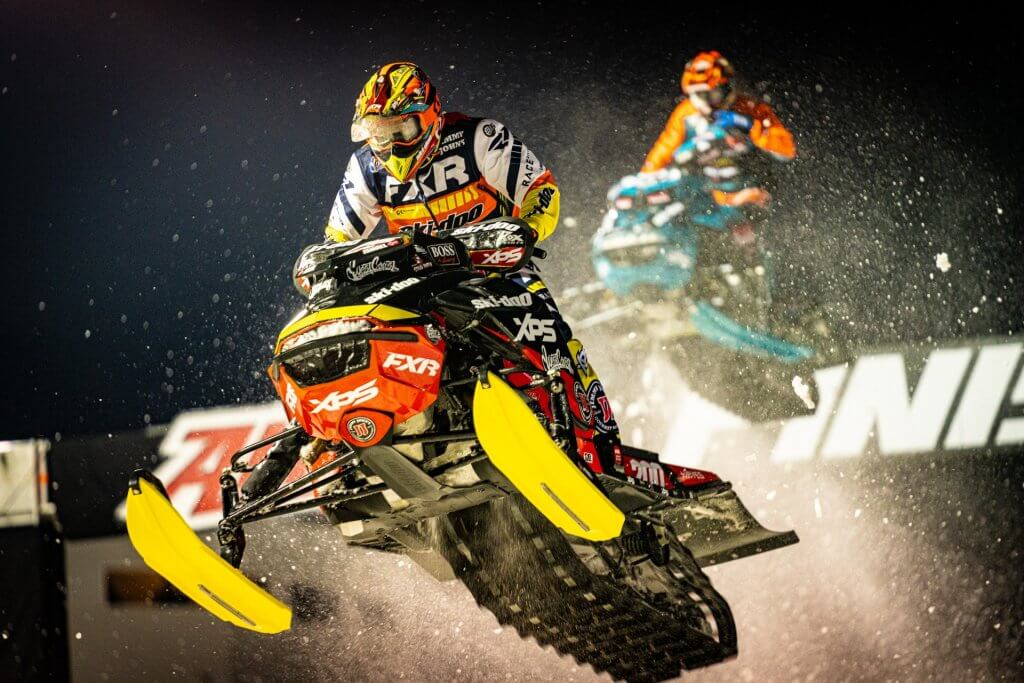 After the fourth round of AMSOIL Championship Snocross, Powered by Ram Trucks had concluded at the Dubuque County Fair on Saturday night, more than 150 races had pounded the squirrely oval into submission. This left an unpredictable track when the Pro's lined up for the final run of the weekend. When Elias Ishoel was asked about the ever-changing track conditions, the defending champion simply answered:
"It was so rough!"
Unfortunately for the competition, Ishoel is a fan of these conditions, or at the very least, as an innate ability to unearth the unimaginable, find lines buried in the deepest holes and enough rhythm to adjust on the fly.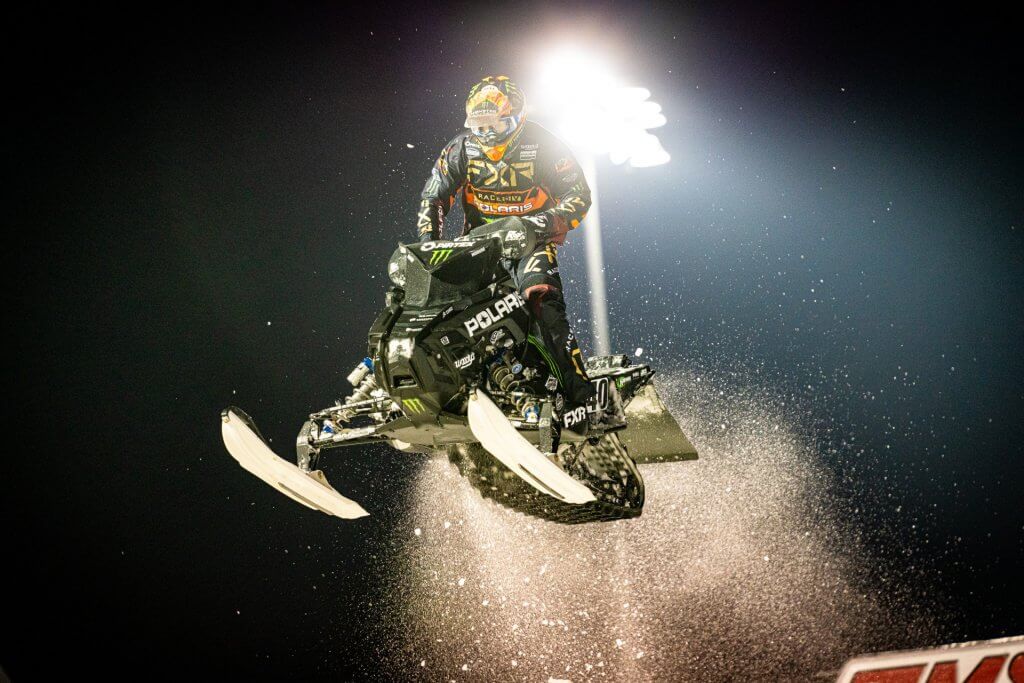 The number three seemed to be a lucky number for Ishoel on Saturday. He entered the final as the number three qualifier, and while Lincoln Lemieux (Ski-Doo) got the hole shot, Polaris' Oskar Norum, rookie Francis Pelletier and Ishoel quickly controlled the top three.
The thing about Ishoel is that when he finds a groove, he isn't afraid to go dancing. On Saturday night, it looked like the two-time champion was searching for anything that would give him an advantage. Eight laps in, or at the 5:20 mark, Ishoel found what he was looking for. In a blink, the Norwegian was past Pelletier. One lap later, he was skipping past Norum on an unthinkable outside line.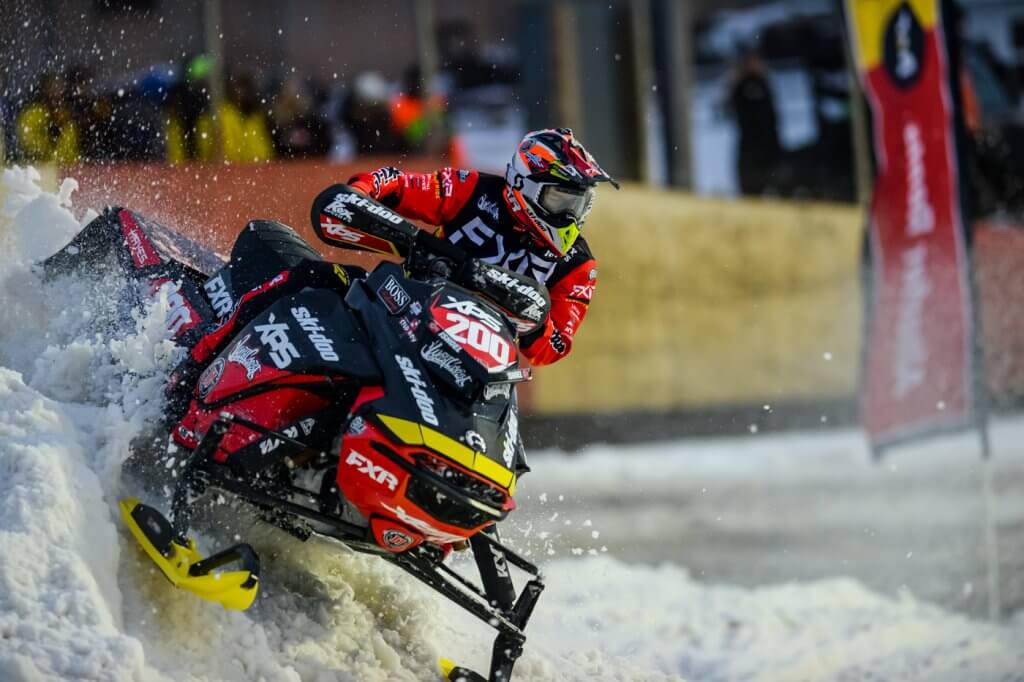 When the clock ran out on the ten minute session, Ishoel had an eight second lead. He went on cruise control for the final two laps on his way to his third straight win and a five point lead over Lemieux in the championship chase.
"In the heats, the tracks were really smooth, so there was just one line, and it was really hard to do anything," said Ishoel atop the podium. "But in the final, it was so rough. It felt like we were going so slow out there. We couldn't find any rhythm and I tried to find the best rhythm I could. In the end, I was able to find some places to pass."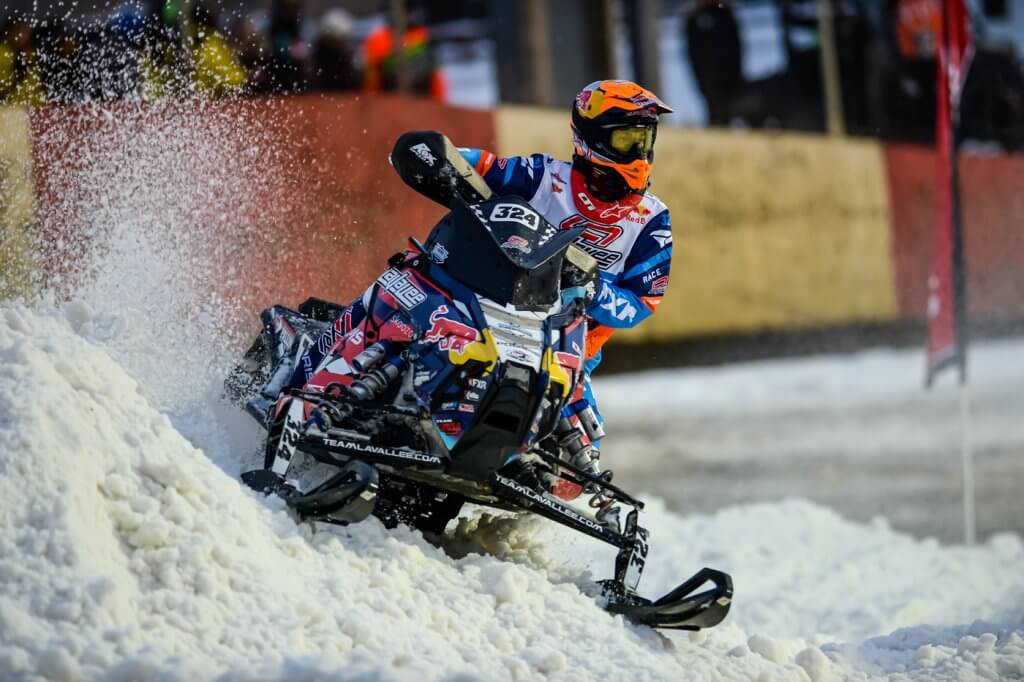 After Ishoel secured the lead, there were several layers of spot-swapping going on for the final two podium spots. Pelletier made a big move to get past Norum with four minutes remaining in the times session, but got to close and was bumped off. This left the door open for Cole Cottew, who had moved into third and had his first career Pro podium in hand.
But with five laps remaining, those podium chances came to an end when Cottew was bucked from his Polaris. That opened the door for Kyle Pallin to move into position to grab his first podium of 2021. The veteran Polaris rider wasn't done there, using a few hard-to-find doubles to get past Norum less than a lap after he got past Cottew.
"We took our site lap and I was like 'What are we going to do here?'," said a smiling Pallin about the track conditions. "There were just holes everywhere. I was going to have to get creative and I guess it worked out. It was so much fun out there."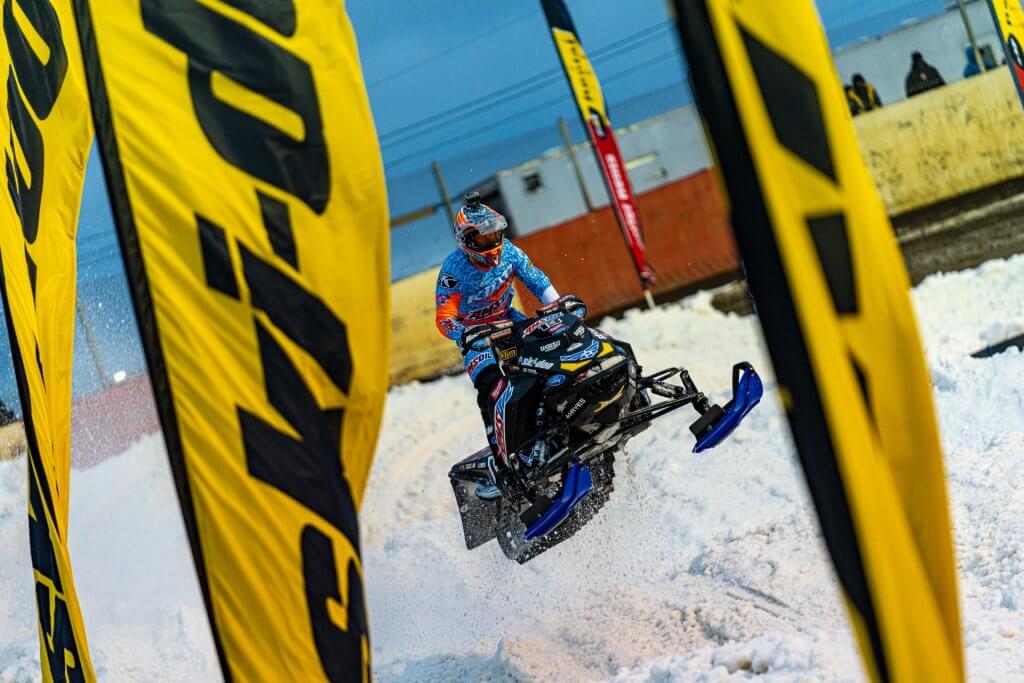 Norum capped off a strong weekend of racing in Iowa. The Swedish rider led both finals in Dubuque, and crossed the line in third on Saturday night. But a post-race infraction pushed Norum down three spots. That led to Lemieux being scored in third. The Ski-Doo rider had a good jump of the start, but was shuffled back to seventh before putting a late charge to get back into fourth with five laps to go.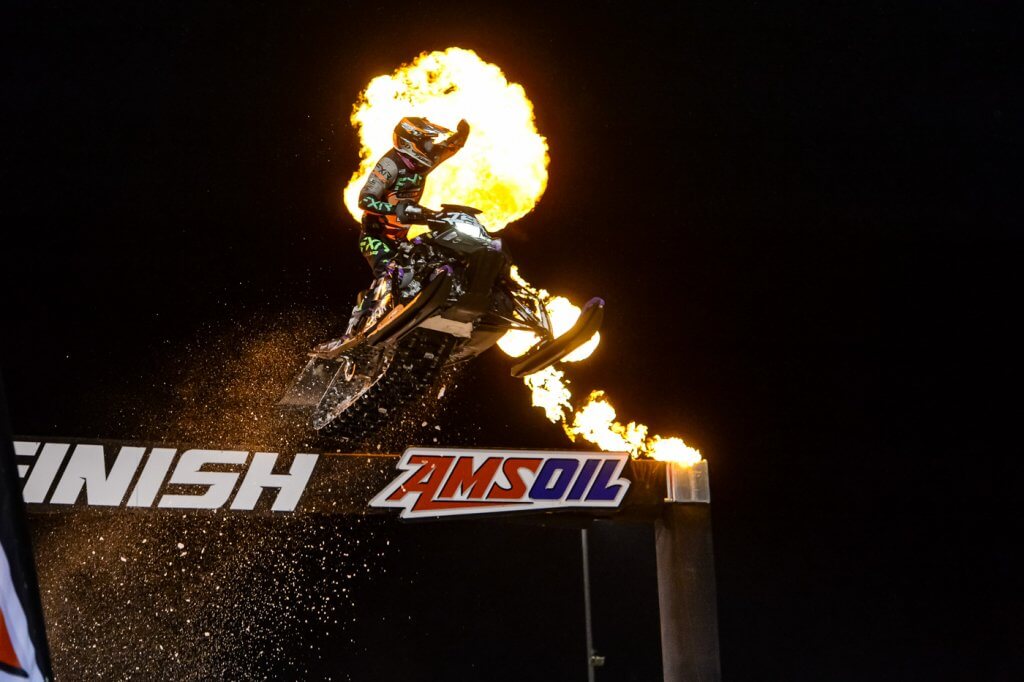 PRO LITE: Another Winner as Poirier Picks up Win
Two years ago, the Pro Lite class was filled with first-year riders and the season saw eight riders light the lamp in a final. The first eight races alone saw seven different drivers pick up a Pro Lite victory.
The 2021 season is getting eerily similar.
Four races. Four different winners.
Arctic Cats' Theo Poirier was a two-time podium finisher last season, but it's been a slow start to the new campaign. He has been successful in heat races with a pair of wins in the qualifiers, but he hasn't cracked the top ten in a final.
That all changed on Saturday night in Iowa.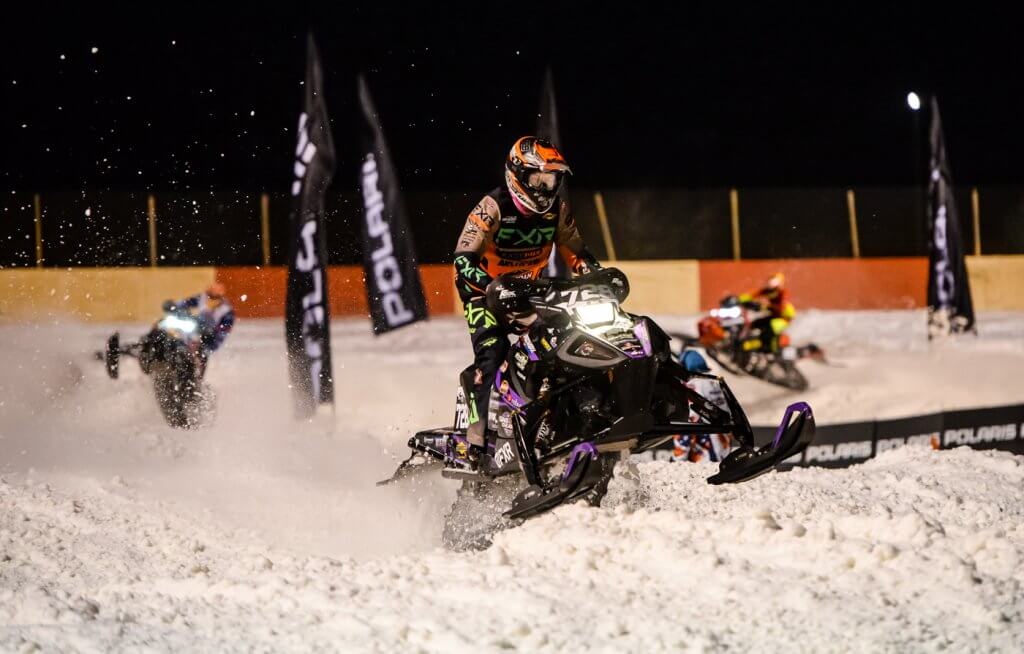 Ski-Doo's Korbyn Anderson was the early leader, sitting out front of the pack for the first six laps. Poirier was fifth after the turn one, but was able to move into second on lap two. He led a contingent of riders putting pressure on the leader, making his move on lap seven to get past Anderson. From there, he used clean air to widen an insurmountable gap on the field, finishing nearly five-seconds ahead of second place for his first career Pro Lite win.
"The track was really rough," said the Quebec native. "I got a good start, (and got) behind Korbyn and we had a great battle. I found some good lines out there and my sled was rippin."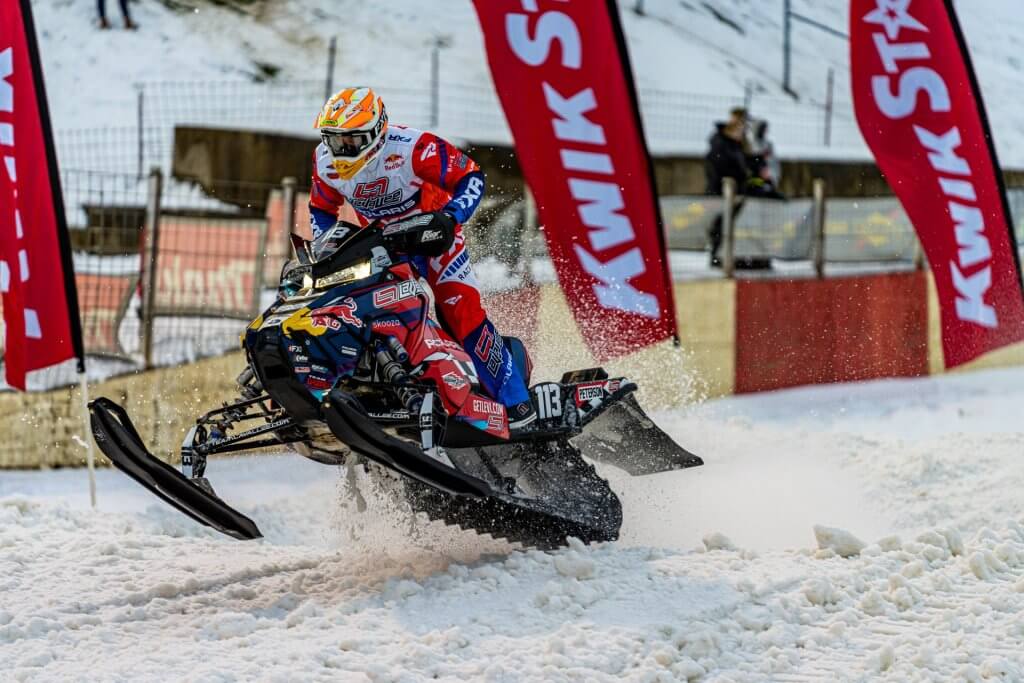 Adam Peterson's sled was also ripping on Saturday. One lap after Poirier took the lead, Peterson moved past Anderson for second. Much like the race leader, Peterson was able to gap out a comfortable positional lead, but the opening round winner and new points leader was unable to catch Poirier.
"I didn't really know what was going on," said Peterson. "It was a really rough track, hard to see. I was able to work my way up to second, and that was awesome."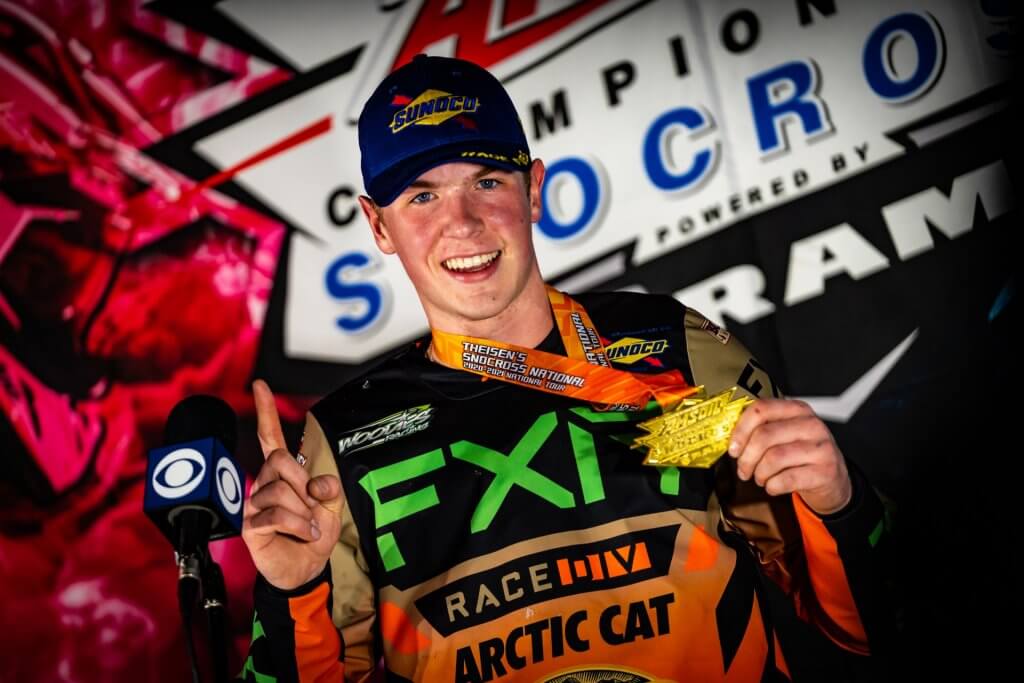 Anderson has been one of the most consistent riders in Pro Lite in 2021. The Ski-Doo driver picked up a pair of podiums in Iowa, both third place finishes, giving him upward movement (fourth) in the championship point standings.
"I had a good weekend with the two thirds and that's the name of the game, staying consistent for a points championship," said Anderson in the post-race interview. "Last year I tore my ACL, so back-to-back podiums, I couldn't ask for anything more."
Ryley Bester (Polaris) put in his best final of the season, pressing for a podium spot late in the race before finishing fourth. Another Polaris rider, Carson Alread, ran steady in the final by finishing fifth.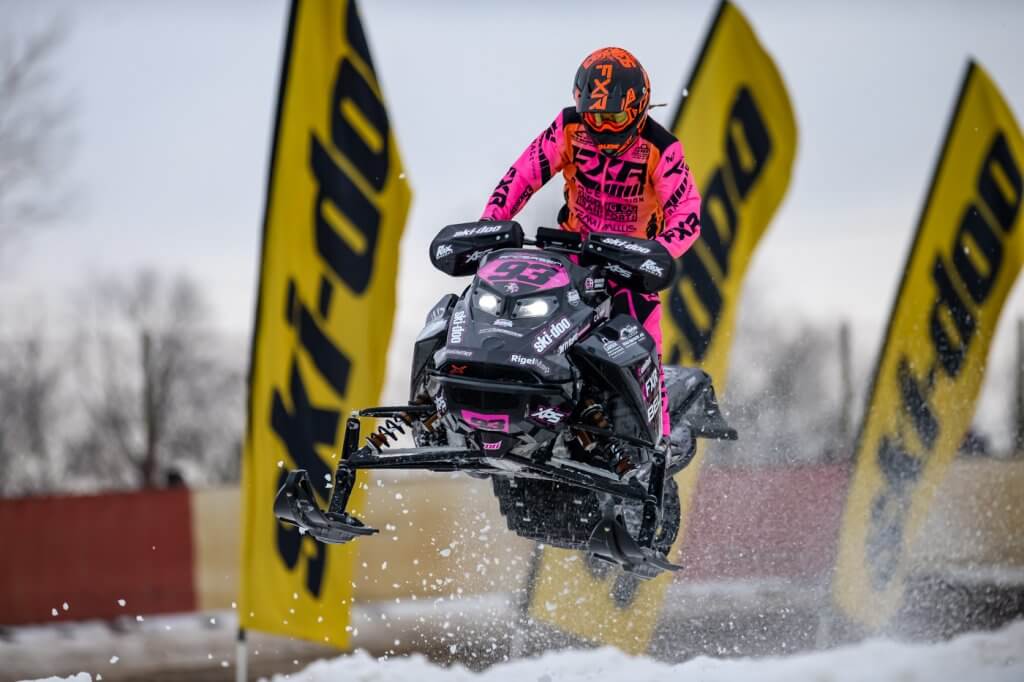 PRO AM WOMEN:
It's been a long time since Megan Brodeur (Ski-Doo) hasn't held the red plate, signifying the overall points leader. The defending champ ran into some early trouble on Saturday night, and for the first time in a long time, was not a factor in the final outcome of a Pro AM Women's final after finishing sixth.
Instead, it was new points leader Malene Anderson (Ski-Doo) who put on a dominant ride in the final for her second win of the season. Anderson went wire-to-wire for her fourth straight podium.  Makenna Kleiman started second and stayed there on Saturday night. It was the Ski-Doo riders first podium of the year.  Arctic Cat's Taven Woodie overcame a sixth place start to finish third.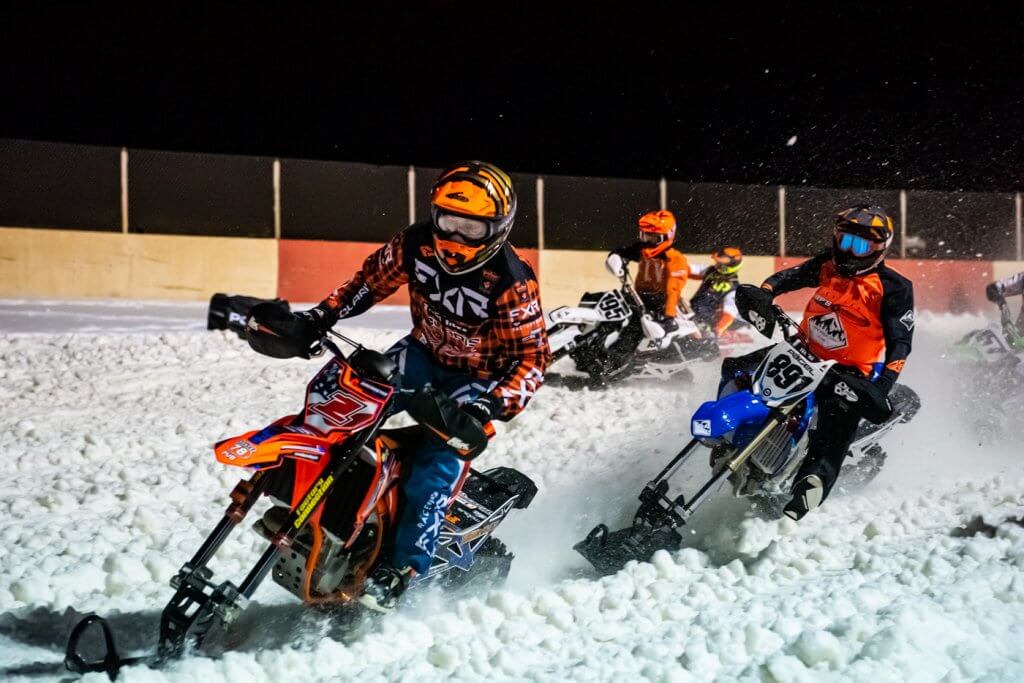 PRO SNOW BIKE: Jesse Kirchmeyer's streak continued on Saturday as the Arcade, N.Y. native picked up his eight straight Moto win and fourth overall victory in 2021.
Keaton Ward kept Kirchmeyer honest, finishing second in the first moto and third in the second for second overall. Nick Kraeger's 3-5 finish was enough for the final podium spot in third.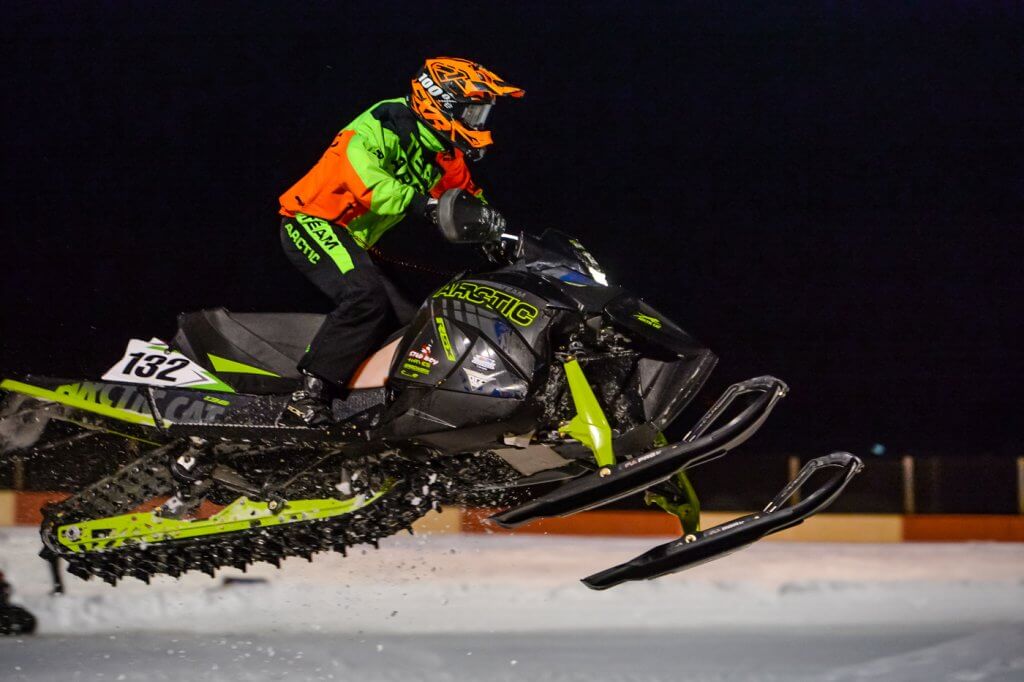 PRO AM 30 PLUS: Steve Martin had his Ski-Doo in control of the Pro AM 30 Plus final for the first five laps. That's when Jacob Blanshan pushed past the former Pro National Champion for the lead and the eventual win.  Overall points leader and round one winner Andy Lieders made a last lap pass on Kurt Bauerly to finish third.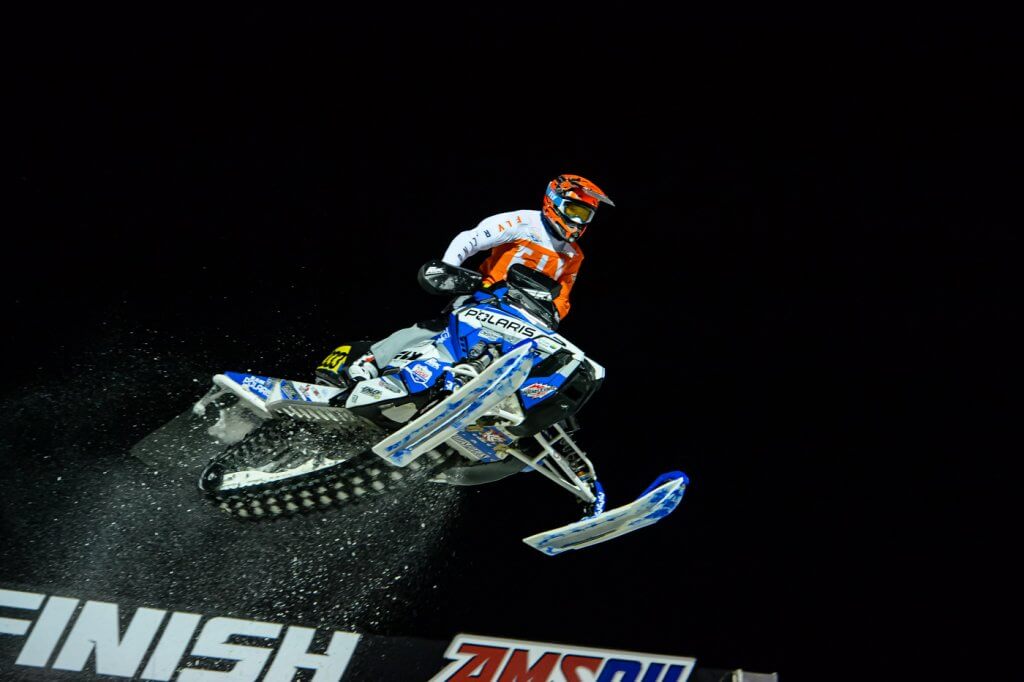 FXR SPORT: Polaris' Evan Christian finally broke through in an FXR Sport final. Christian picked up the lead on lap four when he was able to get past Jake Boutwell. It was Christian's first win in the class after he saw three podium finishes last season.
Beau Tibbetts finished second ahead of Kyle Kunstman, who has finished on the podium in all four races this season and leads the Sport class standings.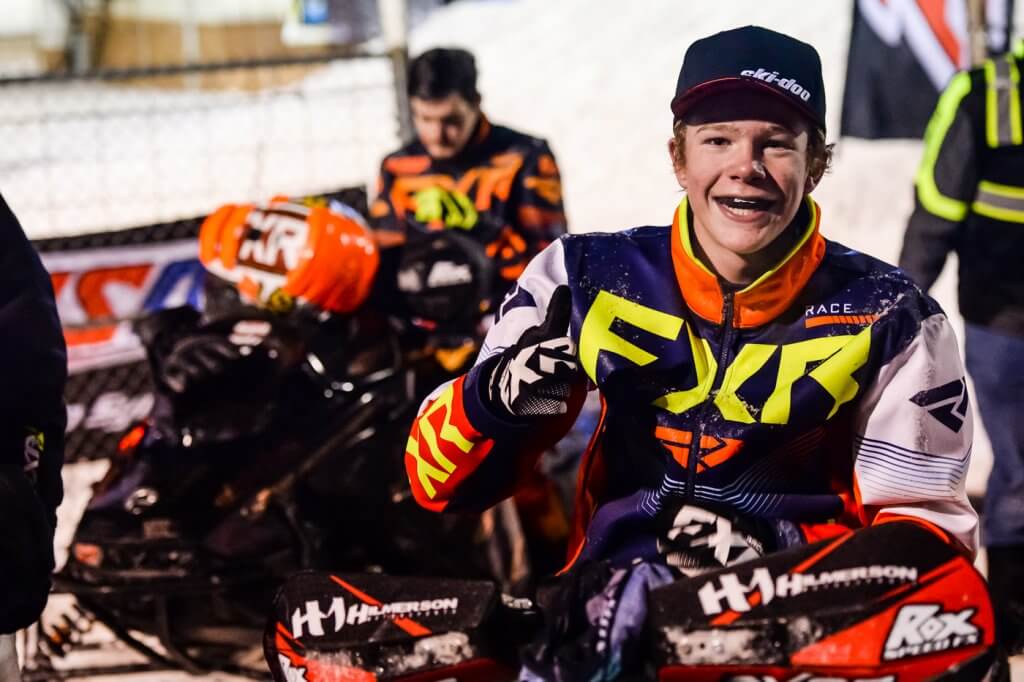 SPORT LITE: After just four rounds, it looks like a season-long Sport Lite battle is brewing between Kellen Chapuran and Kolton Krajicek.
On Saturday, Chapuran got the edge and kept control of the overall points lead (three points separate Chapuran and Krajicek). It was the Ski-Doo riders third straight win, Krajicek finished second, also for the third straight race after an opening night win in Elk River, Minn.
Justin Sisti was running his first weekend of racing in 2021, and end round four in third place.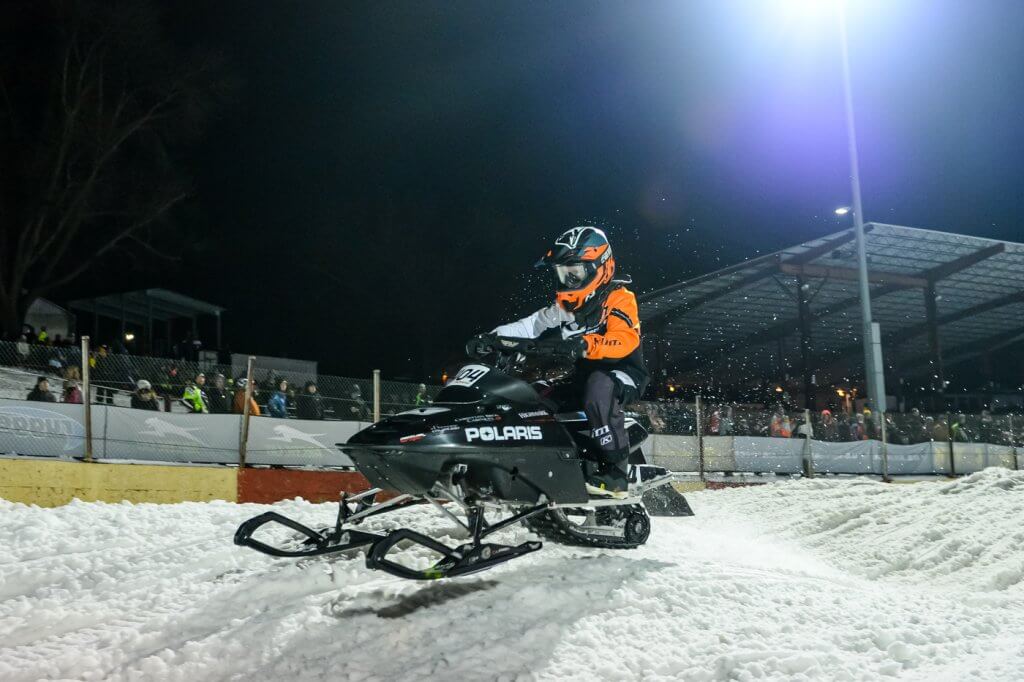 IOWA SATURDAY SHOWDOWN
Cameron Cole was a double winner in Iowa on Saturday. The Polaris rider took home wins in Junior 10-13 and Transition 9-13. Kenny Goike, who holds the points lead in both classes, finished second to Cole in both races in Dubuque. Isaac Peterson was third in Jr. 14-15. Tanner Johnson was third in Transition 9-13.
Domenic Hegman and Josh Connolly had a pair of head-to-head battles on Saturday. Hegman won the Junior 14-15 final ahead of Connolly. But Connolly got the best of Hegman in the Junior 16-17 final. Steven Max (Jr. 14-15) and Tanner Zierden (Jr. 16-17) finished third respectively.
Kendall Rose won the Junior Girls 9-13 final to secure the overall points lead. Avery Hemmer finished second and Lainie King was third.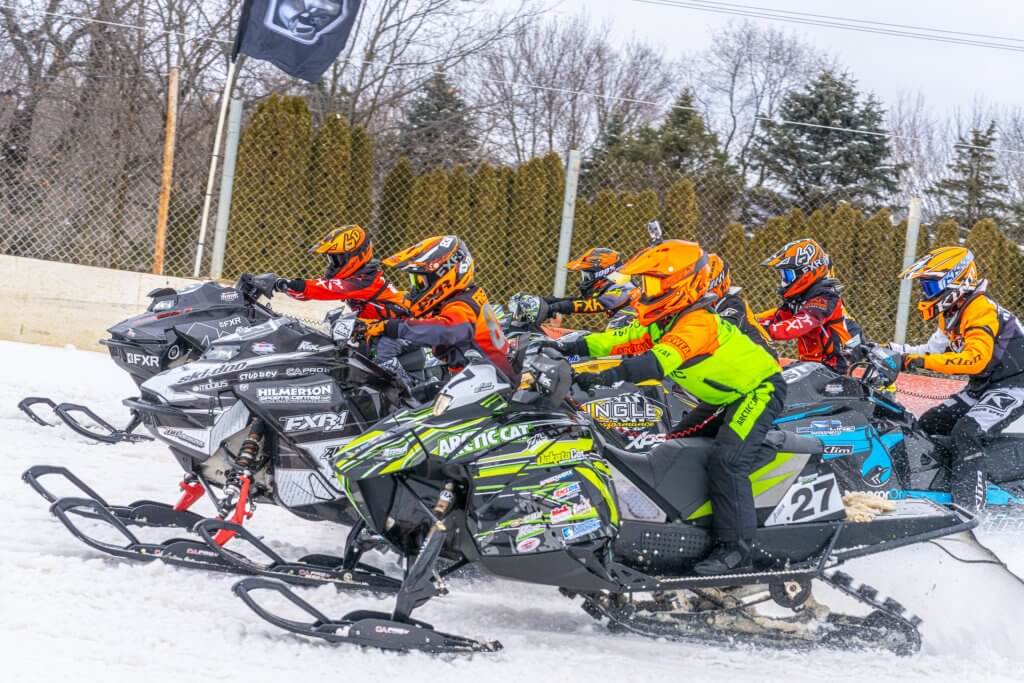 Jimmy Stanisich delivered his first win of 2021 after winning the Transition 8-10 class. Owen Eide was second and Zach Miller third.
Granni D'Antonio won the Stock 200 final in Iowa. Tristian Hinton was second and Trenton Peterson finished third.
Cody Moras won the 120 Champ final on Saturday night to close the gap on points leader Owen Eide, who finished third. Gaige Bauer was the third place finisher.
AMSOIL Championship Snocross, powered by Ram Trucks will return to action January 29-30 at the U.S. Air Force Snocross National in Deadwood, S.D.
The 2021 AMSOIL Championship Snocross series will be comprised of 16 national rounds, starting at ERX and ending in late March in Grand Rapids, Mich. All events will air on the series live-stream channels, as well as the CBS Sports Network airing in the weeks following the race.
About ISOC: Championship Off-Road andAMSOIL Championship Snocross, powered by Ram Trucks, are owned and operated by the International Series of Champions (ISOC) out of Albertville, Minn. For more information on its events and schedules, go to www.snocross.com.