Deadwood, S.D. ~ is well-known for its famous poker games, some of which are written in the annals of US history. The game can have large swings, giving false hope to high stacks earned by early success. But more often than not, it's the late gamble, even the all-in approach that moves those chips into pockets of the big winners.
The US Air Force Snocross Nationals offered up several similar situations Saturday night. Early leaders won primary showdowns, but the eventual winners still had a few tricks up their sleeves. When the final flames flew, those standing atop the podium played their hands perfectly on their way to impressive wins.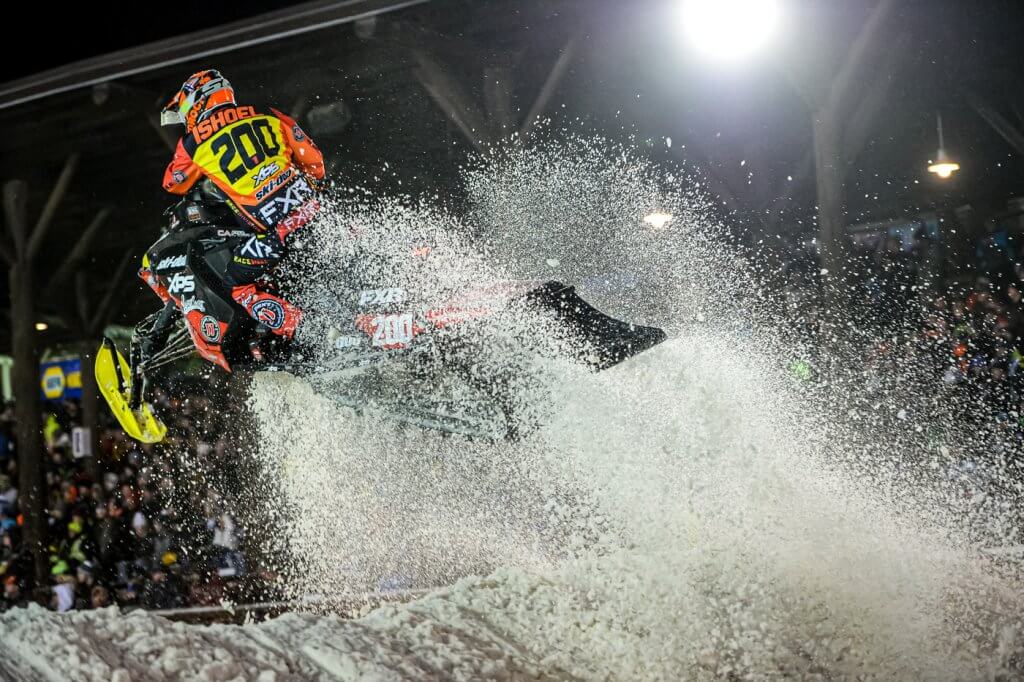 Ishoel Incalculable in Pro Final
It took Elias Ishoel (Ski-Doo) six races to find a start he liked on the tight, silky track inside the Days of '76 Rodeo complex. The defending champ was searching for better starts all weekend in Deadwood, where riders utilized the entire back stretch and all of its big rhythm to decide who would be the early race leader.
In the final, Ishoel hammered an inside-line, sprinting out to an early lead over Kyle Pallin. Historically, giving Ishoel clean air was a recipe for disaster for the Pro field, but the veteran Pallin didn't flinch. Two laps in, the Polaris rider muscled his way past the points leader.
With Pallin on point, the leaders made their way around the constricted oval. Pallin had good visibility and found lines to increase his lead over Ishoel, who was in a dogfight with Kody Kamm for second.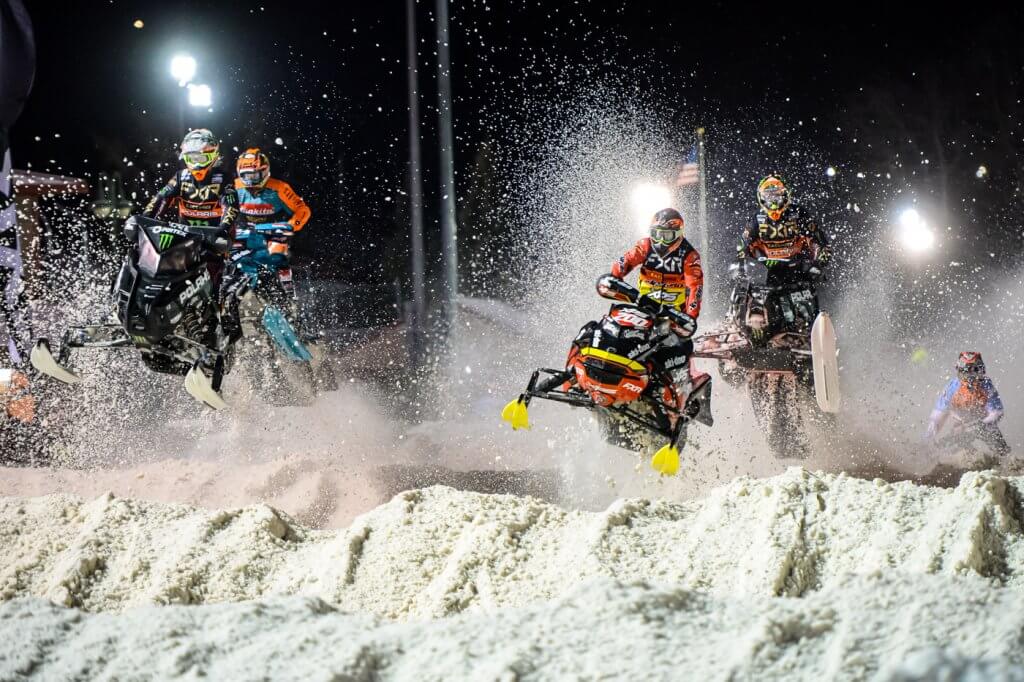 Just a few minutes into the ten minute session, lapped traffic came into play after several sleds got tied up in the bottom of one of the deep holes carved into the Deadwood track. That allowed the gap to tighten, and with about six minutes left Ishoel started to find the right lines. Pallin got squirrely and opened the door for Ishoel, who blasted past and into a lead he wouldn't relinquish. In fact, Ishoel increased his pressure on the field, weaving through lappers and catching the taillights of the eventual third place finisher, Francis Pelletier.
"Today was just awesome," said Ishoel in his post-race interview. "I got a good start in the final, but I struggled early to find the flow out there. It felt like I was in the middle of the pack because the lappers didn't know we were lapping them because it was such a tight track."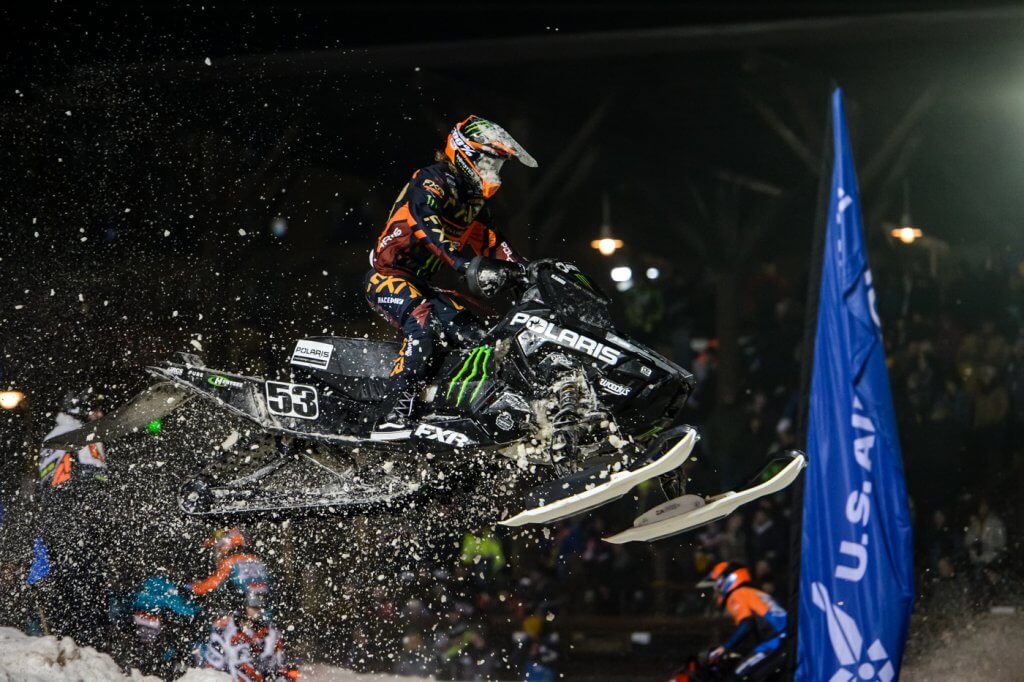 While Ishoel was picking up his fourth win of the season, Kody Kamm (Polaris) was capping off his best weekend of the year. He backed-up Friday's third-place effort with a solid second-place run on Saturday. Kamm was pressuring Ishoel early and moved into the runner-up spot after Pallin swapped-out and hit the ground. From there, Kamm kept clean through lapped traffic and is now squarely back in the championship chase sitting fourth overall.
"I got off to a somewhat decent start," said Kamm. "I was in third and there was a pile-up in the corner, and I took off with the lead pack. It was hell for vision, of course, but I was in second place and just riding around following the 200."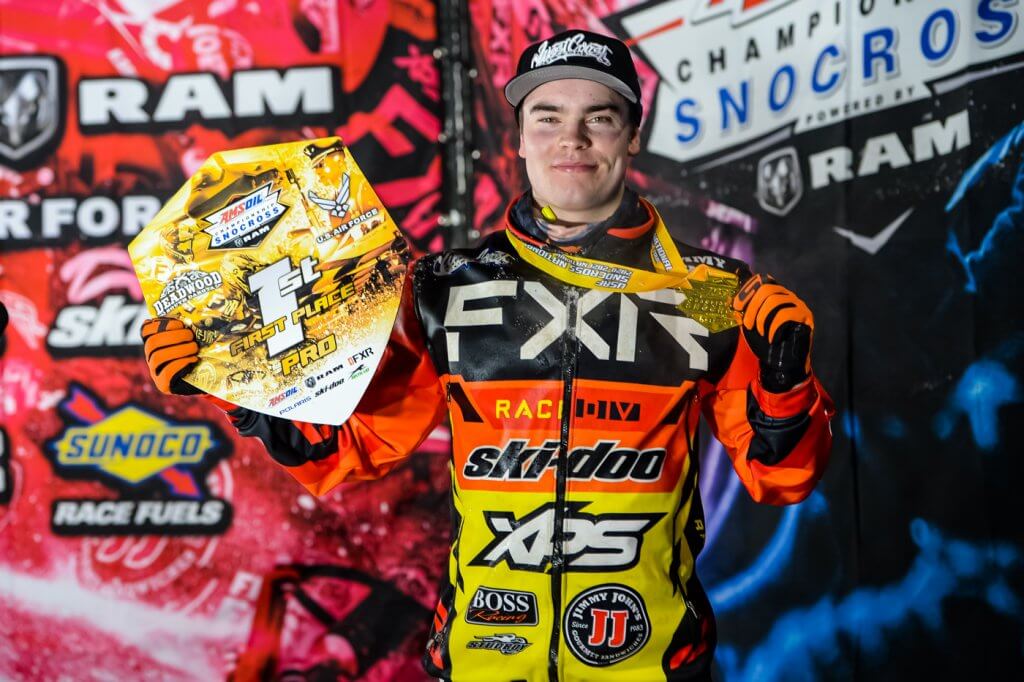 Francis Pelletier pushed his Ski-Doo through a congested field as the rookie picked up his first career Pro podium on Saturday night. Pelletier started seventh in the final but wasn't in a podium position until there was less than a minute on the clock when he got past Aki Pihlaja.
"The track was kind of destroyed by the end, but I kept trying to find my way out there," said Pelletier. "I was just trying to stay on track and have some fun out there. We could see nothing, so I just tried to be smooth."
Pihlaja made an impressive 2021 debut in Deadwood. The veteran rider recently picked-up a spot with Thene Motor Sports and came away with a formidable fourth place finish on Saturday night. Oskar Norum (Polaris) made another late-race charge, coming from tenth to round out the top five.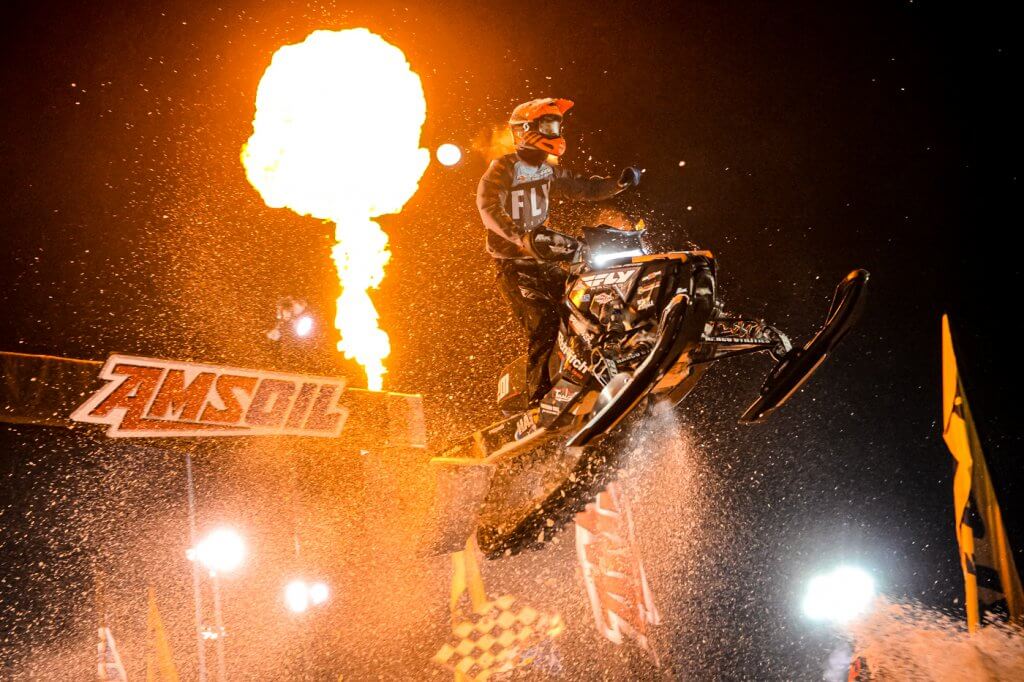 Kern's Turn Atop the Pro Lite Podium
For sixteen laps it looked like Judnick Motorsports was going to go back-to-back in Pro Lite finals. Nick Lorenz lit the lamp on Friday night, and on Saturday, his teammate Carson Alread was in control from the get-go.
But anything can happen in a snocross final, and even the smallest thing can disrupt a dominant run.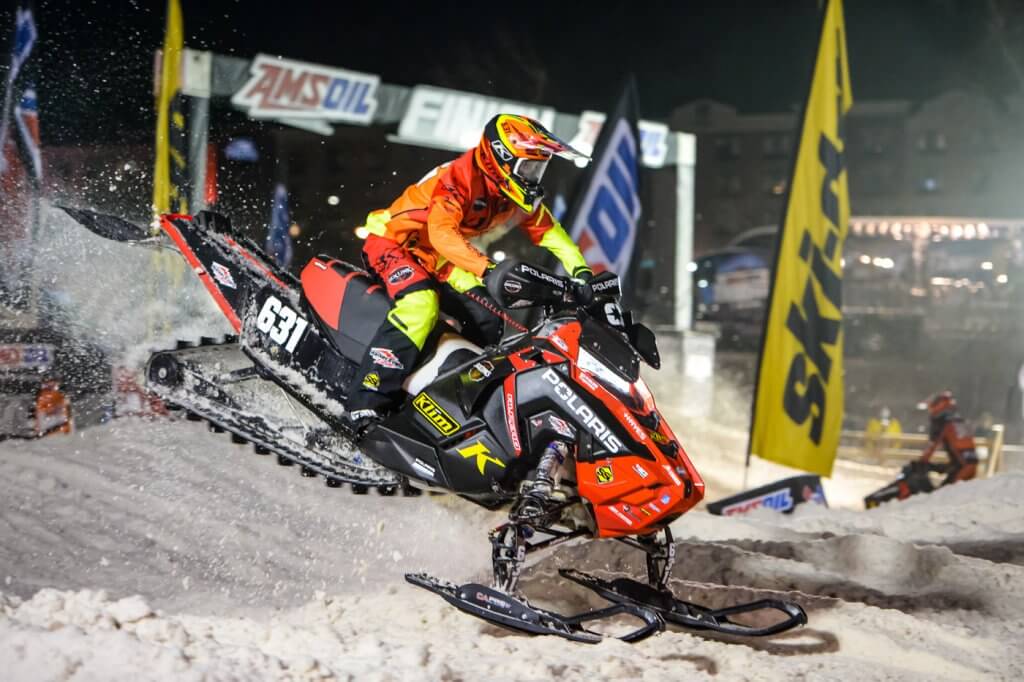 The rookie Alread was in control from the start on Saturday night. He grabbed the hole shot and held off all-comers before stretching out to a comfortable lead. But late in the race, a broken A-arm would unravel his chances of winning his first Pro Lite final.
Despite his determination to keep out front, the poor handling caused by the broken part gave Travis Kern an opportunity to catch the leader. Kern held down the second spot for a majority of the race and capitalized on his opportunity to take over the lead with less than two laps to go. The Polaris rider didn't miss a mark for the final few turns, picking up his first career Pro Lite win while becoming the fifth different winner in the class this season.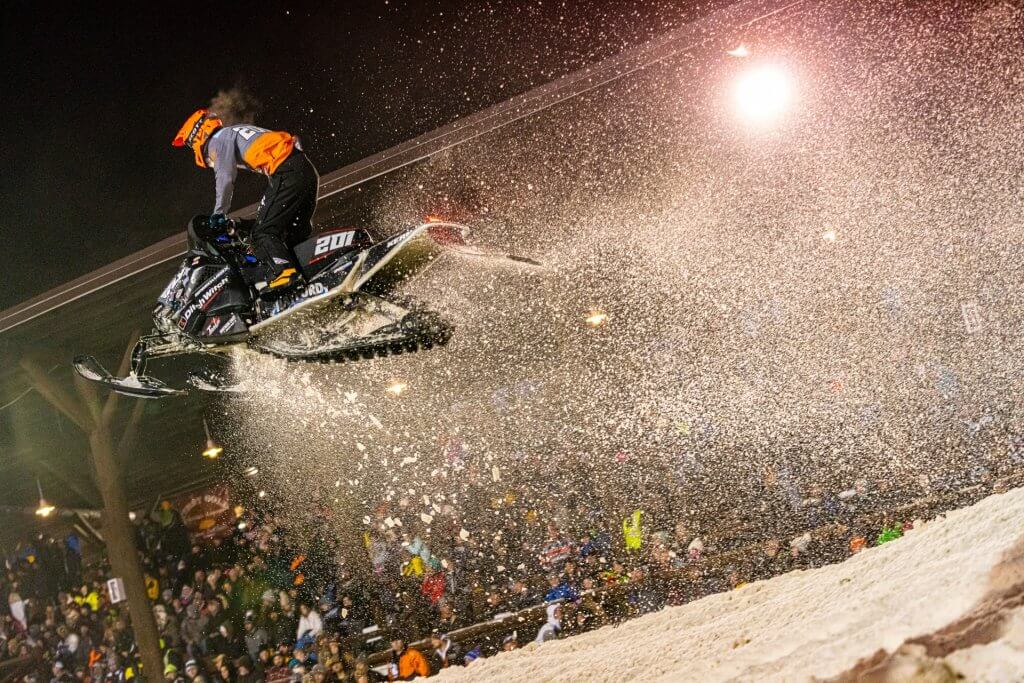 "We got a really good start in the final," said Kern. "I just had to be patient because it was so tough to pass in the corners out here because it was so tight. I knew I couldn't drive in too hard. It (was) a struggle all weekend, so I'm happy we ended it on a good note."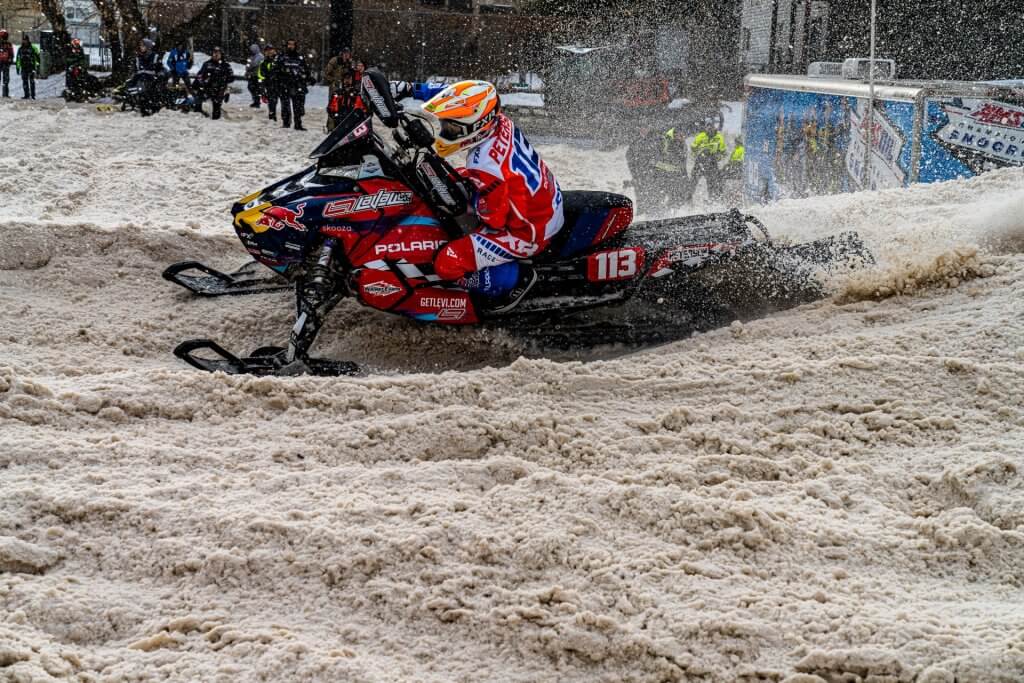 Points leader Adam Peterson extended his points lead with a heat win and a second place finish in the final. The Polaris rider put continuous pressure on Kern for much of the race as the two were battling for the second position. Like Kern, he was able to get around Alread late in the race for the runner-up spot, his fourth podium of the year.
"I had a pretty decent line through the whoops at the end of the race," said Peterson. "It was kind of sketchy, but I kept hitting it and I was making up ground, but it seemed like every time I was making up ground I was getting a face full of roost."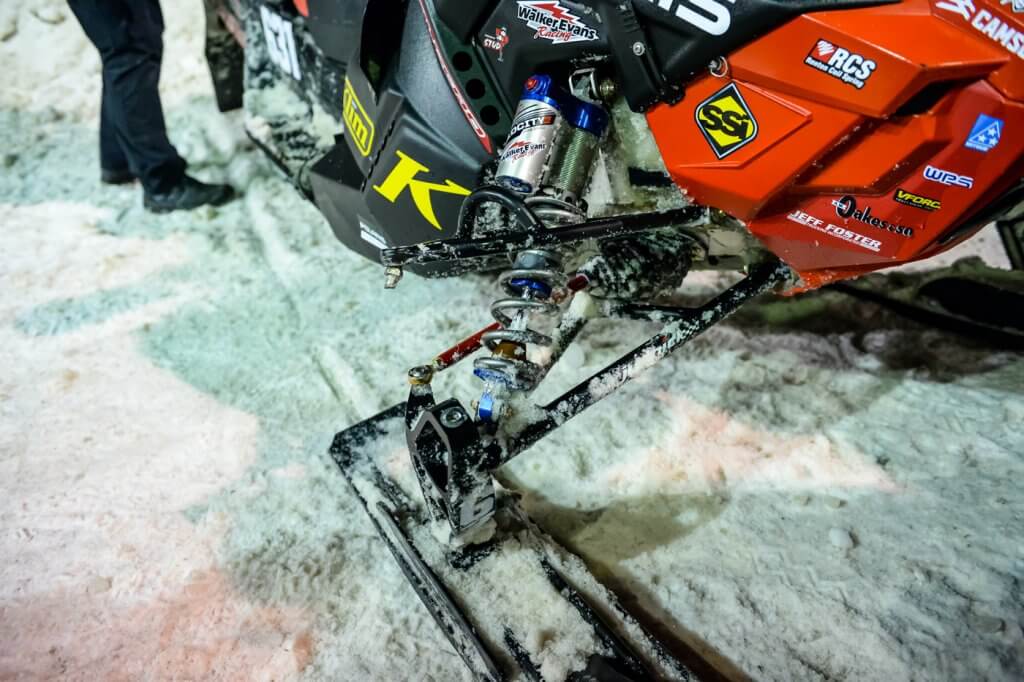 Despite the broken A-arm, Alread was able to muscle his sled around a holed-out track for his first career podium. His strong finish and ability to lead the race are confidence boosters for the next round in North Dakota.
"I was running a pretty good race, but I just wasn't able to steer it really," said Alread. "I really faded back after that. I am glad I was able to hold on to third. It's my first Pro Lite podium, and hopefully we will get on top at the next one."
Ski-Doo's Korbyn Anderson finished fourth and Polaris' Taylor Cole rounded out the top five.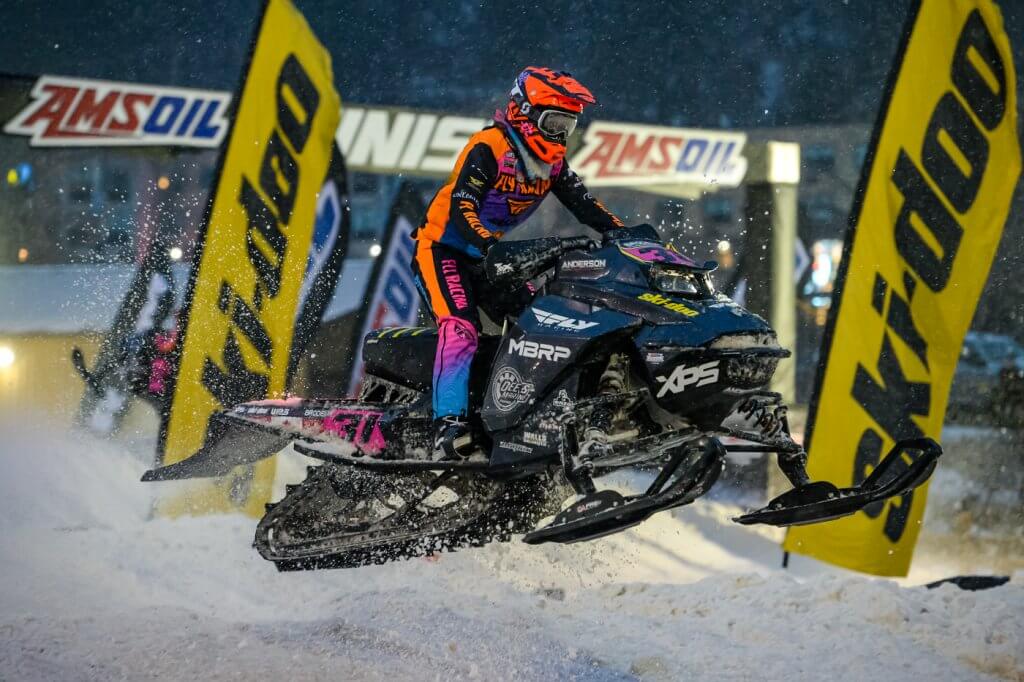 Pro AM Women: Inanna Hauger (Polaris) grabbed the hole shot to lead the Pro AM Women around turn one. But three-time defending champion Megan Brodeur quickly muscled her way into the lead, turning in her best race since her round three win in Iowa.
Brodeur didn't miss a beat on her way to her second win of the year. Points leader Malene Andersen had to work through traffic for the first few laps before being able to sneak past Hauger for second. She ran out of laps trying to catch Brodeur, finishing second. Hauger kept pace for her first podium of the season.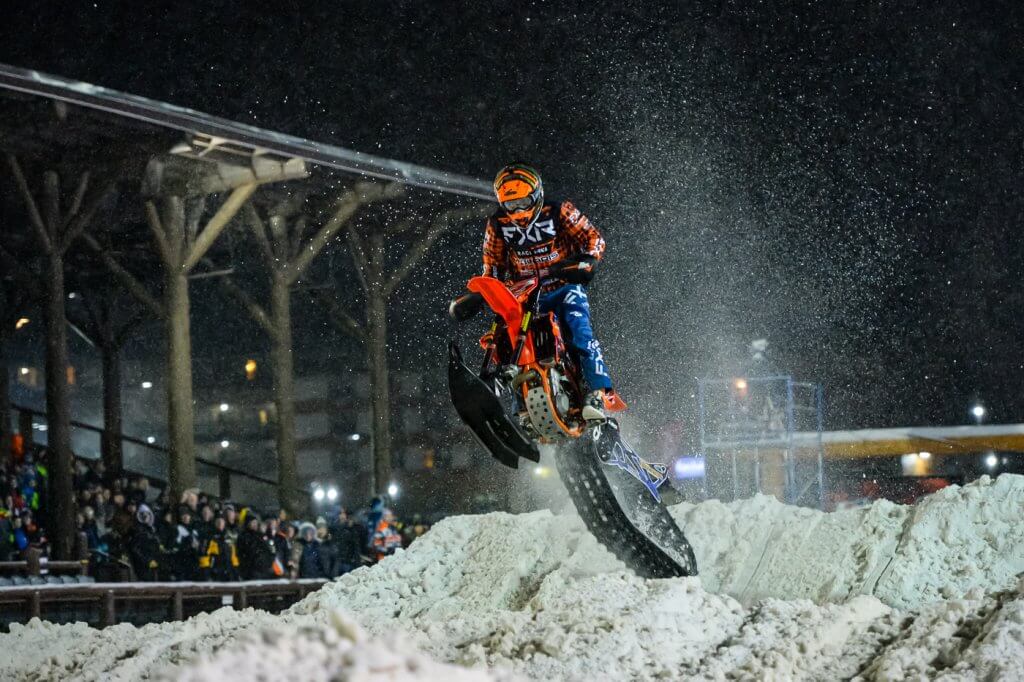 Pro Snow Bike: The Cowboy. Showtime. Mr. Perfect. Jesse Kirchmeyer seems to get a new nickname every weekend, but the Pro Snow Bike points leader also gets a new win every weekend, including his sixth straight overall and 12th straight moto wins in 2021.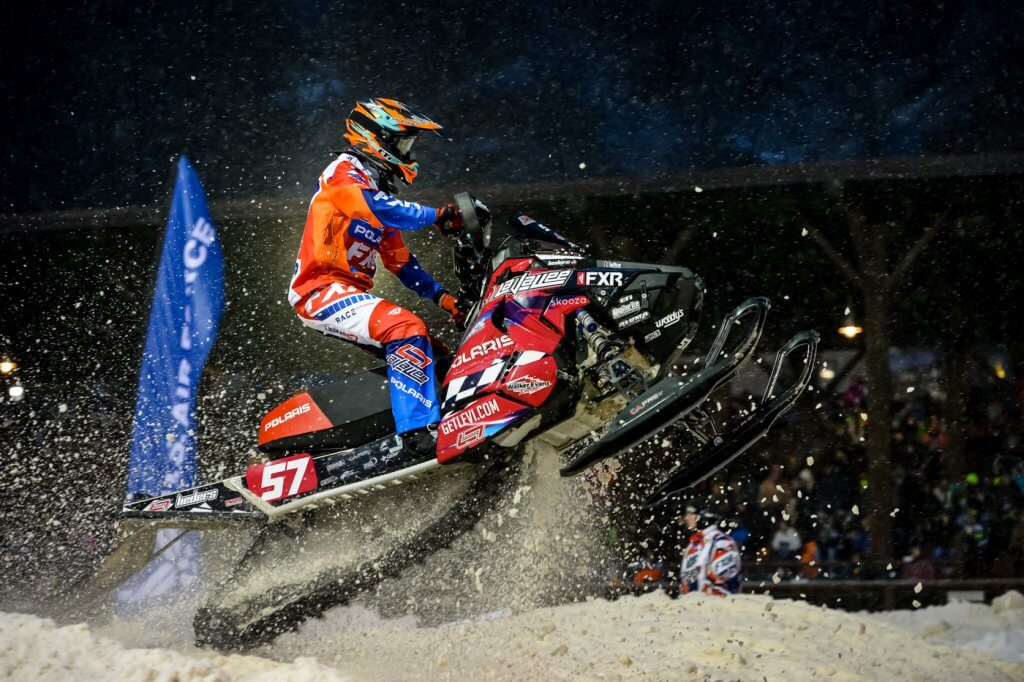 Pro AM 30 Plus: Polaris' Andy Lieders got back on the winning track in Deadwood on Saturday night. The Pro AM Plus 30 points leader was on point all day, winning both heat races and running a dominant final for his second win of 2021.
Round two winner Jacob Blanshan finished second with Jayce Rhine rounding out the podium in third.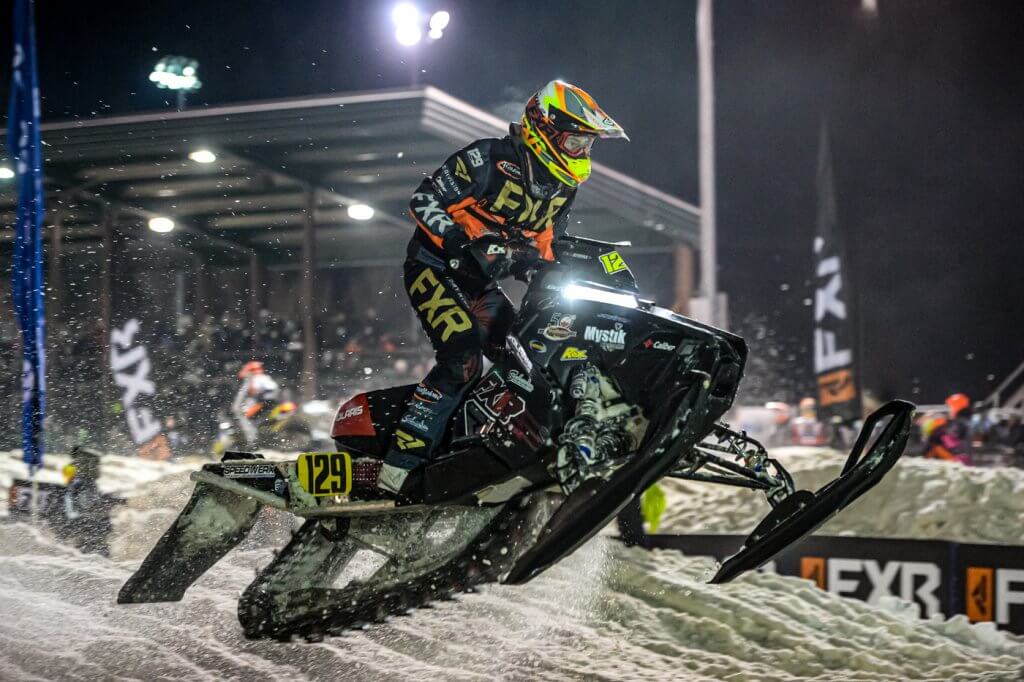 Saturday Showdowns:
FXR SPORT: A red flag made for a crazy, single-file restart in the FXR Sport final on Saturday night. Eric Downs held the top spot when the race was halted, and he held off a mad dash off the restart to keep the lead position. From there, he found reestablished his rhythm and finished off the ten-lap final to secure his first Sport win of the season.
Friday night winner Kenny Mandryk put in a second-straight competitive run, finishing second to Downs. Adam Ashline held the third spot for much of the race and was able to keep his ski's in front of a hard-charging Evan Christian at the line.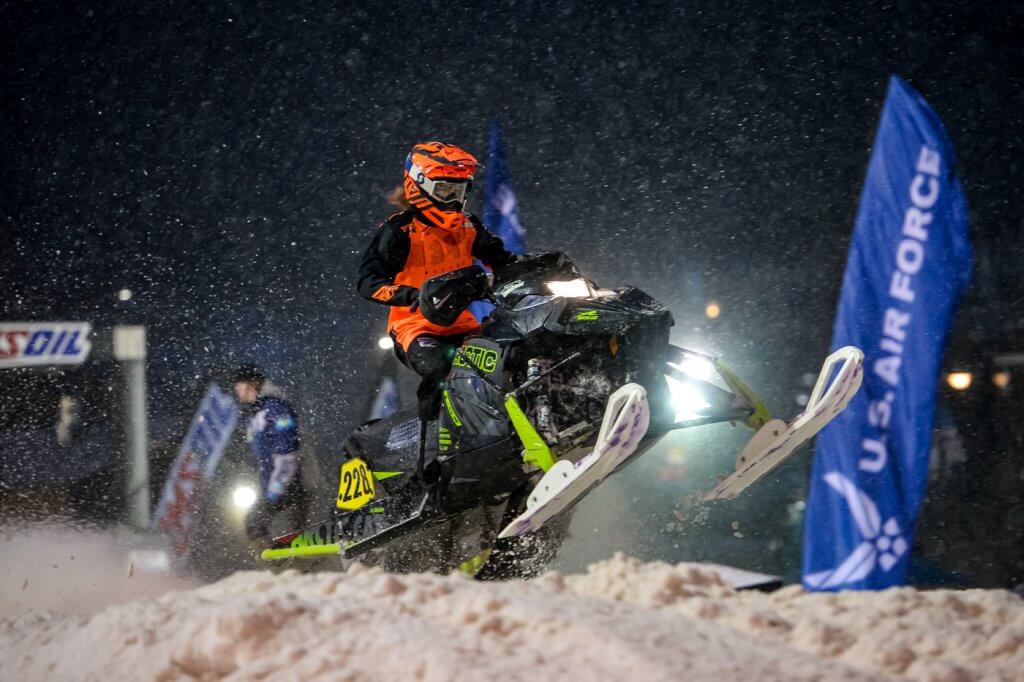 SPORT LITE: The "Fro Show" made it a successful season debut in Deadwood. Also known as Jordan Biese, the motocross champion took a convincing win in Sport Lite. Points leader Kellen Chapuran finished second, Gavin Hemmer notched his first podium of the year in third.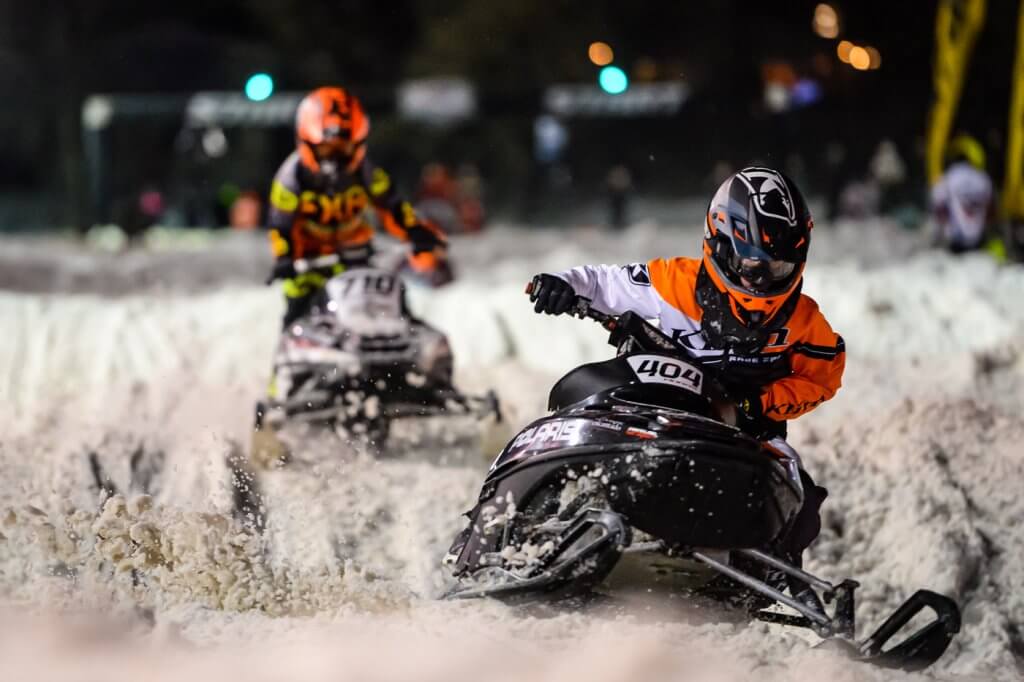 Cody Moras closed the gap on Owen Eide for the 120 Champ championship with his class win. Kooper Groen finished second and Gaige Bauer ended up third.
Tanner Johnson will leave South Dakota with the points lead in Transition 9-13 after picking up the win on Saturday. Trenton Hilmerson and Cameron Cole rounded out the podium.
Cole did return the favor in Jr. 10-13 by picking up his second straight win. Johnson finished second and Kenny Goike was third.

Domenic Hegman pulled off the Deadwood Double, winning both Jr. 16-17 and Jr. 14-15 finals. Pacey Zandstra held off Tanner Zierden for second in Jr. 16-17. Connor Campbell was second in Jr. 14-15. Steven Max finished third.
Transition 8-10 points leader Jimmy Stanisich picked up his second straight class win on Saturday, holding off Owen Eide who finished second. Zach Miller finished third.
Kendall Rose has now won two straight Jr. Girls 9-13 finals. She ran clean out front as Ava McCurdy and Avery Hemmer battled for the final two spots, with McCurdy nabbing the runner-up spot.
Tristian Hinton was your winner in the Stock 200 class on Saturday. He held off second place rider Aiden Beckmann and third place rider Sebastian Horton for his first win in 2021.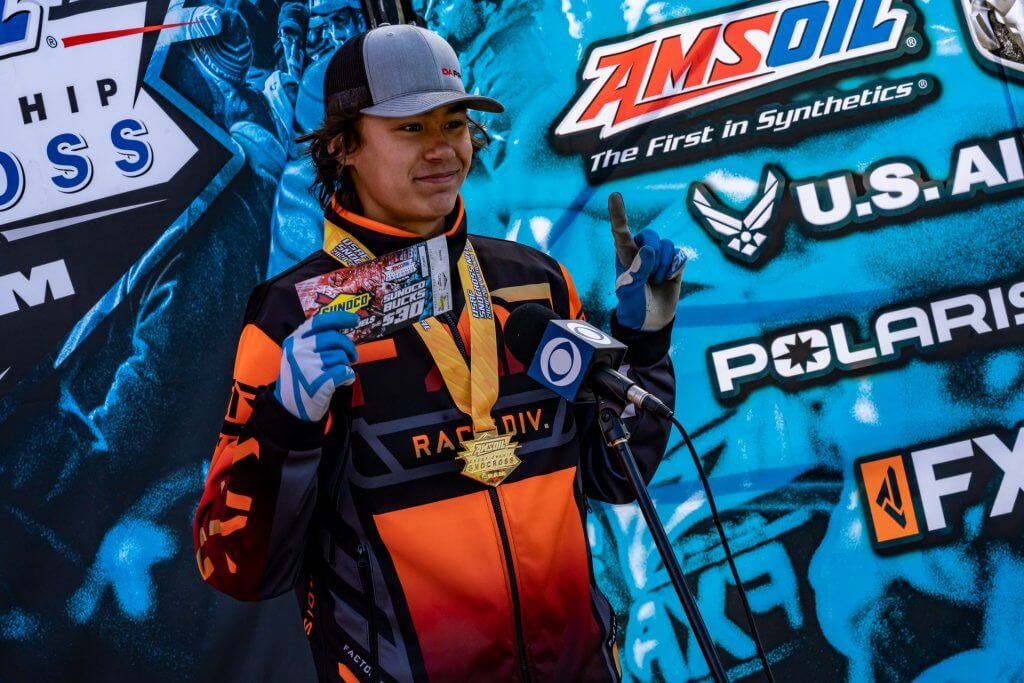 AMSOIL Championship Snocross, powered by Ram Trucks will be back in action next weekend at the All Finish Concrete Snocross National in Fargo, N.D.
The 2021 AMSOIL Championship Snocross series will be comprised of 16 national rounds, starting at ERX and ending in late March in Grand Rapids, Mich. All events will air on the series live-stream channels, as well as the CBS Sports Network airing in the weeks following the race.
About ISOC: Championship Off-Road andAMSOIL Championship Snocross, powered by Ram Trucks, are owned and operated by the International Series of Champions (ISOC) out of Albertville, Minn. For more information on its events and schedules, go to www.snocross.com.