Fargo, N.D.~ The coldest air of the winter season finally made its way down from Canada, settling an artic blast across the northern states for the foreseeable future. Despite temperatures dipping down to -15 on Saturday night, the show must go on, as was the case for round eight of AMSOIL Championship Snocross, Powered by RAM Trucks.
The frigid face-slap was just one of the many factors flying around the Red River Valley Speedway in West Fargo, N.D., as the All Finish Concrete Snocross National brought a repeat performance for some defending champs, a hard earned return to victory lane in Pro Lite, and a retirement from one of the sports best.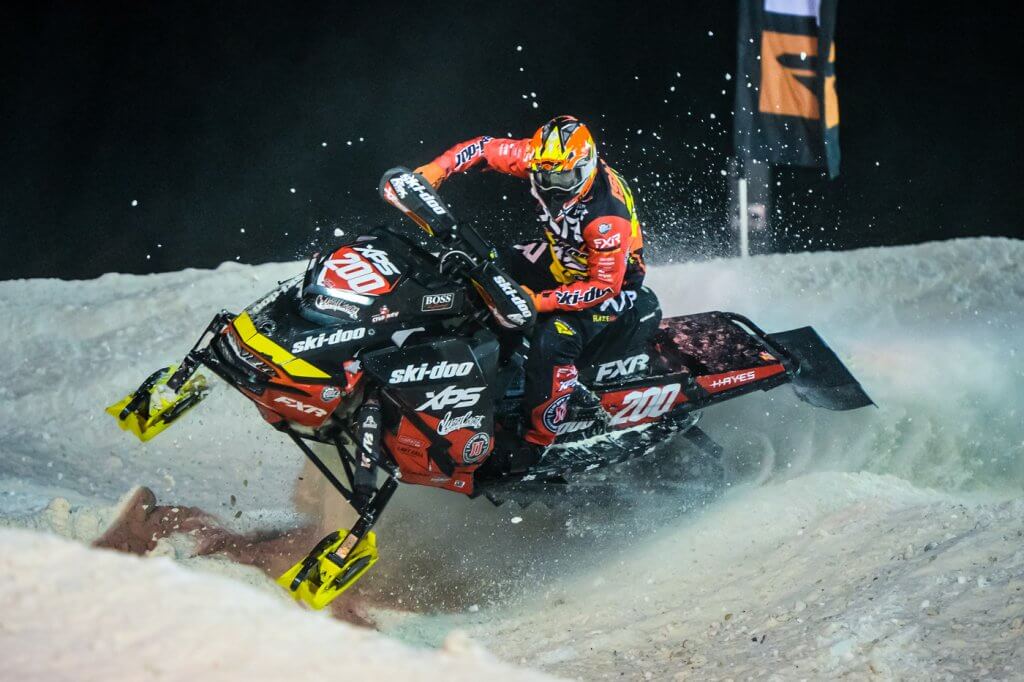 AMSOIL PRO: It's All Ishoel, Pt. 2
All of the Pro finals in 2021 are a ten minute, plus two lap format. That led to 18 laps on Saturday night. But the while time is a factor, it is also impossible to speed up. But the way the series two-time defending champion was attacking it, you would think he was trying to change the laws of physics.
Elias Ishoel was a man on a mission in Fargo. After a rough first round qualifier, the Ski-Doo rider went on a tear in his second heat race. A performance that spilled over into the frozen final.
Ishoel had a good start, but he had some work to do to get into the lead. Before the AMSOL Finish Line even came into view for the first time, Ishoel had blitzed past a tight group of about six sleds in a single straight stretch, going from seventh to second in the blink of an eye.  He then set his sights on early race leader Lincoln Lemieux, quickly dispatching of the opening round winner less than 20-seconds into the race.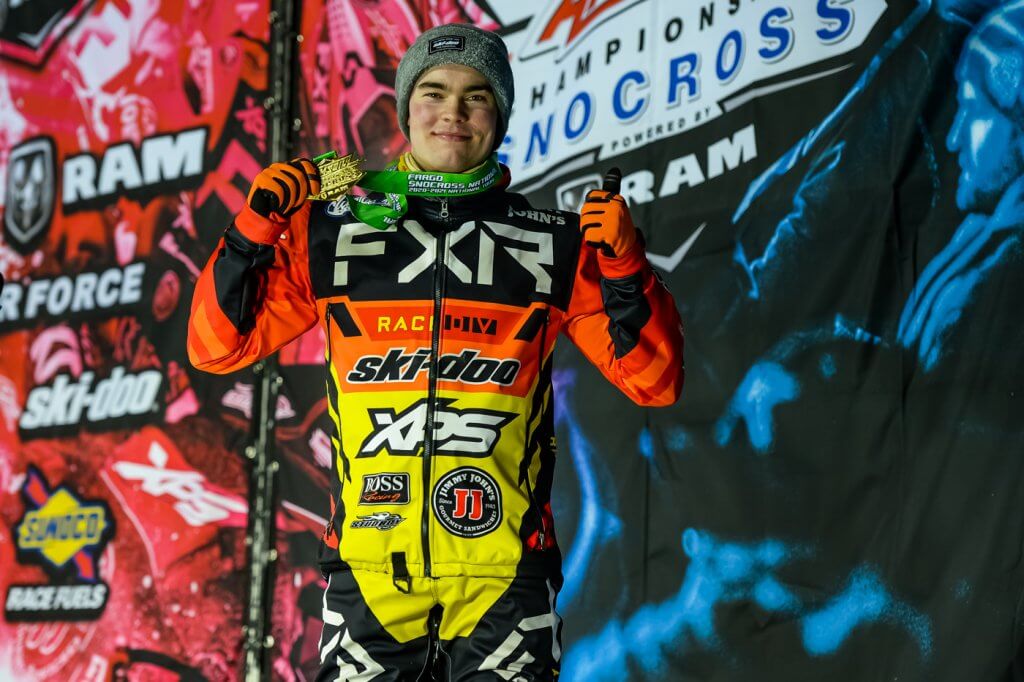 Ishoel didn't let off the throttle, pushing his Boss Racing ride to a nearly seven-second lead and his fifth win of the 2021 season.
"I'm feeling really good on my sled," said Ishoel. "This Ski-Doo is awesome out there. It's just so much fun to be out there. After getting taken out in the first heat, it was nice to get wins in the second and then the final."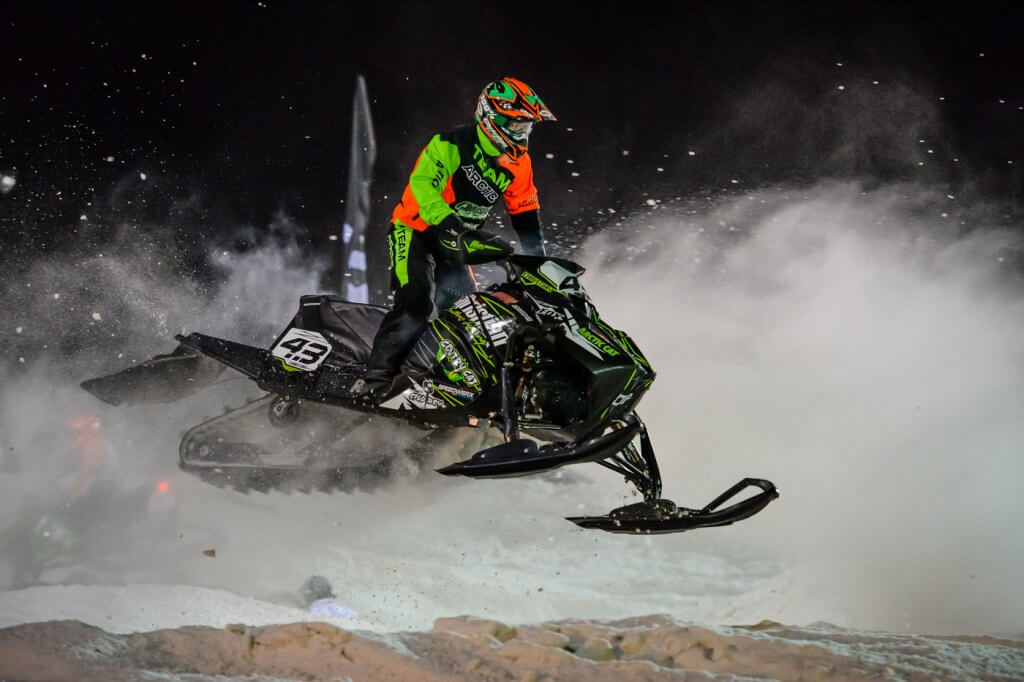 Lemieux had his Ski-Doo in perfect position for his first podium since Iowa. He kept pace with Ishoel for a few minutes, and was able to keep a few sled lengths ahead of Logan Christian for a majority of the ten minute timer. But Lemieux made what looked like a pair of bobbles that opened the door for Christian with just one minute left on the clock. The Arctic Cat driver took advantage, running down the time and the final two laps to finish second, his first podium since the season opener.
"It was tough. I found a couple of good lines a couple of laps in, getting that triple-triple on the back side was fast," said Christian, who hails from nearby Fertile, Minn. "The 13 (Lemieux) was running a good race, and he had a bobble, and I capitalized on it."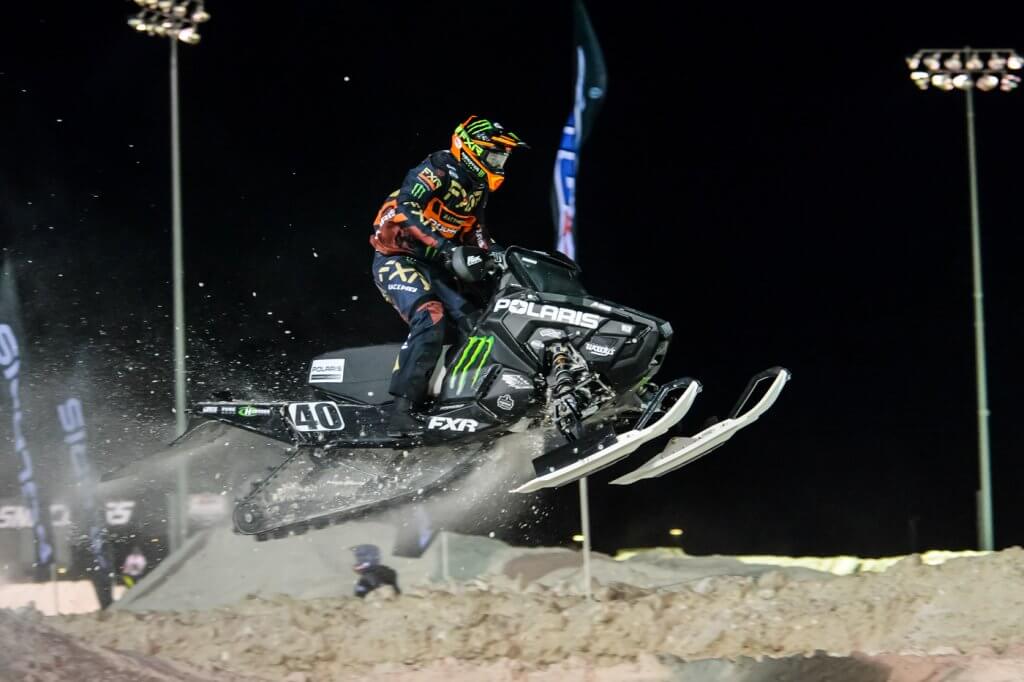 Lemieux's bobble turned into a mechanical issue as he slowed shortly after Christian moved into second. That allowed Polaris' Oskar Norum to get into podium position. Before that, Norum had made his way into fourth and had been putting pressure on Christian for third, and was in position to get the final podium position on Saturday, his fourth of the season. Norum now sits second behind Ishoel overall and leads Lemieux by 11 points.
"It was tough. They were fast in front of me," said Norum. "I pushed hard in the beginning, but I couldn't pass them, so I settled back in fourth and tried to find better lines. I closed the gap a little bit at the end. It was so cold out there, and the whole weekend was about staying warm. It was really tough."
Ski-Doo's Hunter Patenaude finished just off of Norum's pace in fourth. Arctic Cat's Jacob Yurk rounded out the top five.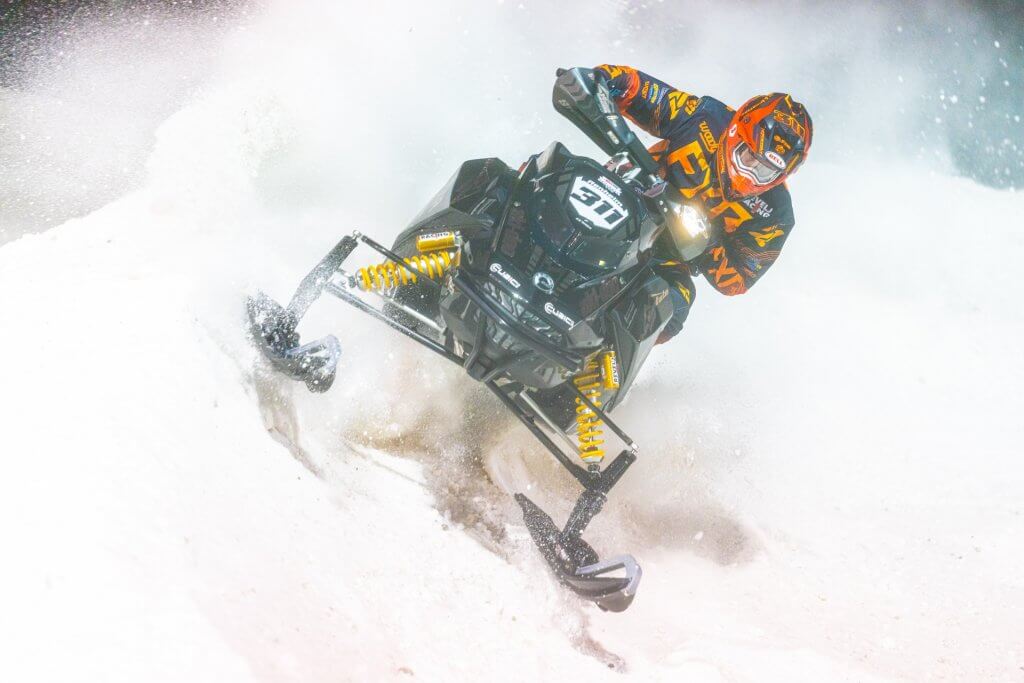 Renheim Retirement
One of the sport's most successful riders made a surprising late announcement on Saturday night. Longtime Ski-Doo rider Adam Renheim announced that the Fargo final would be the last race of his career in North America. The Swedish rider spent nine seasons racing with ISOC, finishing his career with three Pro wins. His best season came in 2018-19 when he finished fourth overall, thanks to those three wins, five runner-up finishes and a pair of thirds.
The six-time FIM Champion also won the AMSOIL Dominator, and was a fan favorite due to his Superman celebrations at the finish line. Renheim had spent most of his career with Ski-Doo's Warnert Racing, and was riding for Green Mountain Racing this season.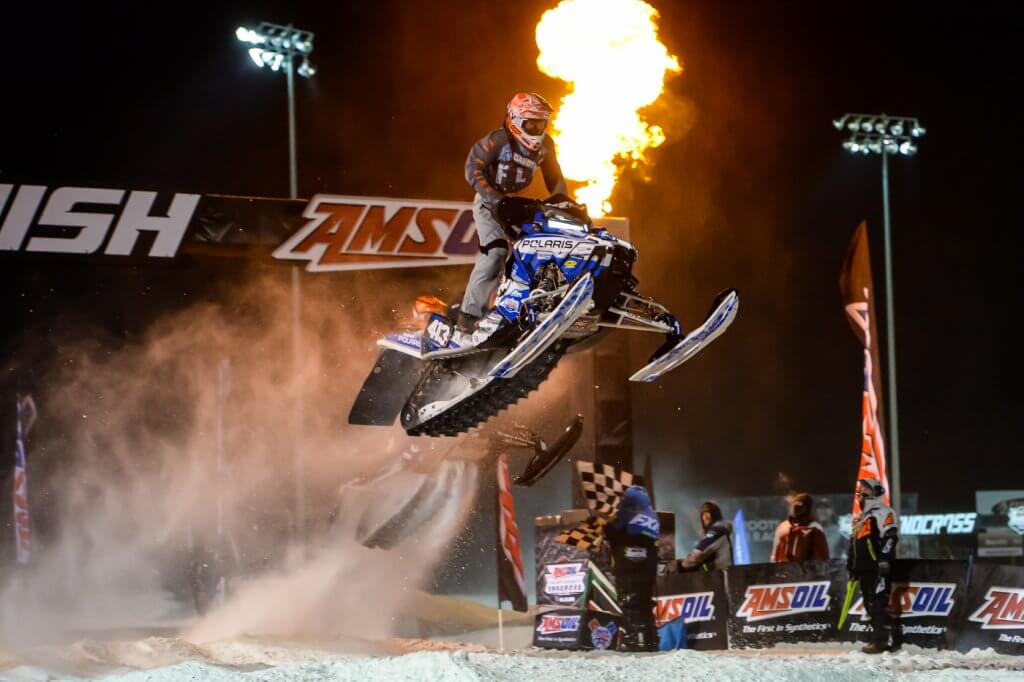 PRO LITE: No Daudt About It
The 2021 Pro Lite campaign continues to amaze. Eight races. Eight different winners.
Evan Daudt's story is amazing as well. He has always been one of the hardest working riders on the circuit, a practice junkie that fills his days ripping laps anywhere that is open for snocross racing.
Daudt's hard work and talent once again meshed in Fargo. After years of trying to scale back up the mountain, the Polaris rider final stood atop the summit on Saturday after winning an exciting Pro Lite final.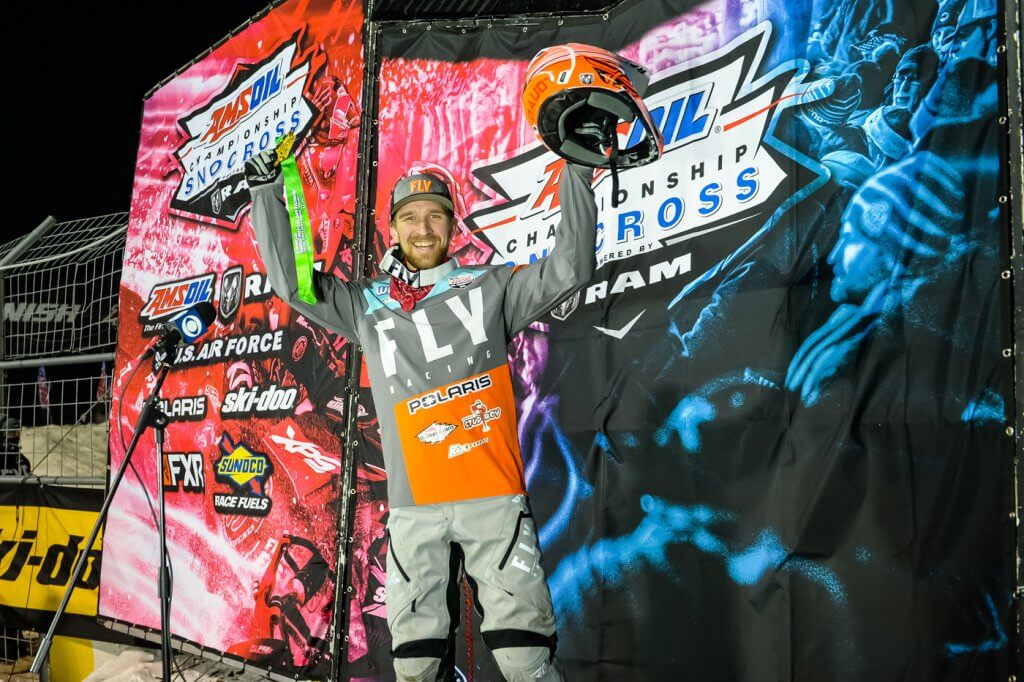 The start of the race saw a slew of sleds coming through the first few turns together. But when the chaos cleared, it was Daudt out front, followed by Travis Kern, Carson Alread, Taylor Cole and Adam Peterson. For the next ten laps, Daudt was in complete control, running through the clean (and cold) night air on his way to his third career win, his first in four years.
"The whole time I had to keep telling myself to breathe, breathe and hit my marks," said Daudt. "that's what we've been talking about with the guys. I just gotta go out there and hit my marks and be smooth and consistent. That's from the first corner through the whole race. That's what I was telling myself the whole time."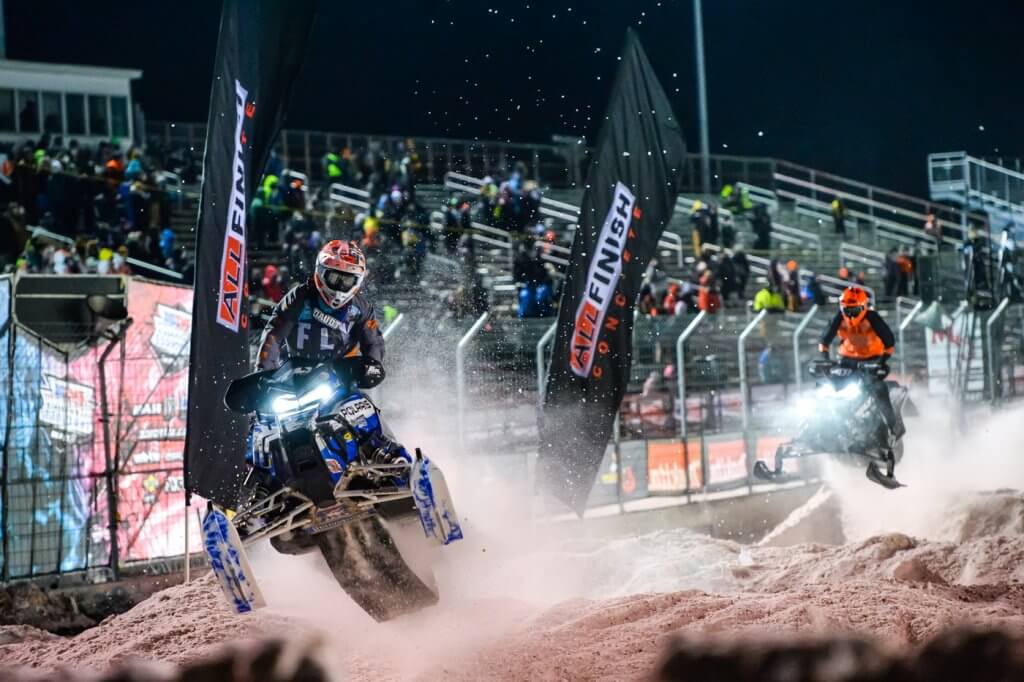 Kern was nearly as clean during his run into second place. The round six winner was focused on catching the leader, but was also dealing with Adam Peterson's continuous push from his third place position. In the end, Kern found enough breathing room in front of Peterson to make one last ditch effort to catch Daudt. In the end, his run was good enough for his third podium finish of the season.
"We got off to a great start. I was behind Evan and I just tried to stay smooth," said Kern. "I was waiting for Evan to make a mistake and he never did. He rode an awesome race. Then I had Adam breathing down my neck, so I really had to focus on both ends of it."
Peterson continued his podium dominance by finishing third. He had to work his way through a logjam to get into the position, and almost found his way around Kern a couple of times. But at the end, he picked up his sixth podium of the season, and keeps a solid lead in the overall standings, sitting 40 points ahead of Kern.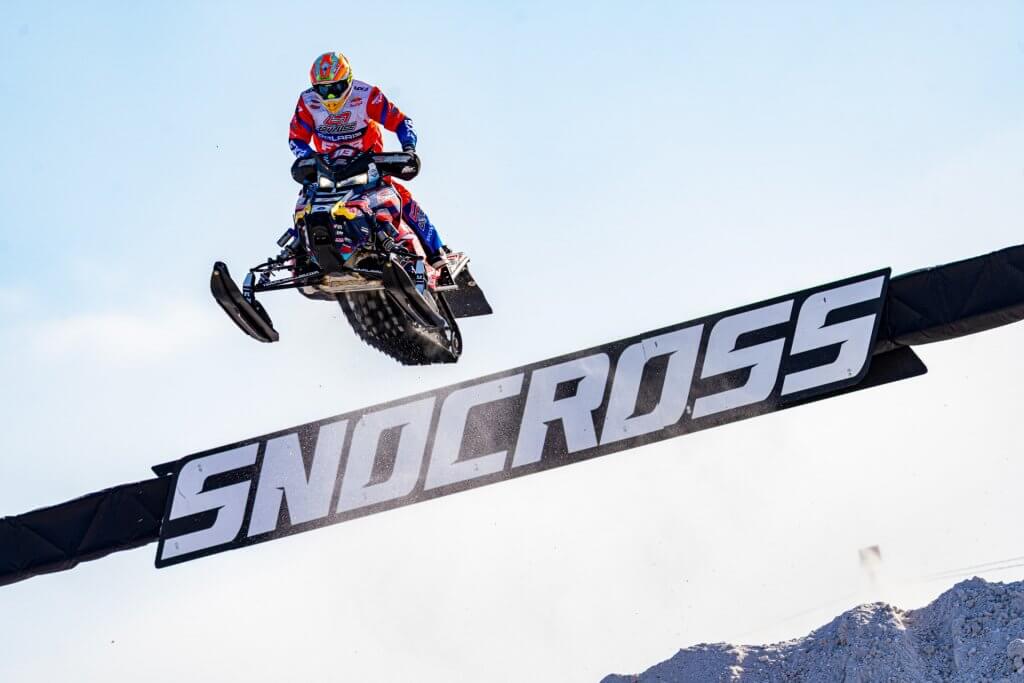 "I didn't come out with the greatest start, and I just tried to tuck it on the inside and work my way into third," said Peterson. "I was just right behind Travis the whole race. He ran an awesome race and I am super pumped for Even that he got on the box tonight."
Carson Alread (Polaris) finished fourth and Taylor Cole (Polaris) came across the line in fifth.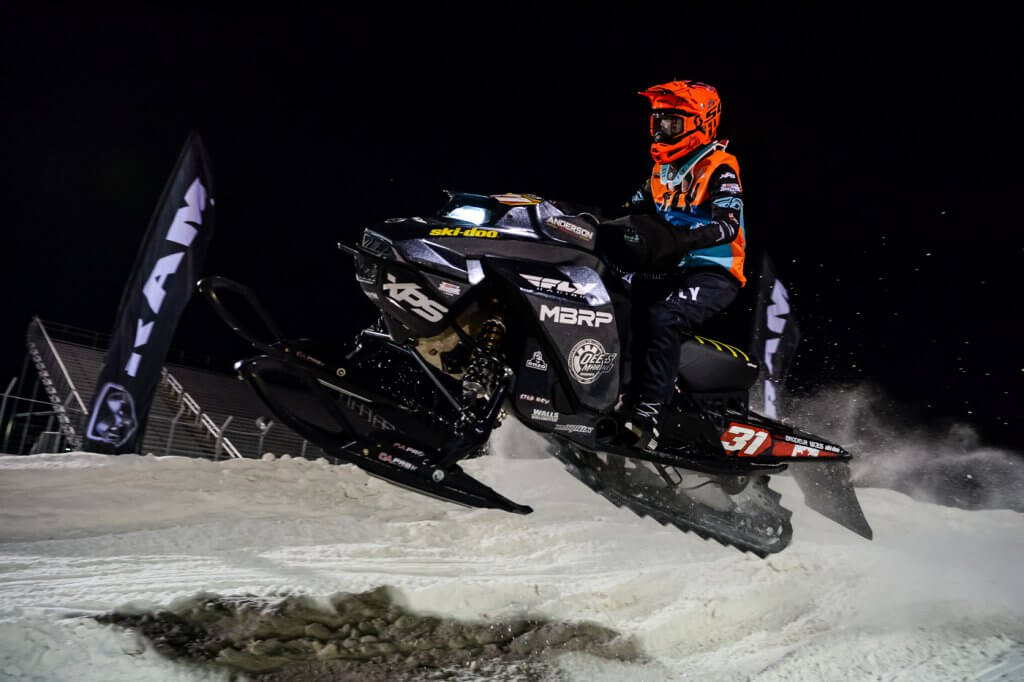 PRO WOMEN: Megan Brodeur has a built a new winning streak after missing the top spot for two-straight finals. The Ski-Doo rider was the number one qualifier after winning both of her Pro Women heat races, and was flawless in the final. Saturday night's win meant a Fargo sweep for the defending champion, and three straight final wins.
Malene Anderson (Ski-Doo) overcame a tough night of racing on Friday to finish just behind Brodeur in second. Tausha Lange (Polaris) made it two straight podiums in Fargo after finishing third.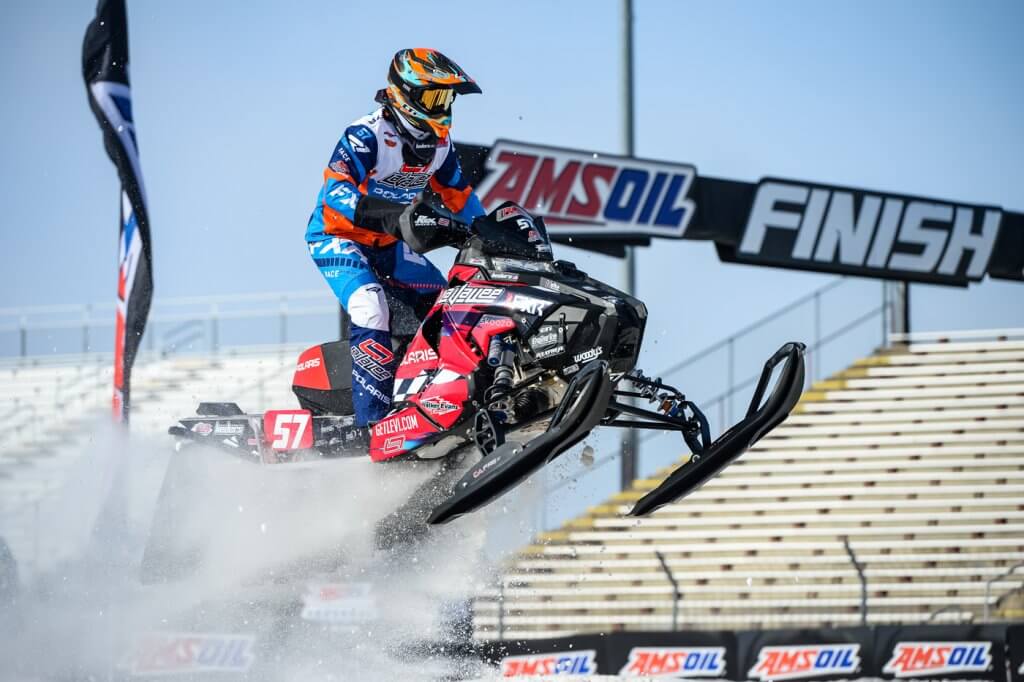 PRO AM PLUS 30: Polaris' Andy Lieders tamed the Fargo track for his third win in the Pro AM Plus 30 class. Lieders won both of his heat races and ran a clean final to extend his overall points lead over Jacob Blanshan. The Arctic Cat rider picked up his fourth podium finish in 2021. Kurt Bauerly (Ski-Doo) finished third.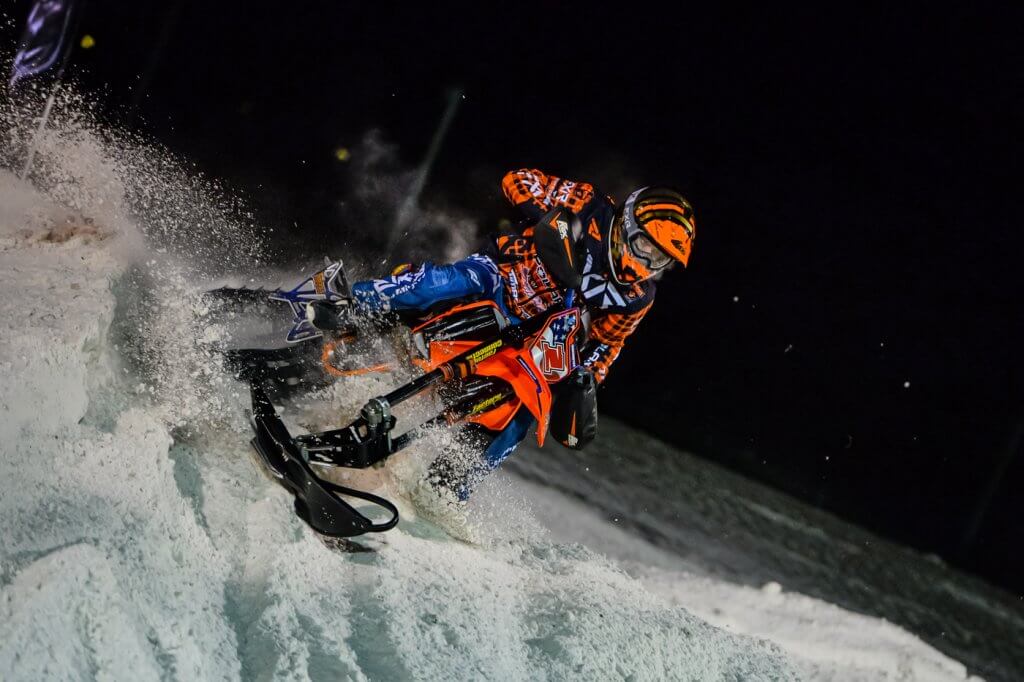 PRO SNOW BIKE: Jesse Kirchmeyer didn't miss a beat on his way to winning his eighth straight overall and pushing his moto wins to 16 in-a-row. Kirchmeyer went 1-1 on Saturday to keep a lock on his overall championship points standing.
Troy Horbaty went 2-2 to finish second overall. Keaton Ward was 3-3 for third overall.
FXR SPORT: Ski-Doo's Adam Ashline is now a two-time winner in the FXR Sport class. The Ski-Doo rider swept the Sport finals in Fargo, helped in large part to a great start in Saturday's final. It also marked his fourth straight podium finish and has him sitting second overall in the points chase.
After finishing third on Friday, Emeric Legendre (Ski-Doo) picked up his third podium of the season after constantly battling Ashline for the lead. Evan Christian followed the leaders to the line, finishing third.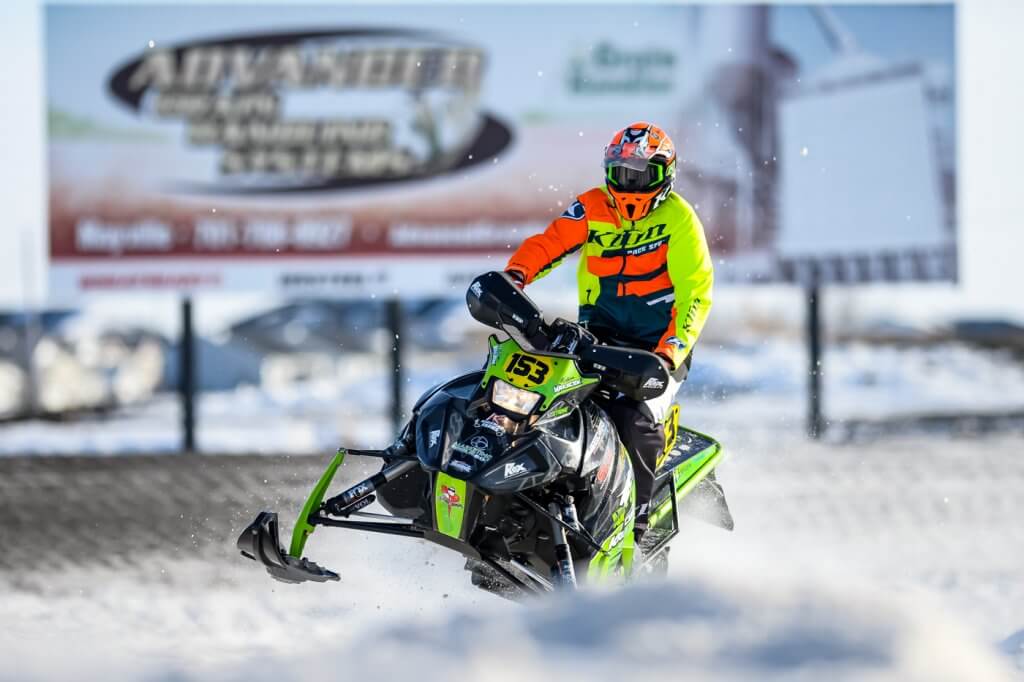 SPORT LITE: Points leader Kellen Chapuran led for the first two laps of the Sport Lite final before he was forced out of the race. That opened the door for Kolten Krajicek to pick up his second win in 2021.
Hayden Meyer (Ski-Doo) came across the line in second while Nathan LaValley (Ski-Doo) finished third.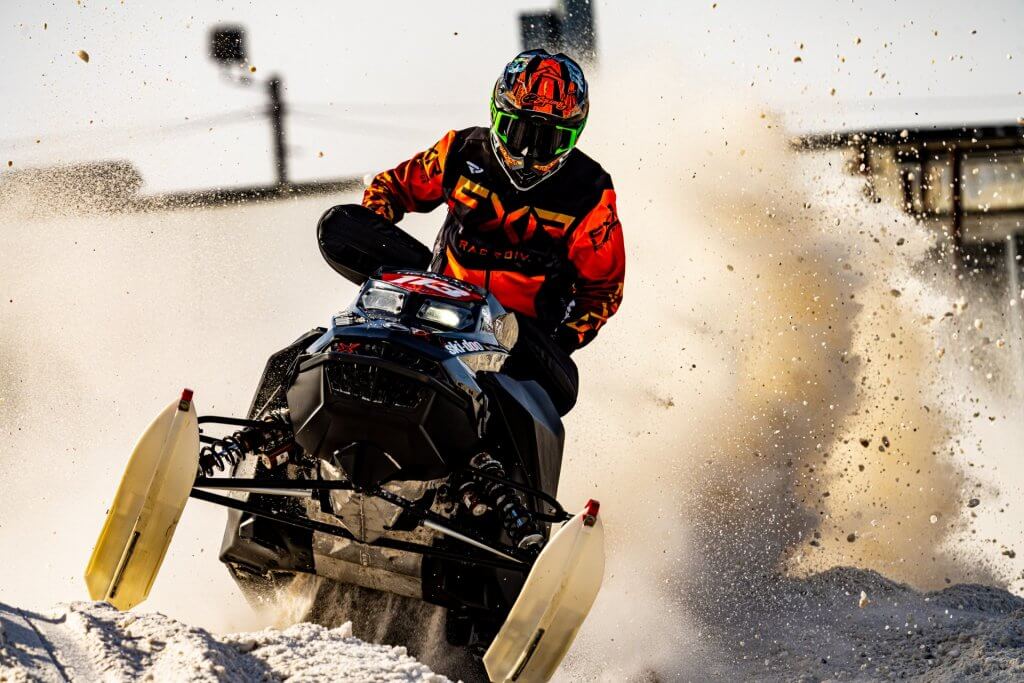 Saturday Snocross Results:
Ski-Doo's Domenic Hegman was a double-winner in Fargo. The Rogers, Minn. resident won both the Jr. 9-13 and the Jr. 16-17 finals. It was Hegman's third straight win in Jr. 14-15 and his second straight win in Jr. 16-17. He is the season points leader in both classes. Steven Max (Ski-Doo) finished second in both classes. Connor Campbell finished third in Jr. 14-15 and Cade Fleming rounded out the podium in Jr. 16-17.
The Transition 9-13 and Jr. 10-13 finals not only saw the same winner, but also the exact same top three finishing order. The points leader in both classes, Cameron Cole (Polaris) was the double winner on Saturday. It marked his second win in Transition 9-13 and his third straight win in Jr. 10-13.  Kenny Goike finished second in both finals, with Isaac Peterson grabbing a pair of thirds.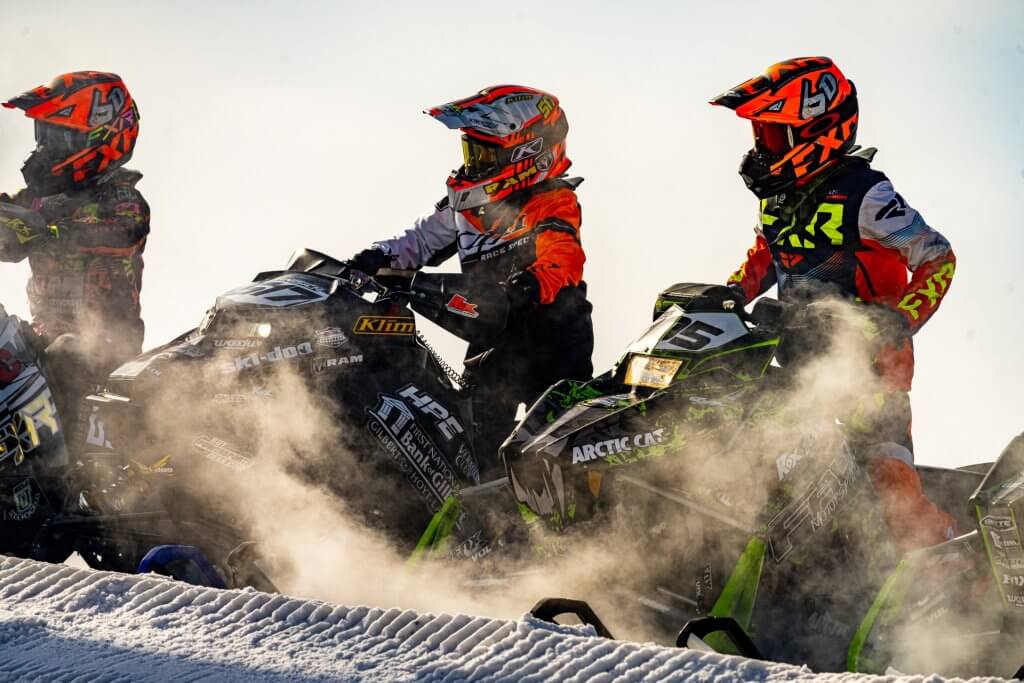 Gvanni D'Antonio notched his second win of the season in the Stock 200 final. Aiden Beckman finished second, ahead of points leader Tristian Hinton.
Cerissa Blessum won her second Jr. Girls 9-13 final in 2021. It was just the second race of the year for Blessum, who also won at the opening round at ERX Motor Park. Points leader Kendal Rose held-off Ava McCurdy at the line, taking second by just .001 of a second.
Owen Eide grabbed his second win of the season and fourth podium with a strong ride in the Transition 8-10 final. Zach Miller finished second, ahead of points leader Jimmy Stanisich, who just edged out Lincoln Meyer by .0676 of a second at the finish line.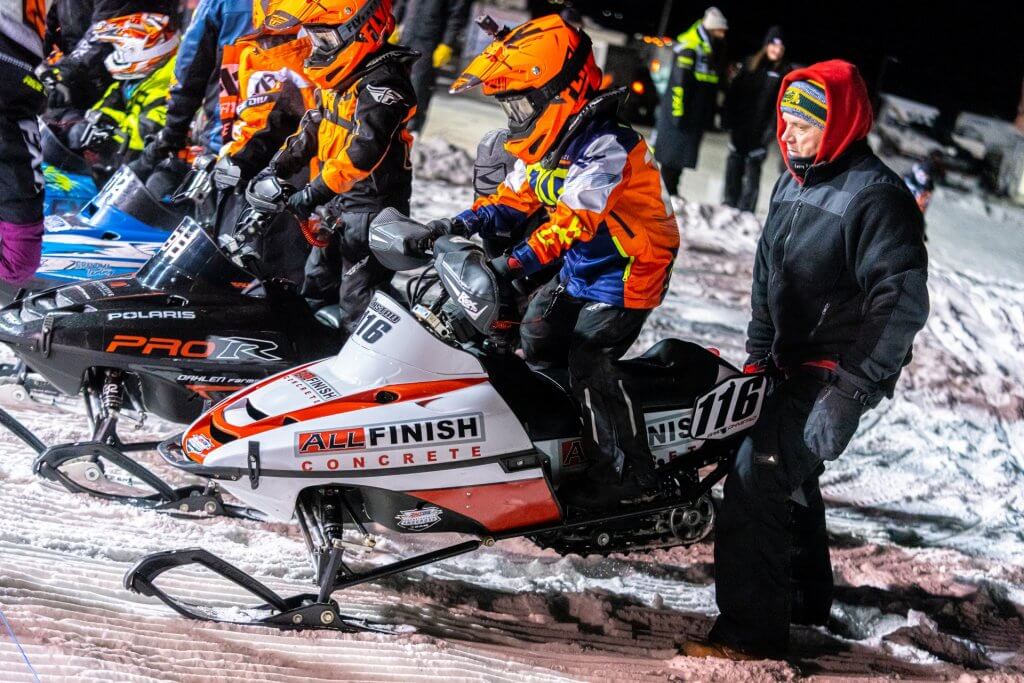 The 2021 AMSOIL Championship Snocross series will be comprised of 16 national rounds, starting at ERX and ending in late March in Grand Rapids, Mich. All events will air on the series live-stream channels, as well as the CBS Sports Network airing in the weeks following the race.
About ISOC: Championship Off-Road andAMSOIL Championship Snocross, powered by Ram Trucks, are owned and operated by the International Series of Champions (ISOC) out of Albertville, Minn. For more information on its events and schedules, go to www.snocross.com.