Elk River, Minn. ~ The 2021 AMSOIL Championship Snocross, powered by RAM Trucks season might have started later than normal, but a hectic schedule that started in January at ERX Motor Park was running like clockwork through the first twelve rounds. But the final three weekends will run later into March, and all three weekends had to find new homes over in a hurry, including a return to where it all started this year as the Pirtek National headed north from Canterbury Park to ERX.
But as much as things have change, they have also stayed the same. At ERX on Friday night, The Champ found his cape, another first time winner in Pro Lite and a Pro Women's championship battle looks like it will be coming down to the final lap of the season.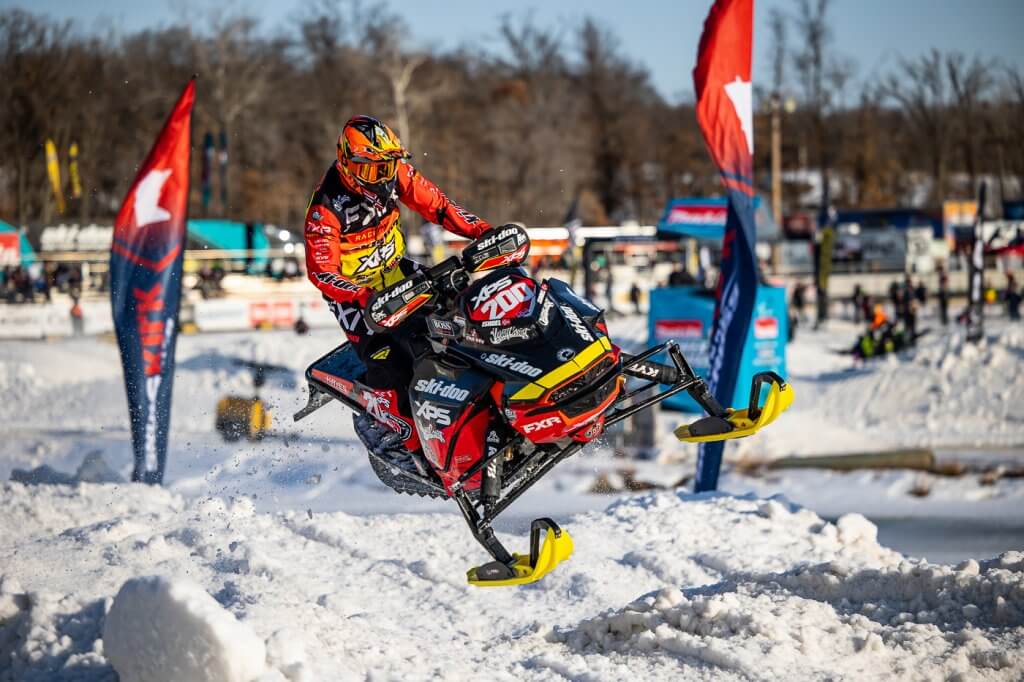 Elias Earns Eighth at ERX
The story of the how the AMSOIL Pro finals have played out this season may sound redundant after 11 rounds of racing, but the devil is in the details and the plot line continued to thicken through the ten minutes plus two laps of racing on Friday night.
There have been just four winners in the Pro class in 2021, led by points leader Ishoel. The other three solo winners were Lincoln Lemieux in the season opener, Kyle Pallin two weeks ago in Sioux Falls and Jacob Yurk in Deadwood.
At ERX, Yurk was ready to flip the script and become a two-time winner. A top five qualifier, the Arctic Cat rider grabbed the hole-shot in the final and came through the huge rhythm section with the lead. He was looking to stretch his legs out a bit, but Ishoel, this seasons lead character, was right on his snow-flap.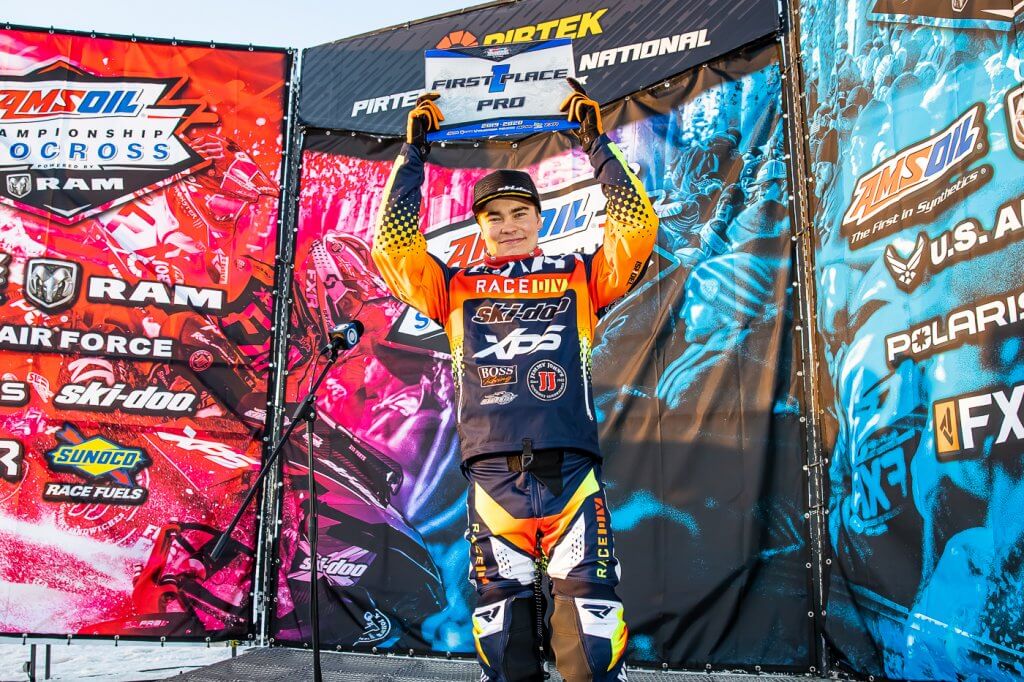 Ishoel showed early patience as Yurk moved out front. With less than six-minutes to go on the clock, that patience wore out and he worked his way past the second-year pro. But Yurk never gave up the chase, watching and learning behind the defending champ. Yurk would keep Ishoel within reach and was in striking distance when the race suddenly came to a halt after the red flag came out.
After an extended delay, the field was lined up in a single-file start order, with Ishoel holding point. Even with the front position, he would need to throttle up to get to the first turn with the lead. Yurk was equally up to the task, but was just off the pace set by Ishoel. From there, Ishoel ran out the remaining two-minutes on the clock and the final two laps, crossing the finish line with his jersey whipping behind him like a cape and arms raised to the sky, picking up his eighth win of the season.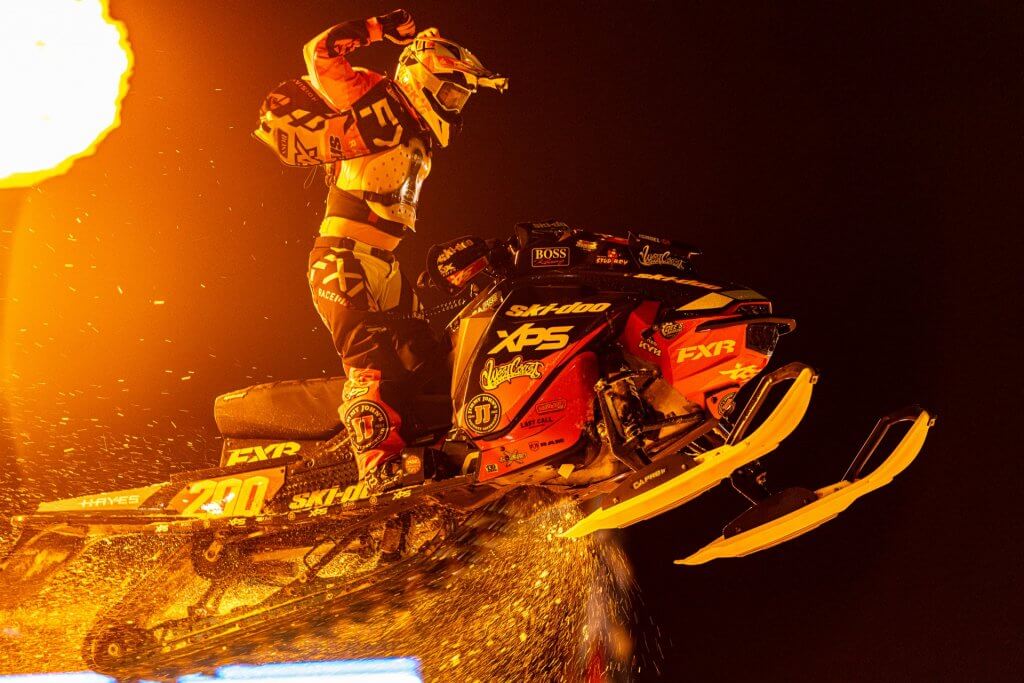 "When we go the red flag, I was just thinking about what lines I was going to take the first lap," said Ishoel. "I got a good start and I just managed to stay on top."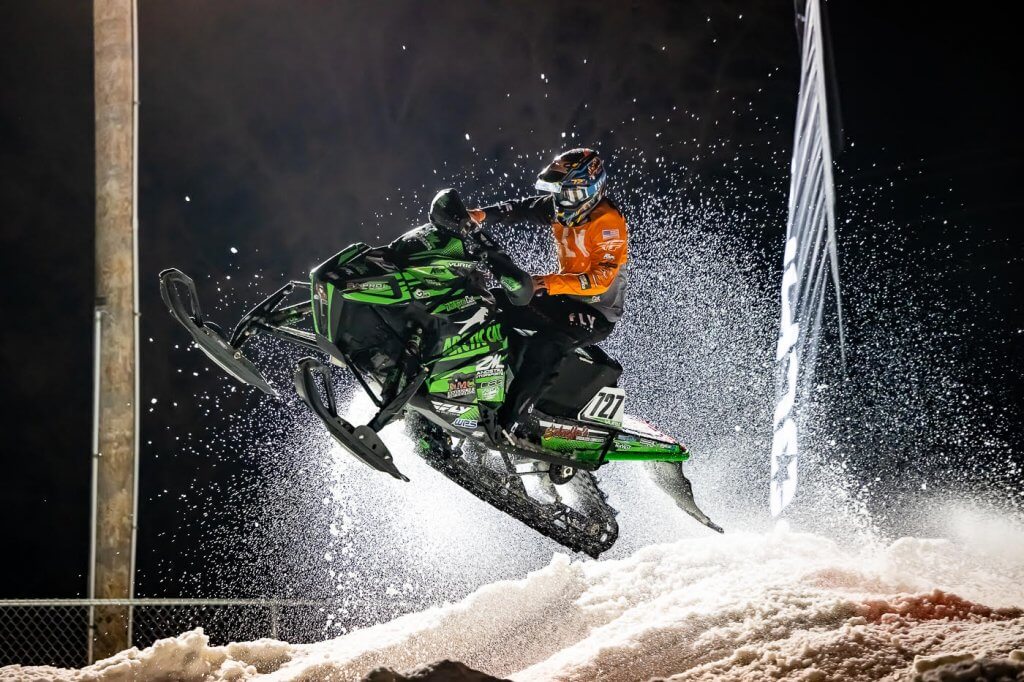 Yurk's effort was not for naught. His second place finish was his second straight podium after finishing second in Sioux Falls two weeks ago. His run on Friday night allowed him to pick up championship points and now sits just 12 points away from Oskar Norum for fifth overall.
"The final was just kind of a representation of the heat races," said Yurk. "We had a lot of confidence coming in. We had a super good break and had some fun and just brought that into today."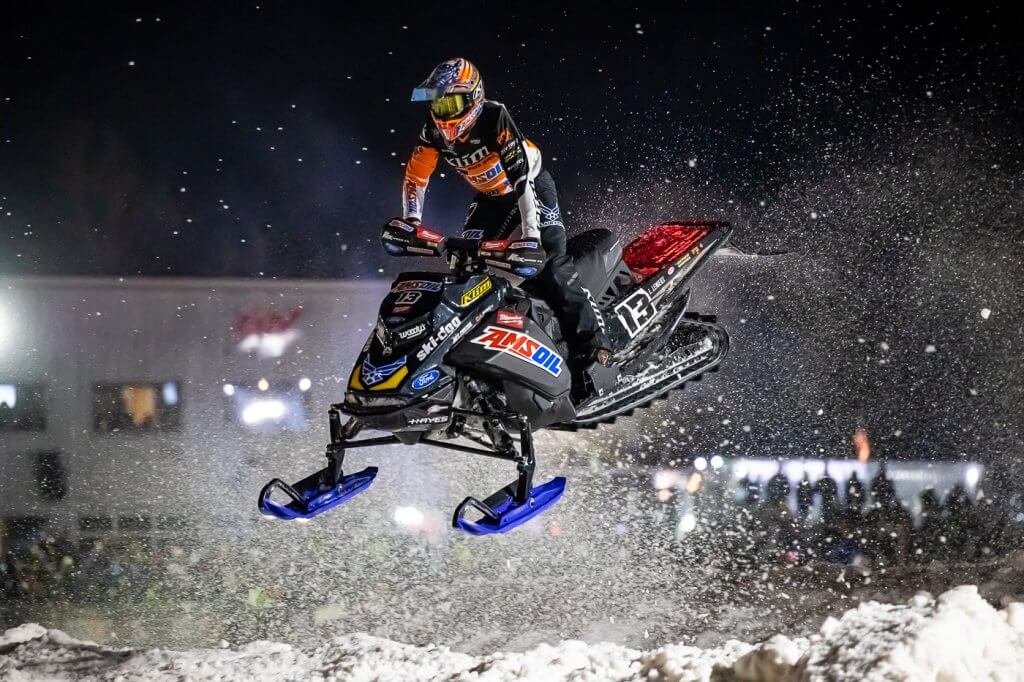 Lincoln Lemieux found a story of redemption at ERX on Friday. After a couple of slow heat races, the Ski-Doo rider used a veteran move to get back on the box for the first time since round four in Iowa. Lemieux was running a top five race for most of the final, and took advantage of the restart, choosing an aggressive outside line that moved him into third for the final six laps.
"Everyone got tangled up on the restart," said Lemieux. "I swept wide trying to make something happen, I didn't want to settle for fourth. We've been in a slump here, but we have been grinding through it and I hope we can go get some more podiums this weekend."
Cole Cottew (Polaris) had his best finish as a pro in fourth. Aki Pihlaja rounded out the top five.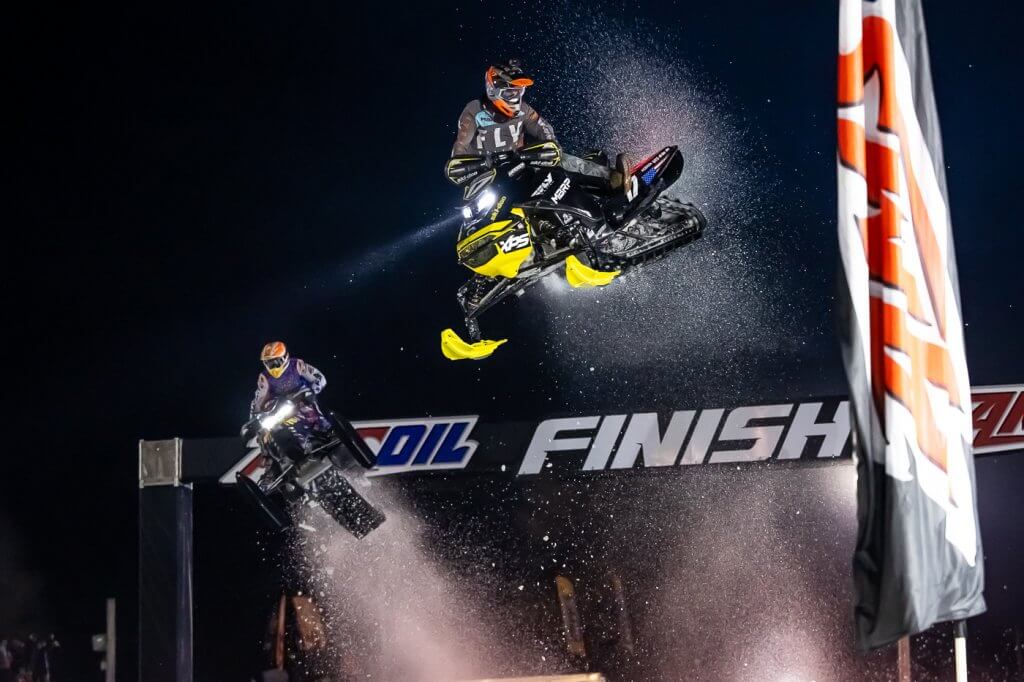 Anderson Answers For First Pro Lite Win
Off the start it looked like Baily Forst was going to be the tenth different rider in the first 11 rounds to pick up a win in Pro Lite this year. But when the deck got shuffled out, it was another first timer picking up the win.
Forst was fresh off his first podium of the season in Sioux Falls and the Polaris rider got a great start in the final, leading for the first five laps. But Korbyn Anderson was applying constant pressure. On lap five, the pressure came to a head and Anderson made his way around Forst on lap six. With clean air, the Michigan-native kept finding the right lines and pushed his Ski-Doo to an impressive win, his first of the season. It also marked his fourth podium of the year and first since round four in January.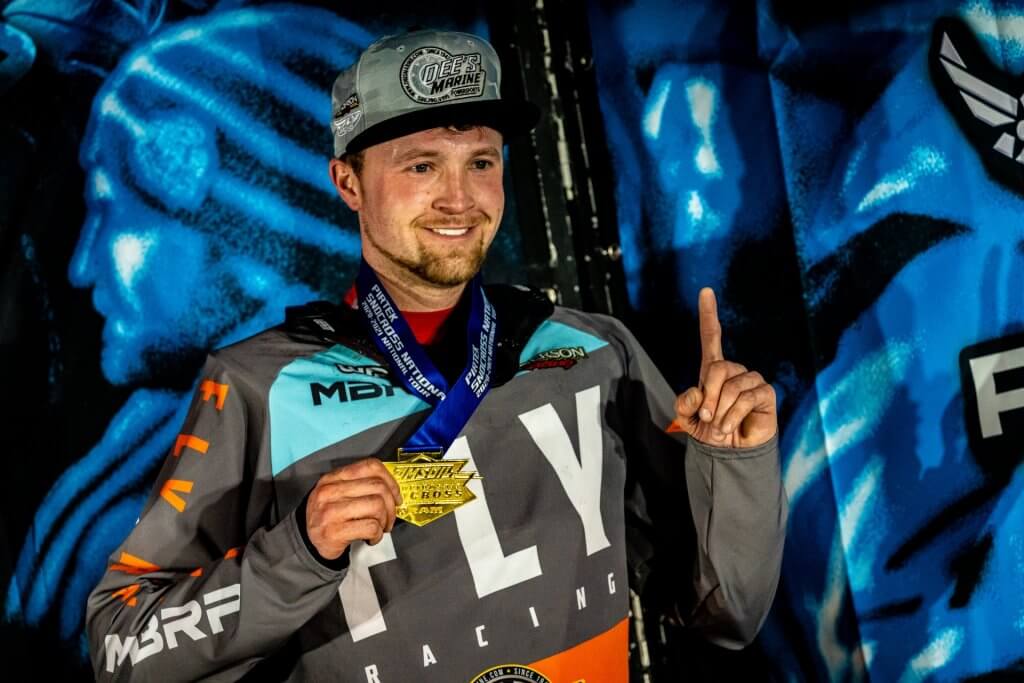 "I like these types of tracks a little more, more wide open," said Anderson. "It's been my dream to get up here and I finally accomplished it. A torn ACL. A messed up wrist, and I still got it done."
Anderson was pressured heavily by Travis Kern, who was aggressive on his line choices on his way into second place on lap seven. But as Kern settled into the runner-up spot, points leader Adam Peterson was on a charge after a poor start. Peterson moved into third with three laps to go. He kept charging and on the last lap had caught Kern. On the final turn, Peterson used a sweeping move to move past Kern and into second, his seventh podium of the season.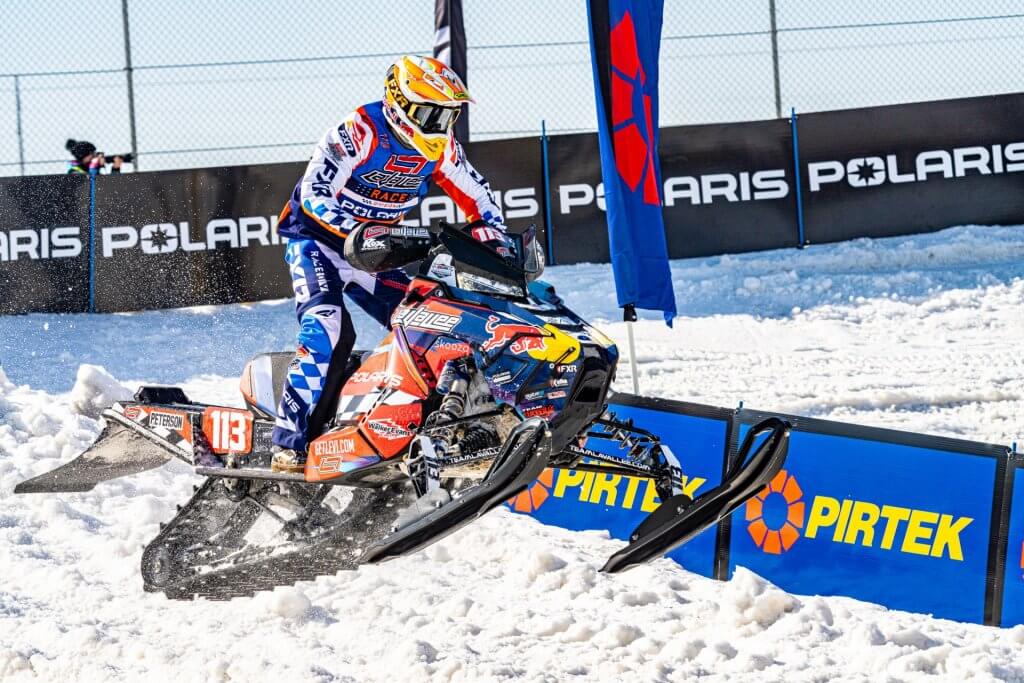 "I was just battling, and I finally saw Baily in third, and I thought 'I got to get around him'," said Peterson. "Then on the last lap I just decided to go wide and was able to get around Travis."
Kern's effort was exciting to watch as he tracked down Anderson, but the Polaris rider admitted to switching up his lines late in the race and leaving the door open for Peterson. His third place finish was his fifth of the season and he sits second overall in the points race.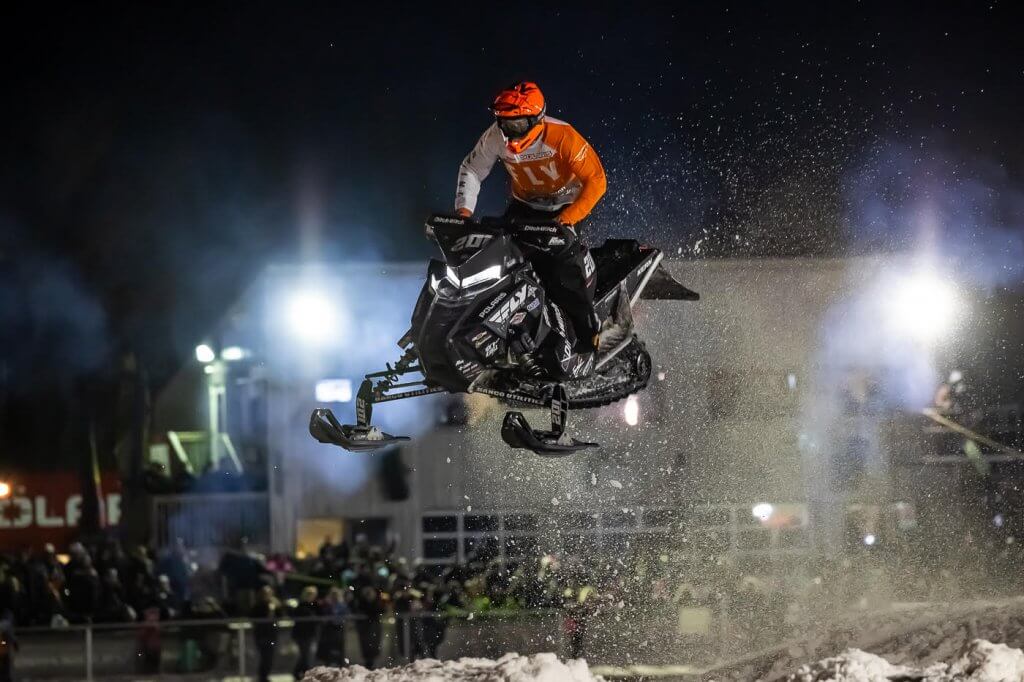 "I was on the outside on the start, but I was able to get out of there on the start," said Kern. "I knew I had to stay smooth and work some lines. I was doing some pretty sketchy lines and then dialed it back a bit. In hindsight, maybe I shouldn't have."
Jordan Lebel came from the back row to finish fourth. Round eight winner Evan Daudt rounded out the top five.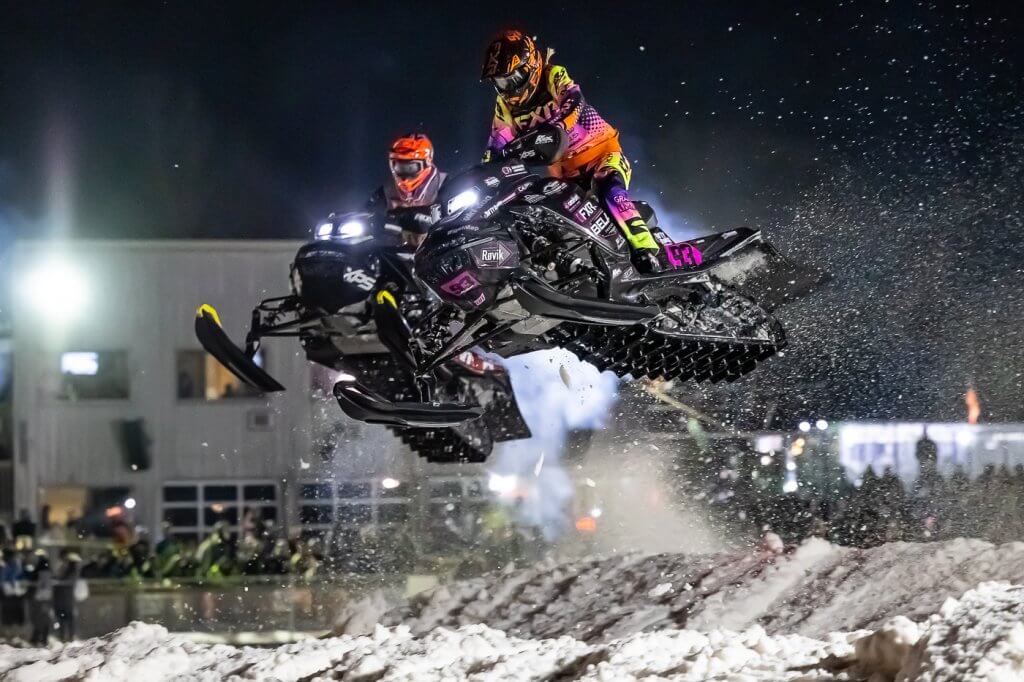 PRO AM WOMEN: One of the closest points battles got a little closer on Friday night. Points leader Megan Brodeur held a six point lead over Malene Andersen coming into ERX, and they each picked up a pair of heat race wins heading into the final.
Once there, a back-and-forth battle ensued for a majority of the race between the top two riders, but when the chaos settled it was Andersen on top of the box. Andersen used a late spurt to push a narrow lead into a five-second win over Brodeur. It was Andersen's third straight win, cutting Brodeur's lead in half.
Inanna Hauger continues to get great starts, finishing third on Friday night.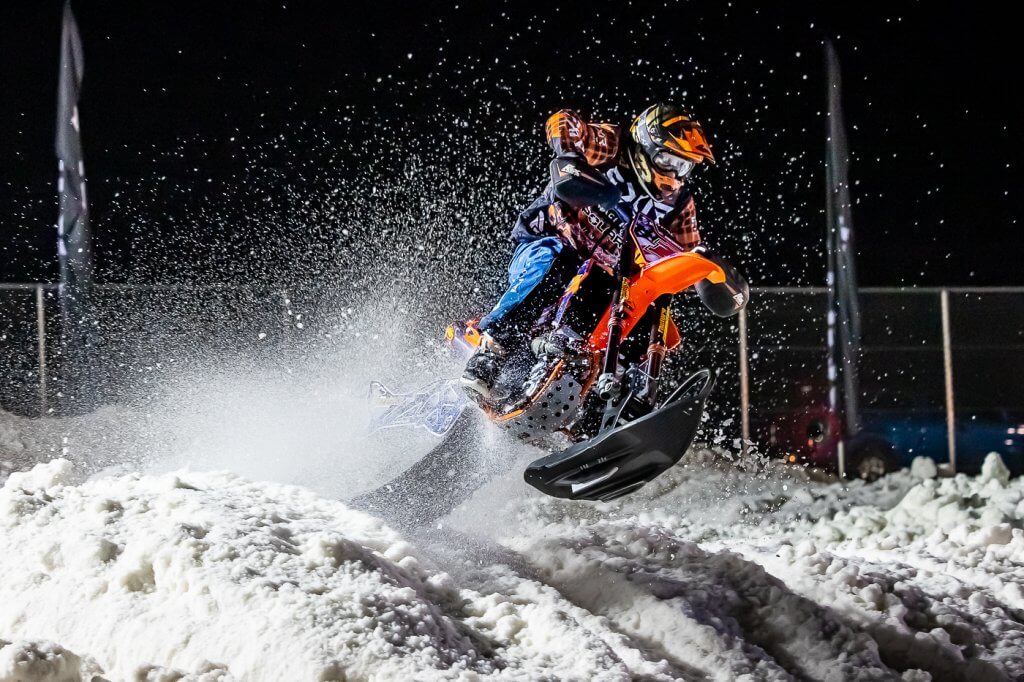 PRO SNOWBIKE: After having his win streak snapped in Sioux Falls, Jesse Kirchmeyer kicked it back into high-gear by winning both moto's in Pro Snowbike. It was the 19th and 20th moto wins for the points leader and eighth overall win in 2021.
Troy Horbaty's two straight overall wins came to an end at ERX, but he was still quick enough to go 2-2 for second overall. Keaton Ward finished the night by going 3-3 for third overall.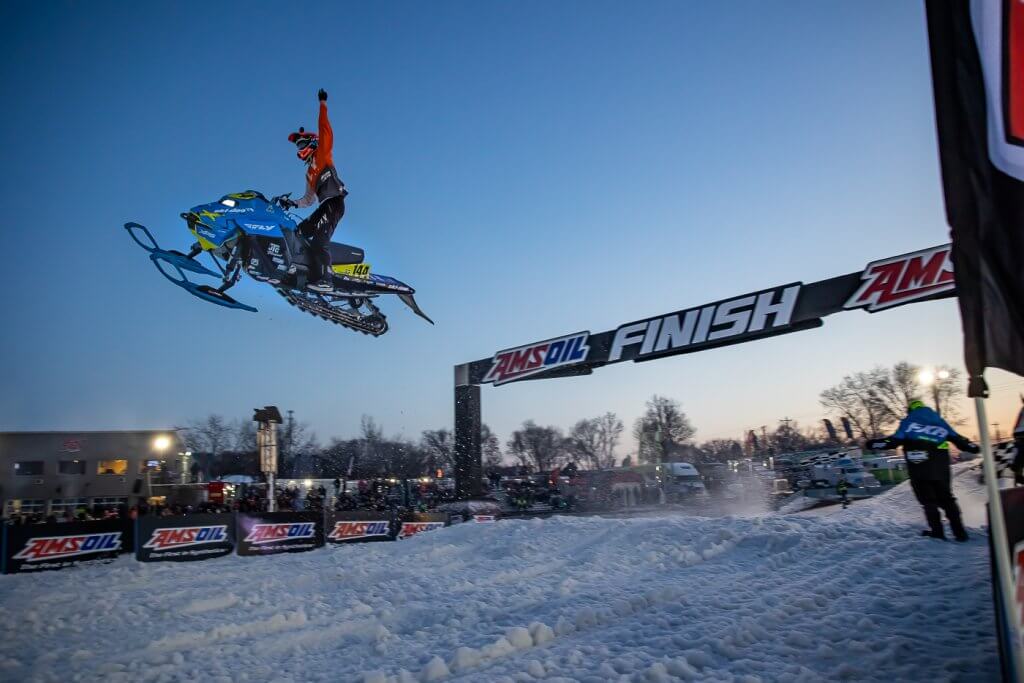 FXR SPORT: Emeric Legandre (Ski-Doo) was in third at one point during the FXR Sport Final, but charged his way to the top spot at the conclusion of the seven lap final for his second win of the season.  Points leader Evan Christian finished second. Tyler Archambault finished in third.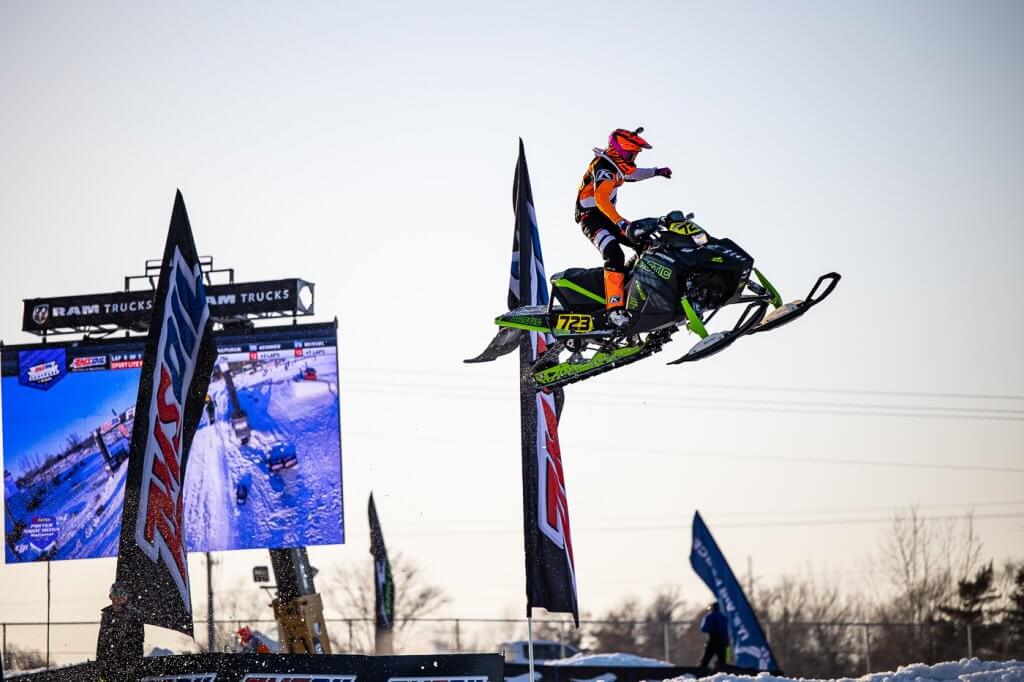 SPORT LITE: Justin Blazevic returned to racing in a big way by winning the Sport Lite final on Friday night. It was his first night racing the tour since the opening two rounds in January. Kolton Krajicek closed the points gap on Kellen Chapuran (four points separate the two for the overall) by finishing second in the final. Crayden Dillon finished third in the final in his first race of the season.