Elk, River, Minn. ~ Twelve rounds down. Four rounds remain. The grind of the 2021 AMSOIL Championship Snocross, Powered by RAM Trucks season has now officially switched over to a sprint. After a spectacular night of racing at ERX Motor Park, home to four rounds of racing on this year's national schedule, the title contenders are now set, ready for a final quarter showdown.
Fans filled the ERX fence-line, watching the sport's biggest stars shine under the spotlight at the Pirtek National Snocross. When the final checkered flag fell, those fans saw the championship picture a little bit clearer.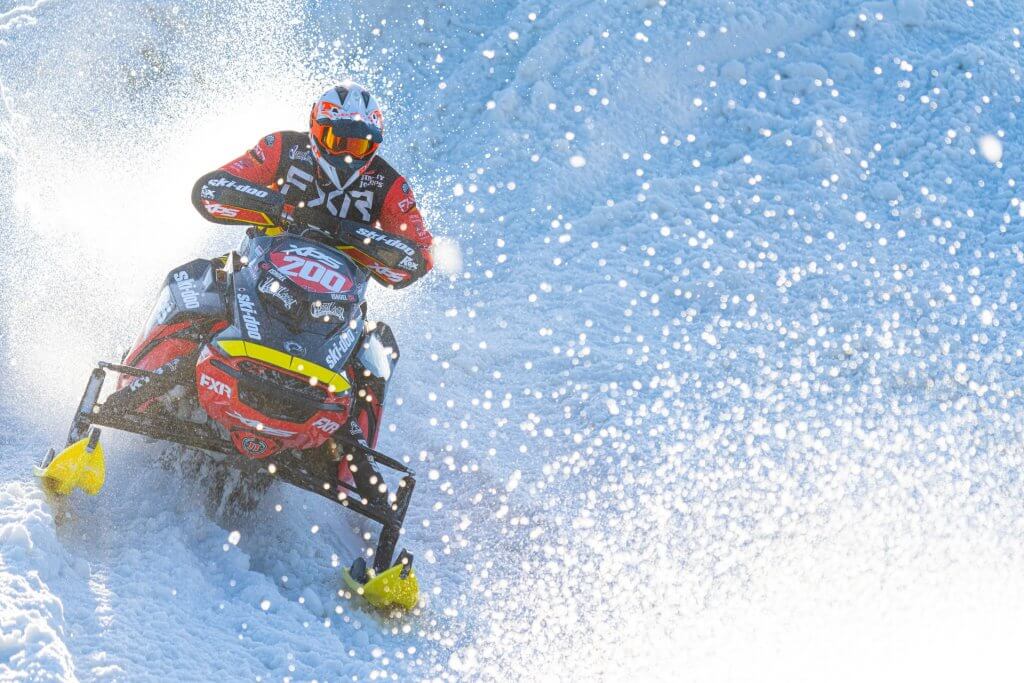 Ishoel Takes it Minute-by-Minute
Elias Ishoel has won the past two Pro championships as much by brute force as he has skill. He has slammed his sled around the track, not into other riders, rather against the tops of the tipsy-turvy mounds of snow. He's done so without peer or peril.
But over the past few races, a different Ishoel has emerged as the Viking Rocket narrows down on his third-straight title. He still runs on the ragged edge, but recently the Ski-Doo rider has mixed in some timely patience to his madness.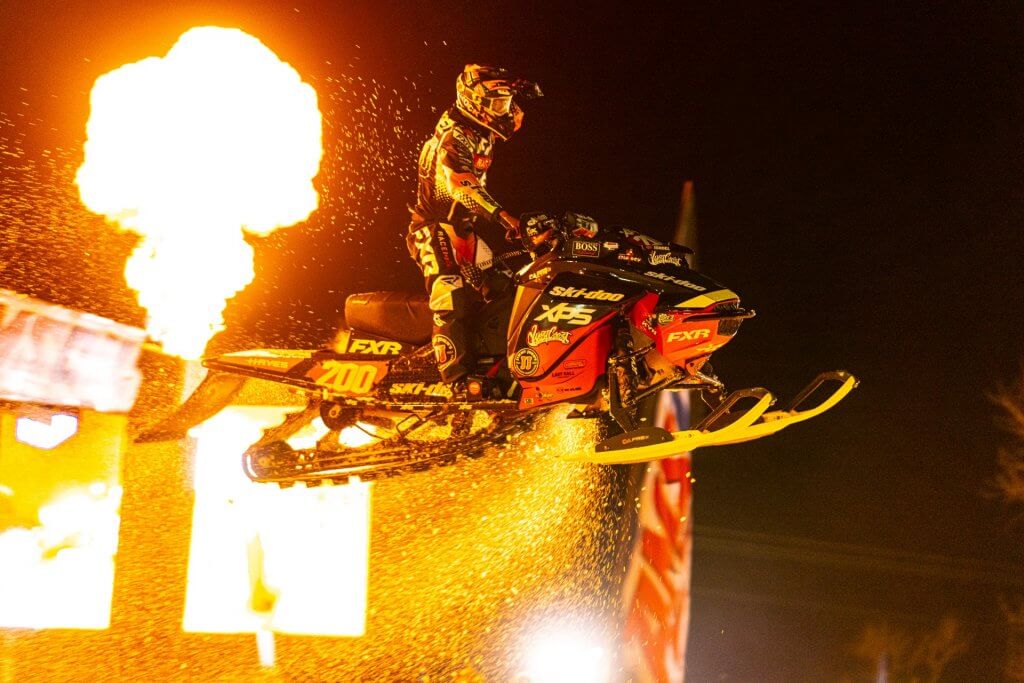 On Saturday night at ERX, it was a minute-by-minute method that got Ishoel his ninth win of the season and 23rd of his career. Ishoel once again started mid-pack, seventh to be exact, and just like Friday night, it took Ishoel about two minutes to get into a groove, moving into fourth behind Emil Harr. One minute later, he was past Harr into third. One minute later he whipped past Francis Pelletier. Now he had his sights set on race leader Lincoln Lemieux. Like clockwork, Ishoel dragged raced Lemieux across the finish line jump, gained position and took the lead to the finish.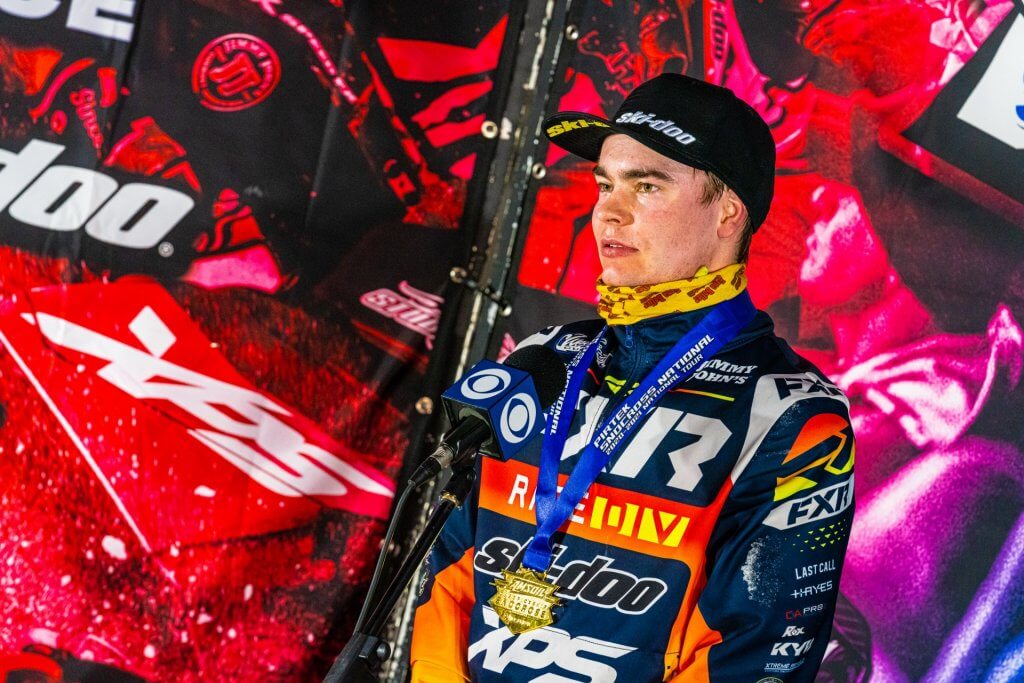 While the win comes as no surprise, for Ishoel, it was a sort of reset after the heat races left a poor taste in his mouth.
"I need to get back into myself after the two qualifiers. I just didn't drive the best," said Ishoel. "I just had to get back to doing what I can do. I just had to relax and think about what I should do out there, and my job. It worked really well."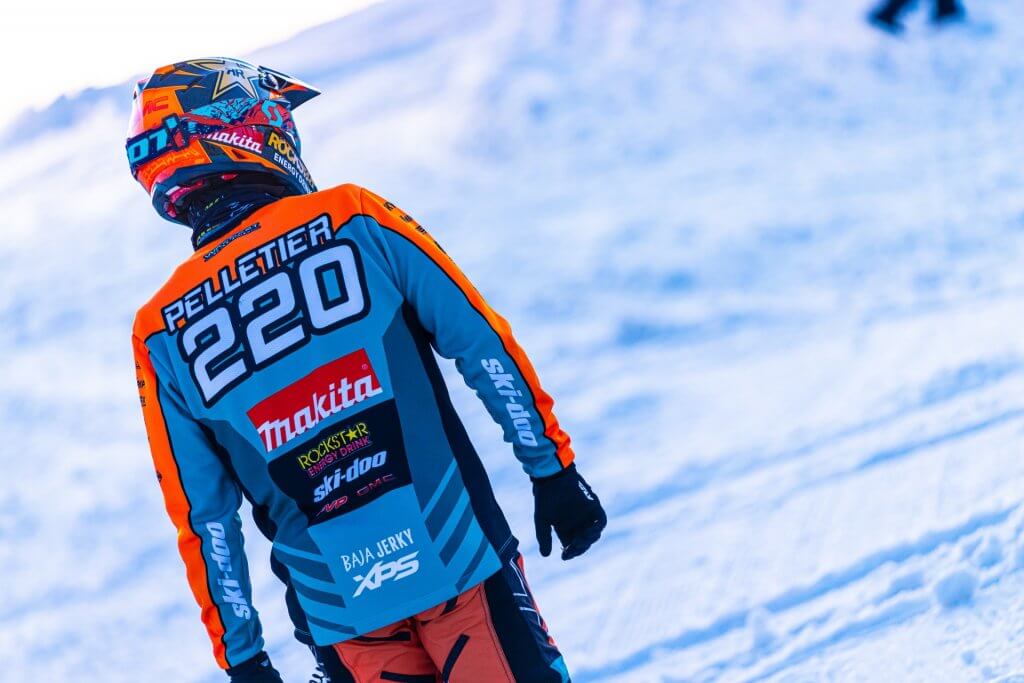 Behind Ishoel, there was a lot of slotting for position, with riders moving up and down the leader board. Pelletier started second behind Lemieux, and after Ishoel got out front, Pelletier played follow-the-leader and was able to edge past Lemieux. The rookie continues to impress and his runner-up finish at ERX marked his third podium in the past four races. It was also a sign of resiliency for the Quebec native after tough night on Friday,
"I just had to bounce back. I had a really bad day yesterday, so it was my night," said Pelletier. "I felt great on the sled all day. I knew I was going to do something tonight, because I had too after yesterday."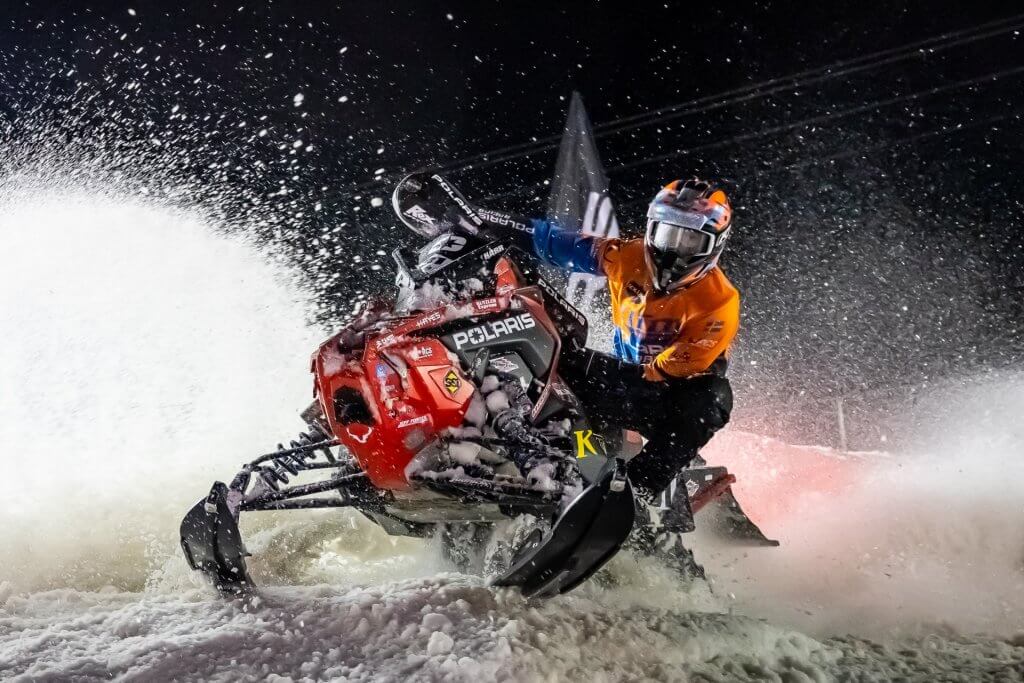 Pelletier's running up the podium also brought along Emil Harr. The Polaris rider had a strong day in qualifying, and moved into contention after the first two laps were completed. With only 1:30 left on the clock's run-time, Harr continued his charge, getting past Lemieux and into position for his first career podium in the United States.
"I had a good week, except yesterday I had a bad final," said Harr. "But I had some good heat races and the same today. I'm finding some good lines in the final and made some good passes. When I knew I was in third, I just stayed on the speed and just went fast."
After another huge hole shot, Lemieux eventually would finish fourth. Kody Kamm rounded out the top five.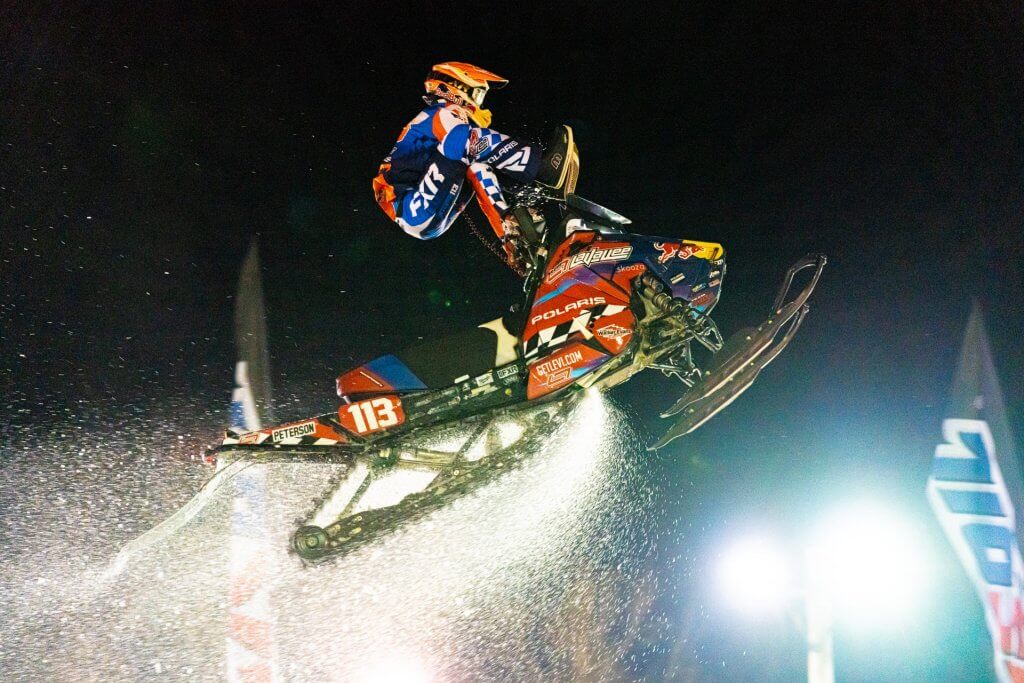 Peterson's Pro Lite Perfection
Adam Peterson came into the 2021 season swinging. He lit the lamp in grand style at the opening round at ERX in January. Since then, he has been the most consistent rider in terms of podium finishes and has only dropped out of the top five in a final once in 12 rounds.
That has given the Polaris rider a substantial lead in the Pro Lite standings, but the win in week one is his only triumph this season. Back at ERX this weekend, Peterson reasserted his dominance, first with a hard-charging runner-up on Friday night, and then a flawless victory on Saturday night,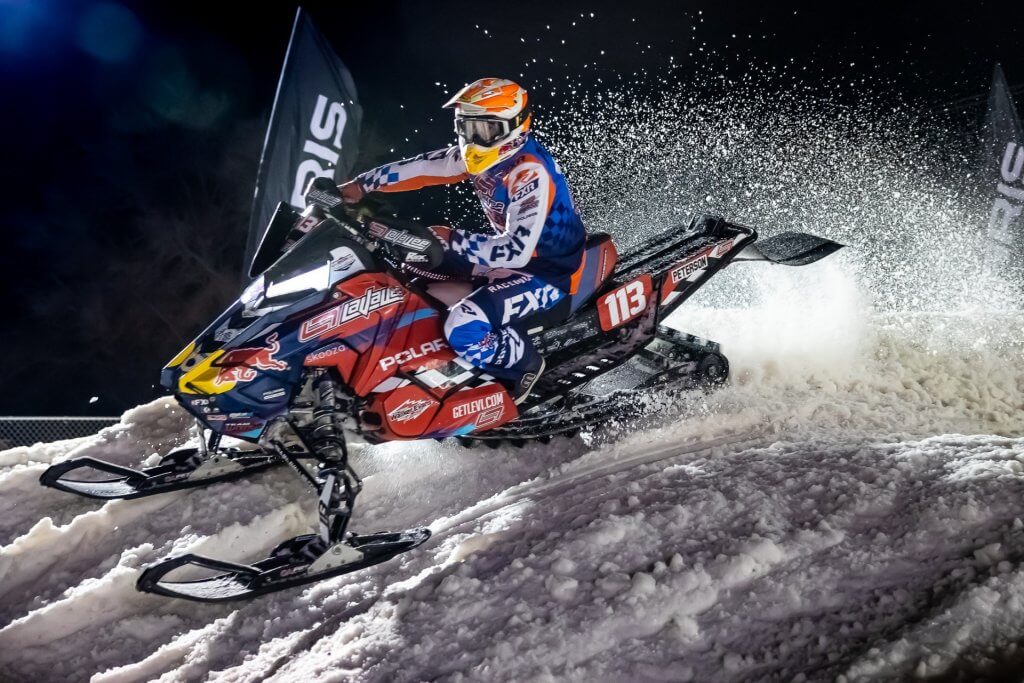 The formula was pretty easy for Peterson, or at least he made it look that way. First he won both of his qualifiers, making him the number one qualifier. That gave him first pick in the final and he took advantage by nailing the hole shot. Out front with clean air, Peterson didn't miss a beat and was able to ignore the chaos going on behind him while he cruised to the win.
"The track was awesome today, but I think I liked it a little bit more yesterday," said Peterson. "It was more technical and had more places to pass. All-in-all, it was an awesome track, and I am super excited to get up here."
Jordan Lebel might have missed a good chunk of the season in 2021, but the rookie has quickly established himself as a rising star. He was the first two-time winner in the class this year, and he has only finished outside of the top four once since his return six rounds ago. On Saturday, Lebel got off to a slow start in the final, but quickly rallied. With three laps to go, the Ski-Doo rider was able to make a pass stick on Travis Kern, then held on for his fourth podium of the season.
"Yesterday, I had really good lines and came from the back and made a lot of passes," said Lebel. "Tonight, I just kept my line an tried to have clean vision and make some passes, and I'm excited to be up here."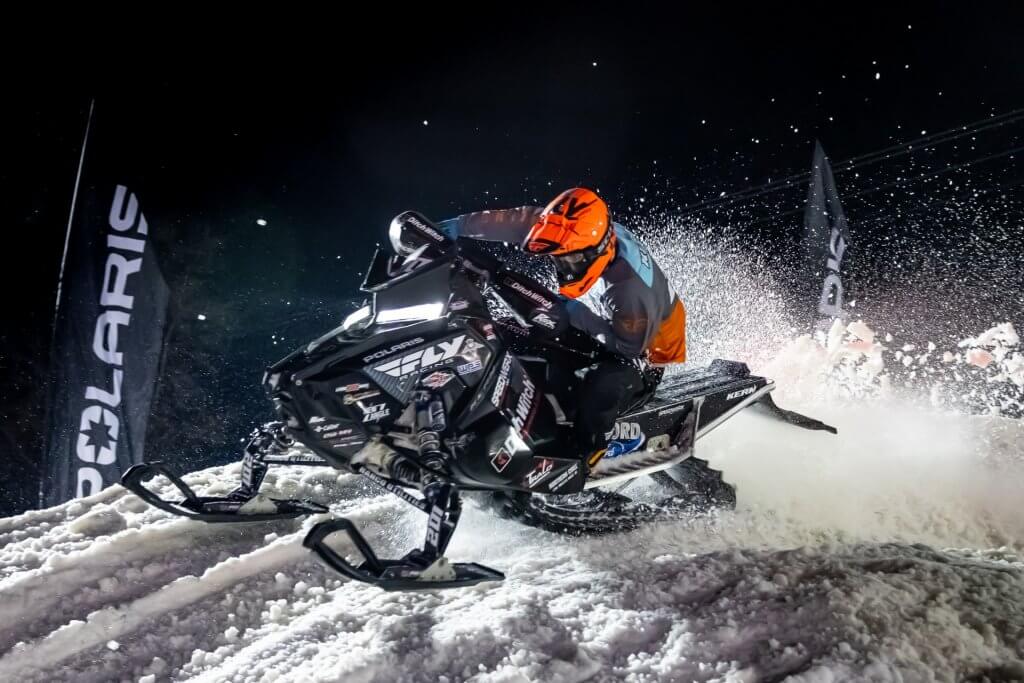 Kern, meanwhile, capped off the weekend with his second podium finish with his six trip to the box in 2021. Kern was really good early in the race, moving up to second off the start. He was applying constant pressure on Peterson for a majority of the race. But as much as he was applying pressure out front, Kern was also under constant pressure the entire race from behind. Despite losing the runner-up spot to Lebel, Kern walks away from ERX with some momentum for the stretch run.
"This weekend was kind of a struggle for me," said Kern. "I ended up on the podium both nights, so that's good, but the races were hard. Last night, I didn't feel like I got in my groove at all. And tonight, I felt really good on the track. But Adam was just on rails tonight."
Carson Alread made a strong push for podium contention, ending up in fourth. Taylor Cole rounded out the top five.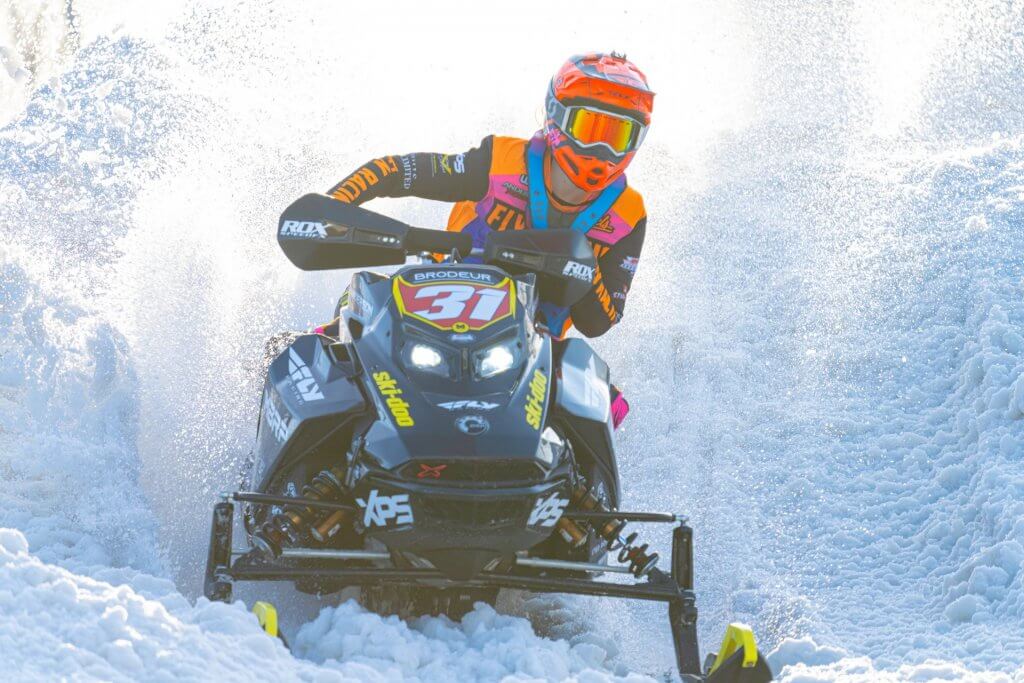 PRO WOMEN: The continuous battle for Pro Women supremacy only last two turns on Saturday night. Malene Andersen grabbed a huge hole shot and had put several sled lengths on the field by the second turn, but a miss-timed entrance into the corner knocked Friday nights winner off her sled.
That left the door wide-open for points leader Megan Brodeur, who railed past and her first win since round six in Fargo. Inanna Hauger kept Brodeur honest early before settling into second. Tausha Lange came across the line in third. Andersen made it back into the top five, just missing fourth by .04 of a second behind Makenna Kleiman.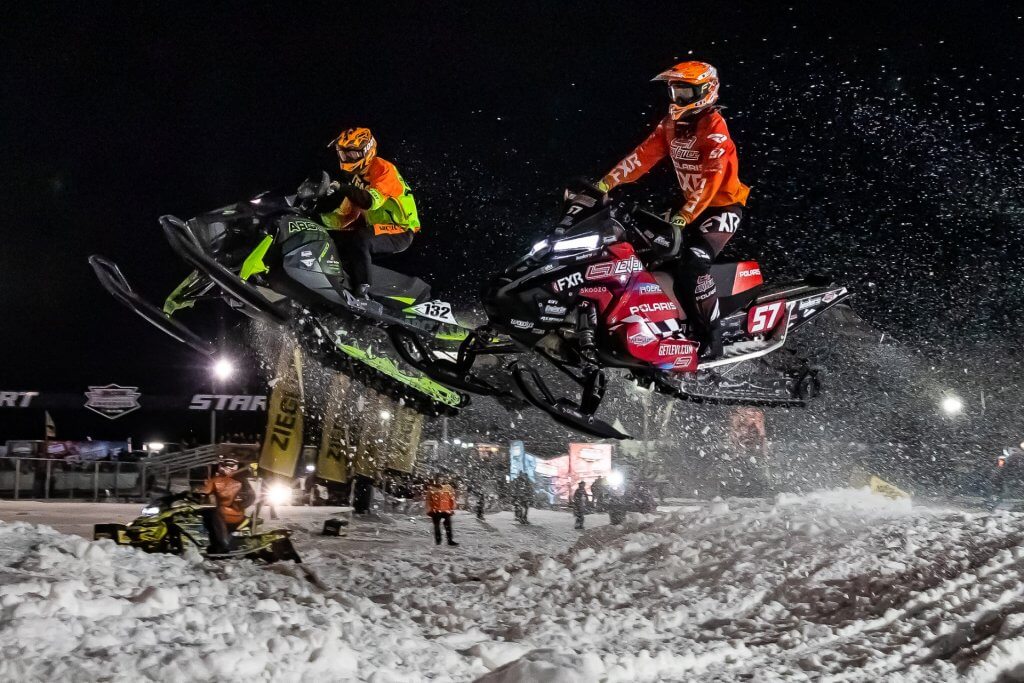 PRO SNOWBIKE: The two rounds in Sioux Falls two weeks ago is a distant memory for Jesse Kirchmeyer as the Pro Snowbike points leaders has now won four straight moto's.
Kirchmeyer had to overcome a pair of hole shots by Troy Horbaty in the two races on Saturday night to pick up the overall. In the second moto, Kirchmeyer didn't find his rhythm until the third lap when he was able to get around Horbaty. The win at ERX marks Kirchmeyer's tenth overall victory in 2021.
Horbaty kept pace to finish second, with Keaton Ward in third.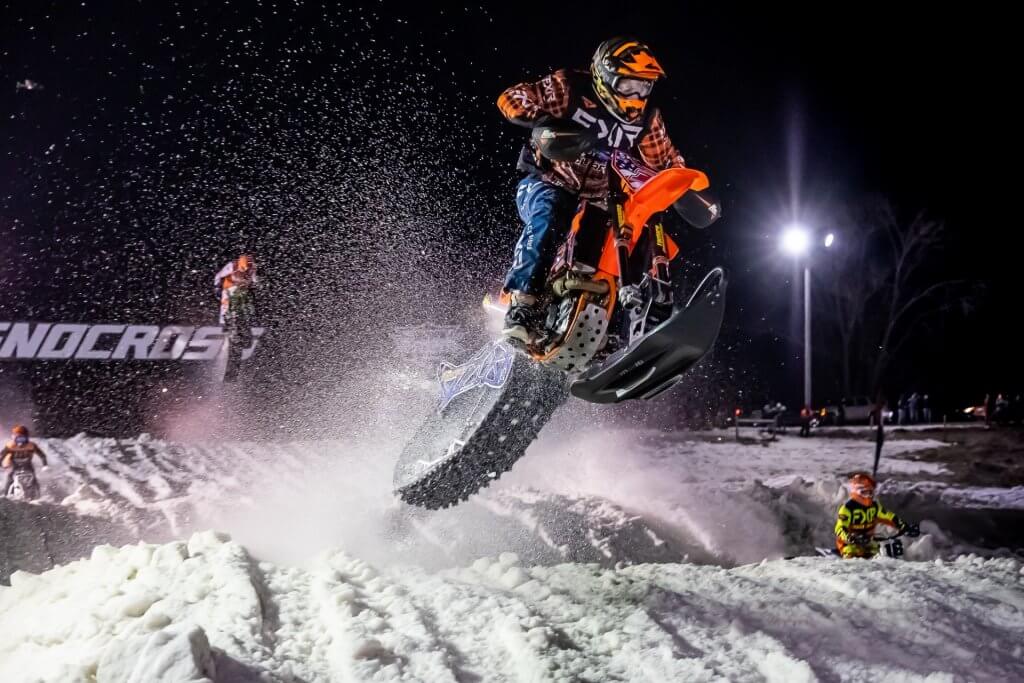 PRO AM PLUS 30: Jacob Blanshan was the number one qualifier heading into the Pro AM Plus 30 final, and it looked like he was going to keep the top spot for the entire night.
Points leader Andy Lieders got the hole shot, but Blanshan was close enough to push the veteran racer to the outside of the track coming out of turn one, taking the early lead. Lieders regrouped and powered back, tracking down and passing Blanshan on lap four. The two would go bar-to-bar for a spurt before Lieders utilized lap traffic to create some distance, cruising to his fifth win of the year.
Blanshan kept his second position for the remainder of the race and Kurt Bauerly held down the third spot from start-to-finish.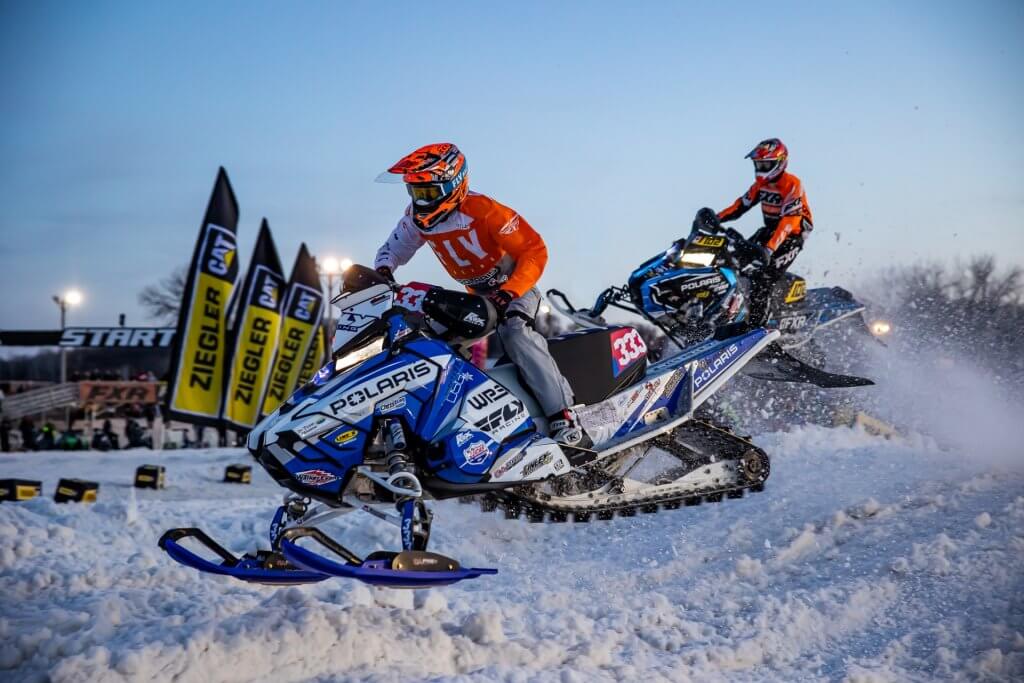 FXR SPORT: Evan Christian has taken control of the FXR Sport class after a solid day of racing on Saturday. It was his sixth podium this season and his second win.
Kenny Mandryk bounced back after falling out of the top five on Friday night to finish second, marking his third podium in four races. Beau Tibbetts finished third.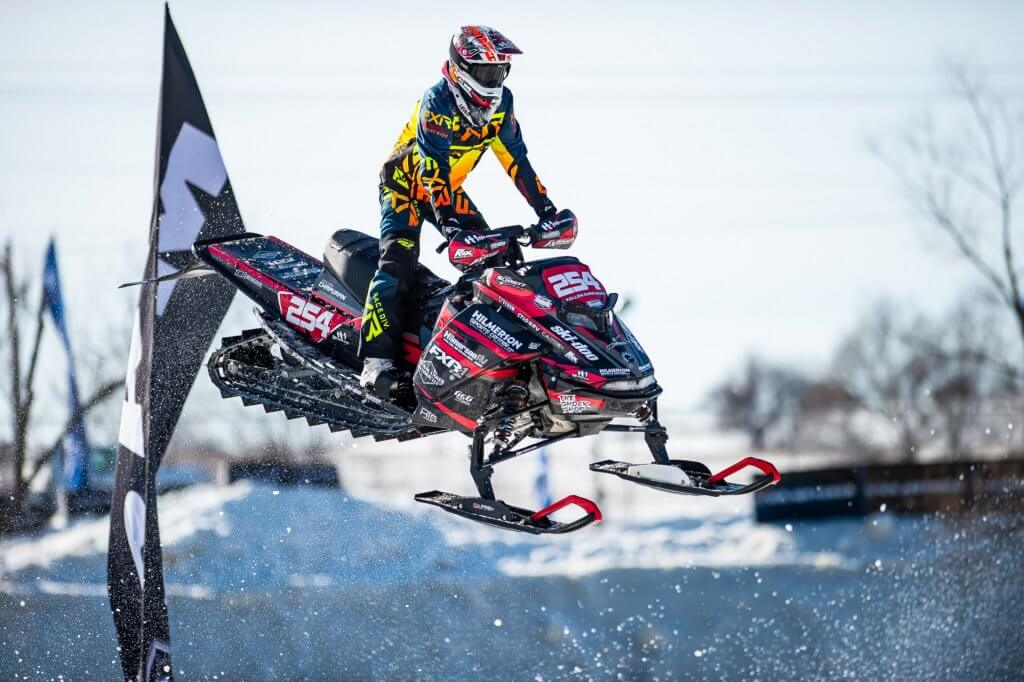 SPORT LITE: Kellen Chapuran rebounded from a tough final on Friday to grab his seventh win of the season and extended a small points lead over Kolton Krajicek. Cameron Cole picked up his third podium of the day by finishing second. Jordan Biese finished third
Tanner Johnson narrowly held off Cameron Cole for the Transition 9-13 final win. Brady Freeland finished third.
Cameron Cole wouldn't leave ERX empty handed, however as the young ride got the best of Tanner Johnson in Junior 10-13 by .651 of a second. Isaac Peterson finished third.
Cerissa Blessum was the big winner in the Junior Girls 9-13 final. Kendall Rose held off Victoria Dillon for second.
Jimmy Stanisich took home the top spot in Transition 8-10. Owen Eide came across the finish line in second and Zach Miller led a bevy of riders across the line to secure the final podium spot.
Craydon Dillon ran a spectacular race in the Junior 14-15 The battle for second came down to the wire as Connor Campbell crept across the line in front of Domenic Hegman for second.
Hegman would enact revenge by winning the Junior 16-17 final. Crayden Dillon found a second podium on the weekend by finishing second, ahead of Steven Max.
Kooper Groen was victorious in the Stock 200 final. Triston Hinton finished second, besting Gvanni D'Antonio by less than half-a-second.
Groen had a chance for double down on wins in the Champ 120 final, but it was Avery Hemmer who powered through a big outside turn to take an early lead she wouldn't give up. It was Hemmer's fifth win of the year and now leads the class in points. Cody Moras held off Tavin Knudson at the line for third.
Just four rounds remain for the 2021 AMSOIL Championship Snocross, Powered by RAM Trucks season. The final two weekends of racing have found new venues, including rounds 13 and 14 moving from Lake Geneva, Wis. To Eagle River, Wis. March 19-20. For more information, go to www.snocross.com.