Eagle River, Wis. ~ The World Championship Derby Complex in Eagle River, Wis. is known for some of the biggest wins in snowmobile racing history. From unbelievably close finishes to utter dominance by man and machine, the Derby Track has seen just about everything over the years.
Over the past two days, the tradition continued inside the big-banked oval. Tight racing, big spills, and championship showdowns were all over the place as AMSOIL Championship Snocross, Powered by RAM set the stage for a title tilting weekend in just seven days.
But first there was some battles to be waged as round 14, the RAM Trucks Snocross wrapped two days of epic racing in the Snowmobile Capitol of the World.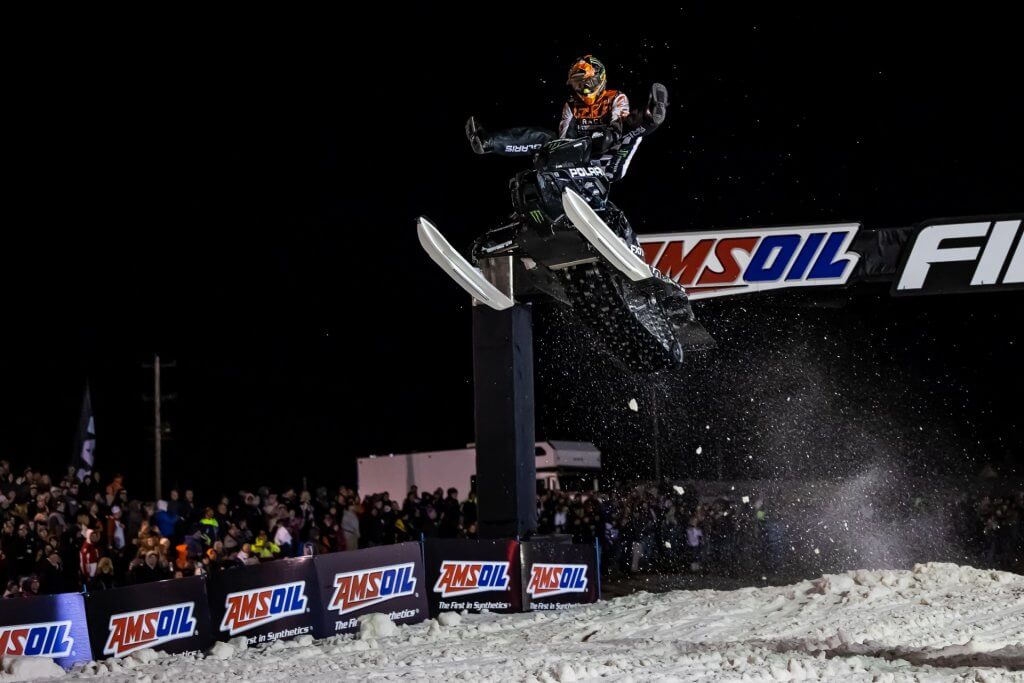 Norum's Night, Again
It took Oskar Norum two years of racing to get his first career win. It took him one night to get his second.
Th Swedish champion has always been fast, described as a hard charger. Both of those traits came into play on Saturday night as the Polaris driver finalized a weekend sweep.
Ski Doo's Daniel Benham was on rails for most of the race. He grabbed the hole shot and found clean air much to his liking. It took a few minutes before he was seriously challenged. That challenge came from Ski Doo's Elias Ishoel, who despite finishing in the top five on Friday said it was his worst night of racing this season. The points champ was able to get past Benham with about six and a half minutes remaining on the clock. But a half lap later, Ishoel got crossed up coming off the finish line jump and hit an edge, sending him off the track and his sled.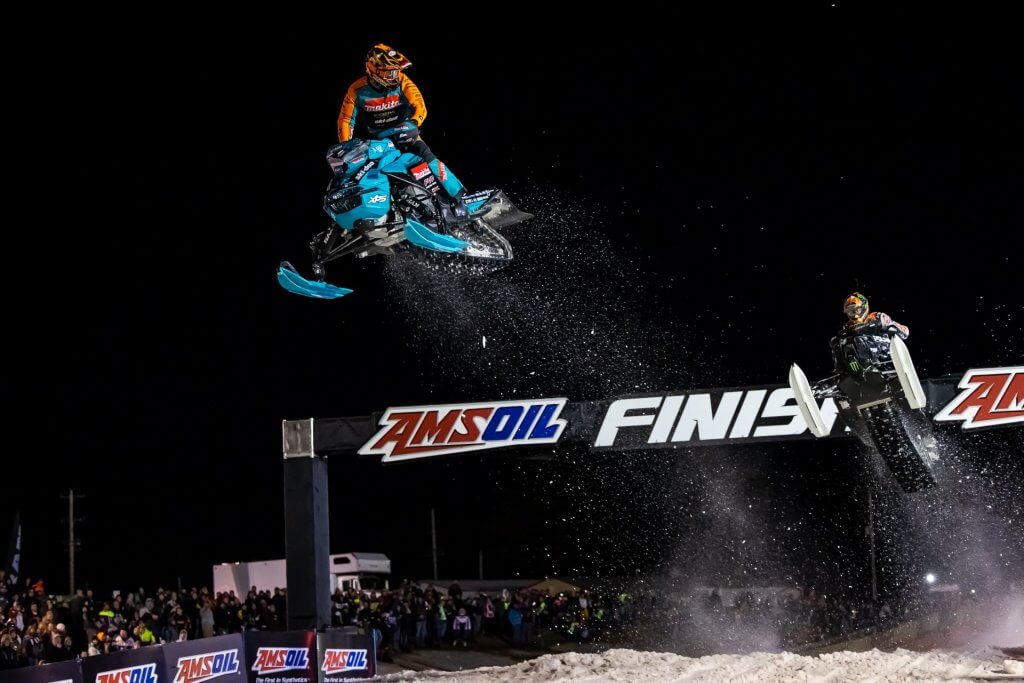 The move not only slid Benham back into the lead, but also slid Norum into second. From there, Norum kept building up momentum. He caught Benham several times, but Benham was masterful at keeping Norum from getting the advantage. This went on for about six minutes before Norum was able to take control, and motored to his second straight win.
"It was super tough," said Norum. "Benham was good at closing the lines. I thought I had some passes but he was able to switch lines, like every lap. I knew I was faster, and I just kept trying and it worked out good."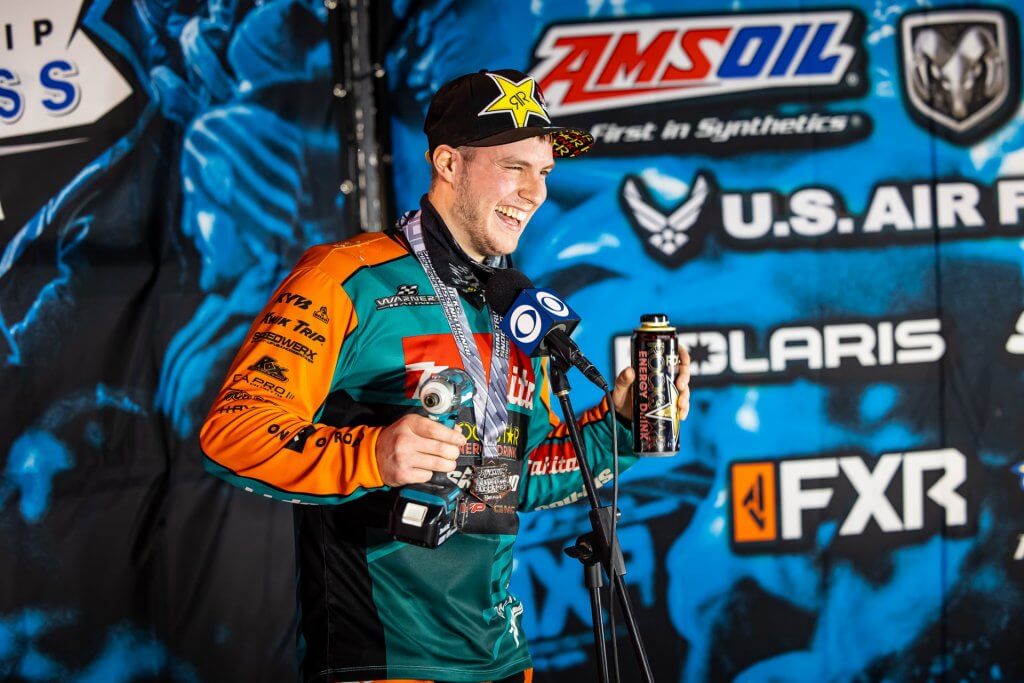 Benham's fall didn't stop here. With just two laps to go, he was under siege from a convoy of sleds. First it was from his teammate, Francis Pelletier, who pulled aside as the two hit the finish line jump. Pelletier quickly seized the runner-up spot, his second podium of the weekend.
"I just chose the lines where there was no roost," said Pelletier. "I was far away at the beginning, and then my side panel came off and I had to use my foot to get it off. I had to start pushing and I didn't know I was that close at the end, so that was a good weekend."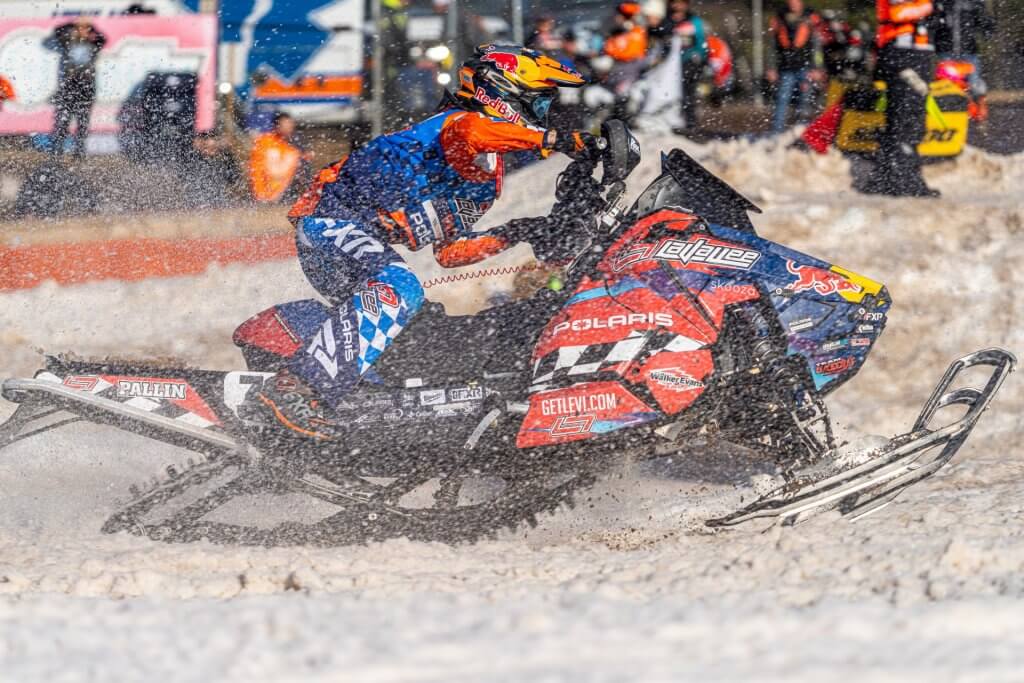 Polaris' Kyle Pallin was always in the background on Saturday night. He kept lurking, bouncing between third and fourth as the clock ticked down. But when Pelletier got past Benham, Pallin to be in tow, as he moved back into third and the final podium spot.
"This track was so gnarly all weekend," said Pallin. "It definitely took me awhile to find my groove again. Fortunately, it just came together right when it counted."
Lincoln Lemieux was able to push through a slow start to cross the finish line just behind Pallin in fourth. Despite a great race for most of the night, Benham fell back to a final finishing position of fifth.  Ishoel was able to remount for sixth.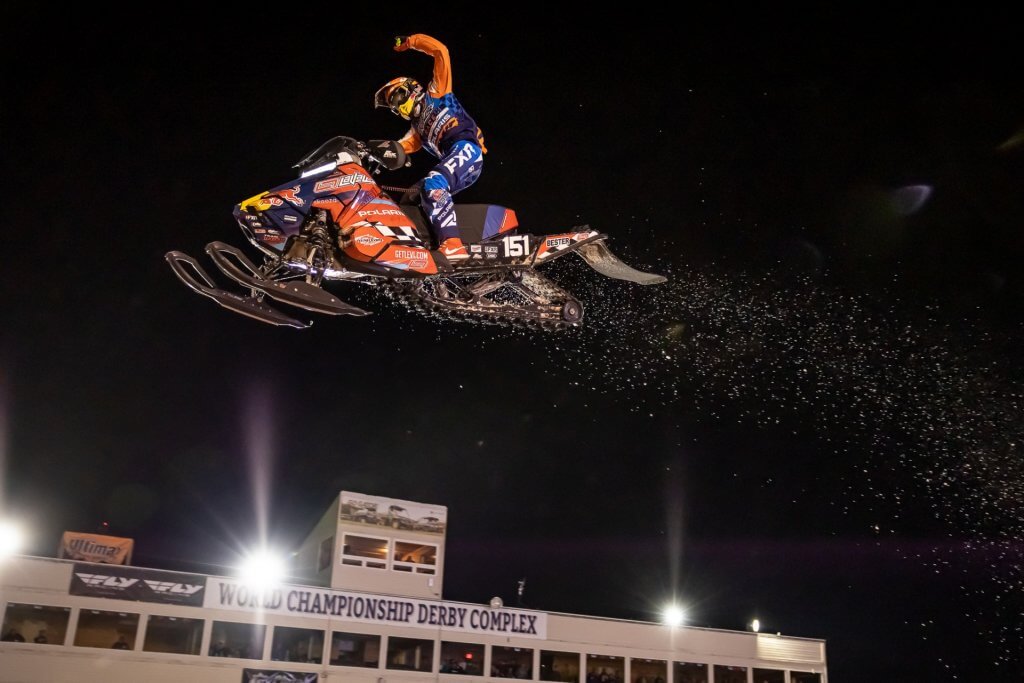 Bester the Best
For the first time this season, the Pro Lite class changed up its final format. Moving from a lap structured lap count to a timed event. On Saturday night, the field would chase the clock, going seven minutes plus two laps to decide who would be the winner.
For Ryley Bester, it was just a matter of time before he got back on the top spot of the box. On Friday night, it looked like he was well on his way, but a late fade put Nick Lorenz on top. On Saturday night, Bester didn't let time or pressure from Travis Kern get the best of him.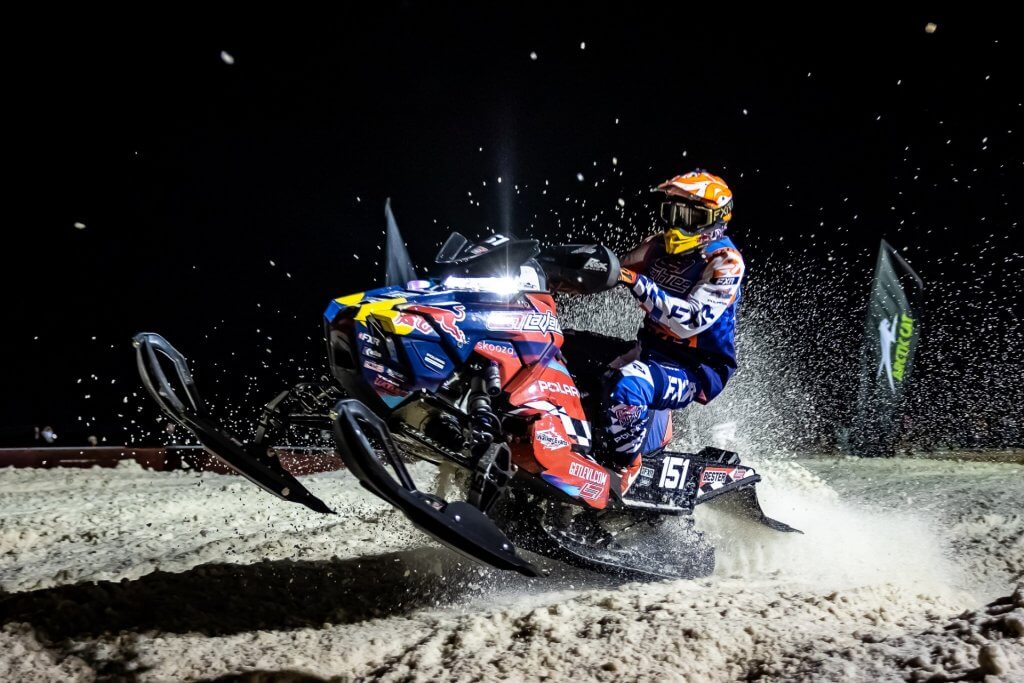 Bester pushed his Polaris to the front of the pack off the start and came through the huge back stretch clean. From there, he was extremely smooth for the seven minute time section. But just before time ran out, Kern had shimmied up behind him and was breathing down his neck with less than three laps remaining. But being out front was a major advantage for Bester as another competitor brought out a yellow-flag on the back stretch. While it forced the top two riders to bunch up, Bester was able to power out of the section first and into clean air and onto his first win of the 2021 season.
"Honestly, I came into this weekend and wanted to go back to just having fun," said Bester. "I've been struggling a little bit this year, but to get my first win on the Polaris is awesome. It was clean goggles for me out front, and that was it."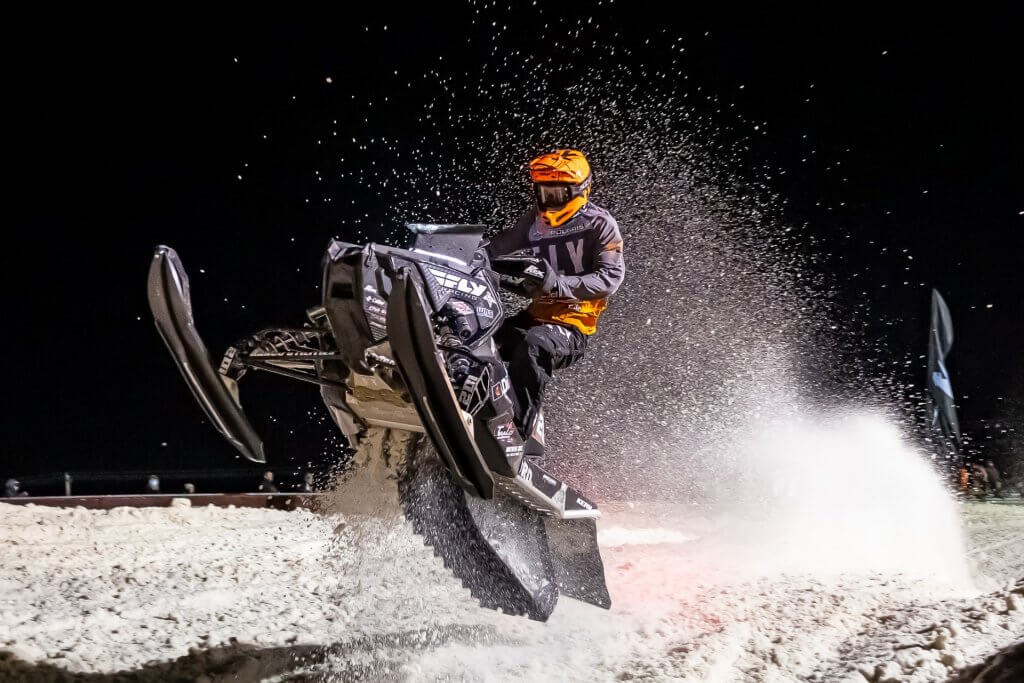 For Kern, it was a bit of déjà vu from Friday night, when he almost caught and passed the race leader on the final laps. He wasn't able to close the gap on Saturday night, but his double podium weekend is making things interesting in the overall standings. Points leader Adam Peterson missed the box this weekend and was forced out of the final early. That means Kern has closed the gap enough to flip the script on the season long points leader during next weekend's finale.
"Race weekend by race weekend, you gotta win anyways, but I don't really think about points too much," said Kern on the podium. "But I know everyone around me surely does."
Arctic Cats' Anson Scheele was on point during Saturday night's final. He was able to separate himself from the pack early on, holding down the final podium spot for the majority of the race. His third place finish is his first podium since round three in Iowa.
"I learned from the best, (pro rider) Logan Christian, and he taught me to never give up until the end," said Scheele. "It's been a long time coming getting back up here, just through the lows of a season and trying to work hard. It's just nice to end the season on a high note."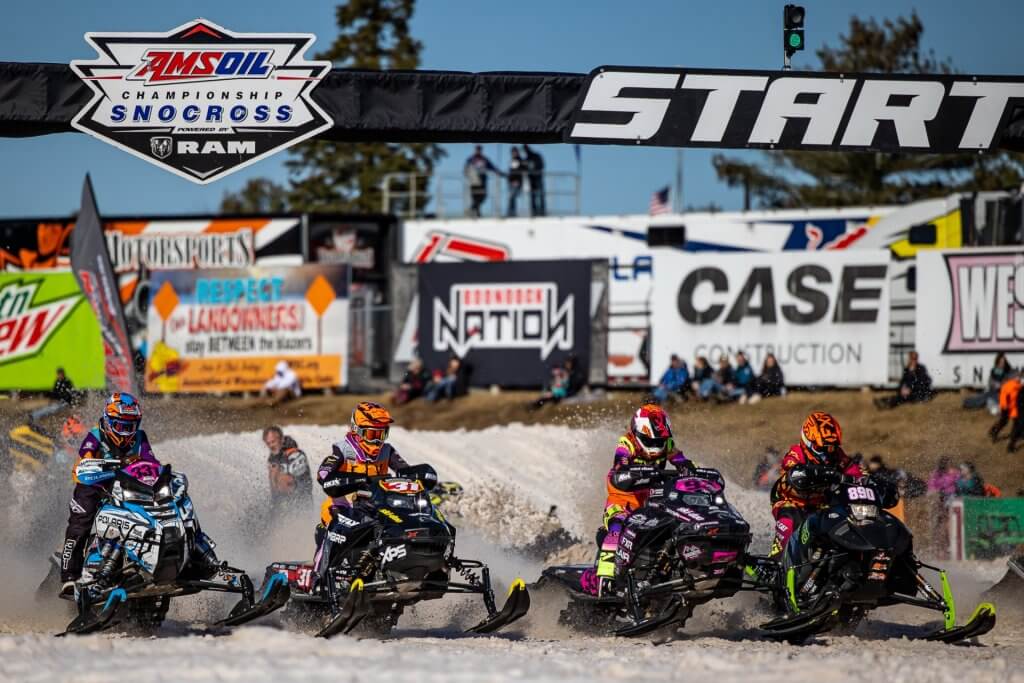 PRO WOMEN: The back-and-forth for the Pro Women's championship will have to come down to the final weekend. After an impressive run on Saturday night, Malene Andersen has reclosed the gap on points leader Megan Brodeur with a weekend sweep.
Andersen's win, coupled with Brodeur's second place finish puts the two riders in a tie for the 2021 title. Combined they have all 14 wins in the class this season. Inanna Hauger had another big hole shot before coming across the finish line in third.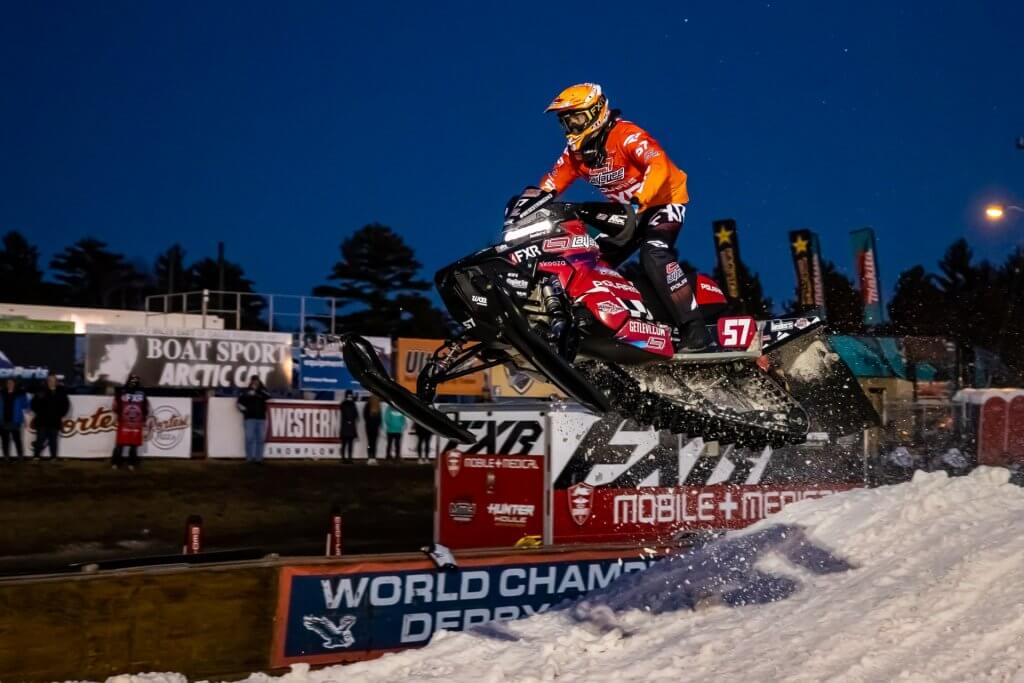 PRO AM PLUS 30: Andy Lieders has a long history of winning snocross races in Eagle River and he made it a weekend sweep on Saturday night. It also marked the points leaders seventh Pro AM PLUS 30 win of the season. Kurt Bauerly made the most of his trip to Wisconsin, finishing in a convincing second. Jacob Blanshan found the podium for the eighth straight final in third.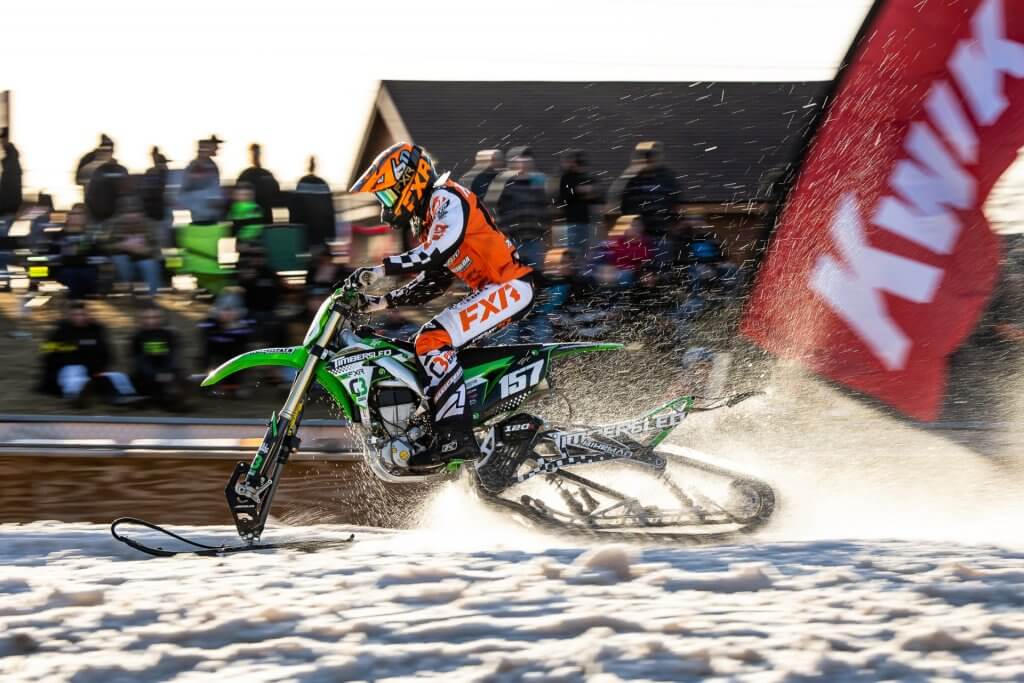 PRO SNOWBIKE: It looked like Jesse Kirchmeyer was going to be in line for his 13th overall of the season in Pro Snowbike, but Troy Horbaty had other things in mind.
Kirchmeyer was convincing in his first moto win, but in the second, the defending champion was unable to find the same rhythm in moto 2. Horbarty was the aggressor in the second race. He got out front right way and never let Kirchmeyer get any rhythm. Since he went 2-1 in the two motos, Horbarty was able to finish with his second overall of the season.
Kirchmeyer till holds a commanding points lead after going 1-2 for second overall. Keaton Ward went 3-3 for third.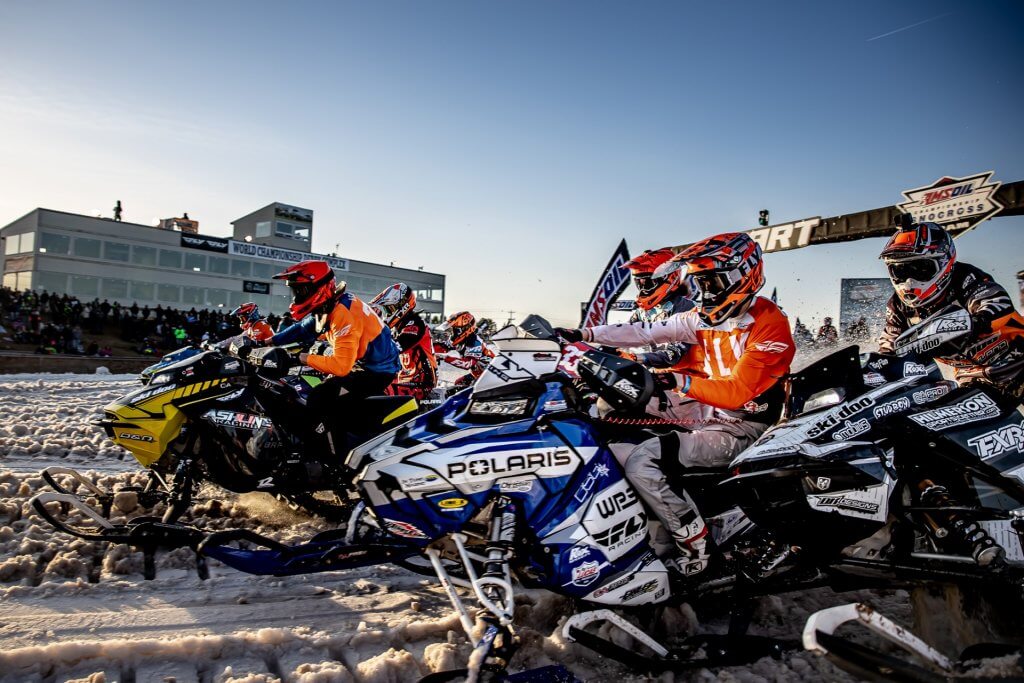 FXR SPORT: Evan Christian is starting to stretch his lead out over the field in the competitive FXR Sport class. The Polaris rider notched a great start, and moved into an early lead. He rode a smooth race on his way to his third straight win and a weekend sweep.
Emeric Legendre was equally as fast, missing the top spot but crossing the line in second. Adam Ashline found his first podium in five rounds with a third place finish.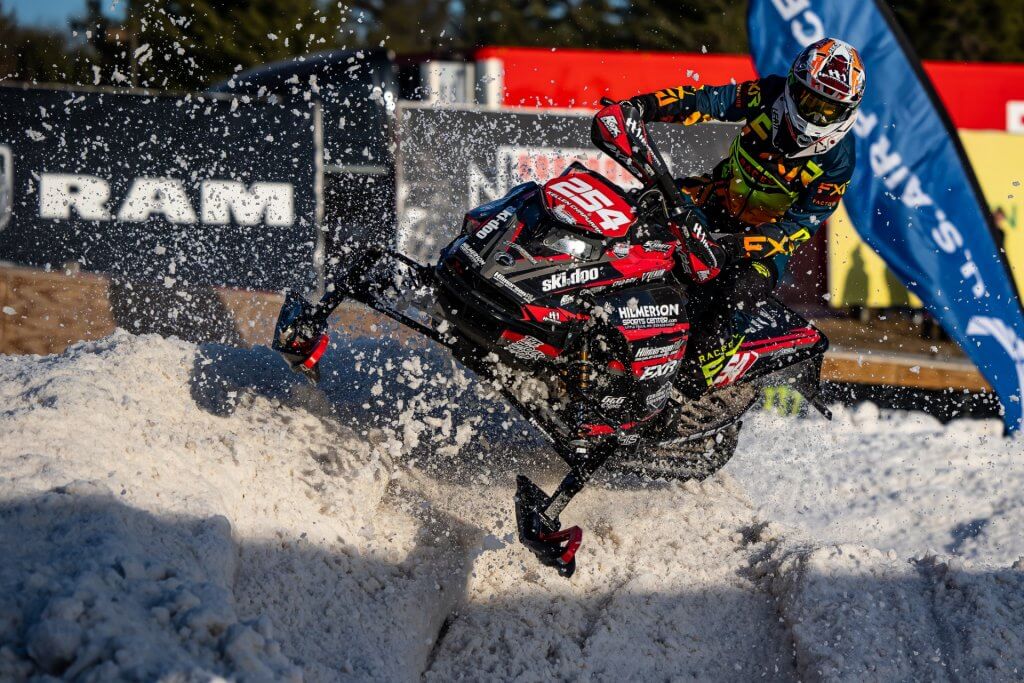 SPORT LITE: Kellen Chaparun rebounded after third on Friday night with his seventh win of the season in Sport Lite. Jordan Biese continues to impress, finishing second. Josh Connolly returned to the class after an extended hiatus and held off a hard charging Taylor Cole at the line for his second podium of the season.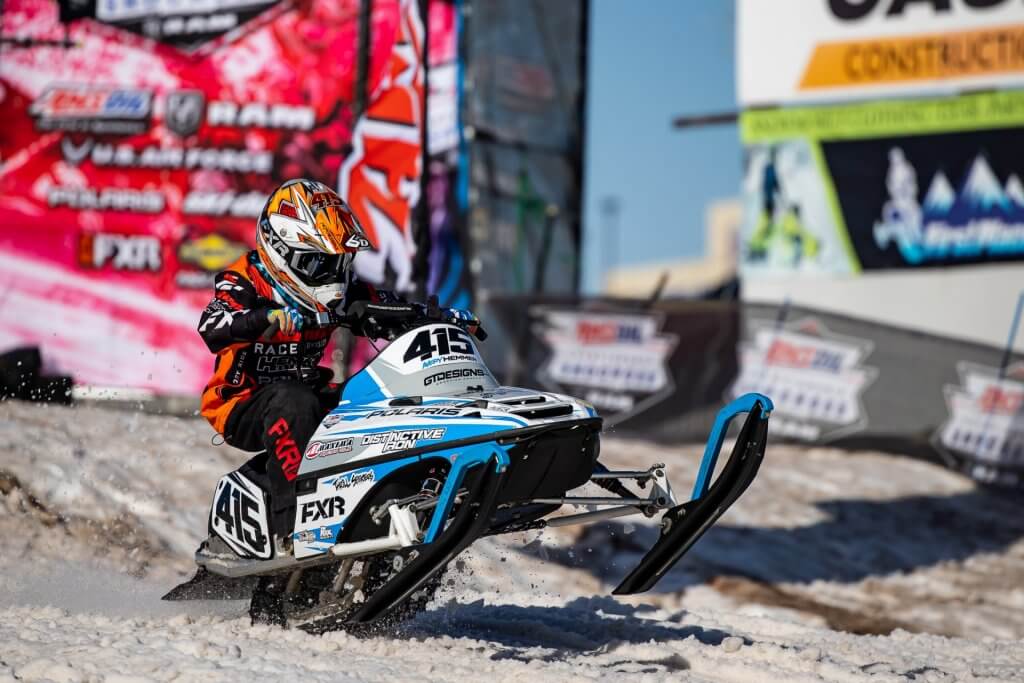 Avery Hemmer now has five wins on the season, thanks to her dominant run on Saturday in Eagle River. Tavin Knudson finished second, just a few ticks ahead of Cody Moras.
Cameron Cole padded his lead in the Transition 9-13 with his third win of the season. Tanner Johnson finished second and Kenny Goike in third.
In the Junior 10-13 final, Kenny Goike would notch his first win of the year after holding off points leader Cameron Cole. Tanner Johnson rounded out the podium in third.
Josh Connolly had a successful return to the racetrack on Saturday. After missing the past four rounds, Connolly found victory lane in the Jr. 14-15 final. Connor Campbell finished second, one spot ahead of class points leader Domenic Hegman.
Hegman also leads the Junior 16-17 class in points and was able to grab another win on Saturday. Connolly finished second and Steven Max came across in third.
Gvanni D'Antonio now has three wins in the Stock 200 class after winning on Saturday. Kooper Groen finished second. Aiden Beckmann was third.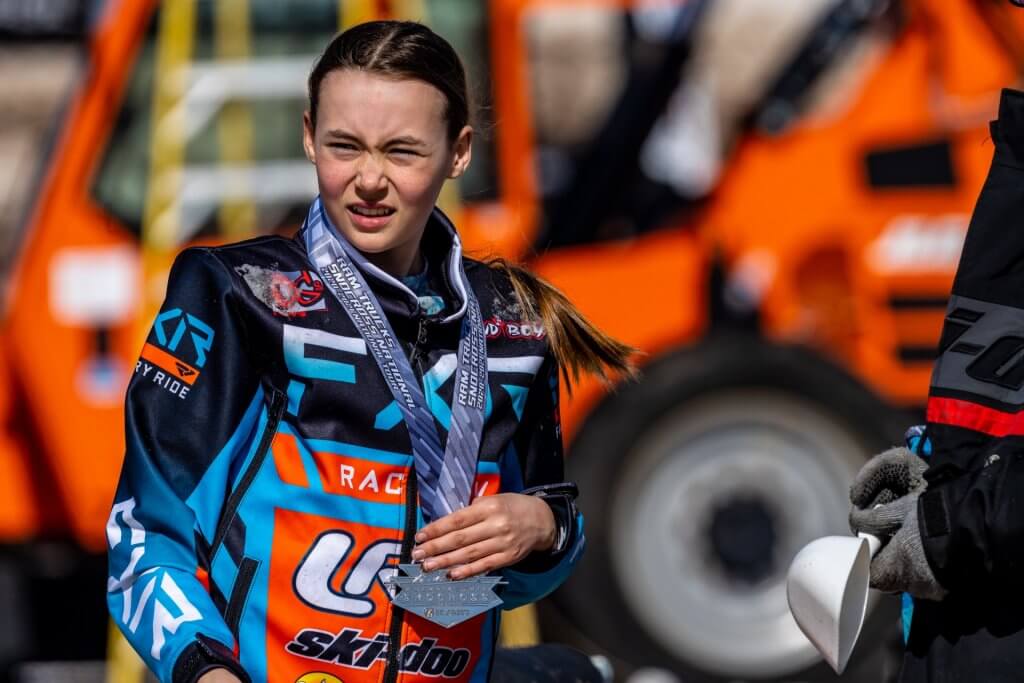 Kendall Rose continued her winning ways in the Jr. Girls 9-13 class by being victorious in her third final this season. Victoria Dillon finished second, ahead of Ava McCurdy in third.
Owen Eide put in a spectacular run in the Transition 8-10 final for his third win of the year. It allowed him to narrow the gap on points leader Jimmy Stanisich (finished 4th). Zach Miller finished second and Riley Johnson crossed the stripe in third.
The AMSOIL Championship Snocross, Powered by RAM Trucks will wrap up its season next weekend as it returns for rounds 15 and 16 at the World Championship Derby Complex. Racing starts on Friday and runs through Sunday. Follow snocross.com for the live stream broadcast.