Eagle River, Wis. ~ It was as much a sprint as it was a marathon for the 2021 AMSOIL Championship Snocross, Powered by RAM TRUCKS season. With a late start, Covid concerns and few scheduled adjustments, the national snocross schedule came to a conclusion in Eagle River, Wis. on Saturday.
Several championships were wrapped up on Friday night, including Elias Ishoel's third straight title, Adam Peterson clinching Pro Lite and defending champ Jesse Kirchmeyer closing out another successful Snowbike season.
From start-to-finish, the season has been extremely competitive, including a Friday night at the World Championship Derby Complex that was as spirited as the season opener in January. Bar-to-bar racing, drag races to the finish line and some late season rallies that will open the door for an off-season of speculation.
There was still one night of racing left in the beat-up racetrack that has seen back-to-back weekends of snocross skirmishes. With titles still up for grabs in several classes, including a Pro Women class full of suspense, the best snowmobile racers in the world squared off one last time for points prominence.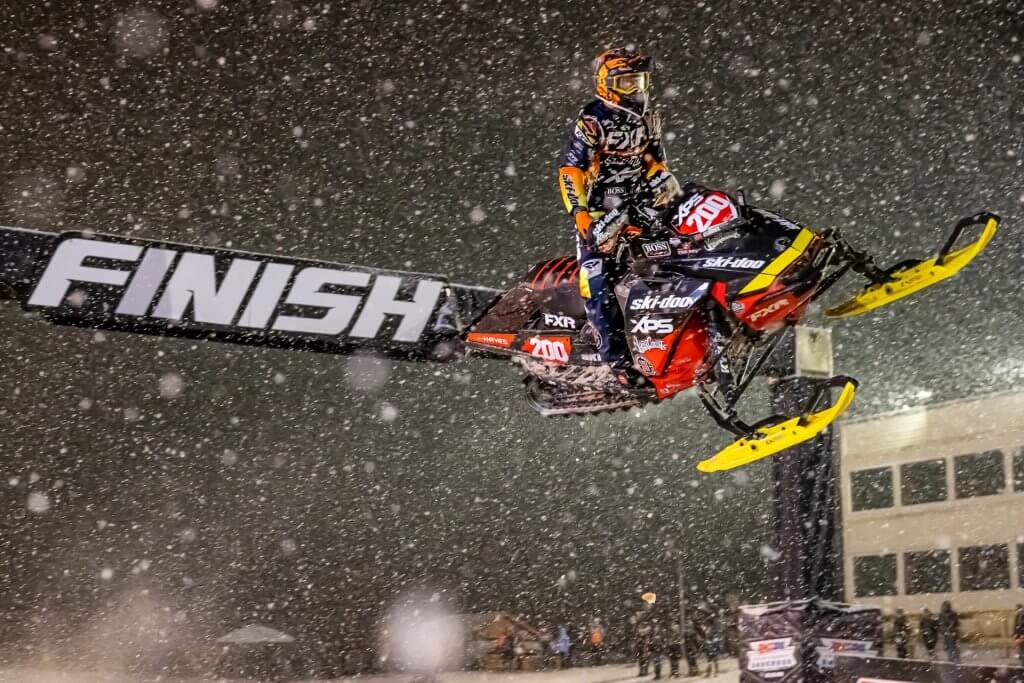 Ishoel's 11th Caps of "Blessed Season"
Heading into the weekend, Ski-Doo's Elias Ishoel had a commanding lead over the rest of the Pro field and it would have been easy for him to play it safe, get some points and still clinch his third straight title. If you have ever watched him race, you know that's just not his style.
Ishoel has a competitiveness that may not be matched in motorsports. He continuously found ways to motivate and challenge himself and was at his best this season when the lights came on. Despite only winning six heat races, he still won 11 finals, including a dominant run during the season finale in Eagle River.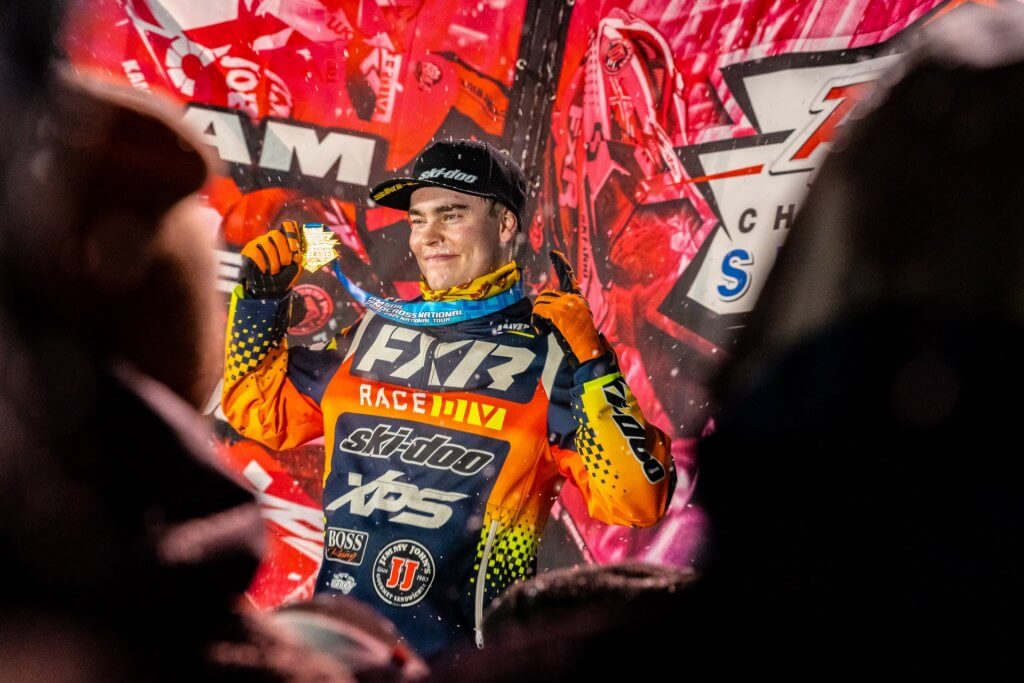 Francis Pelletier was the fastest out of the gates, but Ishoel had one of his best starts of the weekend. When the pair came out of the first turn, Ishoel cut off Pelletier's progress and into the lead. It didn't take long for the now three-time champion to open up a comfortable lead. With the uncertainty of the season happening, or for Ishoel to be able to come to America to race, the Boss Racing rider was appreciative of the opportunity.
"I just had so much fun this season," said Ishoel. "My team has been working so hard for me and they put in so many hours. Everyone back home has been so supportive and pushed me every day. I just have so much passion in life, and I'm thankful for having the opportunity to be here in the States and race with everything going on right now. To get the opportunity to get the championship, I'm just blessed."
Polaris' Kyle Pallin was equally impressive on his way to his fifth podium of the season. Pallin snuck through the tight quarters off the start and got past Pelletier and into second. The veteran rider was smooth, finding his rhythm on a track that he felt gave him fits the past two weekends.
"The track today, I really liked it," said Pallin. "I know I got on the box last weekend, but it never felt like I gelled with this track until today. It taught me I had to be really, really patient and just keep believing and not give up."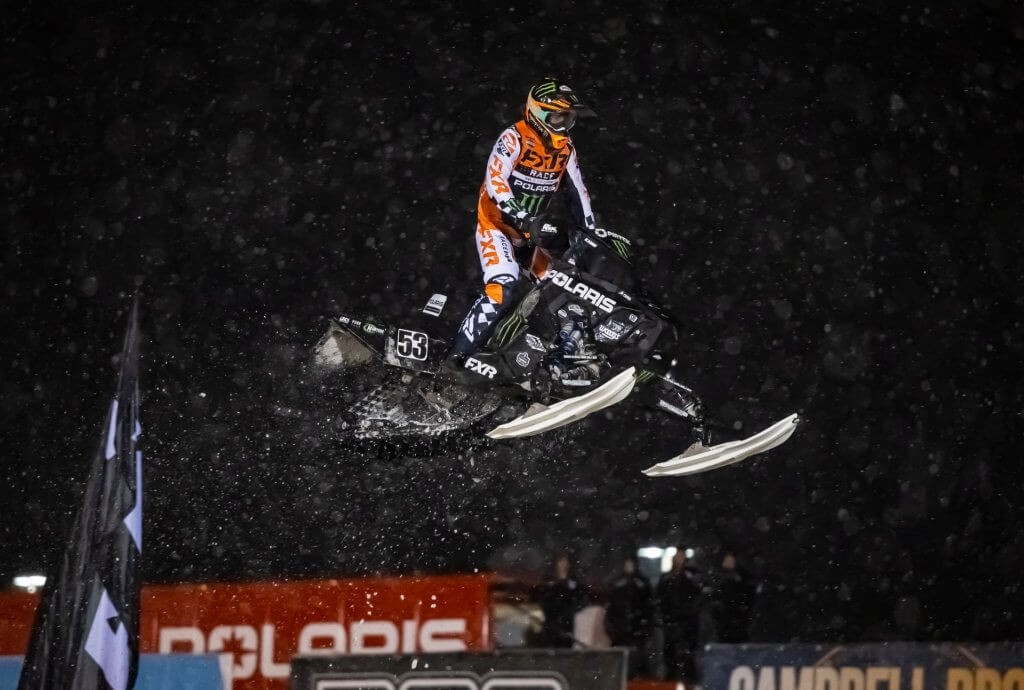 Kody Kamm came back from a weekend off and picked up the same pace he had before the sabbatical. He won another qualifier and was pushing through some tough battles with Pelletier, Hunter Patenaude and Cole Cottew. With 1:30 left on the clock, Kamm got a great opportunity when Cottew and Pelletier slammed into one another, knocking them both off the track. That allowed Kamm to move into third for his third podium of the season.
Patenaude also made his way through the carnage to finish fourth. Oskar Norum, who started in the back row, moved his way through the field to round out the top five.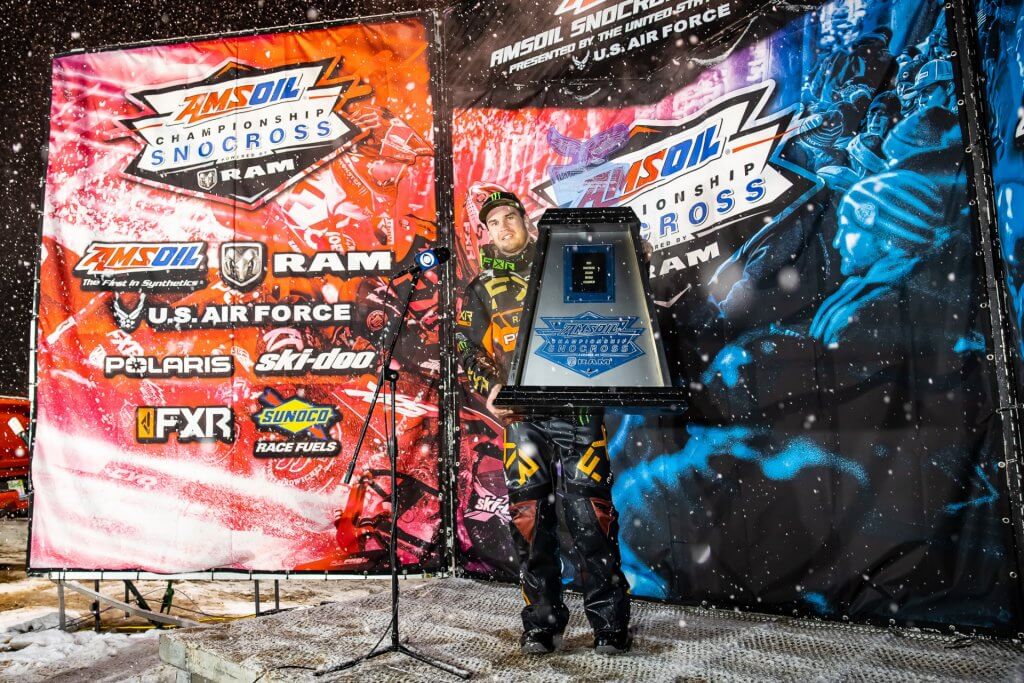 It was also a big move for Norum, who took home the Grand Snocross World Championship, which went to the top Pro rider over the past two weekends at Eagle River. The World Championship Derby Complex used a golf-scoring format and Norum's two wins last weekend and a runner-up finish on Friday was enough to edge out Ishoel for the honor.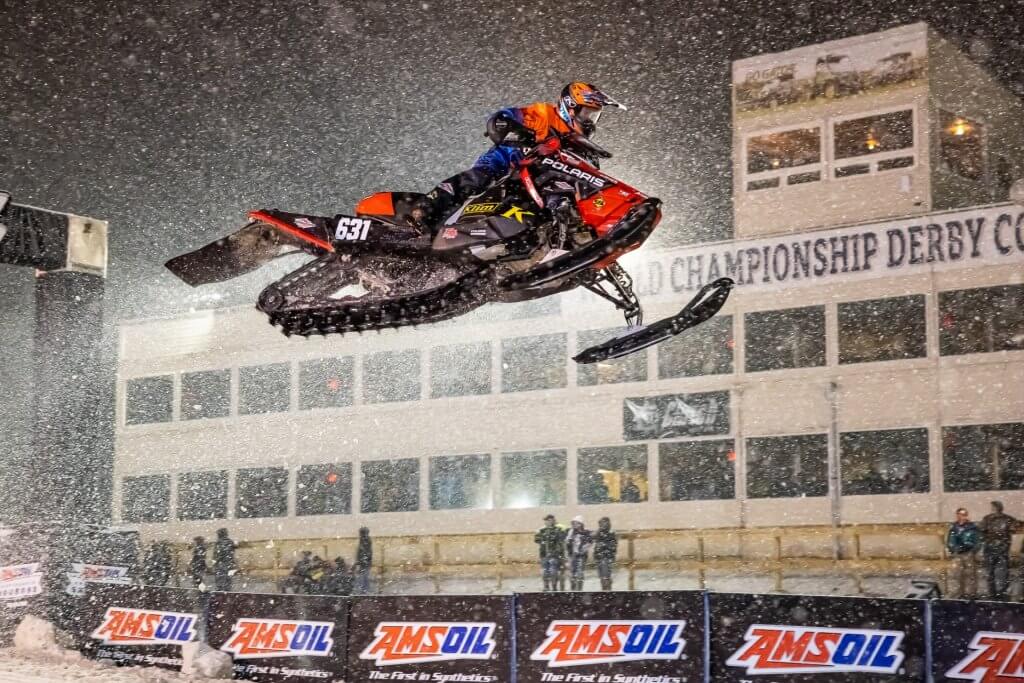 Back-to-Back for Rookie Alread
Carson Alread effectively shed the rookie label this weekend. After a strong first year in the ultra-competitive Pro Lite class, Alread finished with a flurry, capturing a weekend sweep in Eagle River.
Alread had a strong day of racing, winning both of his heat races and getting the second pick in the final next. That led to a great start, springing off the line and galloping through the big whoops section side-by-side with Evan Daudt. Much like his Friday night win, Alread got positive positioning heading into the first right-hander.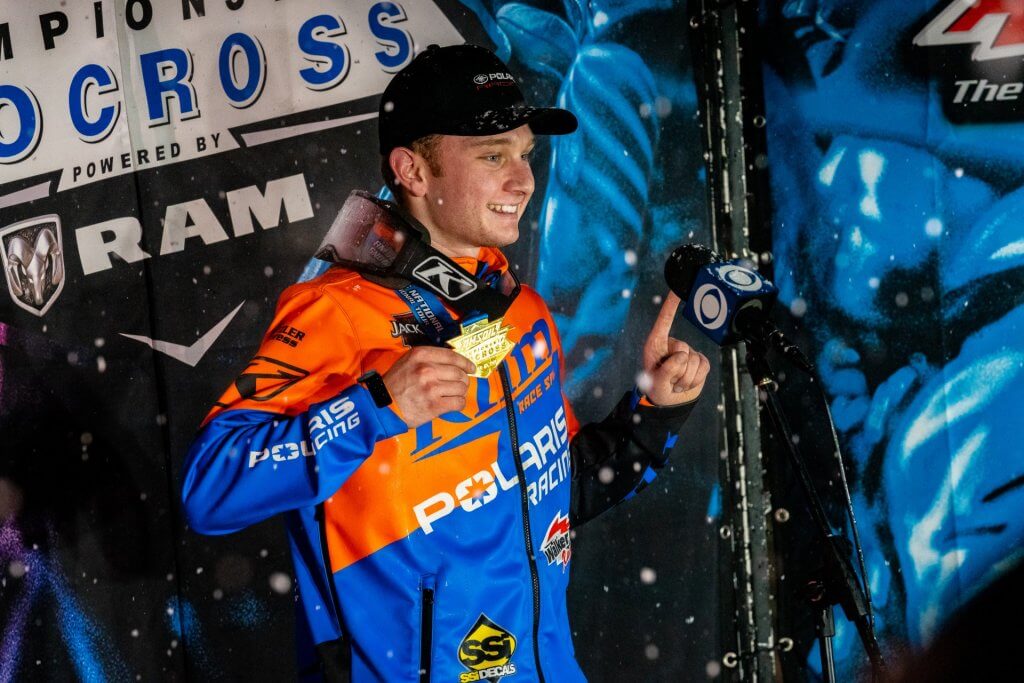 That leverage was enough for Alread to get clean air and well deserved lead in front of the chaos. The Polaris racer never seemed to miss a mark on his way to his second straight win. In doing so, Alread became the first back-to-back winner in the class this season, as well as the only three time winner in Pro Lite.
"Obviously, rookie season in the Pro Lite class and it was up and down at first, but we figured a lot of things out with the sled and my riding," said Alread. "It was great, especially the last races of the season, to get two wins. It's awesome, a really good feeling."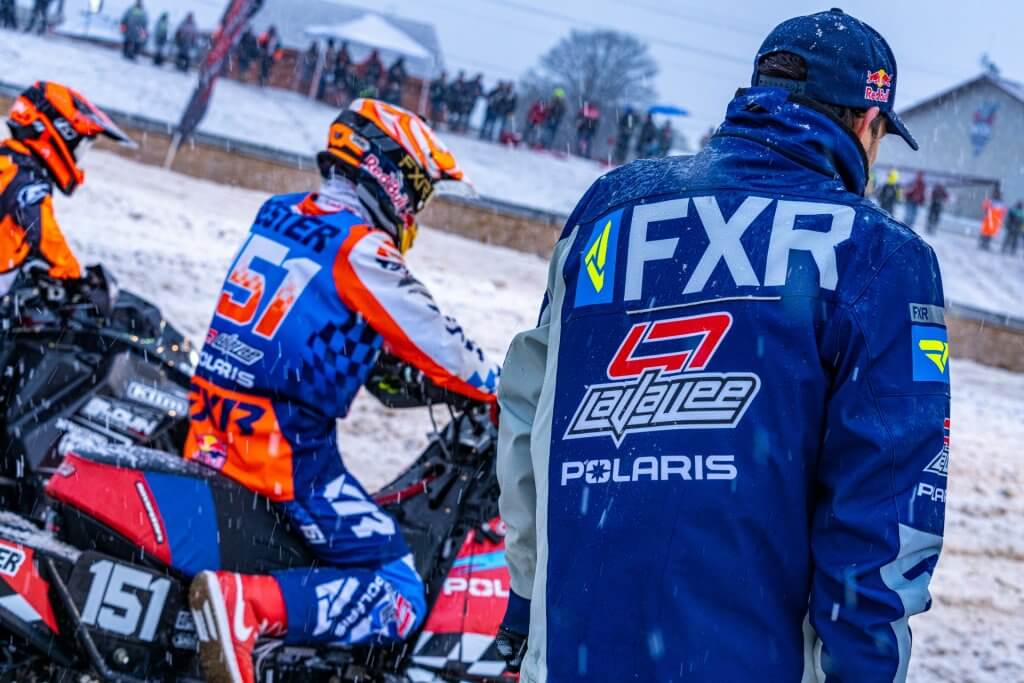 Anson Scheele was the one true contender for Alread all night. The Arctic Cat rider was constantly pressuring the race leader, even closing the gap to less than a couple of sled lengths at one point. But Scheele would fall off Alread's pace just a smidge and that allowed round 14 winner Ryley Bester to close the gap. Bester caught Scheele with two minutes left on the clock, but couldn't get around the second place rider. But Bester was able to keep in a passing position and the opportunity opened up on the final turn when he went wide and found another gear to pull away from Scheele as the checkered flag came out.
"We were neck and neck that whole time," said Bester. "I just came in at the white flag and said, 'I needed to do something here'. We were pretty even going through the back stretch and I had to take the outside to see if I could do something and it paid off."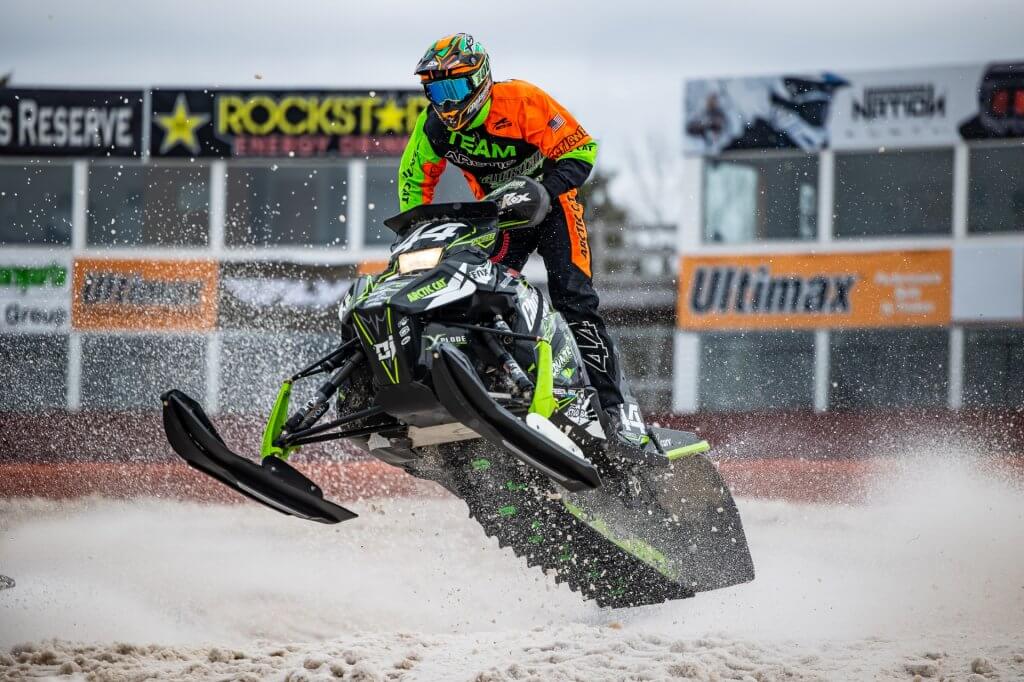 For Scheele, his third place finish was a step back in the right direction after a tough Friday night. His third place finish comes just a week after he finished on the box in round 14. The rookie ended the season with three podiums and sat seventh overall.
"In the heat races I was taking the outside lines and almost got passed, so they told me to move to the inside," said Scheele. "It's crazy how much the track changes throughout the day. I'm happy to be up here, even if (Ryley) got me at the end there."
Nick Lorenz put in another strong night of racing, finishing fourth while battling for the final podium spot. Evan Daudt took advantage of a great start to finish fifth.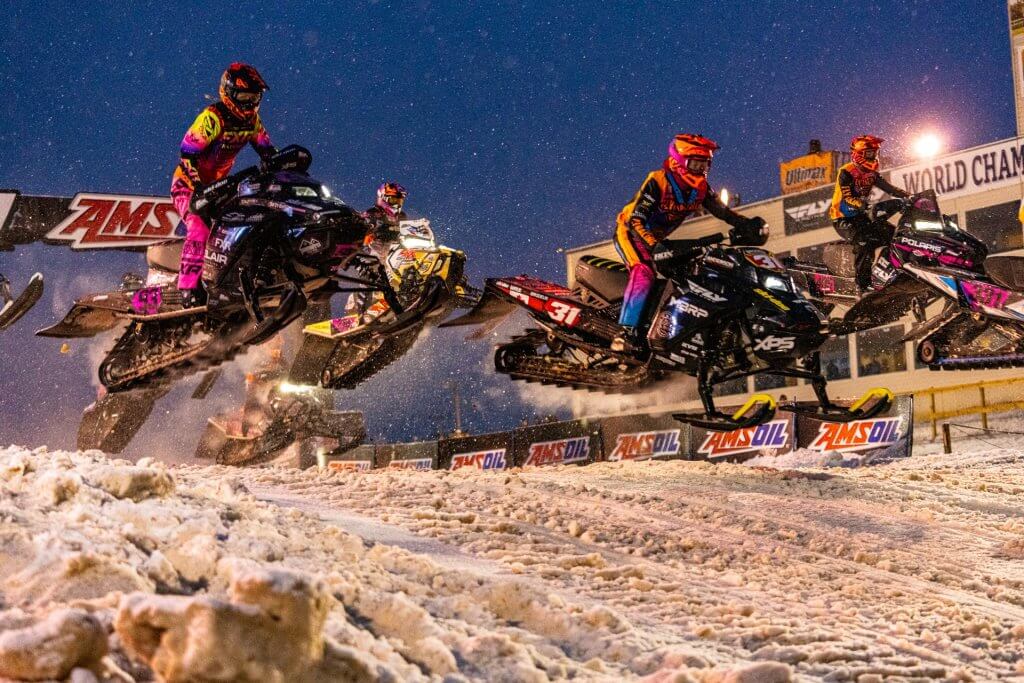 PRO WOMEN: The season long showdown between three-time defending champion Megan Brodeur and Malene Andersen came to a close on Saturday night. 
On Friday night, Brodeur crossed the finish line first, but a ruling by race officials docked her down to fourth place for an on-track infraction. That gave Andersen a 13-point lead heading into Saturday, and dampened the final title fight.
But Brodeur didn't back down as she took care of her business on Saturday. A massive holeshot led to a snocross demonstration as the Ski-Doo rider got out front and laid down some blistering lap times. Despite that, Brodeur was unable to catch Andersen, who raced flawlessly in second to capture her first career Pro Women championship.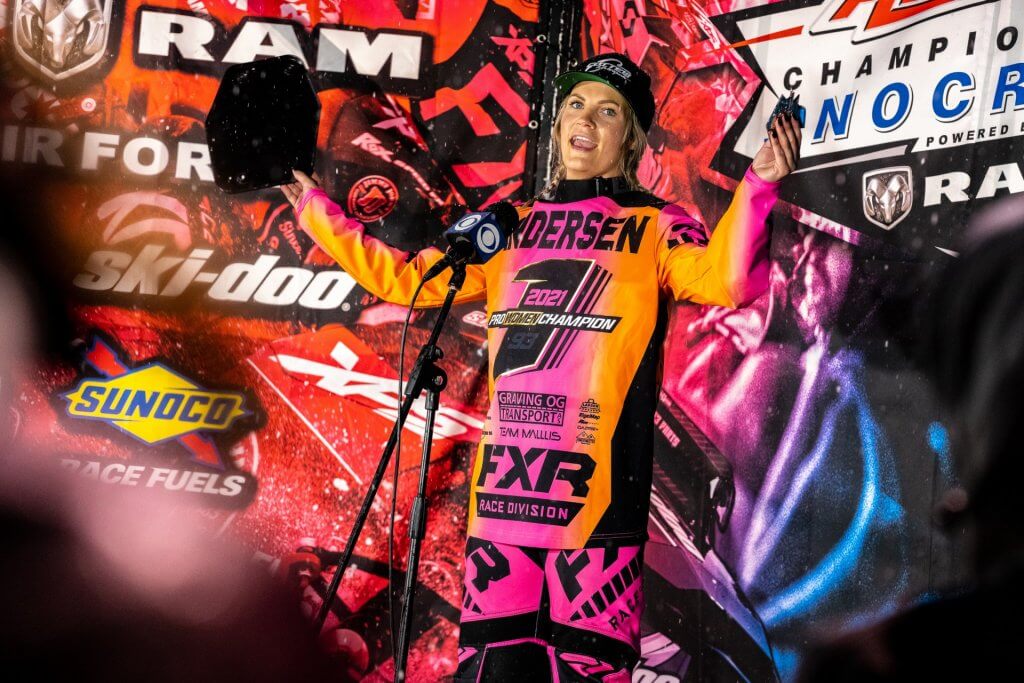 "It's been a wild day, a wild season. I don't even know what to say. In my head I had a plan. If I pulled a hole shot, fine, but if I don't, I'm not going to risk anything. It's such a long list of people to thank, but it's been such a dream this season."
Inanna Hauger continued her podium streak, finishing third behind Andersen.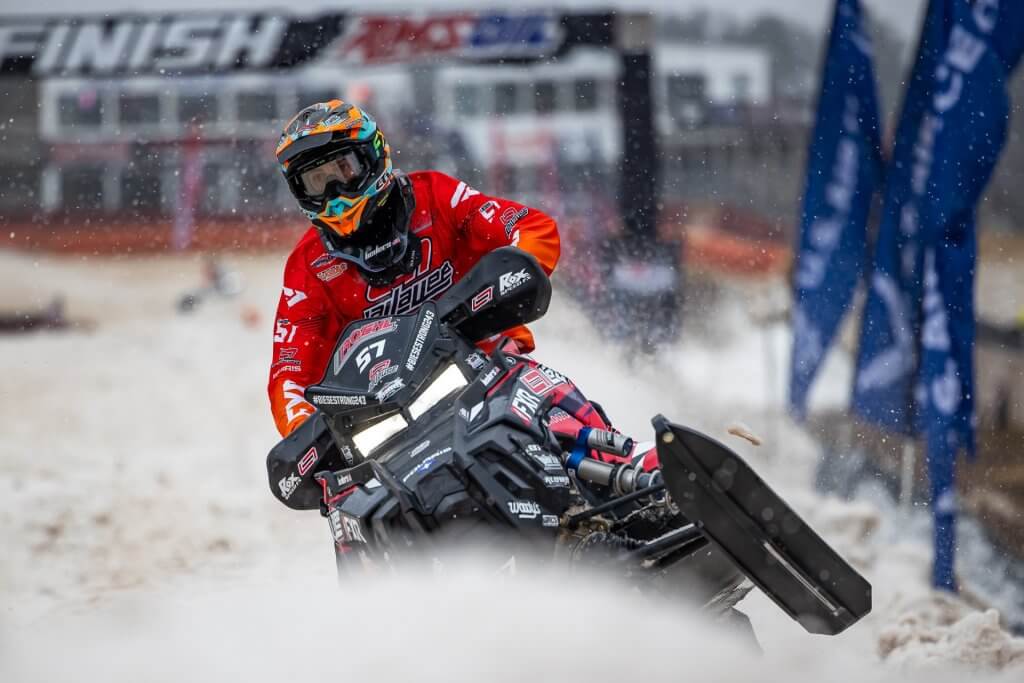 PRO AM PLUS 30: Andy Lieders left no doubt about his championship credentials by dominating the Pro AM Plus 30 final on Saturday night. The Eagle River track was a perfect mesh for the newly minted champion as he led from start to finish for his ninth win of the season.
Jacob Blanshan was on point on his way to a second place finish. The real battle came down to the wire between Seth Engle and Ryan Kuhn. They held a spirited last lap battle that saw Kuhn take the runner-up position by less than 1/100th of a second.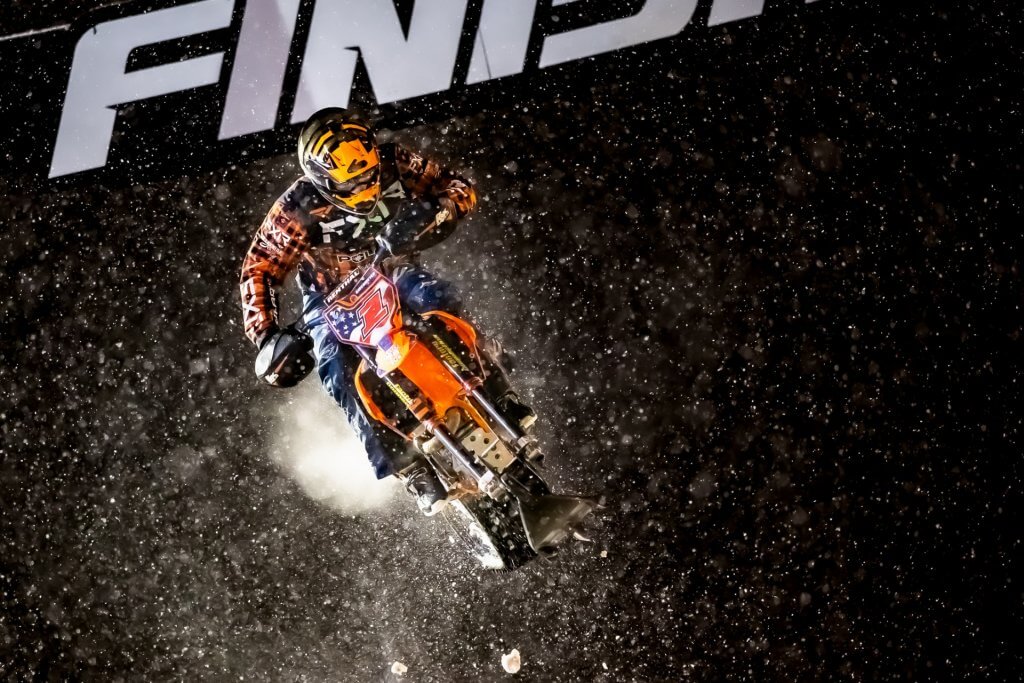 PRO SNOWBIKE: Jesse Kirchmeyer made his overall win on Saturday interesting. After winning the first moto, the recently crowned champion got caught up in a first turn tangle with Keaton Ward.
That gave Friday night winner Troy Horbaty the lead and a ton of clean air. But Horbaty played it safe while Kirchmeyer went all in. Four laps later, Kirchmeyer whipped past Horbaty, taking a lead he wouldn't relinquish for his 13th overall win.
Horbaty wrapped up a great weekend in Eagle River, following his win by going 2-2 for second overall.  Troy Weakley found his groove in the second moto, finishing the night 4-3 for third overall.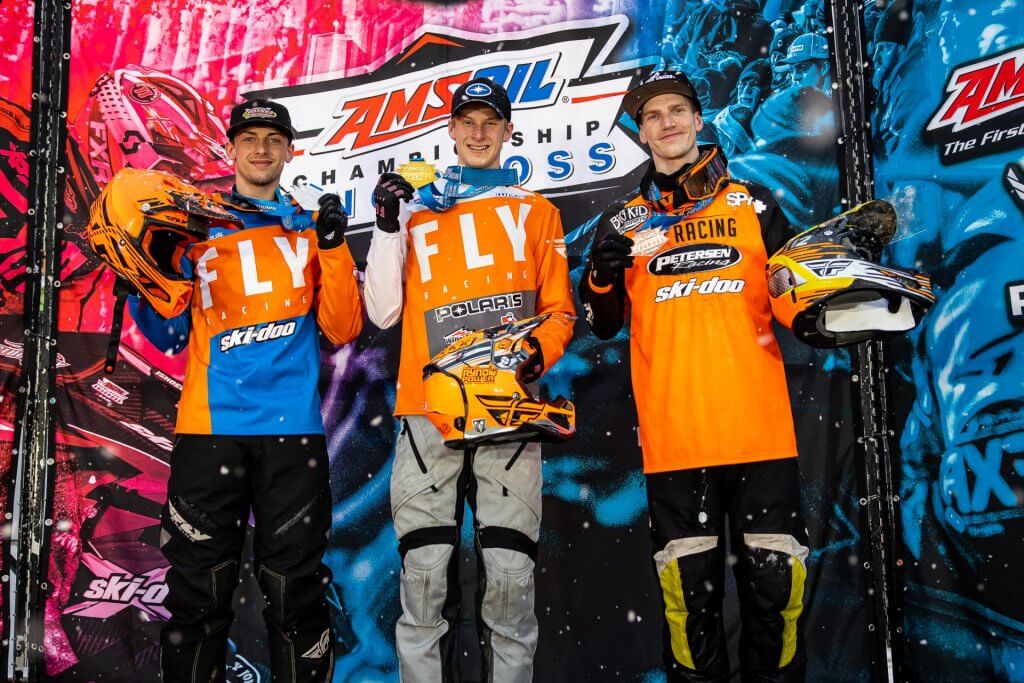 FXR SPORT: Evan Christian (Polaris) put the bow on his championship season with a final round win in FXR Sport. Christian was pressured throughout the race by Friday night winner Adam Ashline, who crossed the line in second.
Brian Peterson had spirited run in the final, chasing down the leaders before finishing third, his first podium of the season.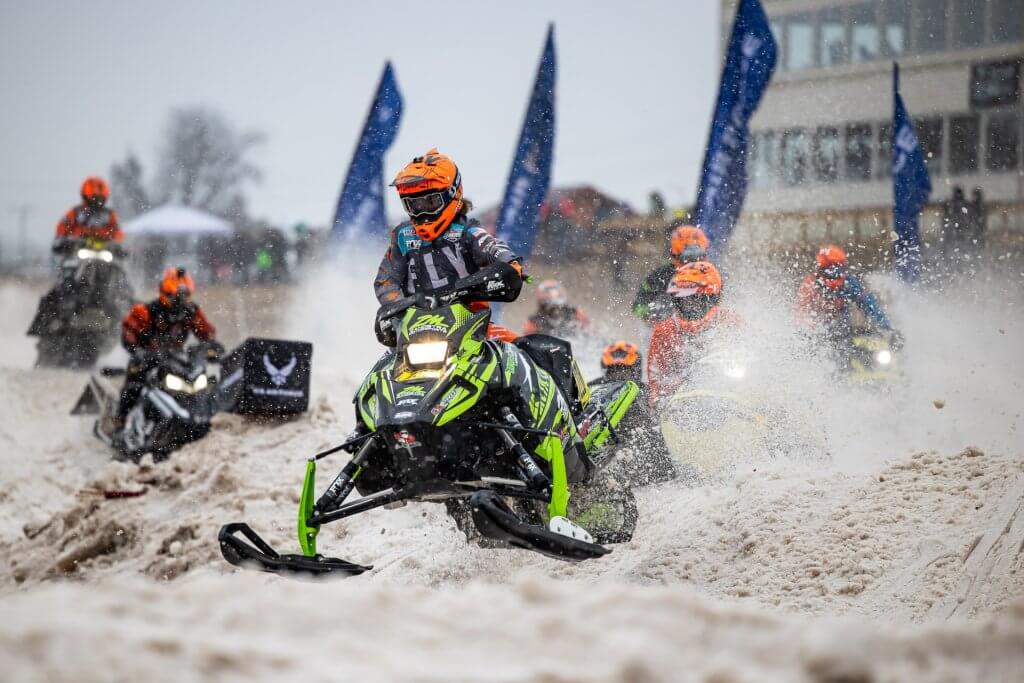 SPORT LITE: Despite a late start to the season, followed up by a midseason injury, Jordan Biese's effort at Eagle River launched him into the top ten in season ending points. Biese made it a weekend sweep in Sport Lite as he motored to his third win of the year. Biese finished strong with five straight podium finishes.
Class champion Kellen Chapuran also finished the year with five straight podiums, including his second place finish on Saturday night. Josh Connolly made it on the box in third, his second podium in the past three races.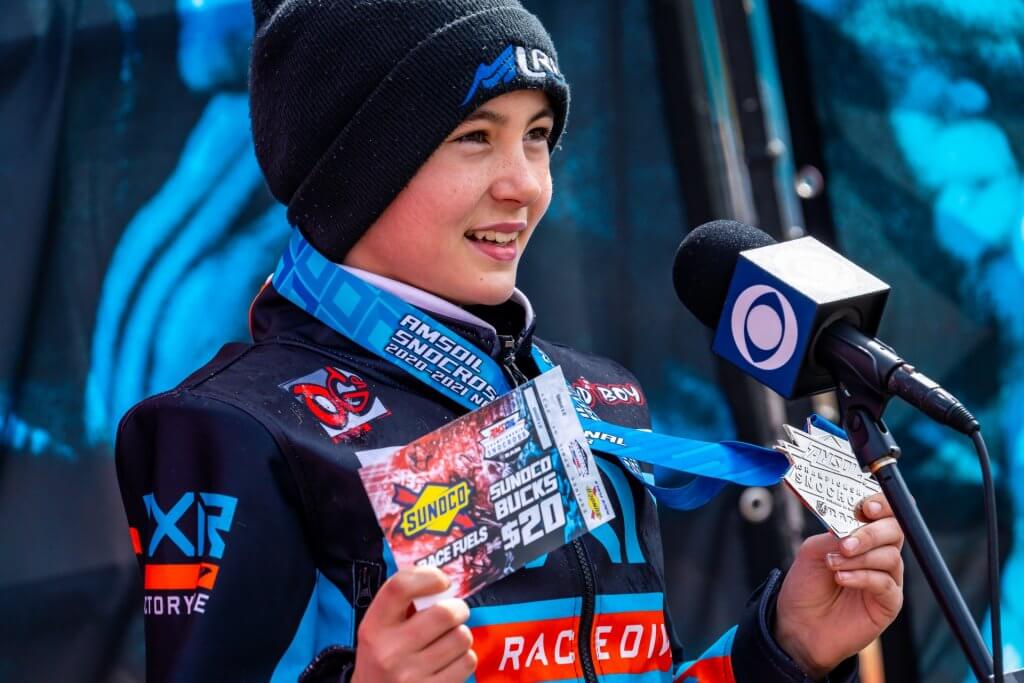 SATURDAY SPOTLIGHT
Crayden Dillon came away as a double winner on Saturday. Dillon picked up his second win of the year in Junior 14-15 and then doubled down by taking the checkered flag in Junior 16-17.
Meanwhile, Josh Connolly finished second in Junior 14-15 and third in Junior 16-17. The points leader in both classes, Domenic Hegman, finished third in Junior 14-15 and second in Junior 16-17.
Kendall Rose found herself on the winning side of the Junior Girls 9-13 final. It marked Rose's fourth win of the season. Ava McCurdy
Jimmy Stanisich picked up his fifth win of the year on Saturday by claiming the victory in the Transition 8-10 class. Victoria Dillon finished second, ahead of Lincoln Meyer.
Kenny Goike busted through for his first win of the season in Transition 9-13. He led a bevy of riders to the line, including an intense battle for second between Tanner Johnson, Cameron Cole and Isaac Peterson. Johnson finished second, just .845 of a second ahead of Cole, who nudged out Peterson by .086.
Johnson, meanwhile, got the best of Goike in the Junior 10-13 final. It was another close race with Johnson edging out Goike by less than half a second at the line. Peterson finished third.
It's now four wins on the season for Gvanni D'Antonio in the Stock 200 class. D'Antonio was able to take the win on Saturday with Sebastian Horton in second and Bryce Powers.
Avery Hemmer is now a two-time class champion, thanks in large part to her Champ 120 win on Saturday night. Travis Knudson was right on her taillight on his way to finishing second. Josh Groen followed suit, finishing third.
The AMSOIL Snocross National will finish off the 2021 AMSOIL Championship Snocross, Powered by RAM Trucks season on Sunday. The full day of racing will feature the annual amateur Showdown day of racing as well as the AMSOIL Dominator featuring the top Pro and Pro Lite riders going head-to-head. Both days will air live on www.snocross.com