Fargo, N.D. ~ After a three-week hiatus, the 2022 AMSOIL Championship Snocross season returned to action with a trip to Fargo, N.D. for the All-Finish Concrete Snocross National. Competitors were met by a massive mountain of snow, laid and packed in with enough twist and turns to be a roller coaster in the shape of a horseshoe.
The weather was also on a joyride in Fargo, with temperatures tumbling well below zero and the wind chill factor hovering around negative 20. But the big track brought big air and multiple lanes of racing, as the top snocross racers went bar-to-bar looking for sub zero supremacy.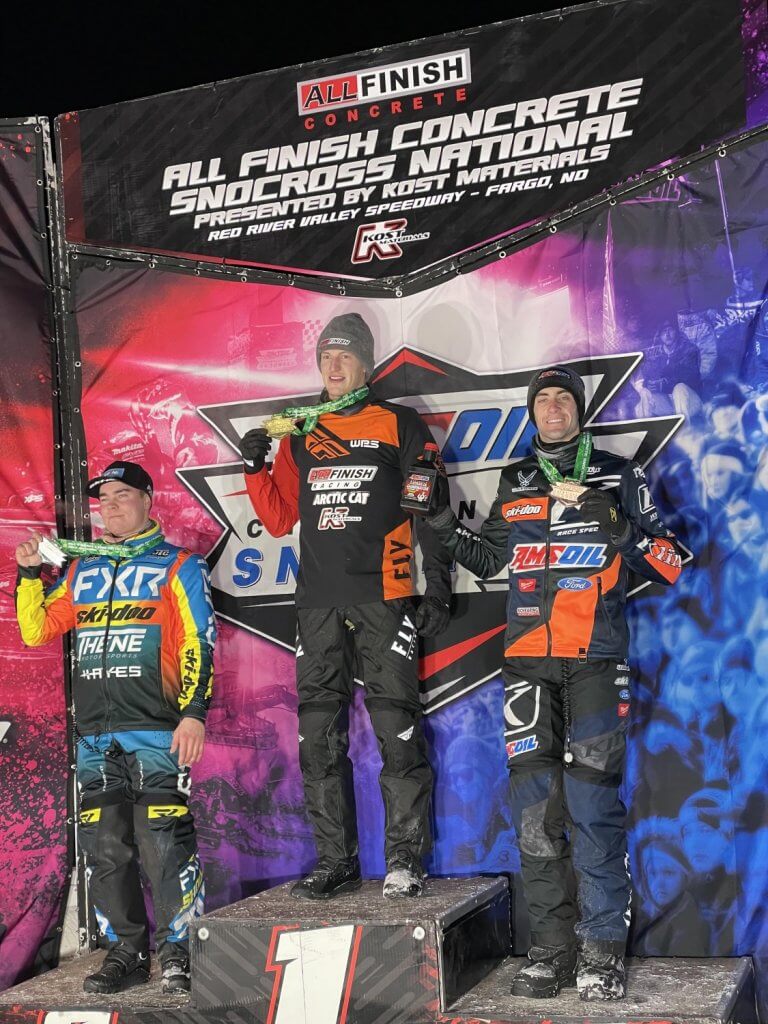 Hometown Hero Benham Impresses in Pro Open
Mix some sugary snow, minus seven air temperature and ice edges with 15 of the fastest men on a snowmobile and you can expect a little bit of chaos. When you add in the factor that the current points leader, Elias Ishoel, had to start in the back row after a tough day of qualifying, all bets were off for a moment of sanity in Friday night's final.
Daniel Benham made the move back to Arctic Cat this season, teaming up with a new team and sponsor that also happens to be located just down the road from the Fargo racetrack and is also the weekends title sponsor. Just to add to the pressure, Benham also had to deal with a motivated Ishoel in the final.
Benham used a powerhouse move to gain the hole shot and the early lead, and the entire field game through turn one clean, with everyone looking to find a place at the front of the pack. Hunter Patenaude was able to sneak behind Benham, with Francis Pelletier and Emil Harr in tow.
But Benham was on another plane early on, leading the field and keeping the other contenders trying to find some visibility through the growing snow dust. With Patenaude in second, Pelletier and Harr diced back and forth for a few laps for third. But out of nowhere came the three-time defending champ, Ishoel.
Ishoel had to start in the back row because he missed tech after winning his first heat, and then crashed in his second heat. But just two minutes into the final. Ishoel was in fifth. Two minutes later he was sprinting past both Harr and then Pelletier. 
With the running order of Benham, Patenaude and now Ishoel, shades of Tucker Hibbert's come-from-behind win at Deadwood a few years back were starting to trickle in. Ishoel found another gear to get around Patenaude and started reeling in Benham. As the clock ticked down to zero, the gap was down to 1.9 seconds and Benham could hear Ishoel screaming toward him. But on the final two laps after time ran out, Benham found another gear as Ishoel slowed, and the hometown hero cranked his lead back up to an impressive seven seconds by the time the final checkered flag of the day was flown for the field.
"This is an amazing moment," said Benham. "With a whole new team, we've been through a lot so far and already there's been so many question marks. But the team has never given up and it's just so rewarding for it to pay off."
Ishoel's hard-nosed effort was well worth the price of admission. His effort might have come up short on the ultimate pride, but his second place finish, along with a DNF by Pelletier, gave the defending champ a little more breathing room in the overall standings.
"I needed to get my head down," said Ishoel. "I got disqualified in the first round because I didn't go to tech after the race, so I didn't get any points. Then something happened with the sled in the second round, so I crashed, and I couldn't finish that one. So, we made it from the last row to second place and when I got up to second. I wanted to catch Benham, but he was riding good up there."
For Patenaude, his early challenge for the lead gave way to an unchallenged third place finish. After a hard crash in round two that caused him to fight through breathing issues in Iowa, Patenaude came out swinging in Fargo. He was rewarded for the effort with his third podium of the season, and now heads into round six with the overall points lead.
"I just didn't ride the way that I wanted to at all tonight," said Patenaude. "It was one of those races were nothing was coming to me. I'm grateful to be on the podium and grateful to be in this position, yeah, but we're looking for more. The team and I have been working really hard in the off weeks just trying to get the suspension dialed in. If a bad night is on the podium, considering what we've been through the last couple weeks, I'm happy with it."
Kody Kamm continued his season of consistency, finishing fourth. Kyle Pallin made some early moves to get around traffic and finish fifth.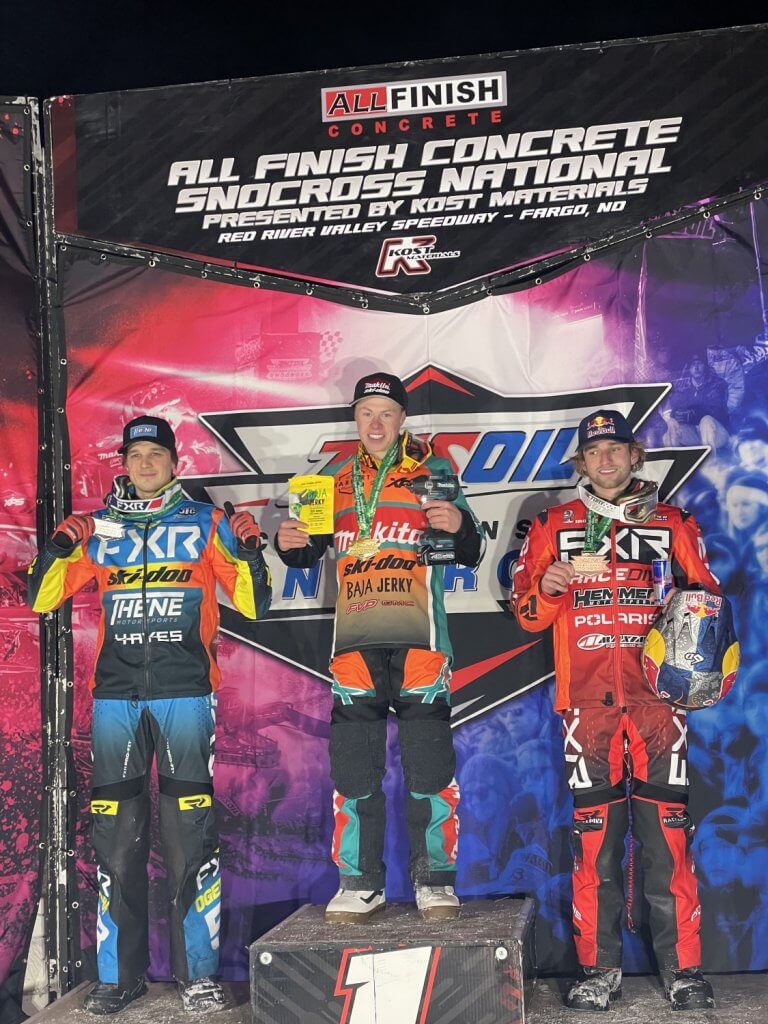 Rookie Lebel Stays Perfect in Pro Lite
The start of the Pro Lite final looked like it was going to be a phenomenal race between Jordan Lebel and Ryley Bester. But as they made their way around the track for the first lap, that showdown was shut down quickly as several sleds were tangled up in what looked more like a traffic jam in Atlanta than the first turn of a snocross track.
The second start was just as chaotic, but while Lebel was able to get through cleanly, Bester never made it out of turn one. Instead, it was Marcus Ogemar who catapulted around the first turn and into the lead with Lebel in tow.
Lebel was patient for the first few minutes of the timed race, but he mixed his top speed with an innate ability to run smooth through the big rhythm sections to push past Ogemar and into the lead. After that, Lebel continued to show his mastery of the Pro Lite class as the rookie rider notched his fifth straight win to start the new season and keep control of the overall points lead.
"The first start before the red flag I got a great start and then after (the red flag) we just lined up at the same place," said Lebel. "So, I had the same mindset and I just got almost a better start than the first start. So yeah, I was I'm pretty up here."
Once in second, Ogemar settled in at a pace that was equal to Lebel, but too much distance between the two after the initial pass was too much to overcome. He motored to the runner-up spot, notching his first podium finish of the season for the Ski-Doo/Thene Motorsports rider.
"I had a huge hole shot in the second start so that helped me a lot because I was struggling a little bit in the first heat race," said Ogemar. "Man, it's been a long time being away from the family and all that stuff, but you know this second place is for sure dedicated to my daughter. I'm so proud of her and I hope that she can be proud of me one day."
Nick Lorenz started off the final podium position but was able to move through traffic and into third. Once he got past Evan Christian for third, Lorenz had the speed to track down Ogemar, but was unable to get close to the final gap, finishing in third for his fourth straight podium.
"I had a really good line before the finish line just going outside, tripling and carrying my momentum into the corner," said Lorenz. "I set the pass up probably like three laps in a row and it just managed to work out really good. I was able to get past Evan nice and clean and it just rode a good clean race from there on out."
Evan Christian kept in touch with Lorenz to finish fourth. Lukas Johansson rounded out the top five.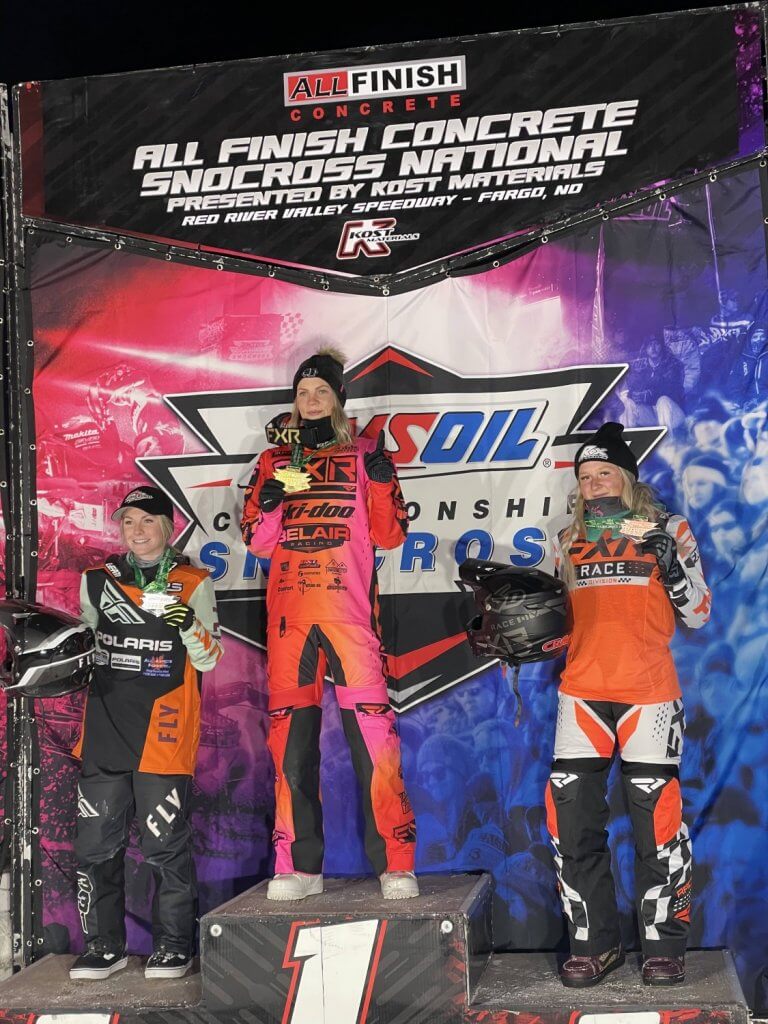 PRO WOMEN: Malene Cottew is now on a two-race win streak after a dominant Pro Women's final on Friday night in Fargo.
Cottew took advantage of the big track and clicked off a near-perfect race as the defending champion won her third final of the season. After getting the lead on the first lap, Cottew didn't miss a mark as she motored to a 25-second win.
Inanna Hauger kept it close for the first few laps before Cottew pulled away. Hauger had another strong day of heat racing and should unofficially enter Saturday with the points lead.  MaKenna Kleiman found herself on the podium for the first time this year after crossing the line in third.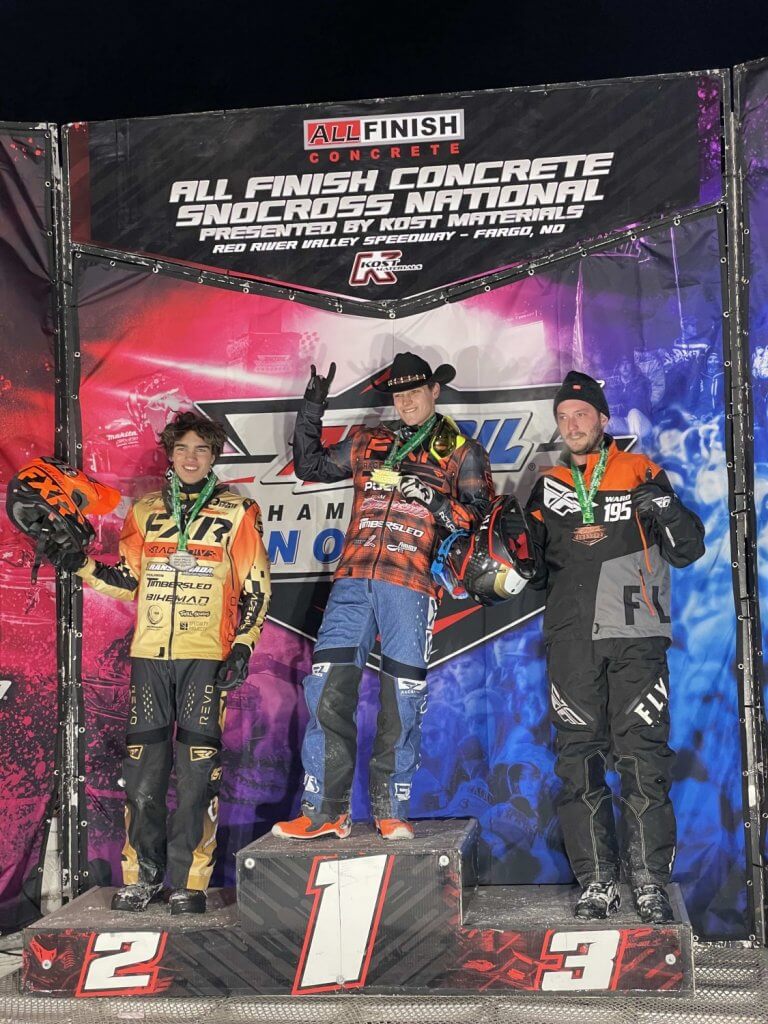 PRO SNOWBIKE: It wasn't the smoothest night of racing for the defending Pro Snowbike champion, but the end was a familiar result for Jesse Kirchmeyer.
Kirchmeyer needed to win the second moto after finishing second in Moto 1. In the second moto, Yanick Boucher and Troy Horbaty shot off the line first, but Horbaty had to drop back after it was determined he jumped the start. That gave Boucher a short-lived lead as Kirchmeyer took control. The lead looked good until Kirchmeyer's bike started smoking on the final lap, but the points leader was able to keep the bike propelling forward for his fourth overall win of the season.
Troy Horbaty won the first moto but had to work back after the start penalty to finish fourth. That was enough to finish second overall, just ahead of Keaton Ward, who went 4-2 to finish third overall.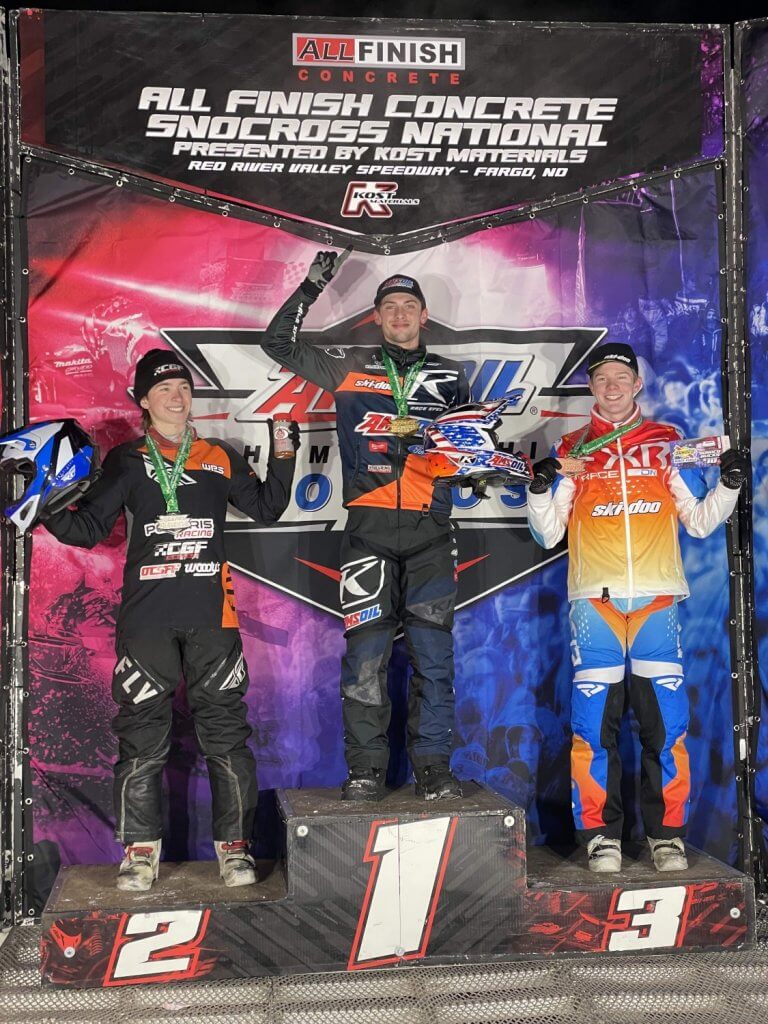 FXR SPORT: Adam Ashline has asserted himself as the man to beat in the FXR Sport class this season. The Ski-Doo rider grabbed another great start in the final and powered his way to his fourth straight win and fifth overall podium through the first five rounds. Ashline has won the last 12 times he has lined up this season, including finals and heat races.
Cael Firth put in a strong performance as he crossed the line in second, his second podium finish in the past three races. Kellen Chapuran held down the third and final podium spot, just missing the second spot by less than half-a-second.
FRIDAY NIGHT LIGHTS:
SPORT LITE: Crayden Dillon notched his first win and became the fourth rider to win a Sport Lite final in 2022. Dillon put in a flawless race, leading from start-to-finish to notch the win. Round four winner Cameron Cole found the podium for the third time this season by finishing second. Jan Even Romsdal crossed the line in third.
TRANSITION 8-10: Riley Johnson has now won four out of the first five races as Johnson took home the win in the Transition 8-1- class on Friday. Johnson was able to hold off a hard-charging Rylan Nelson, who finished less than a second behind Johnson for the second race in a row. Ryder Hayes finished third.
STOCK 200: Tucker Kraling returned to racing action after missing the Iowa rounds, but the opening round runner-up made it a successful day of racing by winning the Stock 200 final. Rounds two and three winner Ryan Shimanski finished second and Noah Gillis crossed the line in third for his first podium of the season.
JR 14-15: Isaac Peterson is on a roll after winning his third straight Junior 14-15 final on Friday. Peterson has not missed the podium this season and led from start-to-finish in round five. Lawrence Eeg grabbed his second podium of the season, moving up from fourth to his final finishing position of second. Noah Daniels made his podium debut by finishing just behind Eeg in third.
TRANSITION 9-13: Tanner Johnson took over the lead in the Transition 9-13 final on lap two and never looked back. It marked his fourth official win of the season as he extended his points lead over Colin Taggart, who finished second on Friday. Trenton Hilmerson rounded out the podium in third.
The 2022 AMSOIL Championship Snocross season continues on Saturday with a full day of racing from the All Finish Concrete Snocross National in Fargo. Pro racing begins at 6:00 PM Central Time. The entire AMSOIL Championship Snocross series will air on FloRacing and CBS Sports Network. To subscribe to click here.