Fargo, N.D. ~ Friday's deep freeze that fell on Fargo gave way a morning of whipping winds that slowed to a more palatable breeze on Saturday as round six of AMSOIL Championship Snocross wrapped up a wild weekend of racing in North Dakota.
While the weather saw a 20-degree change in temperature and a light snowfall, the big, technical track didn't see a major transformation. But it was built to test timing and speed and if a rider couldn't figure out it's nuances early, it was going to be a long night of racing.
The top riders in their respective classes flexed their championship credentials in Fargo, and with six rounds now in the books, the 2022 season has quickly proven that the next two months are going to be a street fight to the finish line.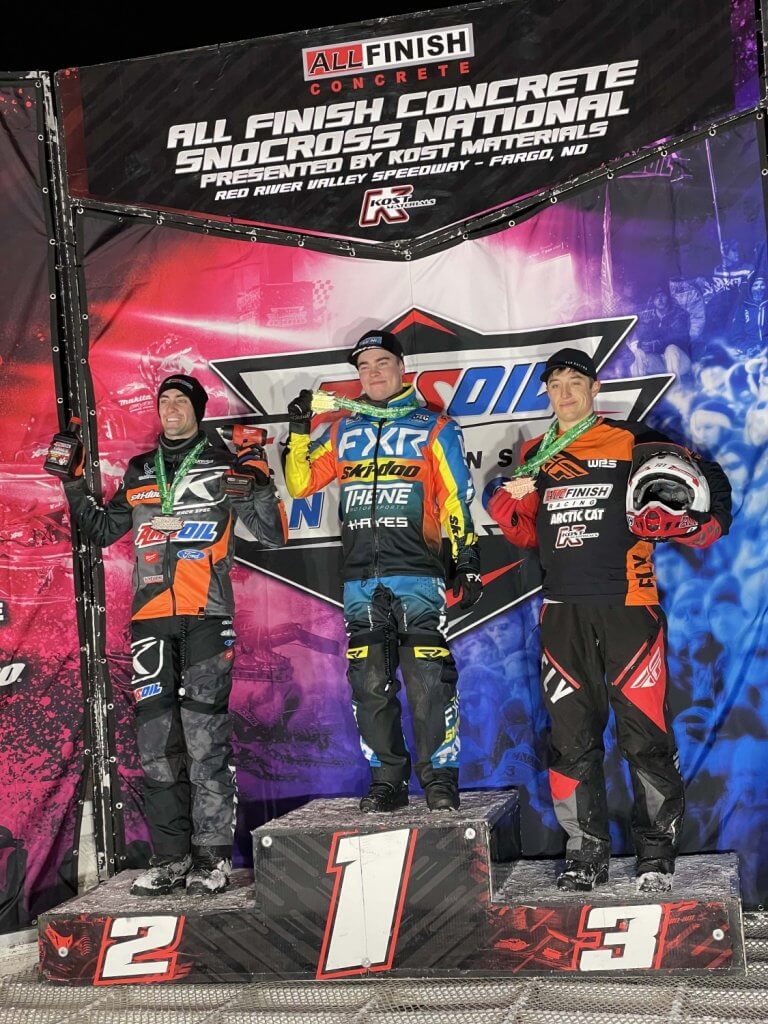 Ishoel Impressive in Third Win
Elias Ishoel had gone three finals without a win. But it wasn't for lack of effort. In reality, the one thing that Ishoel had been missing over the past few weeks was a clean start. He got one on Saturday night.
Ishoel came through turn one three abreast with Jacob Yurk and Hunter Patenaude. The defending champion had just enough juice to get into the big rhythm section quicker than Yurk and Patenaude. Historically, that has been key to Ishoel's successful run of three straight titles, and it was the winning formula on Saturday night in Fargo.
"I was just trying to stay safe out there, of course, and just get a sled to the finish," said Ishoel. "There was a lot of ice underneath, but it was a good race and I just tried to be fast out there, be smooth, and have fun."
Patenaude shuffled back to third after the start and spent the first few minutes of the race trying to gather in his rhythm. Once he found his control, he was able to power past Yurk into second. He would gap out from there and motor to his third straight podium. For Patenaude, he was also able to keep the red plate he picked up in round five thanks to another two wins in qualifying and the runner-up spot in the final.
"The sleds were so fast off the start this weekend," said Patenaude. "I think that was pretty apparent between (teammate) Logan (Christian) and I in both the heat races, pulling hole shots. Consistency is key and I haven't had a consistent weekend in the pro class so far and this is the first one yet and just really excited about that."
Meanwhile, Yurk had no time to catch his breath in the final. First, he had his showdown with Patenaude and then, with a race long battle with Harr. Yurk wasn't able to reel Patenaude back in, but he held off everything that Harr threw his way to hold onto a much deserved podium finish in third.
"We made a bunch of changes for that final. Too many," said Yurk. "But luckily we went the right direction and I just hit the light. I knew Harr was right on me, but I couldn't give that third place up. We've been working too hard and are riding closer to what we feel like we should be so I'm grateful for that."
Harr had his best finish since logging a second place in round three. Logan Christian entered the final as the number two qualifier, worked his way through early traffic and held off several sleds to finish fifth.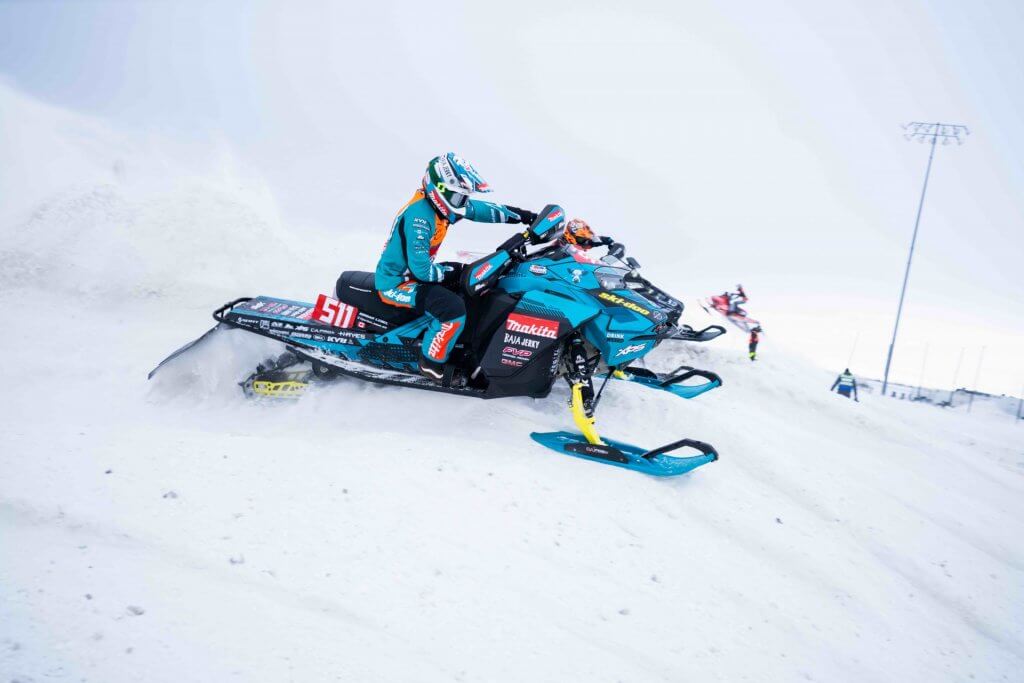 Six for Six for Rookie Lebel
The only difference between Friday night's Pro Lite race and Saturday night's final was the field only needed one, clean start to get through the eight minutes plus two lap race.
Saturday night's final had immensely less drama than Friday's race, but it was like looking in the mirror at the final finishing positions.
Rooke Jordan Lebel was really on point during Saturday's final. He was able to get past Marcus Ogemar after the first turn, and the two would stick close to one another for a brief period before dialing up the speed and walking away from the field. His eight-plus second win was fast and smooth, and also his sixth straight win to start his Pro Lite career.
"I had a good start, and the lines were hard to find on the track today," said Lebel. "I just kept on my line, and I think I had a couple of good lines so I could make up some time, yeah, I just held my pace."
Ogemar had his Ski-Doo dialed-in all weekend. His effort on Friday night might have come as a surprise to the rest of the Pro Lite field, but he backed it up with an equally impressive performance on Saturday night. It marked his second runner-up finish in a row and Ogemar maintains the rediscovered run of success comes from a bit of pre-event hard work.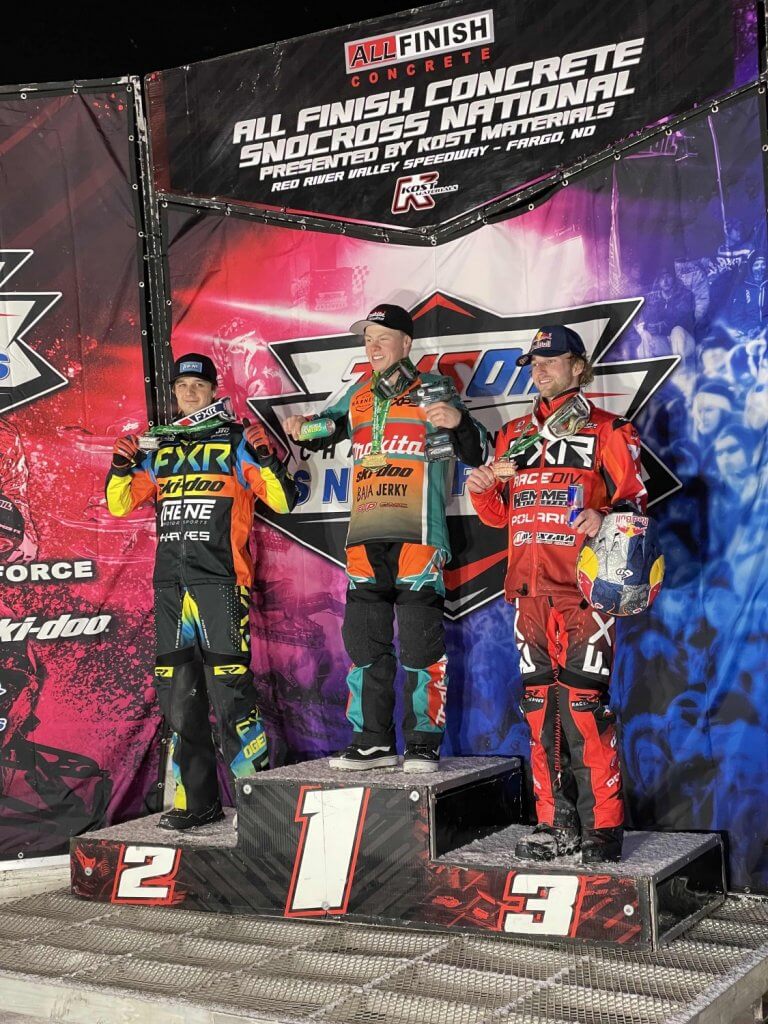 "I've been getting more practice in during the week," said Ogemar. "I didn't ride much at all before I came here (from Sweden). I can tell I've been away from these kinds of tracks for a couple years. It's not similar to what we are racing on back home, so yeah a lot of practice."
Lorenz had to battle to get back on the box on Saturday night. He started in the middle of the pack before putting his head down and pushing through the field and into contention. He spent a lot of time battling Ogemar before finishing in third for the second night in a row.
"I started in sixth and made my way up to third," said Lorenz. "I just couldn't seem to find any lines to get around Marcus. I had some fast lines and then he caught on to them. Marcus rode really well, so I'm pumped for him and just pumped to be up here again."
Anson Scheele shuffled in and out of the top five. He made a late charge for the final podium spot, just missing out by about two sled lengths at the line. Ryley Bester had a lot to overcome as the Polaris rider came from the back row and navigated through traffic to finish fifth.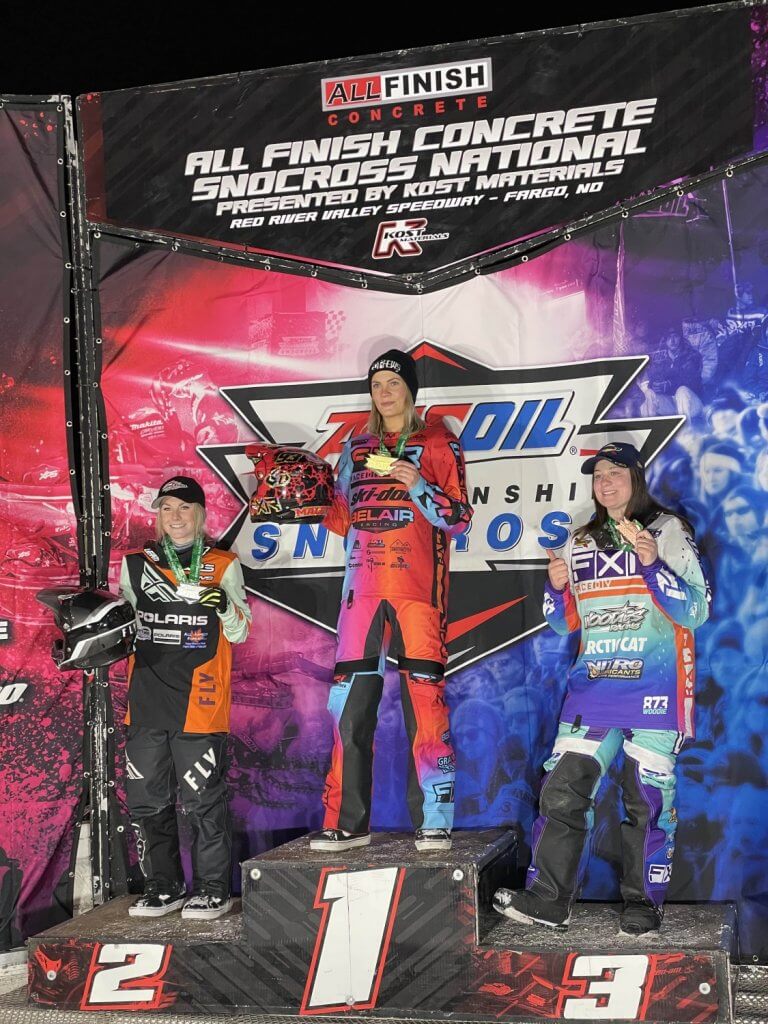 PRO WOMEN: Inanna Hauger lived up to her moniker of "Hole Shot" by coming through the first turn with the lead for the fifth time this season. But Malene Cottew lived up to her title of "Defending Champion" by running through the big moguls faster and smoother than the rest of the Pro Women's field on Saturday night.
Cottew had closed the gap back up on Hauger in the overall standings with her win on Friday night. On Saturday night, Cottew made it a weekend sweep and regained her place at the top of the class.
Hauger was pushed hard by Taven Woodie for the second half of the race, but Hauger's great start gave her enough breathing room to finish second. Woodie would finish third, her fourth podium of the year.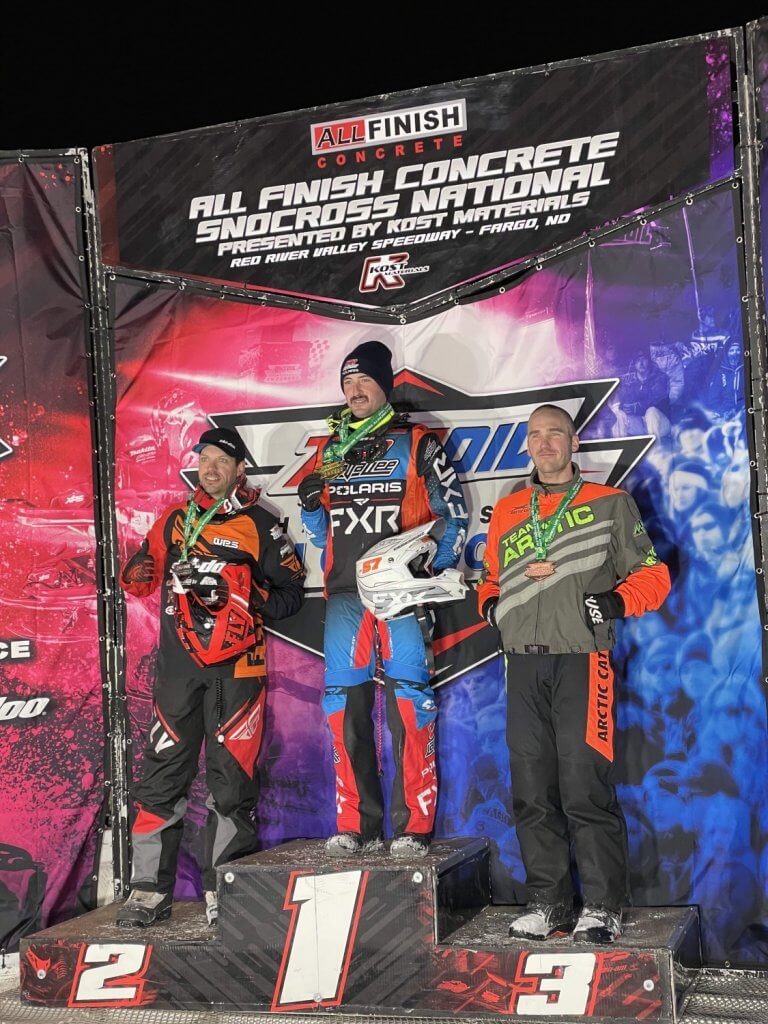 PRO AM PLUS 30: Arctic Cat's Jacob Blanchen won the hole shot but it was once again Andy Lieders who won the Pro AM Plus 30 final. Lieders was able to get into clean air quickly as the defending class champion picked up his third straight win of the season.
Blanchen would drop back to a final finishing position of third thanks to another resilient run by Kurt Bauerly, who notched his second podium in two races this season.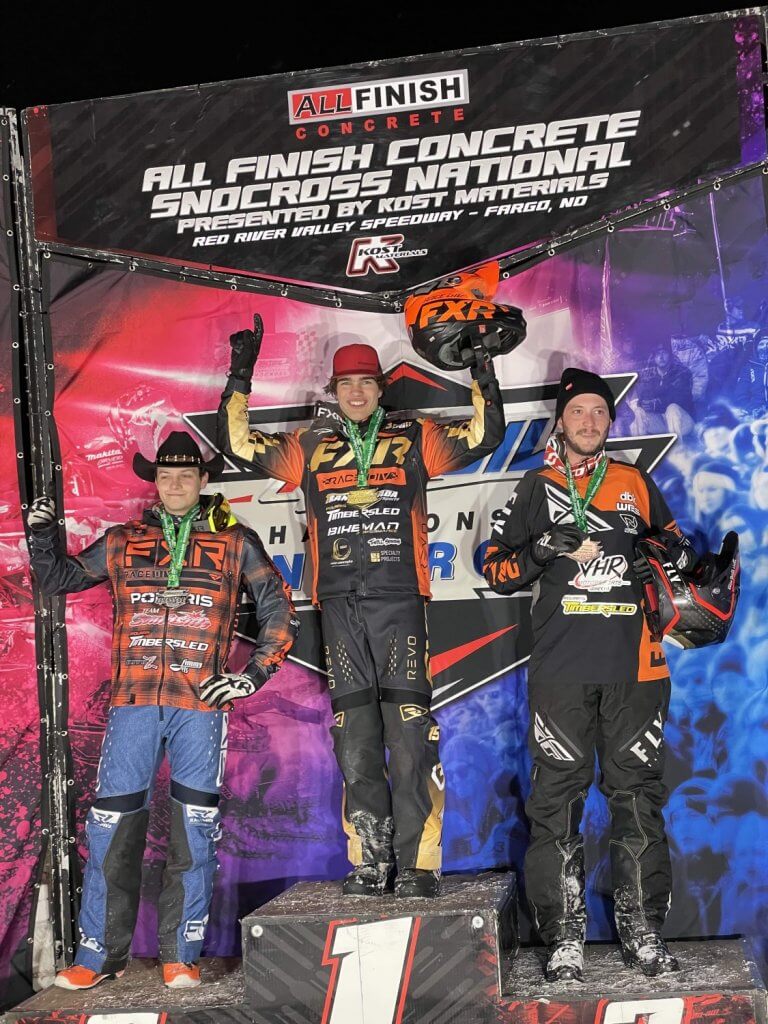 PRO SNOWBIKE: It was a wild ride in the first Pro Snowbike moto on Saturday night, as Jesse Kirchmeyer and Yanick Boucher got tangled up on the first lap, knocking them both to the ground. That opened up the door for Troy Horbaty to take the win in Moto one.
In the second moto, Kirchmeyer put together a flawless race, powering past Horbaty after the first turn and notching his ninth moto win of the year. But Horbaty was unrelenting in the second place spot and his 1-2 finish was all he needed to take Saturday's overall win.
Kirchmeyer's 3-1 slotted him into second overall and Keaton Ward was able to finish third overall thanks to his second place finish in the first moto.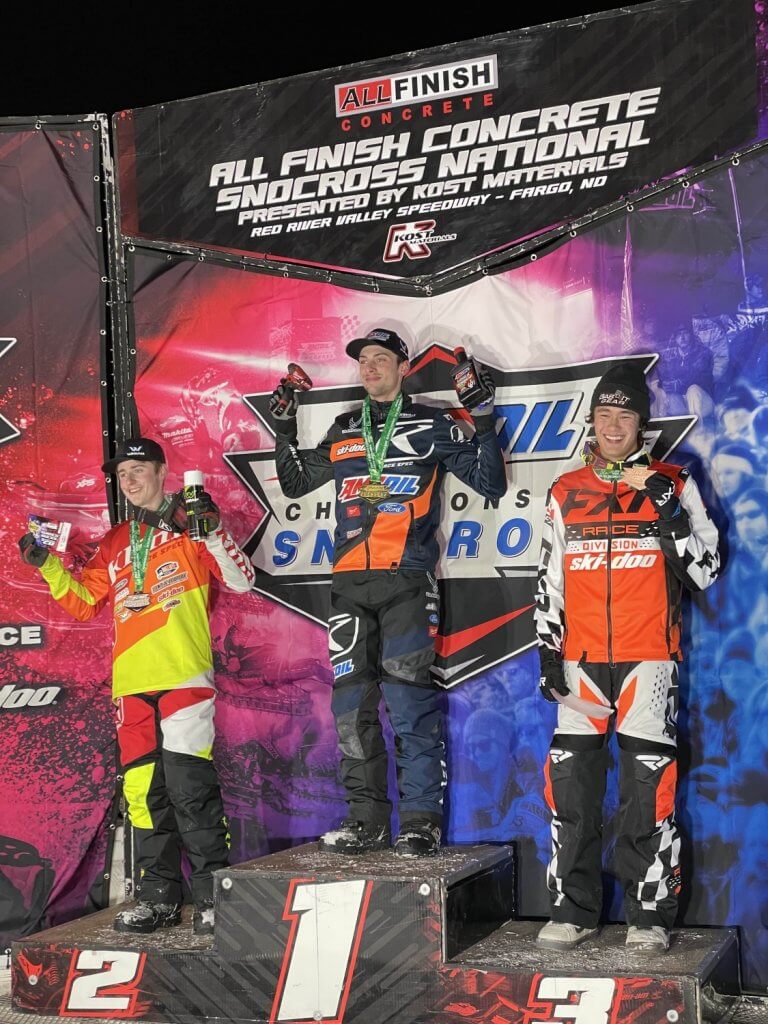 FXR SPORT: It's officially the Adam Ashline show in the FXR Sport class this season. Ashline didn't get his normally clean start in the final, but the Ski-Doo driver found the lead on the second lap and quickly gapped out a three second lead over second place rider Jake Boutwell. At the end of the final, Ashline had notched his fifth straight win this season. Boutwell was able to hold off Domenic Hegmen for the runner-up spot.
SATURDAY SHOWDOWN:
SPORT LITE: Crayden Dillon backed up his first win of the season on Friday night with his second win of the year on Saturday night. Dillon diced with Jan Even Romsdal early in the race but found enough clean air to pull away for a 15-second win.
Romsdal was able to stay out in front of Josh Connolly for the runner-up spot, his fourth straight podium finish, Connolly picked up his second podium of the season in third and closed the gap on overall points leader Cameron Cole, who finished sixth.
JR 10-13: Brady Freeland took control of the Junior 10-13 final on the last lap to secure his first class victory in 2022. He and round one winner Tanner Johnson had a race long battle, Freeland was able to shake free for the win. Carter Meyeraan overcame a slow start to finish third.
TRANSITION 8-10: Ryder Hayes has not missed a podium on a Saturday race in 2022, but he took control of the Transition 8-10 final on the second lap and never looked back for his first win of the season. Friday night winner Riley Johnson battled Tyson Kielman for the runner-up, just edging out Kielman at the line.
JR GIRLS 9-13: Kendal Rose didn't start with the lead in the Junior Girls 9-13 final, but the current points leader finished Saturday's race out front for the third time in 2022. Cecily Bernaiche was the early race leader before finishing second. Ana Wensloff kept up the pressure on Bernaiche before finishing third.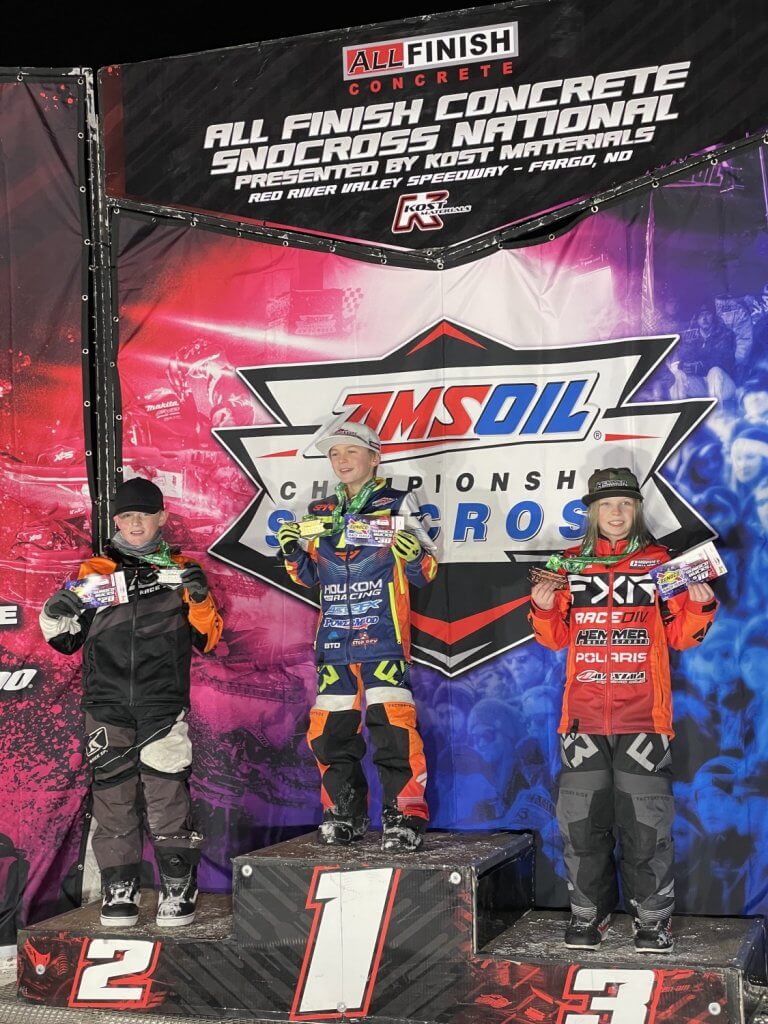 120 Champ: Jaxon Houkom inched closer to Avery Hemmer's overall lead by securing his first national win in the 120 Champ class on Saturday. Cody Moras had a spectacular run, finishing second and securing his first podium in 2022. Current points leader Avery Hemmer worked through some early traffic to finish third.
JR 16-17: Jan Even Romsdal has swept all three Junior 16-17 finals this season, including a dominating race in Fargo on Saturday. Connor Campbell improved his finishing position for the first time this year, crossing the line in second after opening the year with a pair of thirds. Thomas Levi made his 2022 debut worthwhile, finishing third.
STOCK 200: Tucker Kraling wrapped up a dominant weekend of racing in the Stock 200 class on Saturday. Kraling won both finals in Fargo after missing two rounds of racing in Iowa. Beau Engel picked up his second podium of the season, holding off a hard-charging Tayte Blasey for second place.
JR 14-15: Isaac Peterson's winning streak has now reached four races as the points leader hasn't missed the top spot since round two in Shakopee in early January. Peterson took advantage of a great start to notch his sixth podium of the year. Kenny Goike finished second with Deegan Johnson rounding out the podium.
TRANSITION 9-13: Tanner Johnson extended his overall points lead in the Transition 9-13 class on Saturday. The Friday night winner doubled down in Fargo, besting Brady Freeland for his fifth win of the season. Freeland was followed to the finish line by Trenton Hilmerson, who notched his second podium finish of the weekend.
The 2022 AMSOIL Championship Snocross season heads East on February 18-19 for the first time in two seasons. The city of Salamanca, NY will host rounds seven and eight. The entire AMSOIL Championship Snocross series will air on FloRacing and CBS Sports Network. To subscribe to click here.