Salamanca, N.Y. ~ It has been two years since AMSOIL Championship Snocross stretched its legs and embarked upon an Eastern tour to upstate New York for the Seneca Allegany Snocross National. Covid put restrictions on the annual trip to Salamanca, but conditions were prime for world's best snocross racers to continue their championship chase.
In 2020, Ski Doo's Elias Ishoel swept the weekend in New York and Hunter Patenaude and Francis Pelletier were in a dogfight for Pro Lite bragging rights. After that weekend, the season ended abruptly. Two years later, Ishoel returns as the defending, three-time champion, but it's Patenaude who comes in with the points lead, and despite an injury in Fargo, Pelletier looks to rebound in New York and notch his third pro win of the season.
With temperatures in flux and a full slate of racing action, New York will prove pivotal as the season hits its midpoint in the Empire State. And if Friday's opener was any indication, the chase to the championship is on the chip as contenders look to find their groove for the stretch run.
The Champ Charges to New York Win
A long, straight start, piled up with big whoops that filled the width of the track with sleds from edge-to-edge. It would be a drag race to get to the first turn, one that was barely visible through all of the peaks and valleys that the rough track offered up.
Speed and rhythm. Sounds like a perfect mix for three time defending champion Elias Ishoel and the Viking Rocket delivered. The start seemed more like the 100 meter dash at the Olympics, with 15 snowmobiles ripping in a row across the straightaway. That would make Ishoel a bit like Usain Bolt, as he led the field to turn one with a blistering hole shot. Much like Bolt, once Ishoel got out front it was game over as the rest of the field was looking for some sort of boost to catch speedy Ski-Doo driver.
With Ishoel checking out, Jacob Yurk and Adam Peterson were putting on a show. Yurk danced across the whoops on Friday night, erasing the top end speed shown by Peterson on other parts of the track. It wasn't very often that the two were separated by more than a couple of sled lengths, but it was Yurk who kept in front of Peterson for the entire race. Yurk never gave Peterson an opening and finagled his way around lapped traffic over the final few laps with enough ease that Peterson could only follow and not get the advantage.
When the checkered flag flew, Ishoel took home his second straight win and recaptured the points lead over Hunter Patenaude, who finished outside of the top ten. Yurk tallied his second straight podium in second, finishing just .7 of a second ahead of Peterson, who found the podium for the second time this year.
Yurk's teammate Daniel Benham finished fourth. Francis Pelletier's return to better health gave him strength to finish fifth after a weekend in Fargo that saw him take starts after a hard crash in Iowa.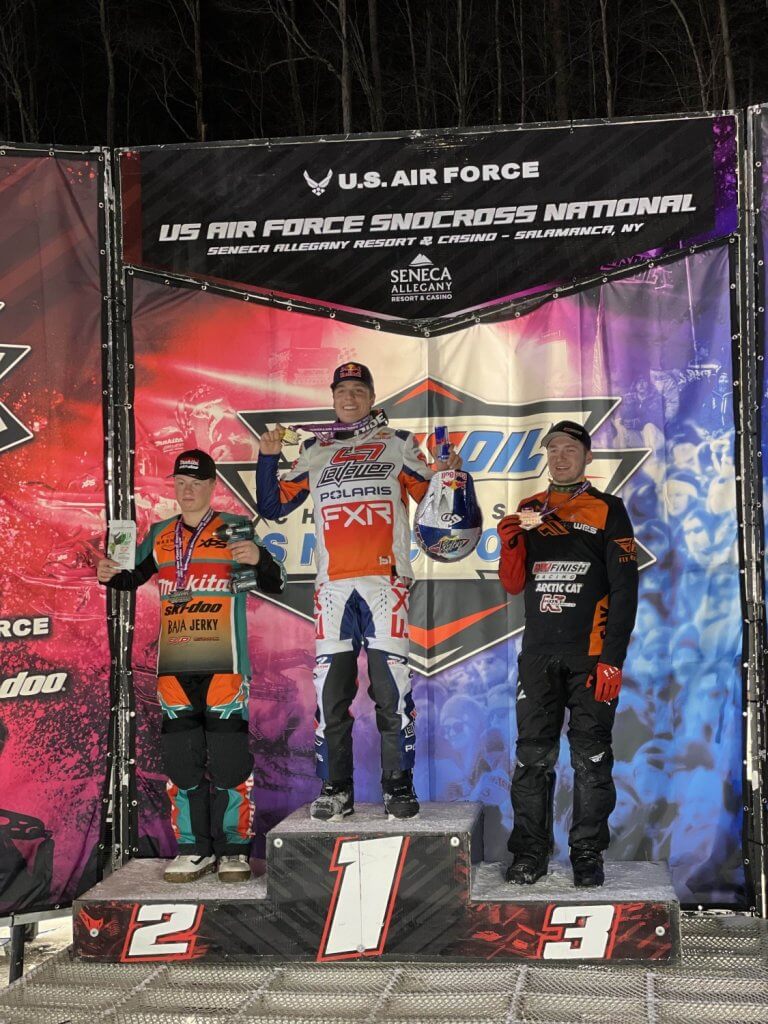 Bester Breaks Through in Pro Lite
The Pro Lite class has had an obscene amount of parity the past few years. This has not been an issue in 2022 thanks to Jordan Lebel. The Ski-Doo rookie has been unbeatable this year, taking the first six rounds in a flash.
But the field has also been showing flashes the past few rounds, including Marcus Ogemar, who has been on point with his starts and shown the speed to stay out front. On Friday in New York, Ogemar was again out front, but he was joined by another rider full of promise in Ryley Bester.
Ogemar has been utilizing his good starts to get on the podium the past few rounds, and he came out swinging again on Friday. He and Lukas Johansson had a great battle for the first few laps, but Ogemar pushed his way through and moments later Johanson had an unrelated off, knocking him down to tenth.
That opened the door for Bester as the Polaris rider was stalking the leaders from the get-go. He and Ogemar would then dance around the track for the next eight seven laps, never stepping on each other's toes, but also keeping each other within arm's reach. Bester got through and settled into the lead, but he wasn't able to rest for long.
A late push by Lebel made this final even more exciting. He started seventh but had closed the gap to just a few sled lengths behind Bester and seemed to have enough momentum to catch the race leader at the end. But Bester was solid over the past few trips around the big, rough track, and pulled away just enough to gather up his first win of the season.
"I felt really good out there," said Bester. "Practice went well. My heats went well. So, I got a really good hole shot right behind Ogemar and I just tried following a little bit at the start and then found a few fast lines and I was able to get around him."
Lebel overcame his slow start to race with the frontrunners. He picked up his seventh podium finish of the season, after that tough beginning and a difficult day of qualifying.
"I was just trying to find some lines," said Lebel. "The track is really rough and it's hard to be faster. Yeah, I don't know. It was not my race tonight."
Anson Scheele spent the night moving up and down the leaderboard. He had a great start and was running out front early. But he dropped back a few spots in the middle of the race before moving back into the top five and making a strong push to the finish to round out the podium in third.
"I was just trying to ride hard through that whole race," said Scheele. "The track got super rough out there and just got to thank everyone for helping me get up here."
After his early lead, Ogemar kept pace with the pack, finishing fourth. Korbyn Anderson rallied to a fifth place finish.
PRO WOMEN: Malane Cottew started the season looking for consistency and trying to regain the points lead. Now the defending champion has found solid ground and is on a bit of a roll.
Cottew went wire-to-wire on Friday night in New York, extending her win streak to four. The wins have helped propel her back to the overall points lead, which was briefly held by Inanna Hauger. The two entered the weekend separated by just one point.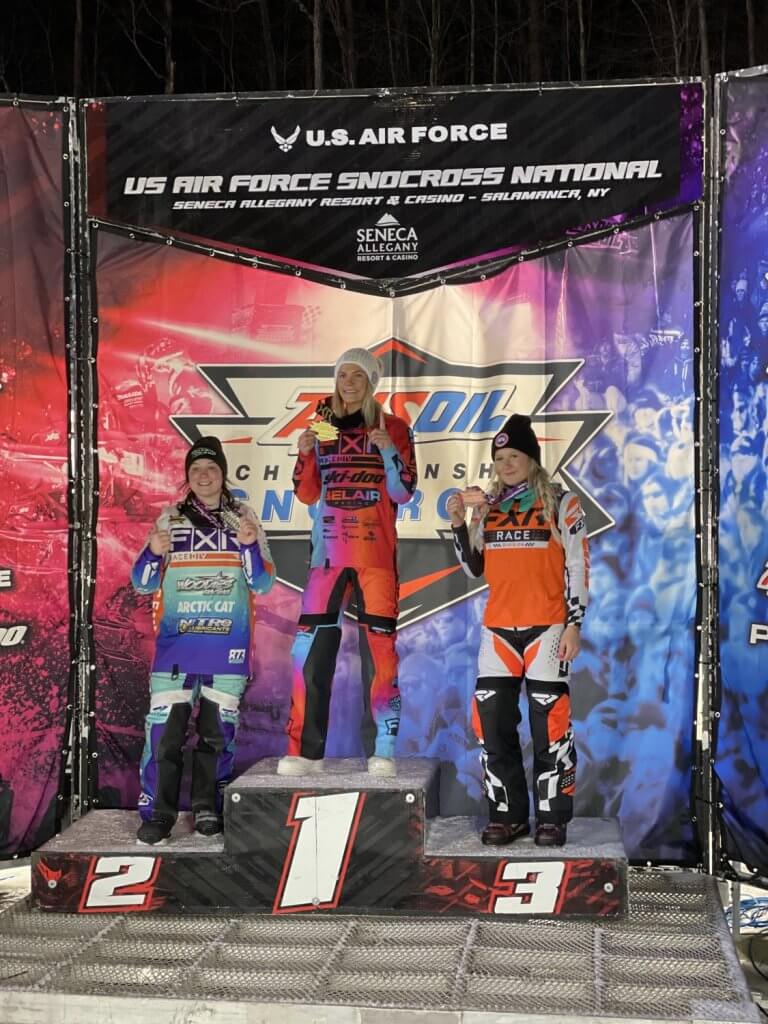 After a tough second round crash, Taven Woodie now has found the podium in five of the past six rounds. Woodie found her groove early on her way to a second place finish. Makenna Kleiman finished third, her second trip to the winners circle in the past three events.
PRO SNOWBIKE: Jesse Kirchmeyer continues to fight his way to overall wins, including a hard fought flight in the second moto of Pro Snowbike on Friday night.
Kirchmeyer took the first moto, setting himself up for the overall with a good run in Moto 2. But a slow start in the second race made things interesting as it was Yanick Boucher who got out to a nice lead. But Kirchmeyer kept picking up time on Boucher and capitalized late to take his second win of the night and the overall.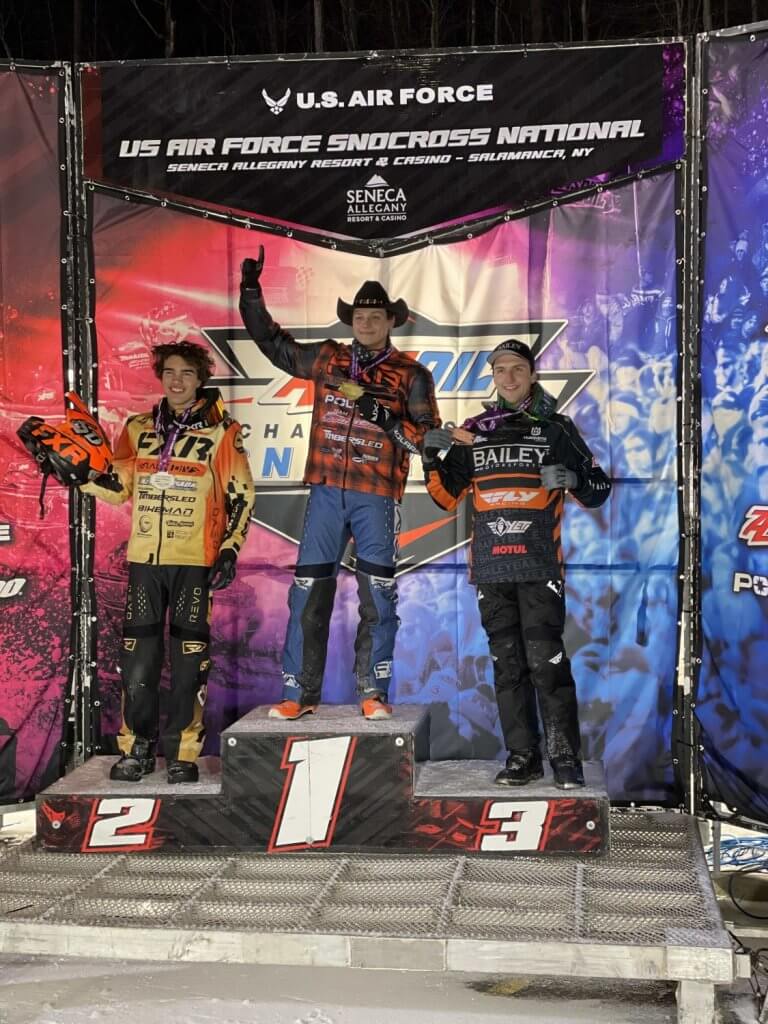 Troy Horbaty went 3-2 on the evening, gaining second overall thanks to his ability to also get around Boucher, who went 2-3 for third overall.
FXR SPORT: Drew Freeland cracked the code that is Adam Ashline in the FXR Sport final on Friday night. Ashline entered the weekend on a six-race win streak to open the season and led for the first two laps on Friday night. But Tyler Archambault was able to get around Freeland on lap five, before Freeland took the lead for good on the final lap and led the pack to the finish line and his first win of the season. Archambault held off Ashline at the finish line for second.
FRIDAY SHOWDOWN:
SPORT LITE: Craydon Dillon has found his groove as he picked up his third straight win on Friday night in Salamanca in Sport Lite. Brandon Nelson finished second, with Steven Max rounding out the podium in third.
TRANSITION 8-10: Riley Johnson has picked up some ownership stock during Friday nights Transition 8-10 finals. Johnson has won all four Friday night races this year, including a close race with Avery Hemmer in New York. Hemmer set the fastest lap time in the race but couldn't catch Johnson and finished second. Tyson Kielman finished third.
STOCK 200: Ryan Shimanski notched his fourth win of the season by leading the entire Stock 200 final on Friday night. Trenton Peterson finished second behind Shimanski and Gvanni D'Antonio.
JR 14-15: It's now five straight wins in the Junior 14-15 class for Isaac Peterson. He went wire-to-wire for the win. Jacob Begin put together a solid race, moving into the runner-up spot on lap four. Noah Daniels finished third.
TRANSITION 9-13: Tanner Johnson keeps trucking along in the Transition 9-13 class. Johnson, who swept the weekend in Fargo, nudged out Brady Freeland for the win in New York, his sixth of the year. Brandon Martinson came across the line in third.
The 2022 AMSOIL Championship Snocross continues to race in Salamanca on Saturday, February 19 with the round eight of the 16-race series. AMSOIL Championship Snocross airs all rounds live on FloRacingand CBS Sports Network. To subscribe to click here.