Deadwood, S.D. ~ The second half of the season kicked off between the mountain tops in Deadwood, S.D. on Friday night.The track is built for tight racing, and with a few extra weeks to get the track ready from its originally scheduled date, it also offered up some of the deepest holes the sport has ever seen.
Track maintenance and the ability for riders to find, and keep, the right rhythm made for a grueling opening night, and some spectacular racing across the board.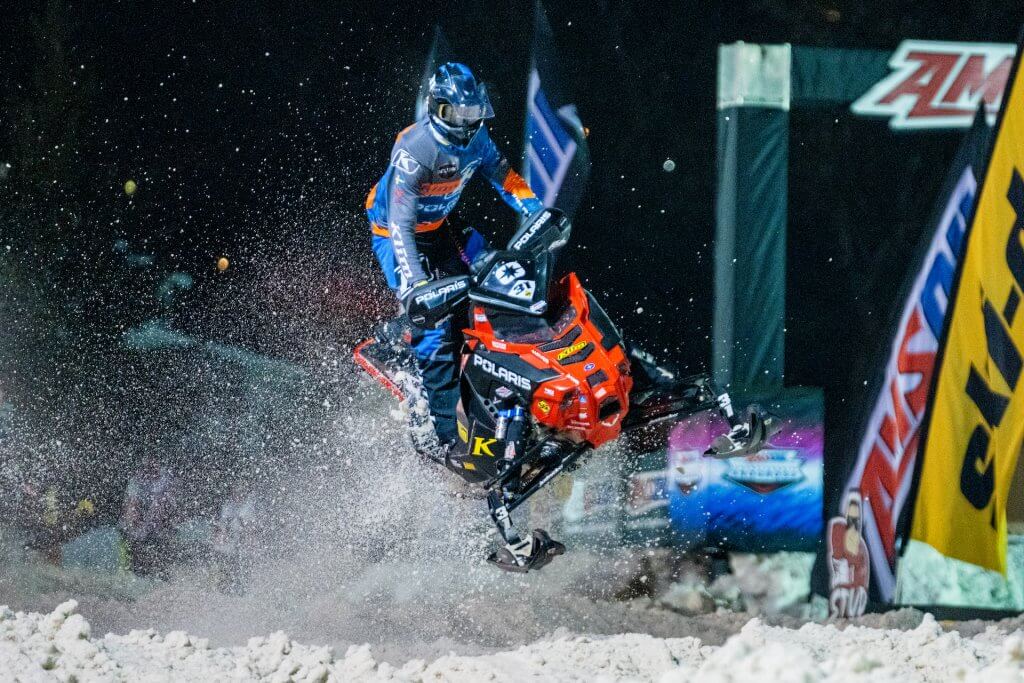 Harr From Start-To-Finish for First Win
If the two rounds of racing in Canterbury are considered the Daytona of snocross tracks, then Deadwood circuit could be referred to as the L.A. Coliseum. Much like last month's NASCAR race in California, the Bull Ring offered up a smaller, tighter version for drivers, with very cramped racing and quick-twitch reactions needed to make a pass.
With a ten minute clock, plus two laps, the Pro field whipped around the Deadwood track 28 times on Friday. Out front for all 28 was rider Emil Harr. The Polaris rider started the year with three podiums but has missed the top three since. In South Dakota, he left the track with a no-doubter as the Swedish rider picked up his first career win in the United States.
"I saw that outside on the site lap and I was just going to go for it," said Harr. "It felt so great when I was first, so I was just going as fast as I could and just try to be as smooth as possible. It worked the whole way and I'm super glad."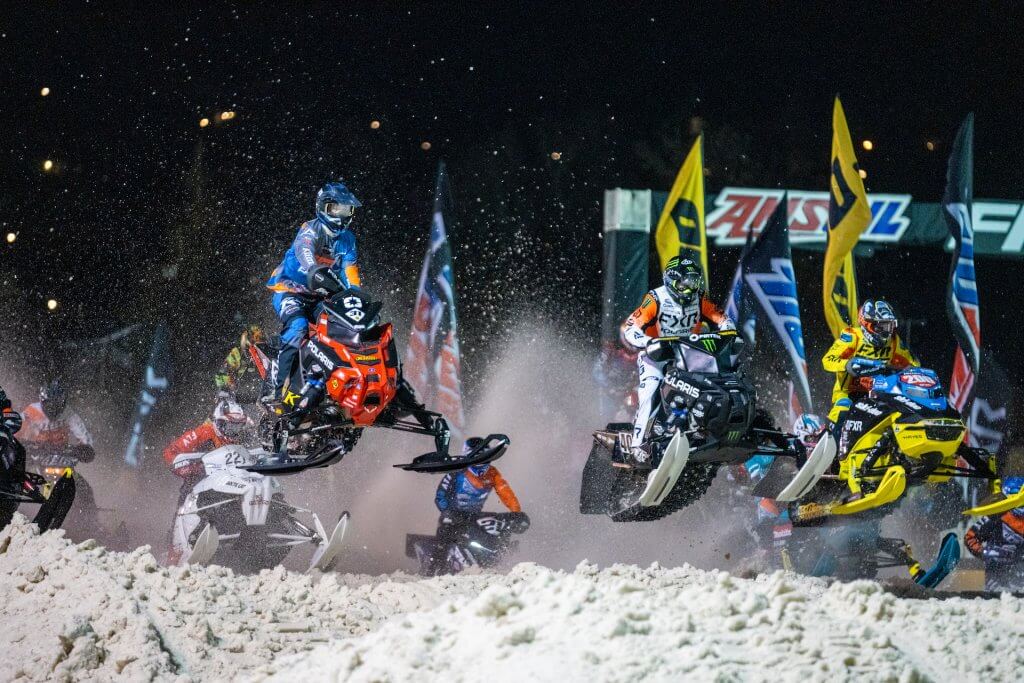 "It was mayhem out there today," said Norum. "That was a super rough track and people made a lot of mistakes. I had no clue where I was, actually, but I just tried to stay on with the leaders and don't make any mistakes. So, it worked pretty good."
Harr wasn't the only Sweden-born rider to make the podium. Oskar Norum never dropped out of the top five after starting fourth in the final. He was constantly pushing for the final podium spot, and finally grabbed it at the mid-way point of the race. He was able to stay clear of trouble for his second trip to the podium in 2022.
Benham was caught up in the mix all night, including when a couple of riders lost control, causing unforced contact. But he was also fast on the rough-up track. He was battling for the lead early and continued to claw his way back into podium position, finally ending the night in third. The round five winner knew it was going to be a chaotic night, and that the track was going to be difficult after a smooth day of qualifying.
"I knew this final was going to be brutal," said Benham. "Unfortunately, I didn't ride like I should have, but I just got a couple lucky breaks."
Early round heat winner Kody Kamm overcame an 11th place start to finish fourth. Cole Cottew kept charging forward, ending the night in fifth. Hunter Patenaude, who came into Deadwood in second place, did not race the final after an incident in his second heat race.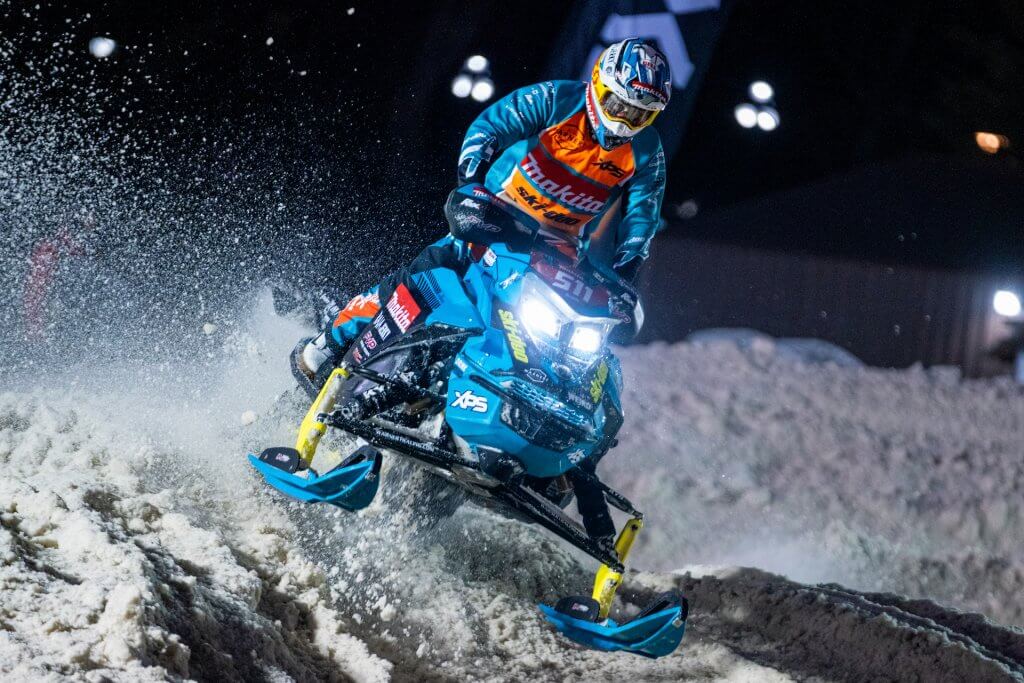 Lebel Leaps Back into Winner's Circle
A Pro Lite race is eight minutes plus two laps. For Jordan Lebel, it came down to the first lap. For everyone else it was a carbide cluster as riders bounced and banged their way through Friday night's final.
Lebel and Marcus Ogemar came through the first turn side-by-side, but Lebel had the inside line, which proved faster early in the contest. The two would ride together for a few laps, but Lebel was able to conquer something that is nearly impossible, finding speed in small spaces. He was just faster, and smoother in all facets on Friday.
After winning the first six rounds, Lebel missed the top spot twice in New York, including a difficult round eight that saw him finish outside of the top ten. His bounce back to the top spot was well received in Deadwood.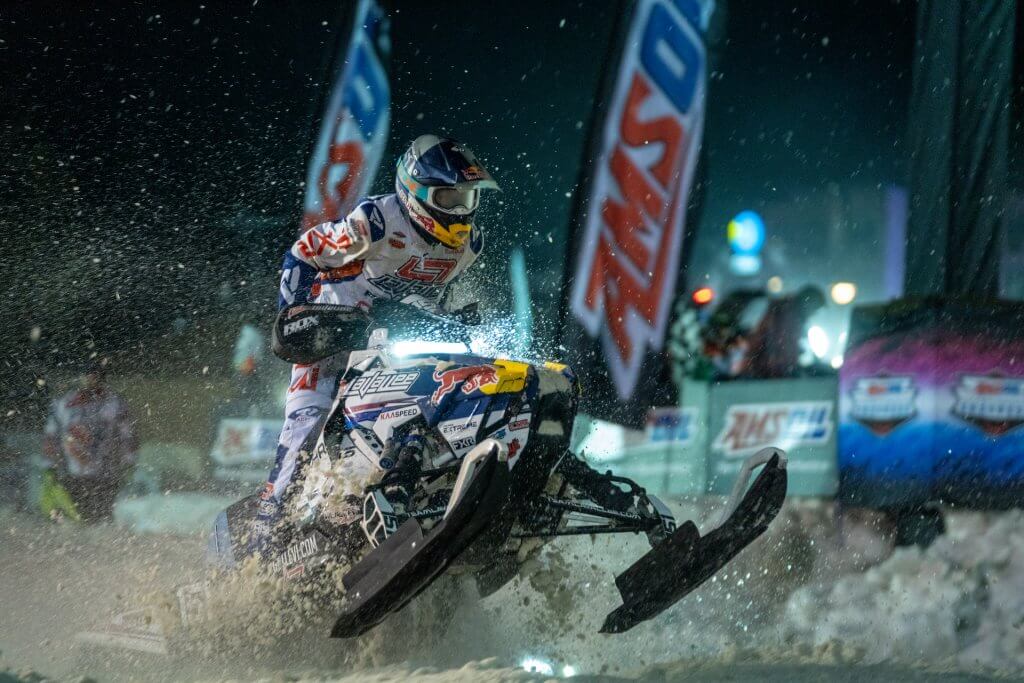 "I just focused on just being myself again," said Lebel. "At New York, it just wasn't going well. I was not myself and nothing was working like I wanted. But we're back on top."
Ogemar kept control of the second place spot for most of the race, but he was under heavy pressure from round seven winner Ryley Bester for much of the final. He navigated through traffic well, but with two laps to go, Ogemar swapped out and came off his sled. That put Bester into second, his third straight podium.
"I made a few mistakes early on and it set me back a little bit," said Bester. "Anson (Scheele) was riding really good that whole race. He kept me on my toes. It was tough out there with all the lappers and snow, but I'm happy to come away with a second place tonight."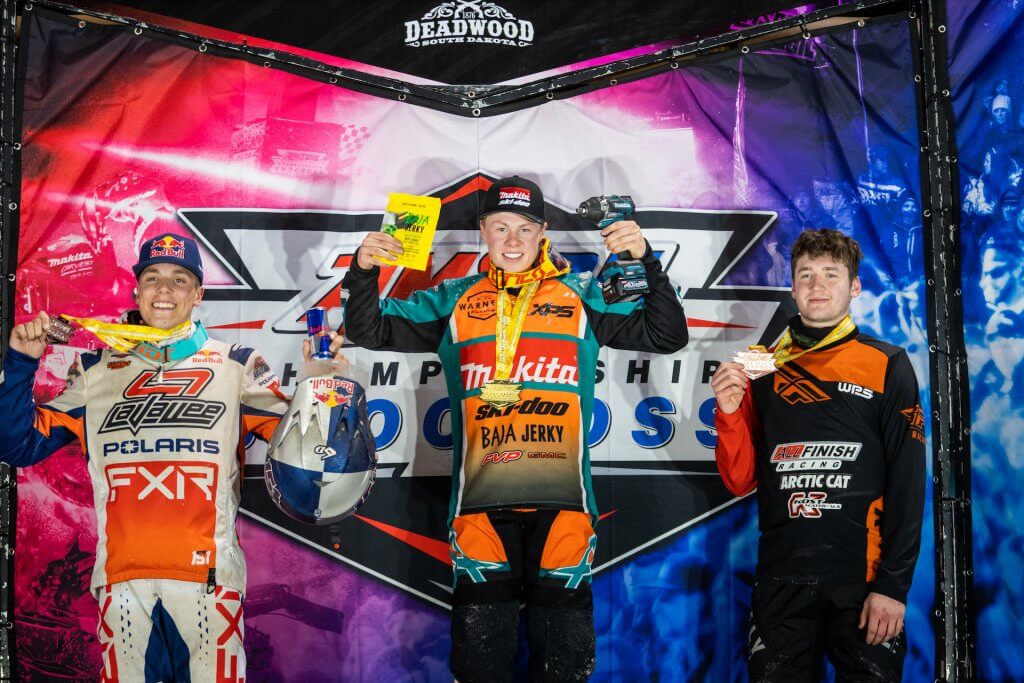 Scheele may have been the most aggressive rider on the track, in a good way. He started eighth and followed the line of riders around for much of the race, picking up a spot here and there. But when Ogemar dropped out, he was in position to move into third. He wanted more, tracking down Bester and the two rode on the edge towards the finish line, creating a near-photo finish with Bester. Scheele missed the second spot on the box by just seven-tenths of a second, or about a ski length.
"That's just what it takes, to grind the whole race and never give up," said Scheele. "You can be rewarded so that's just what I've always done, and it just worked out tonight."
Evan Christian finished fourth, with Evan Daud rounding out the top five.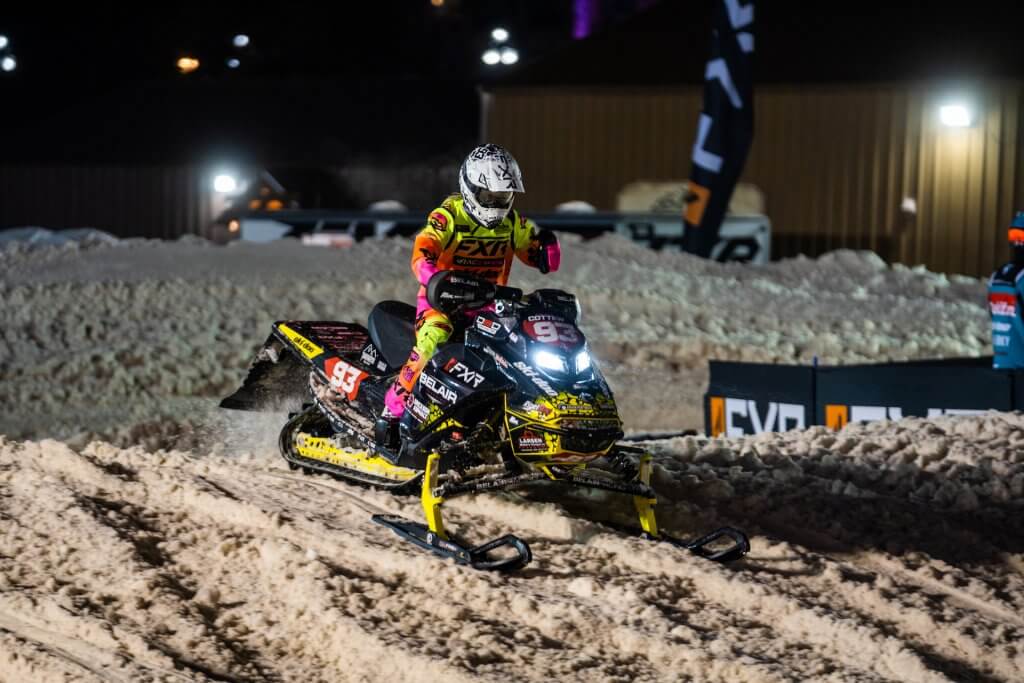 PRO WOMEN: It was a wild ride for a number of riders in the Pro Women's final on Friday night. Inanna Hauger grabbed the early lead before round eight winner Taven Woodie took control.
It looked like Woodie was going to pick up her second straight win, but Malene Cottew charged past Hauger to close the gap. The leaders would encounter back-markers and Cottew chose the right line to take over the lead. Half a lap later, Woodie would get tangled up with another rider, knocking her out of the race.
Makenna Kleiman was able to steer clear of the carnage, picking up her fourth podium in the past five races. Aleksa Zandstra crossed the line in third, her first podium of the season.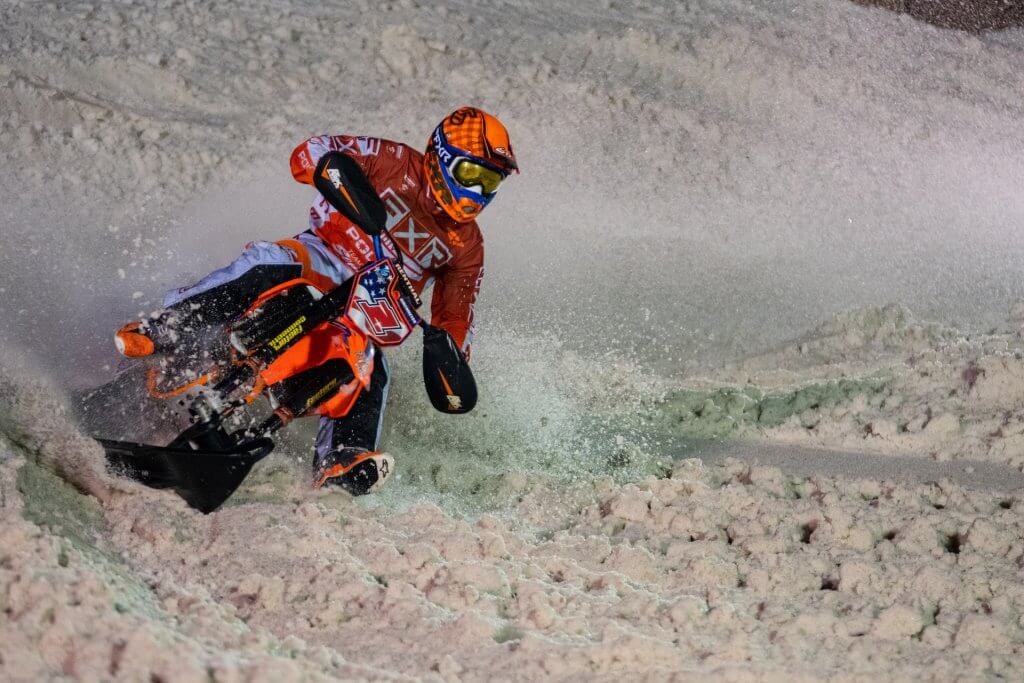 PRO SNOWBIKE: It was a Dirt Bike Duel in Deadwood as the Pro Snowbike leaders went bar-to-bar to determine overall supremacy.
Troy Horbaty hit the gate perfectly in the second moto to take a much needed lead, Horbaty led the first moto early, before points leader Jesse Kirchmeyer snuck past and took the win. In the second Moto, Horbaty needed the win and for Kirchmeyer to finish no better than third.
Kirchmeyer did get past Horbaty as the two bumped elbows in the crowded turns, but Horbaty was able to sling past Kirchmeyer a few turns later. Kirchmeyer pushed hard for the win, almost losing his edge before settling into second and the overall win. Horbaty would go 2-1 for second and Yanick Boucher was steady in third, going 3-3 during his first trip to Deadwood.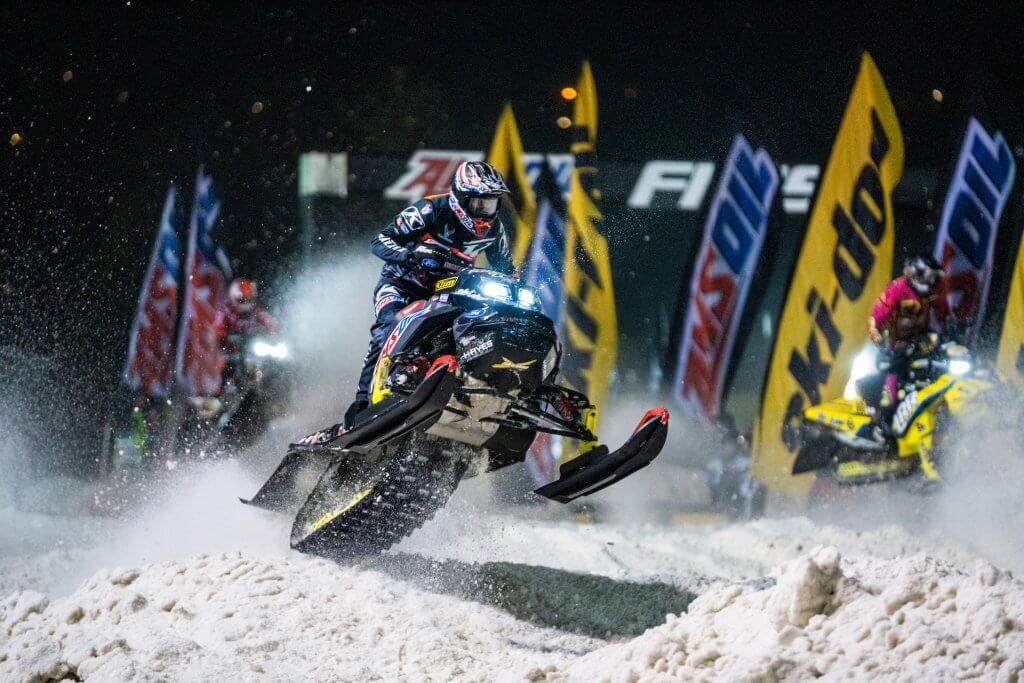 FXR SPORT: After his win streak ended in New York, Adam Ashline rebounded with a win the next night. Now Ashline has started a second streak as the Ski-Doo racer notched his second-straight and sixth win of the season in FXR Sport.
Eric Downs kept on the throttle, pushing hard to get past the points leader. Downs would finish second, just ahead of Crayden Dillon, who held of Beau Tibbetts for the final podium spot.
FRIDAY SHOWDOWN
SPORT LITE: After missing the first four rounds of racing, Crayden Dillon is blasting his way up the leader boards thanks to a now five-straight wins. Since his season debut, Dillon has won all of his heat races and finals to move into the top ten.
Cameron Cole has made every round this year and continues to hold down the overall points lead. He kept his lead with a second place finish in round nine, notching his first podium since round five. Chance Tietjen made a last lap pass to finish third.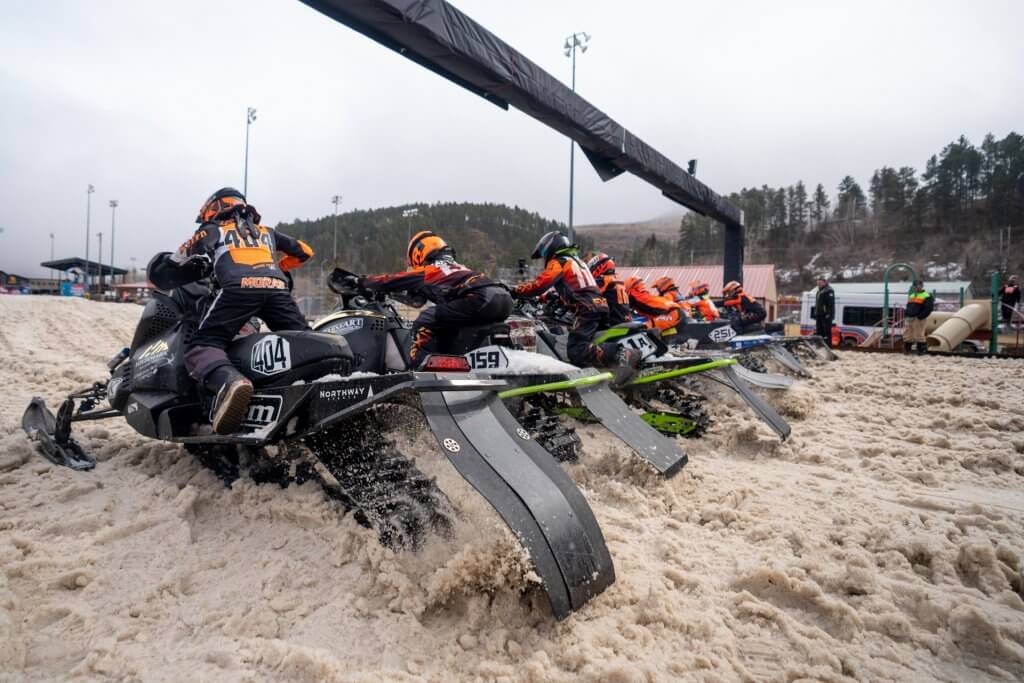 TRANSITION 8-10: Riley Johnson hasn't lost a Friday night Transition 8-10 final in 2022 as he extended his opening night streak to five. The points leader was able to hold off the second place overall driver, Rylan Nelson, who finished second. Tyson Kielman finished third for the second straight Friday night race.
STOCK 200: Tayte Blasey became a first time winner this year with a great run in the Stock 200 final. The winner also celebrated his birthday on Friday. Round eight winner Ryan Shimanski took home the runner-up spot and Oakley Hallaway finished third.
JR 14-15: Isaac Peterson continued his winning ways by handling business in the Junior 14-15 final. It marked the seventh straight win for Peterson. Round one winner Kenny Goike got back on track with a second-place finish on Friday. Lawrence Eeg came across the line in third.
TRANSITION 9-13: Brady Freeland likes to race on Friday nights as the Transition 9-13 driver took his second straight podium on a Friday night. Round eight winner Dylan Lebel came across in second with Tanner Johnson rounding out the podium in third.
The 2022 AMSOIL Championship Snocross continues on Saturday in Deadwood, S.D. AMSOIL Championship Snocross airs all rounds live on FloRacing and CBS Sports Network. To subscribe to click here.