Deadwood, S.D. ~ The AMSOIL Championship Snocross season is headed for a wild finish. Points battles are extremely tight across multiple classes, and the squeeze is offering up amazing amounts of pressure as the season sets up a final dash through the madness of March: eight rounds of racing across four straight weekends.
The two rounds of racing in Deadwood always deliver excitement and bar-banging racing. The past two nights didn't disappoint, and on Saturday night the Bull Ring inside the Days of '76 rodeo grounds lived up to its moniker. Tight racing mixed perfectly with championship challenges as the points leaders spent as much time looking over their shoulders as they did at what may lay in front of them in the coming weeks.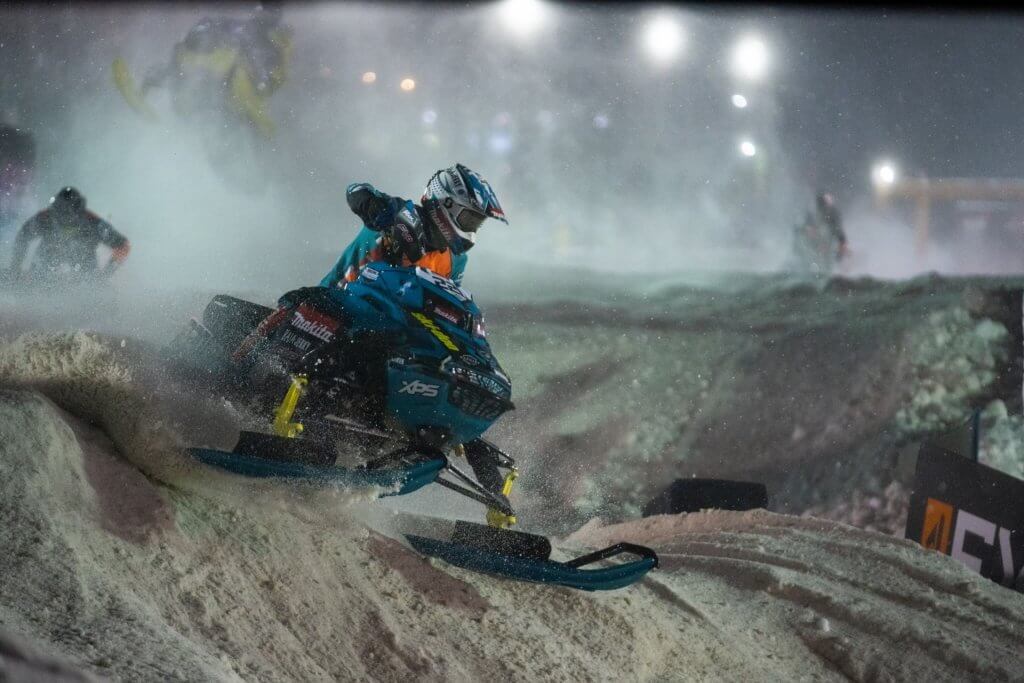 Pelletier Perseveres in Pro Final
Take a 500 pound snowmobile, get it tweaked to the point of anger, and throw a 20-something, adrenaline-fueled racer on its back. Then add a light drizzle in freezing temperatures on a beefed-up, trampled track and multiply by 15.
Welcome to snocross in Deadwood and the best snocross racers in the world.
Every rider comes away from the annual South Dakota stop with a different story of success or failure. On Saturday night, the feature was written by Francis Pelletier. And Hunter Patenaude. And Elias Ishoel.
Pelletier had swept the weekend in Iowa seven rounds ago and has been looking for redemption ever since. In the deep holes and back breaking bumps in Deadwood, he found it. The Ski-Doo rider got the hole shot and didn't miss a beat. He maneuvered skillfully through traffic and around turns that would swallow a Volkswagen, all while be under blanket coverage from two of the sports best in Hunter Patenaude and Elias Ishoel. He never gave them an inch as he stormed to his third win in 2022.
"It's been a rough weekend for me, so just being out front right away, it means everything," said Pelletier. "I knew I had the speed the whole weekend, so just hitting my marks and just bring it to the finish line, that's it. I had nothing special, just ride my sled like I'm used to."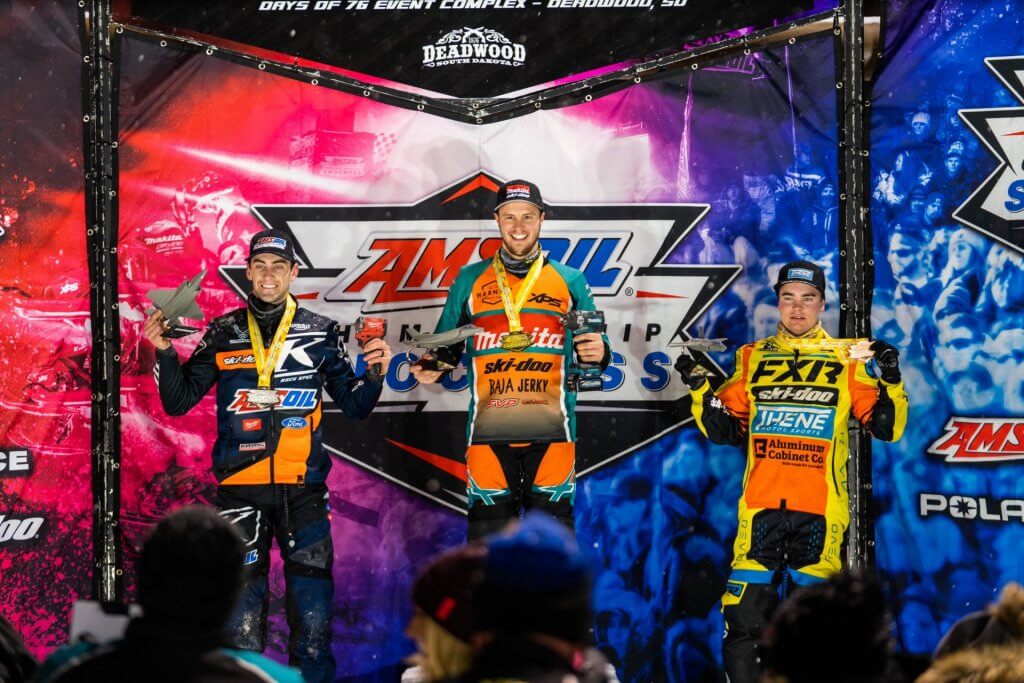 Patenaude was also on a mission on Saturday. He was the number one qualifier, one night after what looked like a serious injury knocked him out of his second round heat. But Patenaude has crawled back from elimination a few times this season, righting the ship and challenging for race wins. He endured constant pressure from Ishoel while applying his own burden on Pelletier. It took nearly 30 laps for Pelletier to finally, briefly, pull away from Patenaude, who finished second less than two sled lengths behind the race winner.
"The track was super tough to pass on," said Patenaude. "So, it's kind of just waiting for the guy in front of you to make a mistake and Frances never made that mistake. I'm just happy to be up on the podium after last night, you know, we had a little spill and unfortunately I wasn't able to race at the end of the night, and it's really frustrating, but I'm just really grateful to be up on the box today."
The three time defending champ was busy looking for starts all weekend in Deadwood. Ishoel got a good one on Saturday night. He was able to clear away from the chaos that interrupted his Friday night final, to disrupt the two riders in front on Saturday. In the end, he walked away from the weekend with his points lead intact and some third place hardware.
"Deadwood is always hard," said Ishoel. "I'm just happy we can leave Deadwood now on a good note and to get the podium today was awesome to see Frances on top again and it's awesome to see hunter back after he got hurt yesterday and it's awesome to have everyone back and I'm happy about that and I just need to text my team
Logan Christian set the fastest lap time of Saturday's final on his way to a fourth place finish. Cole Cottew put together a model of consistency in Deadwood, taking home his second-straight top five finish.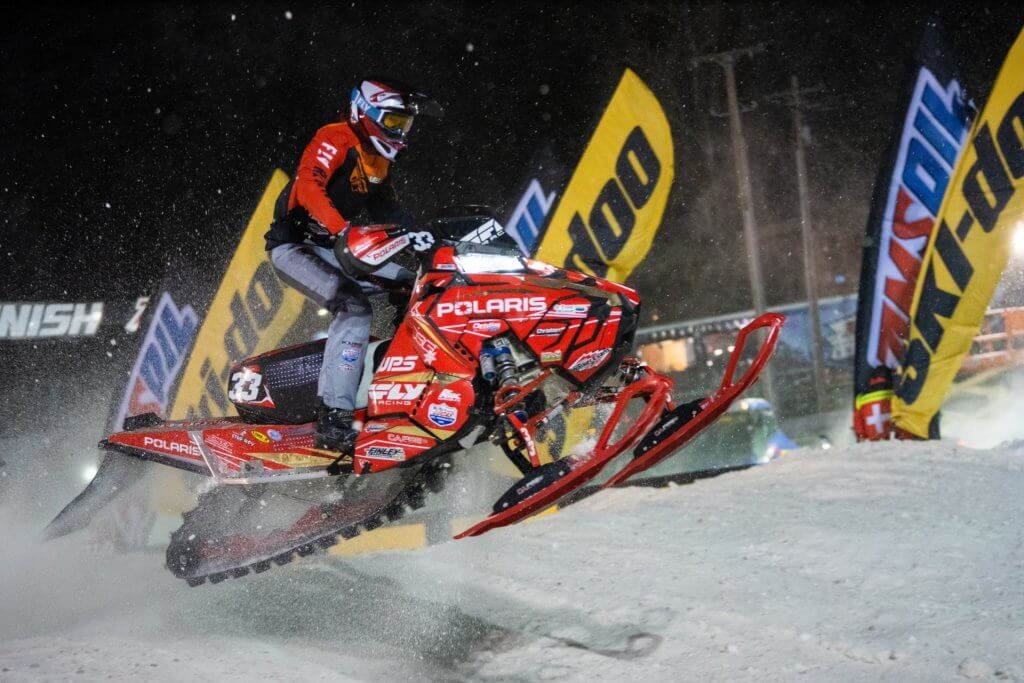 Christian Catapults to the Top in Pro Lite
Friday night's Pro Lite race was as much a game of bumper cars as it was a snowmobile race. A tight fit for 15 snowmobiles, the track was also a holed-out monster that swallowed rider after rider. Experience paid off.
On Saturday night, the track smoothed out and it was a rookie who earned some valuable experience of his own. Evan Christian hadn't led a single lap in 2022. On Saturday, the rookie Pro Lite driver took the hole shot and led for all eight minutes plus two laps, meaning he led the first 23 laps of his professional career.
"Honestly, you can't even put it into words," said Christian. "It's pretty awesome being a rookie, halfway through the year and picking up my first win. I told them in the trailer before the final "yeah, I want to podium, but I was also like, 'man, do I want to win'."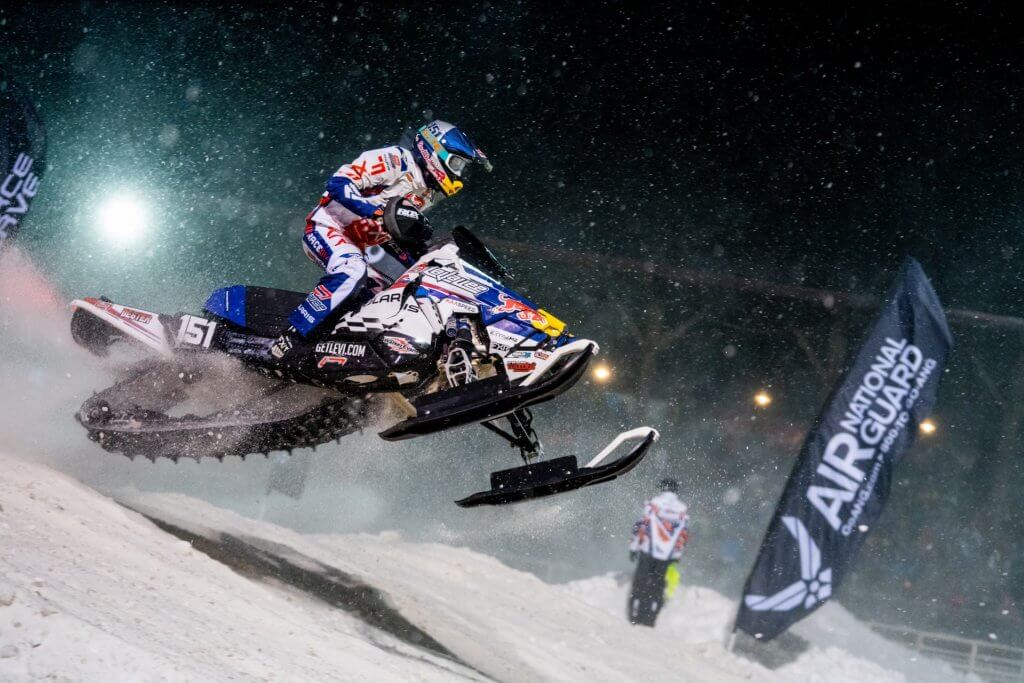 Christian had to earn his first career win, thanks to the insane pressure put on for the entirety of the race by round seven winner Ryley Bester. The Polaris driver pulled even or to the back of Christian on just about every turn, but he was unable to get a ski out front, finishing a close second, his second trip to the box in Deadwood.
"It was super tough out there," said Bester. "The track was pretty rough, but the whoops section made for some really good lines, and I found a good line right away and was catching Evan. He kind of caught on there and then I just couldn't make anything work enough to get around him."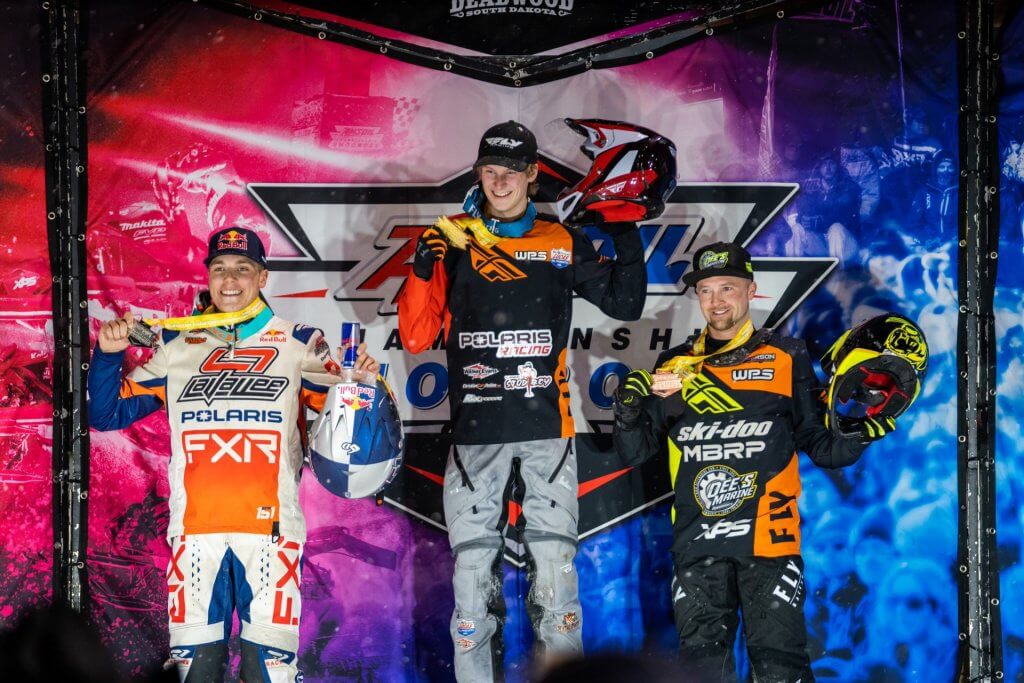 Ski-Doo's Korbyn Anderson capitalized on a weekend of strong starts by finding his way to the final podium spot. A healthy Anderson was finally able to showcase his top end speed in Deadwood, nabbing his first podium finish since round three.
"You just gotta keep charging," said Anderson. "This is one of those tracks where you are going to have to get a good start. It was a demolition derby out there so once you get through those first five laps or so, push it, keep cruising and don't make any mistakes."
Nick Lorenz crossed the line in fourth, with Marcus Ogemar rounding out the top five.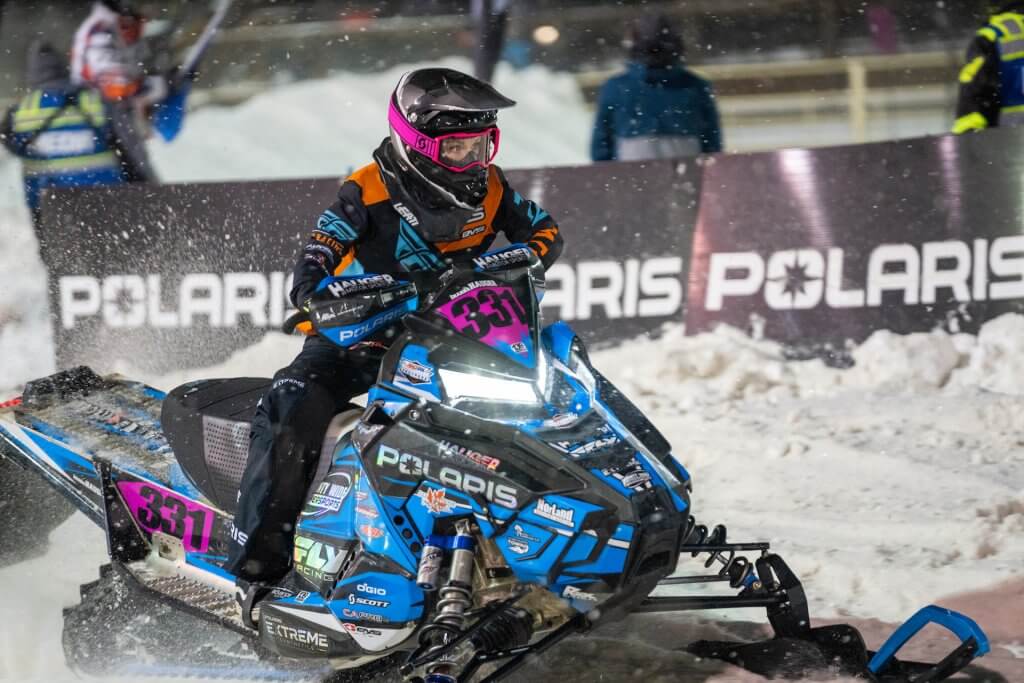 PRO WOMEN: When points leader Malene Cottew swapped out on the start, it opened the door for a new race winner, and a fresh Pro Women's podium.
Inanna Hauger took advantage, grabbing the hole shot and blasting through the tight Deadwood track while managing to steer clear of lapped traffic for her second win of the season.
Taven Woodie was pressuring Hauger but was unable to get through the thicket of snowmobiles, getting tangled up and bumping her off of the podium. That put Makenna Kleiman into second, but she would take home third because of the improbable ride by Cottew.
After crashing, she was able to get back on before getting lapped, and went all out, working her way into a podium spot with two laps to go. She was able to get past Kleiman on the last lap for second.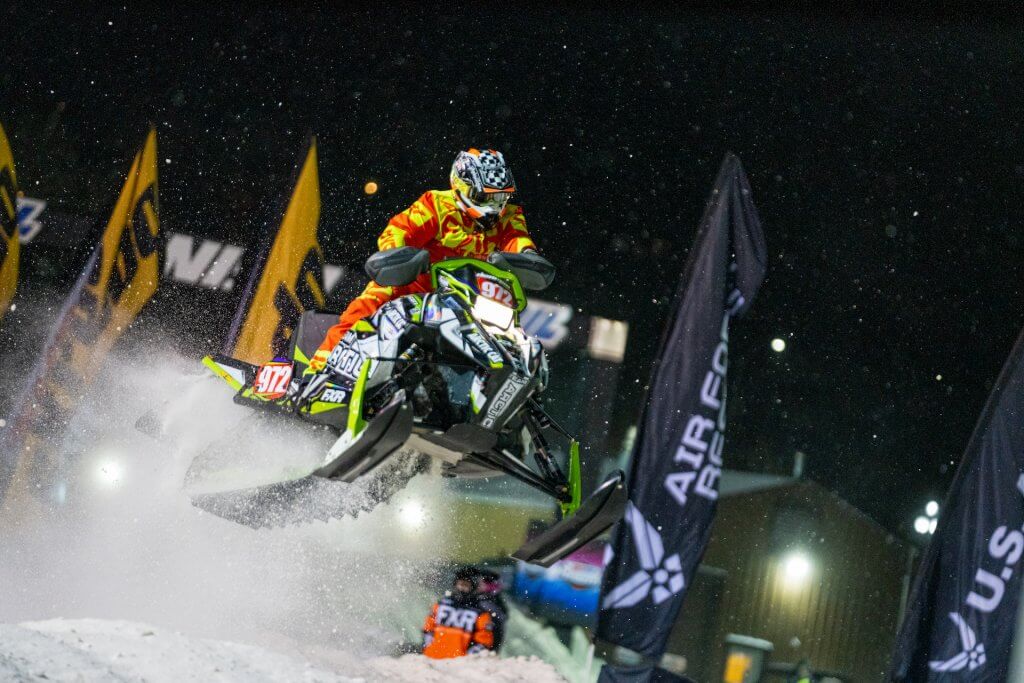 PRO AM PLUS 30: Joe Kohegyi got a great start in the Pro AM Plus 30 class, but a mid-air issue with his tether pushed him to the back. Kohegyi was able to remount and worked his way from the back and into a final finishing position of second.
That issue allowed Devin Denman to take the win, his first trip to the top of the box in 2022. Denman took over the points lead in New York. Seth Engle finished third.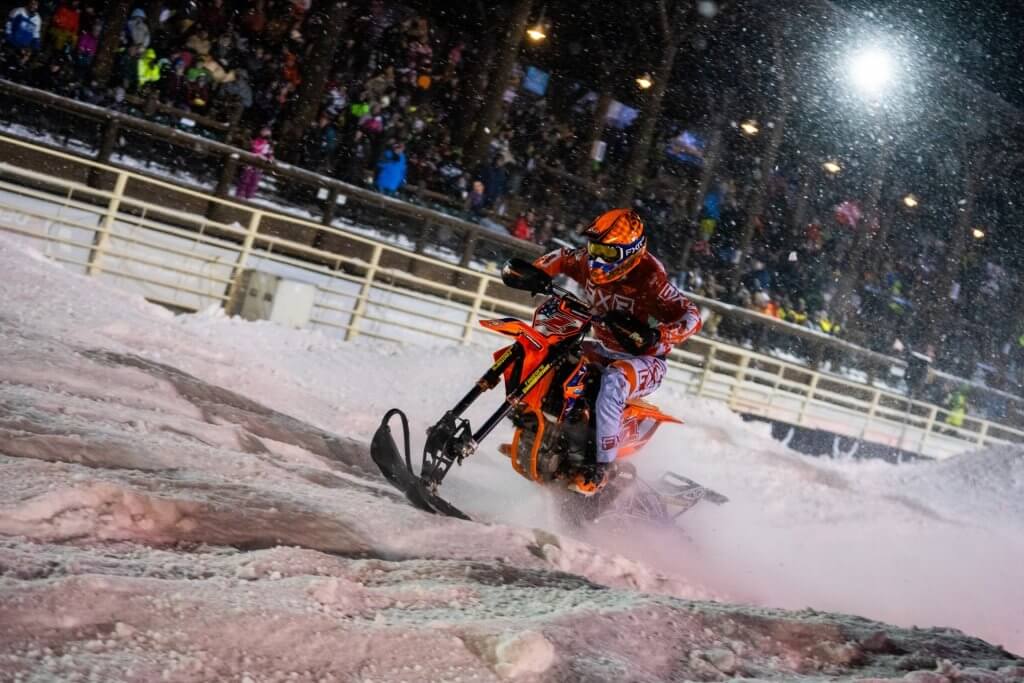 PRO SNOWBIKE: Things got extremely close in the opening moto of Pro Snowbike.
Troy Horbaty and Jesse Kirchmeyer renewed their rivalry from the start in Moto 1. They would swap spots several times early on. During one of the tight 180-degree turns, Horbaty closed the gap to the point where his front ski nicked Kirchmeyer's shoulder. It was Horbaty, however, who hit the snow as Kirchmeyer went on for the win.
In the second moto, Horbaty needed the win, and got it in convincing fashion. Kirchmeyer held enough pressure to push Horbaty, but he also knew a second place finish would give him the overall. The three-time defending champ held his position, taking a weekend sweep in Deadwood. Horbaty would finish second and Yanick Boucher went 3-3 for third.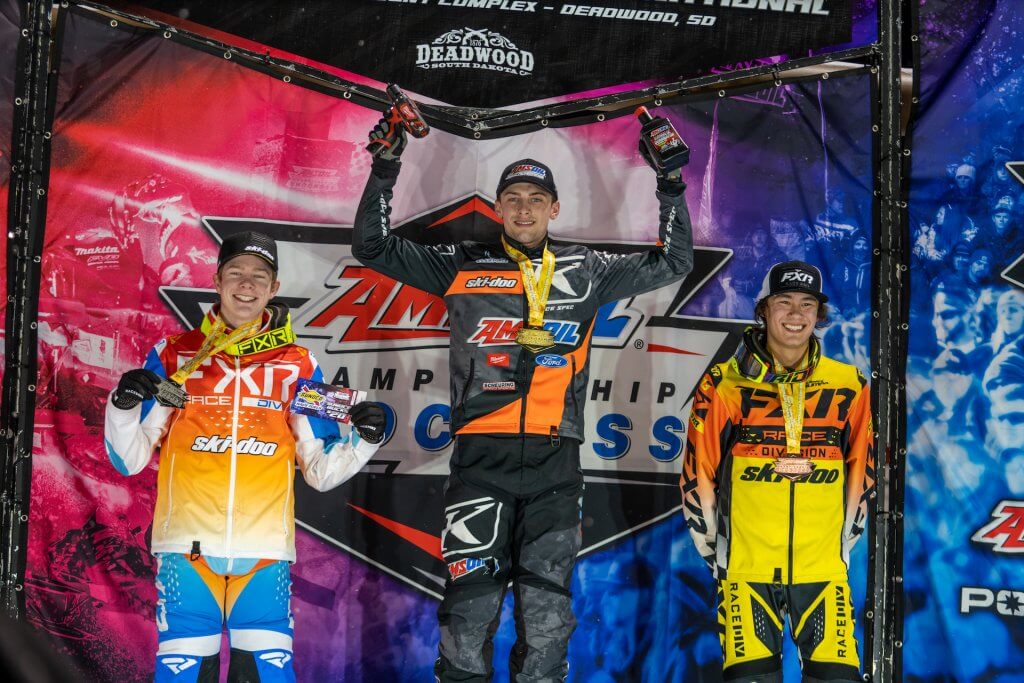 FXR SPORT: It was a drag race early in the FXR Sport final between Adam Ashline and Kellen Chapuran. But Ashline, the current points leader, found his rhythm on Saturday's fast racing surface to pick up his third straight win. Chapuran put in a solid race to finish second, picking up his first podium since round five. Domenic Hegman had to hold off a hard-charging Dre Freeland at the line for third.
SATURDAY SHOWDOWN
SPORT LITE: Cameron Cole won two races early in the season, but the young Polaris rider found his groove in Deadwood with a fast ride in the Sport Lite Final. It marked the points leaders first win since round four.
Chance Tietjen made the podium both nights in South Dakota, including his second place finish on Saturday. Nathan LaValley shook off his podium-less 2022 with a strong run for third.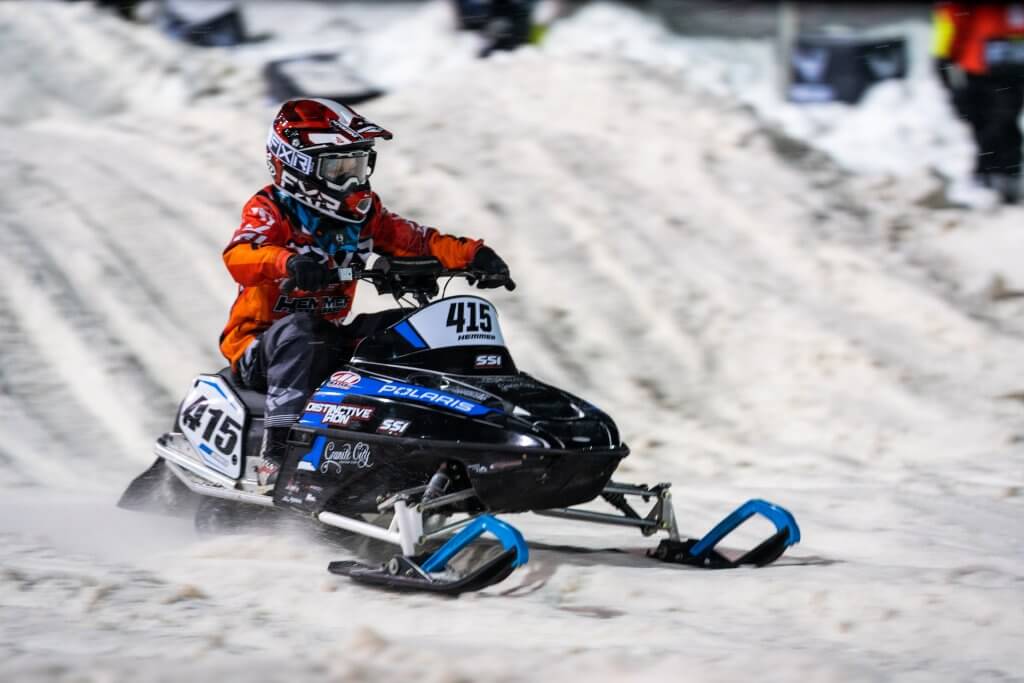 CHAMP 120: Avery Hemmer got the hole shot and did what she's done three other times this year: win. Hemmer added a few extra points of cushion to her overall points lead in the Champ 120. Jaxon Houkom, who sits second overall, finished second in the final. He and Ryan Shimanski had a heat battle as the duo jumped over the finish line nearly bar-to-bar.
JR 10-13: Less than thirty points separate the top six riders in Junior 10-13, and the sixth place rider notched his first win of the year on Saturday. Carter Meyeraan held off a hard-charging Tanner Johnson at the line for the victory. Johnson, who entered the day second overall and just one point off the overall leader, finished one spot ahead of points holder Brady Freeland for second.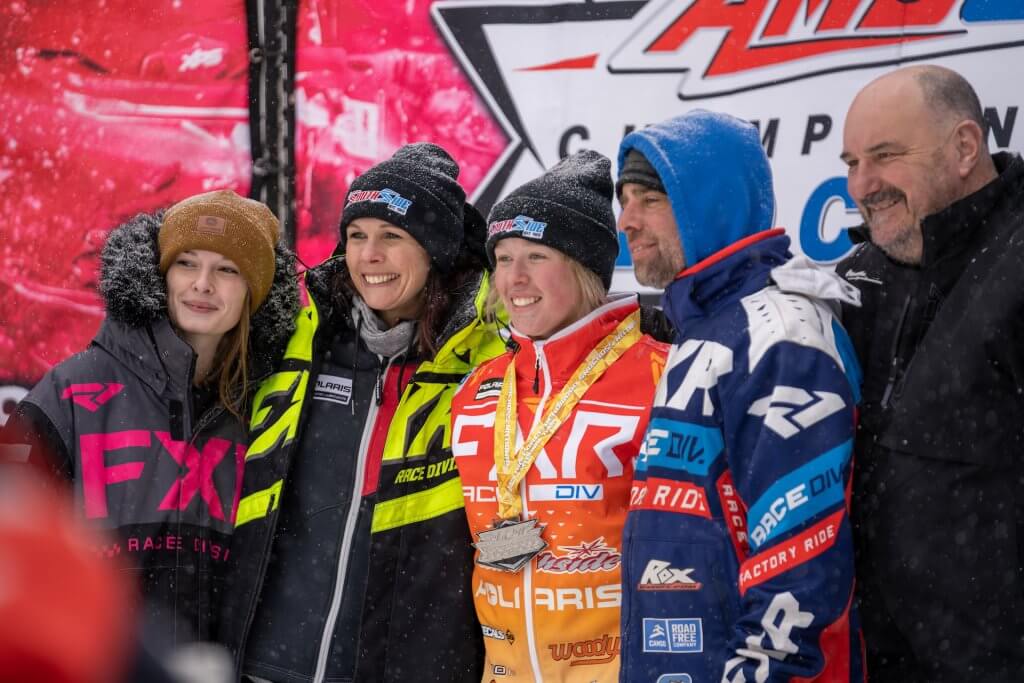 JR GIRLS 9-13: Kendall Rose stretched her points lead in the Junior Girls 9-13 class after picking up her fifth win of the year in Deadwood. Cecily Bernaiche kept Rose close before finishing second. Ana Wensloff was able to work through traffic to finish third.
TRANSITION 8-10: Riley Johnson has been perfect on Friday nights this season, and he has been pretty successful on Saturday nights as well. Johnson notched his third Transition 8-10 win of the season on Saturday to break the logjam between him and Ryder Hayes in the overall standings. Hayes did finish second, ahead of Avery Hemmer.
STOCK 200: Trenton Peterson separated himself from the pack on the second lap of the Stock 200 final on Saturday. It marked Peterson's second win of the season. Lincoln Skar used a good start to finish second, and Friday night winner Tayte Blasey rounded out the podium in third.
JR 16-17: Jan Even Romsdal hasn't missed a podium this season, extending that streak to five with his fourth win on Saturday night. Lawrence Eeg kept the pressure tight over the last three laps, finishing behind Romsdal by less than a sled length. Round four winner Connor Campbell finished third.
JR 14-15: Kenny Goike backed up his second place finish on Friday with a hard fought win over Isaac Peterson. The two crossed the finish line less than one second apart. Lawrence Eeg moved through enough traffic early to pick up his second third-place finish of the weekend.
TRANSITION 9-13: Points leader Tanner Johnson made it a double podium weekend by winning Saturday's Transition 9-13 final. Carter Meyeraan picked up his second straight Saturday podium by finishing second, holding off Friday nights winner Brady Freeland for the runner-up spot.
The 2022 AMSOIL Championship Snocross will continue its sprint to the grand finale in Michigan with three straight weekends of racing after Deadwood. The series heads to Elk River, Minn. on March 11-12 with two days of racing at ERX Motor Park. AMSOIL Championship Snocross airs all rounds live on FloRacing and CBS Sports Network. To subscribe to click here.