Elk River, Minn. ~ After a spectacular weekend of racing at ERX Motor Park in Elk River, Minn., only four rounds of racing remain for the 2022 AMSOIL Championship Snocross season.
With twelve rounds complete, the championship standings are as clear as driving through a blizzard. Thanks to the big, high-flying track at ERX, very few drivers were able to go through the weekend and dominate. Close racing and tight finishes on an ever-changing track brought fans to their feet on Saturday night. Heading into the final two weekends of racing, Elk River proved that anyone has a chance when they pull up to the line.
Number One for the Ocho
Hunter Patenaude has been beaten and battered this season. He's had multiple injuries that have kept him out of one final and knocked him out of another. On Friday night at ERX Motor Park, the Ski-Doo rider was leading with his first career victory in sight when an exhaust spring broke, causing his sled to slow as he dropped from first to fourth.
Somehow, through it all, he has been able to keep three-time defending champion Elias Ishoel within striking distance for the season title. He entered the weekend 37 points back, and despite Friday's misfortune, he will leave the weekend just 28 points back. Why? Because of a spectacular Saturday for the second-year pro.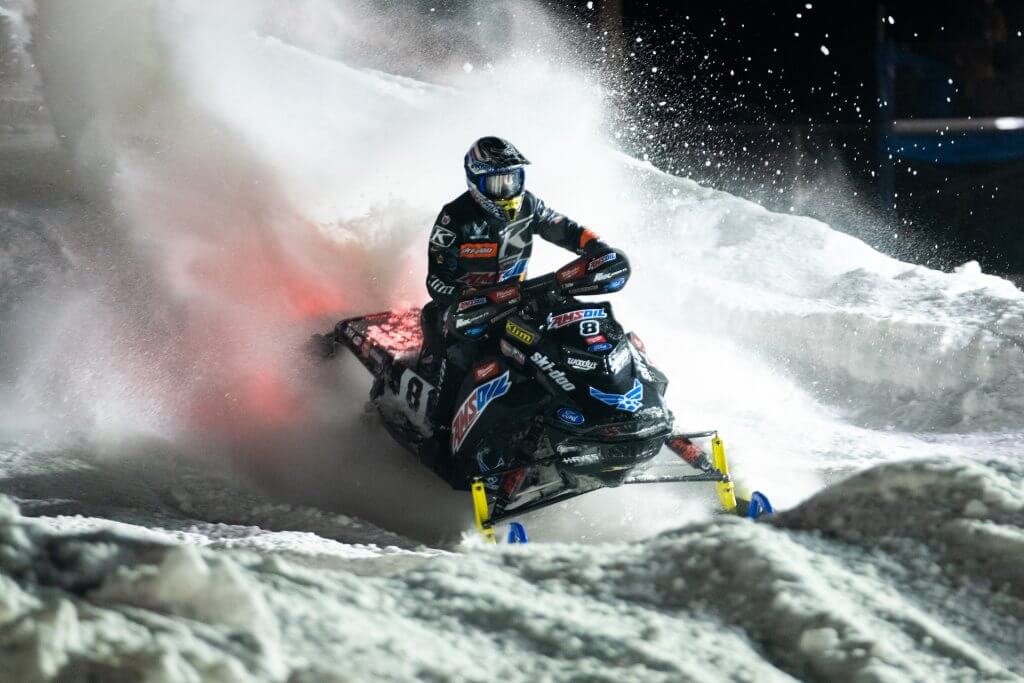 Adam Peterson grabbed the hole shot in the Pro final, but Patenaude found the inside line and swept past the upstart rookie. From there, Patenaude used the big, wide track to his advantage. He rode without pressure and breathed the clean air to a lead of more than ten seconds at one point. Patenaude was perfect on Saturday, winning both heats and walking away with his first career win in the Pro class.
"It's an unreal feeling. This is what we dream of as little kids," said Patenaude. "We've been through some tough times and to be able to just sit on top of the podium and to be able to celebrate with my wife and celebrate with my family, you know, there's just no better feeling."
Peterson was the closest rider to Patenaude all night, but a mechanical issue parked him and his sled for the night. That put Daniel Benham and Francis Pelletier into the final two podium spots. They were swapping spots for several laps before Benham got the edge and pulled away from the round ten winner for the runner-up spot next to Patenaude.
"I just rode a solid race," said Benham. "The track looks pretty demanding out there. But I just gotta give it up to the whole All-Finish Racing crew and all the great fans for coming out."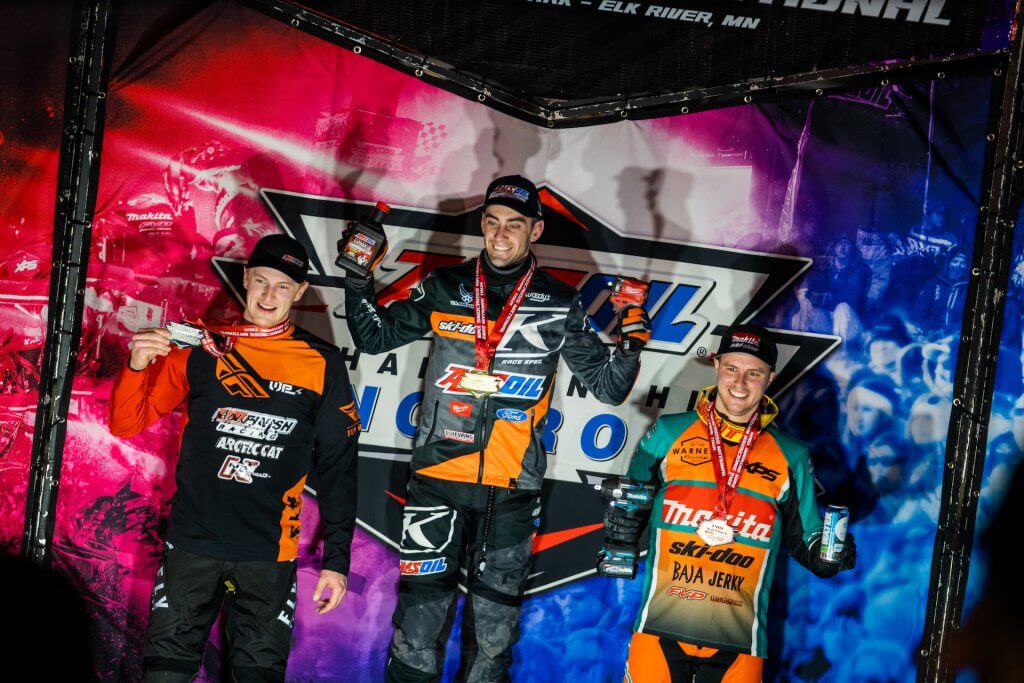 Pelletier was quick all night, but he received a veteran charge from Kyle Pallin. The Polaris rider threw every trick in the book at Pelletier, but Pelletier has become very adept at making himself wide on the racetrack. He kept Pallin at bay, as he rode through traffic to his third straight podium finish in third.
"I was just trying to get around one more time," said Pelletier. "I knew Pallin was behind me, but I've also put pressure on Benham. I just secured third place, and it's fine for me. I felt good tonight."
Pallin was a noticeable threat all weekend at ERX, and the track that suits his high-flying style helped him propel to a fourth place finish. Emil Harr wrapped up a good weekend in fifth.
Rookie Lebel Leaps to Eighth Pro Lite Win
Jordan Lebel is a high-flyer, and the rookie used that talent to turn the tables on the Pro Lite final on Saturday.
Ryley Bester rebounded from a tough night of racing on Friday as the number one qualifier grabbed the hole shot. Camryn Anderson would take the spot away just a few turns later, but Lebel was lurking. When the leaders started to hit the big triples that were spread around the ERX circuit, Lebel leapt past the pack.
Lebel continues to lead the Pro Lite class, thanks to the strength of his final finishes. He picked up his eighth win in 12 rounds.
"I was OK on the start," said Lebel. "I was in the top five and I just knew where I was going to go after I walked the track. I just kept those lines and made a couple of passes in the beginning of the race and just kept my line (after that)."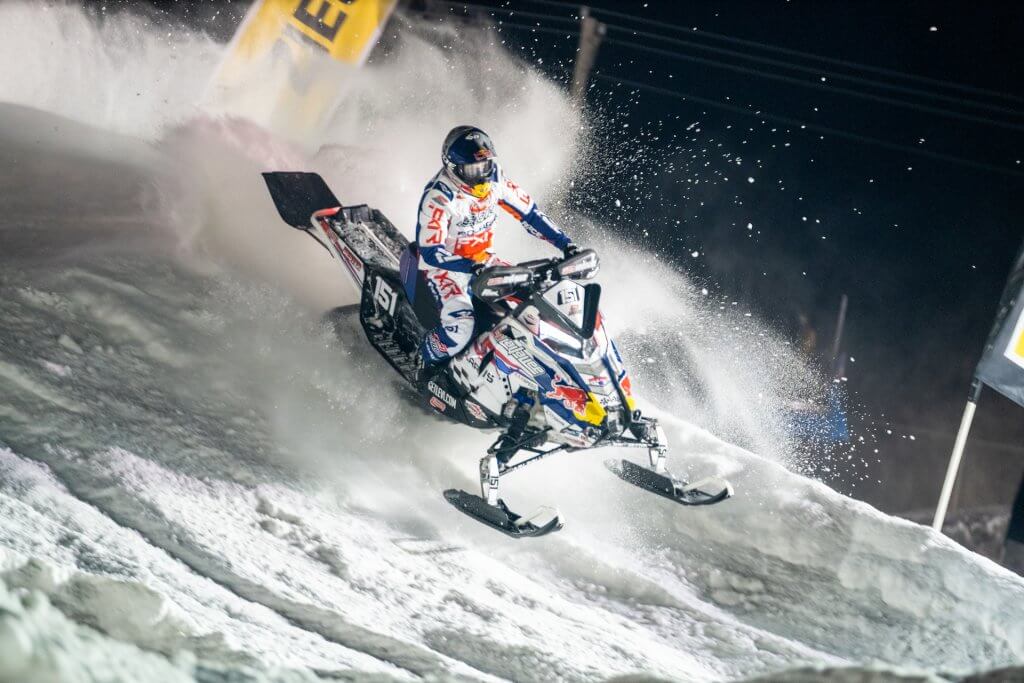 Bester kept tabs on Lebel for a majority of the race. But when the clock hit zero and the final two laps were under green flag racing, Evan Daudt closed the gap to just a few inches. But Bester was better, and he pushed ahead at the line by less than two sled lengths, despite having to overcome a banged up knee suffered during a crash on Friday night.
"I'm just thankful to be here today," said Bester. "I had a rough crash yesterday, but I was lucky to get away with just a little knee injury. Going home last night was pretty tough. My knee was really hurting and waking up it was even worse so I'm just happy to be out here racing."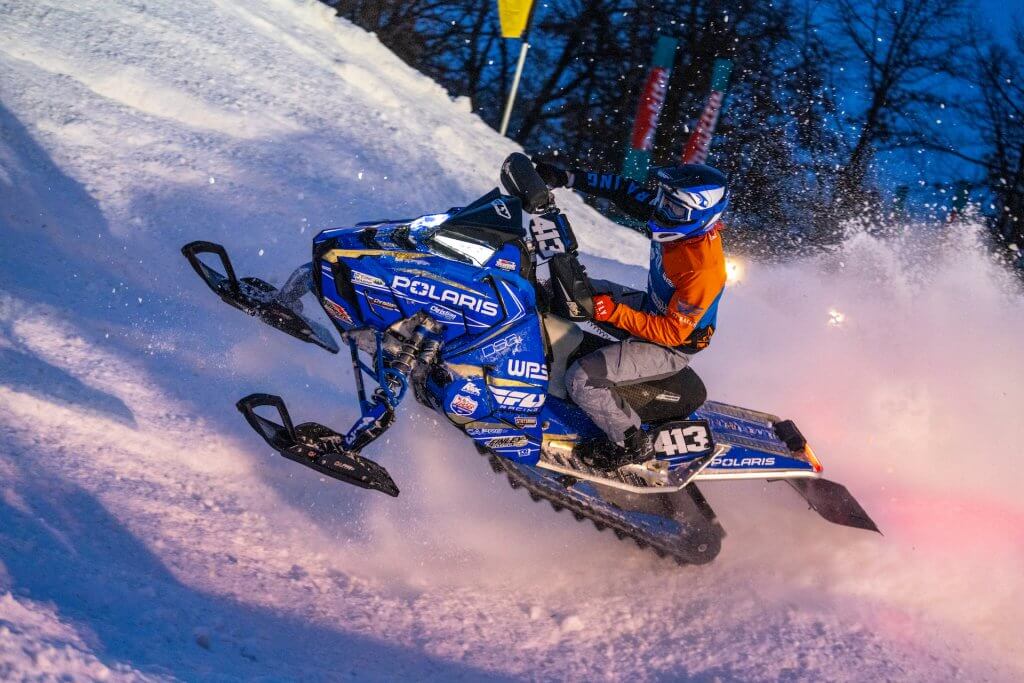 Daudt has found Pro Lite success in the past at ERX, and he worked through early traffic to get into podium position. He found another gear late in the race as he closed a two-plus second gap between him and Bester to just under a second with two laps to go. For Daudt, his third place finish was his first podium of the season.
"I kind of had my lines planned out from the beginning from the site lap and they started to get chewed up a little bit," said Daudt. "Where Riley was pulling away or when I would catch him, and I just tried to stay low and stay smooth and just keep breathing."
Theo Poirier never improved on his fourth place start, running a solid race in the top five. Marcus Ogemar finished fifth after starting in the back row.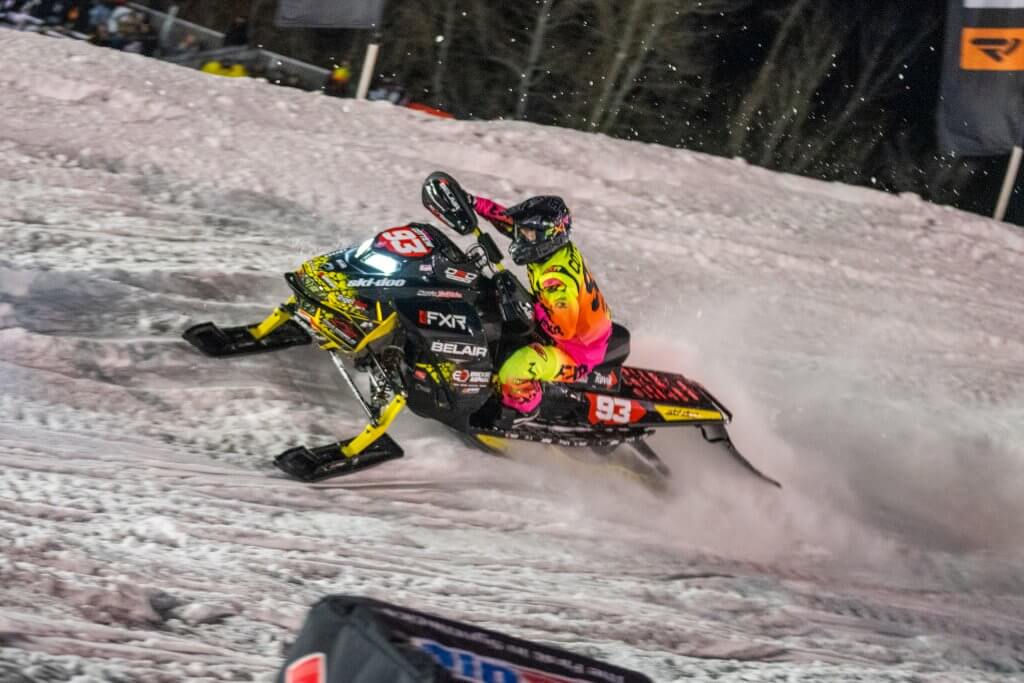 PRO WOMEN: Malene Cottew capped off her homecoming with a perfect weekend of racing in the Pro Women's class.
Cottew had several family members in Minnesota to watch her dominate on her home track of ERX. The defending champion had to get past Inanna Hauger, who grabbed another hole shot, but was able to settle in and blasted her way around the track for her seventh win.
Hauger was unchallenged in second, and Taven Woodie overcame a physical day of qualifying to finish third.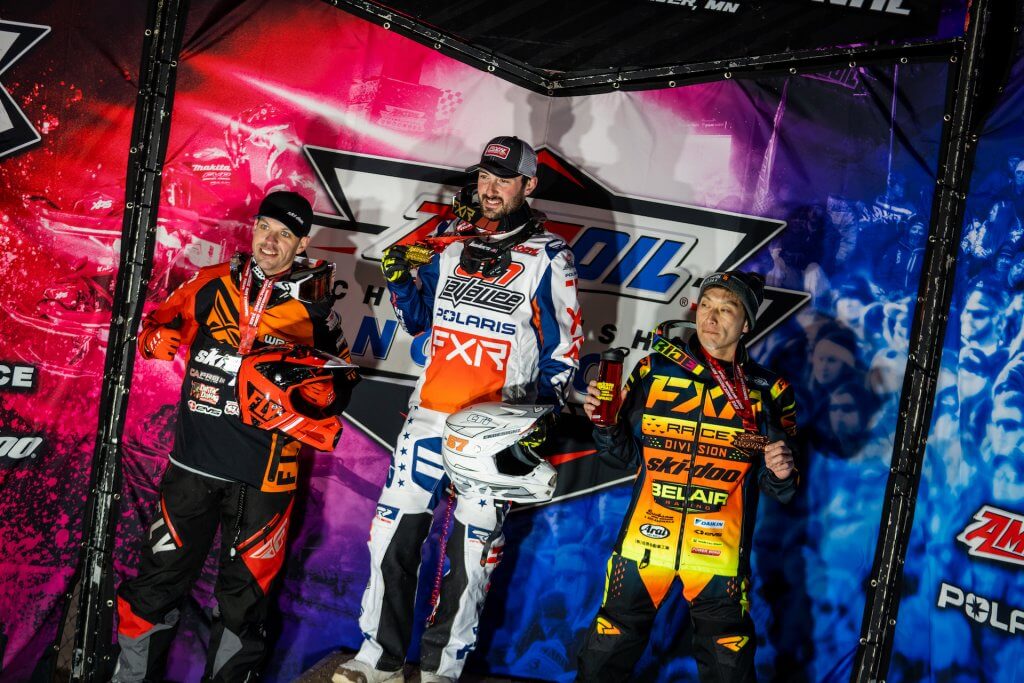 PRO AM PLUS 30: Andy Lieders has missed the past few rounds of action, having opted to not travel to the last two rounds. But his return to the track also meant a return trip to the top spot on the podium. Lieders grabbed a massive hole shot then flew his way around the track for his fourth Pro Am Plus 30 win of the year.
Kurt Bauerly also got back on his sled at ERX and picked up his third podium of the season. Japanese rider Tomosuke Sano made his season debut at round 12. Sano, who has raced in the U.S. several times over the past decade, finished a strong third.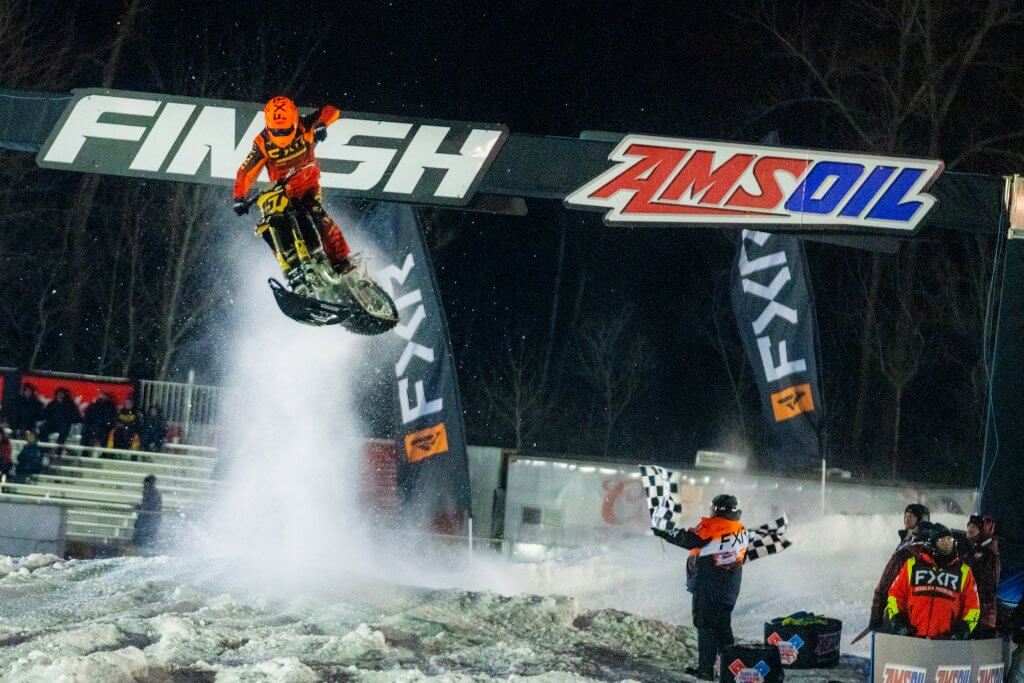 PRO SNOWBIKE: Troy Horbaty was on a rail all-weekend long. From start to finish, the Pro Snowbike racer was extremely fast. While he celebrated the overall on Friday night, he was docked a couple of positions for rough driving. So, he looked to make amends on Saturday, running a clean race while being out front the entire night.
Horbaty went one-one in both moto's thanks to a pair of great hole shots and some fast, clean riding. Yanick Boucher went 2-2 for second overall. Points leader Jesse Kirchmeyer went 3-3 after working his way up from eighth in the second moto to get back onto the box.
FXR SPORT: Craydon Dillon got the hole shot and then he wasn't seen by the rest of the field during the FXR Sport final. Dillon was fast, smooth and hit some big air as he picked up his first class win of the season.
Points leader Adam Ashline had to get through a few riders early in the race, but he was able to stay on the track and in the runner-up to notch his class leading 12th podium of the year. Ingebrigt Hoelsaeter finished third in his first racing action of the year.
SATURDAY SHOWDOWN
SPORT LITE: Coming into the weekend, the Sport Lite points leader, Cameron Cole, was looking for a long overdue win. He had gone five rounds with finding the top spot, but he now has a mini-winning streak after his second win at ERX.
With Cole out front, Tanner Johnson was busy working his way into the second place spot, his final finishing position. Chance Tietjen also had to work through the pack, making it into the final podium spot on the final lap.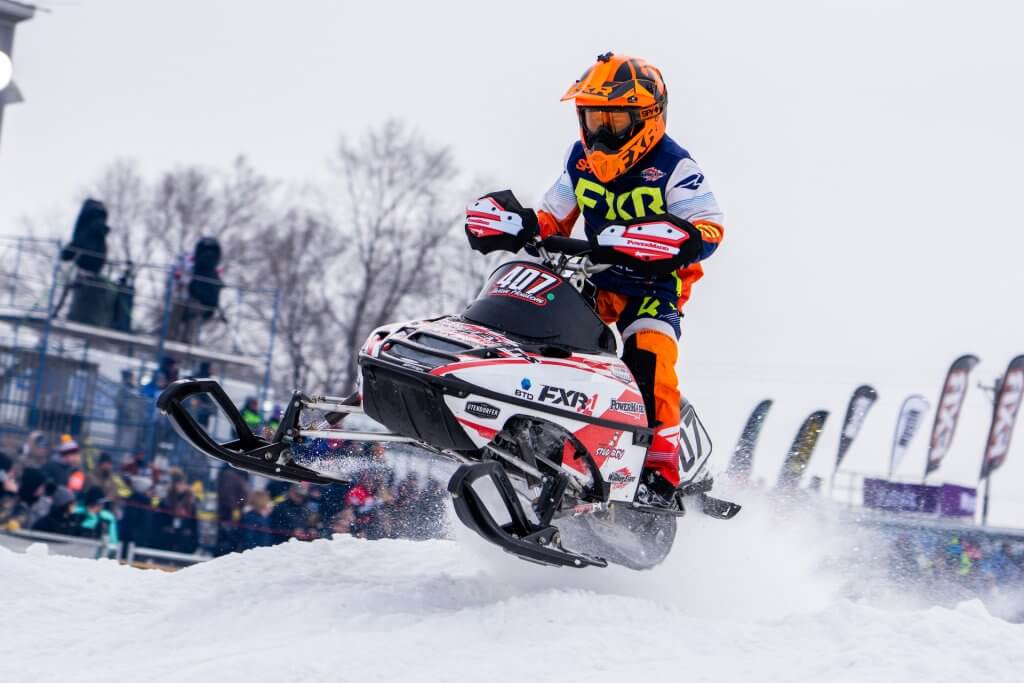 STOCK 200: Ryan Shimanski made it a weekend sweep in the Stock 200 class. Shimanski took the lead off the start for a wire-to-wire win. Trenton Peterson moved up one spot from his Friday podium by finishing second. Noah Gillis rounded off the podium in third.
JR GIRLS 9-13: Kendall Rose remains undefeated in Junior Girls 90-13 competition in 2022. Rose picked up the win thanks to another strong start, taking the lead on the first lap and never looking back. Cecily Bernaiche kept pace in the championship chase by finishing second. Ana Wensloff finished third.
TRANSITION 8-10: Ryder Hayes took the Transition 8-10 win on Saturday night, his second win of the weekend. Hayes also took control of the overall points lead with the win. Rylan Nelson landed on the box for the second time this weekend as the runner-up. Charlie Lucas made his first trip to victory lane with a third place finish.
STOCK 200: Ryan Shimanski made it a weekend sweep in the Stock 200 class. Shimanski took the lead off the start for a wire-to-wire win. Trenton Peterson moved up one spot from his Friday podium by finishing second. Noah Gillis rounded off the podium in third.
JR 14-15: It's officially a winning streak for Kenny Goike in the Junior 14-15 class. Goike swept the weekend and made it three straight wins with a dominant performance at ERX on Saturday. Isaac Peterson kept his points lead by finishing second. Lawrence Eeg has now finished third in four straight finals.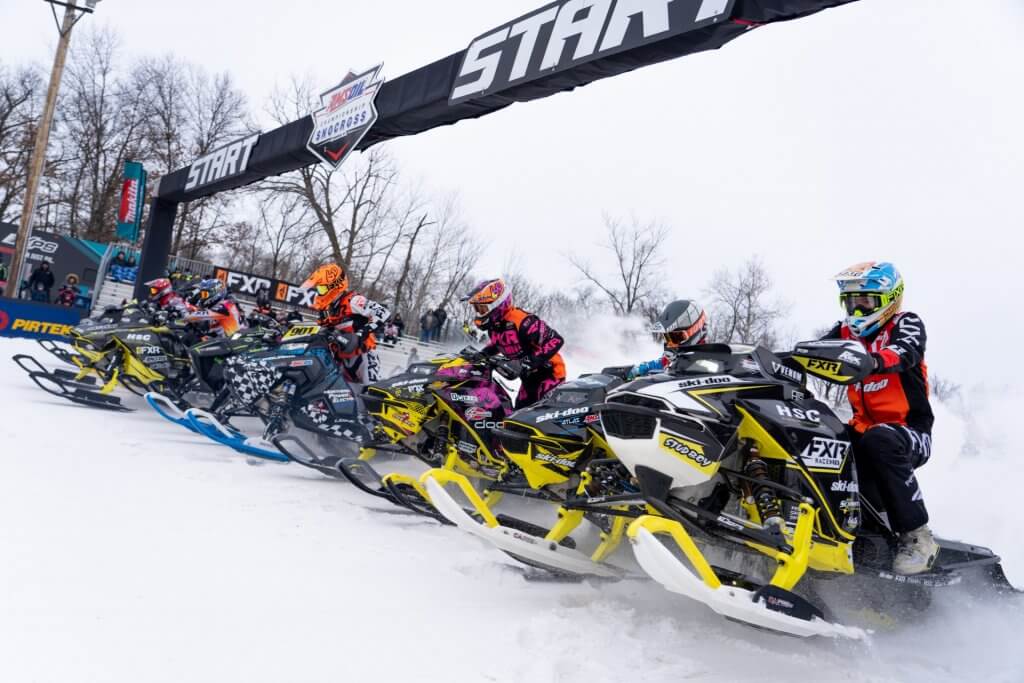 TRANSITION 9-13: Brady Freeland and Carter Meyeraan had quite the battle during Saturday's Transition 9-13 final. Meyeraan grabbed the early lead, but Freeland was able to get around and take the lead before the final lap. It would be a back-and-forth effort, but Freeland was able to hold off Meyeraan at the line, winning by just over a half-a-second. Tanner Johnson had the best seat in the house as he finished just a few sled lengths behind Meyeraan for third.
JR 10-13: Tanner Johnson and Brady Freeland are separated by only ten points in the Junior 10-13 class. It was the points leader who was able to get a few extra points on Saturday as Johnson took the round 12 win. Freeland moved into the runner-up spot with two laps to go and finished ahead of Dylan Lebel (3rd).
JR 16-17: Thomas Levi missed the first two rounds this season, but he's been a force since his return. Levi grabbed his third podium of the year, and his first win of the season, with a strong drive in the Junior 16-17 final. Lawrence Eeg kept the pressure on, finishing second. Connor Campbell finished third.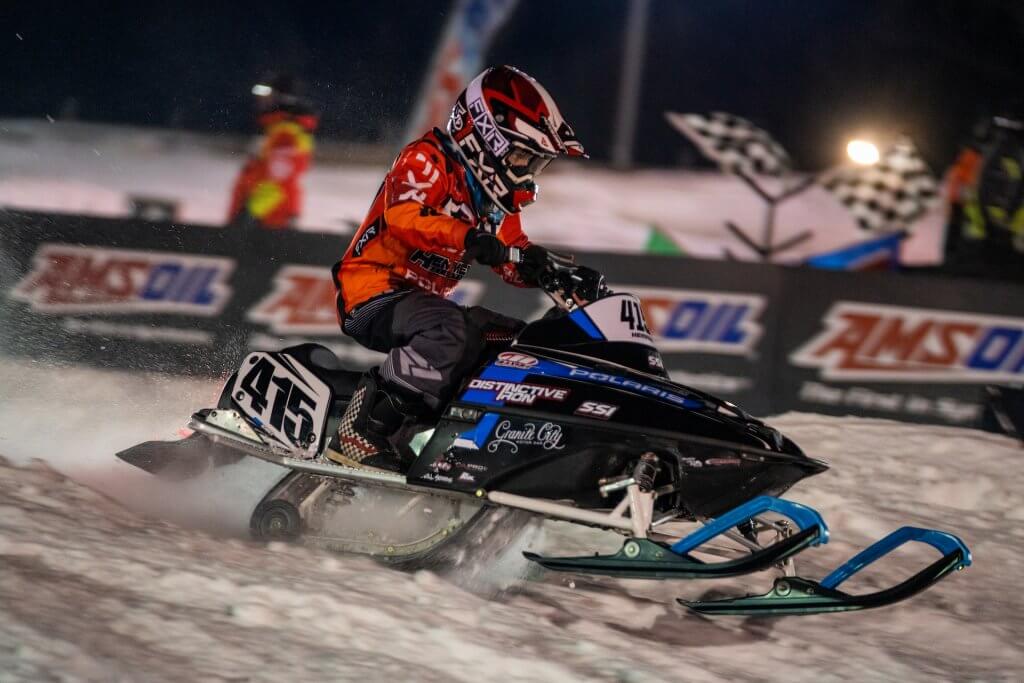 120 CHAMP: Jaxon Houkom is mixing up the overall points standings thanks to his 120 Champ win on Saturday. Houkom took over the lead on the second lap and powered his way to his second win of the season. Cody Moras finished second, just ahead of Avery Hemmer, who entered the weekend with a six point lead. Houkom picked up five points on Hemmer with the win.
Only two weekends of racing remain on the 2022 AMSOIL Championship Snocross schedule. The series heads to Grand Geneva Resort & Spa in Lake Geneva, Wis. for three days of racing. Action starts Friday, March 18 and ends with the AMSOIL Dominator race on Sunday, March 20th. AMSOIL Championship Snocross airs all rounds live on FloRacing and CBS Sports Network. To subscribe to click here.