About the event:
The 2022-2023 AMSOIL Championship Snocross title chase continues. By popular demand, the series makes it's return to the Sioux Falls, SD area for the first time since it's inaugural visit in 2021. That year, the tri-state area fans instantly displayed the communities appetite for snowmobile racing.
In 2023, the Snocross National will take place at the iconic Huset's Speedway in Brandon, SD. The 3/8 mile dirt oval hosted it's first race in 1954. The venue is best known for it's deep roots in Sprint Car racing and is synonymous with motor racing icon Doug Wolfgang. Since it's inception, Huset's has been a household name in dirt track racing. In recent years, the venue has hosted a number of marquee racing and non-racing events.
Fans can expect two action-packed days of high-flying snowmobile racing. The two-day snowmobile racing spectacular will be held throughout the day Friday and Saturday. Please stay tuned for the official track layout.
For those fortunate enough to attend the event, we hope you enjoy the races and create lifelong memories. Tickets and event info can be found here. For those who are not able to make it, please see this week's How To Watch guide for information on how you can follow along online.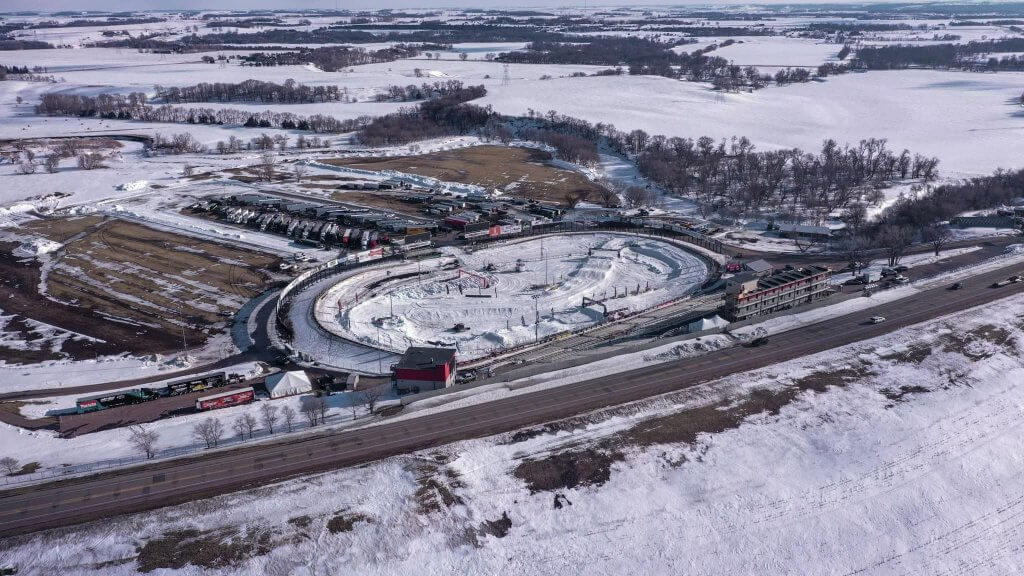 AMSOIL PRO STATS
1st: Elias Ishoel #200 (294 points)
2nd: Kody Kamm #53 (277 points)
3rd: Hunter Patenaude #8 (259 points)
4th: Logan Christian #43 (250 points)
5th: Daniel Benham #221 (247 points)
Hunter Patenaude (Scheuring Speed Sports Ski-Doo) made history repeat itself in Round 8 by winning the AMSOIL Pro Final. One year ago, he earned his first career win at that very venue (ERX Motor Park. Elk River, MN). He qualified first and was the first to turn one before setting sail to his fourth career premier class victory. His results that round projected him back into the top-5 in points where he is now third entering Rounds 9 and 10.
A look at Elias Ishoel's (Thene Motorsports Ski-Doo) Pro career would suggest that 2023 has been his slowest start to a season in the wins category with two. On the contrary, that doesn't stop the viking rocket from holding on to the red plates and reminding the AMSOIL Pro class why he is a four-time champion. Elias's earned his second win of the season in Round 7 over Logan Christian and Francis Pelletier. Ishoel is the only current racer with a win in Sioux Falls (2021)
Four-time AMSOIL Pro class race winner Aki Pihlaja (Green Mountain Racing Ski-Doo) returns to racing after breaking his ankle earlier in the season. Within the past week, he started riding his Ski-Doo back home in Finland, and has since been training with the team here in the US.
Injured Reserve List: Oskar Norum (torn patellar tendon), Jacob Yurk (fractured his tibia plateau), Kern (shattered rib, partially collapsed lung. Return to racing this season TBD).
PRO LITE STATS:
1st: Jordan Lebel #511 (344 points)
2nd: Ryley Bester #151 (291 points)
3rd: Marcus Ogemar #58 (266 points)
4th: Andy Pake #64 (257 points)
5th: Anson Scheele #44 (284 points)
Jordan Lebel shattered a record in Round 8 as he achieved his eighth win of the season. The previous record of consecutive Pro Lite wins was set by Elias Ishoel (Warnert Racing Ski-Doo) in 2015-2016 with seven. Lebel won his second career Pro Lite in Sioux Falls in 2021. He has now amassed 18 career points victories.
Ryley Bester (Team LaVallee Polaris) battled with Jordan Lebel for the entirety of Round 8 until the final lap when Lebel took the lead. Bester and the team proved to be strong all weekend with starts, which he once again brought with him to the Round 8 Final.
Earlier this season, Finnish racer Topi Posti (Green Mountain Racing Ski-Doo) dislocated his shoulder which caused him to miss rounds 3 and 4. Since his return to racing and in most recent rounds, Posti has been posting consistent finishes in the top-5 the last three rounds (4-4-5).
Kenny Mandryk (Pflipsen Racing Ski-Doo) is sidelined after breaking his wrist during practice earlier this week. He was given a 4-6 week recovery timeline. While he won't be lining up this weekend in South Dakota, he will be in attendance supporting his team for the final three events.
Returning from injury this weekend for Judnick Motorsports Polaris is Filip Harr. He sat out rounds 7 and 8 due to a dislocated shoulder.
Kenny Mandryk (Pflipsen Racing Ski-Doo) and Jeremy Beaulieu (One Three Motorsports Ski-Doo) are expected to line up this weekend after extreme crashes in the last two rounds in Deadwood, SD.
Injured Reserve List: Carson Alread (shoulder, out for season), Kenny Mandryk (broken wrist, 4-6 weeks estimated recovery).
PRO WOMEN STATS:
1st: Malene Cottew #93 (338 points)
2nd: Taven Woodie #873 (324 points)
3rd: Tausha Lange #214 (292 points)
4th: Inanna Hauger #331 (289 points)
5th: Naeli Lebel #518 (246 points)
Tough Taven Woodie (Woodies Racing Arctic Cat) is in the runner-up position in the point standings, only 14 points from leader Malene Cottew. Woodie has two wins this season and is making her Sioux Falls debut this weekend. In 2021, she out on injured reserve.
Down but far from out. Points leader Malene Cottew (One Three Motorsports Ski-Doo) suffered a broken tailbone while racing a Midwest Snocross Series regional prior to Rounds 7 and 8. She went on to win Round 7. The following round, however, a crash in the Final had her notably missing from the podium. No further injury was sustained in that crash, so race fans can expect to see the #93 line up in Sioux Falls. In 2021, she had swept the both Finals that weekend.
Points chase: Tausha Lange (West Coast Customs Racing Ski-Doo) has made the jump from 4th to 3rd in the championship points standings.
---
You can tune in to the Octane Ink Snocross National presented by TDS Trucking at Huset's Speedway all weekend long live on FloRacing. TV programming will be available at a later date on the CBS Sports Network. For more information on how to watch this weekend's event, click here. For tickets, a schedule, and event information, click here.